Dive into a fusion treat with this Taco Lasagna, melding classic lasagna noodles, ricotta cheese, zesty taco meat, aromatic black beans, and a piquant combo of enchilada and salsa sauce, all crowned with oodles of cheddar cheese!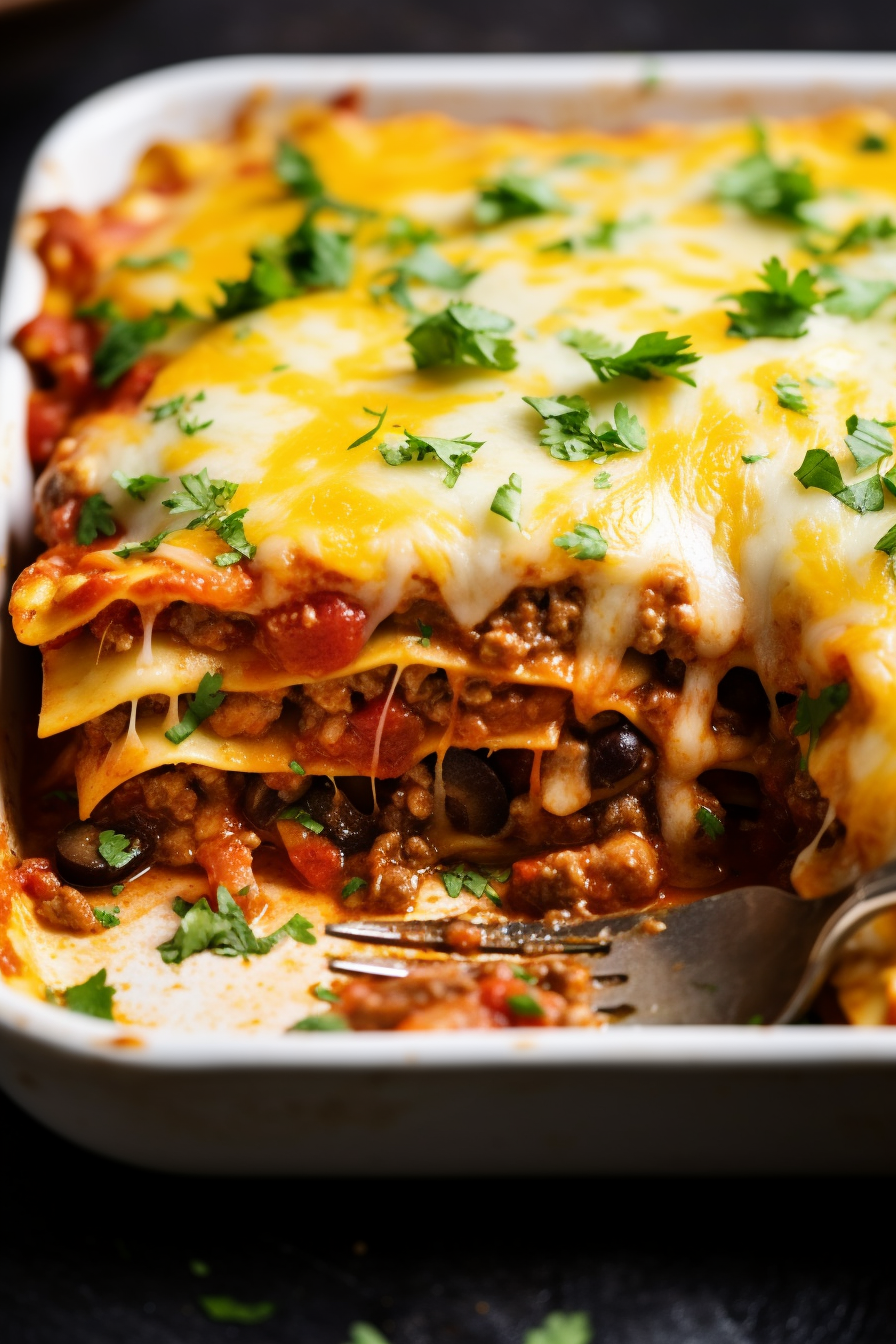 Oh, the memories! The very first time I ever made this Taco Lasagna was for a potluck party with friends. You see, we'd all been joking about blending our favorite foods, and this mishmash idea popped up. I took it as a challenge and thought, "Why not combine two beloved dinners into one dynamite dish?" And so, my Taco Lasagna journey began. And boy, it was a hit! We had a robust Italian cousin nodding in approval and a Mexican food connoisseur going for seconds, thirds, and so forth. From that day onward, my quirky culinary invention wasn't just a party legend but a staple in my home. It's like eating tacos with a fork and knife, minus the mess but plus the sophistication!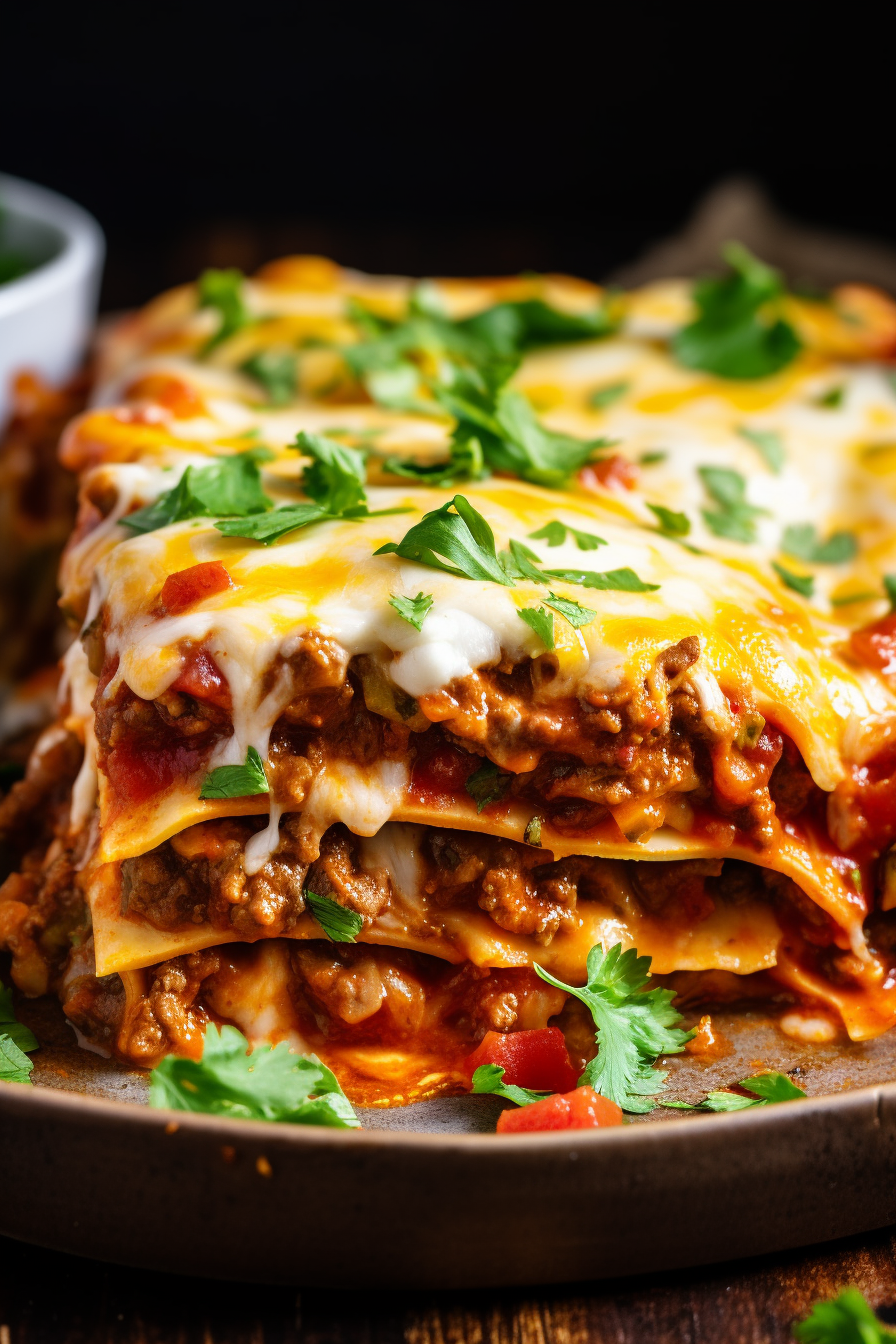 Why You'll Love Taco Lasagna:
Step aside, traditional lasagna! We're taking a road trip from Italy to Mexico with this one. This dish is perfect for those indecisive dinner nights – it's a culinary mashup of your fave spicy tacos and heartwarming lasagna. Featuring a brilliant blend of traditional lasagna layers with rich and flavorful taco fillings, it's a dish that promises and delivers both comfort and a kick. Also, it's a total crowd-pleaser. Think of it as the edible equivalent of a mariachi band playing your favorite Italian ballad.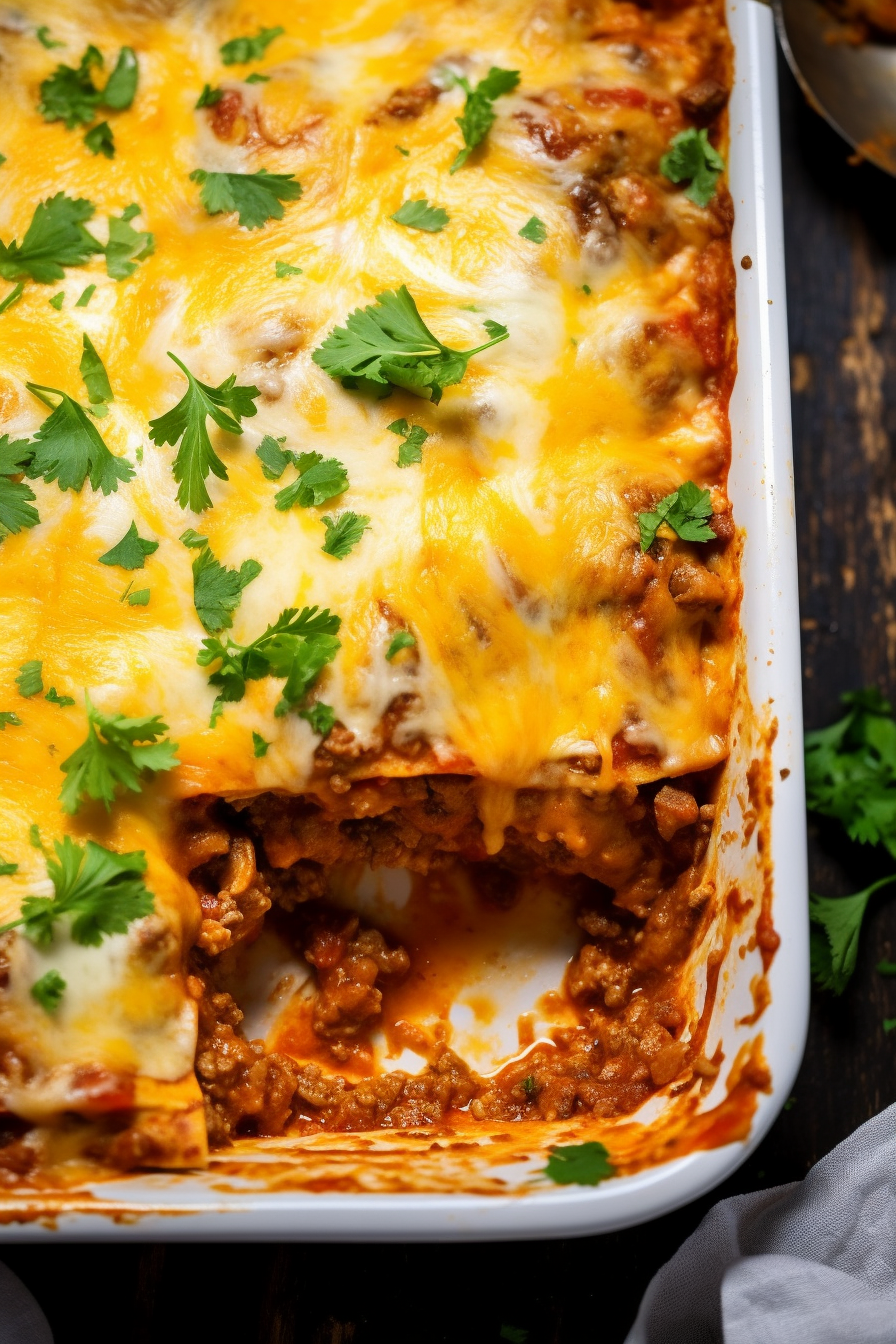 Ingredients For Taco Lasagna:
Let's chat ingredients for a sec. When choosing your salsa, go for quality. Remember, chunky gives you that texture that's a delightful surprise in every bite. As for the lasagna noodles, you're using them uncooked, so they'll absorb that saucy goodness while baking, making them perfectly al dente. Now, the ground beef is where you infuse the taco spirit, so never skip the seasoning! And if you can, go for organic, grass-fed beef – it just tastes better. With Ricotta cheese, freshness is the key. Get one that's creamy and fresh; it makes a world of difference. Lastly, more cheese is more love – so when in doubt, add a sprinkle more of that cheddar!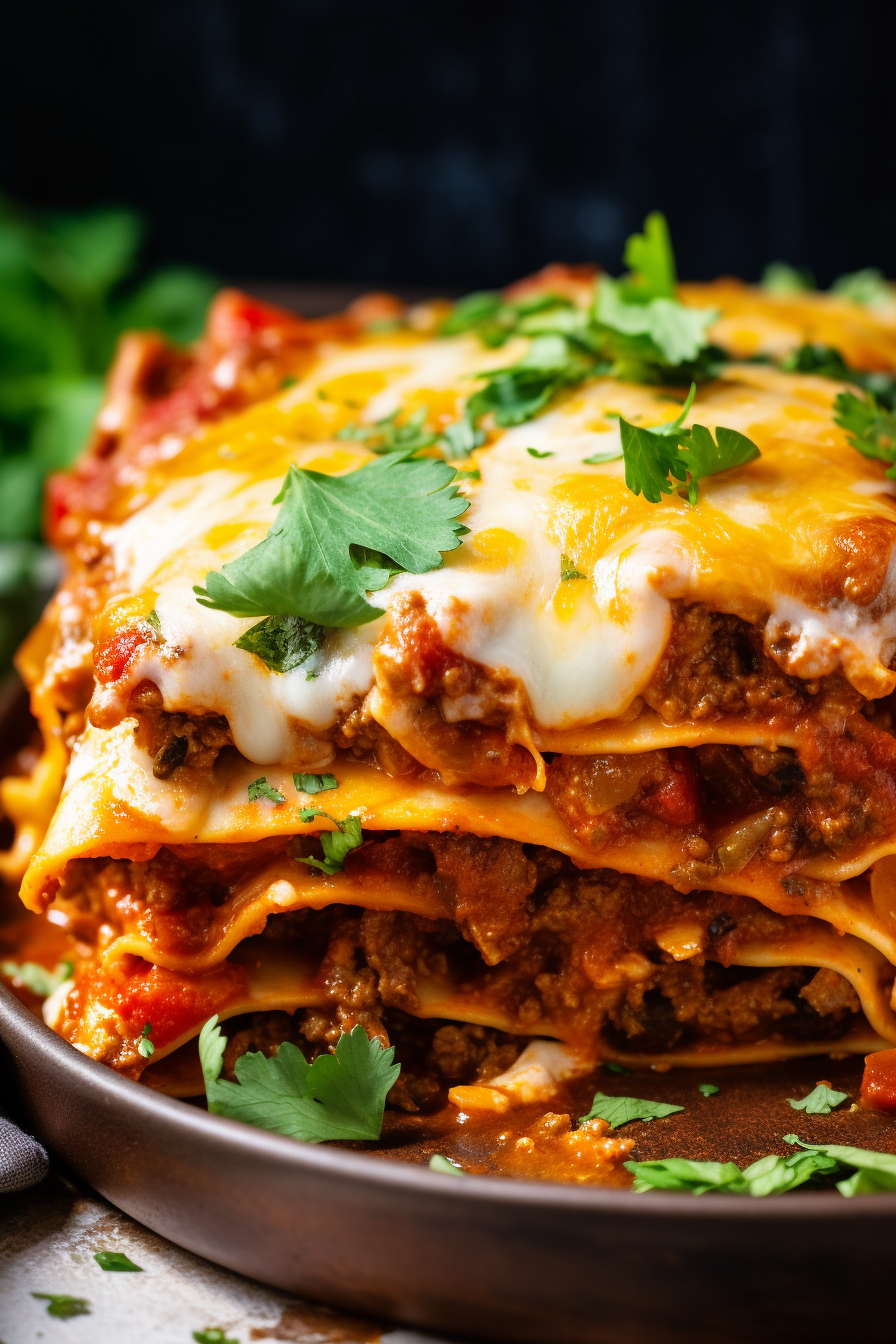 How To Make Taco Lasagna:
Alright, my fellow aspiring chefs, let's get our aprons on and dive in!
Step 1: Set your oven's mood by preheating it to 350°F. This ensures even cooking once your masterpiece goes in.
Step 2: Bring your ground beef to life! Cook it till brown, toss in onions (for some sweetness) midway, and the garlic for that punch of flavor. Remember to evict any unwanted grease.
Step 3: Time to taco-fy! Add water and that flavorful taco seasoning, then let it simmer and blend till thick. Oh, and don't forget the black beans – they're the unsung heroes.
Step 4: This is your Picasso moment. Blend the enchanting enchilada sauce and salsa. Spread this luscious mix at the bottom of your dish and lay down the first of your noodle foundation.
Step 5: Ricotta mix time! Make sure it's whisked to perfection with oregano and the egg.
Steps 6 to 8: Let's layer it up! Like constructing a skyscraper, build your lasagna with love, making sure each layer is generously packed.
Step 9: Protect your masterpiece with foil – this keeps the moisture in and helps the noodles cook.
Step 10: Bake until it almost whispers, "I'm ready", then sprinkle the cheese royalty and let it melt to perfection.
Step 11: Patience! I know it's hard, but give it 15 minutes to set. Then, adorn with your chosen garnishes and voilà!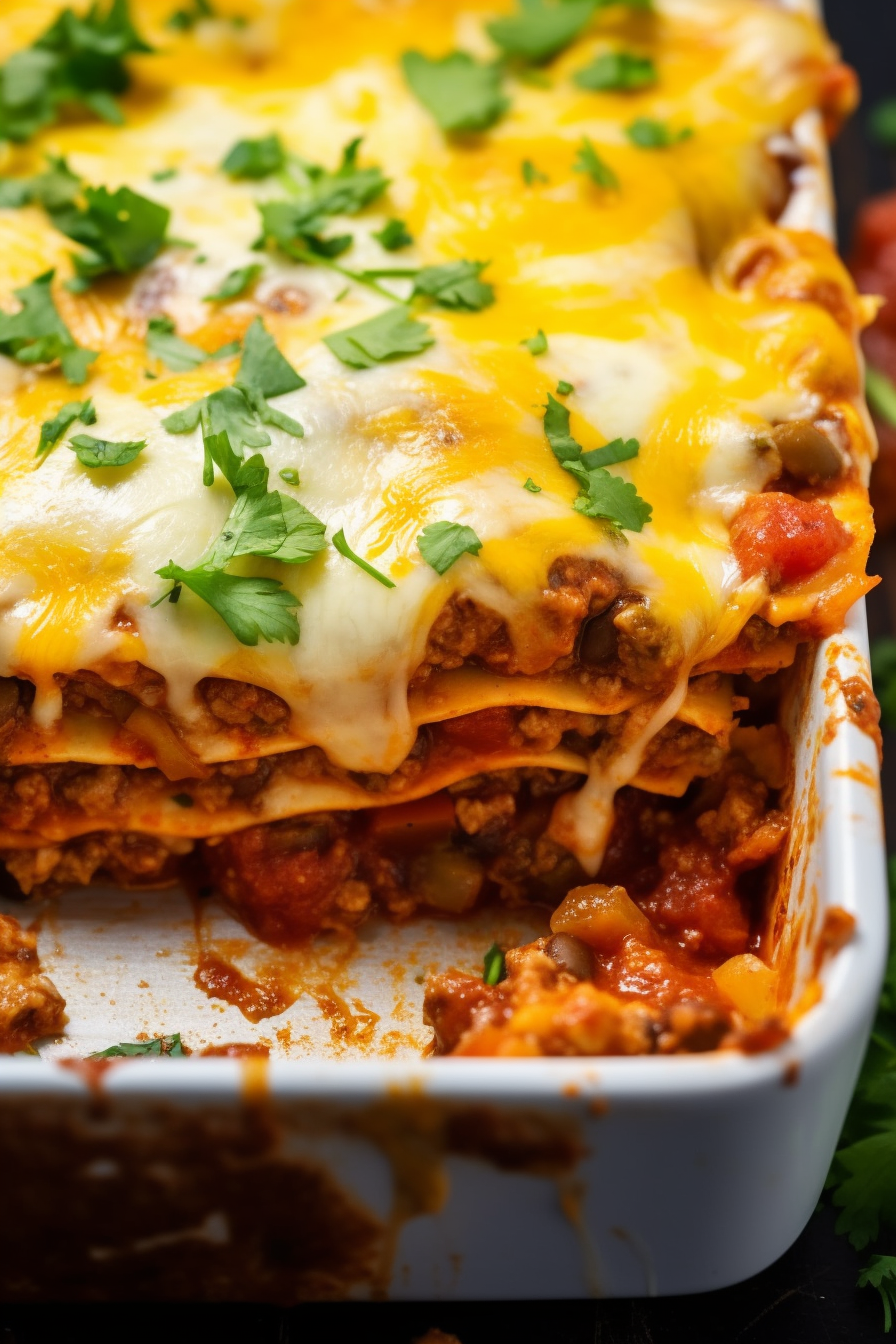 Storage Options:
Leftovers? Hah! Rare, but just in case, you can refrigerate this beauty in an airtight container for up to 4 days. Thinking ahead? You can also freeze it! Just ensure it's cooled completely, wrapped tight, and it'll be good for a month. When the craving strikes, thaw and reheat.
Variations and Substitutions:
Let your culinary creativity shine! Swap out beef for chicken, turkey, or even a meatless alternative. Not a fan of black beans? Pinto beans are a fantastic switcheroo. For a lighter touch, you can replace half the cheddar with mozzarella. For those seeking more fire, toss in some jalapeños or opt for a spicy salsa. Remember, the kitchen is your playground; there's no right or wrong! Enjoy every delicious experiment.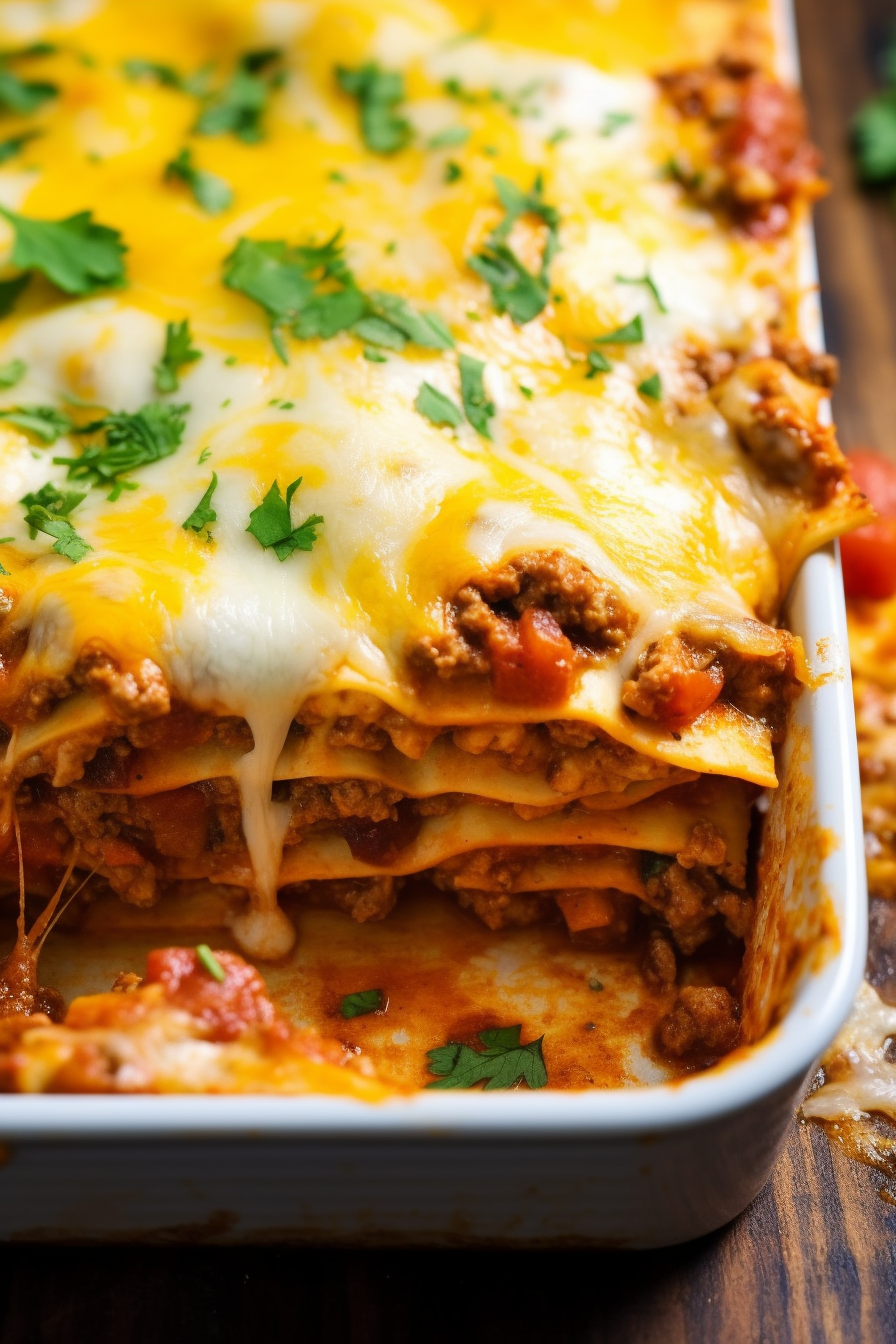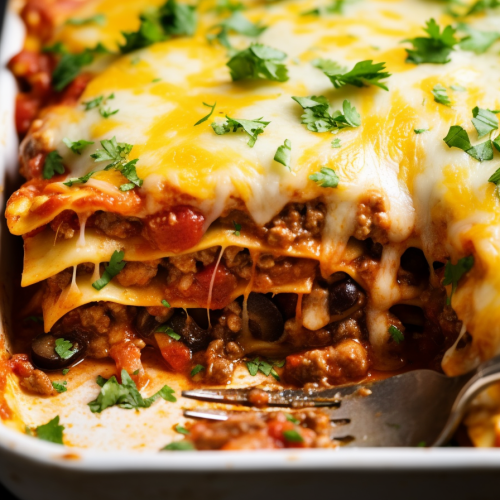 Taco Lasagna
Dive into a fusion treat with this Taco Lasagna, melding classic lasagna noodles, ricotta cheese, zesty taco meat, aromatic black beans, and a piquant combo of enchilada and salsa sauce, all crowned with oodles of cheddar cheese!
Print
Pin
Rate
Ingredients
10

oz.

red enchilada sauce

24

oz.

thick & chunky salsa

12

uncooked lasagna noodles

1

lb.

premium ground beef

1

small onion

finely diced

2

cloves

of garlic

minced

1

oz.

packet of taco seasoning

15

oz.

can of black beans

drained and rinsed

15

oz.

high-quality Ricotta cheese

1

Tablespoon

dried oregano

1

fresh egg

4

cups

premium shredded cheddar cheese

separated
Instructions
Preheat the oven to 350°F.

In a pan, brown the ground beef over medium heat. Introduce the diced onions after the beef has partially cooked and the minced garlic in the final minute. Ensure all grease is properly drained afterward.

To the meat mixture, add water and the designated taco seasoning. Allow the mixture to come to a boil and then reduce heat to let it simmer until it achieves a thickened consistency. Subsequently, incorporate the black beans and set the mixture aside.

In a separate bowl, meticulously combine the enchilada sauce and the salsa. Spread a thin layer of this sauce mixture on the bottom of a 9 x 13-inch baking dish, and then place 4 uncooked lasagna noodles atop this layer.

In another bowl, carefully blend the Ricotta cheese with dried oregano and egg until it reaches a homogenous consistency.

For the first layer, place 4 lasagna noodles in the dish, followed by 1/3 of the Ricotta mixture, 1/3 of the meat mixture, 1/3 of the sauce, and 1 cup of shredded cheddar cheese.

For the second layer, replicate the process outlined in the previous step.

For the third and final layer, place 4 lasagna noodles, followed by the remaining Ricotta mixture, meat mixture, and sauce. Do not add cheese at this stage.

Cover the dish securely with foil to ensure proper cooking of the noodles.

Allow the dish to bake for approximately 45 minutes. Following this, remove the foil and spread the remaining 2 cups of shredded cheddar cheese evenly on top. Bake for an additional 15 minutes.

Once baking is complete, it is advised to let the dish rest for at least 15 minutes prior to serving. Optional garnishing may include finely chopped parsley, sour cream, or green onions.
Nutrition
Calories:
487
kcal
|
Carbohydrates:
37
g
|
Protein:
28
g
|
Fat:
26
g
|
Saturated Fat:
14
g
|
Cholesterol:
98
mg
|
Sodium:
1228
mg
|
Potassium:
533
mg
|
Fiber:
6
g
|
Sugar:
6
g
|
Vitamin A:
1213
IU
|
Vitamin C:
4
mg
|
Calcium:
399
mg
|
Iron:
3
mg