Dive into the tropical sweetness of this Pineapple Quick Bread, blending the flavors of crushed pineapple, tangy lemon, and a hint of creamy butter. A slice of paradise awaits!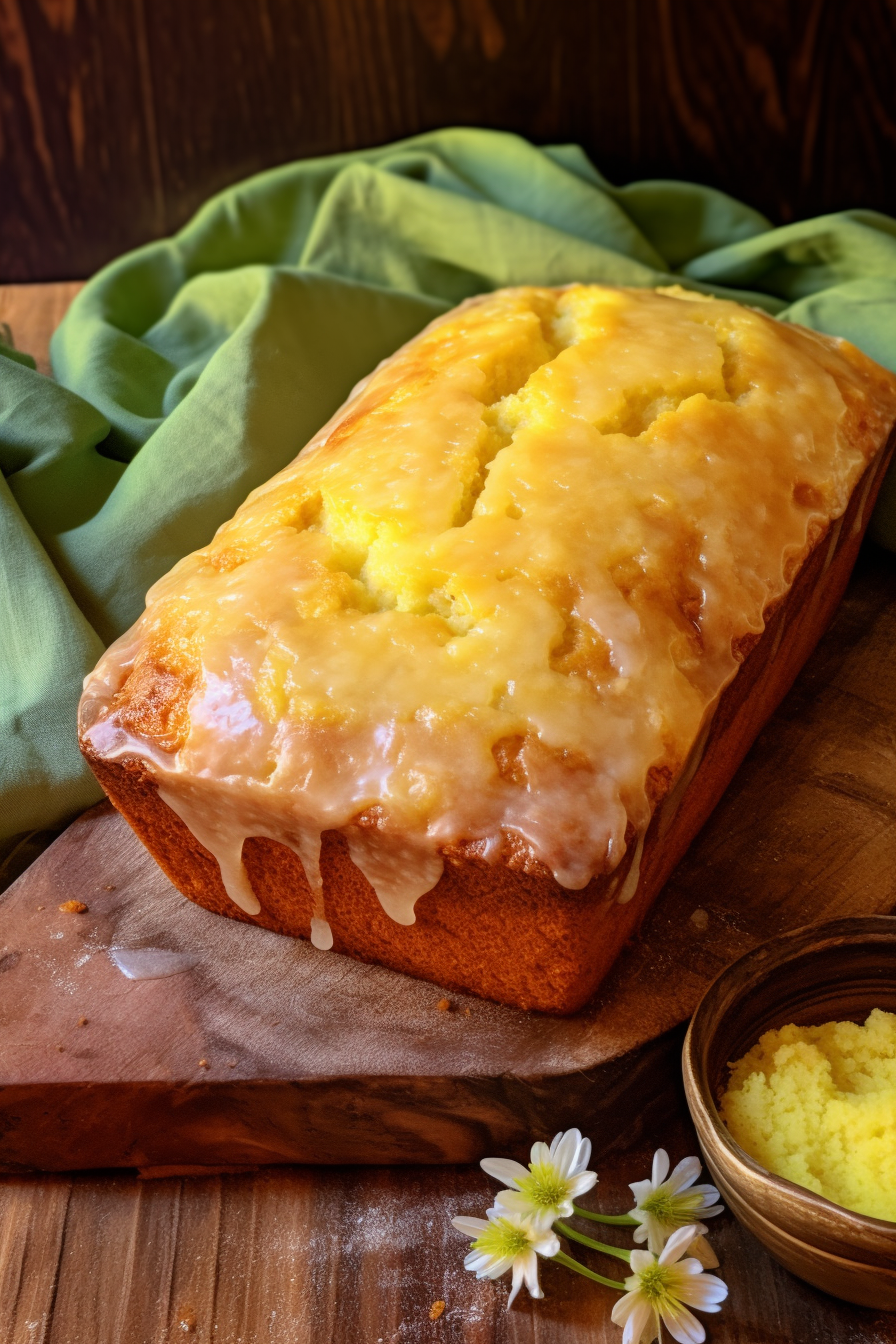 Picture this: On a rainy summer evening, I was craving a treat that'd transport me straight to a tropical island. I rummaged through my pantry and stumbled upon a can of crushed pineapple. Instantly, memories flooded back of Grandma's kitchen and her tales of tropical vacations. Inspired, I decided to recreate that little piece of paradise in loaf form. After a few mishaps (let's not talk about the pineapple juice incident), I crafted this perfect Pineapple Quick Bread. It's not just a bread; it's an escape ticket to sunnier climes, all wrapped up in a golden loaf.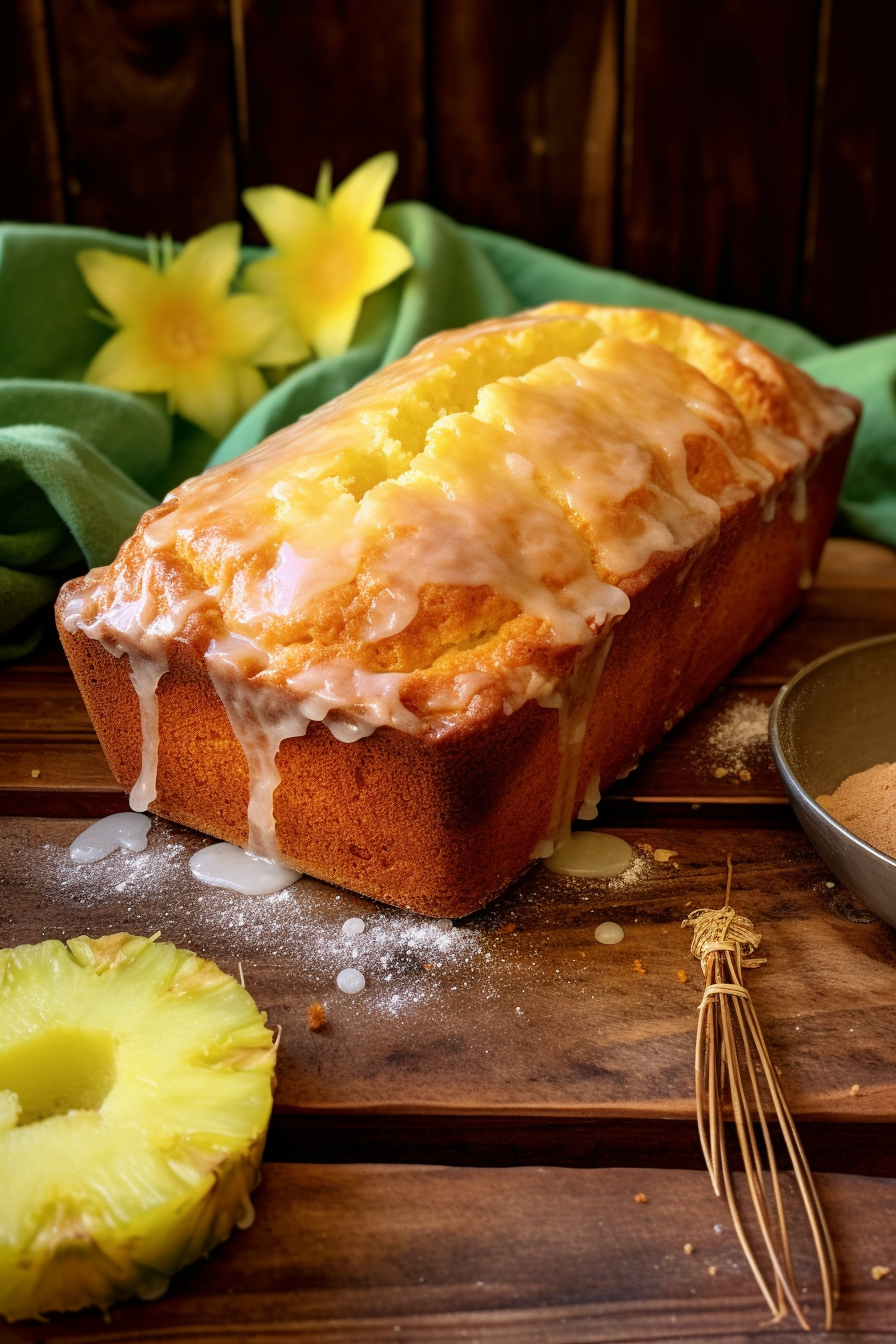 Why You'll Love This Pineapple Quick Bread:
This Pineapple Quick Bread isn't your average run-of-the-mill loaf. It harmoniously melds the exotic freshness of pineapple with the richness of butter. Plus, the reserved pineapple liquid? Genius! It adds depth and a zingy twist, ensuring every bite is moist and bursting with flavor. If you're after a slice of the tropics, without the pricey plane ticket, this bread's got you covered.
Ingredients For This Pineapple Quick Bread:
Now, let's talk ingredients! Use salted butter for that extra flavor oomph. As for the pineapple, be sure it's crushed and not sliced, because we want juicy bits in every bite, not chunks. Draining the pineapple is key, but don't toss that golden juice – it's the secret elixir that elevates this bread to celestial heights. Remember, the finer your sugar, the softer the bread. And for that glaze, confectioners sugar is your best bud – it gives the silky-smooth texture we're after.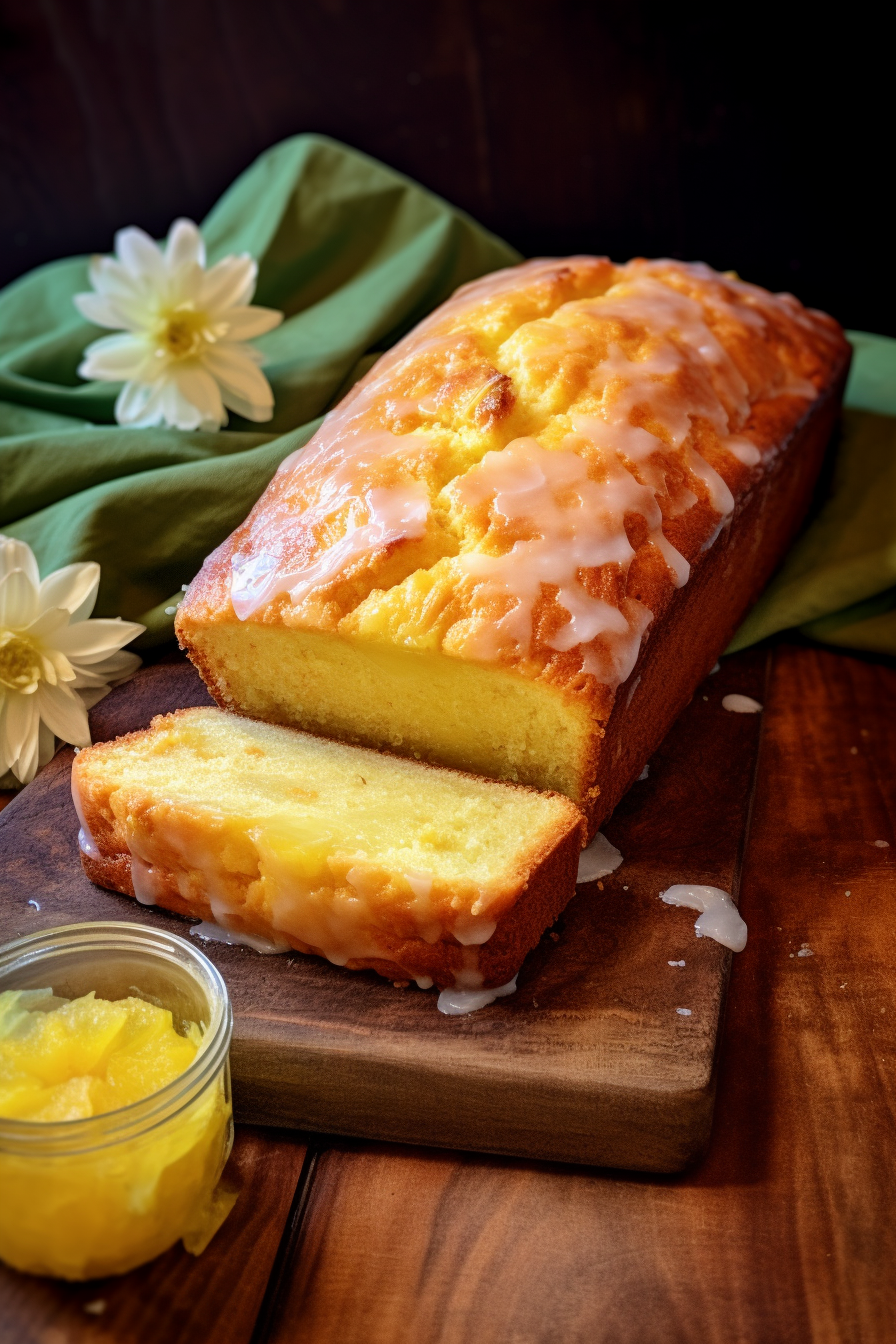 How To Make Pineapple Quick Bread:
Let's get down to the tropical business!
Start by preheating your oven, because anticipation is everything. While it's heating up, sift your flour, salt, and baking powder together to ensure an even mix. In a separate arena (read: bowl), declare a duel between your butter and sugar. Cream them together until they're smooth. Introduce the eggs to this party next. Now, here's the fun part – gradually alternate between adding your secret pineapple elixir and your dry ingredients. You're aiming for a smooth dance of ingredients. Lastly, gently fold in the crushed pineapple like you're tucking it into bed. Spread the mix into your loaf pan and bake until golden. Let it cool (if you can resist), whip up that luscious glaze, and drizzle to your heart's content.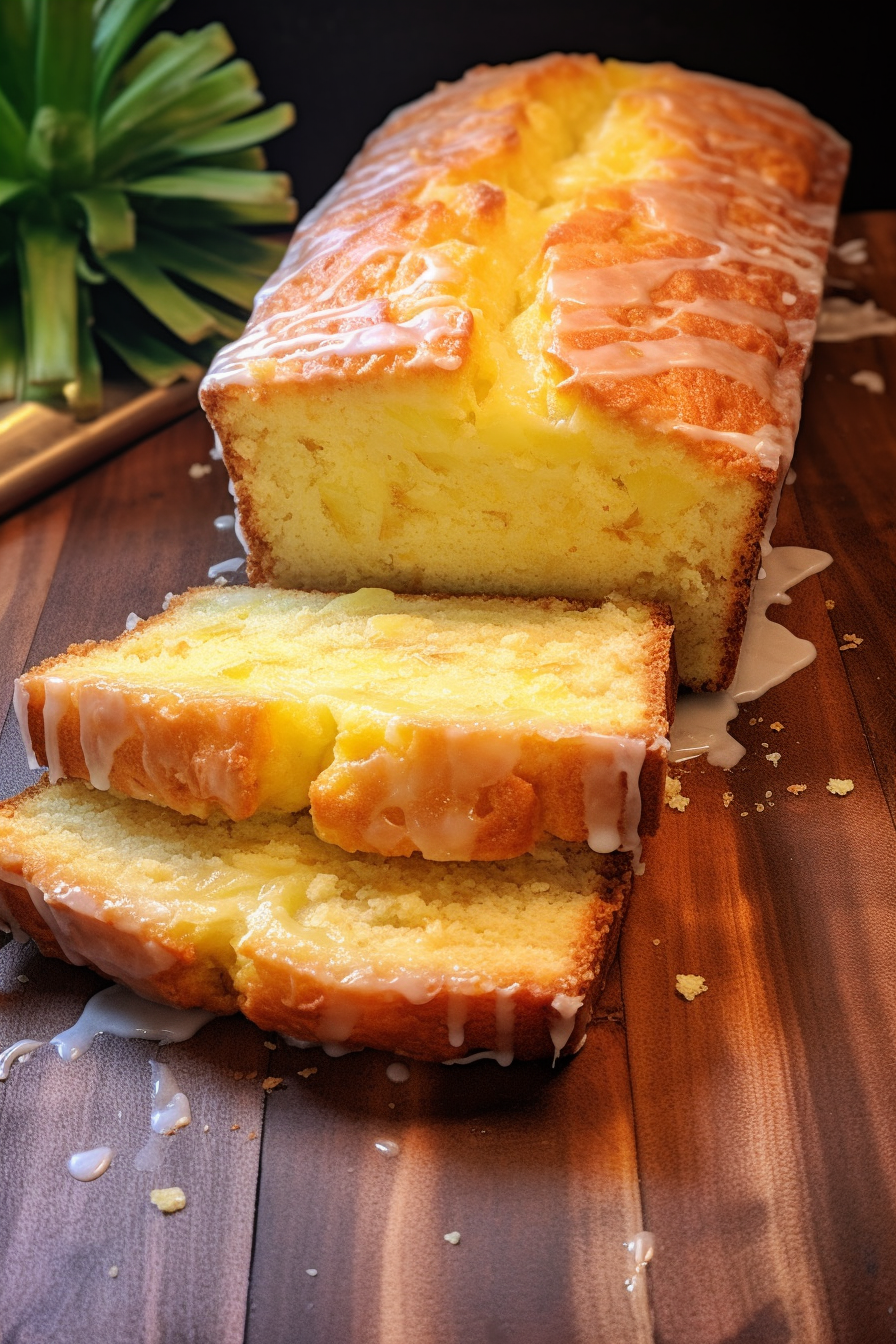 Storage Options:
Wondering how to save some for later (if you've managed not to devour it all)? Wrap it tightly in cling film or aluminum foil and store at room temperature for 2-3 days. For longer freshness, consider refrigerating it, but always let it reach room temp before serving. Want to savor the tropics during winter? Freeze slices individually and defrost as needed.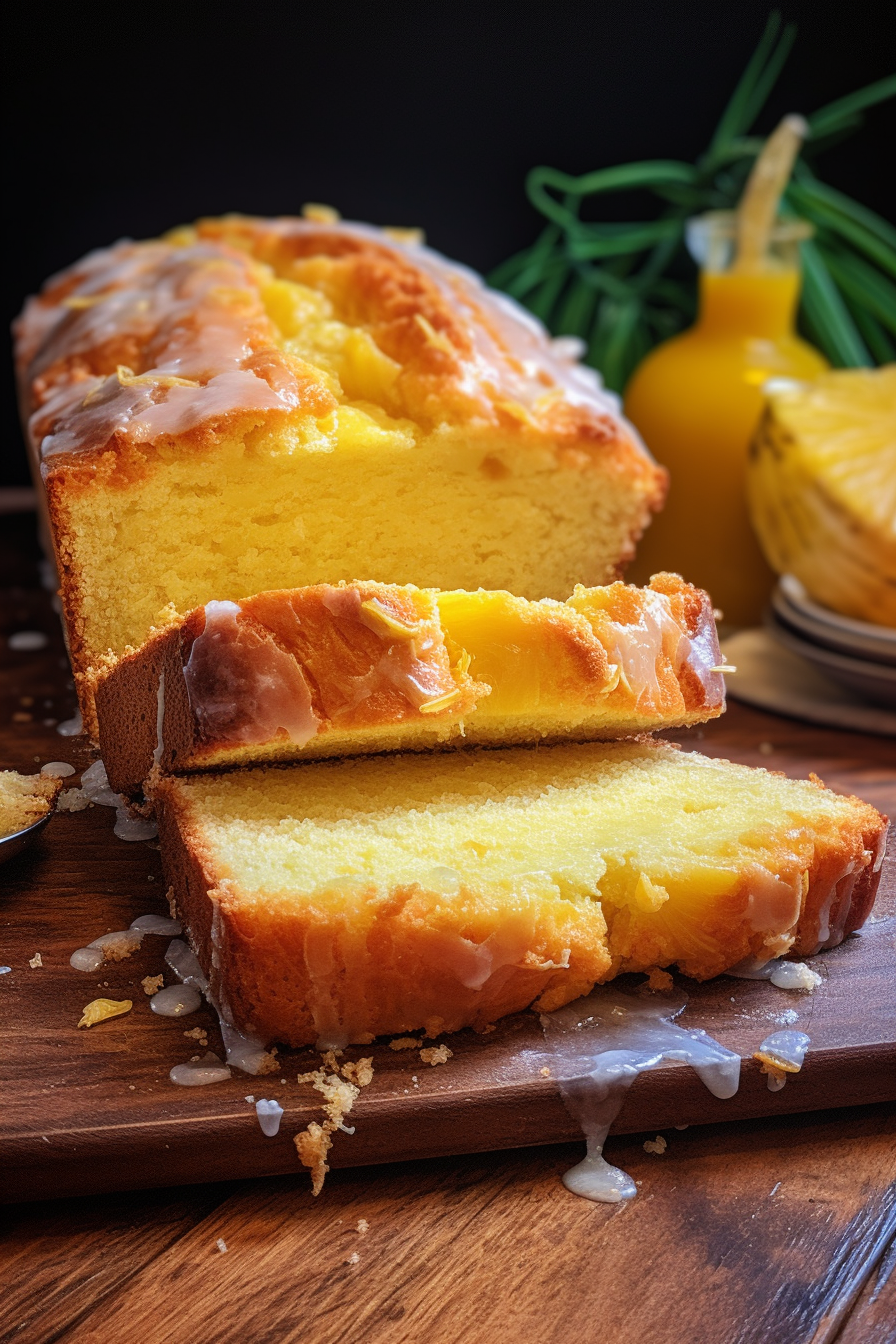 Variations & Substitutions:
Feeling adventurous? Swap out half the crushed pineapple for shredded coconut for a piña colada vibe. Not a fan of pineapple? Try canned mandarins, but remember to adjust your liquid accordingly. If you're out of milk, coconut milk makes a fabulous tropical substitute. And for those cutting sugar, honey or maple syrup can be an alternative in the batter. Just remember to adjust the wet-to-dry ratio.
Happy baking, my tropical daydreamers! 🍍🌴😉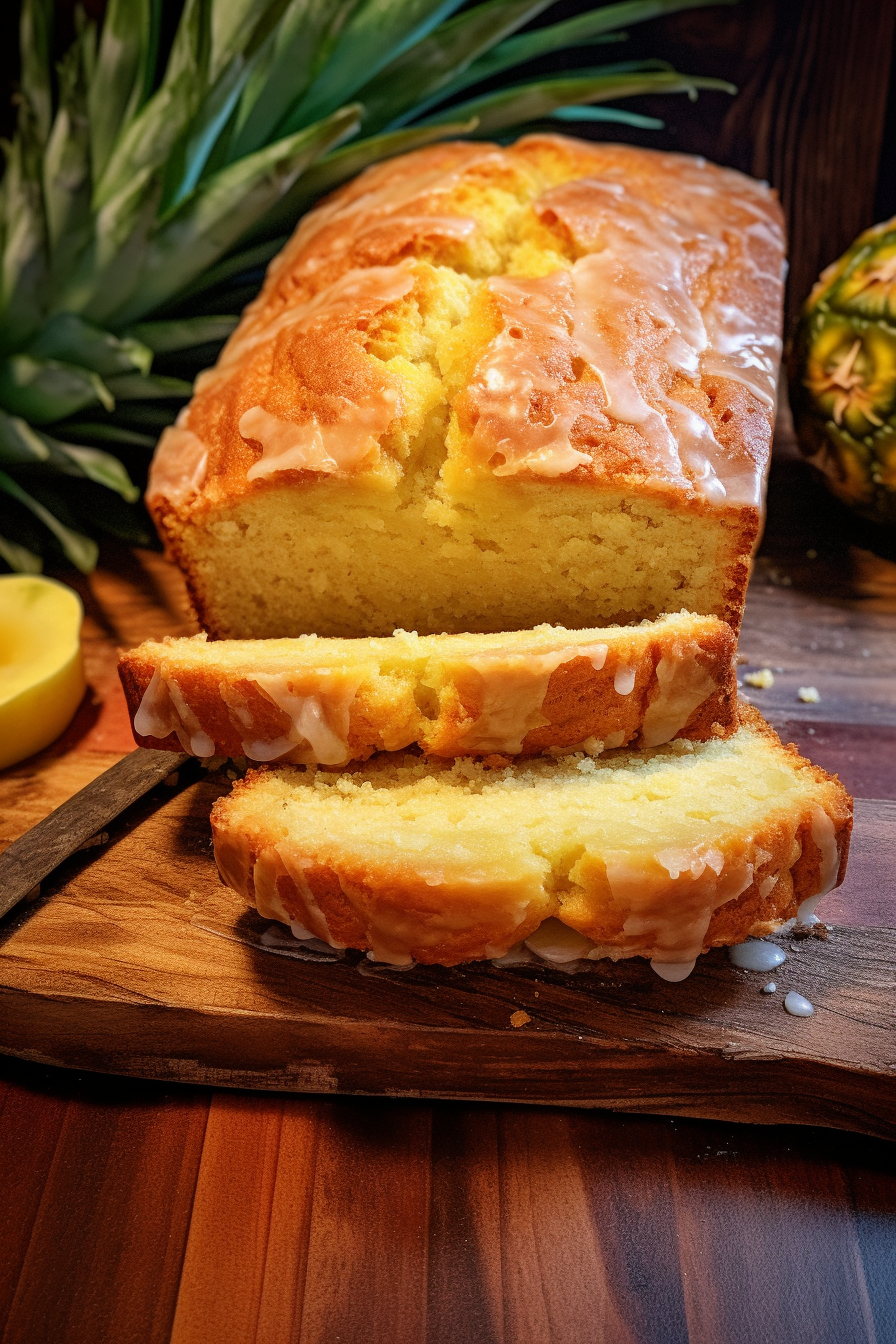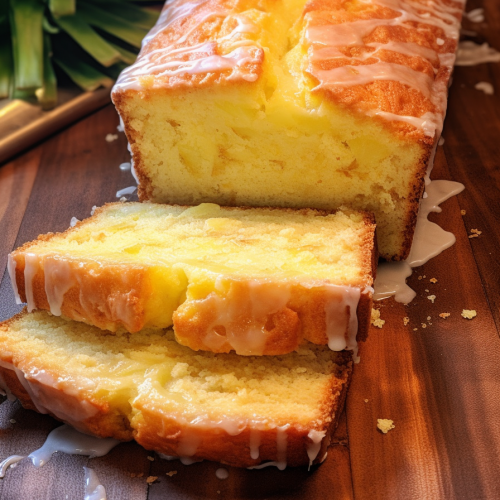 Pineapple Quick Bread
Dive into the tropical sweetness of this Pineapple Quick Bread, blending the flavors of crushed pineapple, tangy lemon, and a hint of creamy butter. A slice of paradise awaits!
Print
Pin
Rate
Ingredients
Salt: ⅛ tsp

Butter

softened: ½ cup

Crushed Pineapple

drained, liquid reserved: 1 cup

Large Eggs: 2

All-purpose Flour: 1 ½ cups

Pineapple Liquid

from crushed pineapple can: ¼ cup

Granulated Sugar: ¼ cup

Milk: 2 tbsp

Baking Powder: 2 tsp
For the Glaze:
Pineapple Liquid

from crushed pineapple can: 2 tbsp

Confectioners Sugar: 1 cup

Vanilla Extract: 1 tsp
Instructions
Preheat the oven to 350°F (175°C).

In a medium-sized mixing bowl, sift the flour, salt, and baking powder to ensure uniformity.

In a separate mixing bowl, combine the softened butter and granulated sugar. Beat them together until achieving a smooth consistency.

Introduce the eggs into the butter and sugar mixture, mixing thoroughly.

Gradually alternate between adding the reserved ¼ cup of pineapple liquid and the previously sifted dry ingredients into the mixture, ensuring they integrate seamlessly.

Integrate the milk into the aforementioned mixture.

Delicately incorporate the crushed pineapple into the batter.

Transfer the batter into a greased loaf pan and spread it uniformly.

Bake the mixture in the preheated oven for approximately 50-55 minutes or until a skewer inserted into the center comes out clean.

Allow the loaf to cool for 10-15 minutes within the pan, then transfer it to a cooling rack to finish the cooling process.

In a small bowl, combine the glaze ingredients, ensuring a smooth consistency. Drizzle this glaze over the fully cooled loaf. Let the glaze set before serving.