Indulge in chocolate mint cheesecake bars with a decadent oreo crust, creamy mint cheesecake with andes mints, and a luscious chocolate mint ganache topping. For the mint chip aficionados!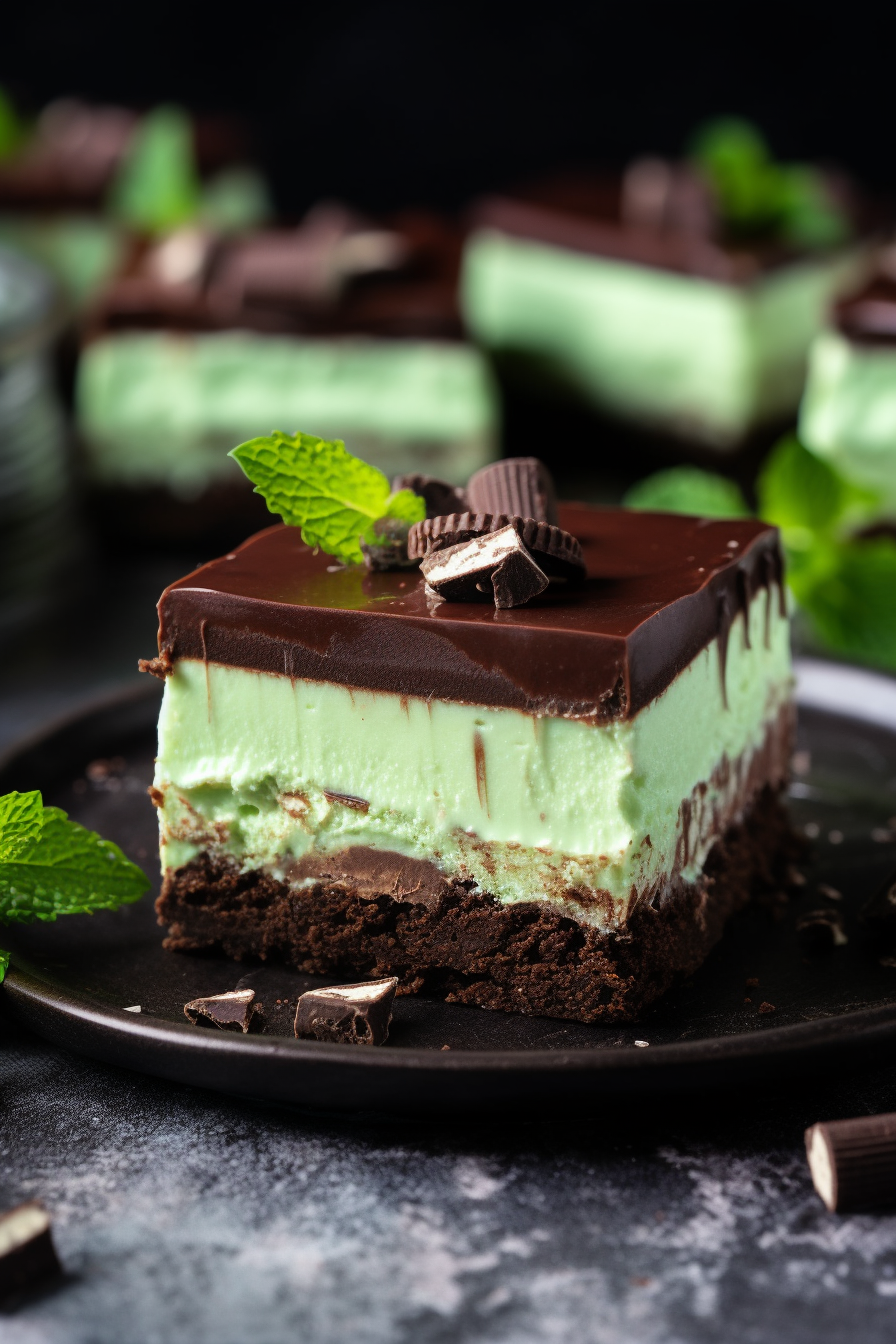 You know, sometimes life throws you those moments where you want both mint and chocolate. Let's face it, we've all been there. It was a frosty winter evening, and I was craving something sweet (again!). My love for mint chip ice cream and my uncontrollable urge for a cheesecake culminated in what you now know as these divine Chocolate Mint Cheesecake Bars. Each bite takes me back to my grandmother's kitchen, where the aroma of mint would waft through the room as she made her renowned mint cocoa. In essence, this recipe isn't just about pleasing your tastebuds, but it's an ode to nostalgia, chilly nights, and the warm embrace of memories.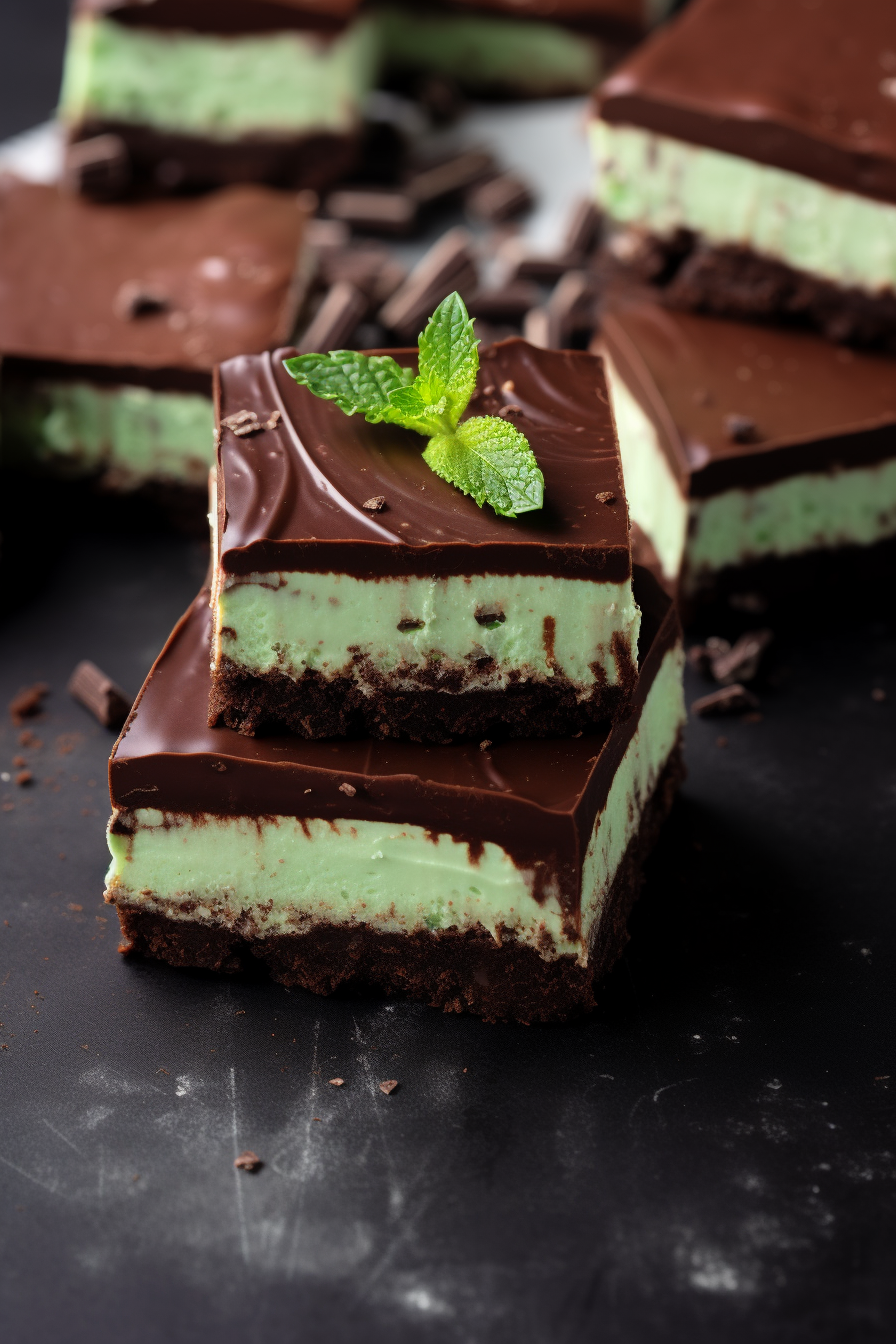 Why You'll Love Chocolate Mint Cheesecake Bars:
Alright, dear reader, let me break it down for you. Why should you make this dessert? First, these bars are the perfect fusion of the crunchy oreo base and a creamy minty filling, creating a texture sensation like no other. Second, they aren't just ordinary cheesecake bars; they're elevated with the heavenly touch of andes mints – a delightful surprise in every bite. Lastly, that ganache, people! It's the cherry on top (well, chocolate in this case) that binds everything together, making it a treat worthy of any special occasion or just because!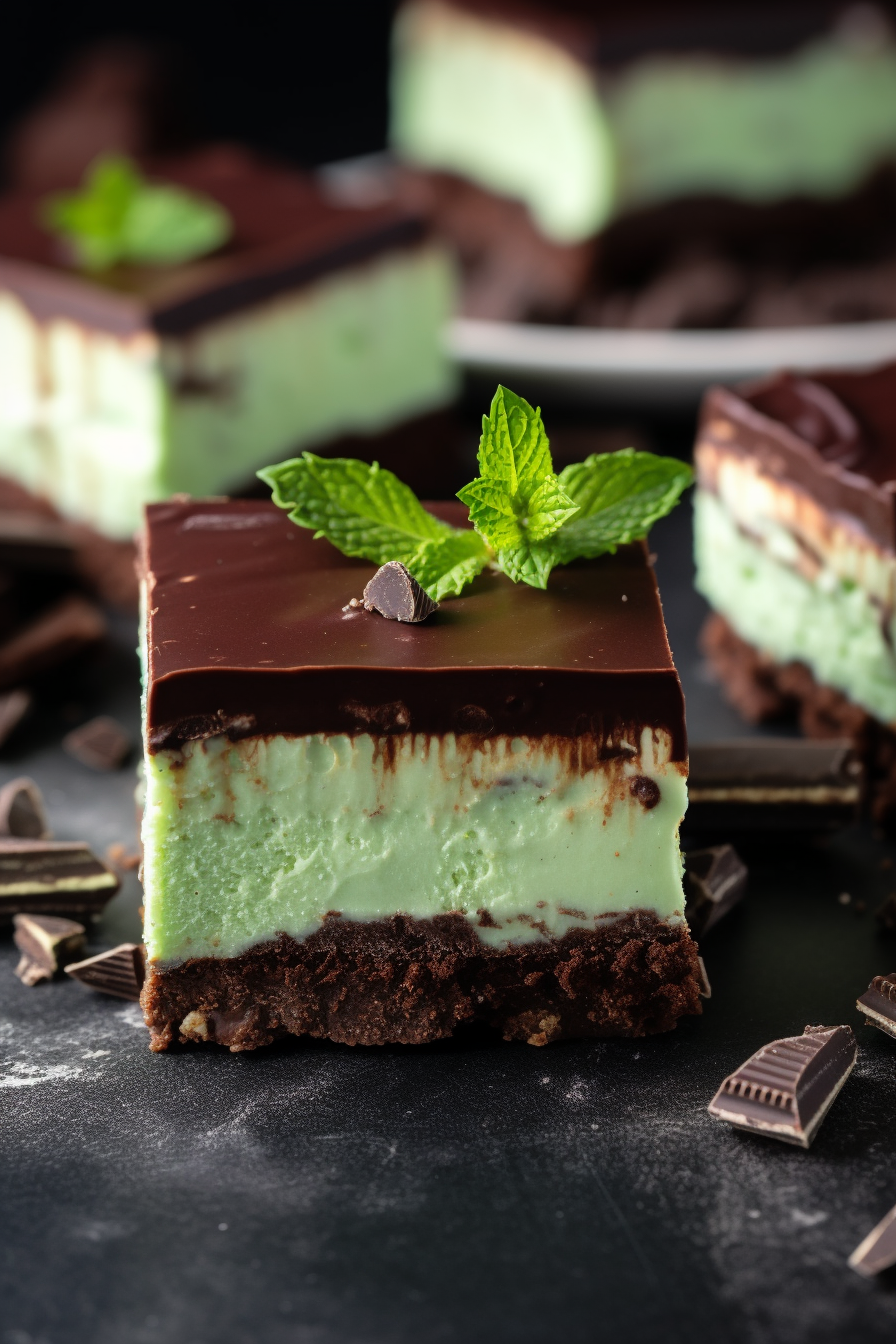 Ingredient Notes For Chocolate Mint Cheesecake Bars:
Oreo Crust: Ensure you're using classic Oreos, not the double stuff or any other flavored variety. Consistency matters!
Cream Cheese: Go full fat here. Trust me, it's cheesecake, not salad.
Green Food Coloring: This is all about aesthetics, so if you're not a fan of coloring, feel free to skip it. But let's be real, who doesn't love a little green hue for that minty vibe?
Andes Mints: These are the little wonders that bring the magic. However, if you can't find them, other mint chocolates will do, but you'll be missing out on that iconic flavor.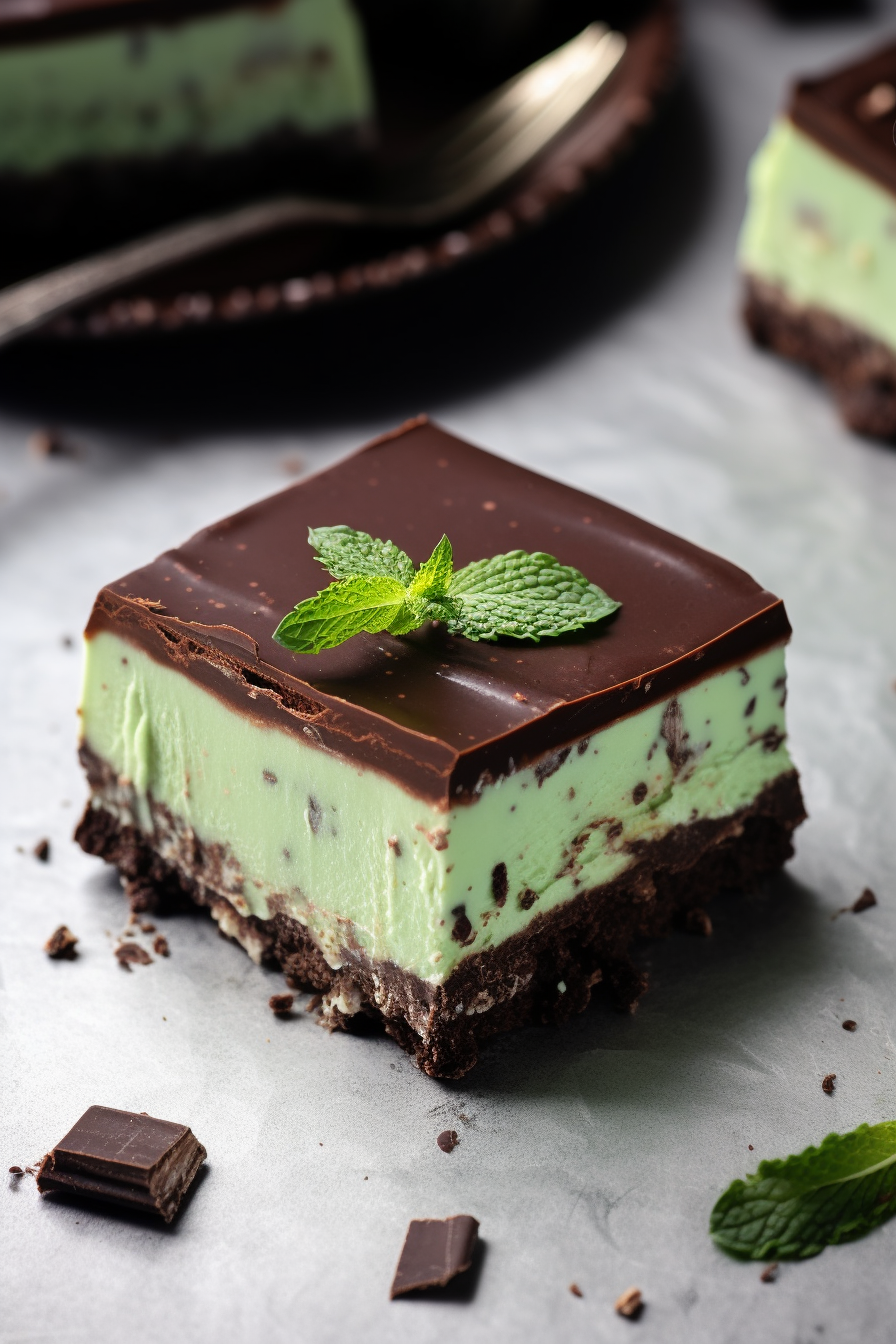 How To Make Chocolate Mint Cheesecake Bars:
Preparation: Kick things off by preheating your oven to 325 F. Don't forget to line your pan with parchment paper. This little step ensures your bars don't stick!
Crust Creation: Using a food processor, blitz the Oreos into fine crumbs. Add sugar and butter and mix until they hold together. This mixture goes straight into your baking pan, pressed down evenly. Pop it in the oven for a quick bake, about 8 minutes, then let it cool.
Cheesecake Galore: Beat the cream cheese until it's soft and dreamy. Gradually add sugar, flour, sour cream, vanilla, mint, and salt. Carefully fold in the eggs, avoiding overmixing (nobody wants a cracked cheesecake!). For that minty aura, stir in food coloring and andes mints. Pour this luscious filling over your crust and bake until the center does a little dance (slight wiggle). Let it cool down, then let the fridge work its magic for a few hours.
Ganache Glamour: Chocolate chips and andes mints in one bowl; hot whipping cream in another. Pour that hot cream over the chocolate and wait. Patience, my friend! Stir it up until it's silky smooth. Pour this ganache goodness over your chilled cheesecake. Chill again, slice, and dive in!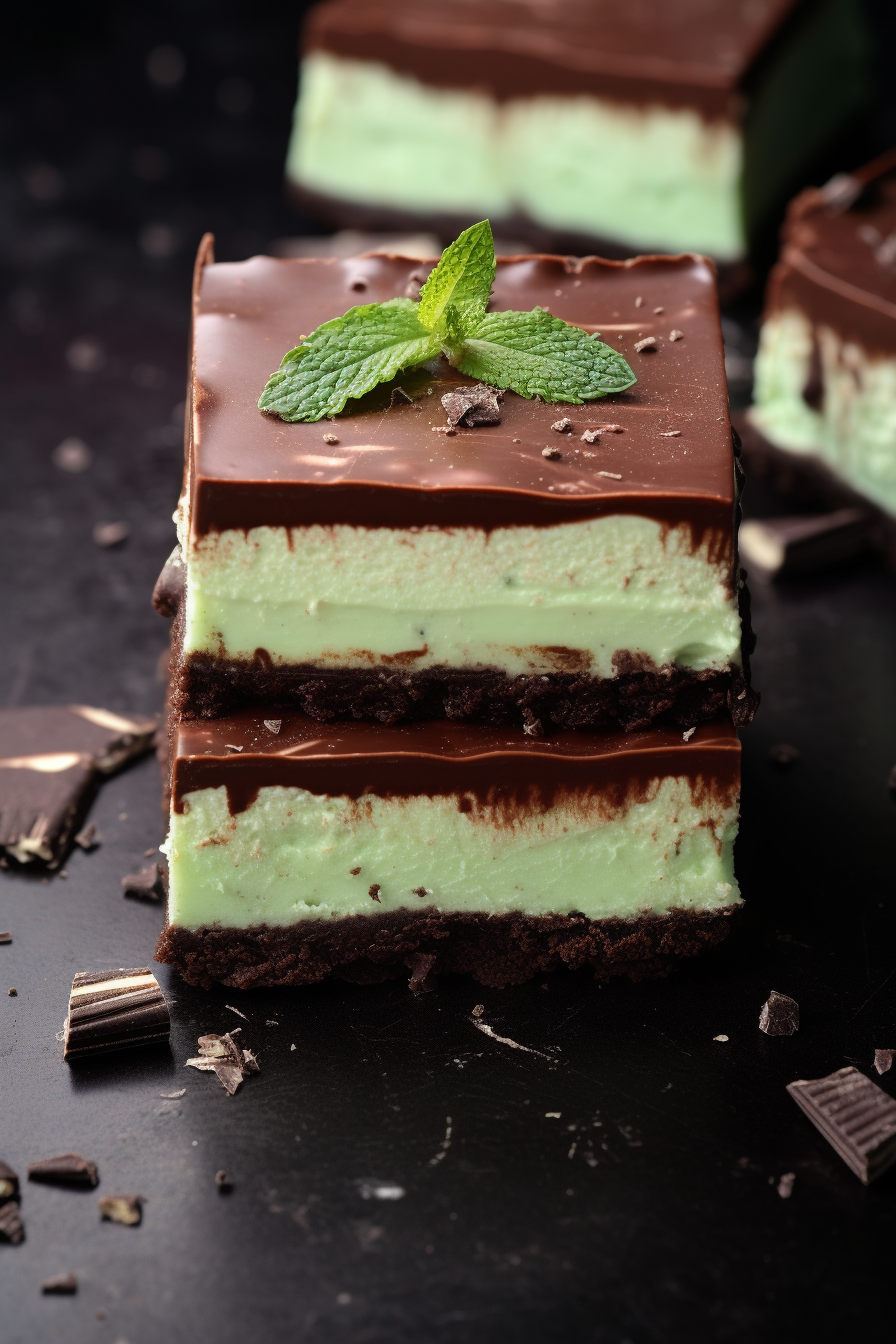 Storage Options:
These beauties can be stored in an airtight container in the refrigerator for up to 5 days. If you want to play the long game (and resist eating them all at once), they can be frozen for up to 2 months. Just ensure they're wrapped well to avoid any frosty encounters.
Variations and Substitutions:
If Oreos aren't your jam, try a graham cracker crust or even a Biscoff cookie base for a twist.
Not a fan of andes mints? Swap them out for your favorite mint chocolates or even chocolate chips for a subtler mint flavor.
For a festive touch, add some crushed candy canes on top, especially during the holiday season. Just a thought – red and green, anyone?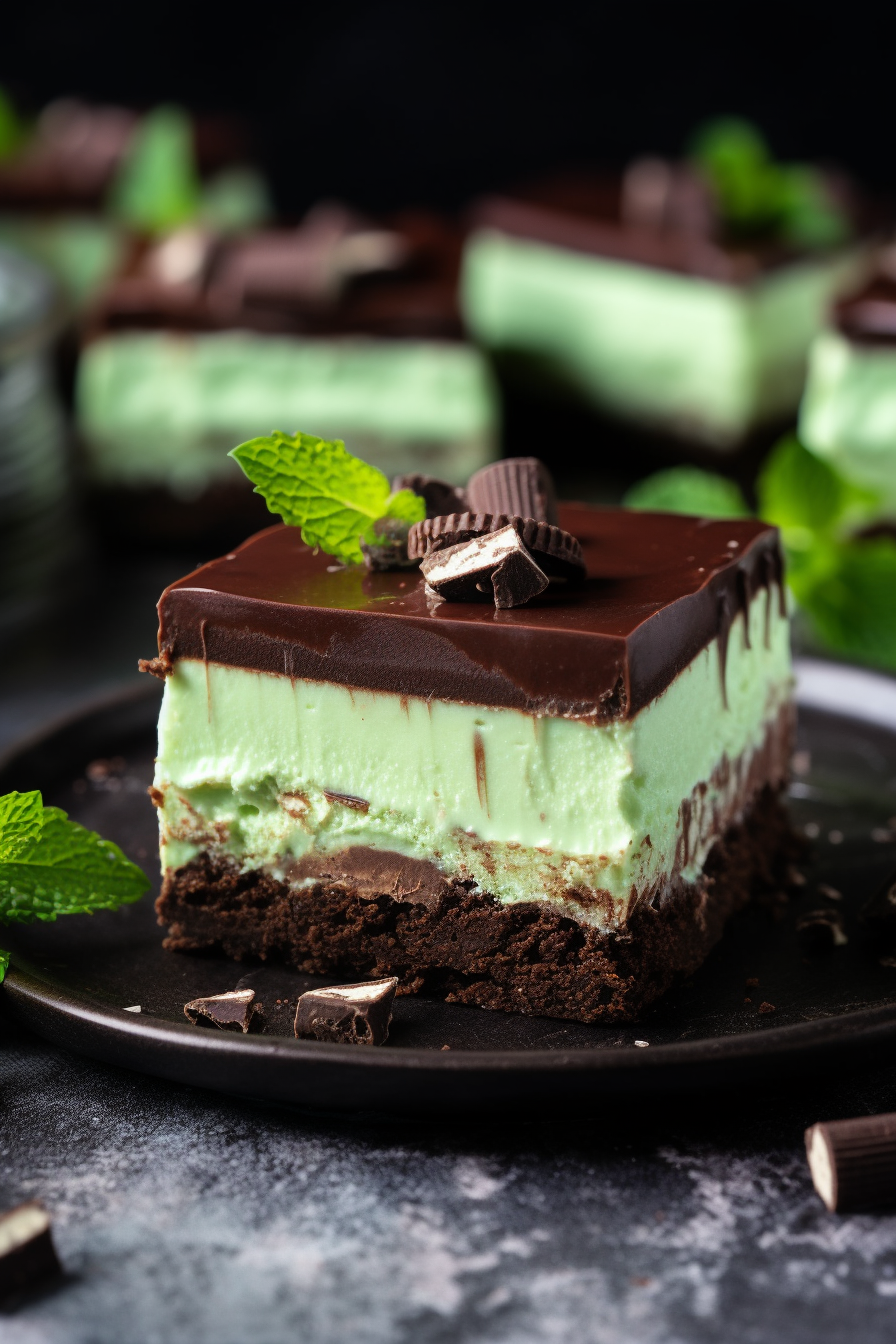 And there you have it, folks! Remember, it's not about making a dessert; it's about creating an experience. So go ahead, don your apron, and let the magic unfold. And when you take that first bite, think of grandma and those minty winter nights! 🍫🌿🍰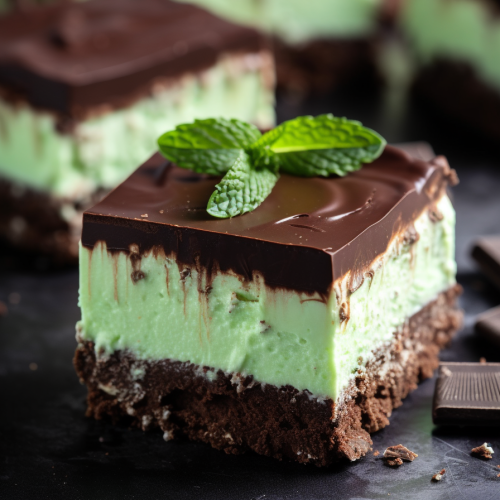 Chocolate Mint Cheesecake Bars
Indulge in chocolate mint cheesecake bars with a decadent oreo crust, creamy mint cheesecake with andes mints, and a luscious chocolate mint ganache topping. For the mint chip aficionados!
Print
Pin
Rate
Ingredients
For the Oreo Crust:
1 ½

cups

of Oreo biscuit crumbs

equivalent to approximately 20 biscuits

1

tablespoon

of granulated sugar

4

tablespoons

of melted butter

cooled to room temperature
For the Chocolate Mint Cheesecake:
16

oz

of cream cheese

brought to room temperature

⅓

cup

of granulated sugar

¼

cup

of sour cream

at room temperature

2

tablespoons

of flour

1

teaspoon

of vanilla extract

1

teaspoon

of peppermint or mint extract

⅛

teaspoon

of salt

2

large eggs

at room temperature

6-8

drops of green food coloring

adjust as per strength

½

cup

of Andes mints

finely chopped
For the Chocolate Mint Ganache:
½

cup

of chocolate chips

¼

cup

of Andes mints

coarsely chopped

⅓

cup

of heavy cream

A pinch of salt
Instructions
Oreo Crust Preparation:
Begin by preheating the oven to 325°F (163°C). A 8×8 inch pan should be prepared by spraying it with non-stick spray and lining it with parchment paper, ensuring some of the paper overhangs the edges for easy removal.

The Oreo biscuits should be processed in a food processor until they are reduced to fine crumbs. Subsequently, incorporate granulated sugar and the cooled melted butter. Once mixed thoroughly, the mixture should be transferred to the baking pan and pressed firmly to create an even crust. This should be baked in the preheated oven for 8 minutes. Once baked, set aside to cool.
Chocolate Mint Cheesecake Preparation:
In a large mixing bowl, cream the cream cheese until it achieves a soft texture. Add granulated sugar and flour, and ensure the mixture is thoroughly combined and smooth.

Incorporate sour cream, vanilla extract, mint extract, and salt. Mix at a low speed to combine.

In a separate container, lightly whisk the eggs. These should then be added to the cream cheese mixture. It is crucial to mix just until the eggs are incorporated to prevent the surface of the cheesecake from cracking. Finally, mix in the green food coloring and the finely chopped Andes mints.

Pour this cheesecake mixture over the cooled Oreo crust and bake for approximately 25-30 minutes. The center should retain a slight jiggle. Once baked, allow the cheesecake to cool to room temperature, then cover and refrigerate for a minimum of 4 hours, preferably overnight.
Chocolate Mint Ganache Preparation:
Place the chocolate chips and coarsely chopped Andes mints in a small, heat-proof bowl. In a separate container, heat the heavy cream until it just begins to boil. This hot cream should then be poured over the chocolate and mint mixture. Cover the bowl for a few minutes, then stir until the mixture is smooth and homogenous.

This ganache should then be poured over the chilled cheesecake and spread evenly. It is recommended to refrigerate the cheesecake again for at least 30 minutes prior to serving. The cheesecake can then be removed from the pan using the overhanging parchment paper and sliced into bars.