Oh, the Italian countryside, where lemons dance with olive oil and apples frolic in fluffy cakes. Dive into a delectable slice of Italy with this Italian Apple Cake featuring fresh apples, aromatic lemon zest, and heartwarming olive oil. Mangia!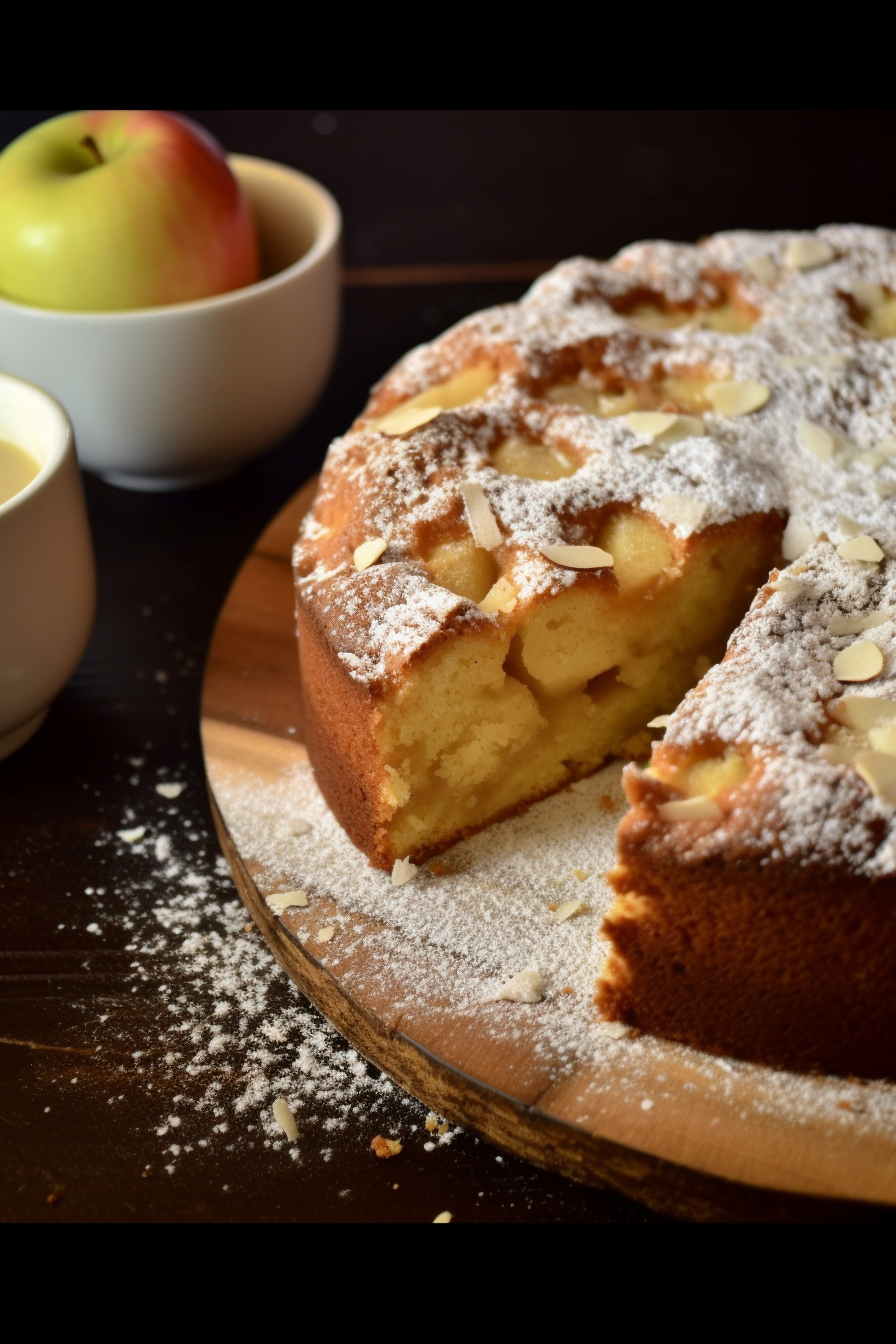 Every family has its recipes. You know, the ones passed down from generation to generation, scribbled on worn-out paper or whispered in hushed tones. For our family, it was Nonna's Italian Apple Cake. Picture this: a rustic kitchen in a small Italian village, where Nonna, with her silver hair neatly tied back, would teach us the art of perfecting this cake. As kids, we'd argue about who got to zest the lemon or who'd get the first taste. We didn't have fancy gadgets or mixers. Just hands, wooden spoons, and Nonna's tales of the old days. Every bite of this cake is not just a burst of flavors but also a journey down memory lane, a reminder of those sunny afternoons, filled with laughter, love, and the sweet aroma of baking.
Pin this recipe to your favorite board now to remember it later!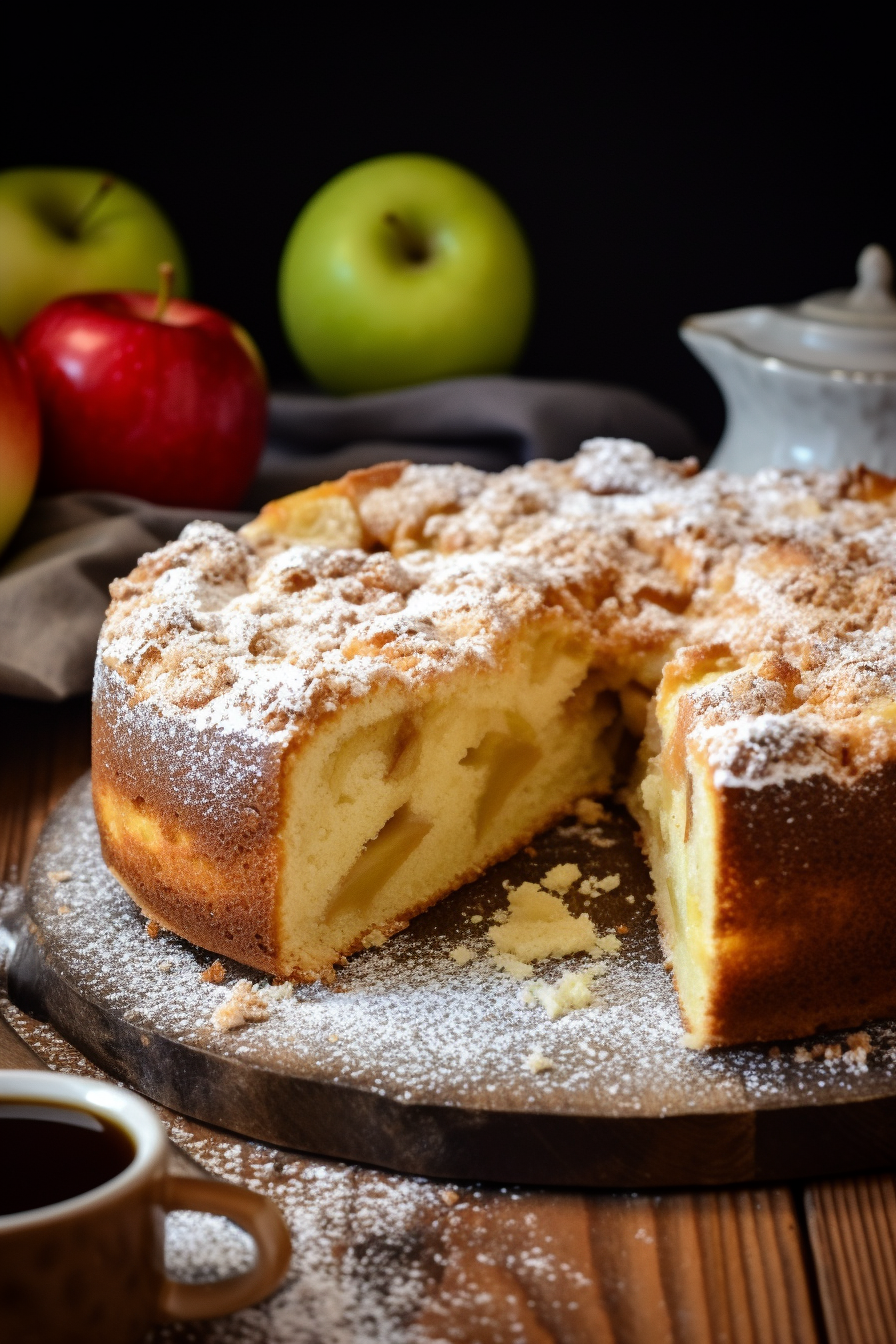 Why You'll Love Italian Apple Cake:
Let's get one thing straight; this isn't just any apple cake. It's THE Italian Apple Cake. First off, we're combining both shredded and diced apples, ensuring every bite is a harmonious medley of apple goodness. Did I mention the olive oil? It's the Italian touch that offers a distinct depth of flavor you just don't get in your run-of-the-mill apple cakes. Plus, that lemon zest? Oh, darling, it's like a zesty Italian kiss in every slice! And in case you're worried about this being too rich – it's perfectly balanced, not too sweet and refreshingly moist. It's like Italy decided to throw a party, and all the flavors were invited.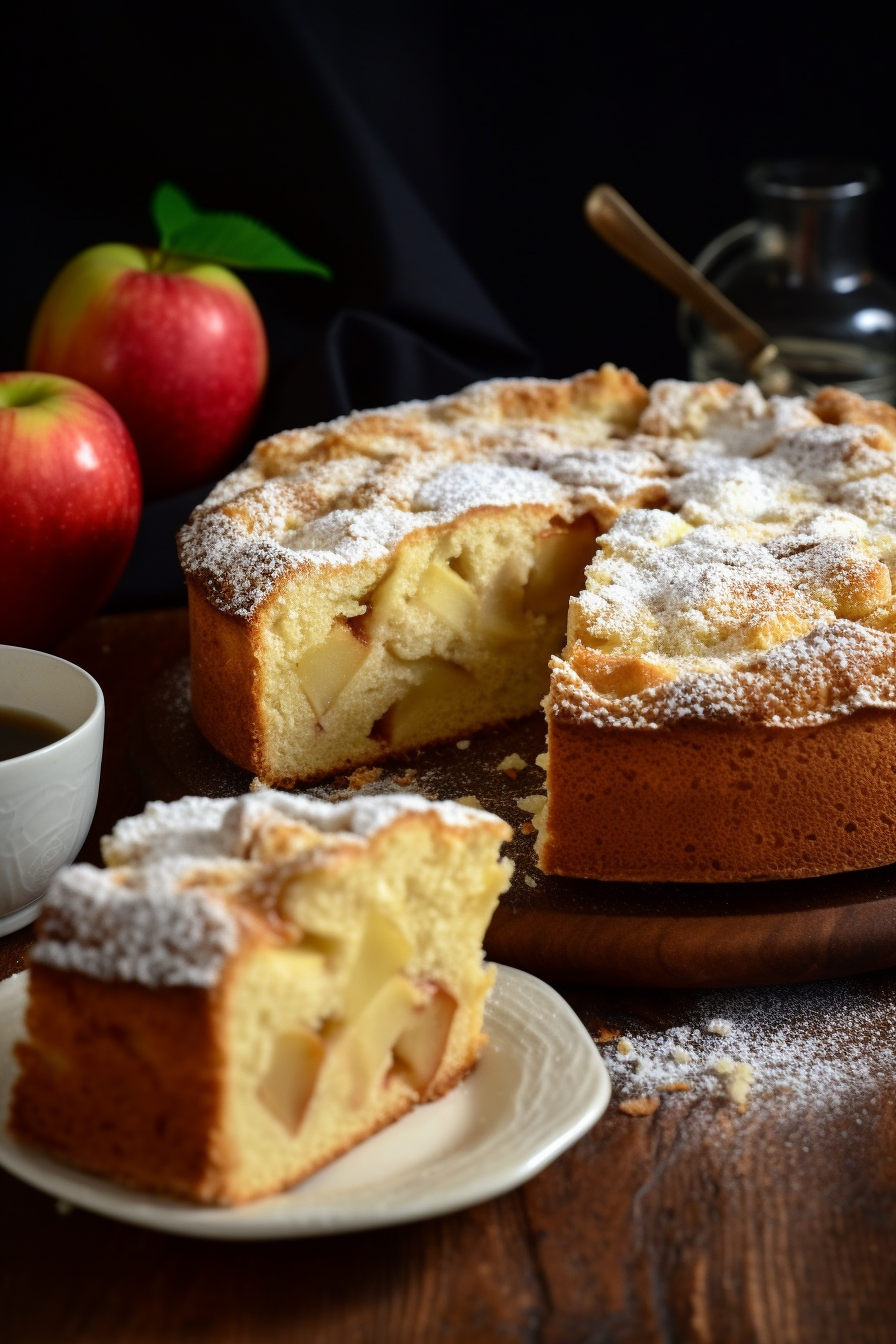 Ingredients for the Italian Apple Cake
Apples: Go for a firmer variety. Think Granny Smith or Honeycrisp. They hold their shape and offer a slightly tart contrast.
Lemon: Fresh is best! Trust me, bottled lemon juice just doesn't compare to the real deal.
Olive Oil: Use a good quality extra virgin olive oil. It'll make all the difference. And, if you're feeling adventurous, why not try a flavored one? Maybe something with a hint of rosemary or chili?
Flour: While the recipe calls for all-purpose flour, you can dabble with half whole-wheat for a nuttier flavor.
Sugar for Sprinkling: This creates a delightful, slightly crispy top, offering a contrast to the moist insides.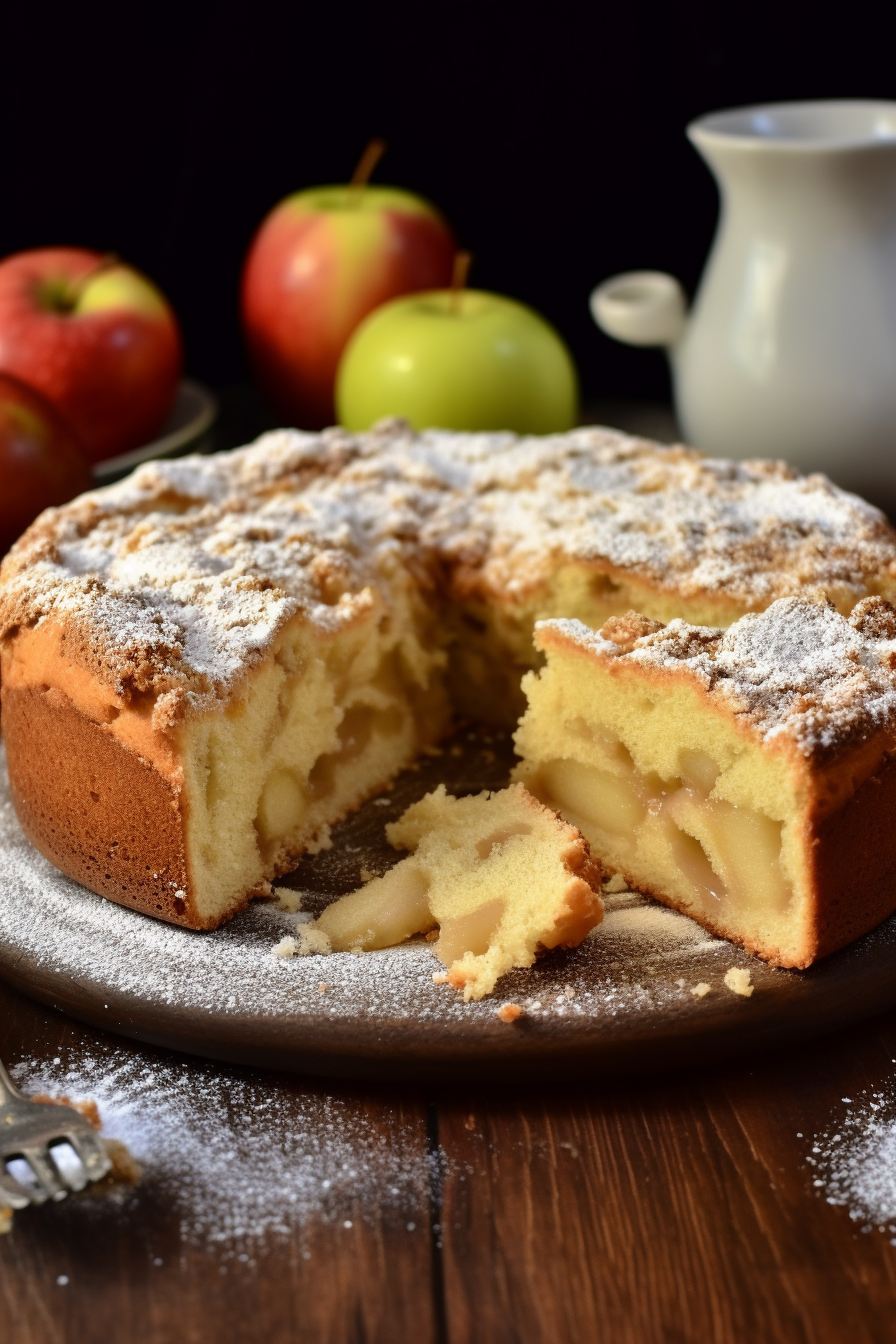 How To Make Italian Apple Cake:
Preparing the Battleground: Start by preheating that oven. Think of it as warming up the stage for our cake superstar. And while you're at it, give some love to your bundt pan by greasing it up. Melted butter or cooking spray will do the trick.
Apple Shenanigans: Now, peel and core those apples. Dice two and grate the other. This duo approach? It's what ensures apple in every bite. Once done, toss 'em in lemon juice and zest.
Let's Mix Things Up: Get a large bowl, beat eggs and sugar till they're pale and fluffy. This is where the magic begins. Then, in comes the milk, olive oil, and vanilla. Once they're all mingling, introduce the flour, baking powder, and salt. Mix until everyone's familiar.
Apple Time: Fold those zesty apples into the batter. Mix them in until they're all cozied up.
Baking Brilliance: Pour the batter into the pan, sprinkle sugar, and bake. Remember, patience is key! Once baked, let it cool, then play fairy godmother and dust with powdered sugar. And voila, you've got yourself a slice of Italy!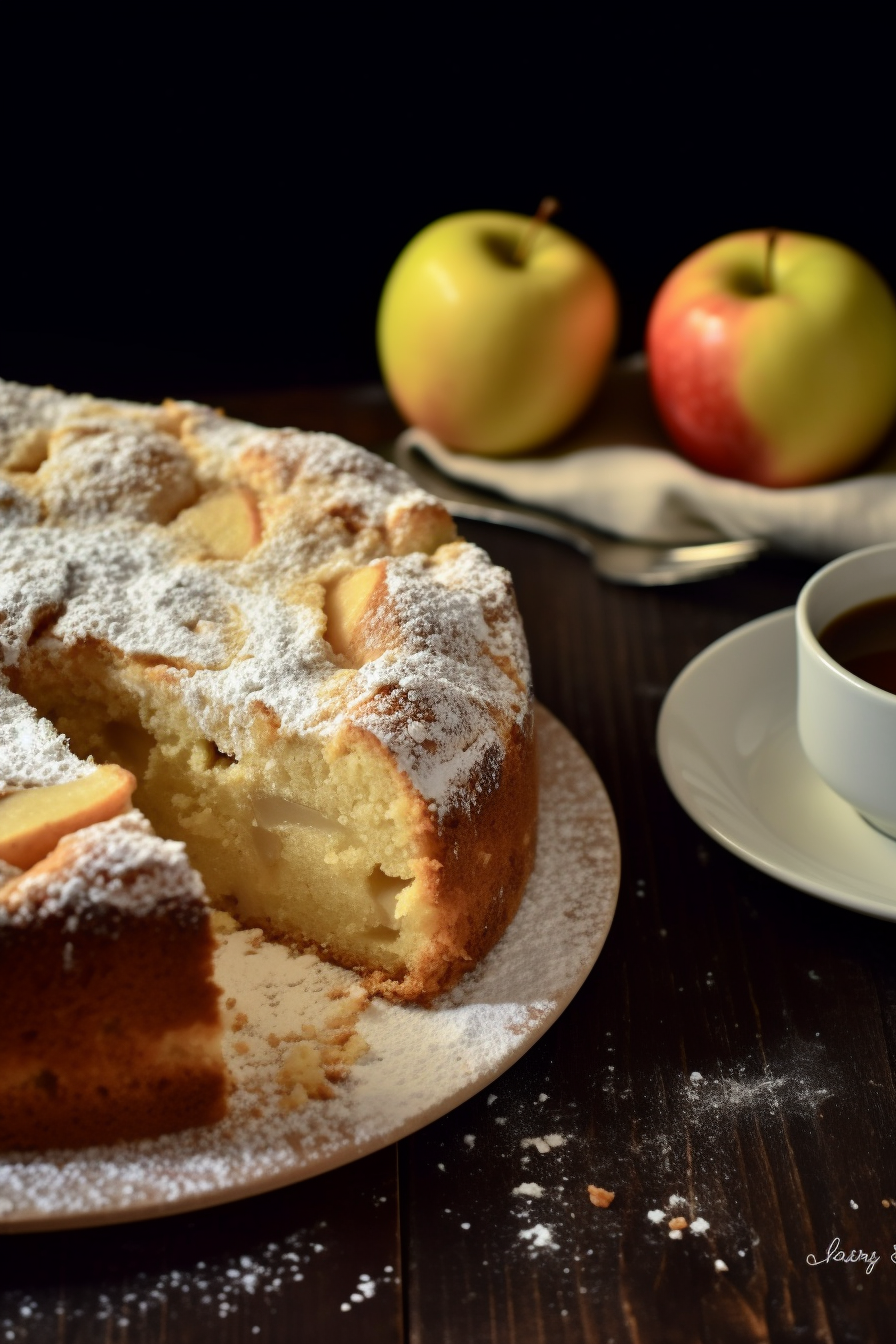 Storage Options for the Italian Apple Cake
Ah, if you're thinking about storing it, I salute your self-control! Wrap this beauty in plastic wrap or foil and keep it at room temperature for up to 3 days. If you're thinking longer, refrigerate it for up to a week. And if you're one of those "save for a rainy day" kind of people, this cake can be frozen for up to 3 months. Just remember, before you eat, let it return to room temperature. It's always more welcoming that way!
Variations and Substitutions for the Italian Apple Cake
Going Nutty: For an added crunch, throw in some chopped walnuts or almonds.
Spice it Up: A pinch of nutmeg or cardamom can add a lovely warmth to the cake.
Dairy Swaps: For our lactose-intolerant friends, almond or oat milk will do the trick.
Flour Alternatives: For a gluten-free version, try almond flour. Just keep an eye on the texture. And remember, every twist you give makes this recipe a bit more yours. After all, isn't that the beauty of cooking?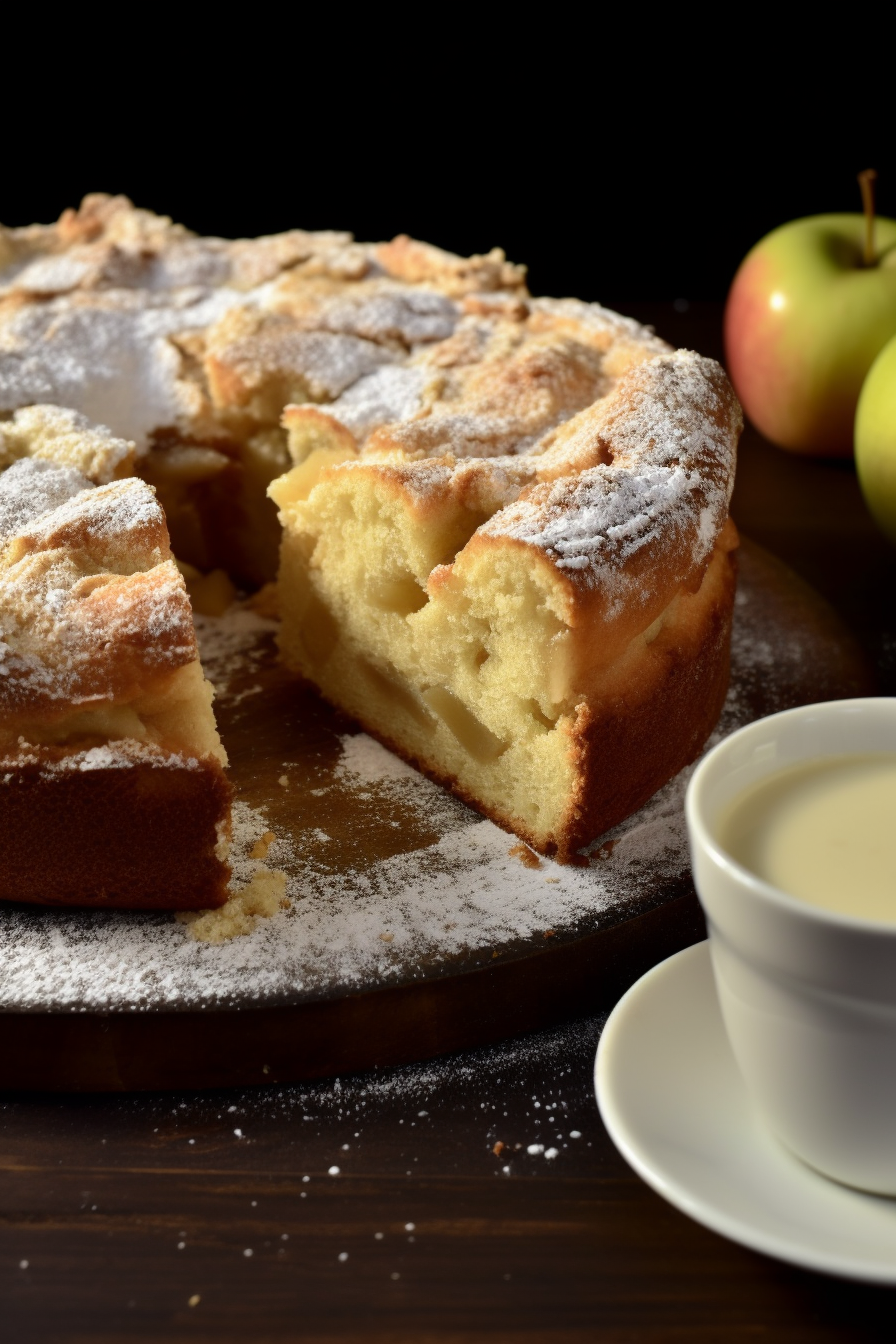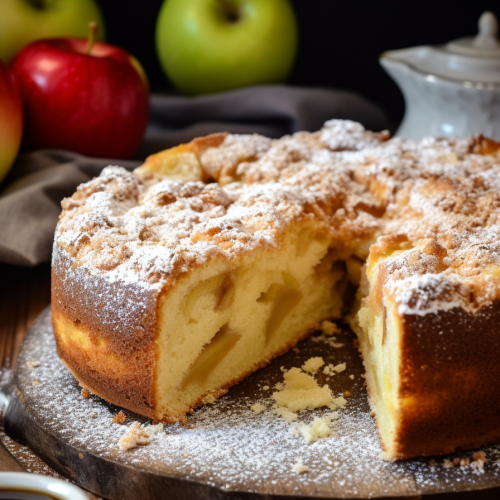 Italian Apple Cake
Oh, the Italian countryside, where lemons dance with olive oil and apples frolic in fluffy cakes. Dive into a delectable slice of Italy with this Italian Apple Cake featuring fresh apples, aromatic lemon zest, and heartwarming olive oil. Mangia!
Print
Pin
Rate
Ingredients
3

medium-sized apples

Zest and juice of 1 lemon

3

large eggs

1

cup

of granulated sugar

1

cup

of milk

preferably 2% or whole

⅔

cup

of high-quality olive oil

2

teaspoons

of pure vanilla extract

3

cups

455 grams of all-purpose flour

1

tablespoon

of baking powder

½

teaspoon

of salt

2

tablespoons

of granulated sugar

for garnishing purposes

Optional: Powdered sugar for final presentation
Instructions
Initial Preparation:
Preheat the oven to a temperature of 350°F (175°C).

Prepare a standard bundt cake pan by greasing it thoroughly, either with butter in its melted state or with a high-quality cooking spray. Reserve for later use.
Apple Preparation:
Thoroughly peel and core each of the three apples. Subsequently, finely dice two apples into approximately half-inch pieces. Grate the remaining apple using a standard box grater, ensuring the use of the larger grating side.

Transfer the prepared apples to a medium-sized mixing bowl. Incorporate two tablespoons of freshly squeezed lemon juice and one teaspoon of lemon zest. Mix until the apples are evenly coated. Set aside for future use.
Batter Formation:
In a separate, large mixing bowl, amalgamate the eggs and sugar. Utilizing an electric mixer, blend the ingredients until the mixture is light in hue and has achieved a fluffy consistency. This should take approximately 2-3 minutes.

Introduce the milk, olive oil, and pure vanilla extract to the mixture. Continue mixing until all ingredients are well combined.

Carefully sift in the all-purpose flour, baking powder, and salt. Mix until a smooth, consistent batter is formed without any visible lumps.

Incorporation of Apples:

Gently fold the previously prepared apple mixture into the batter until uniformly distributed.
Baking:
Transfer the final batter into the pre-greased bundt cake pan.

As a finishing touch before baking, evenly sprinkle the surface of the batter with two tablespoons of granulated sugar.

Position the cake pan in the center of the preheated oven and allow it to bake for a period ranging from 40 to 50 minutes. The cake will be deemed ready when it slightly retracts from the edges of the pan and a toothpick, when inserted, emerges predominantly clean with a few attached crumbs.

Once baked, the cake should be allowed to cool on a wire rack for a duration of 10 minutes. Thereafter, carefully remove the cake from the pan and let it cool to room temperature.
Final Presentation (Optional):
For an elegant touch, dust the fully cooled cake with a fine layer of powdered sugar.