Dive into a mouthwatering Amish Onion Cake, rich with caramelized Vidalia onions, creamy sour cream, and the perfect blend of sugar and spices. This is not your average cornbread, it's a flavor-filled journey.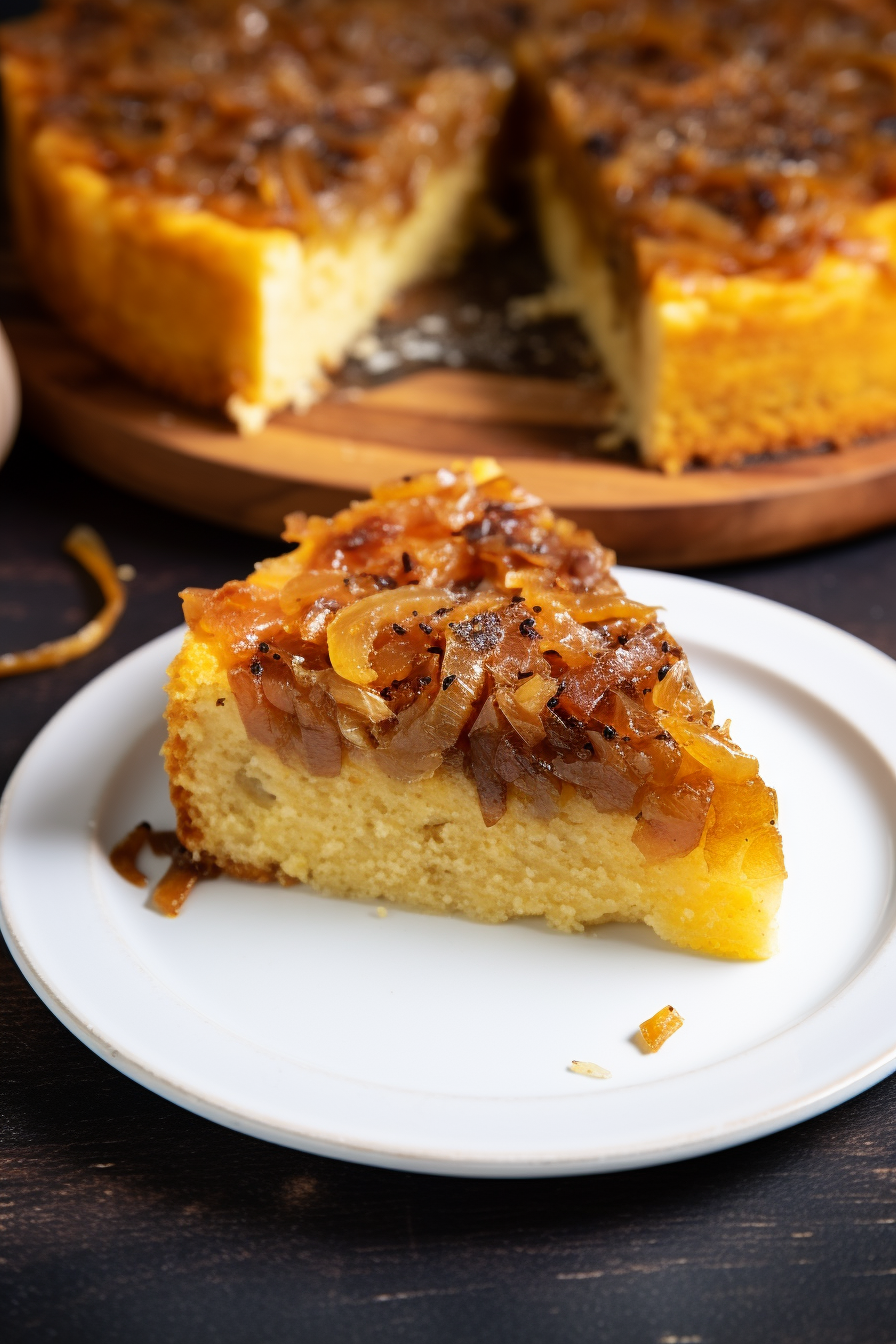 Growing up, my family would often frequent local Amish markets. There was something humbling about their simple, yet incredibly rich way of life that always fascinated me. The highlight of our visits? The Amish Onion Cake. The first time I tasted it, I was perplexed. Was it cornbread? Was it cake? It was a beautiful amalgamation of both! Those caramelized Vidalia onions layered on top were like the cherry on a sundae. I remember, on one occasion, asking the Amish lady behind the counter about the history of this peculiar treat. She smiled, a twinkle in her eye, and said, "It's a bit of our tradition mixed with the necessities of life. Onions, after all, are always in abundance." The Amish Onion Cake was a testament to their ability to turn even the simplest ingredients into a symphony of flavors. And today, I'm passing on the baton of this unique taste sensation to you.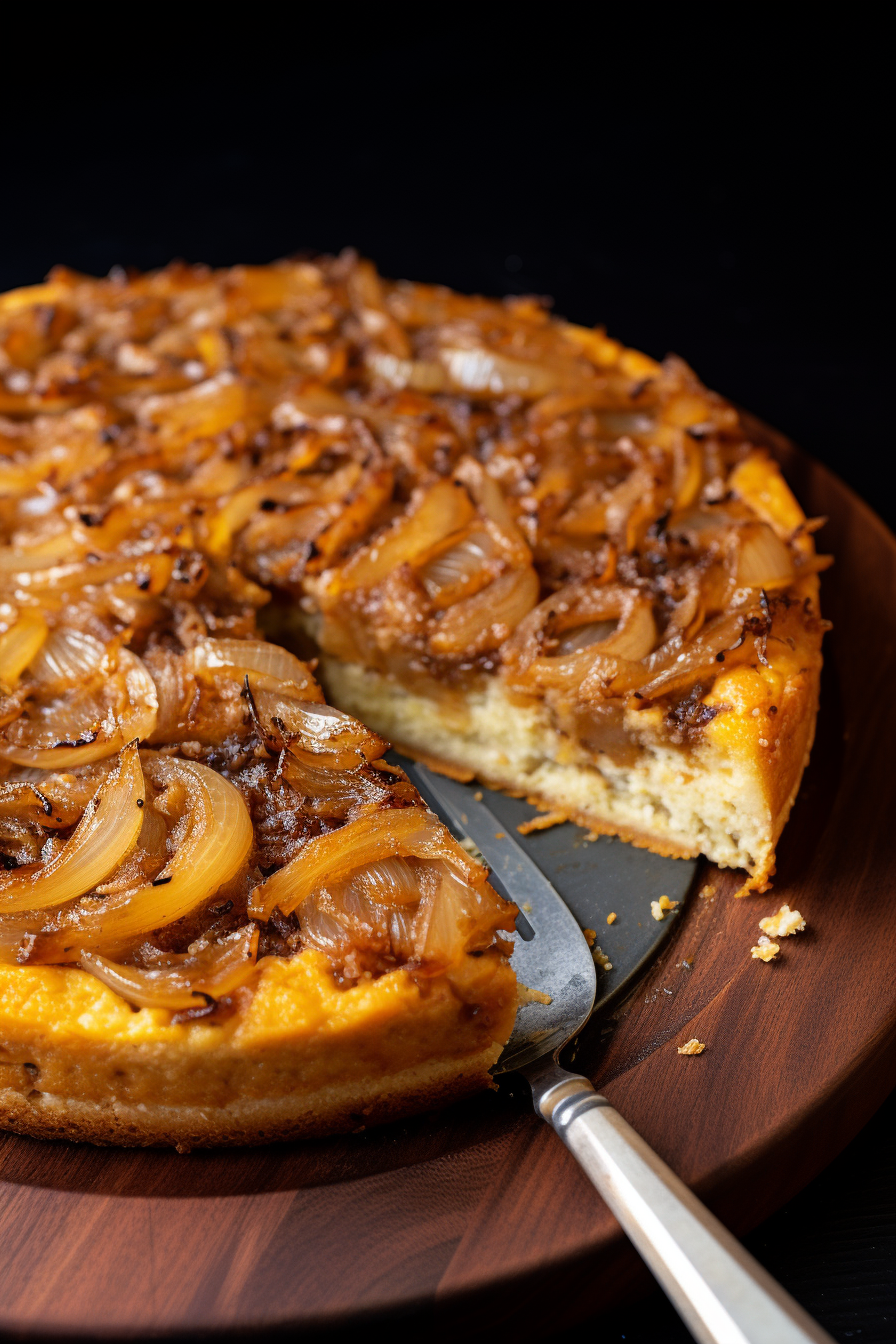 The Amish Onion Cake isn't just a meal; it's an experience. What makes it stand out?
Vidalia Onions: These onions aren't your ordinary type; they bring a sweetness that harmoniously balances the savory aspect of the cake.
Texture Play: With its cake-like consistency but the slight crumbliness of cornbread, it promises a treat to your taste buds with every bite.
Wholesome Ingredients: Think whole milk, rich sour cream, and a bouquet of spices. It's comfort food with a gourmet touch.
Versatility: Perfect as a side dish or enjoy it solo with a hot cup of tea.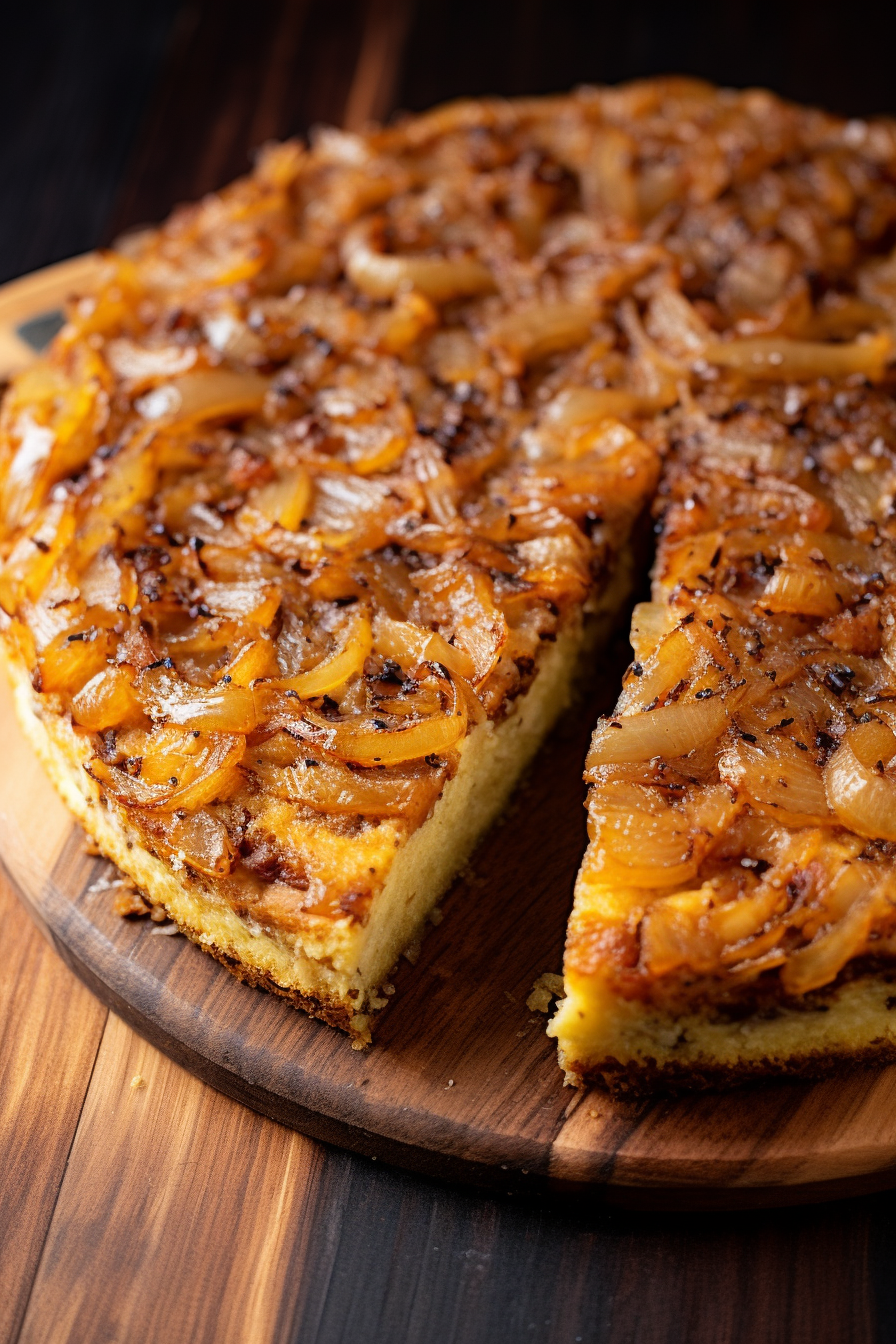 Ingredients for Amish Onion Cake:
Vidalia Onions: Ensure they're fresh and juicy. The sweeter, the better!
Cold Butter: The temperature of your butter can make or break the texture. Ensure it's cold but malleable.
Poppy Seeds: These tiny seeds add a delightful crunch, but if they're not your thing, feel free to adjust the quantity.
Cornstarch: It's the magic ingredient that keeps our cake light and airy.
Brown Sugar: Opt for a darker shade if you like it extra caramelly.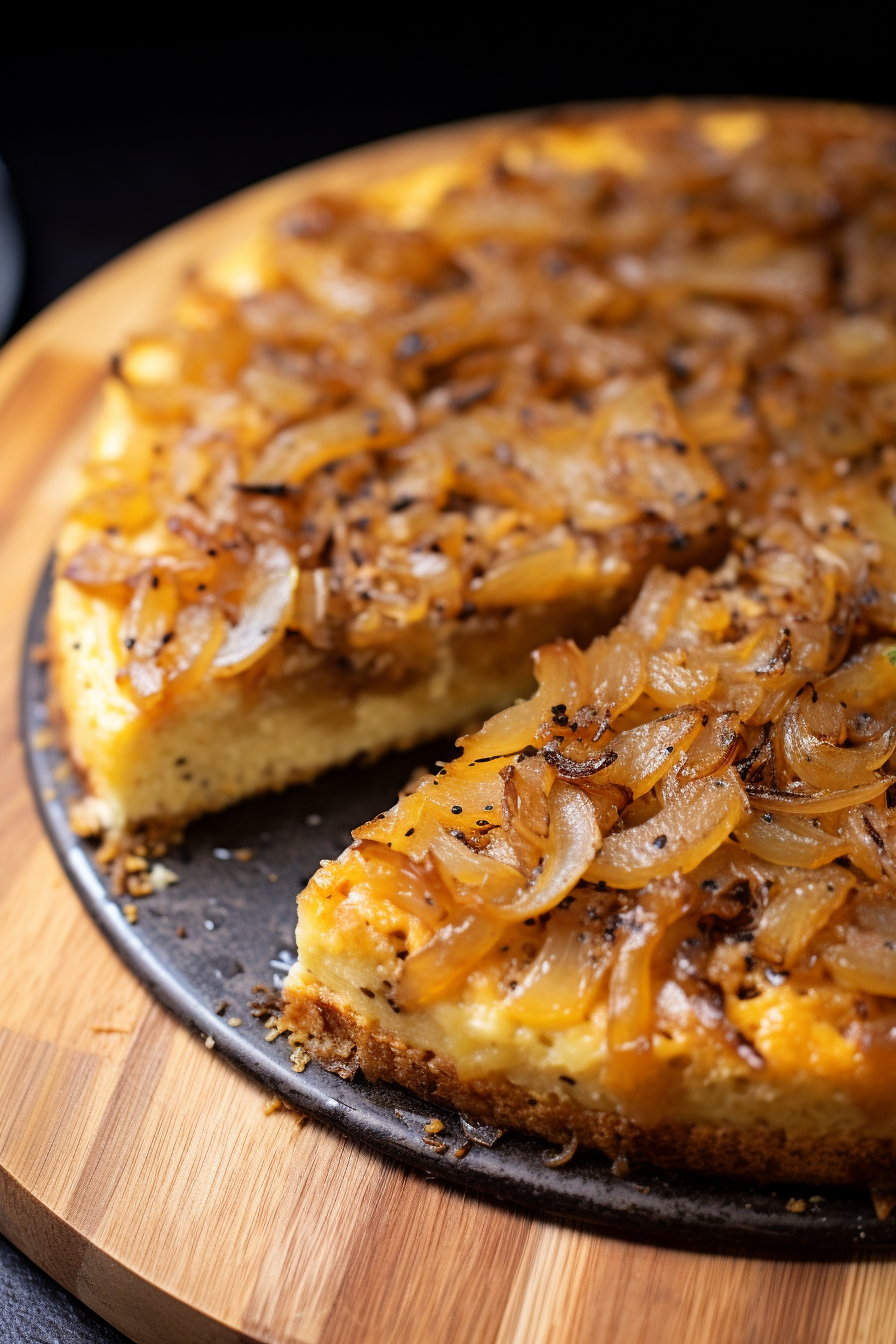 Step-by-Step Instructions for Amish Onion Cake:
Onion Prep: Begin with your Vidalia onions. As you chop these sweet treasures, imagine the caramelized goodness they'll become. Once chopped, sauté them in 1/2 cup of butter, letting the onions swim and soften for about 10 minutes. As they glisten, sprinkle in your poppy seeds, salt, paprika, and pepper. Stir until they're all singing in harmony, then set aside this pan of gold.
Doughy Delights: Grab a large bowl. This will be the playground for your flour, cornstarch, baking powder, and sugar. As you mix, cut in 1 1/4 cups of butter. You're aiming for a crumbly dough that's full of buttery pockets.
Liquid Love: Melt the leftover butter. Whisper sweet nothings to it if you must. In a separate bowl, whisk your eggs, milk, sour cream, and the previously serenaded melted butter. Now, the magic moment – create a well in the center of your dry ingredients and pour in this creamy concoction. Stir until they're just acquaintances, not best buddies.
Bake Time: Pour your batter into a 10" springform pan that's been greased up like a summer sunbather. Layer your caramelized onions on top like a cozy blanket. Bake in a pre-heated 350˚F oven for 35-45 minutes. The ideal outcome? A knife that comes out of the center as clean as a whistle. Before serving, let it cool for a bit, perhaps 5 minutes. We don't want to burn our eager tongues, do we?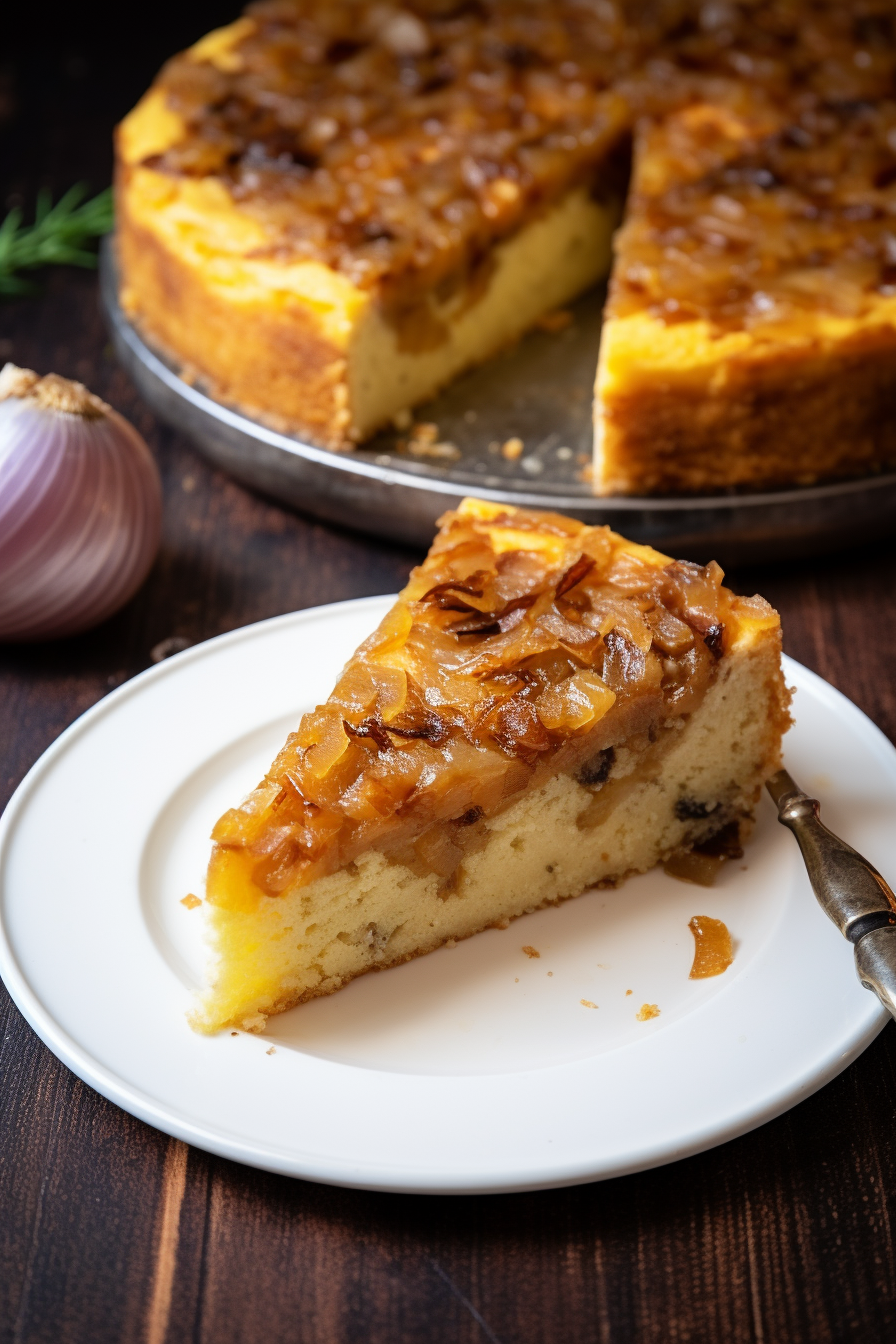 Storage Options for Amish Onion Cake:
Got leftovers? I'm shocked! Store your Amish Onion Cake in an airtight container. It'll keep in the fridge for up to 4 days. Warm it up before serving for that fresh-out-of-the-oven feel. Or, if you're like me and sometimes "forget" (read: intentionally hide) a slice or two, it freezes beautifully for up to a month.
Variations and Substitutions:
Onions: No Vidalia? Sweet onions or red onions can also do the trick, though the flavor profile might change a tad.
Dairy Deliberations: Lactose intolerant? Use lactose-free milk and a dollop of lactose-free cream instead of sour cream.
Vegan Version: Substitute dairy products with their vegan counterparts and use flaxseed eggs (1 tablespoon flaxseed meal + 2.5 tablespoons water = 1 egg).
Spice It Up: Feel like a bit of heat? Add some red chili flakes or a splash of hot sauce to the batter.
Now, what are you waiting for? Get baking and bring a piece of Amish tradition right into your kitchen. And remember, if anyone asks where you got the recipe, just tell them it's an old family secret (wink, wink).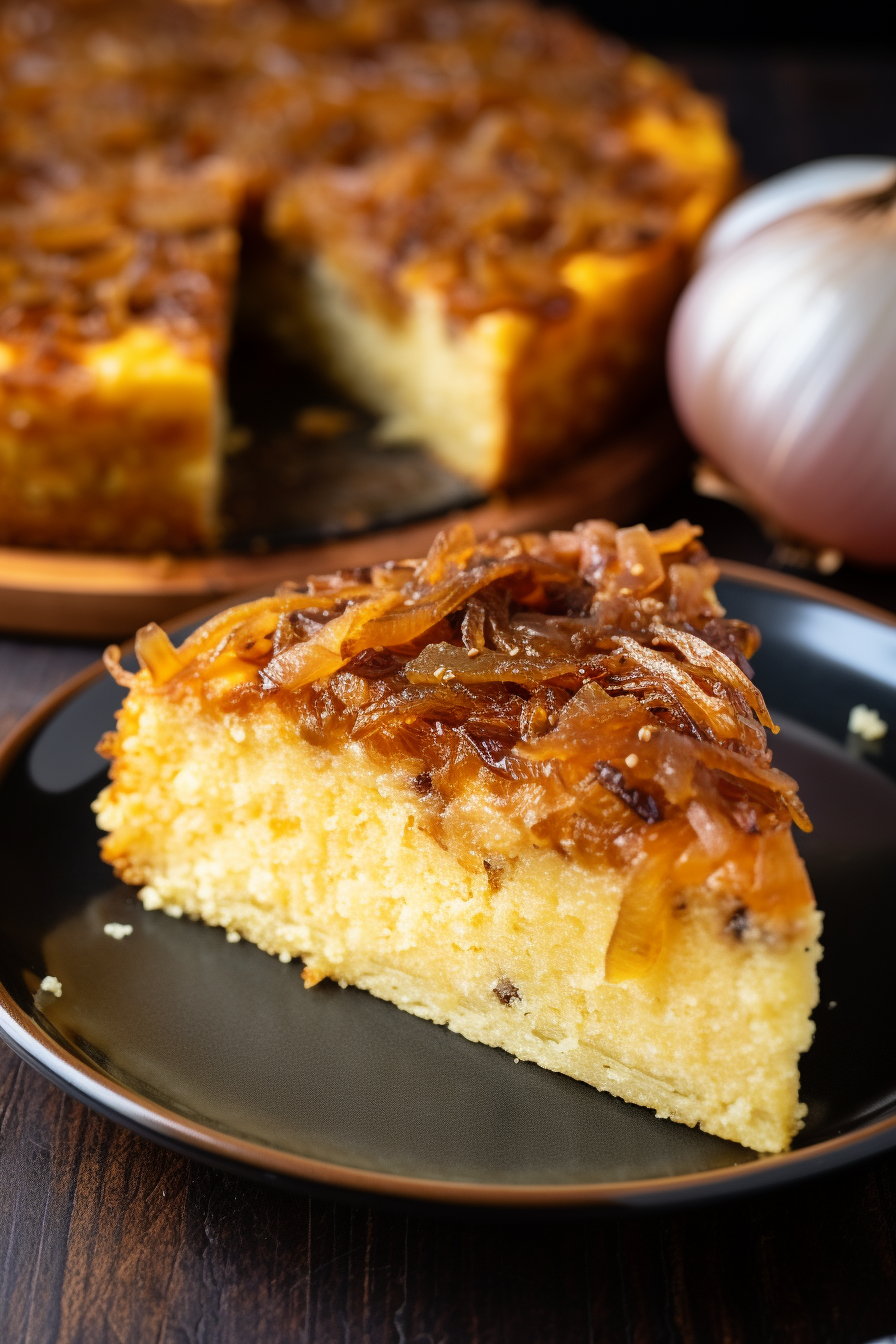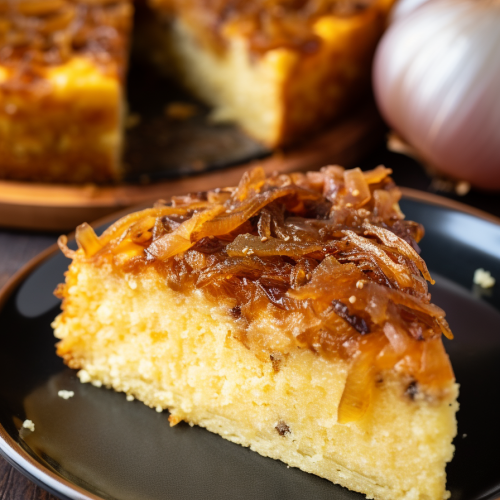 Amish Onion Cake
Dive into a mouthwatering Amish Onion Cake, rich with caramelized Vidalia onions, creamy sour cream, and the perfect blend of sugar and spices. This is not your average cornbread, it's a flavor-filled journey.
Print
Pin
Rate
Ingredients
3 to 4

Vidalia onions

segmented into 1-inch pieces

2

cups

unsalted butter

cold, portioned

1

tablespoon

poppy seeds

1 1/2

teaspoon

salt

1

teaspoon

paprika

1

teaspoon

freshly ground black pepper

4

cups

all-purpose flour

1/2

cup

cornstarch

1

tablespoon

baking powder

2

tablespoons

brown sugar

preferably dark variety

5

large eggs

3/4

cup

whole milk

3/4

cup

sour cream
Instructions
Onion Preparation: Initiate by preheating the oven to 350˚F (175˚C). Over a low flame, sauté the segmented Vidalia onions in 1/2 cup of the unsalted butter for an approximate duration of 10 minutes or until they achieve a translucent appearance. Subsequently, integrate the poppy seeds, salt, paprika, and ground pepper into the sautéed onions. Combine these ingredients thoroughly and then remove the pan from the heat source.

In a sizable mixing bowl, amalgamate the all-purpose flour, cornstarch, baking powder, and brown sugar. Integrate 1 1/4 cups of the portioned butter into the dry ingredients. This should result in a dough of a fragmented and granular consistency.

In a separate vessel, proceed to melt the remaining butter. Concurrently, in another bowl, amalgamate the eggs, whole milk, sour cream, and the previously melted butter, ensuring a homogenous mixture.

Construct a well in the center of your dry mixture. Subsequently, transfer the liquid ingredients into this well. Mix until the wet and dry components are uniformly combined, ensuring not to overmix.

Transition the batter into a lubricated 10-inch springform pan. Delicately layer the previously prepared caramelized onions atop the batter. Commit the pan to the pre-heated oven and allow baking for a time interval ranging between 35 to 45 minutes. A completed bake can be verified by inserting a knife into the center; it should emerge devoid of batter remnants. Post-baking, permit the cake to cool within its pan for a minimum duration of 5 minutes before the subsequent extraction.