Dive into this drool-worthy copycat Longhorn Parmesan Crusted Chicken in under an hour! 🍗 Marinated in a zesty blend with olive oil, ranch, and a hint of lemon, then topped with a creamy Parm-Provolone mix and crispy breadcrumbs. Forget takeout; this is next-level home cooking!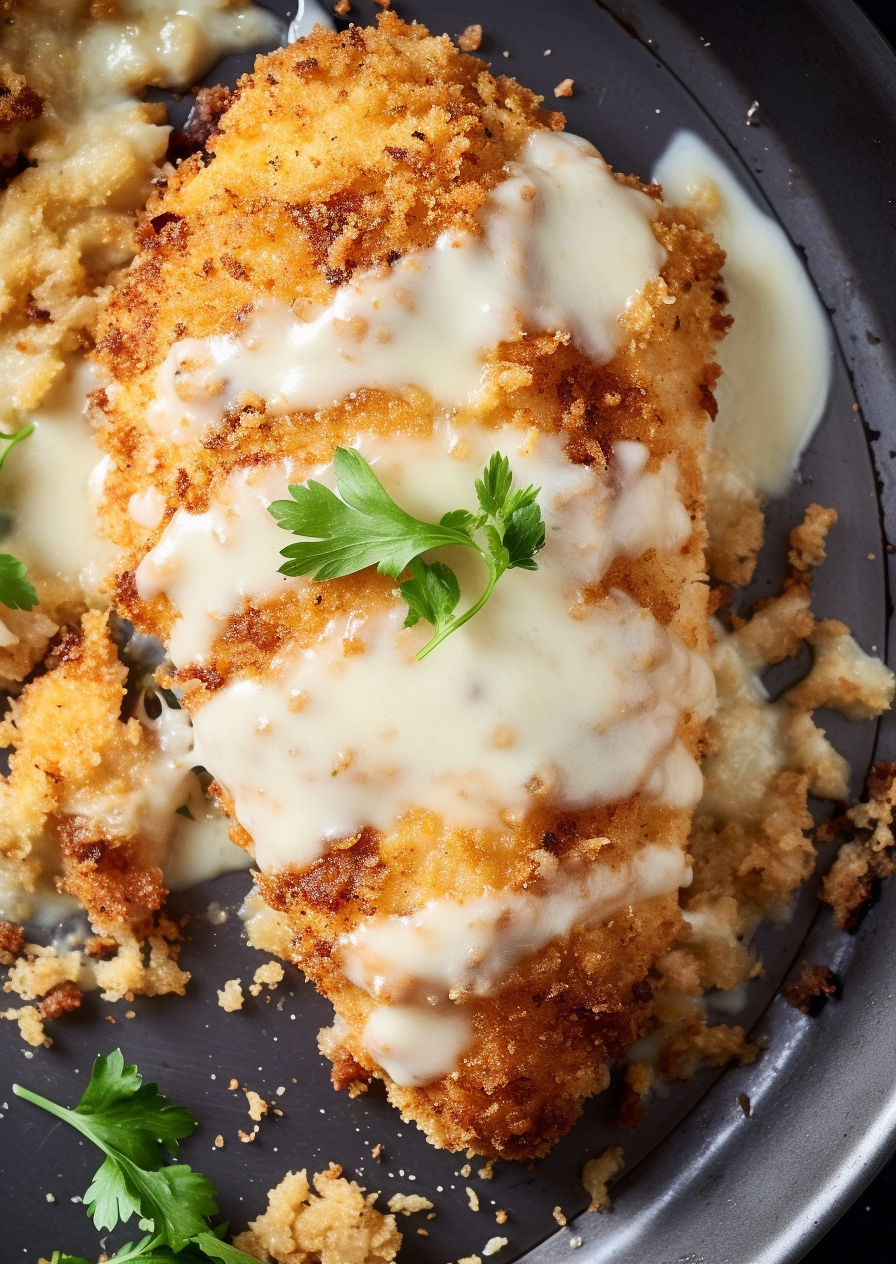 Oh my goodness, foodie friends! Have I got a treat for you today. Let's take a little trip down memory lane, shall we?
You know when you go out to eat, and you find that one dish that just makes you swoon and dream about it for days afterwards? That's exactly what happened to me during my recent date night at Longhorn. That chicken, you guys! I mean, I'm a big fan of chicken in general, but THIS. This was different.
Well, of course, the food blogger in me couldn't just let it go. I HAD to try recreating it at home. So, armed with taste memories, a determined spirit, and a hungry family, I embarked on a journey to recreate that delicious Longhorn Parmesan-crusted chicken. And after a few tweaks and tests (with several taste tests by my ever-patient family, bless them), I can proudly say I've done it!
Now, I'm not saying I've outdone the chefs at Longhorn, but let's just say I won't be waiting for my next date night to enjoy this beauty. It's easy, it's delicious, and it's a little piece of restaurant magic right in the comfort of your home.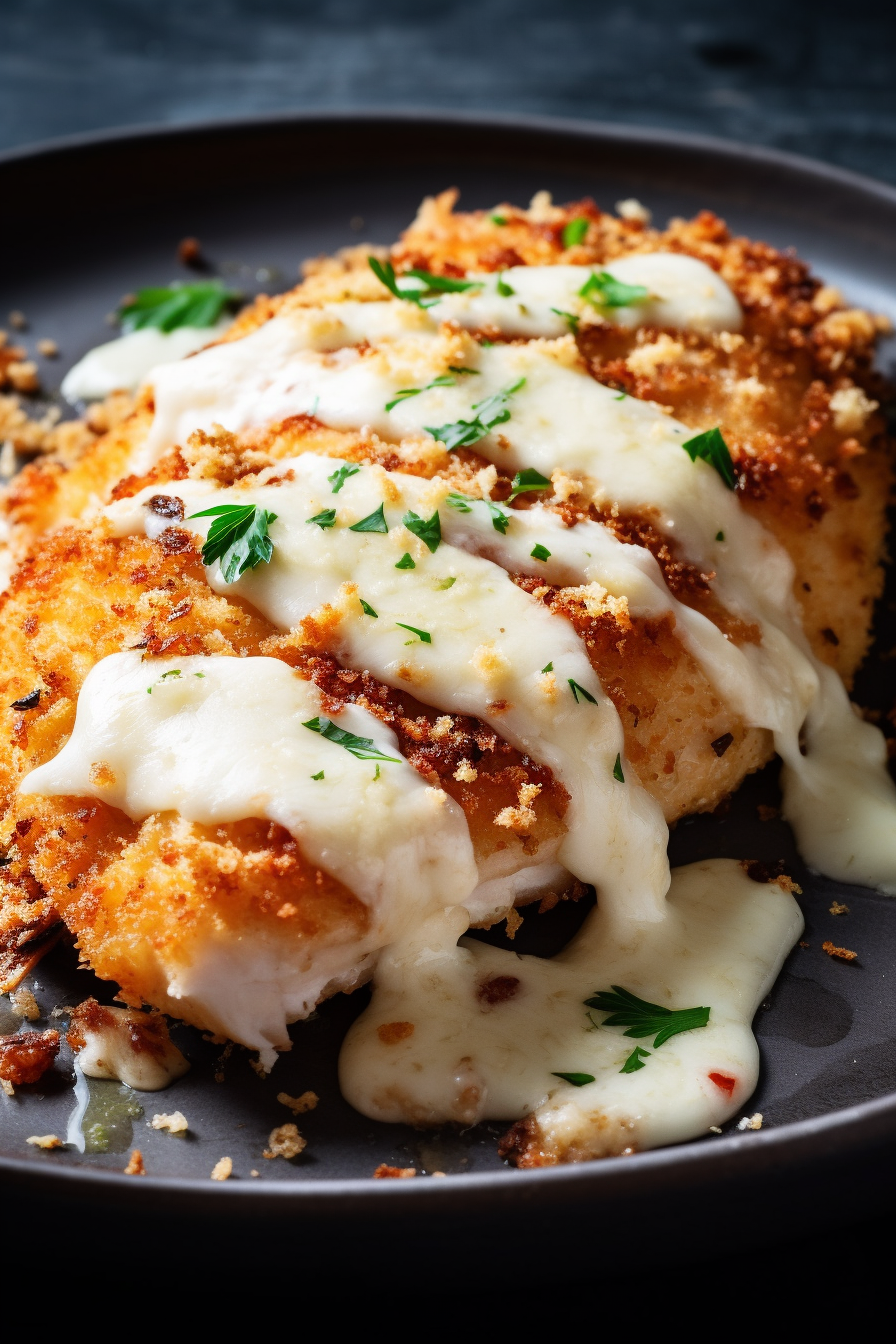 What makes this Copycat Longhorn Parmesan Crusted Chicken stand out?
This recipe is inspired by the famous Parmesan Crusted Chicken from Longhorn Steakhouse. Now, you can have that restaurant-quality dish right in the comfort of your own kitchen!
We're talking about a marinade blend that's all sorts of yummy with a mix of olive oil, ranch, and a touch of lemon. And if you're in a hurry? You can use Italian Salad Dressing as a quick fix. Either way, it's flavor-packed goodness!
This ain't just about Parmesan, folks. We're also bringing in the Provolone to the cheese party. Melted together, this duo is a cheesy blanket of dreams on top of your chicken.
With the panko breadcrumbs toasted on top, this chicken's got that irresistible contrast between tender meat and a crunchy topping. The garlic butter just seals the deal. Crunch, flavor, yum!
Whether you're team skillet or team grill, this recipe's got you covered. Either way, you're guaranteed that golden sear we all crave.
With a total time of just 55 minutes, you get an impressive dinner dish without spending your entire evening in the kitchen. Speedy gourmet? Yes, please!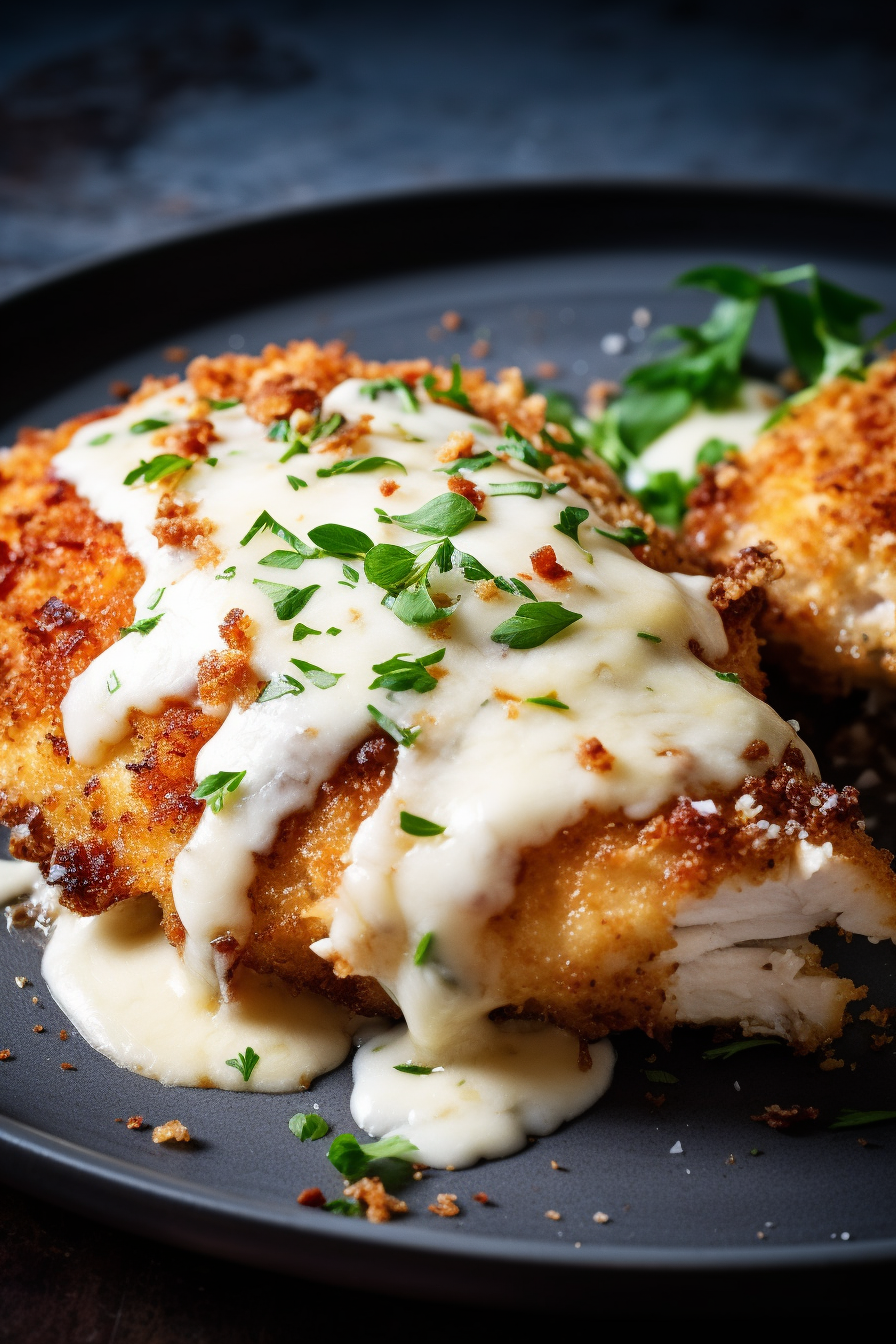 What are the ingredients for Copycat Longhorn Parmesan Crusted Chicken?
let's break down this killer recipe and get the inside scoop on these ingredients:
Chicken Breasts: You'll want skinless, boneless pieces. And, a little tip? Try getting uniform-sized breasts so they cook evenly. Oh, and if you can, opt for organic! The taste difference is 💯.
Salt/Pepper: Classic seasonings! Freshly ground black pepper can really elevate the flavor.
Vegetable Oil: For that sizzle and sear. Though, if you're feeling fancy, give avocado or grapeseed oil a shot – they have high smoke points too!
For the Marinade:
Olive Oil: The heart and soul of this marinade. Extra virgin? Even better. The robust flavor makes the chicken sing 🎶.
Ranch Dressing: A creamy, tangy twist that's not just for salads! And the shortcut? Italian dressing works wonders if you're in a pinch.
Worcestershire Sauce: This adds a punchy, savory depth. I like to call it the 'secret weapon' of many dishes.
Distilled White Vinegar & Lemon Juice: A tangy duo! They're the bright sparks in the marinade.
Minced Garlic: Fresh is best, but hey, if you've got that jar of pre-minced garlic, no judgment here!
Pepper: A bit more for that kick!
For the Parmesan Crust:
Parmesan & Provolone Cheese: The dynamic duo! Chopped bits melt sooo beautifully. Pro tip? Get a block and chop it yourself for maximum meltiness.
Buttermilk Ranch Salad Dressing: This adds creaminess and flavor. If you're out of buttermilk, regular Ranch sneaks in just fine.
Melted Butter: Ah, the golden goodness! It adds that rich, buttery flavor that sends the crust over the top.
Panko Breadcrumbs: For the CRUNCH! These breadcrumbs are lighter and crispier than the regular kind. Super essential for that delish texture.
Garlic Powder: It's garlic, but make it powder. Adds another layer of garlicky goodness!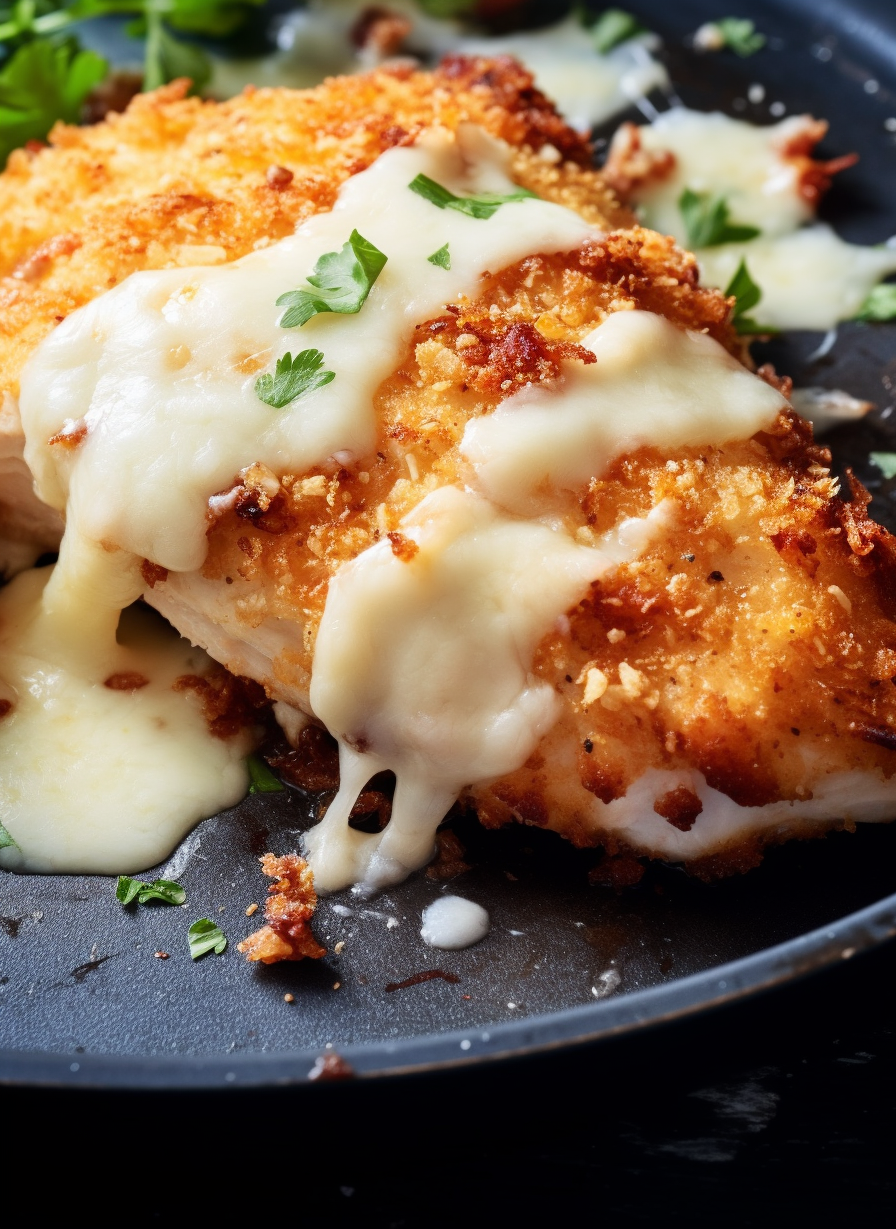 How to Make Copycat Longhorn Parmesan Crusted Chicken?
This golden beauty takes about 35 minutes to prep and about 20 to cook. So, you'll be chowing down in under an hour!
For the Marinade (or, you know, just cheat with Italian Salad Dressing): Whisk up olive oil, ranch dressing, Worcestershire sauce (try saying that three times fast!), distilled white vinegar, lemon juice, minced garlic, and a bit of pepper. This magical concoction will make your chicken sing. Once it's all mixed, give your chicken a nice little bath in it. If you're feeling fancy, pound that chicken to about half an inch thick. Pro tip: They puff up a bit when cooking, so this helps you get that perfect thickness. Let them soak up that delicious marinade for at least 30 minutes, but overnight? Even better.
Searing Time: Heat up some vegetable oil in a skillet. Cast iron is chef's kiss for that golden sear. Drop your chicken in and let it sizzle without fussing with it too much—this ain't a time for chicken dance. About 4-5 minutes each side should do the trick. Once you've achieved that drool-worthy golden brown on each side, set your chicken aside.
Cheese Time (because everything's better with cheese): Mix together Parmesan, Provolone, and a bit of Ranch. Pop it in the microwave in short bursts until it's kinda melty. Slather that cheesy goodness over your chicken. Toss it under a low broil in the oven just until the cheese gets those sexy little brown spots.
Crispy Topping: Now for that crunch! Melted butter, garlic powder, and panko breadcrumbs will be your besties here. Sprinkle it over the cheese layer and broil just for a hot sec to get a lovely golden crunch.
Final Touch: Serve it with some mashed potatoes (or your fave side) and you've got yourself a homemade Longhorn experience. Take a bite, do a little happy dance, and remember to snap a pic for the 'gram!
Storage tips:
If you somehow (and I mean, somehow) have leftovers, place them in an airtight container and store in the fridge for up to 3 days. This chicken even tastes better the next day, believe it or not! Reheat in the oven or toaster oven to get that crispy topping back. Freezing? Sure thing! Just remember to keep it airtight and let it thaw in the fridge before reheating. That way, you've got a rockstar dinner ready to roll any night of the week!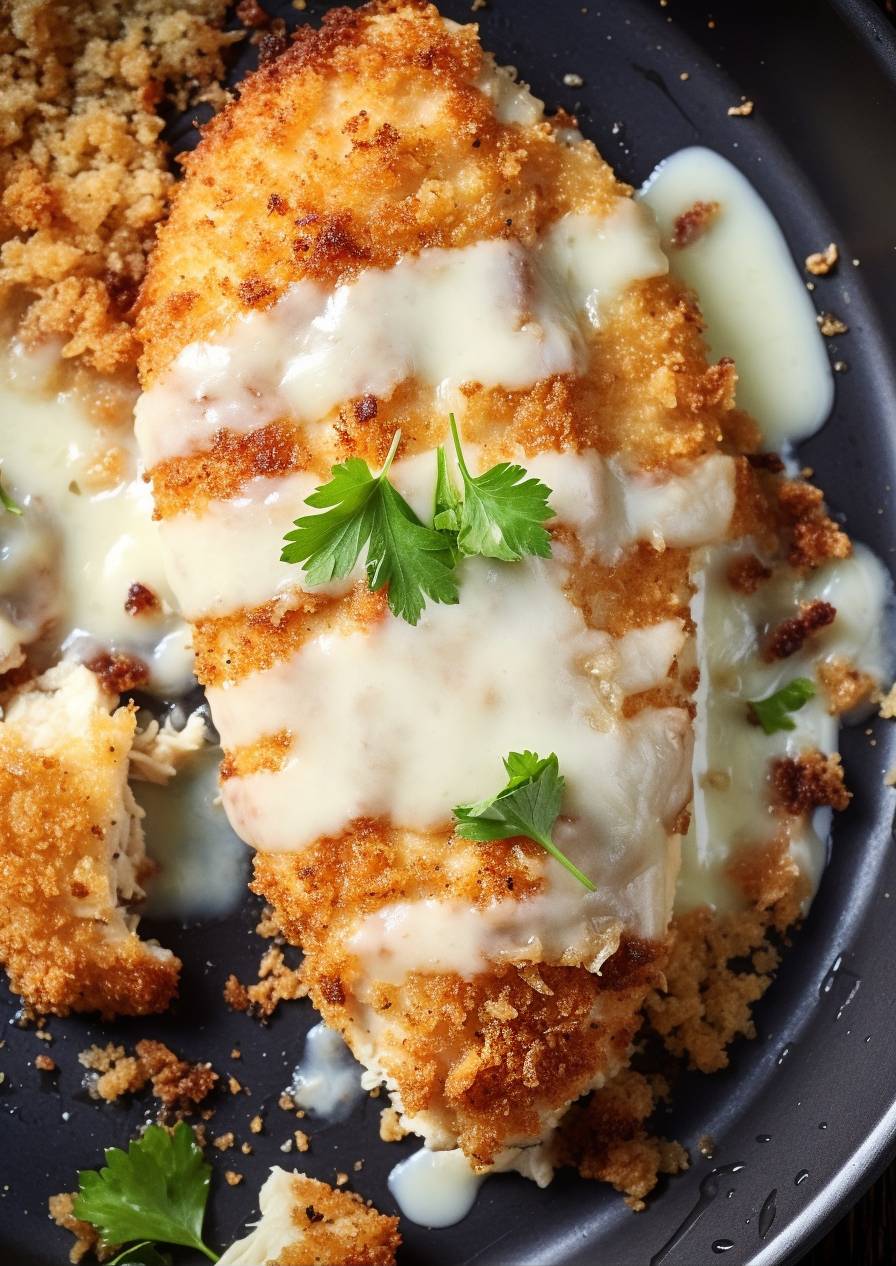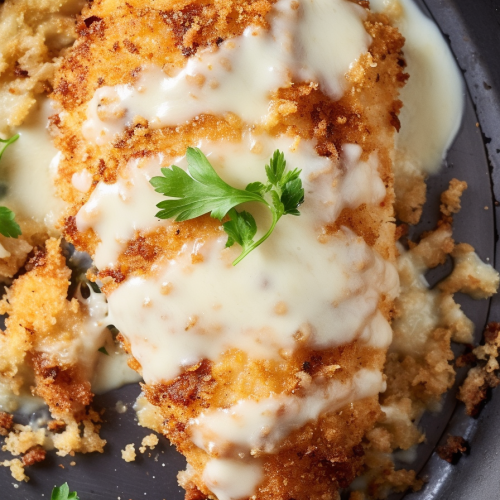 Copycat Longhorn Parmesan Crusted Chicken
Dive into this drool-worthy copycat Longhorn Parmesan Crusted Chicken in under an hour! Marinated in a zesty blend with olive oil, ranch, and a hint of lemon, then topped with a creamy Parm-Provolone mix and crispy breadcrumbs. Forget takeout; this is next-level home cooking!
Print
Pin
Rate
Ingredients
For the Main Dish:
4

pristine boneless and skinless chicken breasts

A pinch of salt & pepper

adjusted to your preference

3

tablespoons

of vegetable oil for that perfect sear
Marinade Magic (For the time-pressed: A bottle of Italian Salad Dressing works wonders!):
1/3

cup

of the finest olive oil

1/3

cup

of creamy ranch dressing

2

tablespoons

of Worcestershire sauce for that tang

1

teaspoon

of distilled white vinegar

A squeeze

1 teaspoon of fresh lemon juice

1

tablespoon

of freshly minced garlic

1/2

teaspoon

of freshly ground pepper
Glorious Parmesan Crust:
1/2

cup

of aromatic Parmesan cheese

finely chopped

1/2

cup

of luscious Provolone cheese

finely chopped

6

tablespoons

of Buttermilk Ranch salad dressing

Classic Ranch will do the trick too!

4

tablespoons

of silky melted butter

3/4

cup

of crispy panko breadcrumbs

2

teaspoons

of garlic powder for that extra punch
Instructions
Marinating the Star of the Show:
Whisk all those delectable marinade ingredients together till you get a smooth, well-blended concoction.

Lay your chicken in a spacious gallon freezer bag, expel the air, and seal it securely. Employ your trusty meat tenderizer and gently pound until about 1/2 inch in thickness. Here's a tip: It'll get a bit more voluptuous once cooked.

Season each side of the chicken with a sprinkle of salt and pepper to your liking.

Transfer your chicken to a fresh freezer bag, drench it with the marinade, seal, and refrigerate. Let the flavors meld for at least 30 minutes or, if you can wait, overnight for a deeper infusion.
The Searing Dance:
In a skillet, preferably cast iron for that unbeatable sear, heat 2-3 Tbsp. of vegetable oil over medium-high heat.

Lay the chicken and let it sizzle untouched for 4-5 minutes on each side, aiming for that divine golden hue. If your pan throws a tantrum and gets too hot, turn the heat down a notch. Once it's perfectly seared, nestle the chicken onto a fresh plate or baking sheet, cloak with foil to retain warmth.
The Crowning Glory – Parmesan Crust:
Set your oven to low broil, reaching about 450° F.

In a mixing bowl, blend together Parmesan, Provolone, and Ranch dressing. Microwave this trio in 15-second bursts, giving a gentle stir between each round, until it achieves a molten state. Lavishly layer this on the chicken.

Broil this beauty for 3 minutes or until the cheese starts whispering golden secrets.

Meanwhile, combine the melted butter, garlic powder, and breadcrumbs. Adorn your chicken with this mixture.

Broil for just about a minute till the breadcrumbs flirt with a golden tint. Keep a vigilant eye!
Nutrition
Serving:
4
People
|
Calories:
660
kcal
|
Carbohydrates:
13
g
|
Protein:
35
g
|
Fat:
52
g
|
Saturated Fat:
21
g
|
Polyunsaturated Fat:
11
g
|
Monounsaturated Fat:
16
g
|
Cholesterol:
133
mg
|
Sodium:
1064
mg
|
Potassium:
556
mg
|
Fiber:
1
g
|
Sugar:
2
g
|
Vitamin A:
643
IU
|
Vitamin C:
4
mg
|
Calcium:
320
mg
|
Iron:
2
mg