Sink your teeth into a delightful blend of popcorn and pecans, all generously coated with a tantalising caramel glaze made from light brown sugar, butter, corn syrup, and a hint of vanilla. A touch of sweet, a touch of salty, and a whole lot of addictive!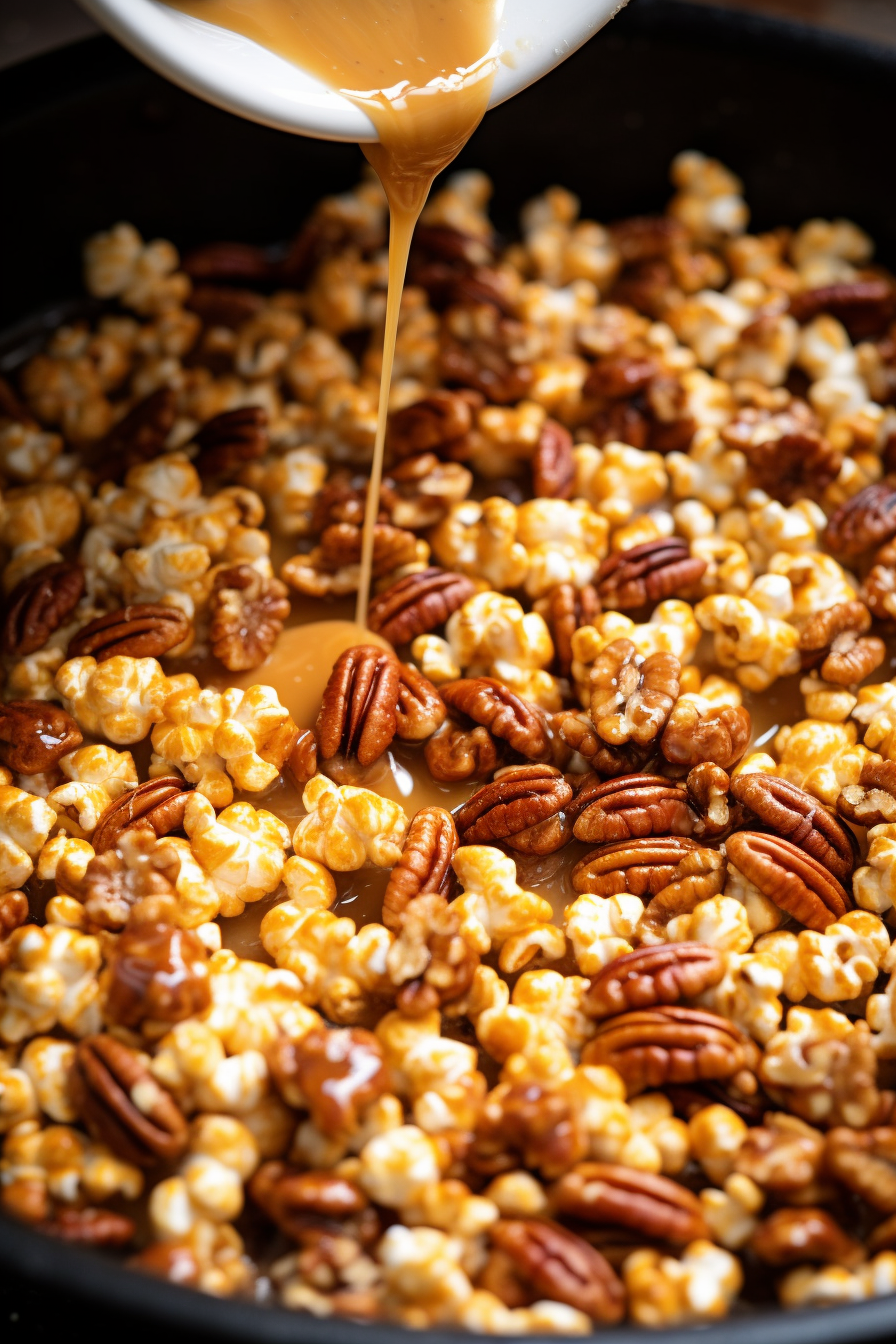 Oh boy, do I have a treat for y'all today! This isn't just any popcorn; it's THE Praline Popcorn. My first brush with this magical concoction was on a blustery winter's evening. I'd just returned from a particularly taxing shopping trip. Just as I was about to dig into my usual store-bought caramel popcorn (judge me later, please), my neighbor Dottie knocked on my door with a gleaming bowl of Praline Popcorn. That first bite was all it took. The rich pecans, the creamy caramel—it felt like I was hugging my taste buds. And trust me, once you try this recipe, you'll forever chuck that store-bought tub and embrace this homemade gold. I had to coax Dottie for days to get this recipe, and boy, am I glad I was persistent!
Alright, what sets our Praline Popcorn apart? First off, the blend of textures is to die for. The crunchy popcorn, combined with the buttery pecans and draped in a caramel coat? It's the culinary version of a Broadway show! Next, it's the perfect marriage of sweet and salty. Each bite gives you the best of both worlds, making this not just any snack, but THE snack. And let's not forget how this recipe is perfect for almost any occasion. Hosting a party? Check. Gifting someone? Check. Midnight snacking? Double-check!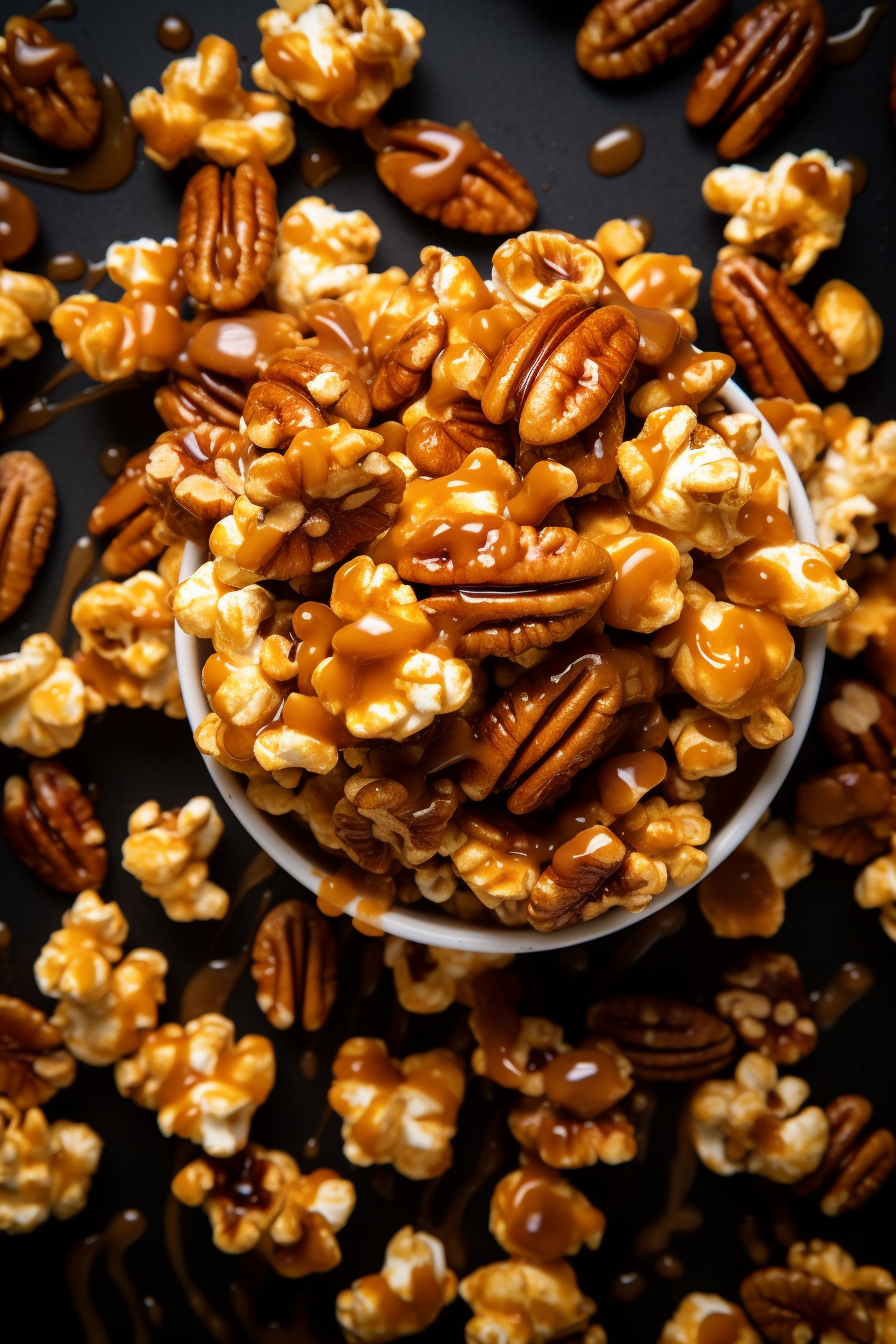 Ingredients for Praline Popcorn:
8 cups of popped popcorn: Opt for plain popcorn, no butter or salt.
2 cups pecan halves: Fresh pecans give it that buttery crunch. Don't skimp on quality here!
3/4 cup light brown sugar: This is what gives our caramel that rich depth.
1/2 cup butter: Trust me, real butter. No substitutes.
1/4 cup light corn syrup: The sneaky ingredient that gives our caramel its gloss.
2 teaspoons vanilla extract: Opt for pure vanilla extract for that authentic flavor.
1/2 teaspoon baking soda: Not just for cakes, it gives our caramel that airy texture.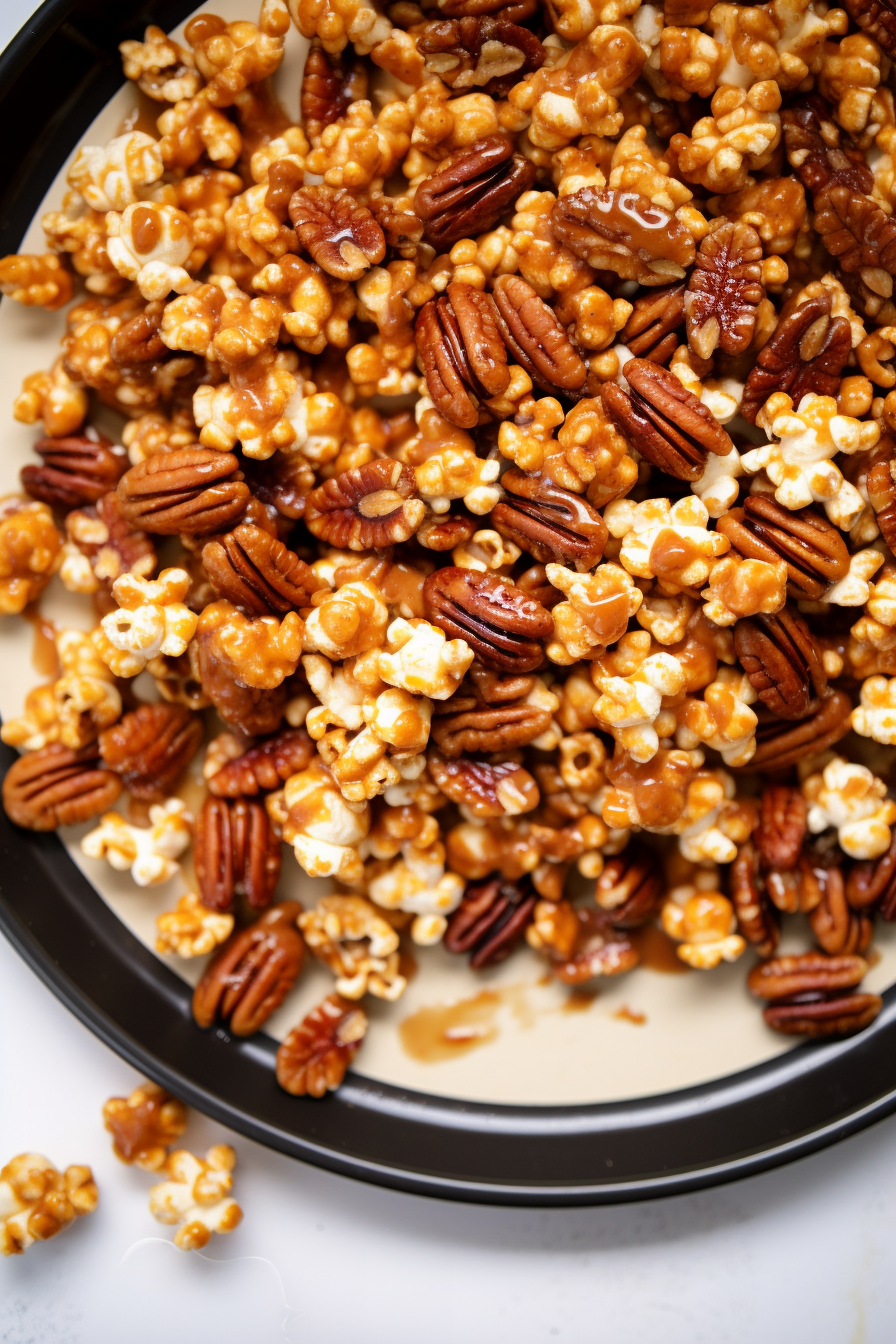 How to make Praline Popcorn:
Alright, let's get popping!
Step 1: Preheat that oven to 250°F. It's like warming up before a workout, but tastier.
Step 2: Grab a large bowl and make it rain with popcorn and pecans. Just toss them in, no dance moves required (though always encouraged).
Step 3: On to the caramel! In a good-sized saucepan over medium-high flame, put together your brown sugar, corn syrup, and butter. Bring it to a boil while humming your favorite tune, and make sure you give it a little stir now and then.
Step 4: Once your mix is bubbling away, take it off the heat. Now, channel your inner wizard and stir in the vanilla and baking soda. Watch it foam a little; magic, I told ya!
Step 5: Time for a caramel shower! Pour this golden goodness over your popcorn and pecans. Give it a good toss till everything's drenched in caramel.
Step 6: Now, spread this mixture evenly onto a large rimmed sheet pan. Bake it for about 30-40 minutes, and remember to give it a little stir every 10 minutes (we want every piece to feel loved).
Step 7: Once it's done, spread the popcorn onto foil or parchment paper, letting it cool and crisp up. And then, my friend, break, share, eat, and repeat!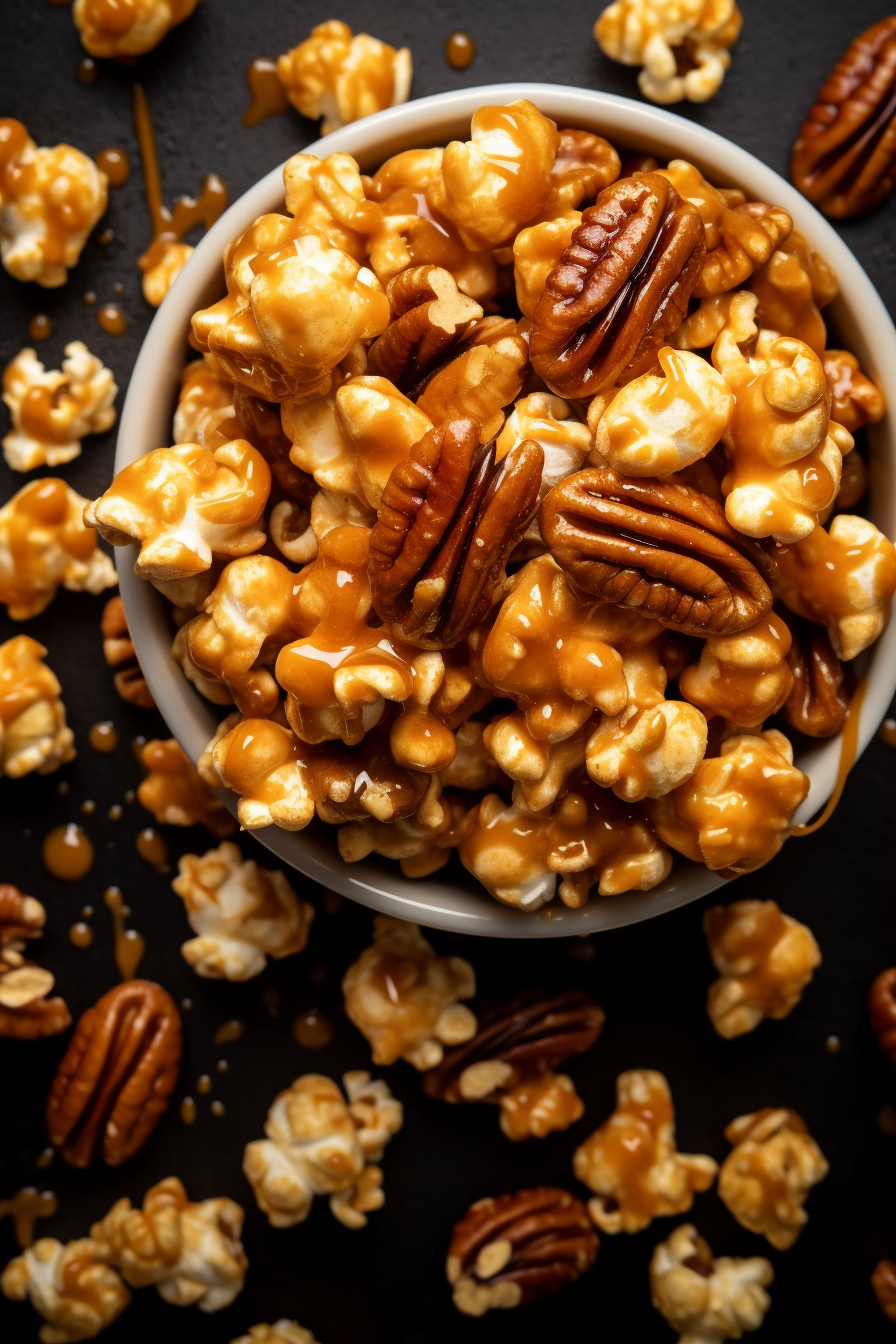 Storage Options:
You're thinking of hoarding some for later, aren't you? Cheeky! Just store your cooled praline popcorn in an airtight container. It'll stay fresh and crunchy for about a week. But let's be real—it'll be gone long before then!
Variations and Substitutions:
Feeling jazzy? You can toss in some chocolate chips or drizzle melted chocolate for an added twist. Not a pecan fan? Swap 'em out for almonds or walnuts. If you're aiming for a slightly healthier version (because, balance), try using coconut sugar instead of brown sugar. But always remember, while variations are fun, the original is an old-time classic for a reason!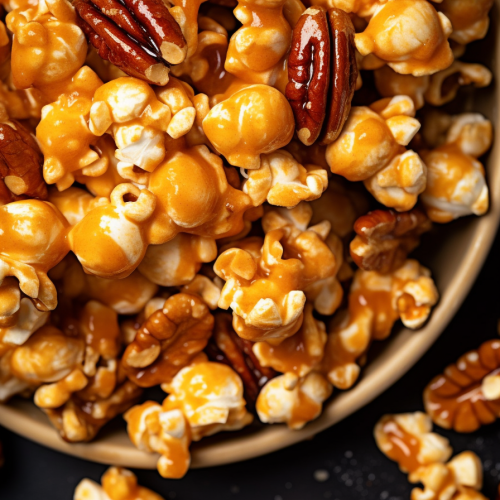 Praline Popcorn
Sink your teeth into a delightful blend of popcorn and pecans, all generously coated with a tantalising caramel glaze made from light brown sugar, butter, corn syrup, and a hint of vanilla. A touch of sweet, a touch of salty, and a whole lot of addictive!
Print
Pin
Rate
Ingredients
8

cups

of unsalted

unflavored popcorn, popped

2

cups

of premium quality pecan halves

3/4

cup

of light brown sugar

firmly packed

1/2

cup

of unsalted butter

1/4

cup

of light corn syrup

2

teaspoons

of pure vanilla extract

1/2

teaspoon

of baking soda
Instructions
Begin by preheating the oven to a temperature of 250°F.

In a large mixing bowl, carefully combine the popcorn and the pecan halves, ensuring an even distribution.

Utilize a sizable saucepan, and over a medium-high setting, amalgamate the brown sugar, corn syrup, and unsalted butter. Allow this mixture to reach a boiling point, stirring occasionally to prevent burning.

Upon reaching a boil, promptly remove the saucepan from the heat source. Methodically incorporate the vanilla extract and baking soda into the mixture, ensuring thorough integration.

Gradually pour the caramel mixture over the combined popcorn and pecans, ensuring an even coat by gently stirring the mixture.

Subsequently, transfer the coated popcorn and pecans onto a large rimmed baking sheet, spreading them out uniformly. Insert the sheet into the preheated oven and allow it to bake for a duration of 30 to 40 minutes. It's imperative to stir the mixture at 10-minute intervals to ensure even baking.

Once baked to satisfaction, carefully transfer the praline popcorn onto either foil or parchment paper. This will facilitate the cooling process. When it has cooled to room temperature, it's recommended to break the clusters apart prior to serving.