Indulge in a flavorsome fiesta with this Walking Taco Casserole, brimming with ground beef, onions, tomatillo salsa, sour cream, black beans, corn, and cheese, crowned with the crunch of Frito corn chips. 🌮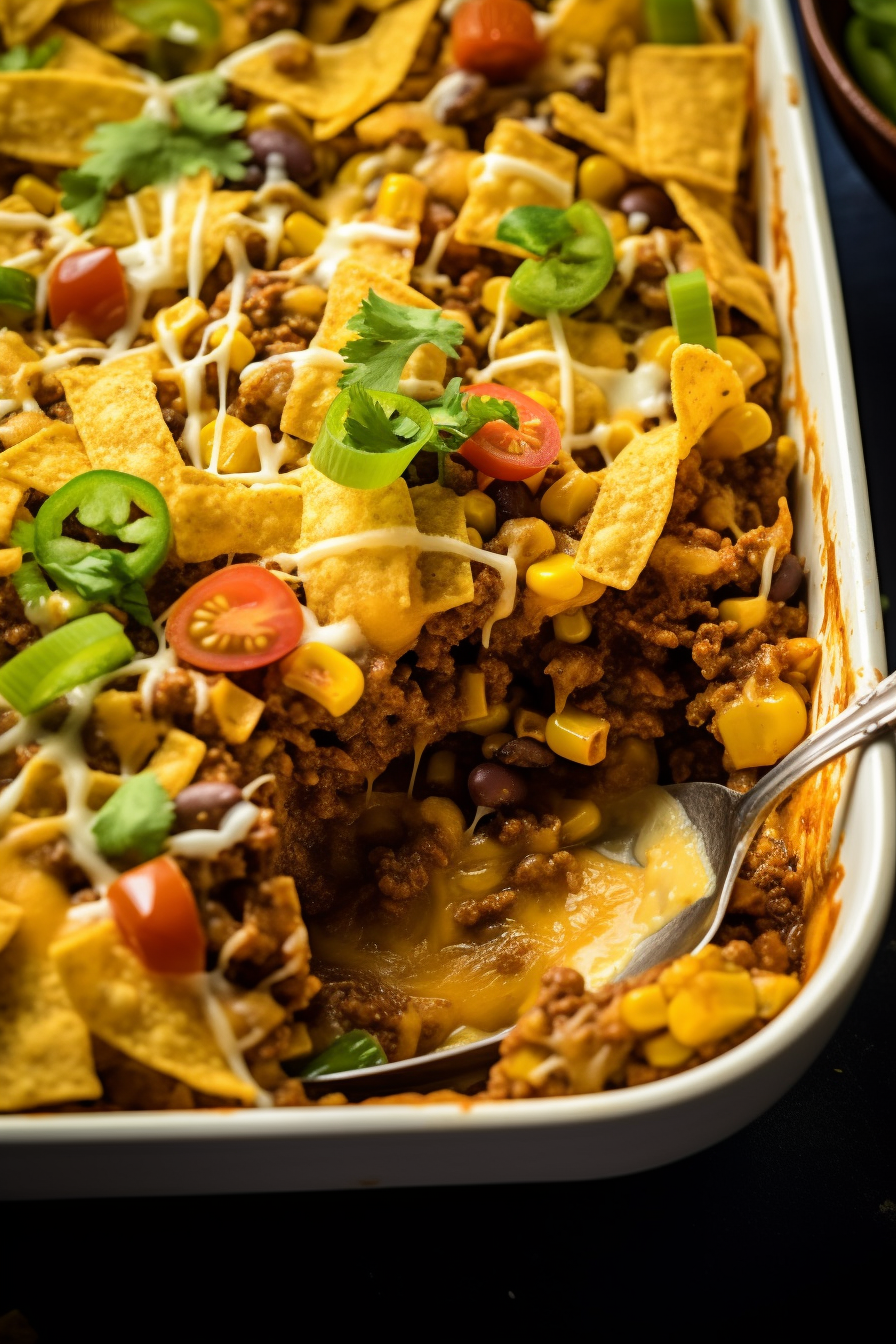 Alright, foodies, gather around, because today I'm serving you a little piece of my childhood memories! Remember those 'walking taco' bags at festivals and fairs? Oh, the sheer joy of munching on a taco in a bag while wandering around! Inspired by those quirky, portable delights, this "Walking Taco Casserole" is my family's little spin on it. It's perfect for those nights when you're craving that nostalgic flavor without the walk (or for folks like me, who just tend to drop everything everywhere). It's our go-to for family game nights, potlucks, or when I'm just too lazy to hold a taco (because, let's be honest, sometimes you just want to fork it).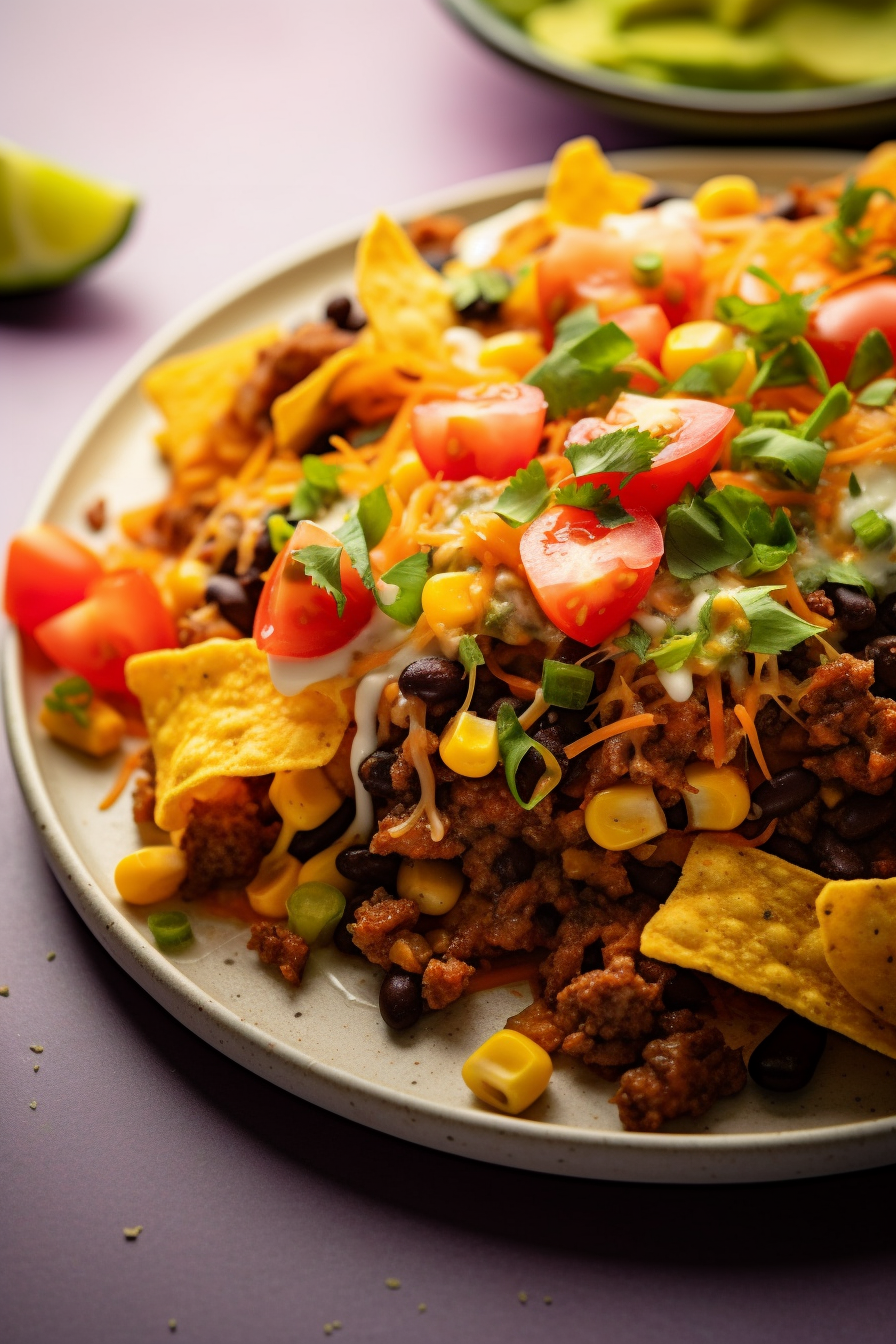 Why You'll Love Walking Taco Casserole:
Behold the magic of the Walking Taco Casserole – where tradition meets convenience! 🌟 First off, it's everything you love about a classic taco, but in a comfy casserole form. No more taco shell breakages or messy spills! Second, those Frito corn chips give you the crunch in every bite, striking a perfect balance between the juicy meat and velvety cheese. Plus, it's versatile! Got surprise guests? Whip this up! Need a dish for a potluck? This is your winner! And for those (like yours truly) who like to add their own flare, there's room for that too!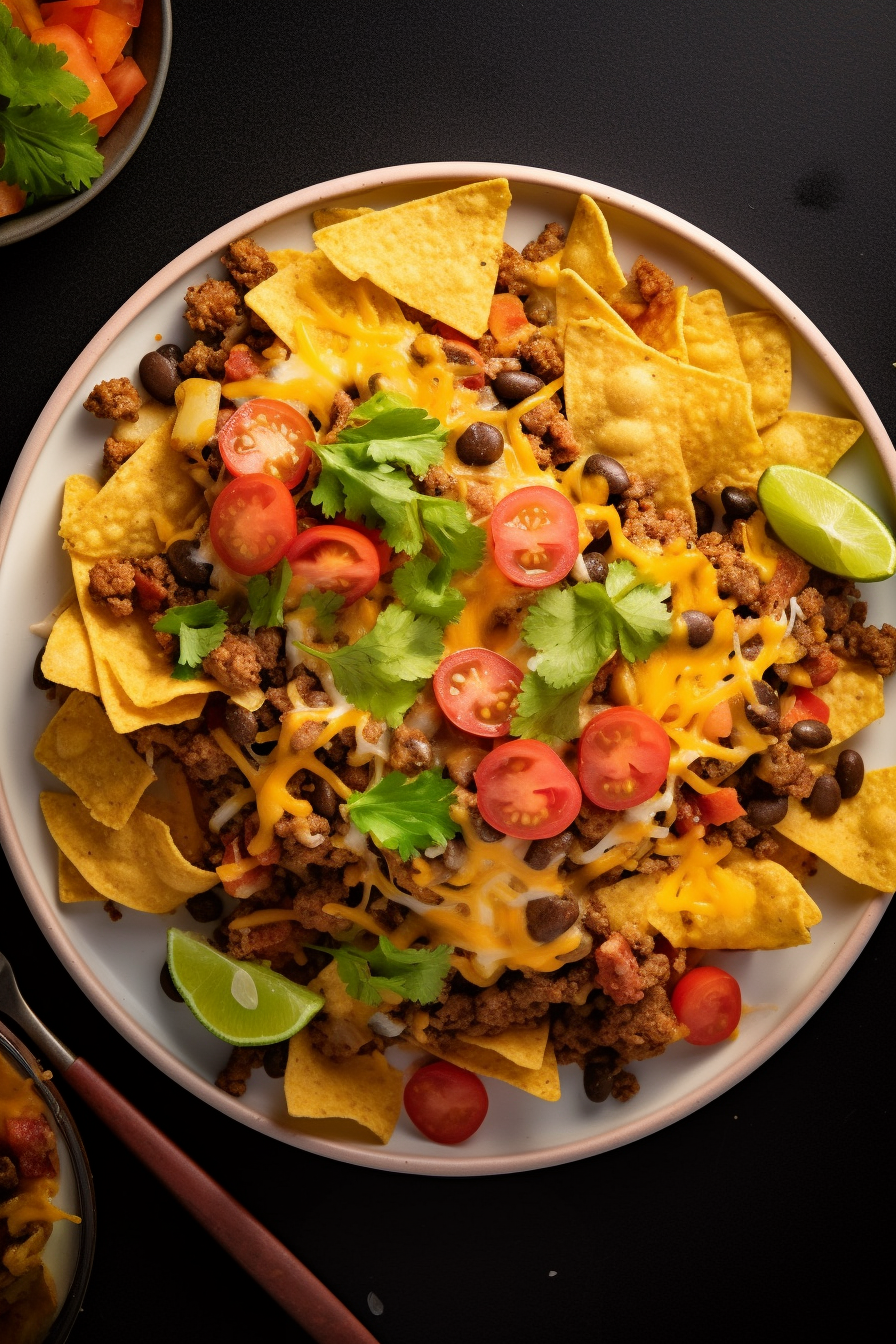 Ingredients For Walking Taco Casserole:
Ground Beef: Opt for lean ground beef, it provides all the flavour without too much grease.
Onion: Red, white, or yellow, they all work. It's your taco universe!
Taco Seasoning: You can use store-bought or make your own blend. (Homemade always has that special touch, doesn't it?)
Tomatillo Salsa: If you can't find it, green salsa or even regular tomato salsa will do.
Corn Chips: Fritos provide the crunch here, but feel free to explore other crunchy corn chips!
Cheese: Mexican blend cheese is the star here, but if you're in a cheesy mood, add some pepper jack or cheddar for extra zing.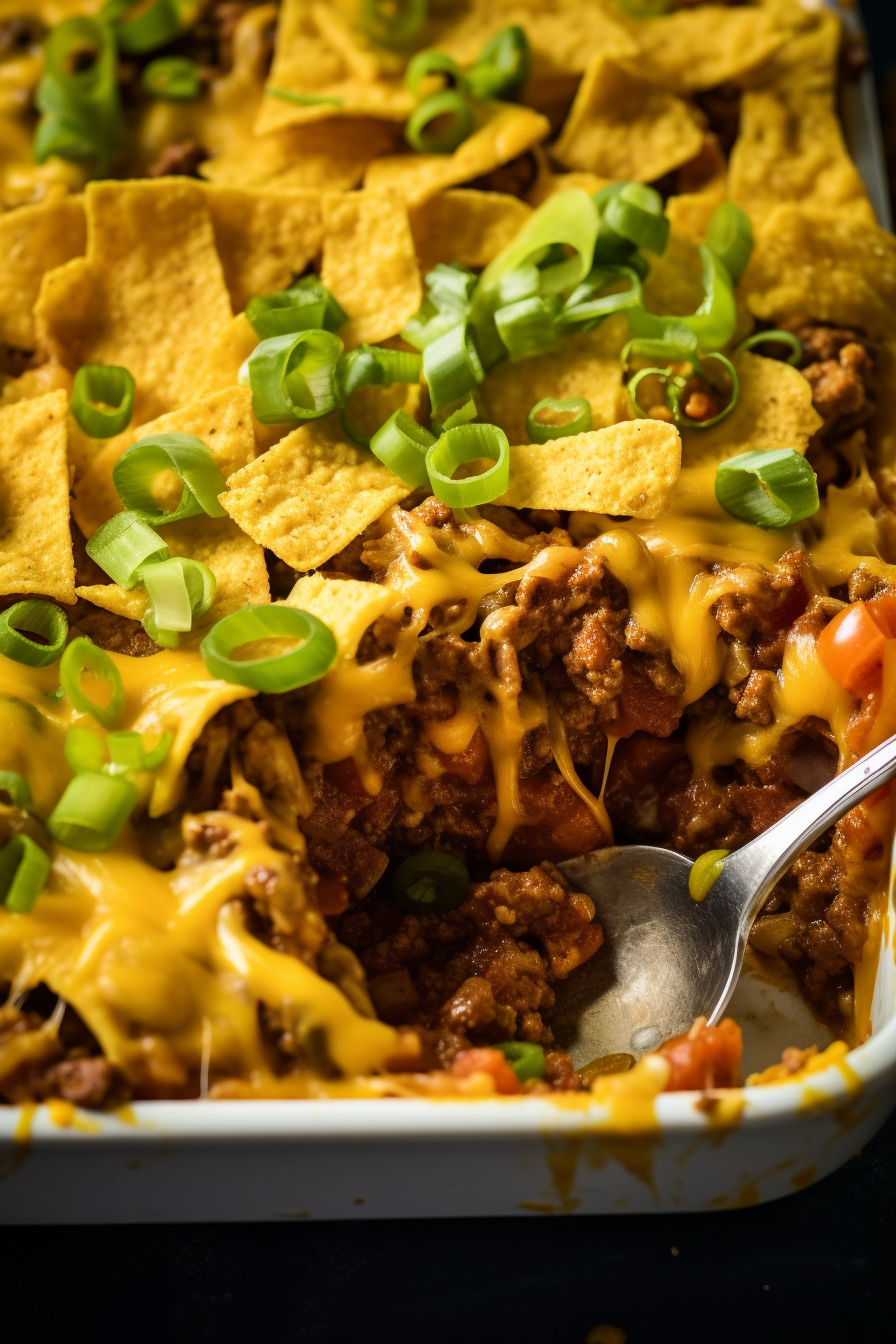 How To Make Walking Taco Casserole:
Alright folks, ready to taco 'bout how to make this? 😉
Setting the Stage: Preheat that oven to 375F. Show your baking dish some love by spraying it with cooking spray.
Meat Mastery: Start by browning that beefy goodness on medium heat. Once you've vanquished the pink, introduce it to the onions. Let them mingle until the onions soften. Now, toss in the taco seasoning and water, letting the mixture get cozy and thick.
Mixy-Mix: Let's jazz things up. Stir in that zesty tomatillo salsa and rich sour cream. The black beans and corn join the party next. Stir until everyone's acquainted.
Layer it Down: Crush half the Frito chips – don't be gentle! Lay this crunchy base in your dish. Next, cascade the taco mixture over it, generously sprinkle the cheese, and crown with the remaining corn chips.
Baking Time: Play a little peekaboo by covering your dish. Bake until you see a bubbling cheesy party, roughly 15-20 minutes. Now, unveil and bake for 5 more minutes to get that golden touch. Once out, it's topping time. Go wild!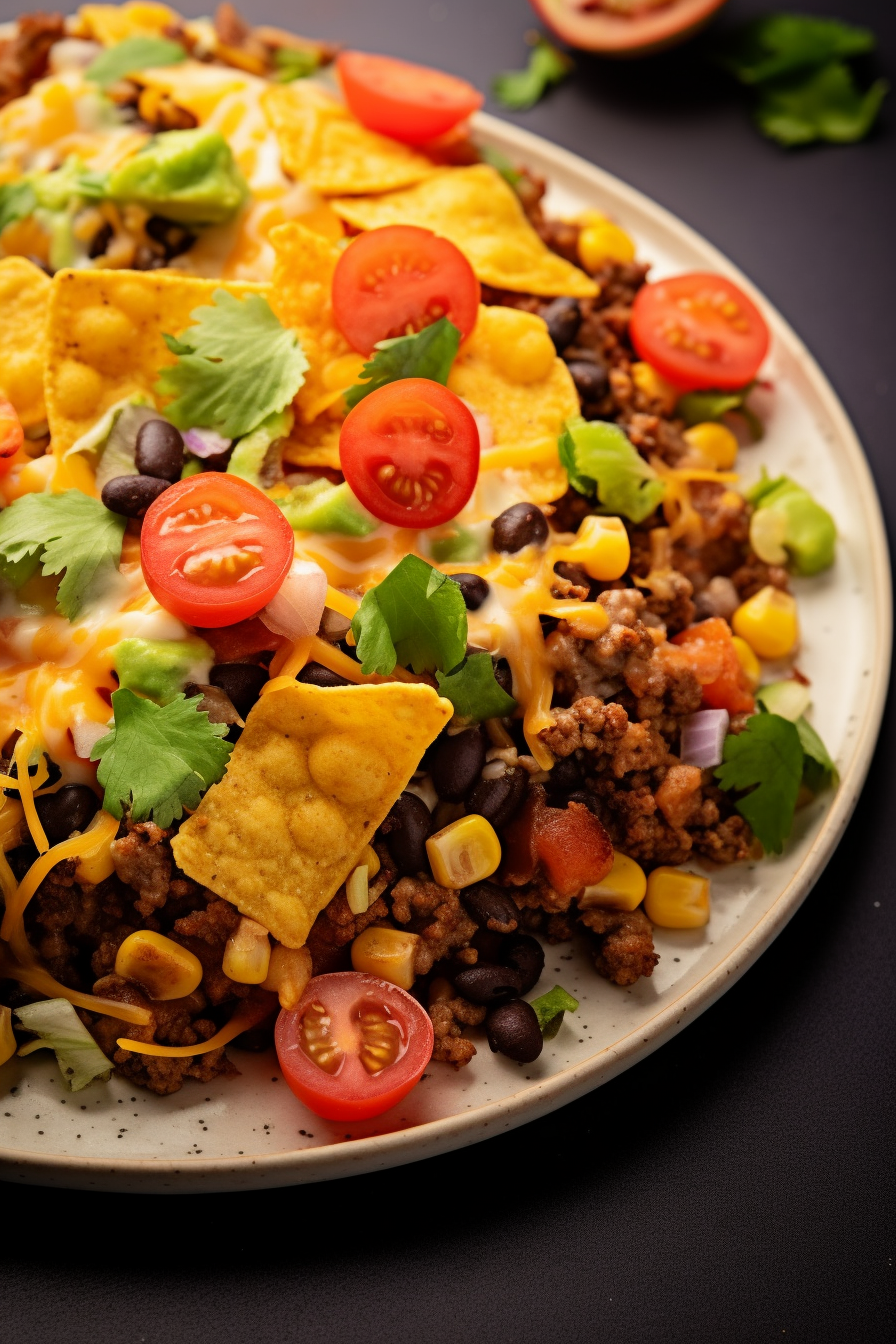 Storage Options:
Okay, on the rare chance you have leftovers (I mean, who could resist, right?), just pop the casserole in an airtight container and refrigerate. It should be good for up to 3-4 days. Want to savor it longer? Freeze it! Just make sure to thaw overnight in the refrigerator before reheating.
Variations and Substitutions:
Feeling adventurous? 🌮🚀
Meat: Ground turkey or chicken can be a leaner substitute.
Vegetarian: Replace meat with tofu or a meat substitute.
Spice it Up: Add some green chilies or chipotle peppers in adobo sauce for that extra kick!
Beans: Not a fan of black beans? Pinto beans work too.
Chips: Try flavored corn chips for a twist in every bite!
Remember, it's your kitchen runway, so style this dish your way! Enjoy, taco-lovers! 🍴🎉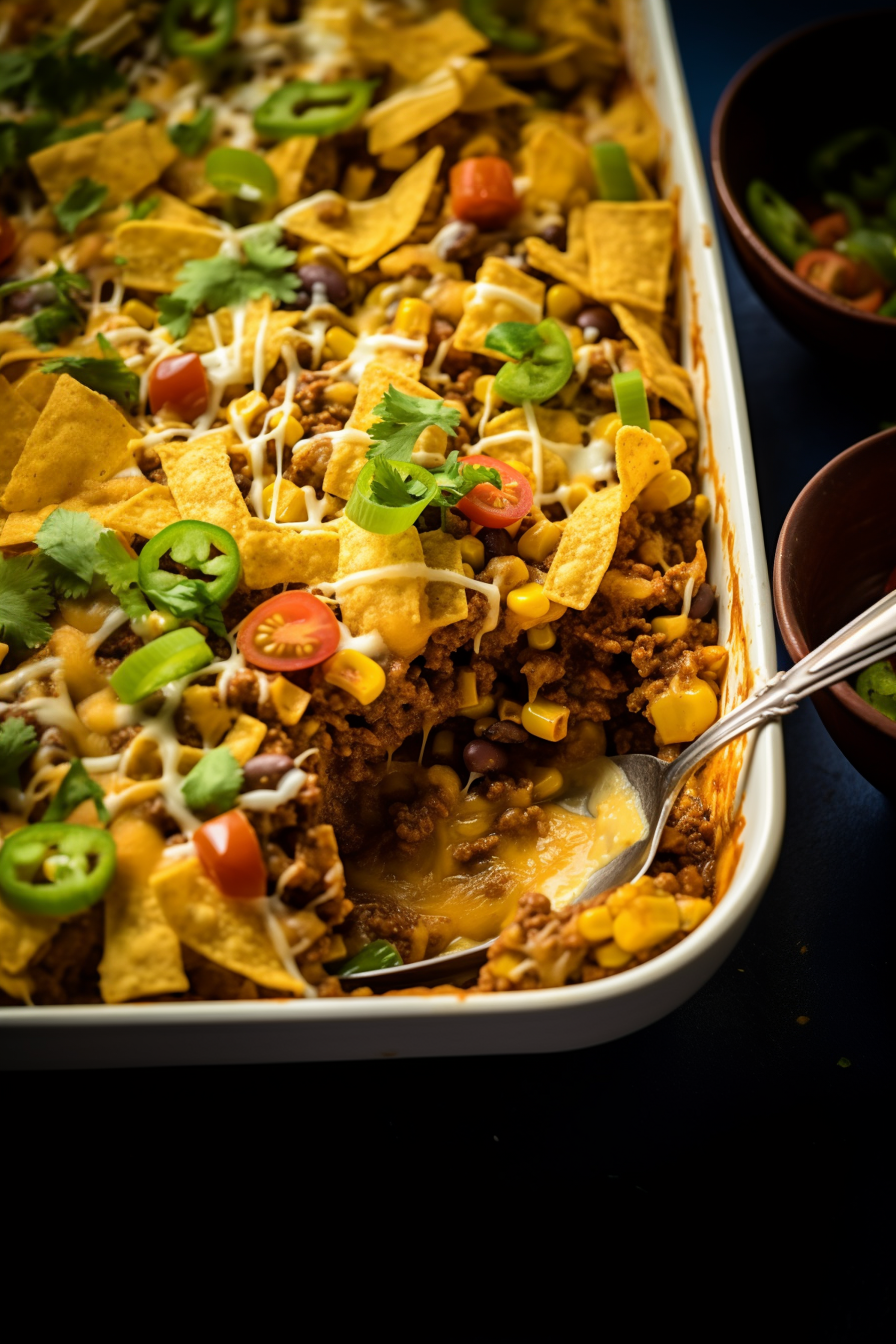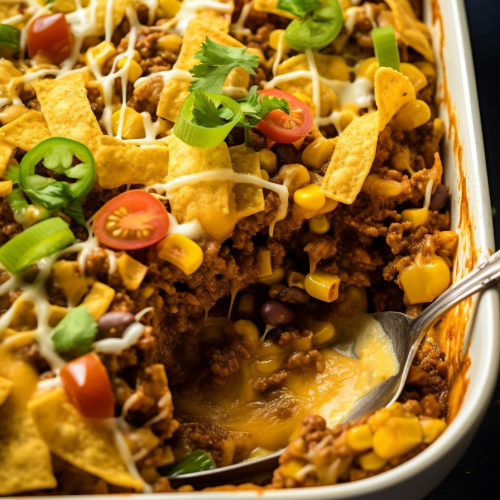 Walking Taco Casserole
Indulge in a flavorsome fiesta with this Walking Taco Casserole, brimming with ground beef, onions, tomatillo salsa, sour cream, black beans, corn, and cheese, crowned with the crunch of Frito corn chips. 🌮
Print
Pin
Rate
Ingredients
2

lb

of ground beef

1

medium to large onion

finely chopped

2

packets of original taco seasoning

1

cup

of water

2

cups

of tomatillo salsa

1

cup

of sour cream

2

cans of black beans

carefully rinsed and drained

2

cans of corn

thoroughly drained

4

cups

of Frito corn chips

segregated

3

cups

of shredded Mexican-blend cheese
Optional Garnishes:
Fresh cilantro

finely chopped

Avocado

thinly sliced

Lettuce

shredded

Tomatoes

finely chopped

Jalapeños

sliced
Instructions
Oven Preparation: Begin by preheating the oven to a temperature of 375°F. Subsequently, ensure that a 2-quart baking dish is lightly coated with cooking spray.

Meat Preparation: In a pan, brown the ground beef on a medium flame until its color predominantly shifts from pink. Subsequently, introduce the finely chopped onions to the pan and sauté for a duration of 3-4 minutes or until the onions become translucent. Following this, incorporate the taco seasoning along with the water, ensuring a consistent mix. Allow this mixture to simmer for a few minutes until it achieves a slightly thickened consistency.

Sauce Incorporation: Following the above, introduce the tomatillo salsa and sour cream into the pan. Ensure a consistent stir. Sequentially add the black beans and corn, ensuring a uniform distribution within the mixture. Once done, remove the pan from the heat.

Casserole Assembly: Crush half of the Frito corn chips to a coarse consistency and evenly distribute them at the base of the previously prepared baking dish. This should form a complete layer. Once this base is set, evenly layer the previously prepared taco meat mixture over it. This should be followed by an even sprinkling of the Mexican-blend cheese. Conclude this layering by topping the casserole with the remaining corn chips.

Baking: Cover the baking dish and place it in the oven. Allow it to bake for a duration of 15-20 minutes or until noticeable bubbling occurs and the cheese achieves a fully melted state. Following this, uncover the casserole and allow it to bake for an additional 5 minutes. Once done, remove from the oven.

Final Presentation: Once out of the oven, and prior to serving, the casserole can be adorned with the optional garnishes as per individual preferences. It is recommended to serve this dish immediately, accompanied by additional salsa and sour cream, if desired.