Savor the richness of homemade meatballs, perfectly cooked spaghetti, and melt-in-your-mouth cheeses, all harmonized in a San Marzano marinara sauce. This Baked Spaghetti & Meatballs recipe promises an ooey-gooey delight in every bite!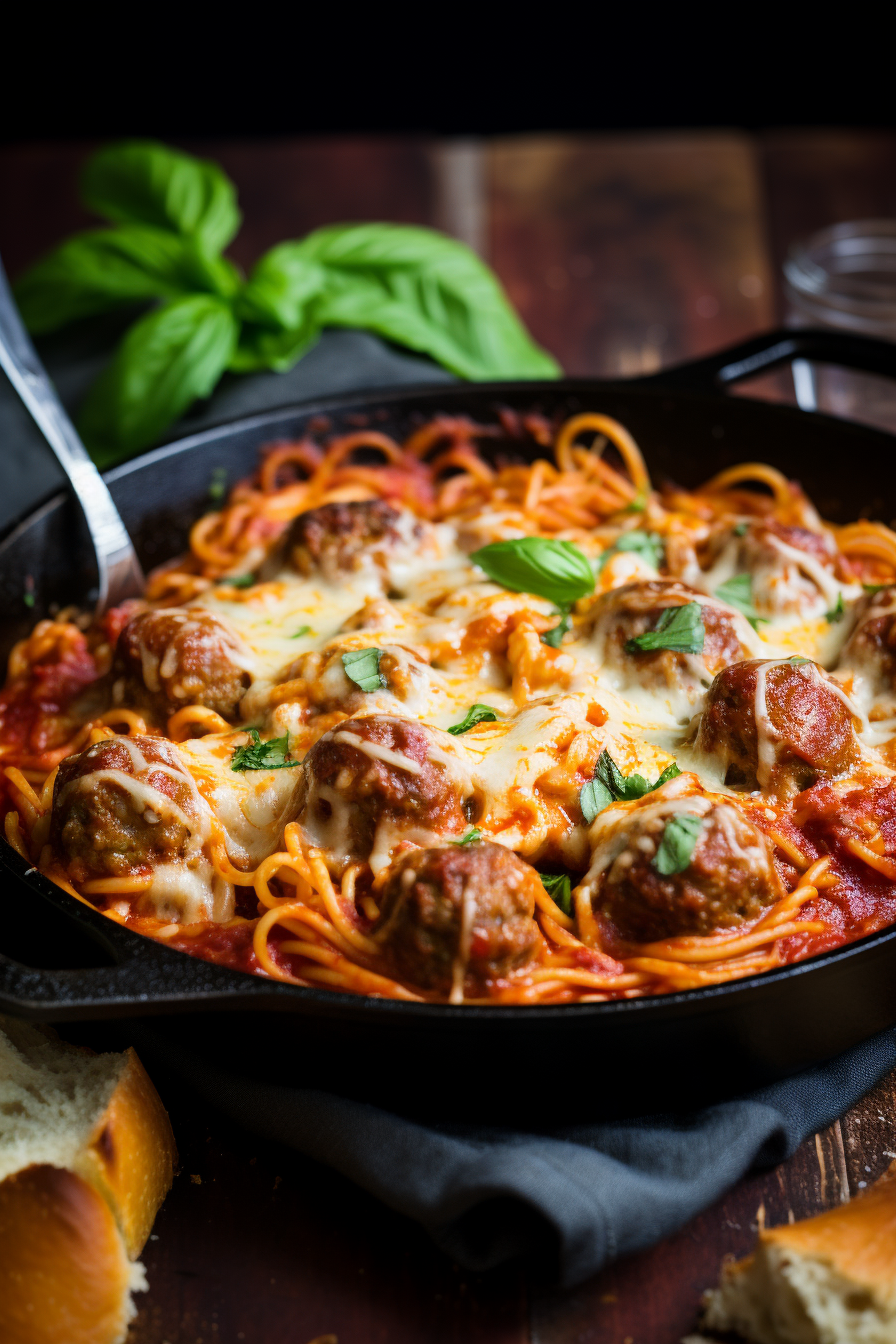 Ah, Baked Spaghetti & Meatballs – the dish that brings back so many fond memories! When I was a kid, every Sunday, our house would be enveloped by the tantalizing aroma of marinara sauce slowly simmering on the stove. Mama used to say that a good meal is like a warm hug from the inside, and boy, did this dish feel like the cuddliest embrace! It became our family's special Sunday feast. Years later, with a few tweaks here and there, I've continued the tradition. Except, unlike the Sundays of my youth where we'd patiently wait for dinner, in our home now, the wafting scent of this baked beauty leads to a countdown for when we can dig in!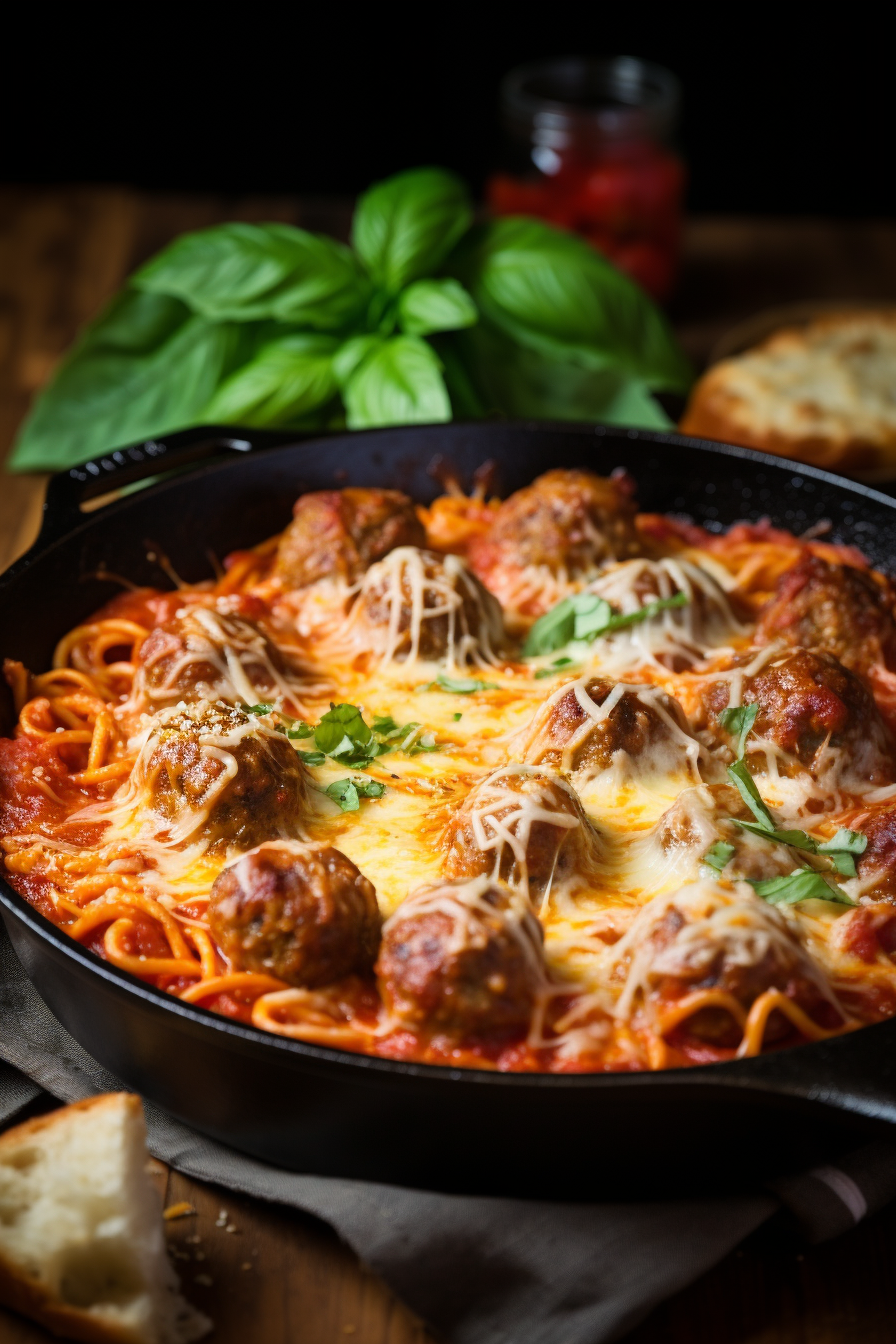 Why You'll Love This Baked Spaghetti & Meatballs:
What sets our Baked Spaghetti & Meatballs apart? Well, for starters, it's a one-pan wonder, ensuring you less cleanup and more me-time (or wine-time, I don't judge). Secondly, the fusion of colby-jack with mozzarella is the real game-changer – think of it as the dynamic duo of cheese world. Finally, the undercooked spaghetti that's further baked allows it to absorb that robust San Marzano marinara sauce, offering an orchestra of flavors in every forkful!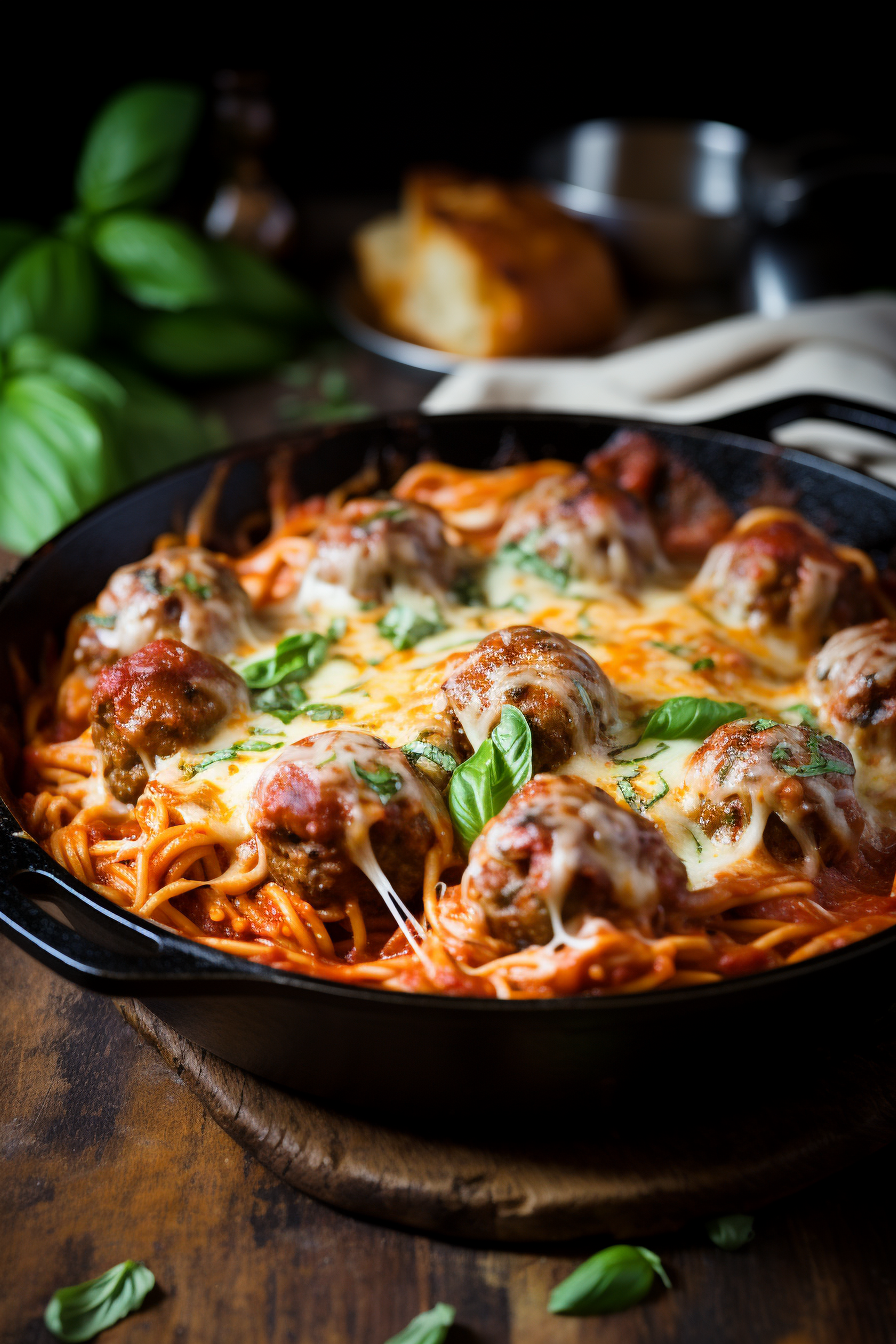 Ingredient For This Baked Spaghetti & Meatballs:
Meatballs: While the recipe uses homemade meatballs, you can use store-bought ones if you're in a pinch. Just ensure they're fully cooked.
Marinara Sauce: San Marzano sauce is recommended because of its rich, less acidic taste, but feel free to use your family favorite.
Cheese: The blend of colby-jack and mozzarella offers a balance of creamy and stretchy. But you know, cheese is subjective, so adjust to your cheesy desires!
Spaghetti Noodles: Don't overcook them initially; they'll finish cooking in the oven, soaking up all the saucy goodness.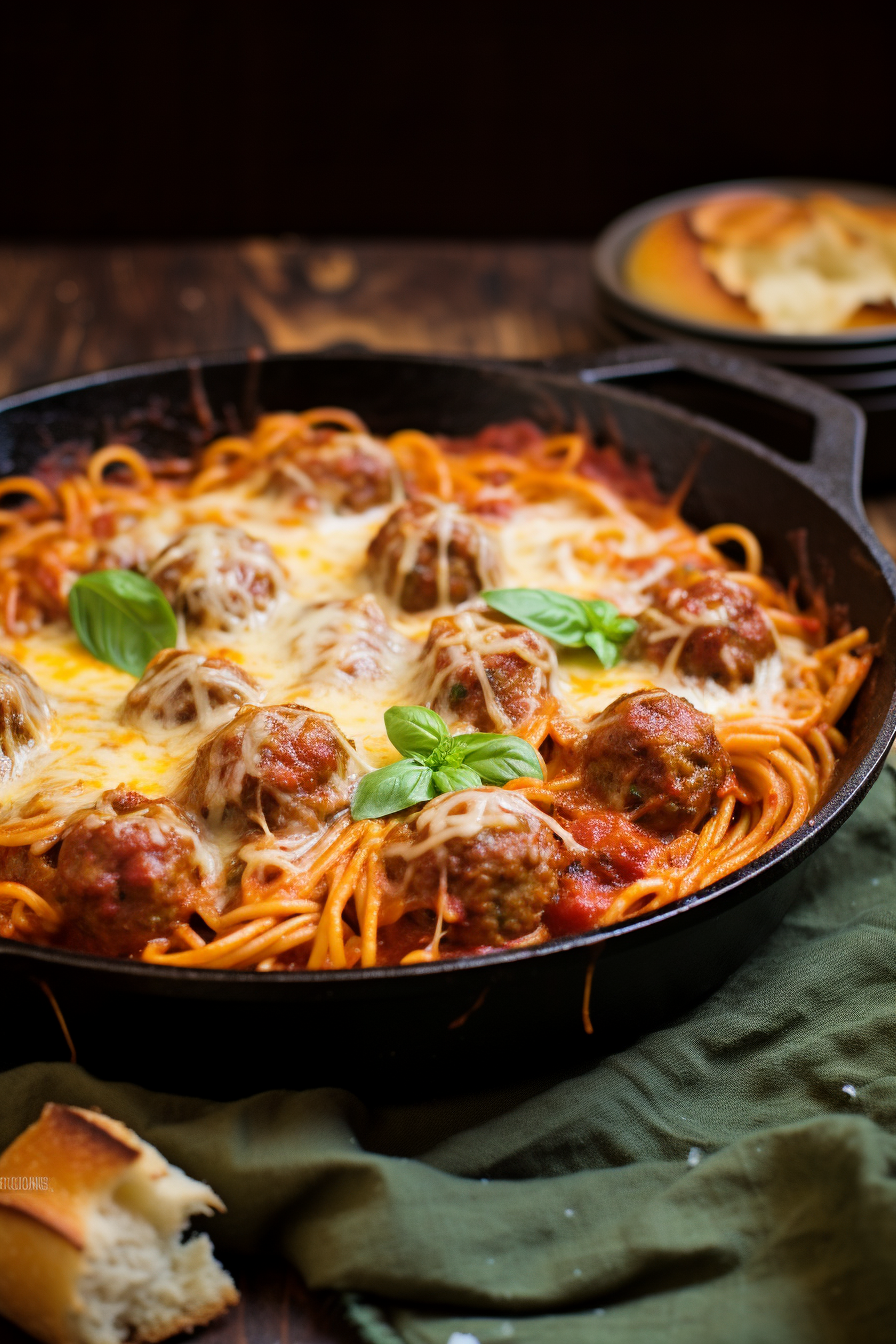 How To Make Baked Spaghetti & Meatballs:
Sauté the Base: Start by warming up that cast iron skillet. Sauté your onions in olive oil until they're singing (aka tender). Add your crushed garlic and let them dance together for a bit.
Meatball Party: Introduce your cooked meatballs to the onion-garlic duo. Let them mingle.
Sauce it Up: Pour in that lush San Marzano marinara sauce and sprinkle the Italian seasoning. Allow this mix to simmer gently; it's basically bonding time for them.
Pasta Time: In another pot, cook your spaghetti but remember, we're going for al dente minus two minutes. Trust me.
Merge the Masters: Using your Hercules strength (or just a slotted spoon), scoop out the meatballs and set them aside. Now, transfer that slightly undercooked spaghetti into your marinara. Add about half a cup of the pasta water. This water's starchy magic will help the sauce cling to the pasta. Stir with love.
Layer it Right: Arrange the meatballs over the spaghetti like they're the crown jewels. Shower them with your cheeses.
Bake to Perfection: Into the oven it goes! Bake until the cheese forms a golden blanket and the sauce bubbles with excitement. And voila!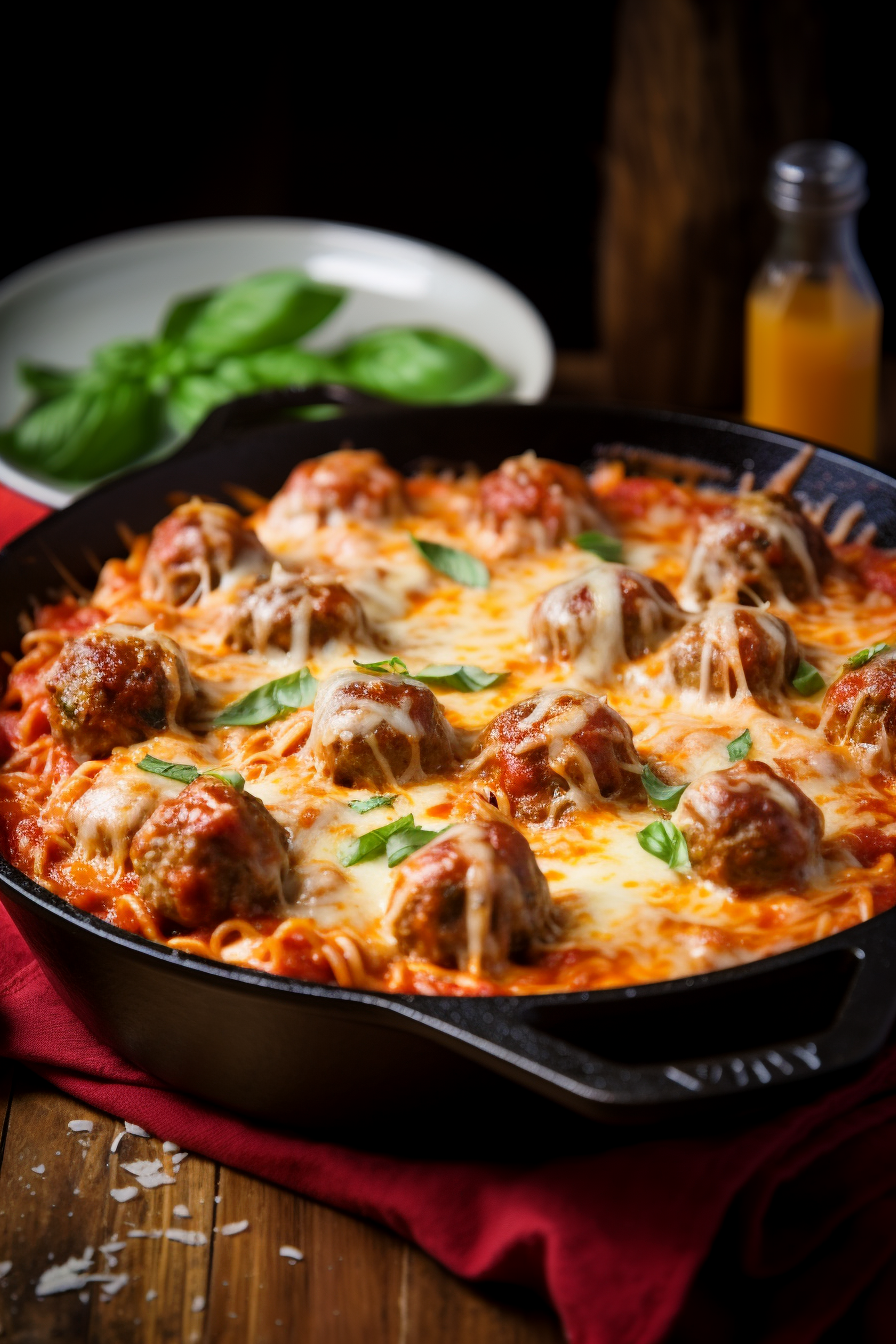 Storage Options:
Leftovers? Lucky you! This dish tastes even better the next day. Just store in an airtight container and refrigerate. When reheating, you can either microwave it (easy peasy) or bake it again for a few minutes (cheese gets bubbly round two!).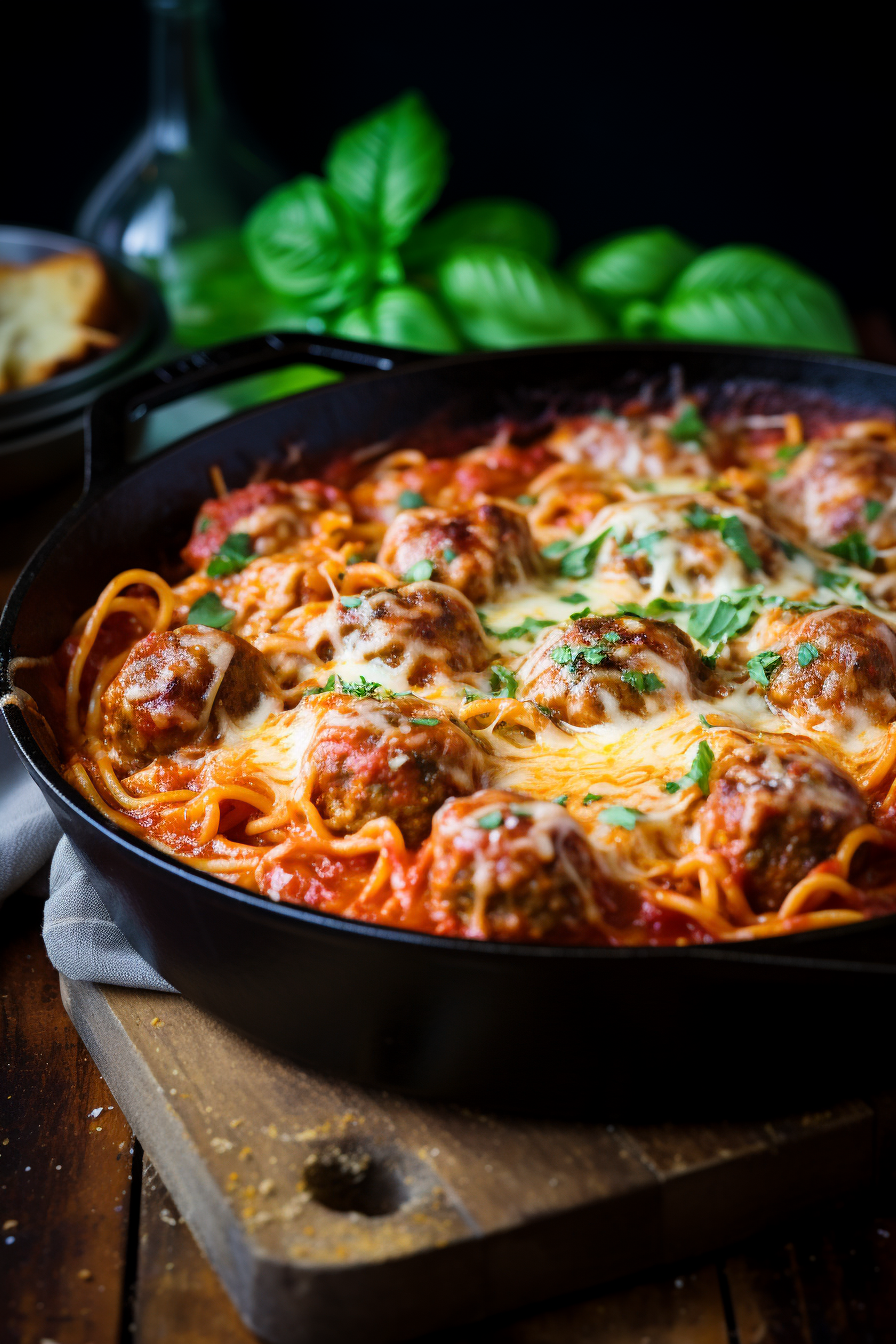 Variations & Substitutions:
Vegan Vibes: Swap meatballs for plant-based ones, use vegan cheeses, and ensure your marinara is vegan-friendly.
Go Gluten-Free: Use gluten-free spaghetti and ensure your meatballs and sauce are gluten-free.
Cheese Choices: Not a fan of colby-jack or mozzarella? Try provolone or even cheddar. It's your cheesy universe!
Spice it Up: For those who like it hot, throw in some red chili flakes or fresh jalapenos. Because why not?
Happy cooking, folks! And remember, the joy of this dish isn't just in eating it, but in the memories you create while making and sharing it. Cheers to many ooey-gooey moments!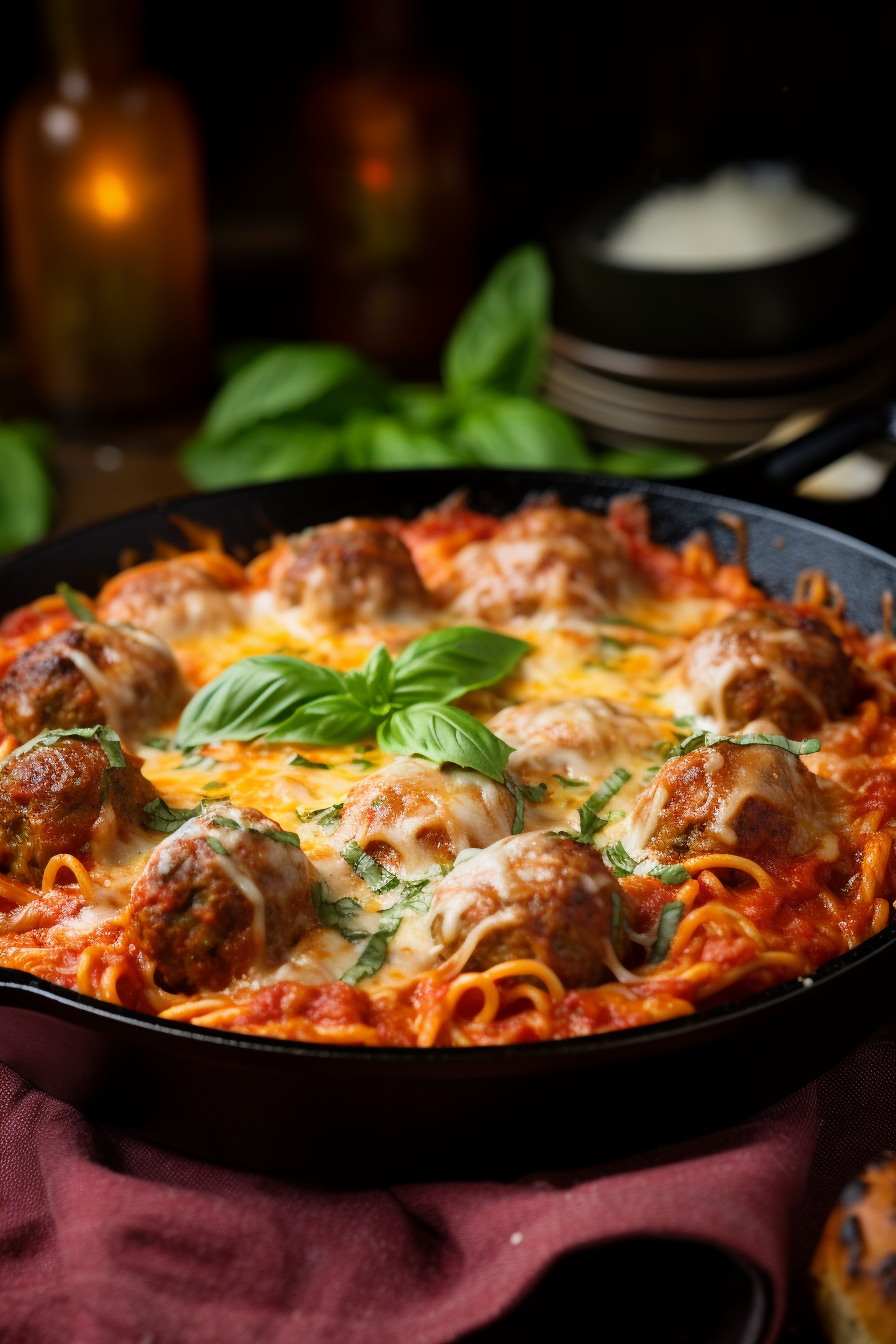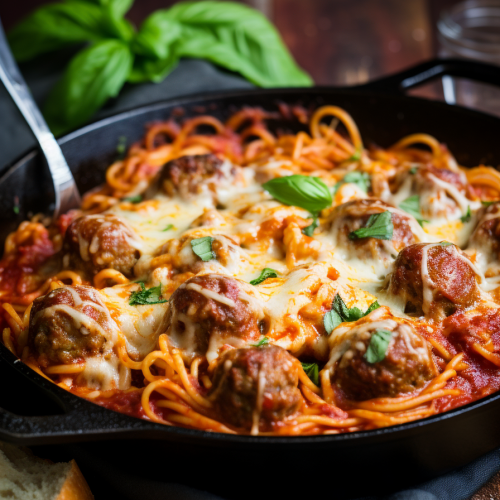 Baked Spaghetti & Meatballs
Savor the richness of homemade meatballs, perfectly cooked spaghetti, and melt-in-your-mouth cheeses, all harmonized in a San Marzano marinara sauce. This Baked Spaghetti & Meatballs recipe promises an ooey-gooey delight in every bite!
Print
Pin
Rate
Ingredients
Meatballs: Approximately 1 1/2 dozen

prefabricated (fully cooked)

Marinara Sauce: 24 oz

San Marzano Sauce recommended

Yellow Onion: 1/2

finely diced

Garlic Cloves: 3

crushed

Italian Seasoning: 1 tsp

Olive Oil: 2 TBSP

Spaghetti Noodles: 3/4 pound

Cheese: 1-2 cups

grated (Combination of colby-jack and mozzarella is suggested)

Parmesan: 1/2 cup

finely grated
Instructions
In a large cast iron skillet, sauté the finely diced onions in olive oil over medium to low heat. Continue by adding the crushed garlic and sautéing until the onions attain a tender texture.

Introduce the fully cooked meatballs to the skillet.

Subsequently, pour in the marinara sauce and the teaspoon of Italian seasoning. Allow the mixture to simmer over medium to low heat for a duration of approximately 20-30 minutes.

Concurrently, in a separate large pot, prepare the spaghetti noodles in accordance with the manufacturer's instructions, ensuring they are undercooked by a margin of 2 minutes.

Employing a large slotted spoon, delicately remove the meatballs from the sauce and place them aside momentarily.

Transfer the cooked spaghetti into the skillet containing the marinara sauce. Incorporate approximately 1/2 cup of the pasta cooking water. Mix gently, ensuring the pasta is uniformly coated with the sauce.

Restore the cooked meatballs to their position atop the spaghetti.

Generously sprinkle the top with both the grated cheese and the finely grated parmesan.

Commence baking at 350°F for an estimated 20-30 minutes or until the dish exhibits a bubbly appearance and the cheese is thoroughly melted.