Indulge in a symphony of creamy goodness, cheesy delight, and a zest of spice with our White Chicken Enchiladas. Featuring tender chicken breasts enveloped in a rich, homemade white sauce and gooey mozzarella, each bite promises a taste of heaven. Nestled in soft tortillas and infused with the subtle kick of green chiles – it's a dance of flavors, ready in just 40 minutes!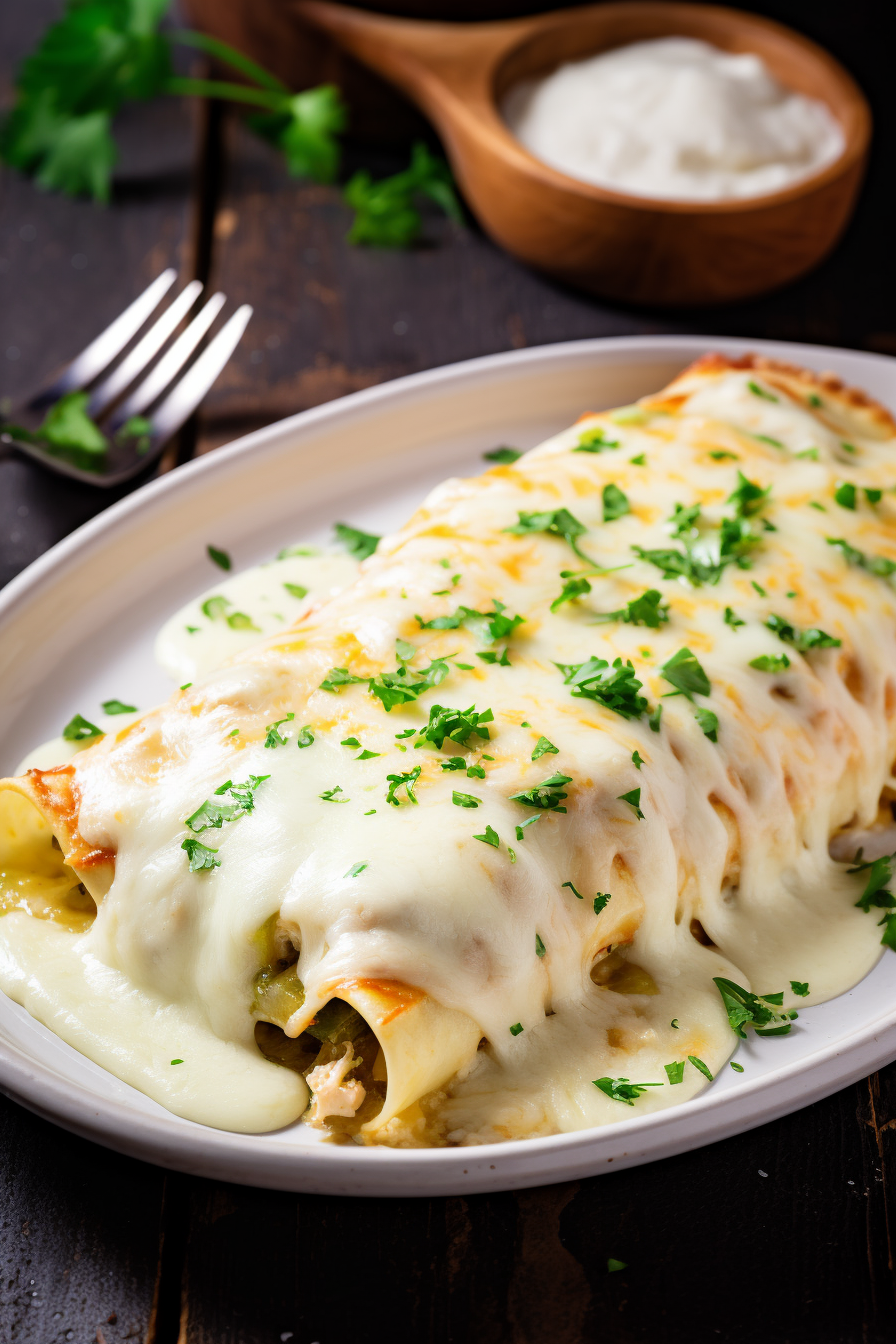 Oh, sweet enchiladas, how do I recount the serendipitous afternoon when we first met? It was a lazy Sunday, the kind where you are trapped between the bliss of restfulness and the lurking Monday blues. My kitchen, a sanctuary of solitude, beckoned. Hunger wasn't just a feeling; it was a creative muse, urging me to concoct something spectacular. The fridge door swung open, revealing cooked chicken breasts, mozzarella, and a can of green chiles. Destiny, one might call it. And thus, the White Chicken Enchiladas, akin to a celestial hymn, graced my taste buds. Each bite, a lyrical blend of creamy, cheesy, spicy perfection, was a promise of comfort, love, and culinary ecstasy. Since that fate-kissed day, the aroma of this heavenly dish dancing in the oven heralds not just a meal, but an experience, a journey back to that magical Sunday afternoon.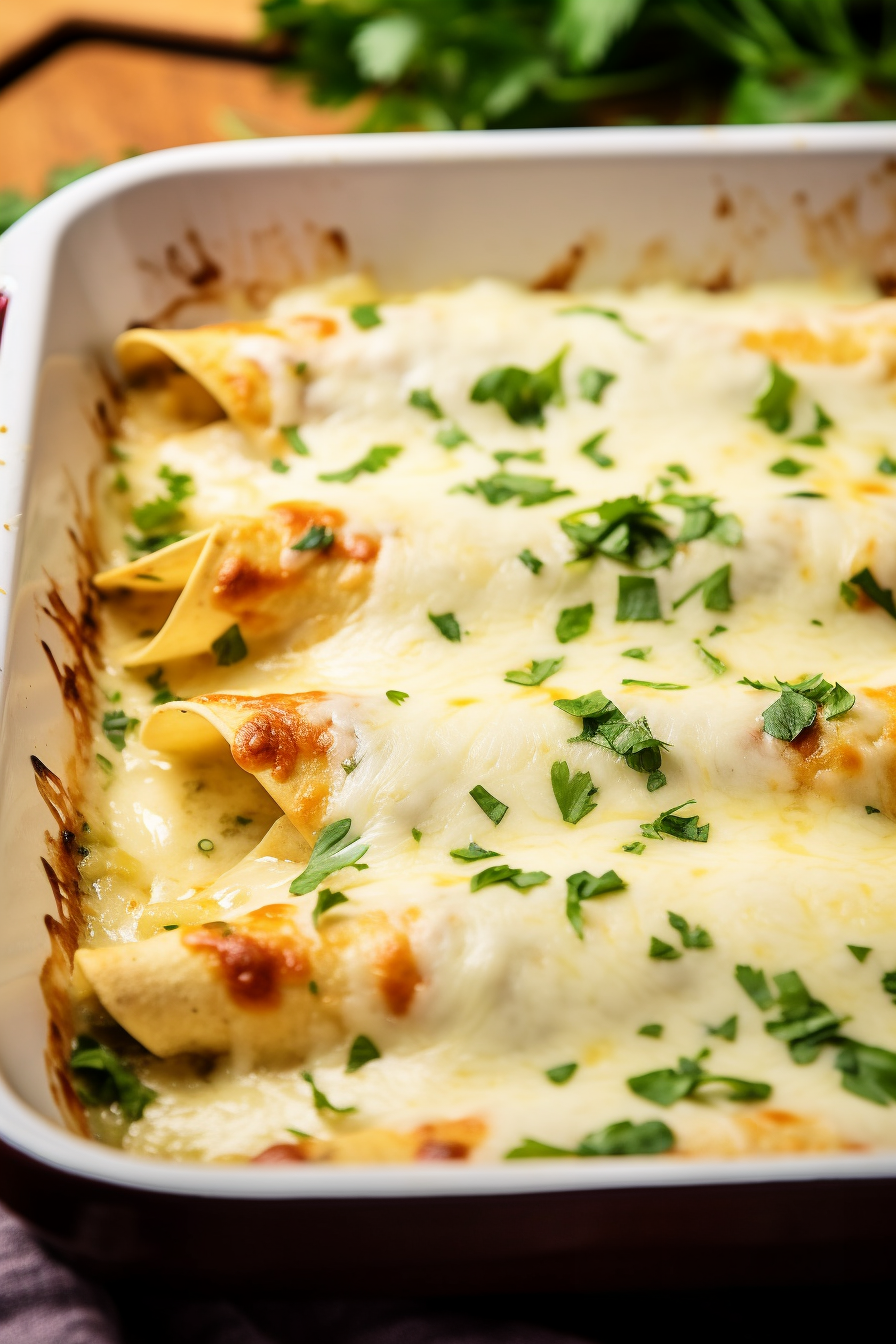 Why You'll Love White Chicken Enchiladas:
Oh honey, where do I begin? These White Chicken Enchiladas are like that little black dress that never fails you – timeless, versatile, and oh-so delightful.
Picture this: tender chicken, a divine white sauce that's as creamy as a cloud, and a sprinkle of mozzarella that melts into golden strands of joy. And the green chiles? The perfect flirtation of spice. In just 40 minutes, you conjure a meal that's a standing ovation of flavors, making every bite a culinary encore.
It's not just food; it's a taste sonnet, an edible ovation, an experience that lingers, whispering sweet sonnets of delicious nostalgia long after the last bite.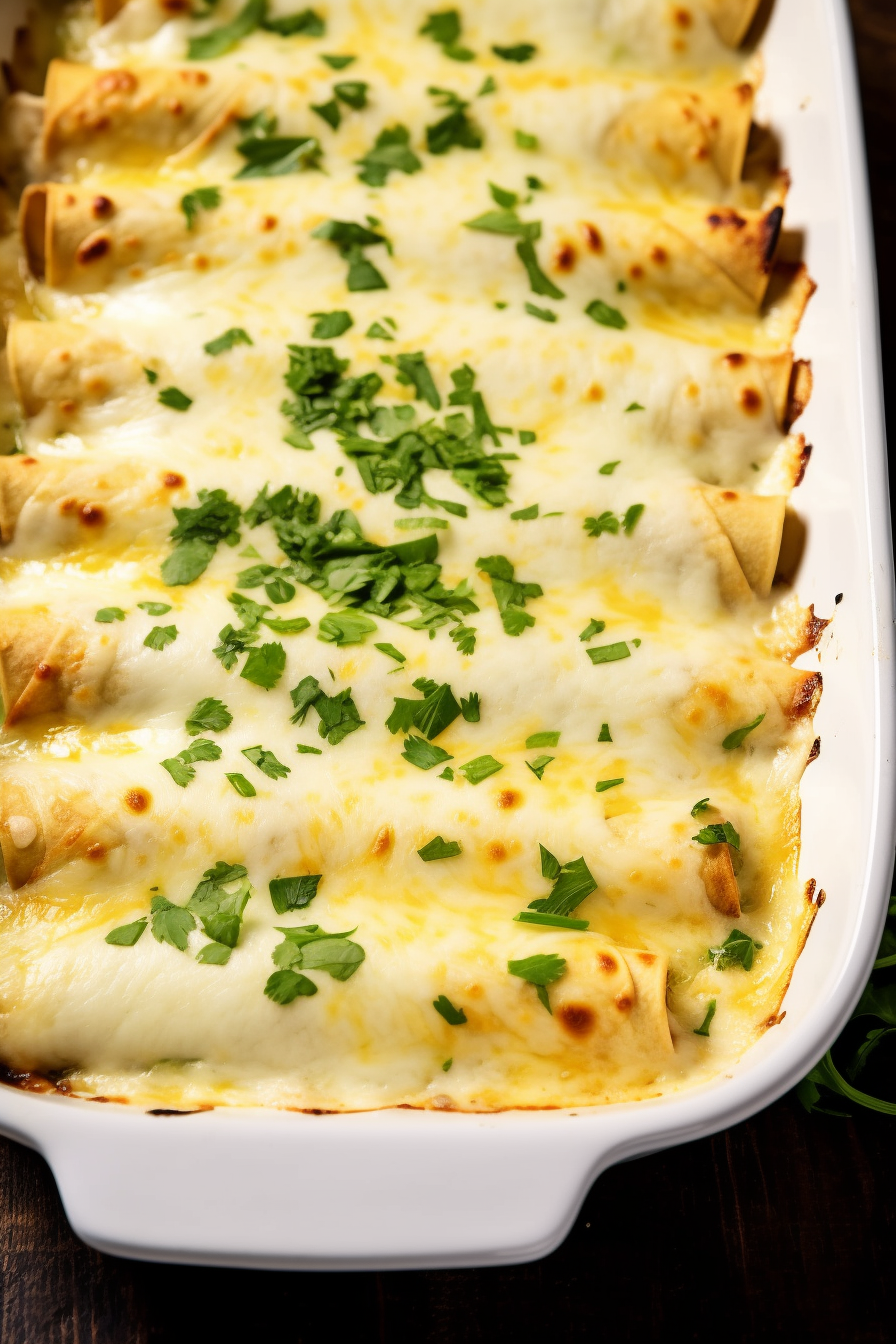 Ingredients For White Chicken Enchiladas:
Dear epicurean explorers, brace yourselves for a tête-à-tête with the stars of our show.
Chicken breasts – the tender, succulent base of our masterpiece. Opt for well-cooked, lovingly seasoned darlings.
Mozzarella cheese, a gooey, stringy wonder, is the cloak of indulgence, whilst green chiles are the zesty minstrels adding that spice sonata.
Flour tortillas? Think of them as tender blankets wrapping our stars in a warm embrace.
As for the white sauce, it's where alchemy happens – butter and flour whisked into a velvety liaison, elevated by chicken broth and adorned by sour cream.
Every ingredient, a verse in this delicious ballad, inviting you to a dance of flavors unparalleled.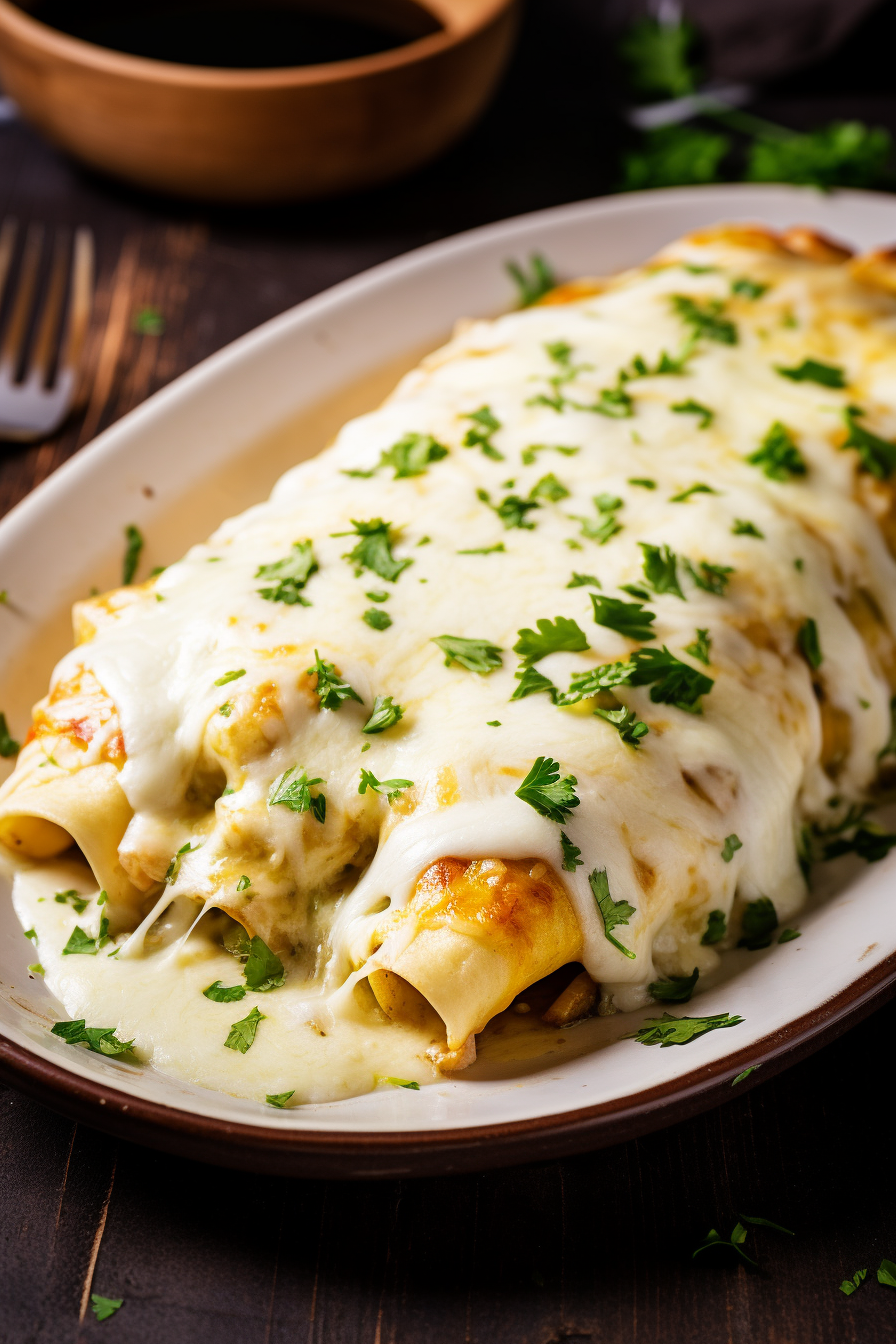 How To Make White Chicken Enchiladas:
Alright, my fellow culinary wizards, roll up those sleeves and let the magic commence!
Begin by serenading your oven to a cozy 350°F and greasing that baking dish like you're preparing it for the culinary Oscars.
In the enchanted bowl, a union of chicken, mozzarella, and enchilada sauce awaits – mix, with love and a dash of whimsy.
Now, the dance of the tortillas begins; fill each with the heavenly mix, roll them with the grace of a ballerina and lay them in the baking dish, side by side like lovebirds.
For the white sauce, the spell is cast with melted butter and flour, whisked into a rich embrace, and courted by chicken broth until bubbly and thick. A tender stir of sour cream and green chiles, and voila, the potion is complete!
Drizzle over the enchiladas, sprinkle the remaining mozzarella like the first snow of winter, and bake until bubbly and golden. Each bite, dear friends, a sonnet of flavors, an ode to the art of culinary enchantment.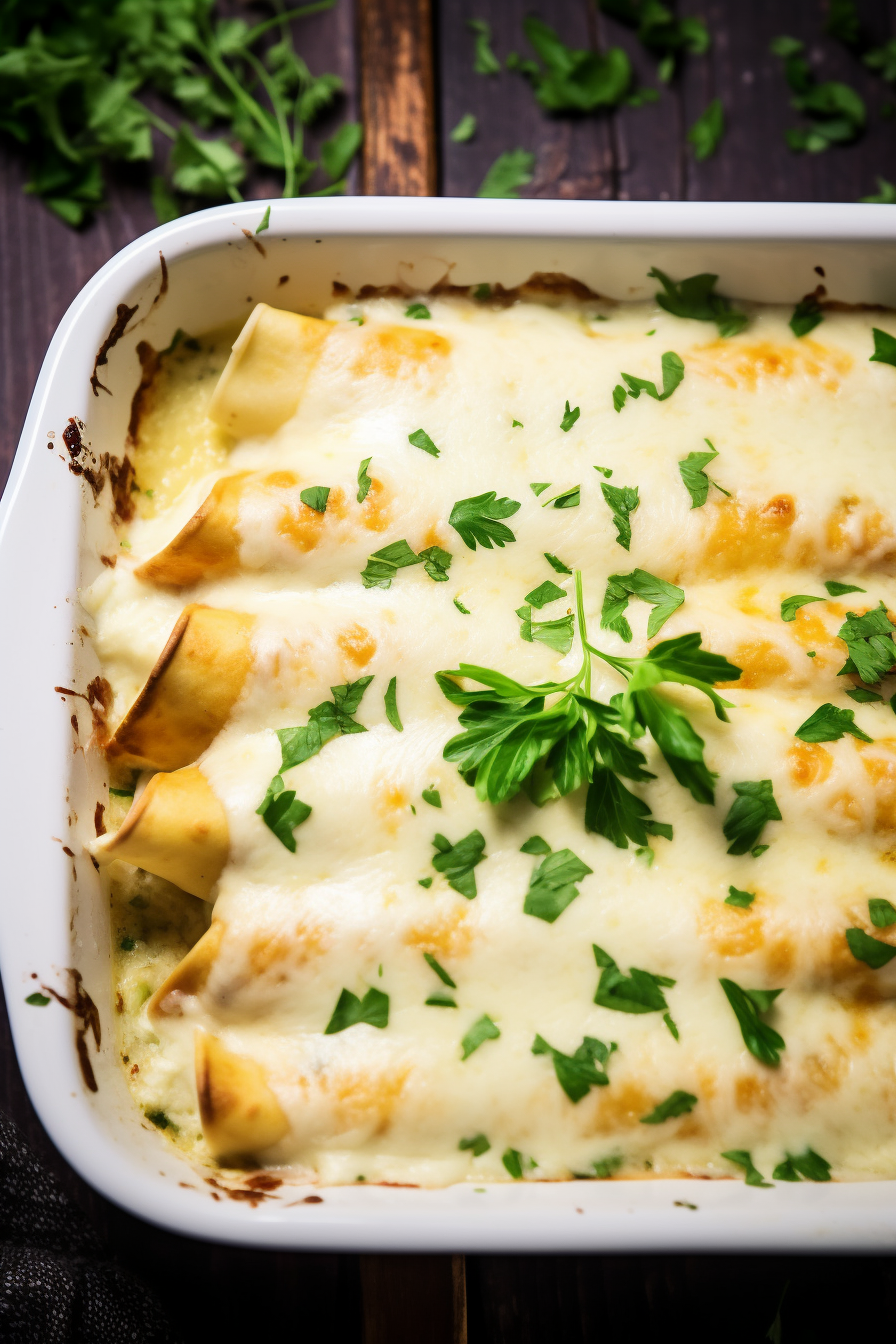 Storage Options:
Now, should you find yourself (though I highly doubt it, given how divine this delicacy is) with leftovers, worry not! These enchiladas are like a fine wine, aging with grace. Wrap them lovingly, either in the baking dish covered with aluminum's tender embrace or transferred to an airtight container where they can slumber peacefully. The fridge, with its cool embrace, will keep them fresh for up to three days. And for a reunion? Simply warm in the oven, and each bite will echo the tender ballad of flavors, as if freshly baked.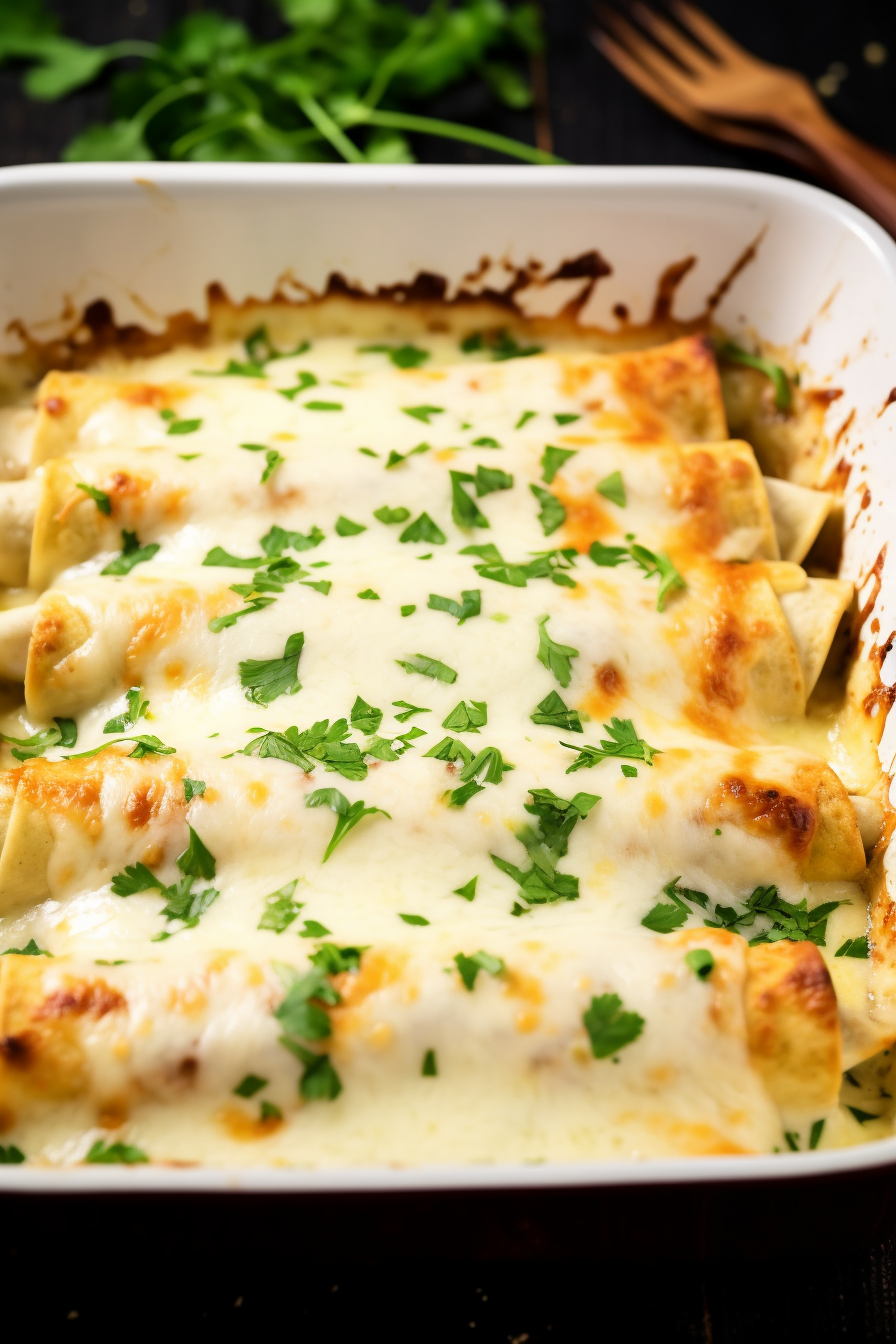 Variations and Substitutions:
Now, for the whimsical souls who view recipes as but a canvas to their culinary artistry, fret not. The White Chicken Enchiladas are as adaptable as they are delicious.
Chicken can give way to turkey or even a melody of sautéed veggies for a vegetarian twist.
Mozzarella? Consider it an invitation to explore the cheese universe – pepper jack, cheddar, or a blend for the adventurous hearts.
Green chiles too piquant? Roasted red peppers shall sway in seamlessly, and if the white sauce yearns for evolution, a dash of herbs – think basil, oregano, or thyme – will turn each bite into a herbal symphony.
Flour tortillas can waltz into whole wheat or gluten-free variants, making this dish not just a meal, but a sonnet of adaptability, singing the ballad of diverse tastes and preferences.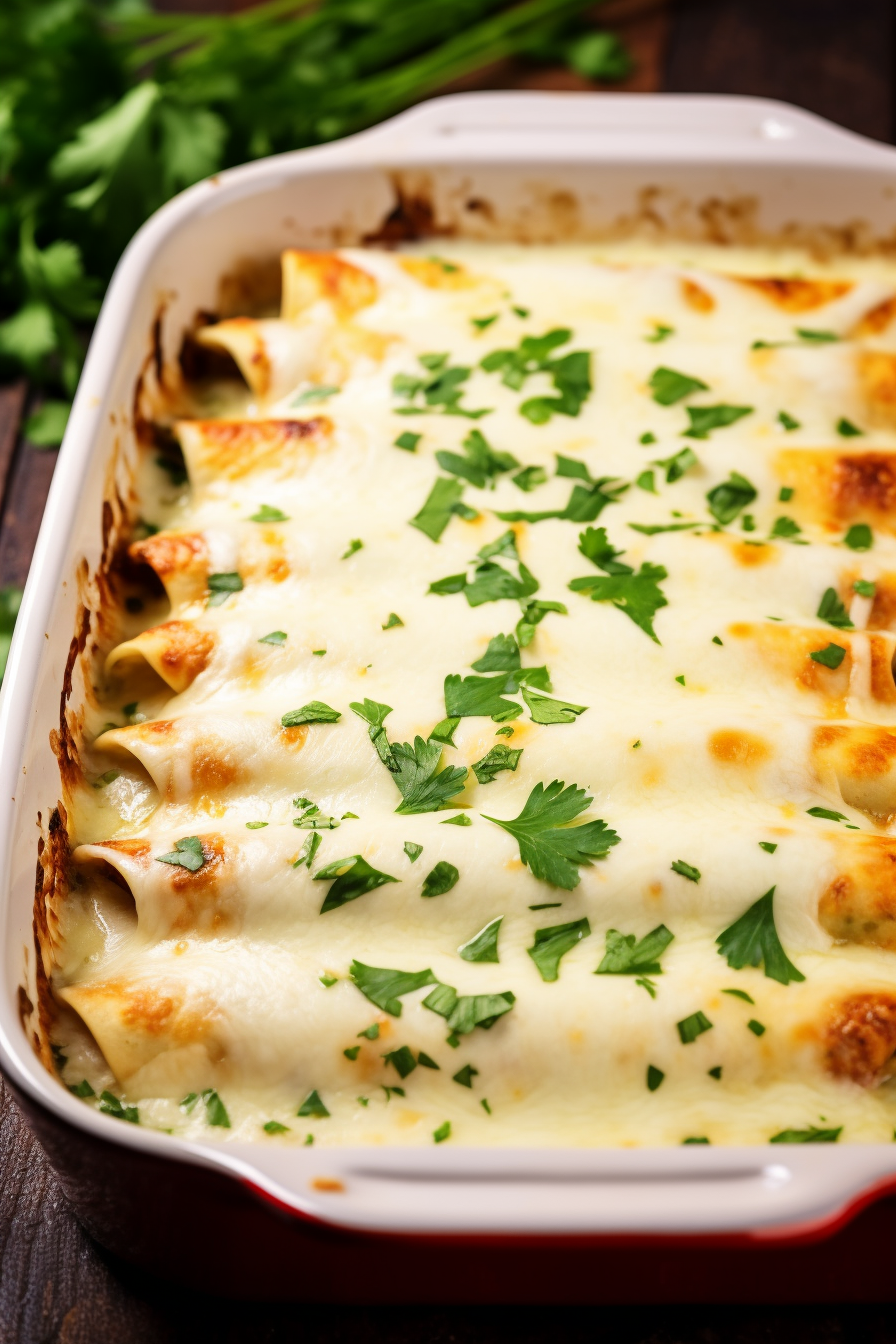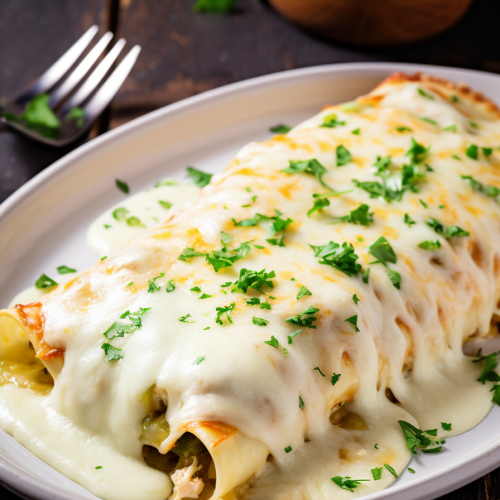 White Chicken Enchiladas
Dive into the creaminess of White Chicken Enchiladas made with tender shredded chicken, gooey mozzarella, and a homemade white sauce infused with green chiles. Serve it up hot, and trust me, you'll be rolling in compliments!
Print
Pin
Rate
Ingredients
For the Chicken Enchiladas:
2

boneless

skinless chicken breasts, cooked and finely shredded

1

cup

of premium green enchilada sauce

1

cup

of finely shredded mozzarella cheese

6

medium-sized flour tortillas

corn tortillas can be an alternative
For the White Sauce:
2

tablespoons

of unsalted butter

2

tablespoons

of all-purpose flour

1½

cups

of low-sodium chicken broth

4

ounces

of green chiles

equivalent to one small can

¾

cup

of high-quality sour cream

1

cup

of finely shredded mozzarella cheese
For Garnish:
2

tablespoons

of freshly chopped parsley
Instructions
Commence by setting the oven to a temperature of 350°F. Thoroughly grease a baking dish suitable for enchiladas.

In a medium-sized mixing bowl, amalgamate the finely shredded chicken, 1 cup of mozzarella cheese, and the green enchilada sauce. Stir until the ingredients are uniformly distributed.

Lay out a tortilla and spread approximately ¼ cup of the aforementioned chicken mixture uniformly across its surface. Roll the tortilla carefully, ensuring the filling remains inside, and place it into the prepared baking dish. Continue this process with the remaining tortillas.

For the white sauce: In a saucepan, melt the butter over medium heat. Subsequently, incorporate the flour, whisking continuously to prevent lumps from forming. Once combined, slowly introduce the chicken broth, continuing to whisk until the mixture is homogenous and begins to thicken. At this juncture, incorporate the sour cream and green chiles into the saucepan. Remove the saucepan from the heat once the ingredients are thoroughly mixed. Assess the seasoning and make adjustments using salt and pepper if necessary.

Pour the prepared white sauce over the enchiladas, ensuring they are uniformly coated. Sprinkle the enchiladas with the remaining mozzarella cheese.

Position the baking dish in the preheated oven and allow it to cook for a duration of 22 to 25 minutes. The enchiladas should exhibit a golden-brown hue on top, and the sauce should be bubbling upon completion.

Upon removing from the oven, garnish the enchiladas with freshly chopped parsley. Serve promptly.
Nutrition
Calories:
374
kcal
|
Carbohydrates:
24
g
|
Protein:
21
g
|
Fat:
21
g
|
Saturated Fat:
11
g
|
Cholesterol:
78
mg
|
Sodium:
935
mg
|
Potassium:
311
mg
|
Fiber:
2
g
|
Sugar:
5
g
|
Vitamin A:
935
IU
|
Vitamin C:
5.4
mg
|
Calcium:
258
mg
|
Iron:
1.9
mg