Dive into rich Banana Cream Cheesecake Bars combining Nilla Wafers, melted butter, whipping cream, sugar, cream cheese, and banana pudding mix, topped off with optional whipped cream and banana slices for the ultimate indulgence.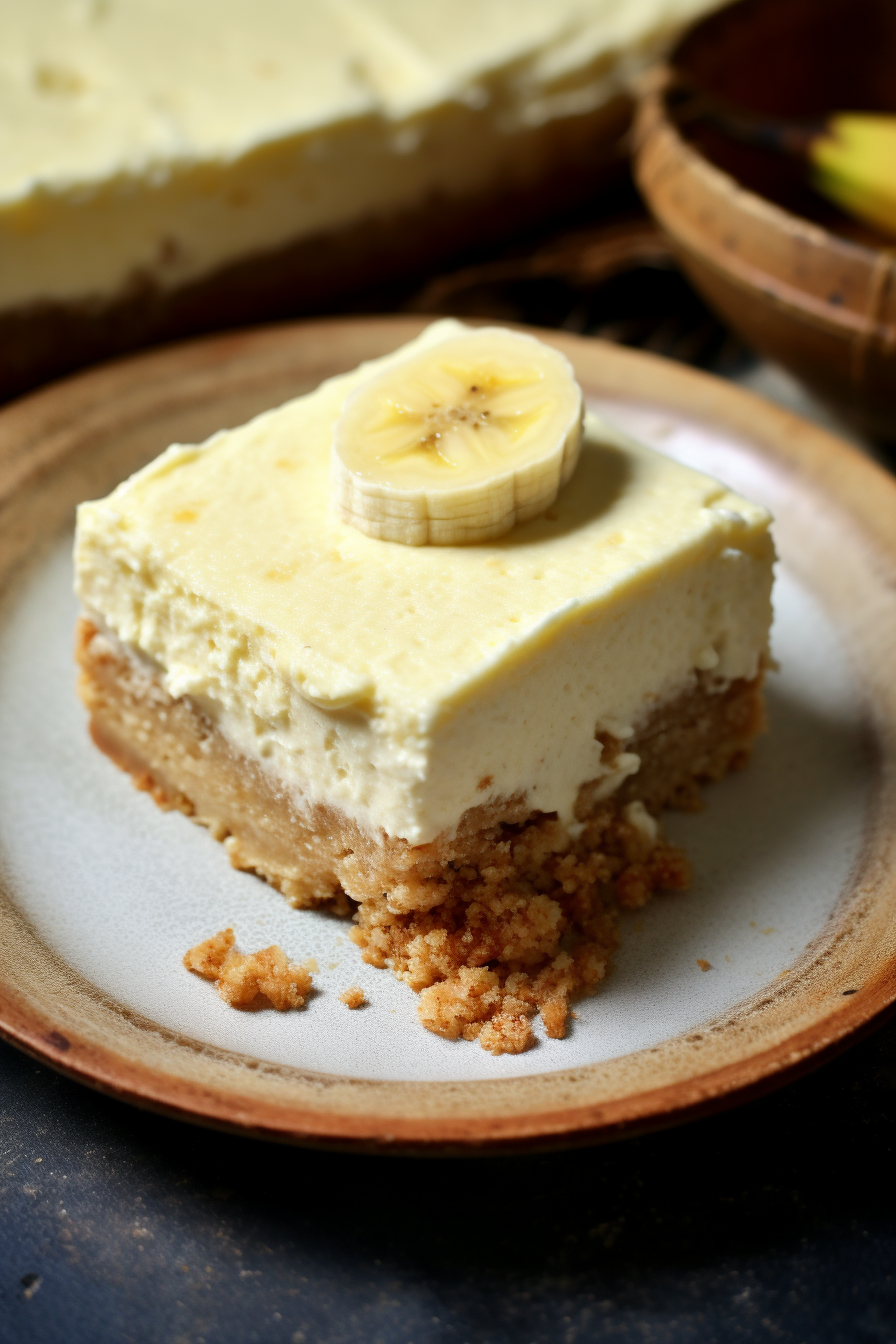 Ah, memories! Growing up, my grandmother's banana pudding was the star at every family gathering. The layers of velvety pudding, ripe bananas, and crumbled vanilla wafers were like a hug in a bowl. Fast forward to my adventurous adult years in the kitchen, I wanted to pay homage to that comforting classic. But with a twist, of course! Enter the Banana Cream Cheesecake Bars—a fusion of the nostalgic banana pudding and my insatiable love for cheesecakes. The first time I made this, my dad (who's a hard man to impress when it comes to desserts) went for seconds, then thirds! And that, my dear reader, is when I knew I had struck gold.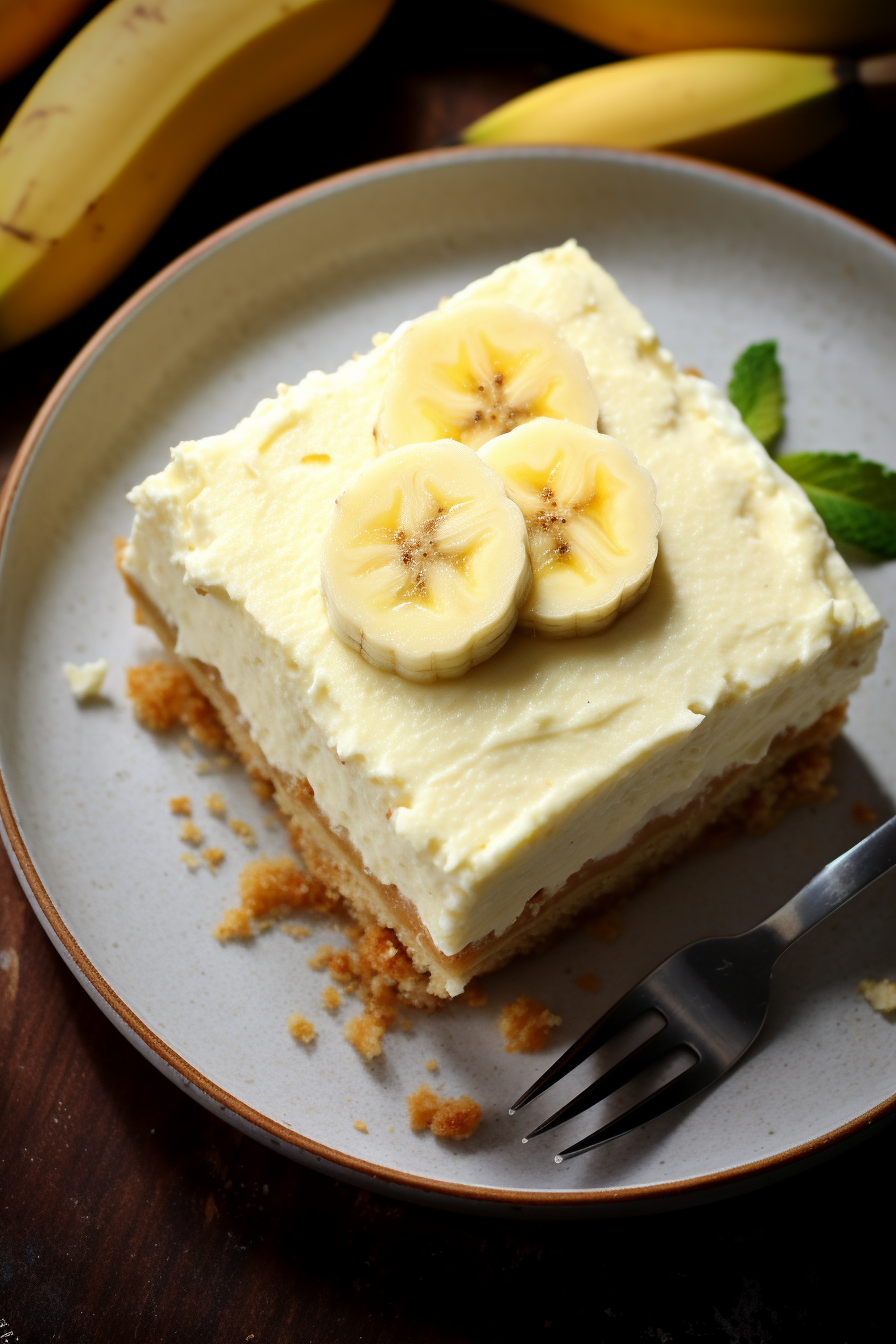 Why You'll Love Banana Cream Cheesecake Bars:
Let's slice into the layers of why these Banana Cream Cheesecake Bars are a game-changer:
Combines the charm of classic banana pudding with the richness of cheesecake.
The no-bake Nilla Wafer crust ensures simplicity and adds a buttery crunch that complements the creamy filling.
Flexibility: Dress it up with whipped topping and banana slices or savor it in its bare, beautiful form.
Perfect make-ahead dessert ensuring ease and enjoyment for any event!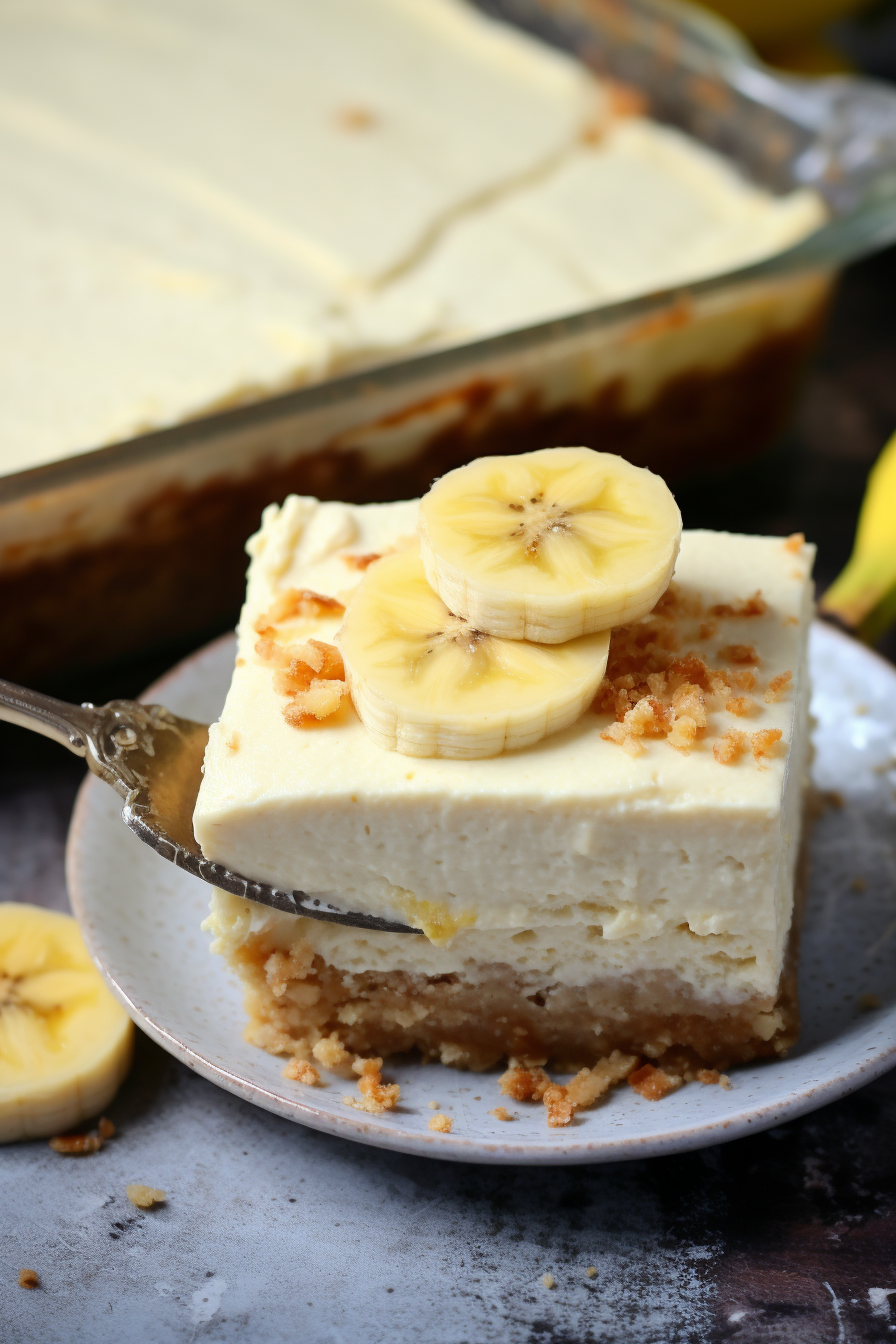 Ingredients For Banana Cream Cheesecake Bars:
Nilla Wafer Crumbs: Trust me, using the whole box (about 11 ounces) hits the right balance of crust to creamy ratio. Crumbs should be finely processed for a solid crust foundation.
Butter: Use unsalted, as the Nilla Wafers already pack a slight saltiness.
Cream Cheese: Ensure it's softened for a smoother, lump-free cheesecake filling.
Instant Banana Cream Pudding Mix: Opt for your favorite brand, but ensure it's the instant variety! It lends a great banana flavor and enhances the creamy texture.
Optional Garnish: Whipped topping and banana slices make for a delightful presentation, but remember to serve immediately as bananas can brown!
How To Make Banana Cream Cheesecake Bars:
Step 1 – Crust Creation: Blend those Nilla Wafers till they're like beach sand. Mix with the melted butter and press this golden combo into your baking pan. Remember that parchment paper trick? Super helpful for a non-stick experience. Now, let it chill.
Step 2 – Whipping Wonderland: Use that electric mixer to turn heavy whipping cream and sugar into fluffy, stiff-peaked clouds of sweetness. A cold bowl speeds up the process.
Step 3 – Creamy Concoction: Beat that cream cheese like it stole your cookie. No lumps allowed here! Then, gradually introduce the pudding mix. Once they're well-acquainted, invite the whipped cream to the party. Mix until it's silky smooth.
Step 4 – Layering Love: Spread that creamy goodness over your chilled crust, cover with plastic wrap, and send it off for a long nap in the fridge.
Step 5 – Slice and Serve: Post its beauty sleep, cut it into squares. Doll it up with whipped topping and banana slices, and serve it chilled. Cheers to you!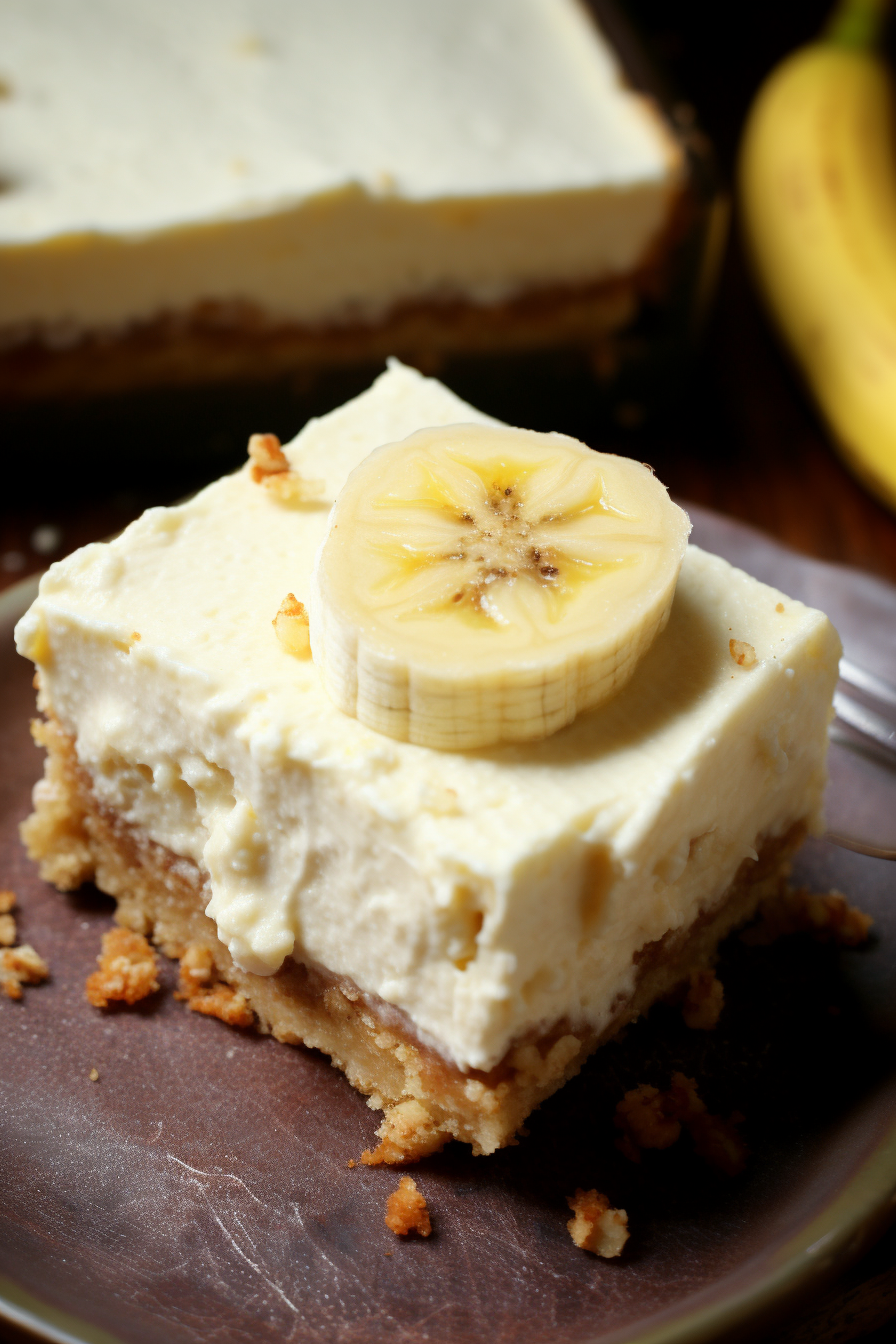 Storage Options:
These dreamy bars can be stored in the refrigerator for up to 4 days (if they last that long!). If using banana slices for garnish, add those right before serving to avoid browning. Want to make it further ahead? You can freeze them for up to a month; just ensure they're wrapped tightly.
Variations and Substitutions:
Crust Variations: Graham crackers or even Biscoff cookies can stand in for Nilla Wafers.
Dairy-Free: Swap regular cream cheese and heavy whipping cream with dairy-free alternatives.
Flavor Twists: Feel like a little experimentation? Swap the banana cream pudding mix for vanilla or even coconut for a tropical twist. You can also stir in some chocolate chips or toasted coconut flakes into the cheesecake mixture for added texture and flavor.
Hope you enjoy these Banana Cream Cheesecake Bars as much as I do. And remember, life's short; always go for the dessert! 🍌🍰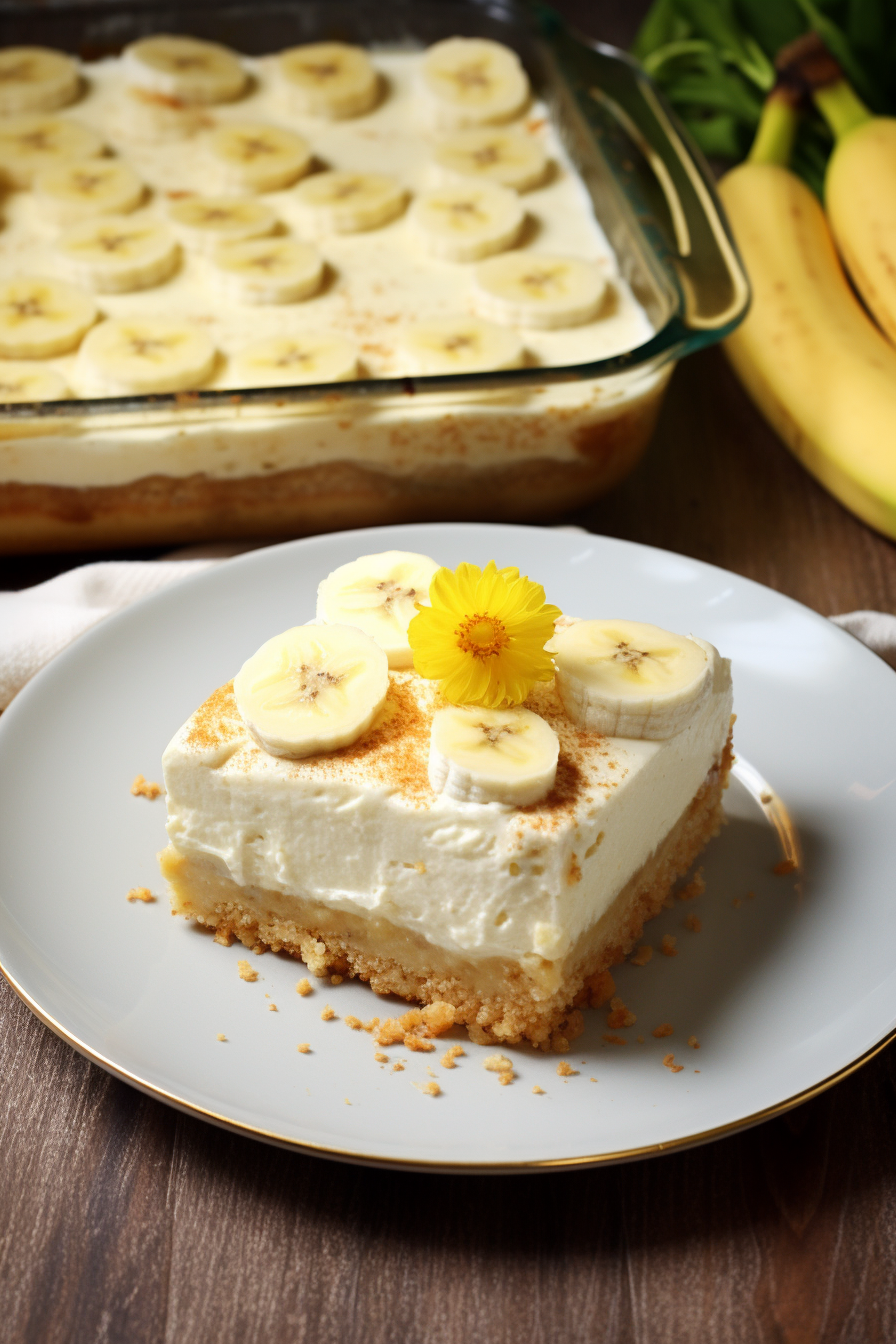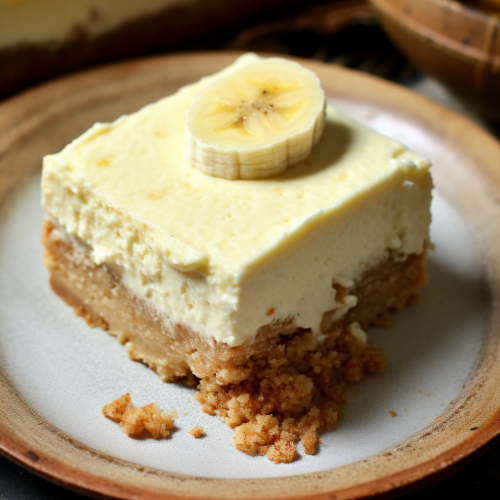 Banana Cream Cheesecake Bars
Dive into rich Banana Cream Cheesecake Bars combining Nilla Wafers, melted butter, whipping cream, sugar, cream cheese, and banana pudding mix, topped off with optional whipped cream and banana slices for the ultimate indulgence.
Print
Pin
Rate
Ingredients
3

cups

of Nilla Wafer cookie crumbs

approximately 11 ounces

1/2

cup

of unsalted butter

melted

1

pint

of heavy whipping cream

3/4

cup

of granulated sugar

24

ounces

of cream cheese

3 packages of 8 ounces each, softened to room temperature

2

packages of instant banana cream pudding mix

3.4 ounces each

Optional for garnish: whipped cream and fresh banana slices
Instructions
Begin by assembling all the ingredients. In a medium-sized bowl, thoroughly combine the Nilla Wafer cookie crumbs with the melted butter. Once combined, transfer the mixture to an 8×8-inch baking pan that has been lined with parchment paper, ensuring that extra parchment is protruding from the sides for easier removal later. Press the mixture firmly to create an even crust. Place the crust in the refrigerator or freezer to set while proceeding with the next steps.

In a chilled, large metal bowl, utilize an electric mixer or a stand mixer on medium speed to whip the heavy whipping cream and granulated sugar. Continue whipping until the mixture reaches stiff peaks, and then set aside.

In another large bowl, beat the softened cream cheese using an electric mixer or stand mixer on medium speed until it achieves a smooth consistency. Gradually incorporate the dry banana cream pudding mixes, ensuring to beat well after each addition. Following this, fold in the previously prepared whipped cream mixture until the entire concoction is smooth and well-blended.

Carefully spread the cream cheese mixture over the previously chilled crust, ensuring an even distribution. Once done, cover the pan with a layer of plastic wrap and place it in the refrigerator for a minimum of 8 hours, though overnight refrigeration is recommended for best results.

Once fully chilled and set, use a sharp knife to cut the cheesecake into nine evenly sized squares. If desired, these squares can be garnished with whipped cream and freshly sliced bananas. It is recommended to serve the cheesecake bars chilled for optimal taste and consistency.