Dive into a delightful dish of buttery russet potatoes swathed in a luxurious mix of cheddar, provolone, and Parmesan, jazzed up with hints of garlic and onion. It's the ultimate comfort on a plate!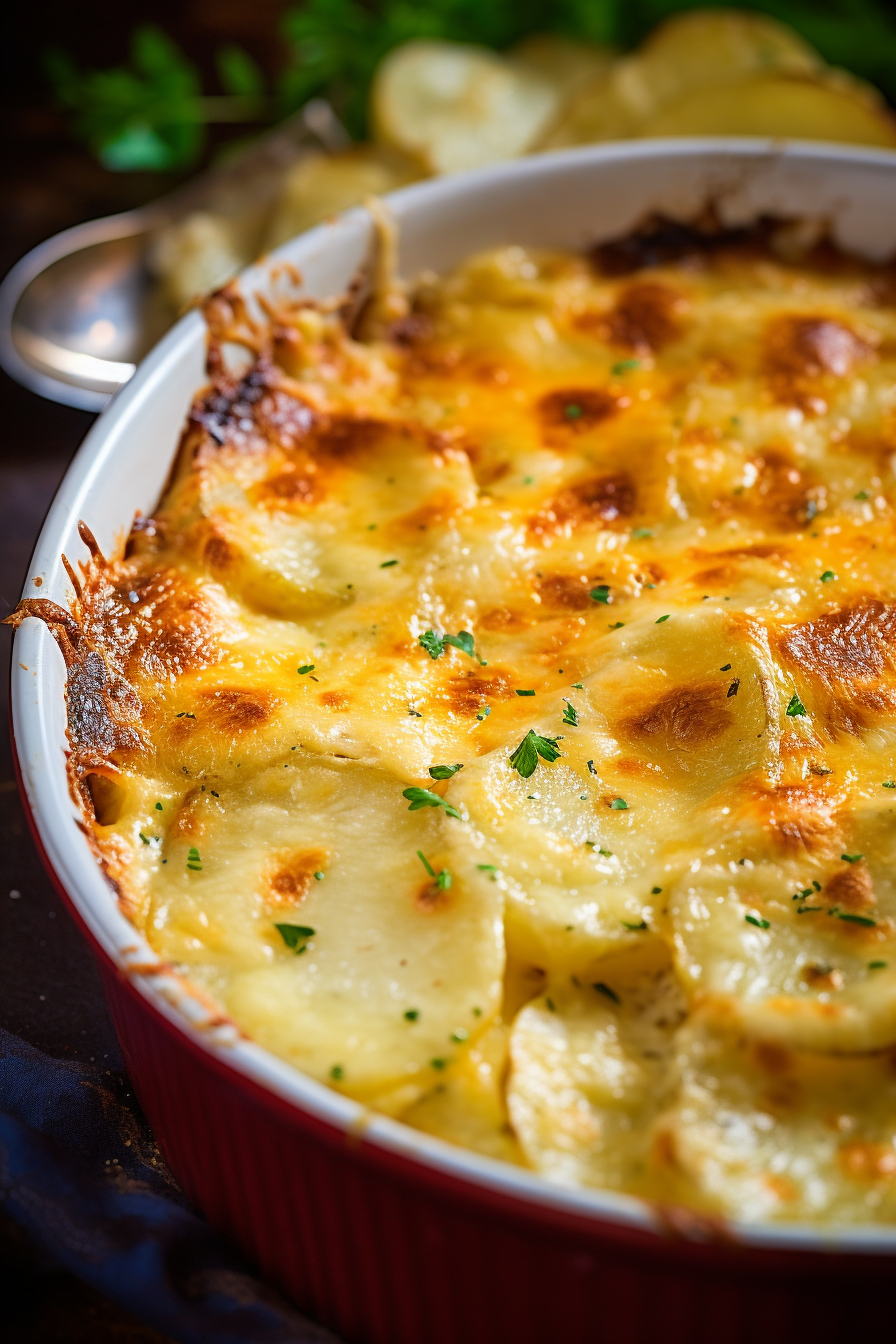 Picture this: It's a brisk evening, and the family's at Ruth's Chris Steakhouse. As we dined and chatted, our order of Potatoes au Gratin came to the table, looking absolutely celestial. The first bite? A dream. Creamy, cheesy, with just the right zing of garlic. Now, a restaurant trip every time we craved it wasn't feasible (or kind on our wallets), so the culinary detective in me decided to recreate it. After a few (okay, several) attempts and some cheese-overboard mishaps, the copycat recipe was born. Now, our family dinners feel just a smidge fancier, and everyone's convinced I have a secret culinary degree. Don't spill the beans, okay?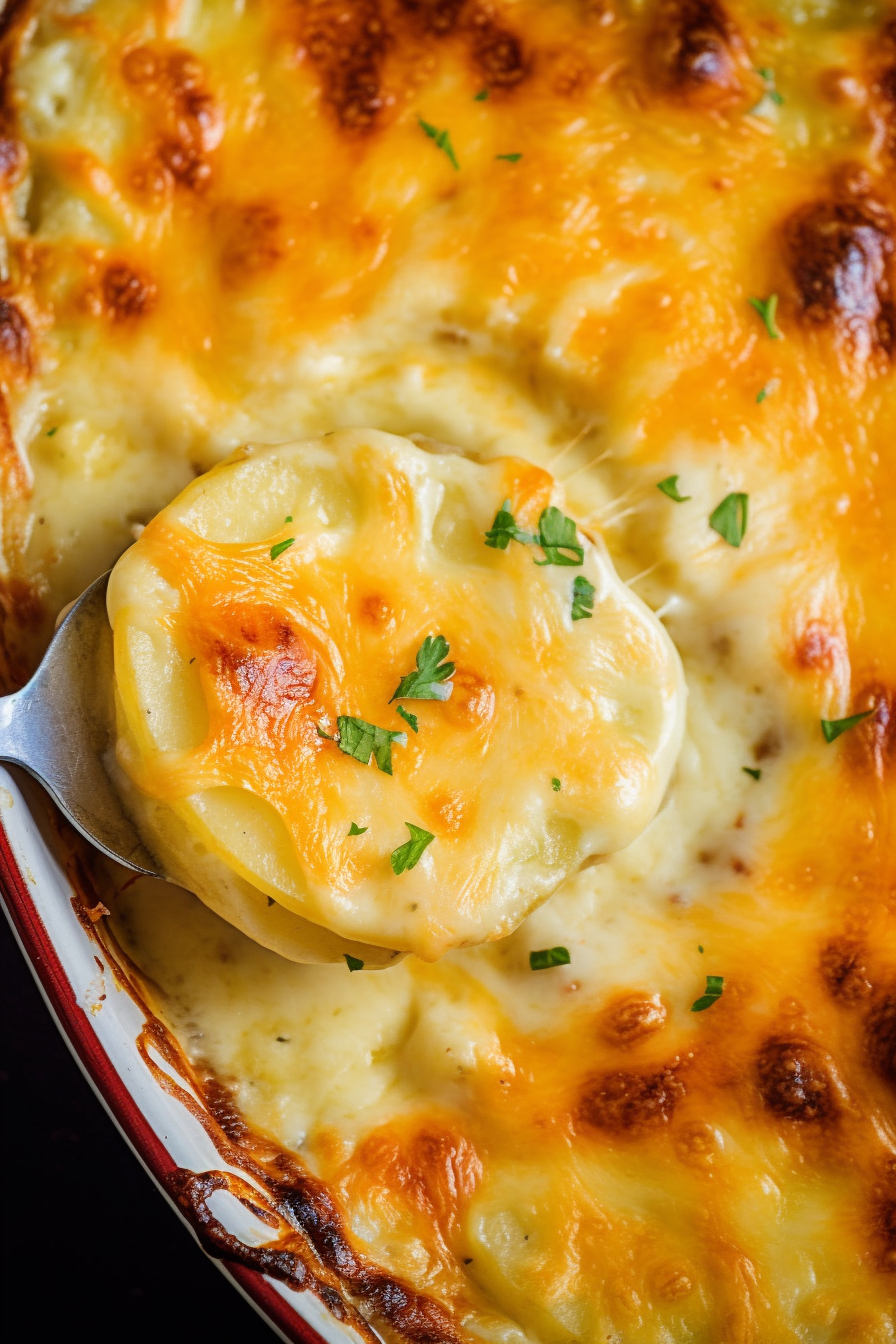 Why You'll Love This Copycat Ruth's Chris Potatoes au Gratin:
What makes this "Copycat Ruth's Chris Potatoes au Gratin" recipe a standout? Well, it's not just a potato dish; it's an experience. The three cheese blend is like the Three Musketeers of dairy – each with a unique character but perfect together. And that hint of garlic? Subtle but impactful. Lastly, it's surprisingly simple. No need for a master's in culinary arts; even newbie chefs can plate up this masterpiece.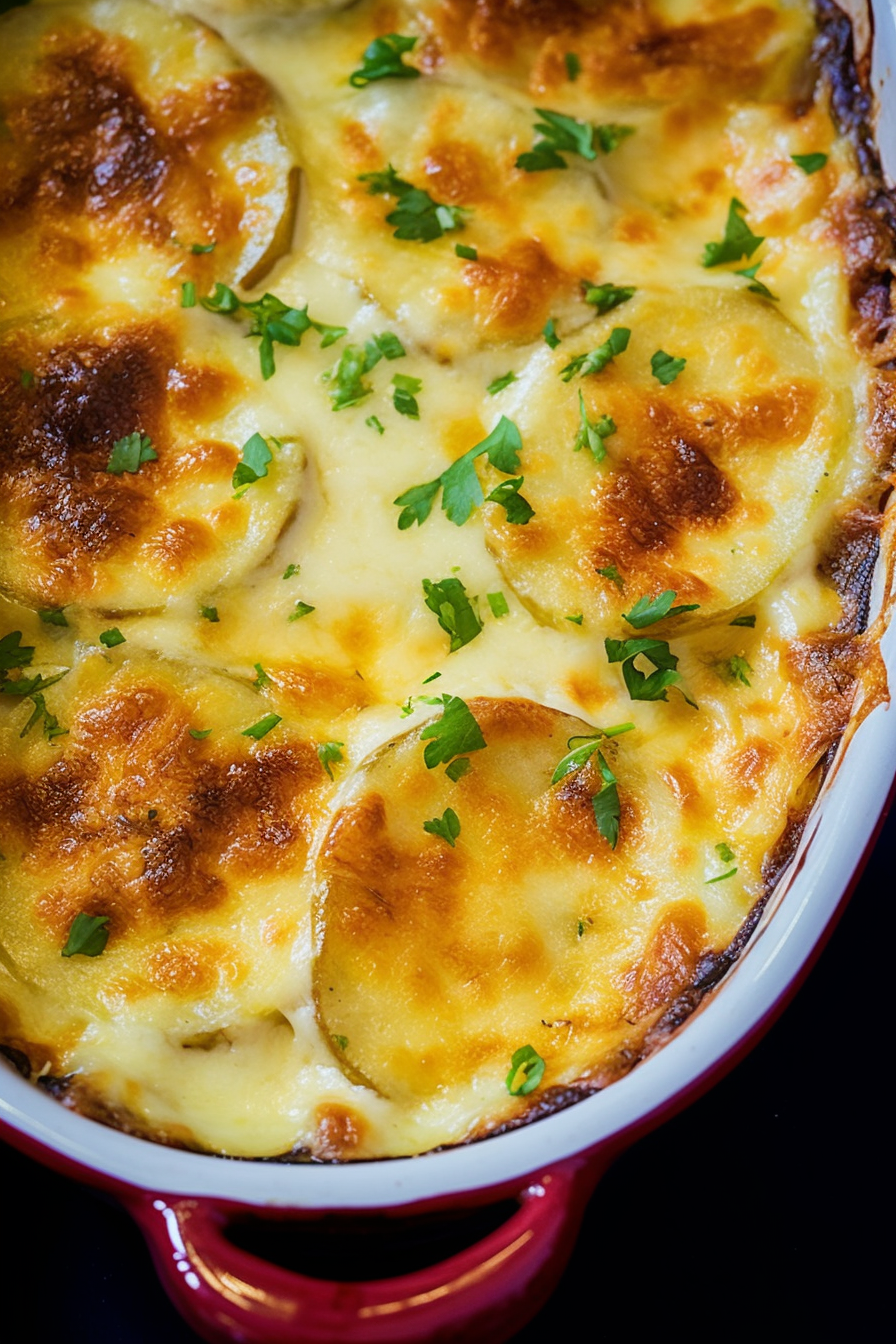 Ingredients For Copycat Ruth's Chris Potatoes au Gratin:
Now, onto our star-studded cast. Russet potatoes are the VIP here; their starchy texture makes the dish perfectly creamy. If you're feeling gourmet, try aged cheddar for a deeper flavor profile. Provolone? It's the silky, smooth character that bridges our stronger cheese flavors. Parmesan adds that sharp kick, and if you can, go for the freshly grated kind. It makes a difference. Lastly, fresh parsley isn't just for looks (although it does make your dish Instagram-ready). It adds a fresh counterpoint to our rich, cheesy extravaganza.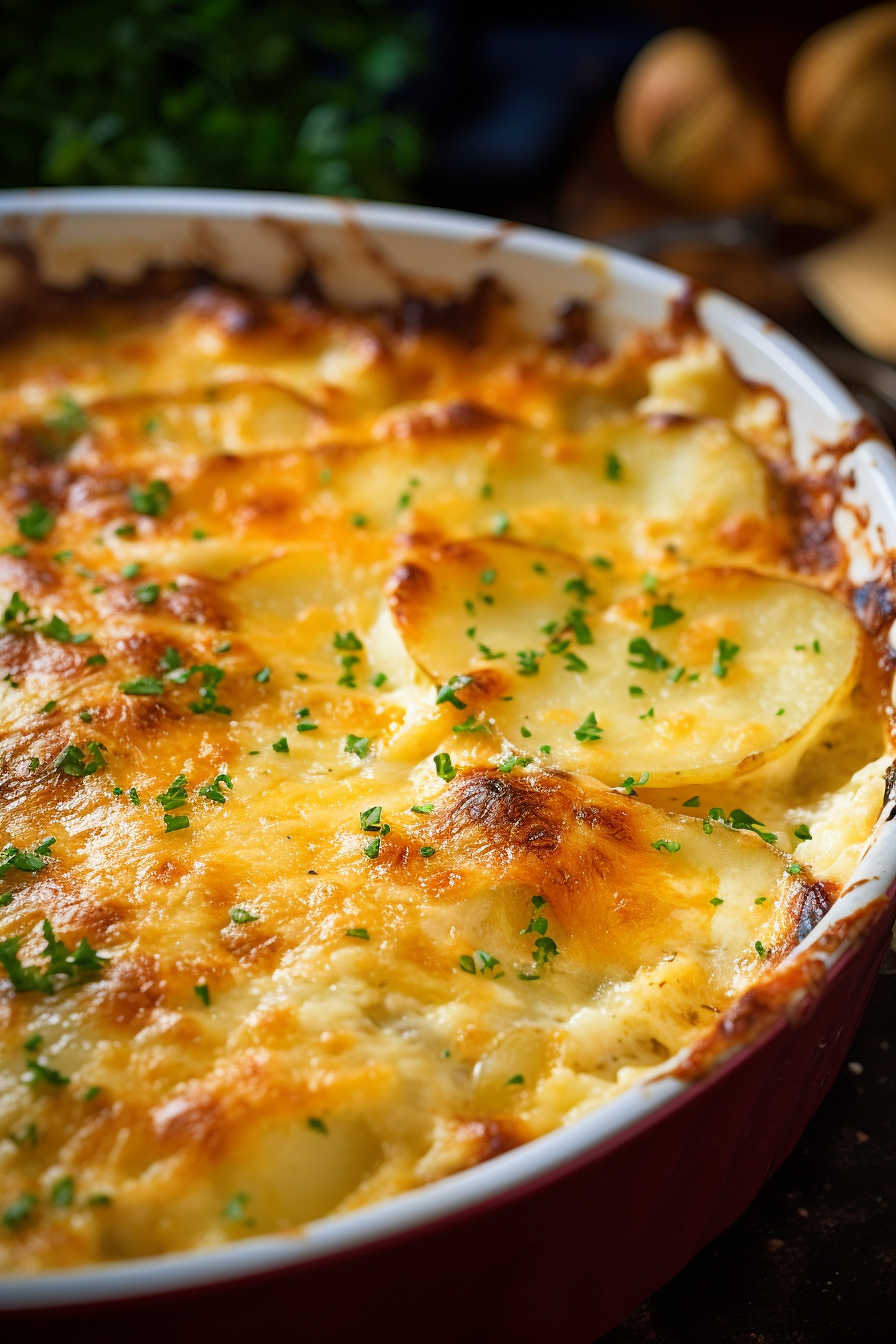 How To Make Copycat Ruth's Chris Potatoes au Gratin:
Oven Prepping: Start by warming up your oven to 425°F. Remember, it's like getting a sunbath ready for our potato stars.
Butter Up: Grease that 8×8-inch baking dish with some butter. It's like giving our potatoes a cozy bed to snuggle in.
The Flavour Base: Melt your butter in a pot over medium heat. Add the onions till they're as soft as a lullaby. Now's the garlic's time to shine – but just for 30 seconds. We want whispers of garlic, not screams.
Creamy Dream: Pour in the stock, cream, and our spud-stars. Let this simmer softly like a spa for potatoes. But remember, no boiling; we're not trying to give them a workout.
Cheese Cascade: Time for the dish to move to its baking suite. Pour our creamy potatoes into the dish and sprinkle the three cheeses. It's like a cheese snowfall.
Baking Brilliance: Slide it into the oven till everything's bubbly and the cheese looks like molten gold.
Finishing Touch: All dressed up with some parsley, and voila! A dish even Ruth's Chris would tip their chef hat to.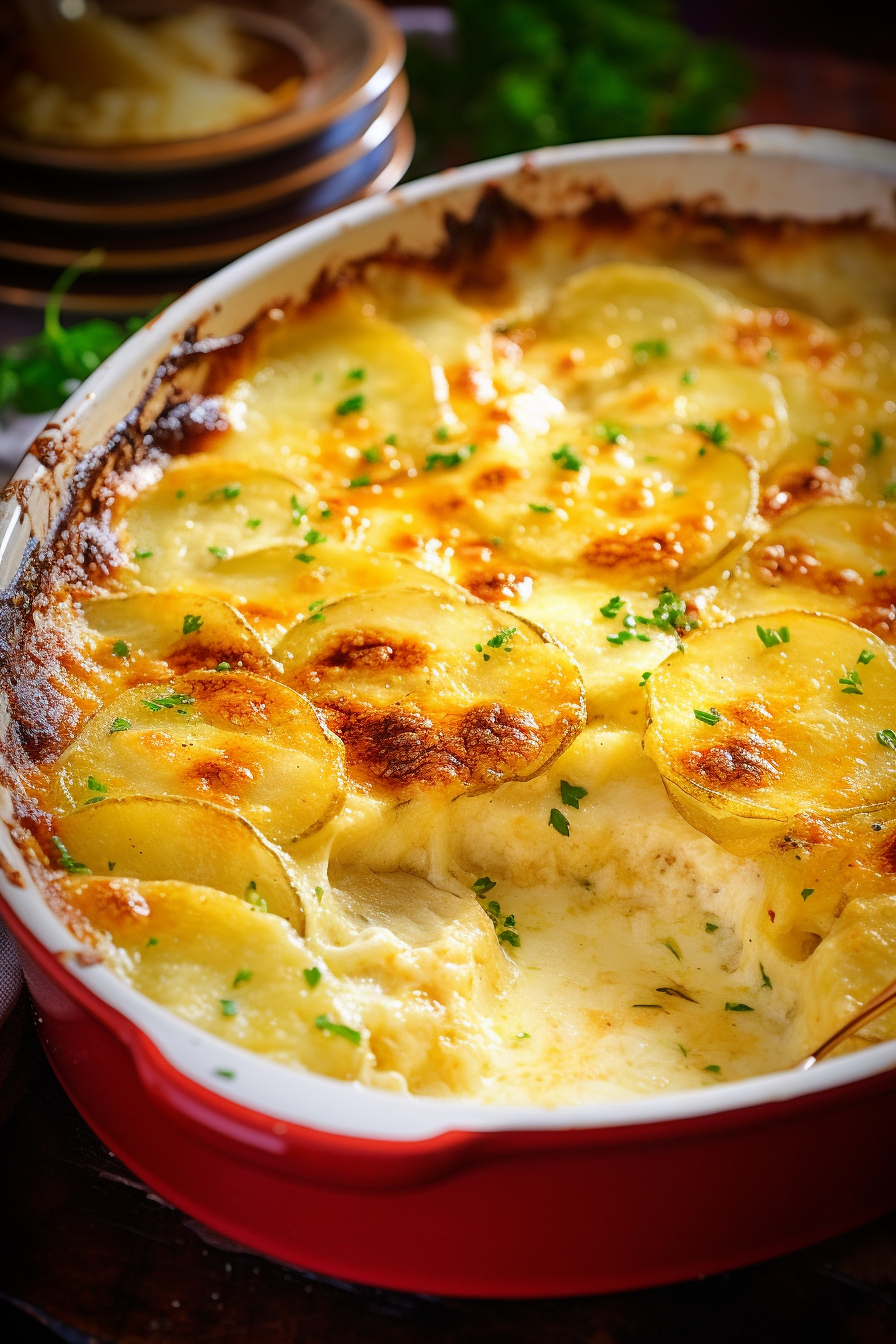 Storage Options:
Leftovers? First, congrats on the self-control! Wrap the dish up with some cling film or aluminum foil and pop it into the fridge. It'll be your gourmet snack for up to 3 days. To reheat, a microwave works, but if you want to revive that crispy cheesy top, the oven's your best pal.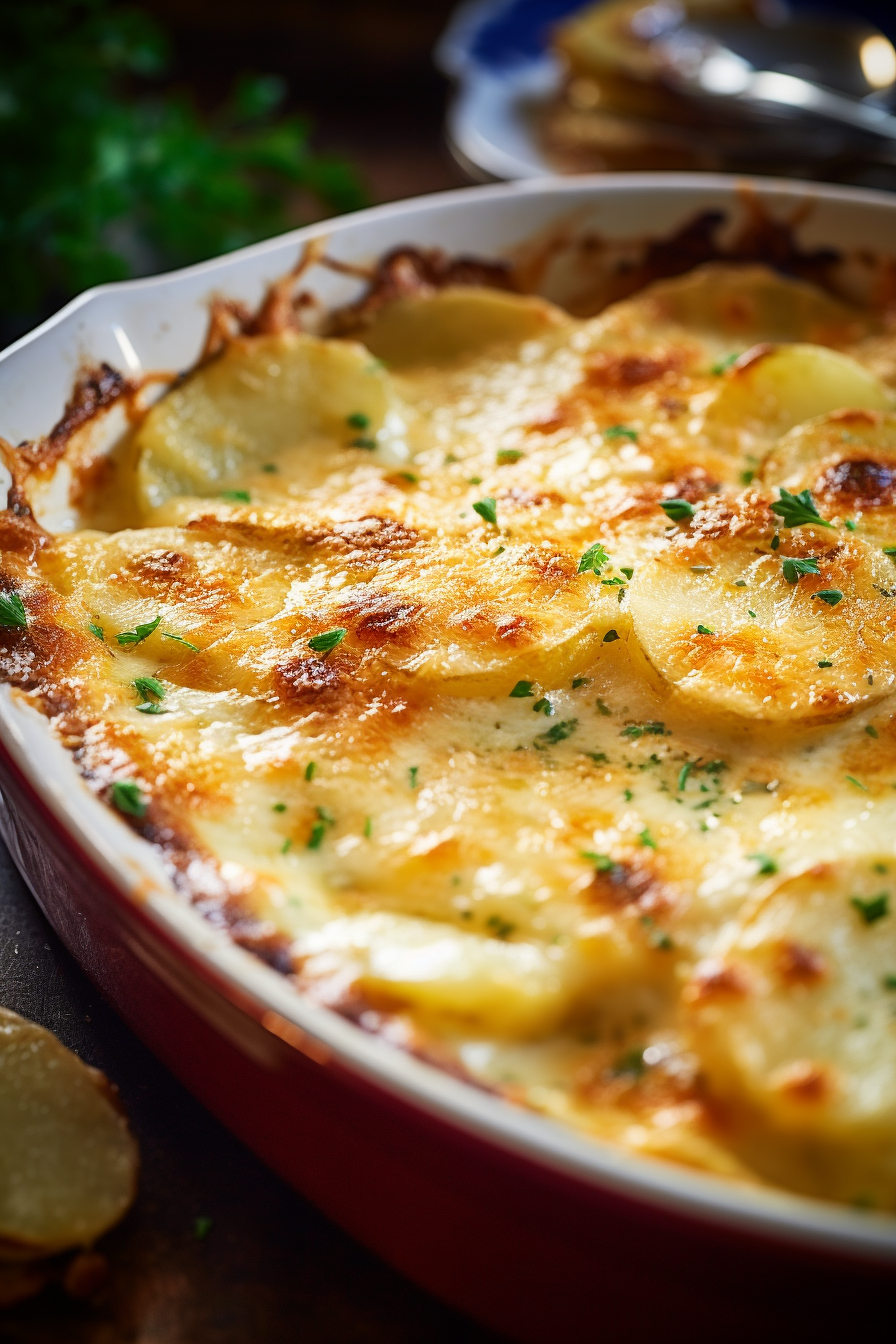 Variations & Substitutions:
Feeling experimental? Swap russet for Yukon gold for a buttery twist. Not a three-cheese fan? Go monochrome with just cheddar or spice it up with some pepper jack. For a healthier take, replace heavy cream with half and half or even milk (but expect a lighter texture). Got rosemary or thyme on hand? Toss it in for an aromatic spin. The world (well, at least this dish) is your oyster!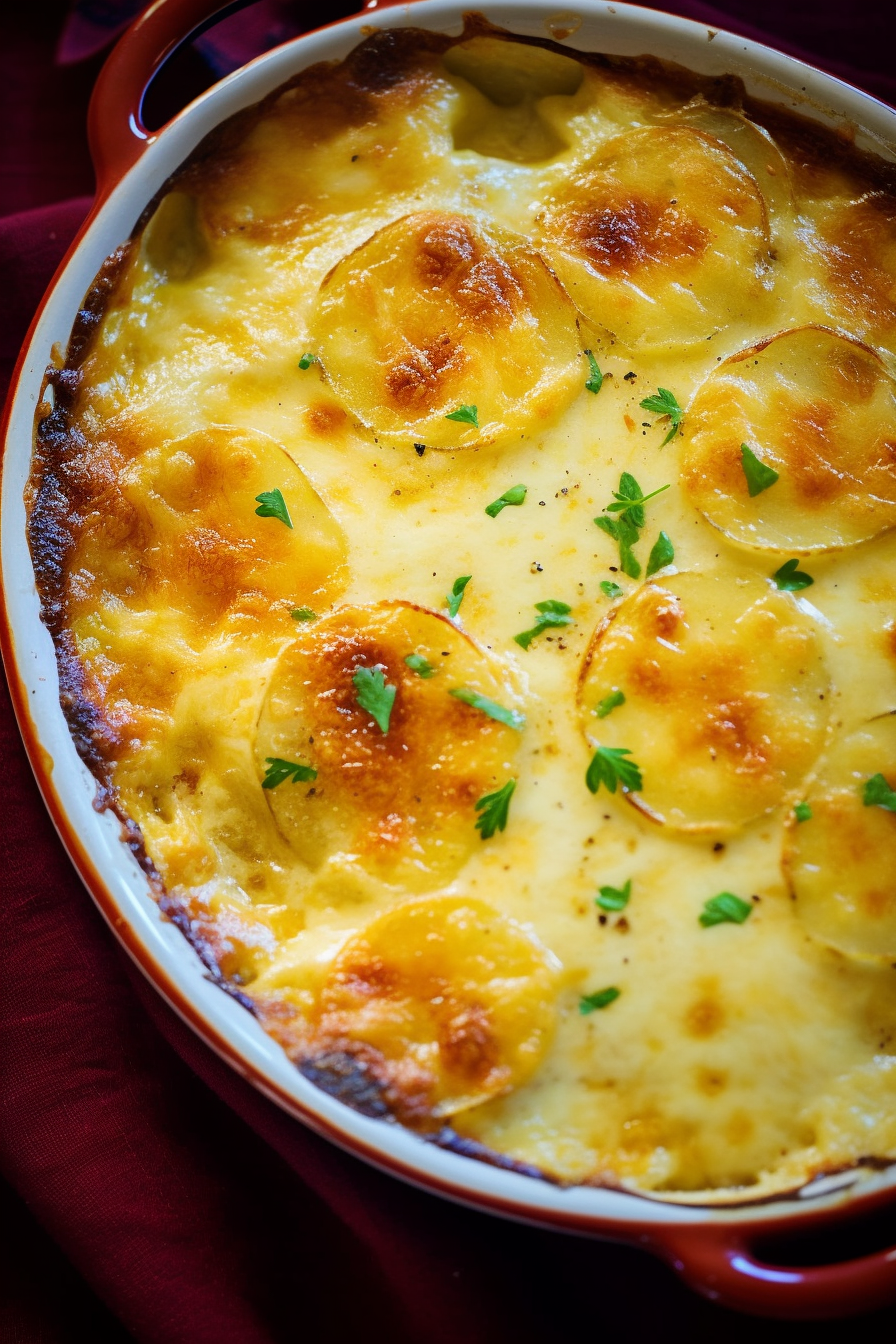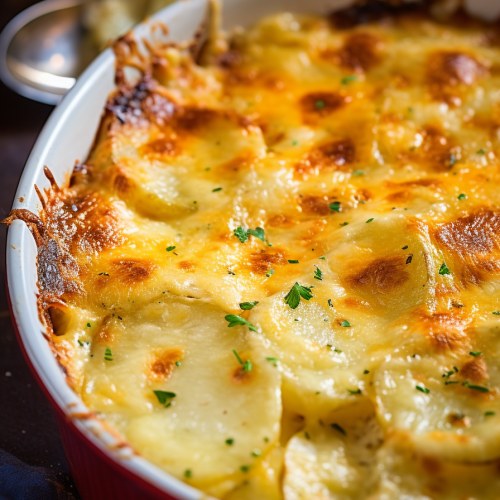 Copycat Ruth's Chris Potatoes au Gratin
Dive into a delightful dish of buttery russet potatoes swathed in a luxurious mix of cheddar, provolone, and Parmesan, jazzed up with hints of garlic and onion. It's the ultimate comfort on a plate!
Print
Pin
Rate
Ingredients
Butter: 2 tablespoons

additional required for preparing the baking dish

Onion

White variety: 1/2, finely minced

Garlic Cloves: 2

finely minced

Salt: 1 1/2 teaspoons

Black Pepper: 1/2 teaspoon

freshly ground

Chicken Stock: 1/2 cup

Heavy Cream: 1 1/4 cups

additional quantity may be required

Russet Potatoes: 1 1/2 lbs

peeled and uniformly sliced to a thickness of 1/8-inch

Cheddar Cheese: 2 cups

finely grated

Provolone Cheese: 3/4 cup

finely grated

Parmesan Cheese: 1/2 cup

finely grated

Parsley

Fresh: Chopped, for garnishing purposes
Instructions
Oven Preparation: Initiate by preheating the oven to a temperature of 425°F. Subsequently, apply a thin layer of butter to an 8×8-inch baking dish to prevent sticking.

Preparation of Onion-Garlic Base: In a sizeable pot set over medium heat, melt the designated butter. Introduce the minced onion, allowing it to cook until it achieves a soft and translucent appearance, approximately requiring 5 minutes. Incorporate the garlic, and season the mixture with the specified quantities of salt and pepper. Allow this to cook for an additional 30 seconds.

Integration of Liquids and Potatoes: Into the pot, introduce the chicken stock, heavy cream, and previously sliced potatoes. Ensure to bring this mixture to a gentle simmer. It is imperative to avoid reaching a boiling point. Seal the pot with a lid and diminish the heat to medium-low, permitting the potatoes to cook until they reach a tender state, typically spanning 15-20 minutes. Taste and make seasoning adjustments if necessary.

Assembling for Baking: Transfer the prepared mixture to the pre-buttered baking dish. Evenly sprinkle the cheddar, provolone, and Parmesan cheeses atop the mixture.

Baking Process: Position the dish in the preheated oven, allowing it to bake until the mixture is effervescent and the cheese has achieved a molten state. This typically requires 10-15 minutes.

Serving: Once adequately baked, extract from the oven. For an enhanced aesthetic appeal, garnish with freshly chopped parsley. Serve while hot.