I promise that this will be my last candied bacon recipe for a while.
I think I went a little overboard. After making a huge batch of candied bacon, I started chopping it up and adding it to all sorts of dishes (starting with the waffle sliders). After adding pieces of bacon to several breakfast recipes, I began experimenting with desserts and sweets. That's when these incredible cookies were born.
These candied bacon chocolate chip cookies are the perfect mix of salty and sweet.
I used my favorite trick from my fluffy and chewy chocolate chip cookie recipe to make these bacon cookies. The recipe has a secret ingredient in order to make them extra soft and fluffy: cornstarch. Trust me, it makes the cookies super-soft.
To make sure the cookies remained thick, I refrigerated the cookie dough prior to baking. This means that it takes a little longer to prepare a batch of cookies, but it's totally worth it. Just try not to eat spoonfuls of dough out of the refrigerator while chilling.
After removing the dough from the fridge, I rolled the dough into small cylinders and placed them on a silicone baking mat. By making the cookie dough balls a little taller, it guarantees that the cookies will remain thick after spreading out in the oven.
If you don't have time to make maple-candied bacon, you can always substitute regular crispy bacon. I prefer the sweetness from the candied bacon, but regular salty bacon will pair just fine with the chocolate.
Instead of mixing the bacon into the cookie dough along with the chocolate chips, I pressed a few bacon pieces into each cookie immediately after removing them from the oven. This ensures that the bacon remains nice and crunchy, instead of softening in the refrigerator. I prefer my bacon crisp instead of chewy.
We are just starting to see the first hints of spring around here. Our passion vines are blooming and attracting butterflies, while the trees are filled with new buds. It seemed like a good time to start my spring garden, so I built a few herb planters for the backyard and filled them with tomatoes, strawberries, and a variety of herb plants. The first weekend after planting, we had a hard freeze.
Typical, right?
Oh well, these candied bacon chocolate chip cookies are perfect for forgetting about my frostbitten plants.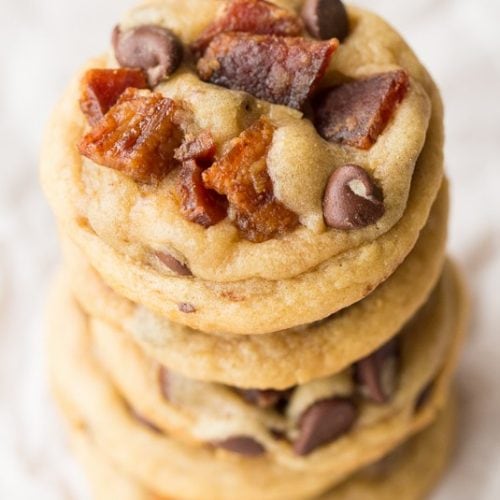 Candied Bacon Chocolate Chip Cookies
These candied bacon chocolate chip cookies are the perfect mix of salty and sweet.
Print
Pin
Rate
Servings:
2
dozen cookies
Ingredients
¾

cup (170g)

unsalted butter, melted

¾

cup (135g)

light brown sugar

½

cup (100g)

granulated sugar

1

egg, large

1

egg yolk

2

tsp

vanilla extract

2¼ (280g)

cups

all-purpose flour

2

tsp

cornstarch

1

tsp

baking soda

½

tsp

salt

4-6

slices

 maple-candied bacon, chopped

1

cup

chocolate chips
Instructions
In the bowl of a stand mixer, whisk the light brown sugar and granulated sugar with the melted butter until smooth. Add the egg, egg yolk, and vanilla extract and mix until incorporated. Set aside.

In a large mixing bowl, combine the flour, cornstarch, baking soda, and salt. Add the wet ingredients to the flour mixture and combine with a rubber spatula.

Finally, stir in the chocolate chips.

Cover the bowl with plastic wrap and refrigerate the dough for at least 2 hours.

Once the dough has been thoroughly chilled, remove it from the refrigerator and preheat the oven to 350 degrees Fahrenheit.

Place a silicone baking mat onto a baking sheet. Using a tablespoon, roll the dough into small cylinders and place on the baking mat. Be careful not to overcrowd the baking sheet as the cookies will spread out.

Bake the cookies in the preheated oven for 10-12 minutes. These cookies will be light in color, so don't wait for them to brown (overcooking the cookies will make them less soft). After removing the cookies from the oven, leave them on the silicone baking mat for 1 to 2 minutes and gently press a few pieces of the chopped candied bacon into each cookie. Then, carefully transfer the cookies onto a wire rack to cool fully.

Repeat with remaining dough.
Notes