Dive into a dessert lasagna masterpiece combining the nostalgia of caramel apple pie with the comfort of cinnamon rolls. Main ingredients include cinnamon rolls, juicy apples, sugar, cinnamon, and a rich caramel drizzle.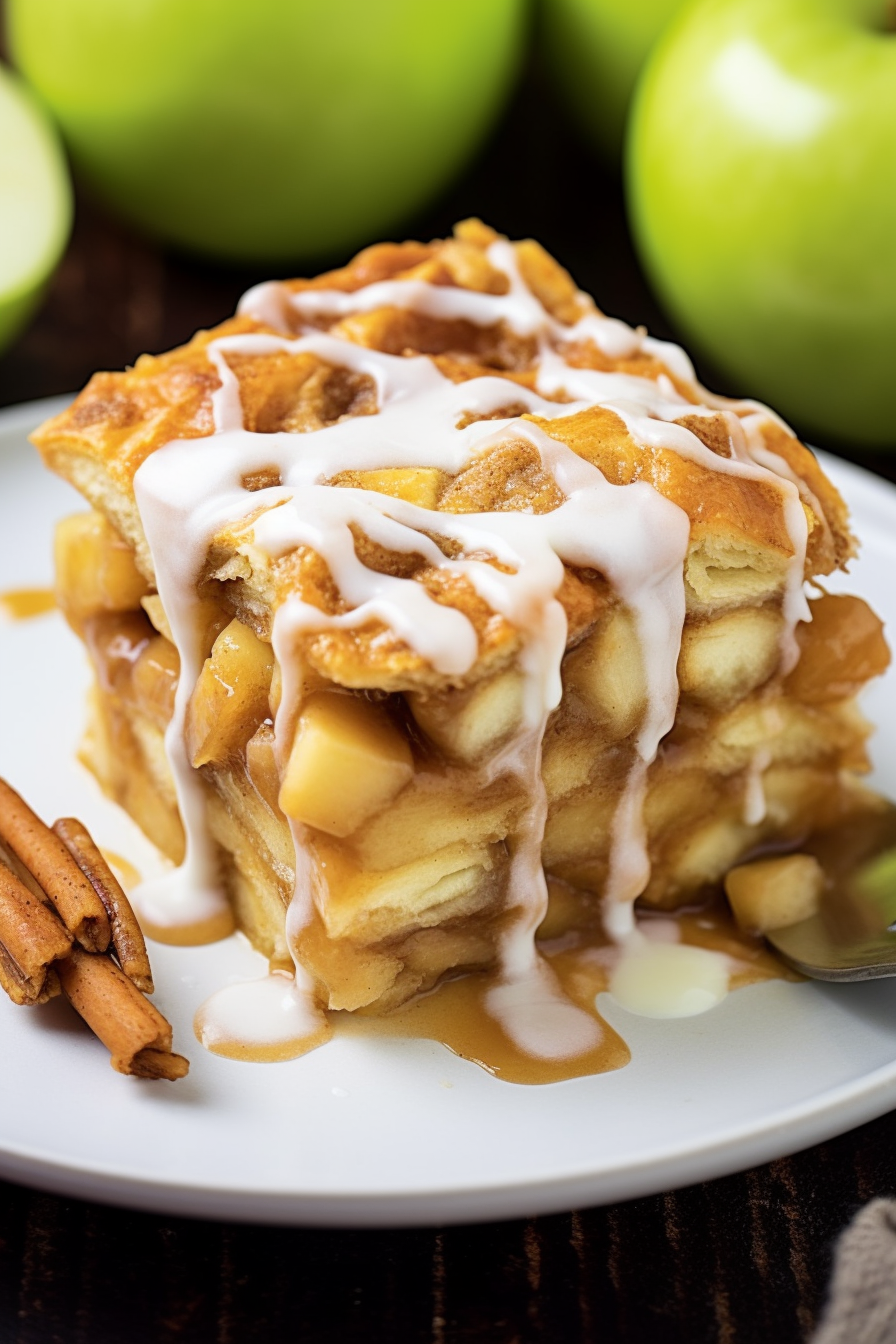 Back when I was a kid, I remember weekend trips to Grandma Lily's quaint countryside home. She was known in our family for her out-of-the-world apple pies. As for me, every Saturday morning was synonymous with indulging in gooey cinnamon rolls. One weekend, as fate would have it, Grandma Lily and I decided to marry our two favourites: her caramel apple pie and my cinnamon rolls. A dash of creativity, a sprinkle of love, and lo and behold – the "Caramel Apple Cinnamon Roll Lasagna" was born. Every bite feels like a warm hug from Grandma and a reminder of those cherished weekends.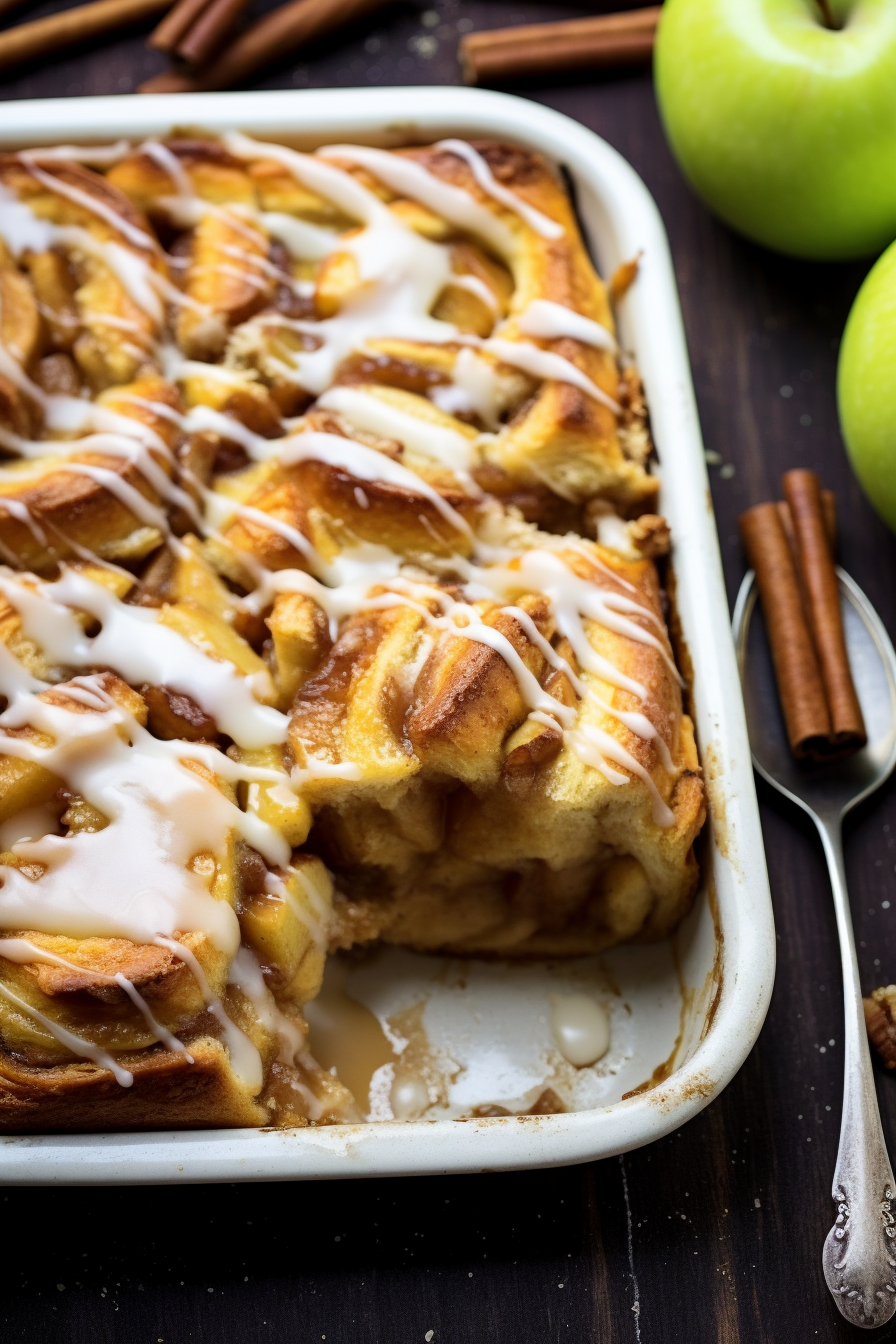 Why Caramel Apple Cinnamon Roll Lasagna is The Best Dessert:
The "Caramel Apple Cinnamon Roll Lasagna" is a culinary delight for several reasons. First, it meshes two all-time favourite desserts into one phenomenal dish, making every bite a delightful surprise. Second, it's quite the conversation starter; I mean, who's ever heard of a dessert lasagna? Third, it's surprisingly simple to make but looks and tastes incredibly gourmet. And lastly, it's versatile – serve it for breakfast, brunch, or dessert and watch it steal the show!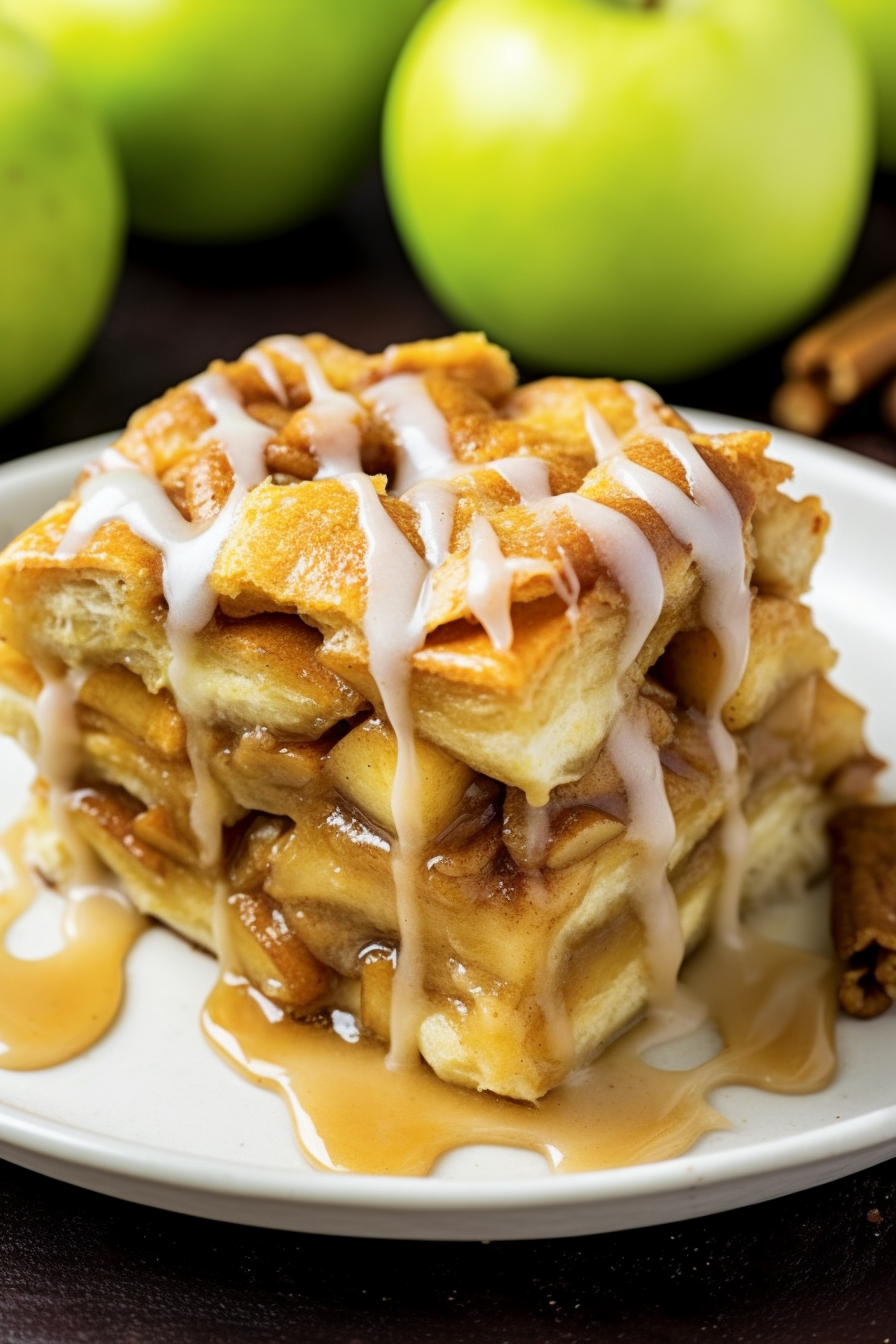 Ingredient for Caramel Apple Cinnamon Roll Lasagna:
Cinnamon Rolls: Opt for freshly packaged rolls for the best texture and flavour. Ensure they come with icing.
Apples: Granny Smith or Golden Delicious are recommended as they provide the right balance of sweetness and tartness. Ensure they're fresh and crisp.
Caramel Sauce: Store-bought is okay, but homemade is heavenly. For an added kick, consider a salted caramel variant.
Cornstarch: This helps to thicken the apple filling, ensuring your lasagna doesn't get too runny.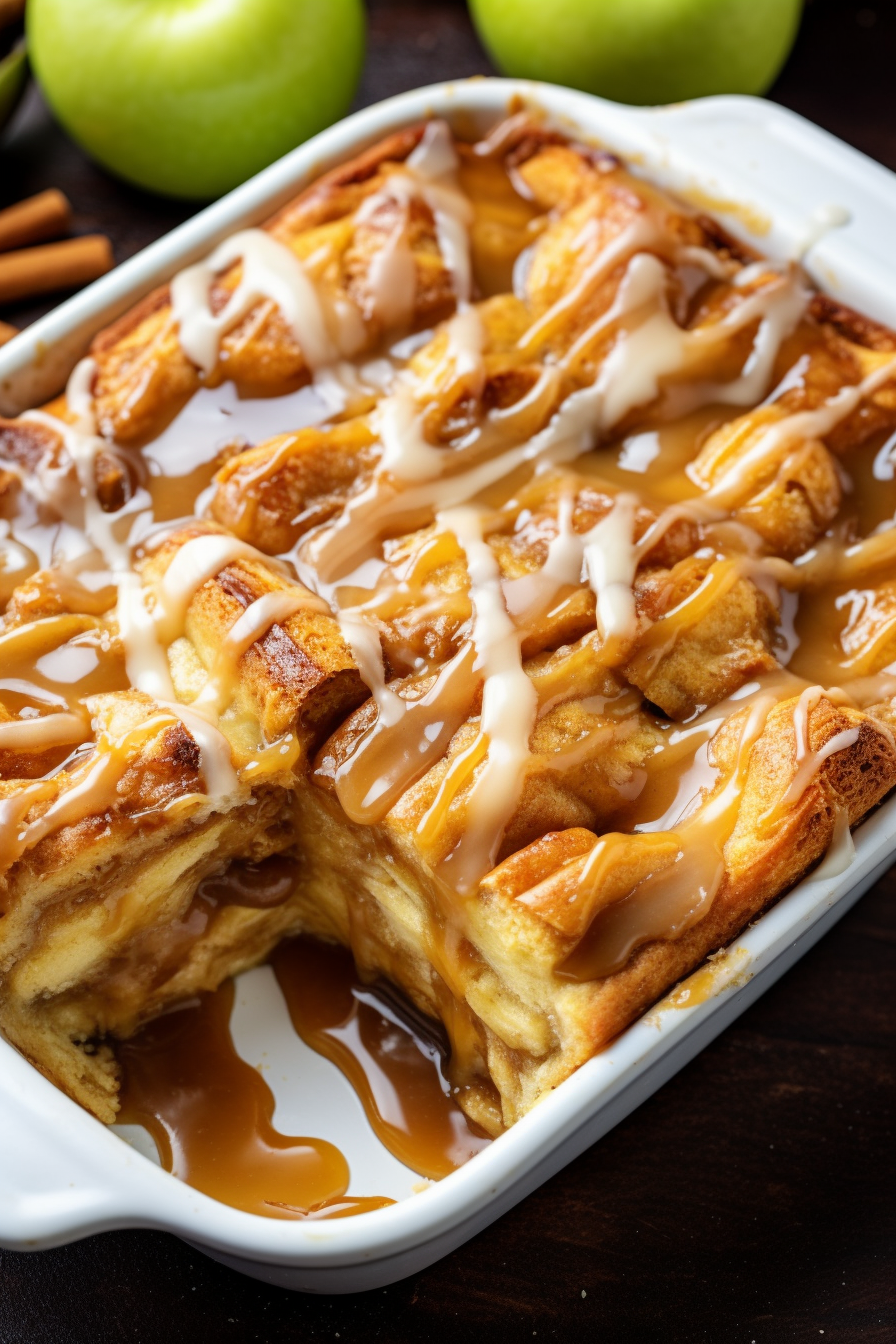 Step-by-Step Instructions To Make Caramel Apple Cinnamon Roll Lasagna:
Prepping: Kick things off by preheating your oven to a toasty 375 F. Take your 8 x 8 x 2 inch dish and give it a good spray with non-stick spray to make sure our lasagna doesn't adhere too lovingly.
Apple Filling: In a sizeable bowl, mix together your peeled and diced apples, sugar, corn starch, cinnamon, and nutmeg. Ensure all apples are coated well to get that uniform taste in every bite.
Cinnamon Roll Layers: Handling cinnamon rolls can be a sticky affair! Cut your rolls into ¼ inch slices, then gently roll each on a floured surface. If they start acting stubborn, just dust your hands with flour and press them thin.
Assemble: Begin by arranging a layer of flattened cinnamon rolls on the bottom and sides of your dish. They should overlap slightly. Press gently to seal them together. On this cinnamon base, spread half of your apple mixture. Channel your inner artist and drizzle 2-3 tablespoons of caramel sauce over it. Then, repeat with another layer of rolls, the remaining apple mix, and another generous drizzle of caramel.
Bake: Cover your soon-to-be masterpiece with aluminum foil and bake for 30 minutes. Then, unveil it and let it bake for an additional 10-15 minutes until it's all golden on top.
Serve: After it cools for 30 minutes, garnish with the icing from the cinnamon rolls. Slice it up and brace yourself for applause!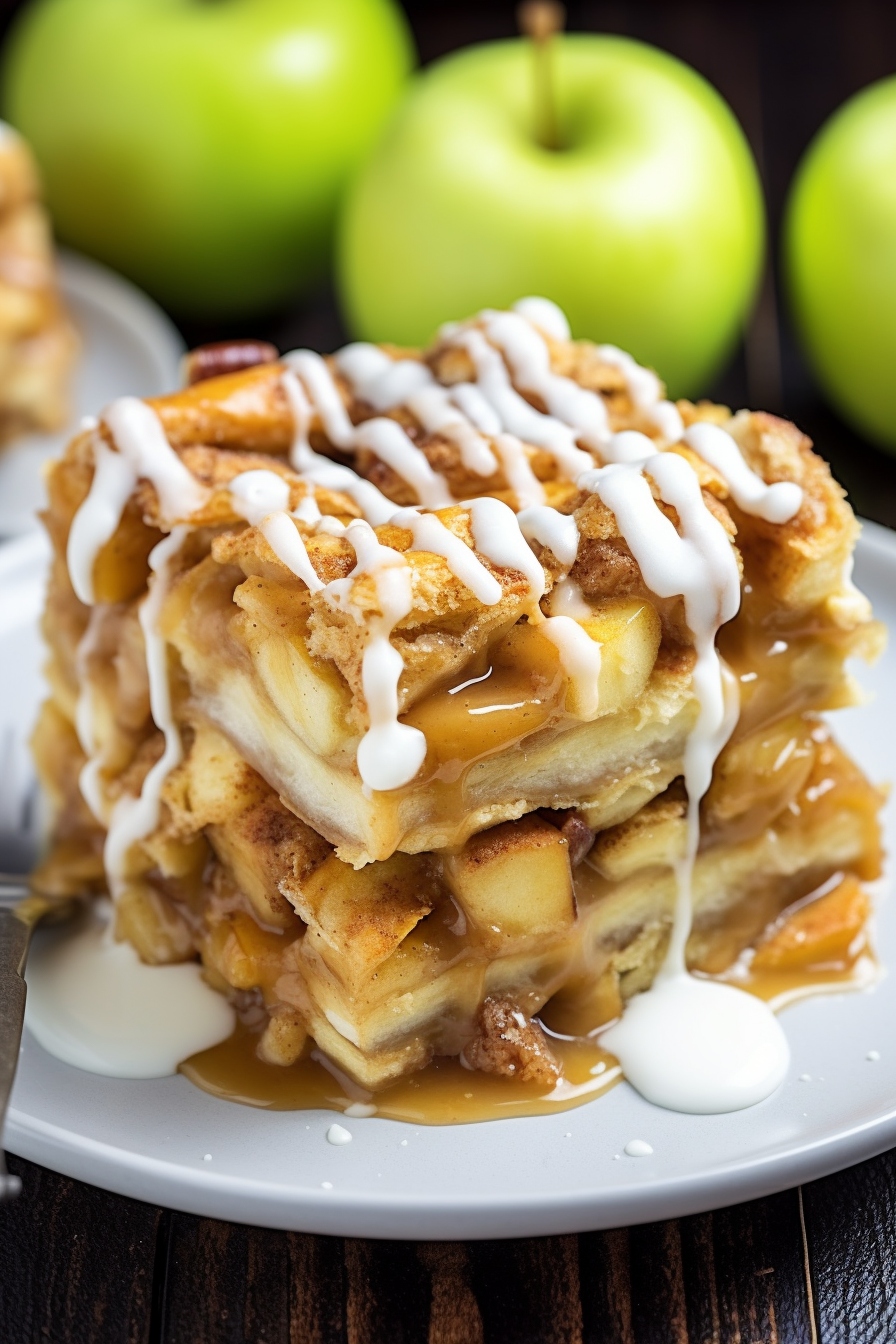 Storage Options:
Your Caramel Apple Cinnamon Roll Lasagna can be stored in the refrigerator for up to 5 days. If you've managed not to gobble it all up and want to save some for later, you can even freeze individual slices wrapped in plastic wrap and foil for up to a month. Just ensure you let it thaw completely and reheat gently before serving.
Variations and Substitutions:
Apples: Venture out and try a mix of different apple varieties or even pears for a unique twist.
Caramel Sauce: If you're feeling adventurous, a chocolate or butterscotch drizzle can work wonders.
Vegan Twist: Opt for vegan cinnamon rolls and caramel sauce for a dairy-free delight.
Remember, no matter the variations, every bite will be infused with love, nostalgia, and sheer deliciousness. Enjoy!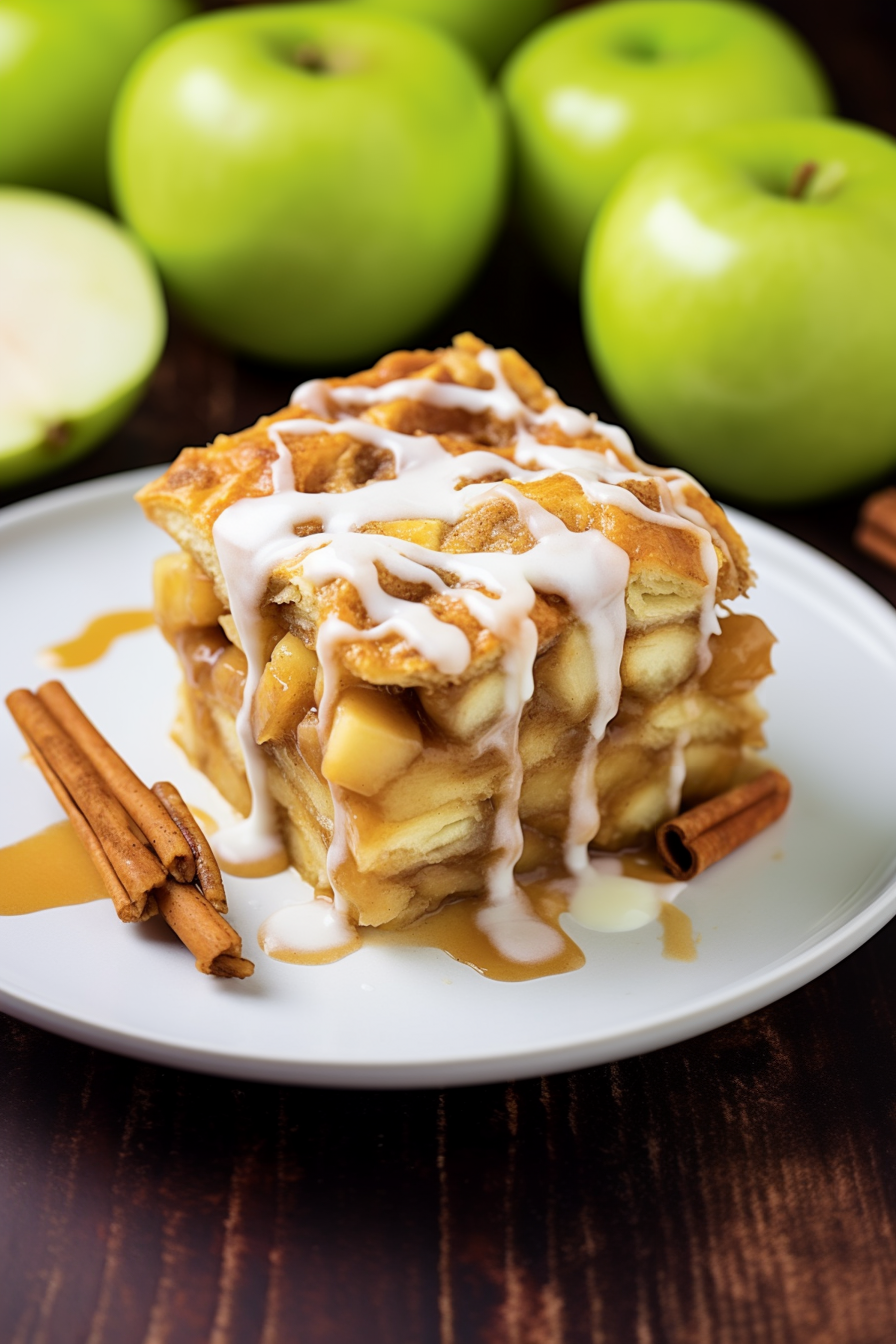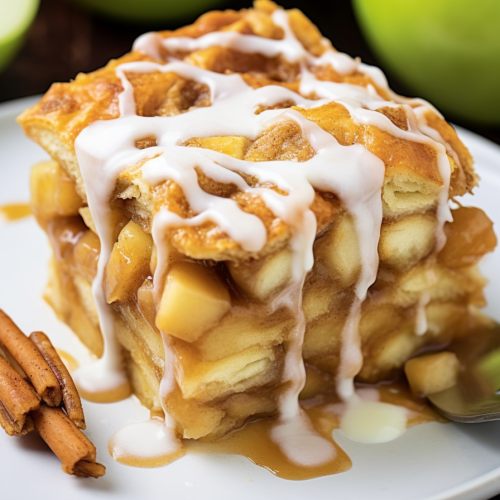 Caramel Apple Cinnamon Roll Lasagna
Dive into a dessert lasagna masterpiece combining the nostalgia of caramel apple pie with the comfort of cinnamon rolls. Main ingredients include cinnamon rolls, juicy apples, sugar, cinnamon, and a rich caramel drizzle.
Print
Pin
Rate
Ingredients
2

cans of cinnamon rolls

with accompanying icing

4

large apples

specifically either Granny Smith or Golden Delicious varieties, peeled and finely diced

½

cup

granulated sugar

1

teaspoon

ground cinnamon

¼

teaspoon

ground nutmeg

1

tablespoon

cornstarch

¼ to ⅓

cup

of caramel sauce

salted caramel sauce may be used as an alternative
Instructions
Oven Preparation: Initiate the procedure by preheating the oven to a temperature of 375°F (190°C). Concurrently, thoroughly spray an 8 x 8 x 2-inch glass or ceramic dish with a high-quality non-stick cooking spray. If an alternative size is being used, such as 7 x 9 x 2 inches, ensure it is also appropriately prepared.

Filling Preparation: In a mixing bowl of suitable size, combine the finely diced apples, granulated sugar, corn starch, ground cinnamon, and ground nutmeg. Stir the mixture assiduously to ensure that the apple pieces are uniformly coated with the other ingredients.

Cinnamon Roll Processing: Extract the cinnamon rolls from the cans and slice them into ¼ inch thick sections. Subsequently, on a work surface dusted with flour, delicately roll out each cinnamon roll slice until its thickness is reduced. Given the inherent stickiness of the cinnamon rolls, one may need to occasionally dust both the rolling pin and one's hands with flour to facilitate the process.

Initial Layering: Methodically arrange the first set of flattened cinnamon roll slices on the bottom and along the sides of the prepared dish, ensuring that there is a slight overlap between adjacent slices. Apply gentle pressure using the palms to ensure that the pieces adhere to one another, forming a cohesive layer.

Adding the Filling: Evenly spread half of the previously prepared apple filling over the base of cinnamon rolls. Following this, drizzle approximately 2-3 tablespoons of the caramel sauce over the apple layer.

Secondary Layering: Overlay the apple and caramel layer with another layer of flattened cinnamon rolls, followed by the remaining apple filling. Once again, drizzle the apple layer with the caramel sauce and conclude with a final layer of flattened cinnamon rolls.

Baking Procedure: Cover the assembled dish with a piece of aluminum foil and place it in the preheated oven. Allow it to bake for a duration of 30 minutes. After this period, carefully remove the aluminum foil and continue baking for an additional 10-15 minutes, or until the top layer achieves a golden-brown hue.

Cooling and Serving: Once removed from the oven, the dish should be allowed to cool for a minimum of 30 minutes. Subsequently, drizzle the provided icing (accompanying the cinnamon rolls) over the top. Slice into desired portions and serve.