Dive into the zesty burst of lemon in our easy-to-make Lemon Crumble Breakfast Cake, combining moist cake with a crunchy crumble. Perfect for lemon lovers!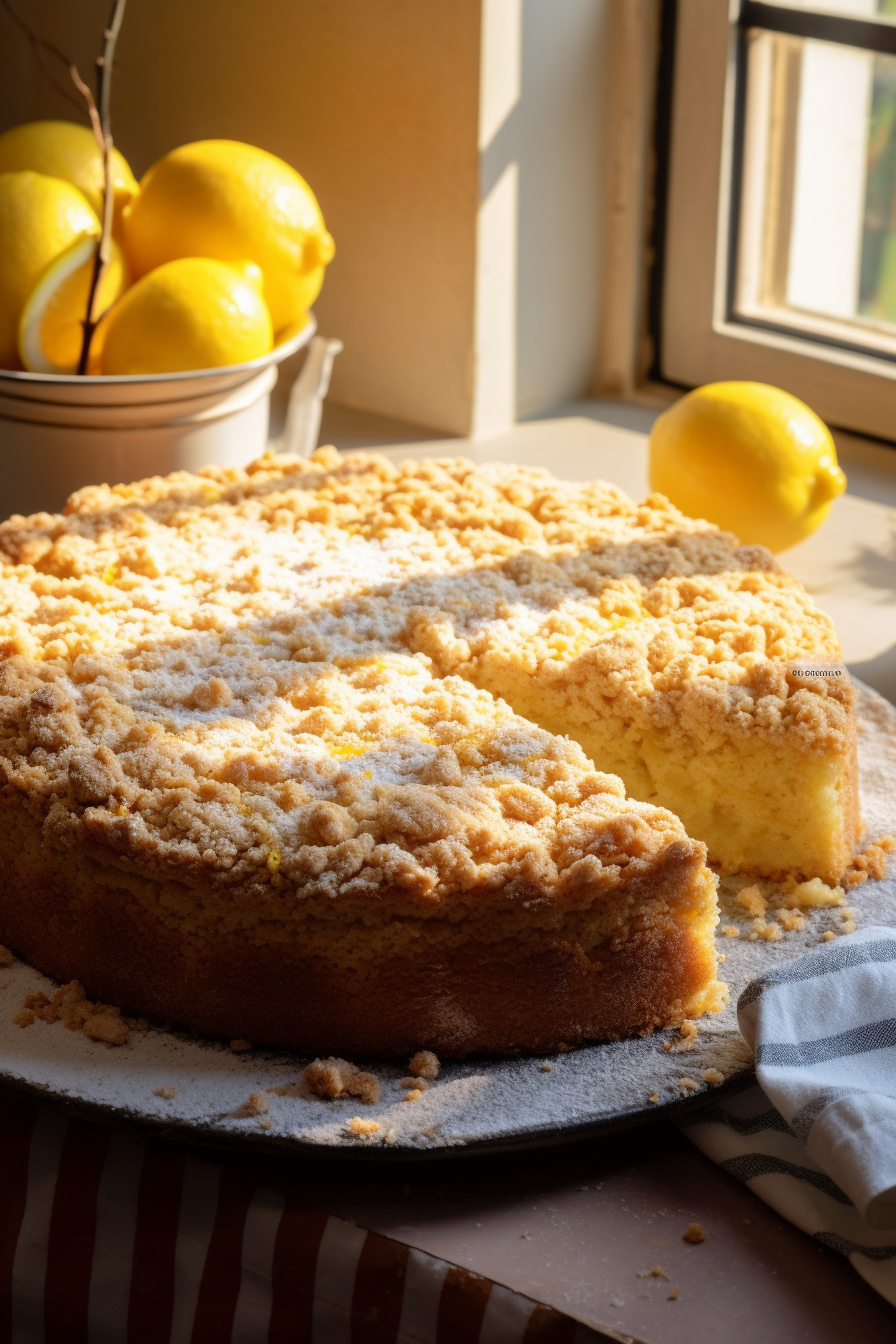 Oh, where to begin with this little gem of a cake? The first time I whipped up the Lemon Crumble Breakfast Cake was on a lazy Sunday morning. The birds were singing, the sun was peeking out, and I had this wild craving for something sweet yet zesty. My love affair with lemons is nothing new. I mean, I've been that strange girl who can munch on a lemon slice without wincing! So, this cake? It's my homage to those childhood days of stealing lemon slices and relishing them behind our garden's largest oak tree. Plus, who can resist a crumble topping? Not me, and hopefully, not you.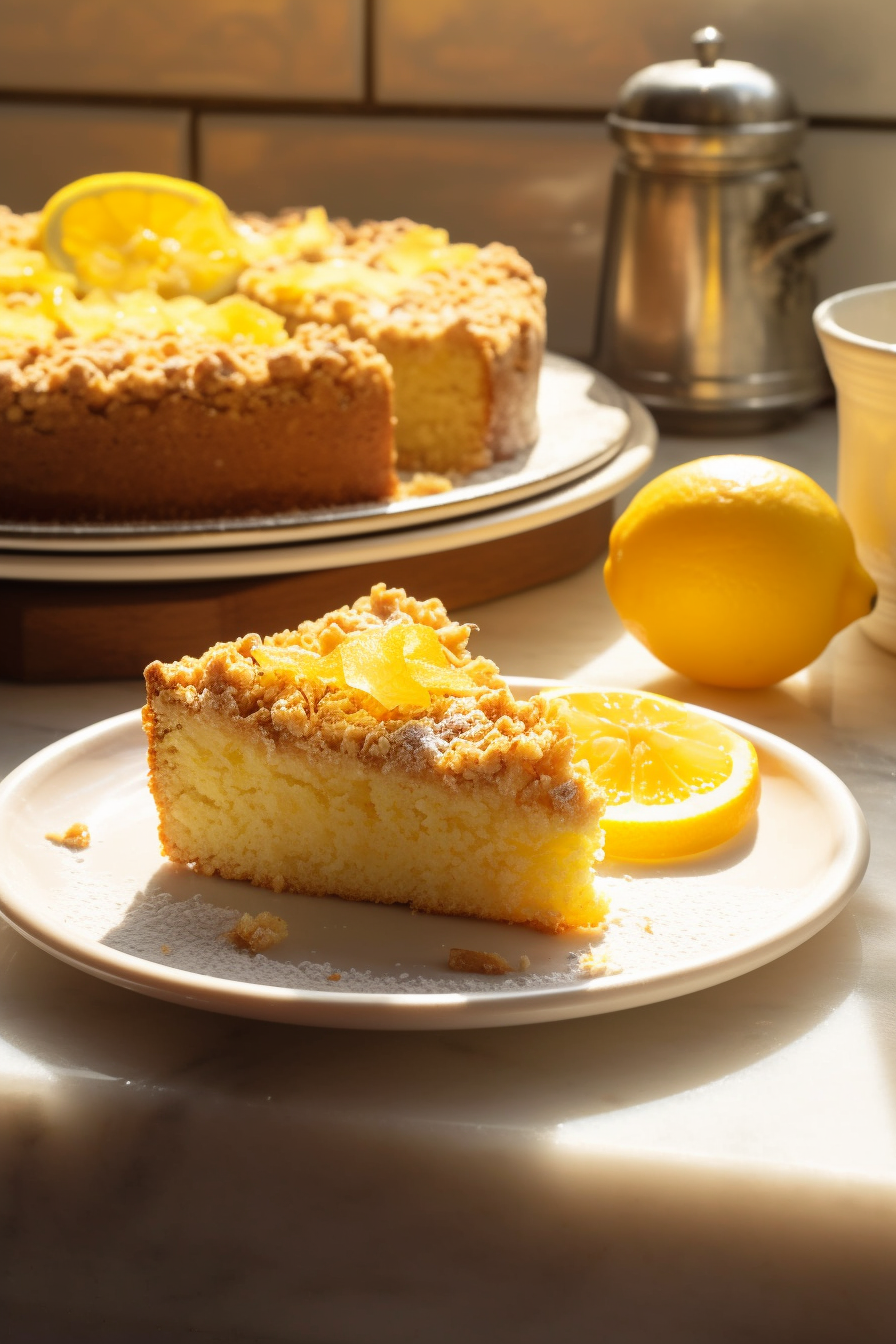 The Best Lemon Crumble Breakfast Cake:
Lemon Crumble Breakfast Cake isn't your average lemon cake. First off, this isn't just a cake—it's breakfast! And who doesn't love having dessert for breakfast, am I right? But more than that, it's the beautiful marriage of two delightful textures: a moist and tender cake infused with lemony goodness and the sugary crunch of the crumble. Every bite is a playful dance of zesty freshness meeting sweet comfort. A breakfast of champions!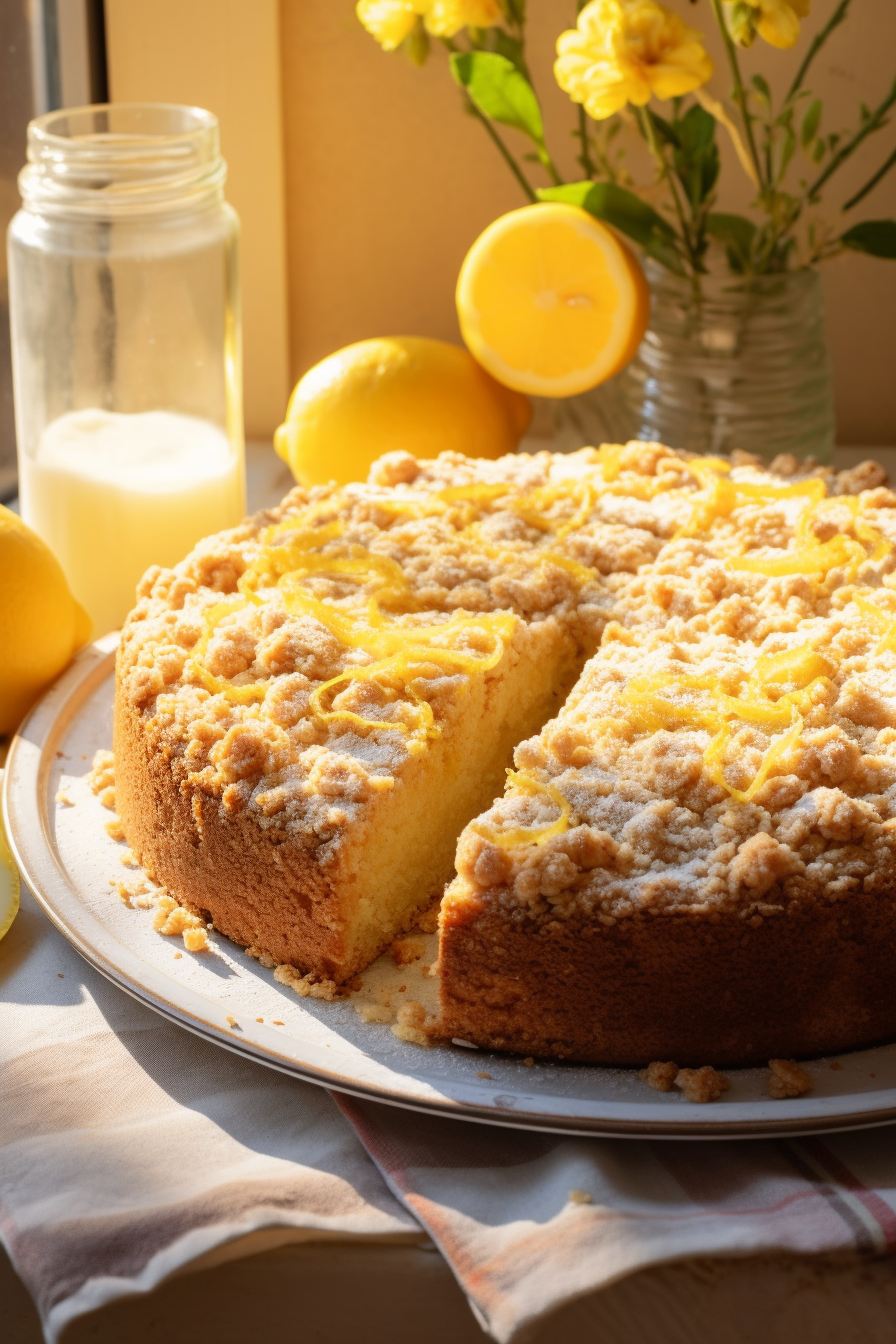 Ingredients For Lemon Crumble Breakfast Cake:
Let's get zesty! When selecting lemons, choose ones that are brightly colored, slightly soft when pressed, and feel heavy for their size. These are juicy and perfect for this cake. For the flour, ensure it's all-purpose, as different flours yield different results. Buttermilk is your cake's best friend, making it soft and giving it a slight tanginess. No buttermilk? No worries! A quick fix is mixing regular milk with a touch of lemon juice or white vinegar. And lastly, when it comes to the butter, room temperature means it should be soft enough to press with a finger but not melty.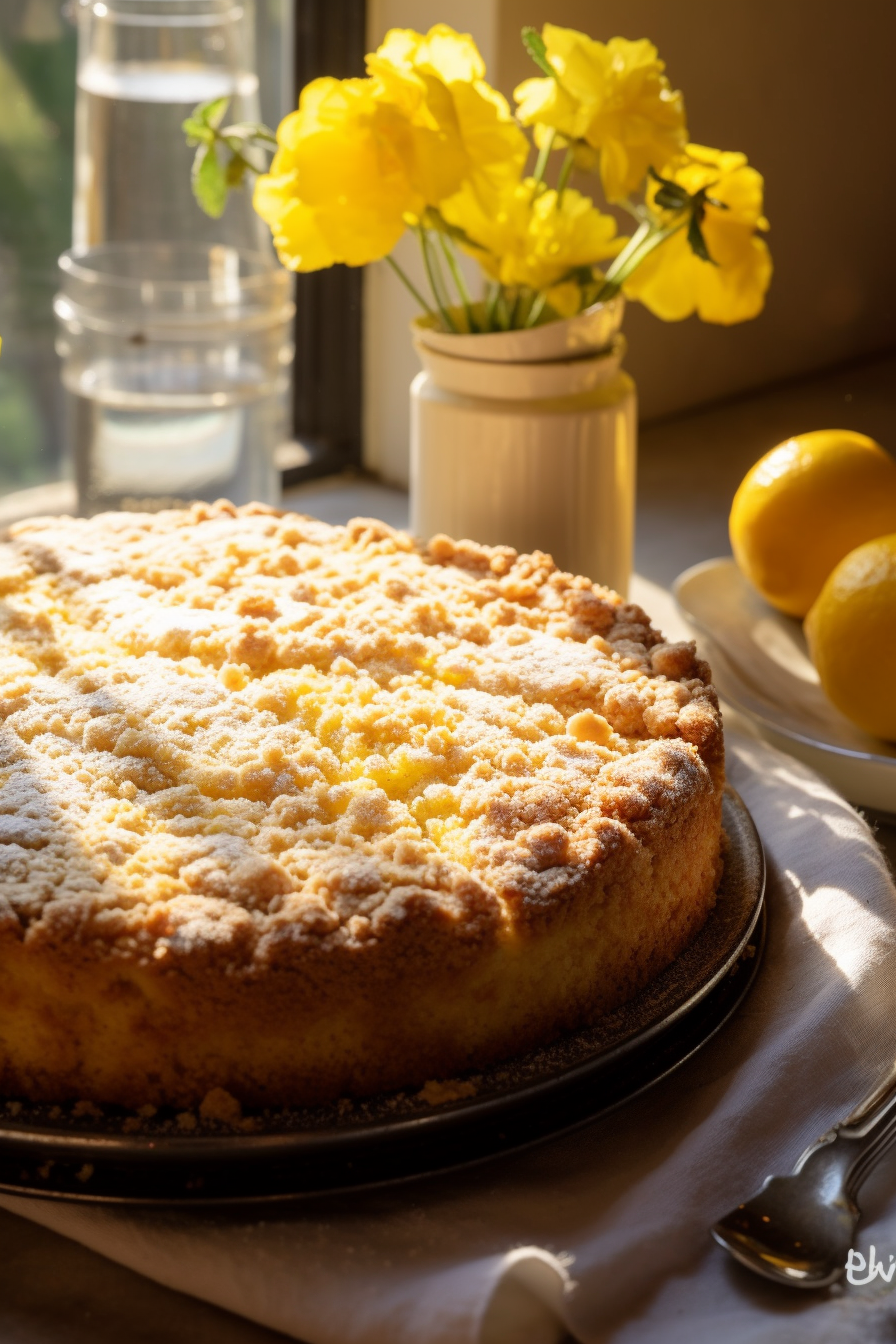 Breakdown of the Recipe: For the Lemon-Packed Crumble:
Begin by whisking your lemon zest and sugar in a food processor. It should resemble pale yellow fairy dust. If you're dreaming of sunshine and citrus groves, you're doing it right.
Next, in a cozy corner of your kitchen, melt that butter. Mix it with your lemony sugar, flour, and fresh lemon juice. It should look a bit like wet sand. Remember building sandcastles at the beach? This is your edible version.
For the Main Star, The Lemon Cake:
First, blend half the sugar and the zest of two lemons in your food processor. If you're thinking of a lemony summer romance, you're on track.
As your oven heats up to 325°F, prepare your springform pan. Give it a light grease, sprinkle some flour, and whisper sweet nothings (or just lay some parchment paper at the bottom).
Whisk together the flour, salt, and baking powder in a bowl. This is the dry gang. Keep them aside for a moment.
Time for some mixer action. Beat the butter and both sugars until you have a creamy dreamy mixture. Eggs join the party one by one, followed by vanilla. Remember, scraping the sides ensures everyone gets to know each other well.
In another vessel, mix buttermilk and lemon juice. Add a bit of the flour mixture to the buttery bowl, followed by the buttermilk blend. Alternate between the two till everything's combined. But don't overdo the mixing; we're making cake, not cement.
Pour this golden batter into your prepped pan and sprinkle generously with the crumble topping. Some chunky bits are totally okay—think of them as mini crumble islands.
Bake for about 45 minutes, or until a toothpick comes out with tiny crumbs. Then cool, slide it out, sprinkle some sugar, and perhaps drizzle with a zesty glaze if you're feeling extra.
Storage Options:
You can store the Lemon Crumble Breakfast Cake in an airtight container at room temperature for about 2 days. For longer storage, refrigerate it, but remember to let it sit out for a bit before devouring. It's like rekindling an old friendship—you want to warm up to each other first!
Variations and Substitutions:
Feeling adventurous? Try swapping the lemon zest with orange or lime zest for a different citrus twist. If you're out of buttermilk, mix regular milk with a teaspoon of white vinegar or lemon juice and let it sit for 5 minutes. Voila, homemade buttermilk! For a dairy-free version, use almond or soy milk mixed with a bit of lemon juice. And if you're not a fan of crumble (we'll forgive you), you can simply skip it, though we think it adds a certain je ne sais quoi.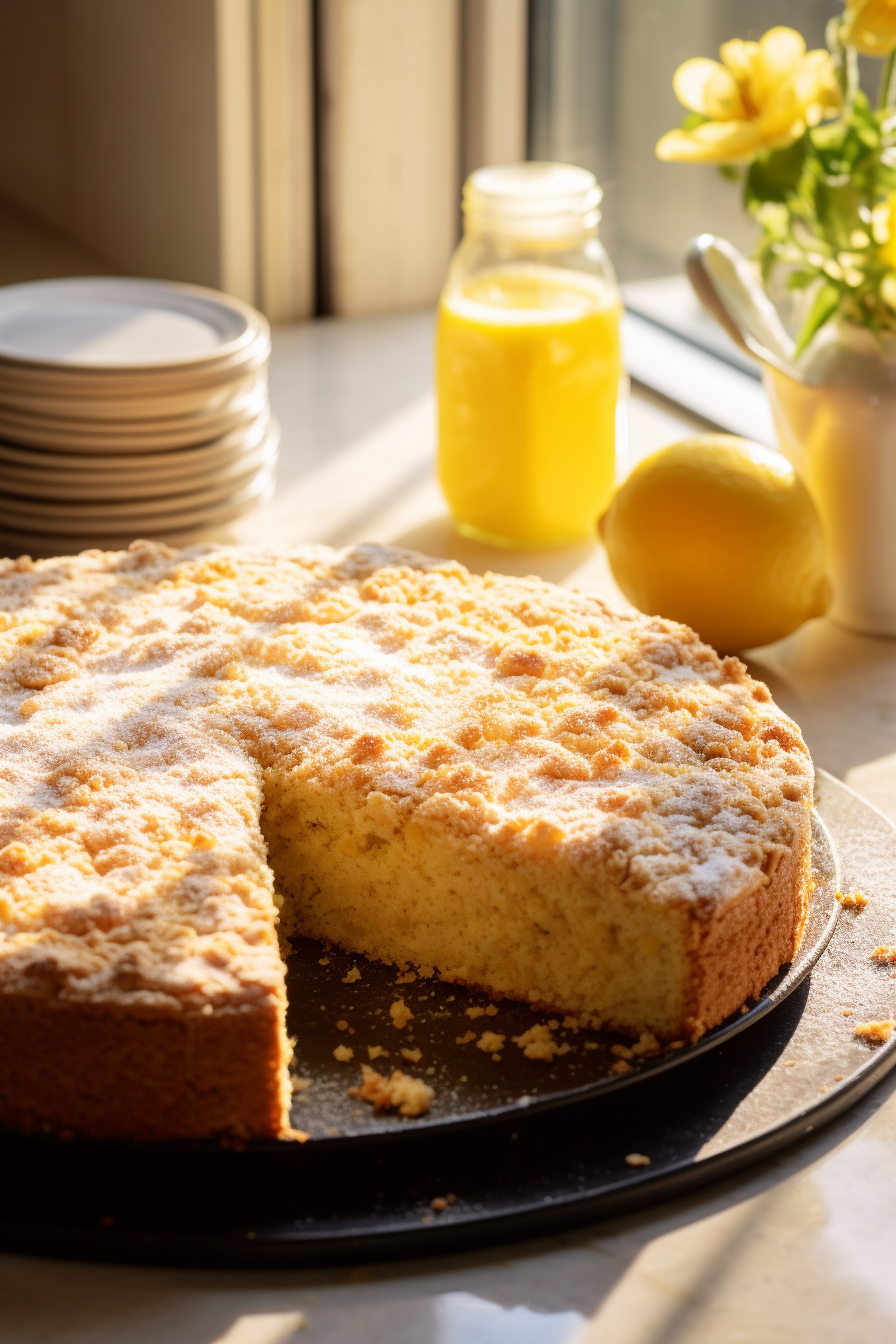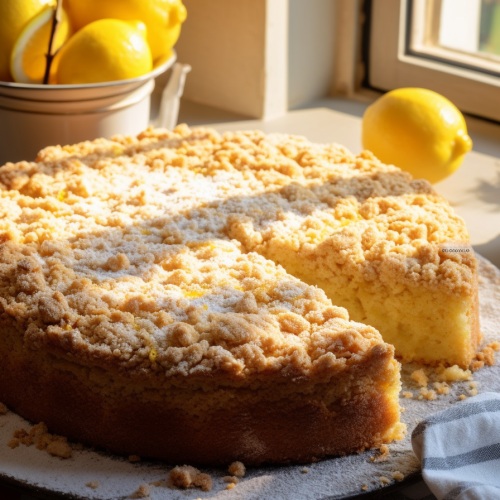 Lemon Crumble Breakfast Cake
Dive into the zesty burst of lemon in our easy-to-make Lemon Crumble Breakfast Cake, combining moist cake with a crunchy crumble. Perfect for lemon lovers!
Print
Pin
Rate
Ingredients
For the Crumble Topping:
80

g

granulated sugar

Zest from 1 lemon

ensure no white pith is included

56

g

unsalted butter

melted

100

g

all-purpose flour

1

tablespoon

of freshly squeezed lemon juice
For the Lemon Cake:
170

g

granulated sugar

Zest from 2 organic lemons

252

g

all-purpose flour

½

teaspoon

of salt

2

teaspoons

of baking powder

113

g

unsalted butter

at room temperature

2

large eggs

at room temperature

1 ½

teaspoons

of vanilla extract or vanilla bean paste

4

oz

buttermilk

ensure it is well shaken before use

2

oz

freshly squeezed lemon juice

approximately juice from 2 lemons

Powdered sugar

optional, for dusting purposes
Instructions
For the Crumble Topping:
In a small food processor, blend the granulated sugar with the lemon zest until the sugar adopts a pale yellow hue.

In a separate bowl, melt the unsalted butter. Following that, incorporate the previously processed lemon sugar, all-purpose flour, and lemon juice. Mix thoroughly and set aside.
For the Lemon Cake:
Utilize the same food processor and combine half the granulated sugar with the zest from the two lemons. Process until fully integrated.

Preheat your oven to a temperature of 325°F (163°C). Prepare an 8″ springform pan by inverting its bottom, securing its sides, and then lightly greasing and flouring its surfaces. Place a round parchment paper on the bottom.

In a distinct mixing bowl, sift and combine the all-purpose flour, salt, and baking powder. Set aside.

Utilizing a stand mixer equipped with a paddle attachment, integrate the unsalted butter, the remaining granulated sugar, and the processed lemon sugar. Continue mixing until the texture is light and airy.

Introduce the eggs into the mixture one at a time, ensuring each is fully incorporated before adding the next. Follow with the addition of vanilla and mix thoroughly.

In a separate measuring vessel, blend together the buttermilk and lemon juice. Begin adding ⅓ of the flour mixture to the primary mixture, blending on low speed. Following this, add ⅓ of the buttermilk mixture and continue to blend. Repeat this process until all the buttermilk and flour have been integrated. Avoid overmixing.

Transfer the completed batter to the prepared pan, ensuring it is spread uniformly. Carefully apply the crumble topping over the batter, ensuring larger clumps are evenly distributed.

Bake the cake in the preheated oven for approximately 40 to 50 minutes or until the cake achieves a light brown hue and a toothpick inserted into its center emerges with moist crumbs, but without any raw batter. Ensure the cake is not overcooked.

Allow the cake to cool on a wire rack for a minimum of 15 minutes if intending to serve warm, or let it cool entirely before extracting it from the pan. Once ready, transfer the cake onto a serving dish, and if desired, dust with powdered sugar prior to serving. For additional flavor, one may prepare a simple lemon glaze by combining ½ cup of powdered sugar with an adequate amount of fresh lemon juice to achieve a drizzling consistency. Apply this glaze atop the cake just before serving.
Nutrition
Calories:
443
kcal
|
Carbohydrates:
62
g
|
Protein:
7
g
|
Fat:
19
g
|
Saturated Fat:
12
g
|
Polyunsaturated Fat:
1
g
|
Monounsaturated Fat:
5
g
|
Trans Fat:
1
g
|
Cholesterol:
88
mg
|
Sodium:
286
mg
|
Potassium:
101
mg
|
Fiber:
1
g
|
Sugar:
28
g
|
Vitamin A:
615
IU
|
Vitamin C:
6
mg
|
Calcium:
97
mg
|
Iron:
2
mg