Dive into a dreamy blend of cream cheese, pistachio pudding, crushed pineapple, and marshmallows, all nestled in a pie crust. Top it off with whipped cream and nuts for that extra oomph!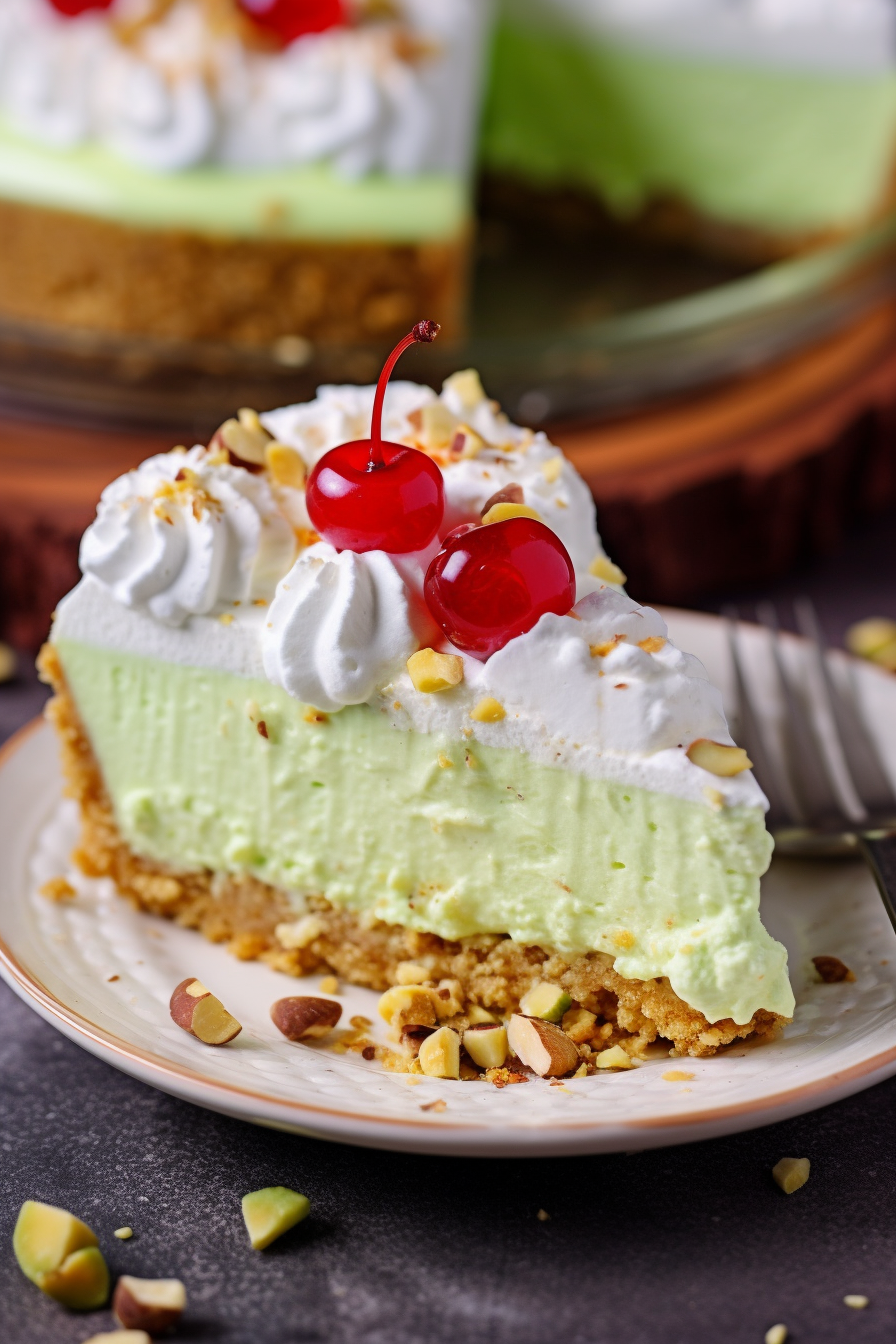 Every family has that legendary dessert, the one everyone raves about and demands for every gathering. For our family, it's the "EASY PISTACHIO CREAM PIE". I first stumbled upon this recipe when my then 7-year-old nephew, Ben, mistook pistachios for "tiny avocados" (kids, am I right?). I thought, "Why not transform this into a fun, creamy pie?" The experiment was a total success! Every bite took us to a world where miniature marshmallows were fluffy clouds and pistachios were, well, still not tiny avocados but crunchy little wonders. The pie became our family's showstopper, making its appearance at every occasion, and now, I'm letting you in on our secret!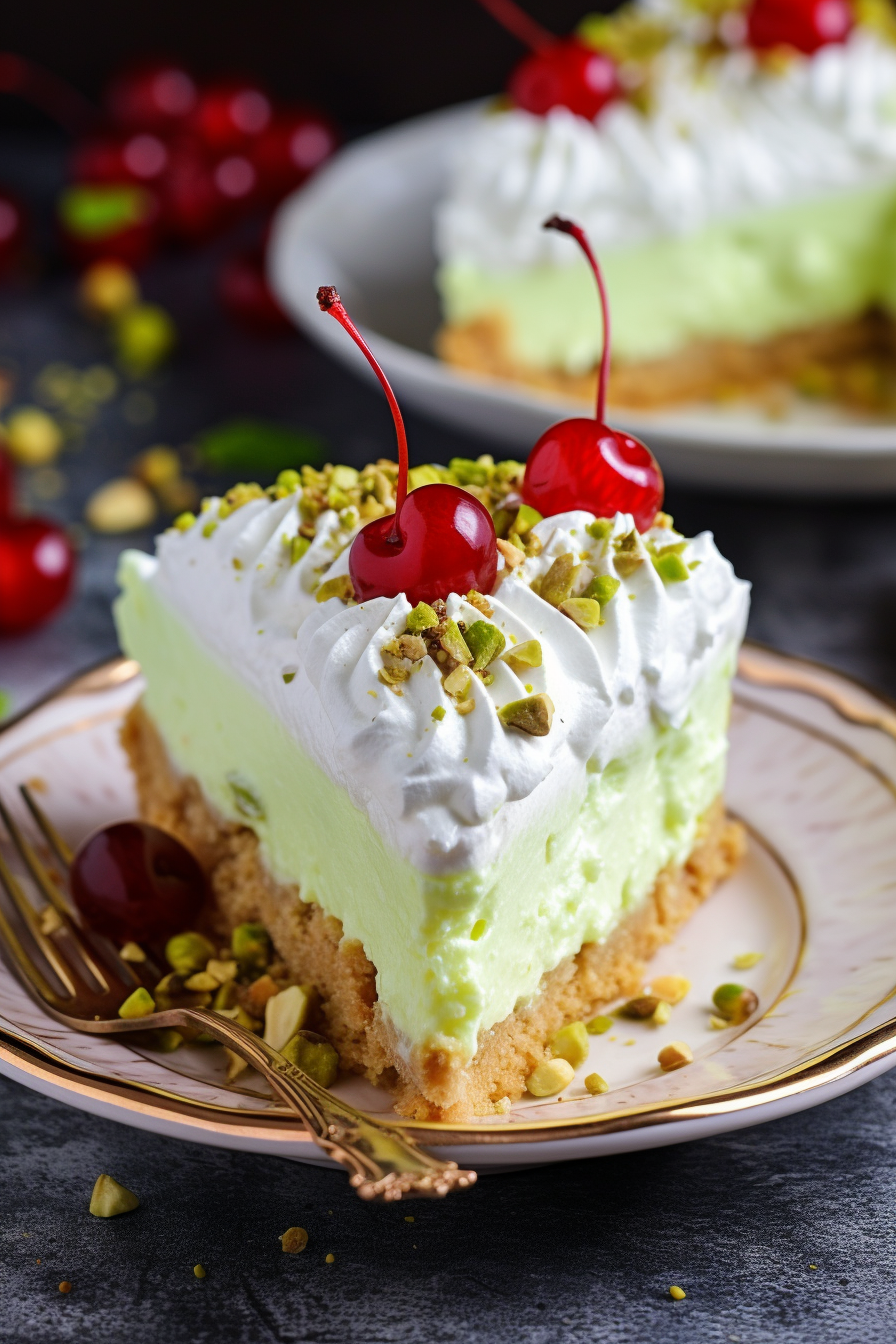 EASY PISTACHIO CREAM PIE:
With a title that proudly shouts "EASY," this Pistachio Cream Pie is as effortless as it is sumptuous. It's a no-bake wonder, ideal for those moments when you don't want to break a sweat. Plus, it's versatile! Got a potluck, picnic, or a fancy shindig? This pie will shine anywhere. But the real MVP? That unexpected punch of pineapple which takes the creamy, nutty flavor up a notch!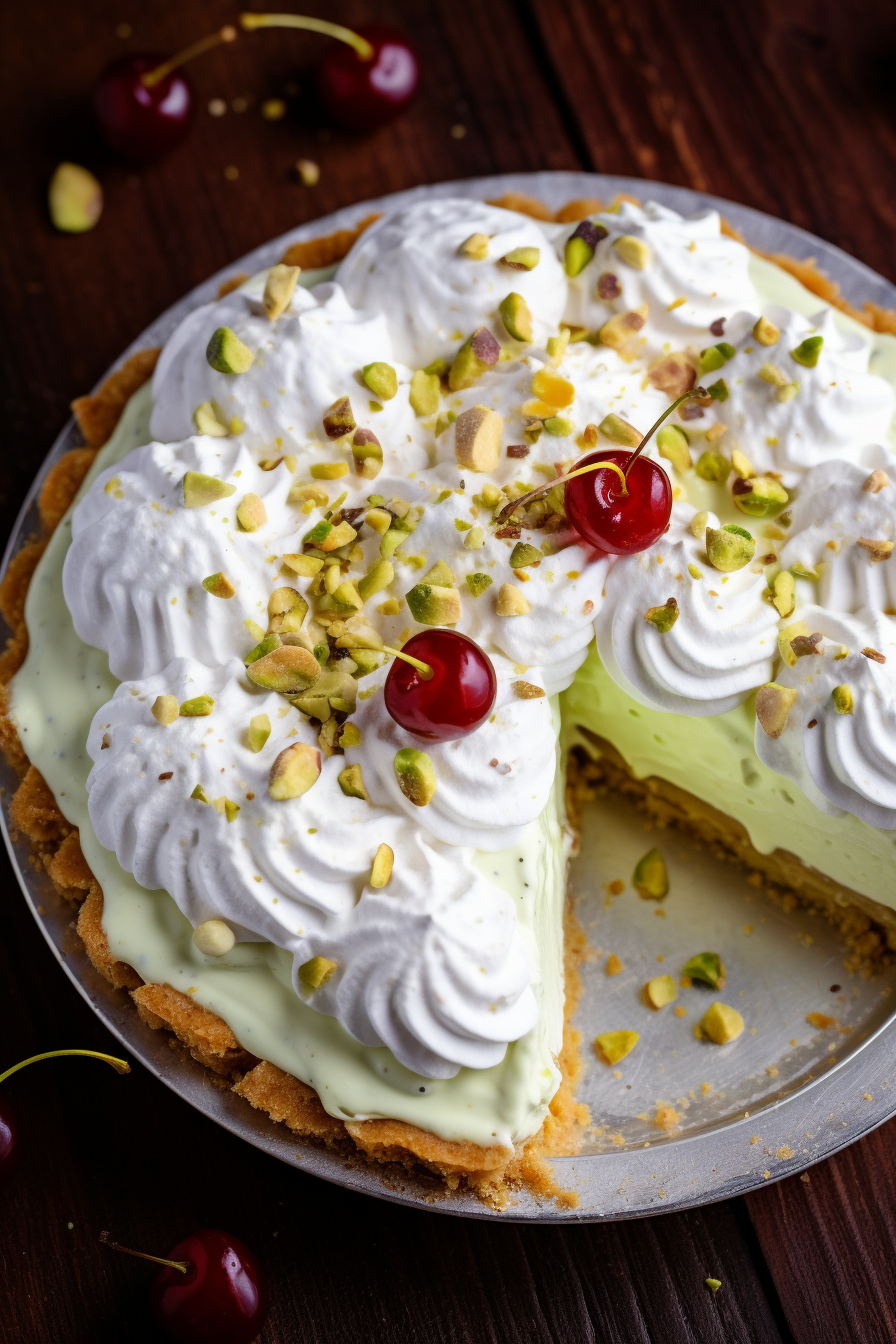 Ingredients for EASY PISTACHIO CREAM PIE:
When selecting cream cheese, ensure it's softened, making it easier to blend. The pistachio Jell-O instant pudding is essential for that signature flavor, so no skimping there! Opt for pineapple in 100% juice and not syrup to avoid extra sweetness. Using Cool Whip can save time, but if you're a traditionalist, freshly whipped cream will give a more authentic taste. And while we mentioned a prepared pie crust, I'd give two thumbs up to graham cracker crust for that extra crunch.
How To Make EASY PISTACHIO CREAM PIE:
Step 1: Start by giving the cream cheese a good beating till it's smooth and creamy. Now, introduce it to the pistachio pudding mix and continue the beating until they're perfectly blended and fluffy.
Step 2: Now, add that delightful pineapple surprise (with its juice!) and ensure they're mixed well.
Step 3: The marshmallow parade! Gently stir in those mini puffs of sweetness.
Step 4: Time to bring in the clouds. Whether it's Cool Whip or your hand-whipped cream, fold it in gently, ensuring a smooth, airy texture.
Step 5: Grab your pie crust. Now, spoon in that delicious green filling. Level it nicely and let it chill in the refrigerator. Patience, dear friend! It needs its beauty rest for at least two hours.
For the divas that love a little extra
:
Optional Topping Step 1: In a separate bowl, whip up the cream, gradually adding powdered sugar until it's stiff and peaky.
Optional Topping Step 2: Unleash your inner artist. Pipe the whipped cream on top of the chilled pie.
Optional Topping Step 3: Now, shower it with those chopped pistachios and place maraschino cherries like little jewels. Voilà!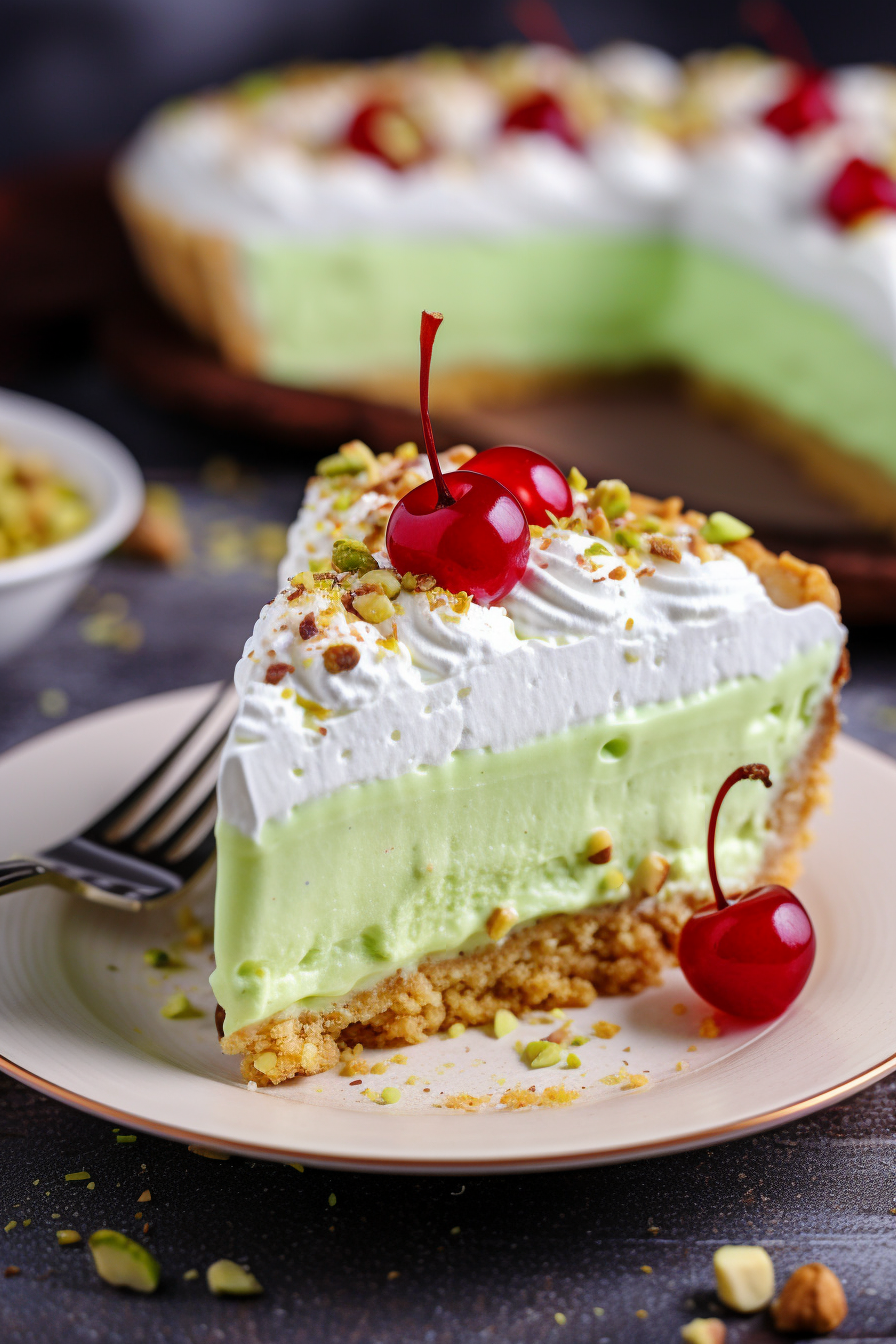 Storage Options:
This pie tastes best when fresh, but if you've shown some unbelievable restraint and have leftovers, store it in the refrigerator for up to 3 days. Ensure it's covered with plastic wrap or in an airtight container. Although not recommended, if you're playing the long game, you can freeze it for up to a month. Just remember to thaw it in the fridge a day before serving.
Variations and Substitutions:
Not a fan of pineapple? Swap it out for mandarin oranges. You can also play around with the crust. Think Oreo or chocolate cookie crust! If you're looking to cut down on sugar, consider a sugar-free Jell-O pudding mix. For our lactose-intolerant buddies, there are dairy-free alternatives to cream cheese and whipped cream. As for the marshmallows, colored ones can add a fun twist! Just remember, the core of this pie is creativity. So, go nuts (pun intended)!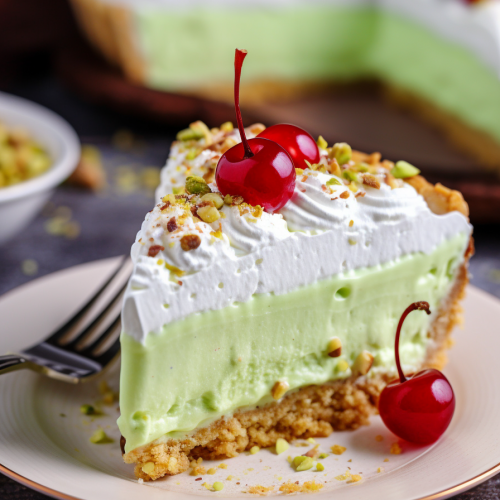 Easy Pistachio Cream Pie
Dive into a dreamy blend of cream cheese, pistachio pudding, crushed pineapple, and marshmallows, all nestled in a pie crust. Top it off with whipped cream and nuts for that extra oomph!
Print
Pin
Rate
Ingredients
8

ounces

of softened cream cheese

3.4

ounces

of pistachio Jell-O instant pudding mix

20

ounces

of crushed pineapple

ensure it is in 100% juice, not in syrup

1

cup

of miniature marshmallows

8

ounces

of Cool Whip or alternatively

1 cup of heavy whipping cream (whipped to stiff peaks)

A prepared pie crust

a graham cracker crust is an acceptable alternative
Optional Toppings:
1

cup

of heavy whipping cream

¼

cup

of powdered sugar

½

cup

of finely chopped pistachios

Maraschino cherries

as needed
Instructions
In a sizable mixing bowl, combine the softened cream cheese with the pistachio Jell-O instant pudding mix. Utilize a mixer to achieve a light and fluffy texture.

Gradually incorporate the crushed pineapple, ensuring to include its juice.

Integrate the miniature marshmallows into the mixture, ensuring even distribution.

Delicately fold in either the Cool Whip or the previously whipped heavy cream.

Transfer the resulting mixture into the prepared pie crust. It is imperative to refrigerate the concoction for a minimum of two hours to ensure it sets properly.
For the optional toppings:
In a separate mixing bowl, whip the heavy cream, incrementally adding the powdered sugar, until you achieve stiff peaks.

Using a piping bag, adorn the top of the refrigerated pie with the whipped cream.

For the finishing touch, garnish with chopped pistachios and maraschino cherries as desired.