This is one of my all-time favorite recipes. This Cast Iron Creamy Mushroom Chicken is part of our regular dinner rotation. It's the recipe I turn to when I want something easy, but flavorful.
This cast iron roasted chicken is perfect for a weeknight meal. Since we make this dish quite often, I like to change it up a bit by serving the chicken with different sides. Today, we had the chicken with a small side salad, making it light and quite healthy. Otherwise, it's great with rice or quinoa (for soaking up that delicious sauce!).
This sauce is super-creamy and flavorful. Since it's cooked in the same cast iron pan as the seared chicken, it picks up all that extra flavor.
Plus, it's nice to only dirty up one dish!
Today, I had a few leftover chicken breasts that I decided to add to the chicken drumsticks. If you use different cuts of chicken, just remember that they take different amounts of time to fully cook. For example, bone-in chicken pieces usually take between 30 and 40 minutes at 400 degrees Fahrenheit. A boneless chicken breast might only take 15 to 20 minutes at the same temperature. If I cook different cuts together, I just use a pair of tongs to remove the cooked pieces from the oven.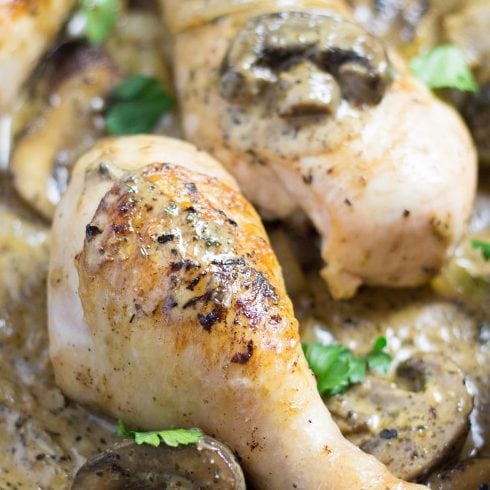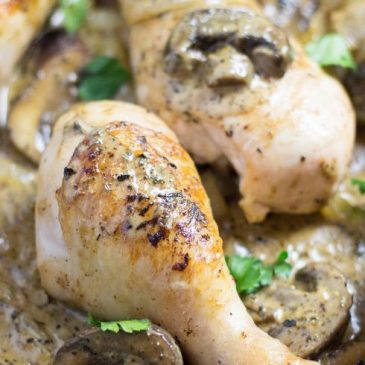 Ingredients
8

large chicken drumsticks, skin on

2

tbsp

butter

10

oz

cremini mushrooms

½

onion

1

tsp

minced garlic

1

tbsp

dried Italian seasoning

1

cup

low-sodium chicken broth

⅓

cup

heavy cream

⅓

cup

parmesan, grated

1½

tbsp

whole grain mustard

salt and pepper, to taste

chopped fresh parsley, for garnish
Instructions
Preheat the oven to 400 degrees Fahrenheit.

Melt butter in a large cast iron skillet over medium-high heat. Add the chicken drumsticks and brown each side, about 2 to 3 minutes per side. Remove the chicken from the skillet and set aside.

Add the onion and mushrooms to the skillet. Cook for 3 to 4 minutes, until tender. Add the garlic and cook for an additional minute. Careful, do not allow the garlic to burn.

Add the chicken broth, Italian seasoning, salt, and pepper to the mushroom mixture. Return the chicken to the pan. Bake in the preheated oven for 30 to 40 minutes, until cooked through and the juices run clear.

Once the chicken is fully cooked, remove it from the pan. Place the cast iron pan on the stove over medium-high heat. Stir in the cream, parmesan cheese, and mustard. Season with additional salt and pepper, as nessessary. Bring the sauce to a simmer and cook until slightly reduced, about 5 minutes.

Pour the sauce and mushrooms over the chicken and garnish with fresh parsley. Serve immediately.
Notes