Indulge in the rich flavors of fall with this Italian Grape Cake (Torta Bertolina) – a perfect harmony of vanilla-infused cake and juicy concord grapes. Dive deep into the delicacy where buttery undertones meet tangy grapes!
Oh, Torta Bertolina! This cake is more than just a dessert; it's a heartfelt journey back to my grandmother's quaint Italian kitchen. I remember, as a child, sneaking into her kitchen every fall, lured by the scent of vanilla wafting in the air. The giggles shared, the little hands trying to pluck grapes faster than she could use them, and the simple joy of watching those purple beauties sink into the batter – these memories are what makes this cake special. And today, every bite takes me on a nostalgia trip to those golden days, with the spirit of my Nonna smiling down at me.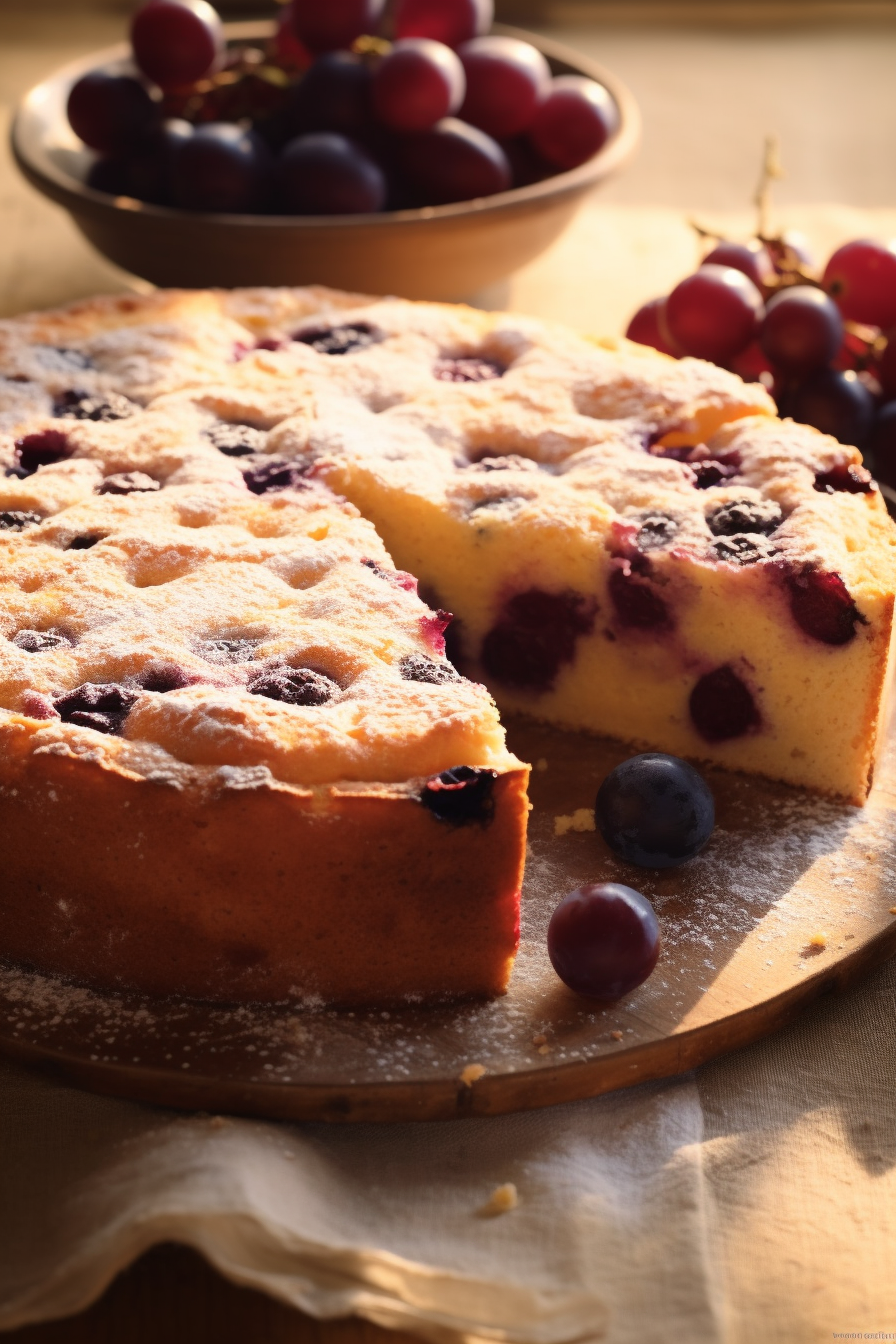 Where do we begin with the charms of the Torta Bertolina? For starters, it brilliantly captures the essence of fall with concord grapes being the crown jewel. It's the harmonious blend of a light, vanilla-infused cake combined with the tartness of the grapes that create an unforgettable flavor explosion. And the fact that it's steeped in tradition, right from the heart of Italy, just adds to its allure. Whether you're a seasoned baker or someone just starting out, this recipe is forgiving, ensuring you taste success (literally) with every bake!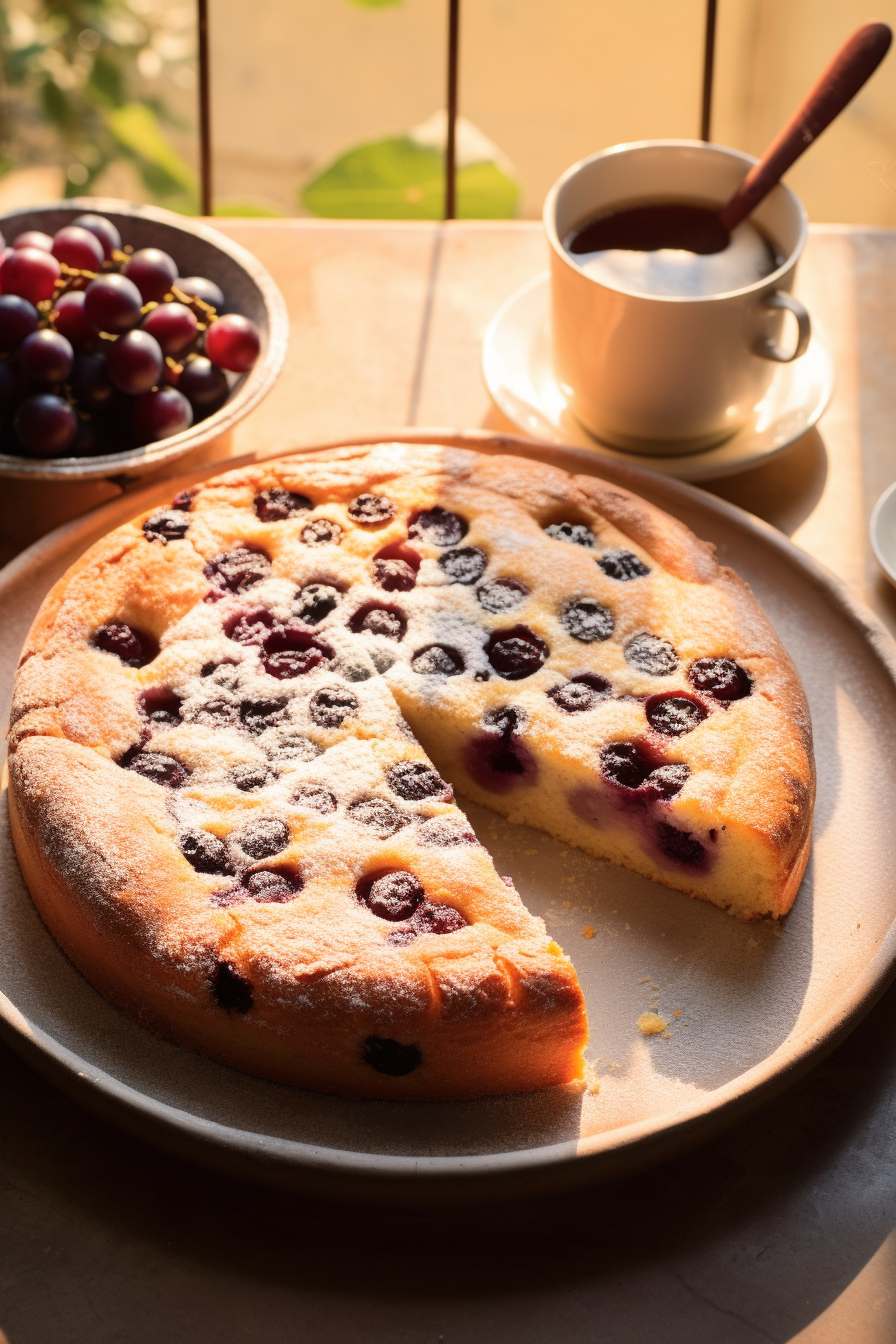 Ingredients for the ITALIAN GRAPE CAKE (TORTA BERTOLINA):
Concord or Thomcord grapes: These are your star ingredients. They give that unique tartness which sets this cake apart. Ensure they are ripe and juicy!
00 Flour: The secret behind the cake's delicate crumb. If you can't find this, regular all-purpose flour works fine. Just make sure you sieve it to get a lighter texture.
Unsalted Butter: It's crucial it's at room temperature. Nobody wants a lumpy batter. And remember, unsalted lets you control the saltiness of your cake.
Whole Milk: Opt for full-fat. Trust me, it makes all the difference in the world to the texture.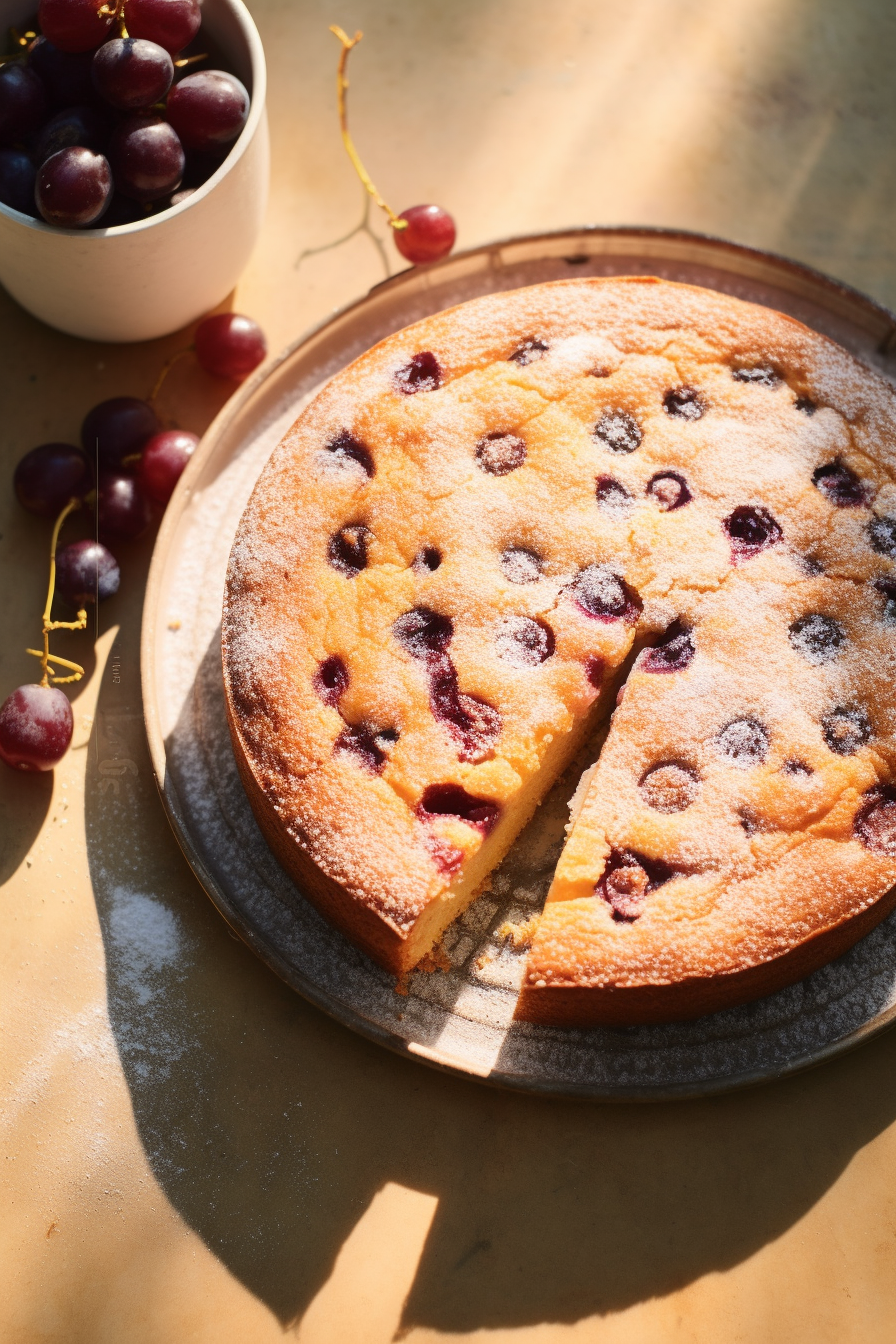 How to make ITALIAN GRAPE CAKE (TORTA BERTOLINA):
Prep Territory: Begin by greasing a 9-inch springform pan like you mean business. That parchment paper round at the bottom? Essential! A touch of grease on it and a light flouring will ensure your cake doesn't stage a sit-in.
Dry Mix: In your trusty bowl, start the whisking dance with flour, baking powder, and salt. And as for the grapes, coat ¾ of them with a tablespoon of this dry mix – it's like giving them a mini flour spa treatment.
Wet Mix Magic: Take that standing mixer (or hand-held beaters for those of us who workout while baking) and get that butter and sugar combo looking pale and fluffy – think buttery clouds! One by one, introduce the eggs to this mix and end the gathering with a splash of vanilla.
The Meeting: This is where wet meets dry. Slowly introduce the dry mix and milk to the wet bowl in stages. It's a gentle dance; no rushing. Then, like the cherry on top, fold in the flour-coated grapes.
Bake Time: Transport that batter into your prepped pan. Make it look pretty by smoothing the top and placing the remaining grapes like little jewels. Off it goes into the oven's center rack for a 45-60 minute bake. The golden ticket? A clean tester from the center.
Cooling Off: Once out, let it cool for 10 minutes (yes, I know it's hard to resist). Use a spatula or knife to free the cake's edges, then delicately remove the pan. Let it breathe and reach room temperature. Serve it with a sprinkle of powdered sugar and a dollop of love!
Storing leftovers:
Store the Torta Bertolina in an airtight container at room temperature for up to 2 days. If you're lucky enough to have leftovers after that (because, let's face it, it's that good), pop it in the fridge where it'll keep for another 3 days. Want to enjoy it longer? This cake is freezer-friendly! Just slice it up, wrap each piece in plastic wrap, and freeze. When the craving hits, thaw at room temperature, and you're good to go!
Variations and Substitutions for the TORTA BERTOLINA (ITALIAN GRAPE CAKE)
Fancy a twist on the classic? You can:
Berries Galore: Swap out grapes for blueberries or raspberries for a berry-licious twist.
Alternative Flours: No 00 flour? No worries! All-purpose flour is your friend. Just ensure to sift it for that delicate texture.
Milk Matters: Dairy-free? Use almond or oat milk. Remember, the texture might vary slightly but deliciousness guaranteed!
Hey, and remember – baking isn't just about following a recipe, it's about adding your own sprinkle of magic. So, go wild, experiment, and most importantly, have fun with it! Cheers to delicious memories and mouthfuls of Torta Bertolina! 🍇🍰😉