Dive into a delightful dessert with our Snickerdoodle Cookie Bars, boasting a fusion of melted butter, brown sugar, and that iconic cinnamon sugar topping. It's the snickerdoodle you love, but even easier!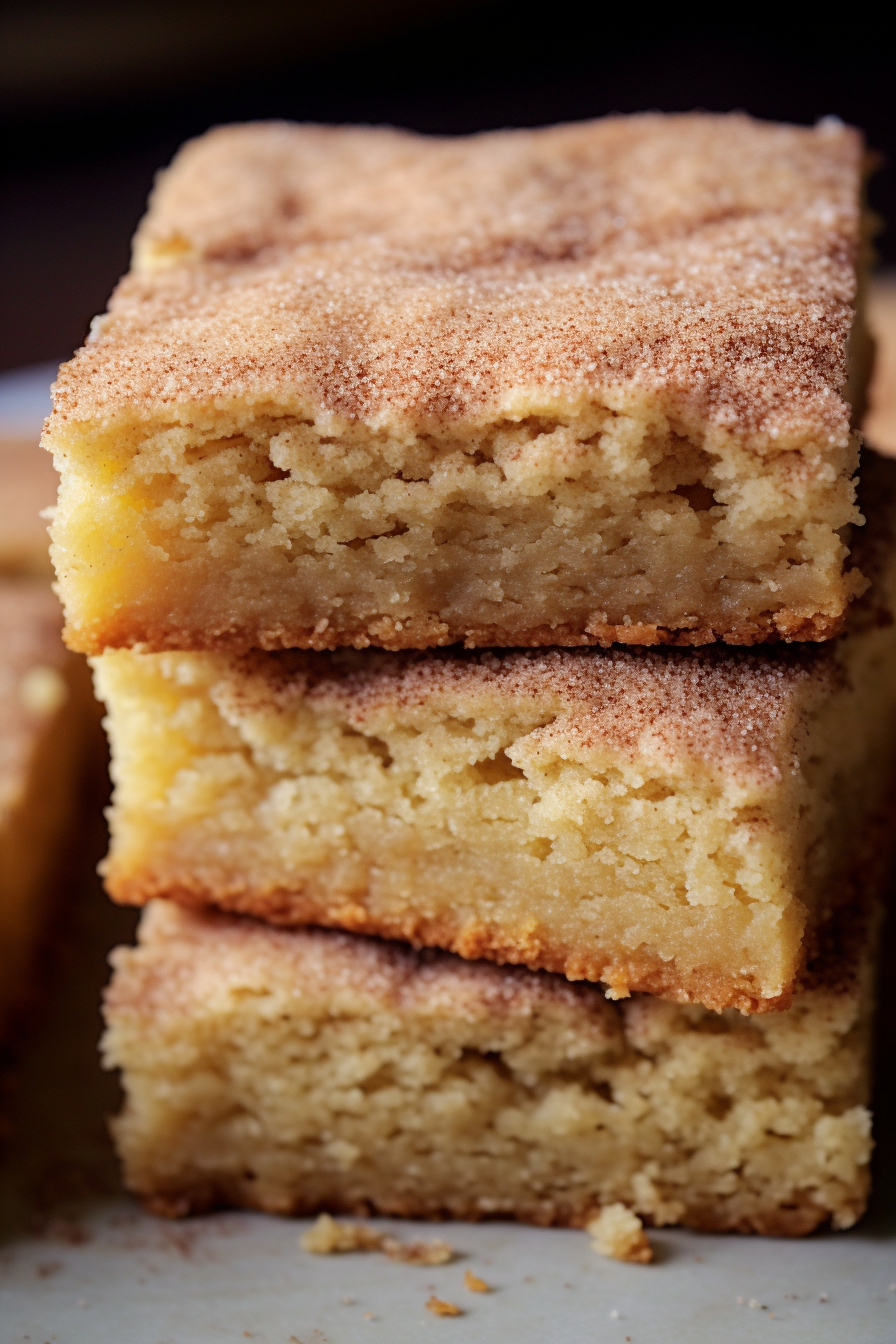 There's something about the allure of childhood memories that tugs at our heartstrings, isn't there? For me, that nostalgia is deeply intertwined with the warm scent of snickerdoodles wafting through our home, a scent that announced that Mom was in a baking mood. As the years went by, I tried to hold on to that cherished memory. And that's when the Snickerdoodle Cookie Bars entered the scene. It was during one of those evenings when I was caught between a craving and sheer laziness. I yearned for that nostalgic taste but couldn't muster the energy for individual cookies. Eureka! Why not transform them into bars? And thus, my favorite one-bowl wonder was born. Less effort, same comforting taste, and a whole lot of reminiscent feels.
Pin this recipe to your favorite board now to remember it later!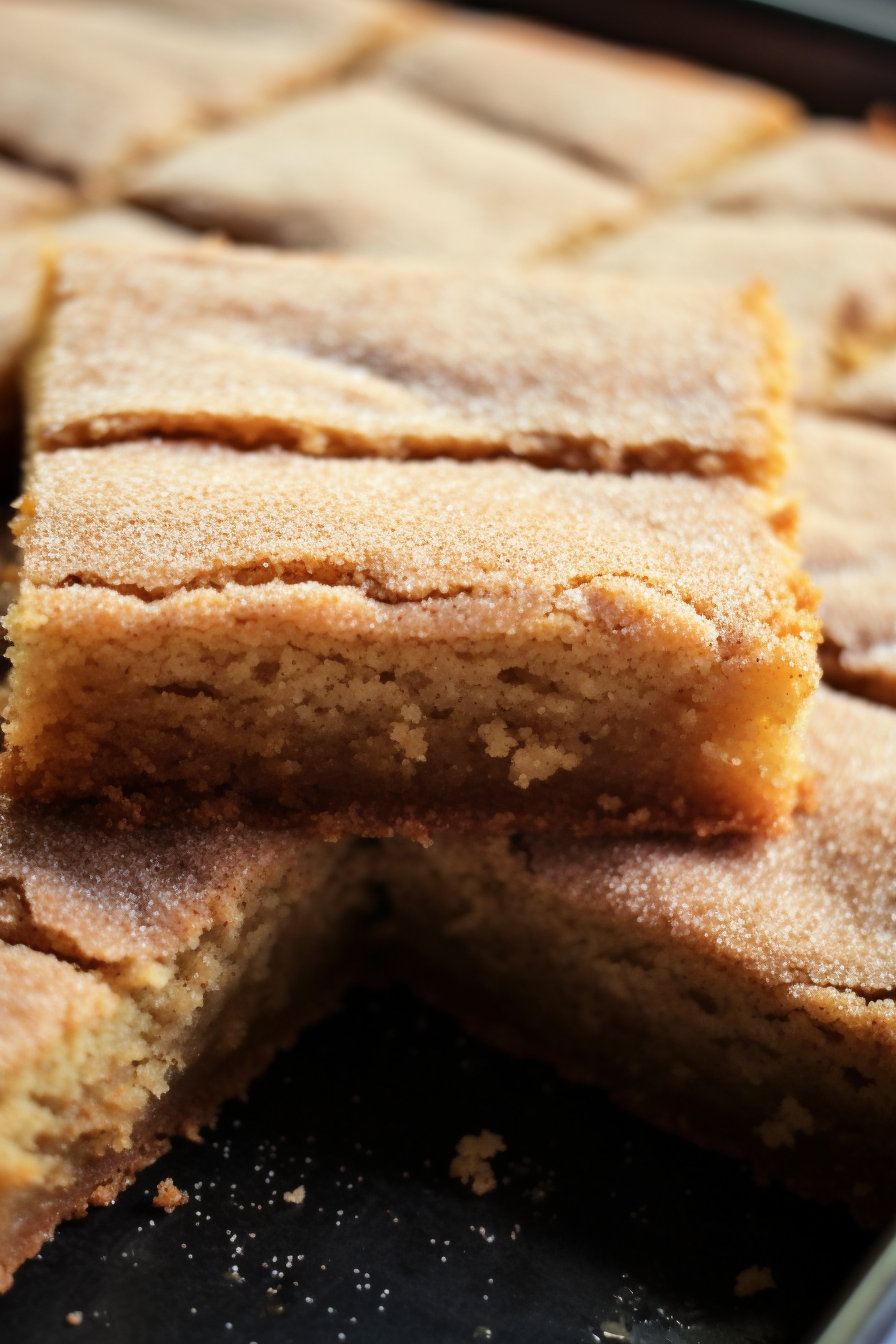 Why You'll Love Snickerdoodle Cookie Bars
Let's play a game of 'Why Should You Bake These?'. First off, they're snickerdoodles without the fiddle – no rolling or individual shaping needed. Second, with a one-bowl recipe, your kitchen doesn't look like a flour bomb detonated. Finally, with that tantalizing cinnamon-sugar sprinkle, these bars guarantee an immediate flavor burst, making them perfect for sudden sweet tooth attacks, potlucks, or just because you want to relive those childhood kitchen memories.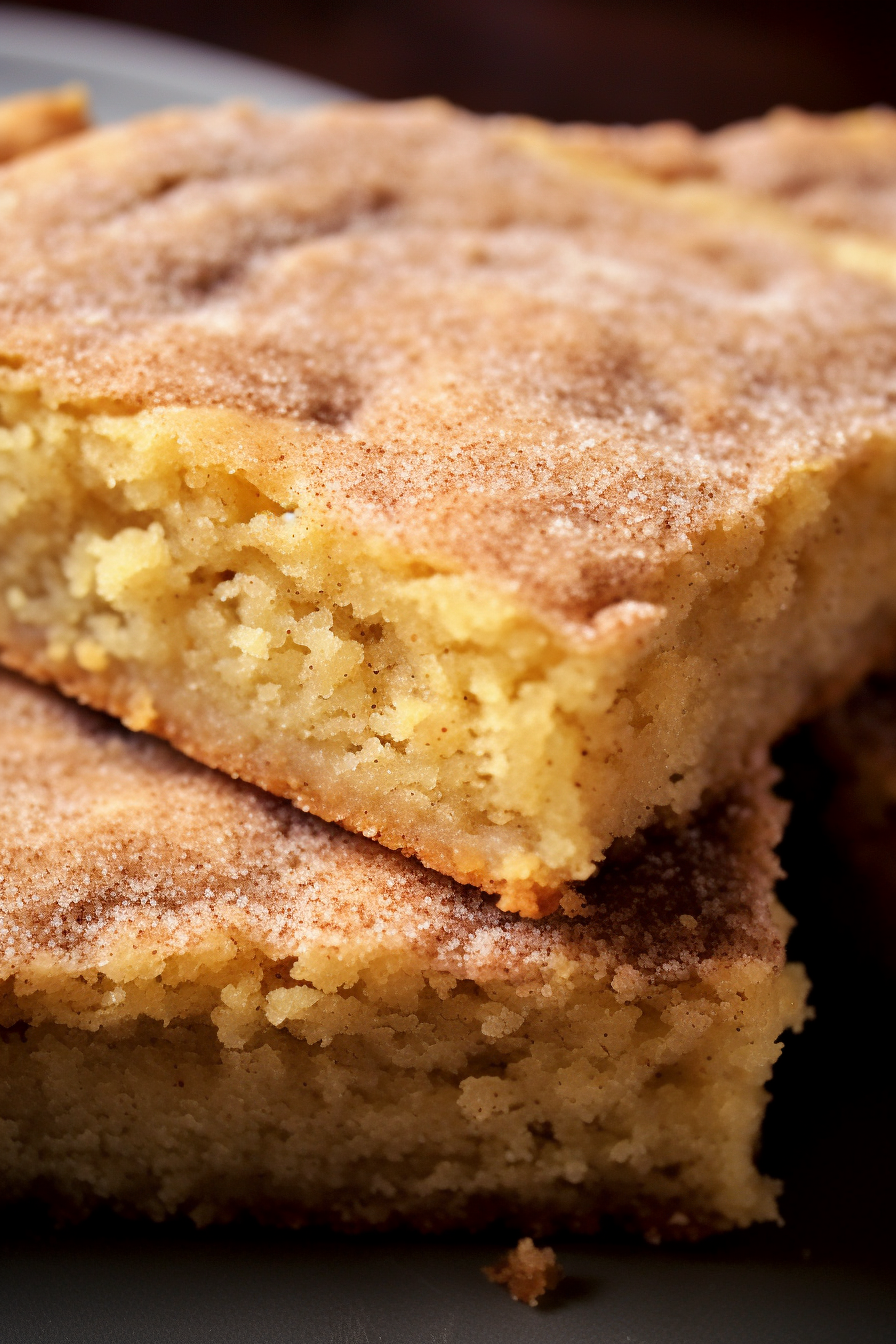 Ingredients For Snickerdoodle Cookie Bars:
Butter: Ensure it's fully melted, which means no solid chunks! This provides the bars their soft, chewy texture.
Brown Sugar: The magic behind the rich, caramel undertone. Always pack it in the measuring cup to get the amount just right.
Cream of Tartar: This isn't just a fancy ingredient! It gives the bars that classic snickerdoodle tang. Plus, it helps in activating the baking powder.
Topping: If you're a cinnamon enthusiast like yours truly, feel free to be a little generous. But for a milder touch, stick to the measurement. After all, it's this sprinkle that gives the bars their iconic snickerdoodle badge.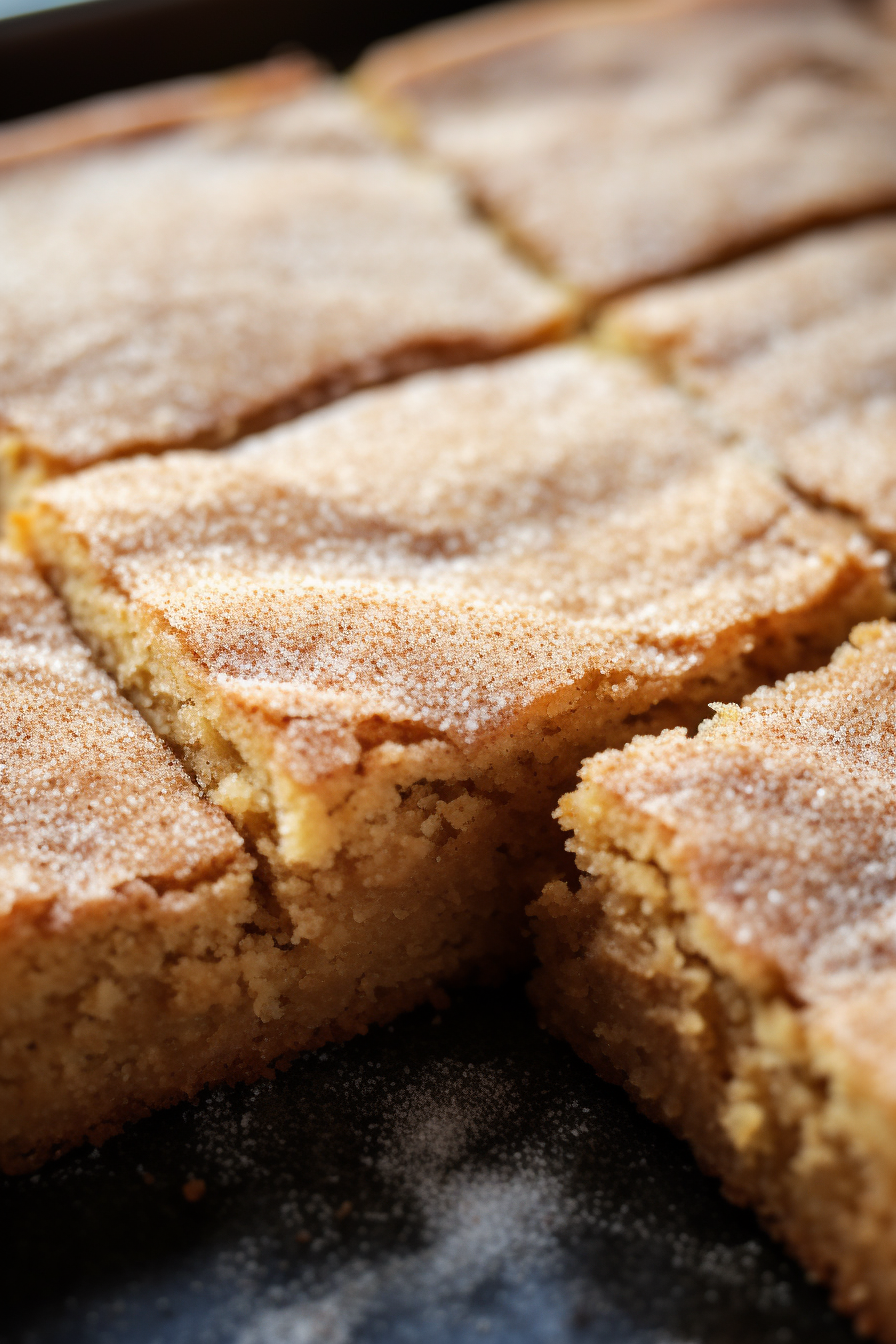 How To Make Snickerdoodle Cookie Bars:
Preparation: Start by preheating your oven to 350°F (because waiting isn't fun!). Grease your 9×13 pan with love and a bit of butter or non-stick spray.
The Melted Symphony: In your favorite large bowl, mix the fully melted butter with the sugars. Aim for a smooth, creamy texture.
Egg and Vanilla Waltz: As you continue stirring, usher in the eggs and vanilla. They're not just here for fun, they bring moisture and flavor!
Dry Ensemble: Sift in the flour, baking powder, cream of tartar, and salt. Stir, but not too fiercely; just until they're all nicely mingled and there are no dry patches.
Pan Transfer: Pour that batter into your pre-greased pan. Make sure it's spread evenly, so each bite has consistent yumminess.
Cinnamon-Sugar Finale: Whisk together the sugar and cinnamon in a small bowl. Here comes the fun part – sprinkle it generously over your batter.
Baking Time: Pop it into the oven. Bake for 20-25 minutes. Keep an eye out! When the top starts turning a lovely shade of golden, it's time.
Patience, My Friend: Once out, let it cool for about 30 minutes (I know, the struggle is real!). And then, let the slicing ceremony begin.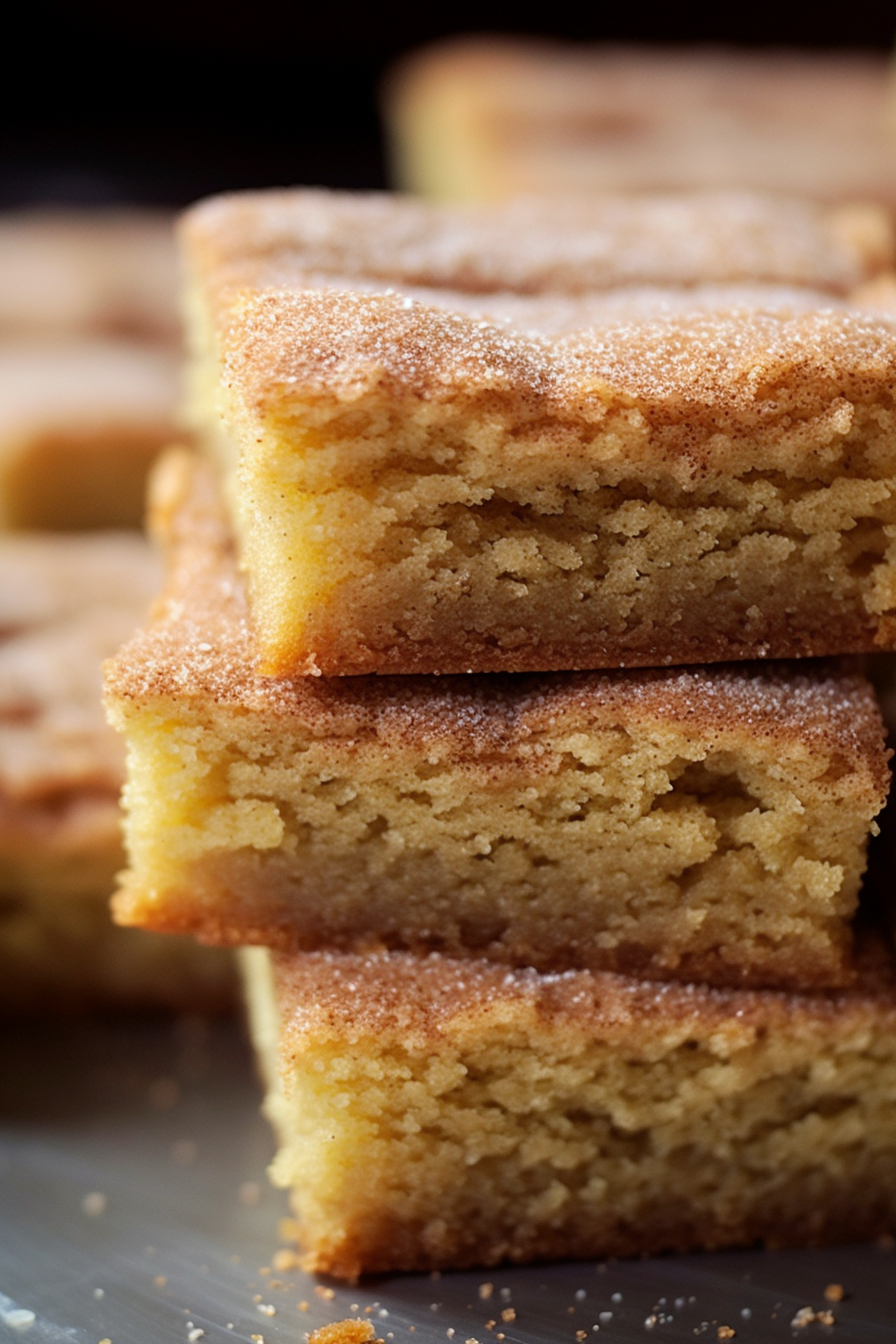 Storing Leftovers:
The chances of these bars lasting long are slim (because yum!). But if you do have leftovers, store them in an airtight container. They should stay fresh for up to 5 days. For a longer shelf life, you can refrigerate them (just make sure to bring them to room temperature before devouring).
Variations and Substitutions:
Butter: A healthier substitute could be coconut oil, but remember, this will alter the taste slightly.
Flour: Go gluten-free with a good quality gluten-free flour blend.
Sugar: Coconut sugar can be an alternative to brown sugar, while maple syrup or honey could replace granulated sugar. Just remember the liquid to solid ratios might change.
Topping: Feeling a bit adventurous? Add a sprinkle of nutmeg or cardamom for a unique twist to the classic cinnamon-sugar combination.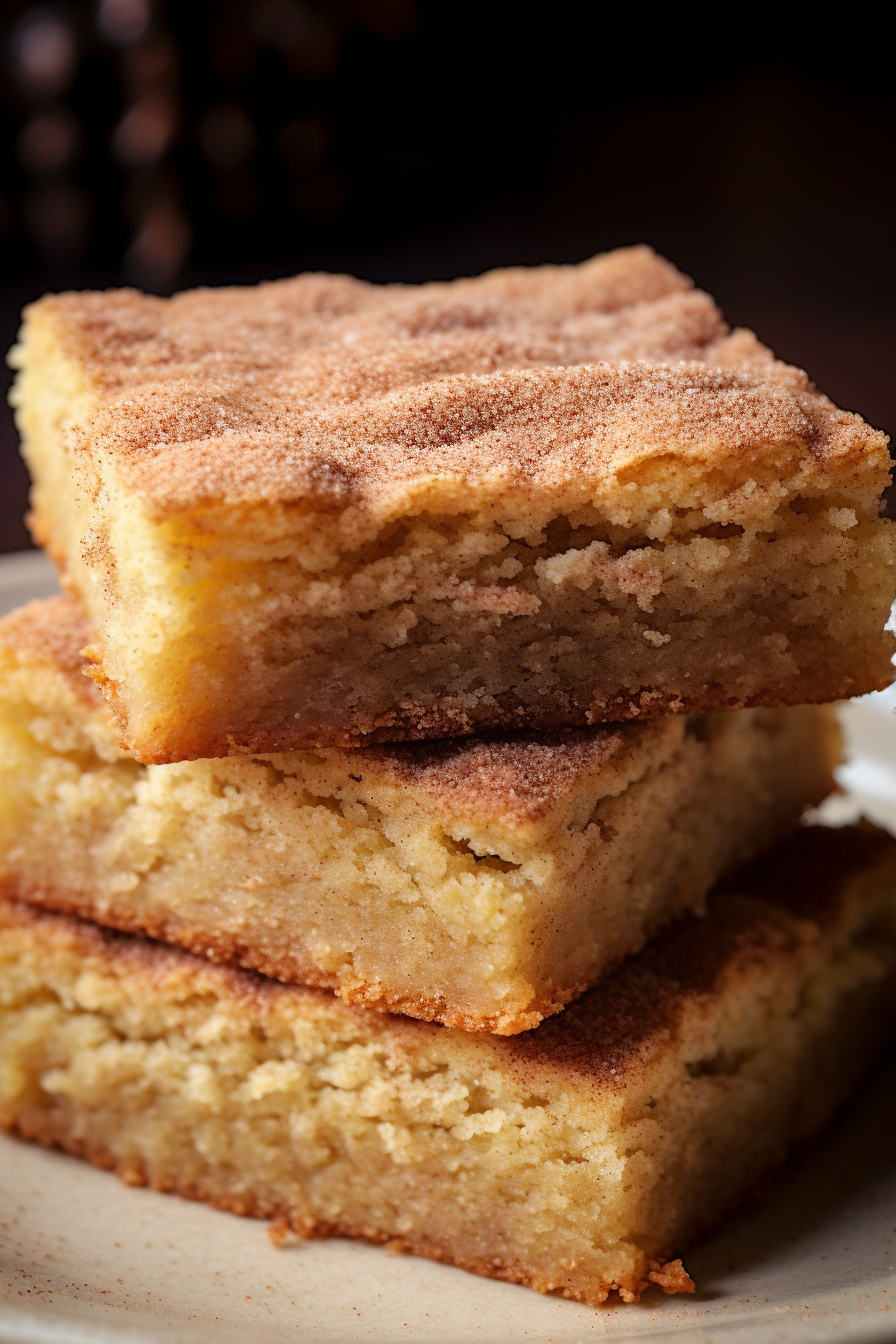 I hope this serves as your guide to creating the ultimate snickerdoodle experience. Just remember, baking is all about the journey, not just the delicious destination! So, don your apron and let's create some doughy magic.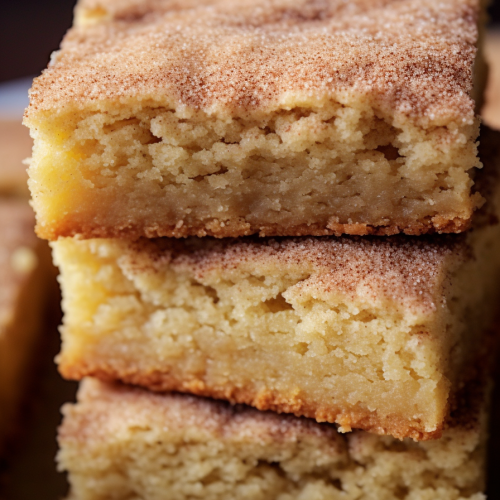 Snickerdoodle Cookie Bars
Dive into a delightful dessert with our Snickerdoodle Cookie Bars, boasting a fusion of melted butter, brown sugar, and that iconic cinnamon sugar topping. It's the snickerdoodle you love, but even easier!
Print
Pin
Rate
Ingredients
¾

cup

of fully melted unsalted butter

¾

cup

of packed brown sugar

1

cup

of granulated sugar

2

large eggs

2

teaspoons

of pure vanilla extract

2

cups

of all-purpose flour

1

teaspoon

of baking powder

1

teaspoon

of cream of tartar

½

teaspoon

of fine salt
Topping:
¼

cup

of granulated sugar

2

teaspoons

of ground cinnamon
Instructions
Begin by preheating the oven to a temperature of 350°F. Meanwhile, prepare a 9×13 inch baking pan by greasing it thoroughly.

In a spacious mixing bowl, amalgamate the melted unsalted butter with both the granulated and brown sugars. Stir continuously until the mixture achieves a uniform consistency.

As the mixture remains in motion, carefully introduce the eggs, one at a time, followed by the vanilla extract, ensuring each ingredient is well-incorporated before proceeding.

In a separate bowl, sift together the all-purpose flour, baking powder, cream of tartar, and salt. Gradually integrate this dry mixture into the wet ingredients, stirring steadily until a homogeneous batter forms.

Transfer the resultant batter into the previously prepared baking pan, ensuring it is spread uniformly across the base.

For the topping, mix the granulated sugar with ground cinnamon in a small dish. Evenly distribute this mixture atop the batter.

Position the baking pan in the preheated oven and allow the batter to bake for a duration of 20-25 minutes. The bars will be deemed ready when their surface takes on a light golden hue.

Upon removal from the oven, permit the Snickerdoodle Cookie Bars to cool for a minimum of 30 minutes prior to slicing and serving.