Dive into a pie crust brimming with rich dark chocolate and crowned with velvety whipped cream! Main ingredients? Dreamy chocolate, cream, and a dash of love.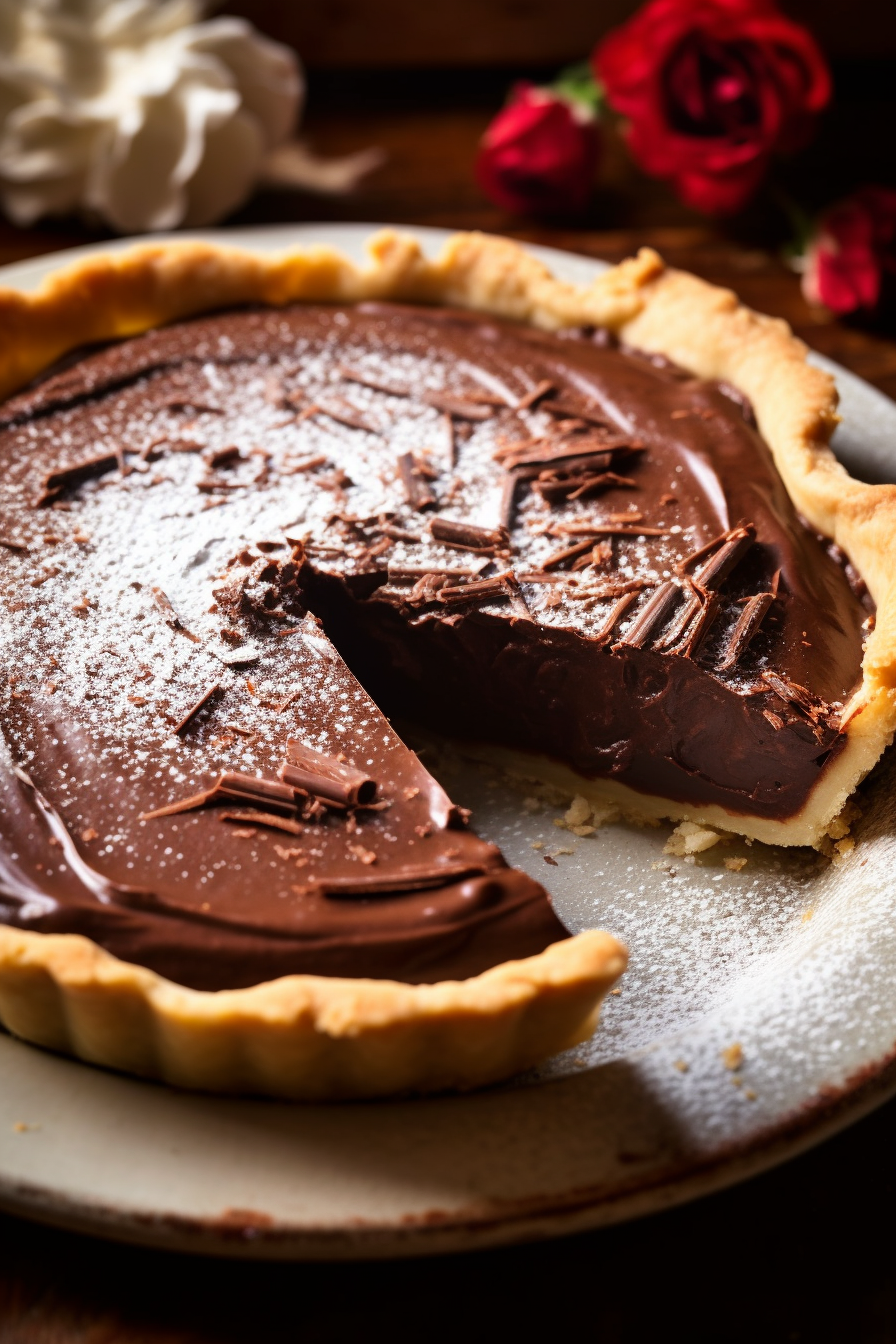 Growing up, birthdays in our household were less about the gifts and more about the dessert. And while many begged for traditional cakes, my little heart yearned for the legendary Chocolate Pie. It was my grandma's signature recipe, handed down to her by her own grandma. Every bite was more than just dessert; it was a slice of tradition, of love, and of memories, each sweeter than the last. Grandma would say, "A pie isn't just for eating; it's for making memories!" And every time I make this Chocolate Pie, I'm taken back to those golden days, with the sun streaming through the kitchen window, and grandma's infectious laughter filling the room. This isn't just a pie; it's a journey down memory lane.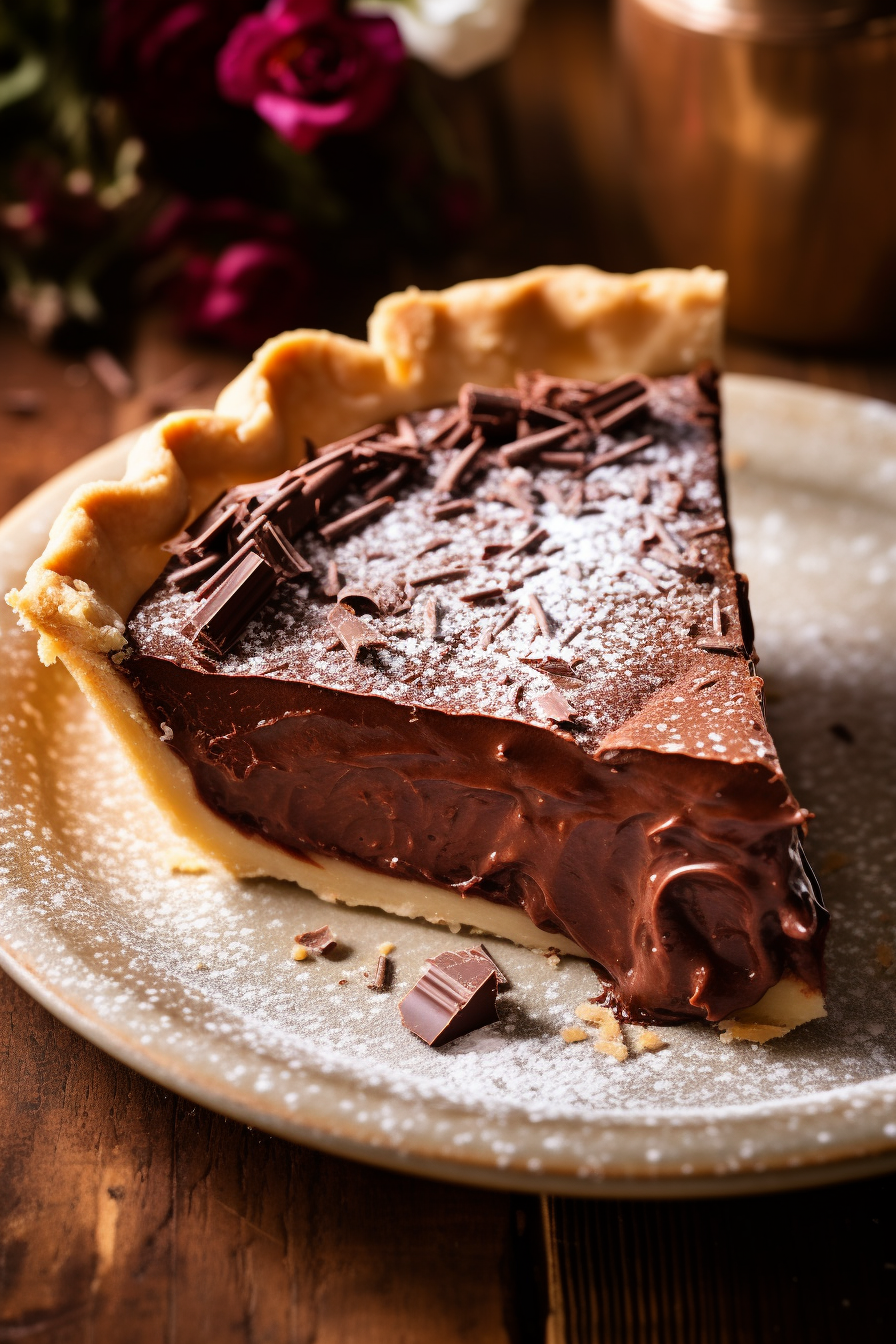 Why You'll Love This Chocolate Pie:
Ever bitten into a cloud made of chocolate dreams? That's exactly what this Chocolate Pie feels like. The star? Homemade chocolate pudding – none of that store-bought business! This is chocolate in its most luxurious form. Plus, this pie is brilliantly balanced with the crispiness of the crust and the velvety pudding. The extra kick of vanilla with that whipped cream topping? It's like the cherry on top, but dare I say, even better!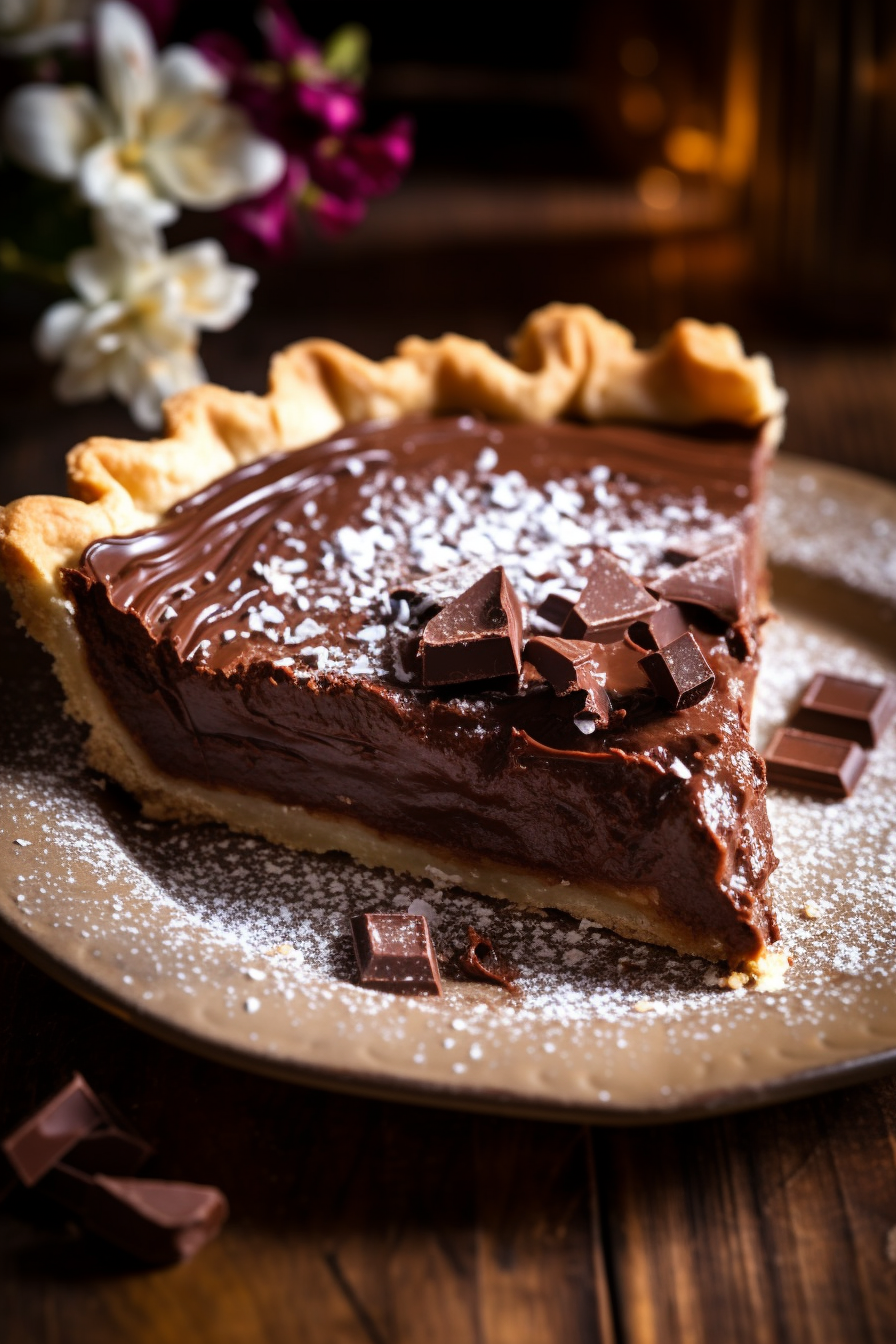 Ingredients For Chocolate Pie:
Pie Crust: While store-bought will do in a pinch, homemade always has that rustic charm.
Cornstarch: This is our magic thickener! No watery fillings here.
Dark Chocolate (70% cocoa): Trust me, this is where the magic happens. This cocoa percentage gives us a deep, rich flavour without being overwhelmingly bitter.
Vanilla: Try to opt for pure vanilla extract over the imitation version. Your tastebuds will thank you.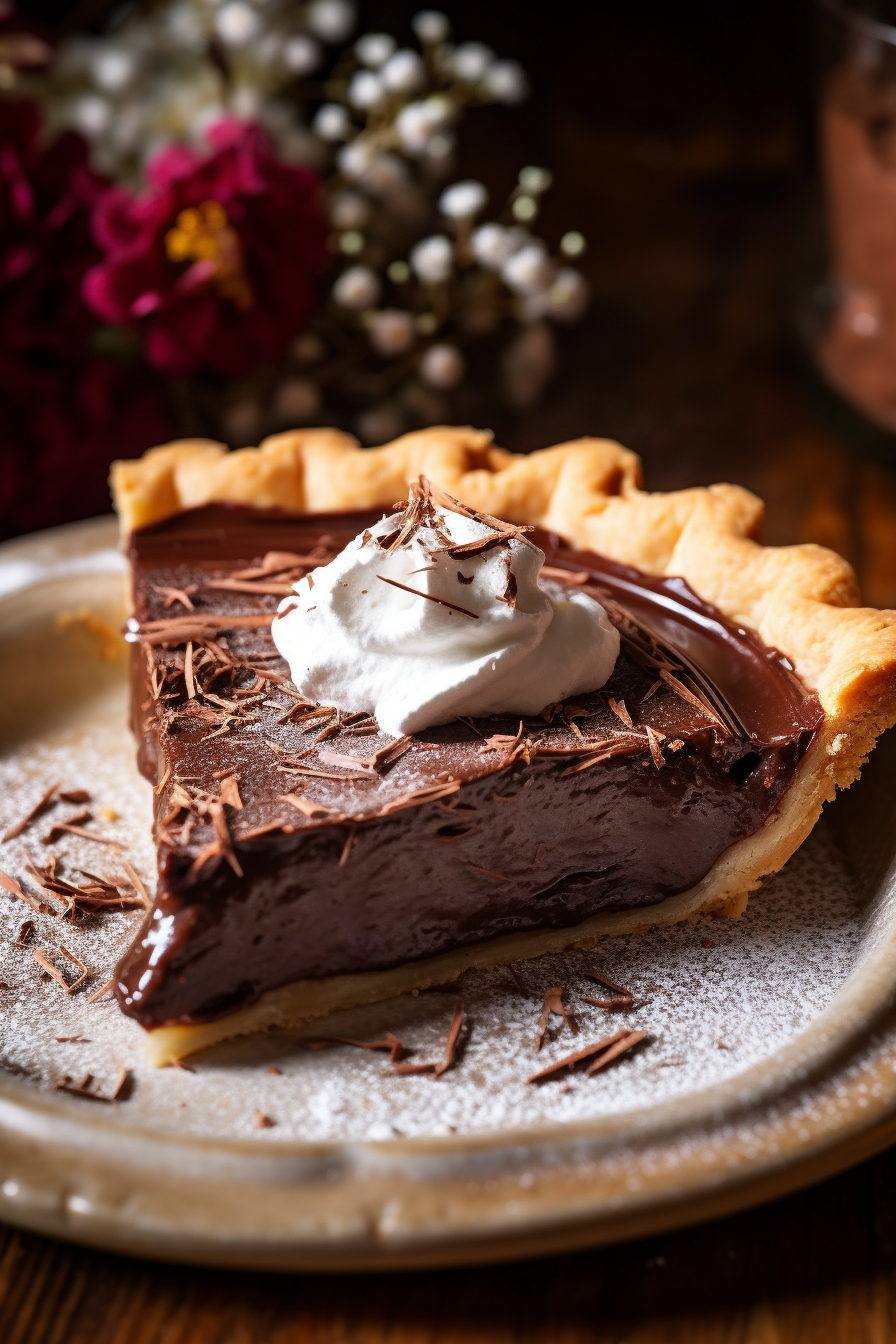 How To Make Chocolate Pie:
Blind Bake Pie Crust:
Start by firing up your oven to a toasty 350℉. Ease that pie crust into your favourite 9-inch pie dish. But hey, don't let that excess hang around; trim it off and crimp those edges like you're a pro.
Grab parchment paper and give your crust a cozy blanket before loading it up with pie weights or, in a true homey fashion, beans.
Bake that beauty for 20 minutes, then delicately remove the weights and parchment, and pop it back in for another 10 minutes.
Once golden and crispy, set it aside to cool. It's had a hot day!
Chocolate Pudding Pie Filling:
Start your pudding journey by whisking cornstarch, sugar, and salt in a medium saucepan. Add in those egg yolks, whole milk, and heavy cream. Whisk it until they're all chummy.
Now, let the magic happen over medium heat. Constantly whisk until the mixture bubbles like a soft jacuzzi and thickens into that lush pudding consistency.
Remove it from the heat and introduce it to the stars of our show – dark chocolate, butter, and vanilla. Stir until they all meld into a smooth, chocolaty haven.
Pour this treasure into your crust, and let it cool off and set in the fridge for a solid 6 hours. Before serving, dress it up with whipped cream and shower it with some chopped chocolate.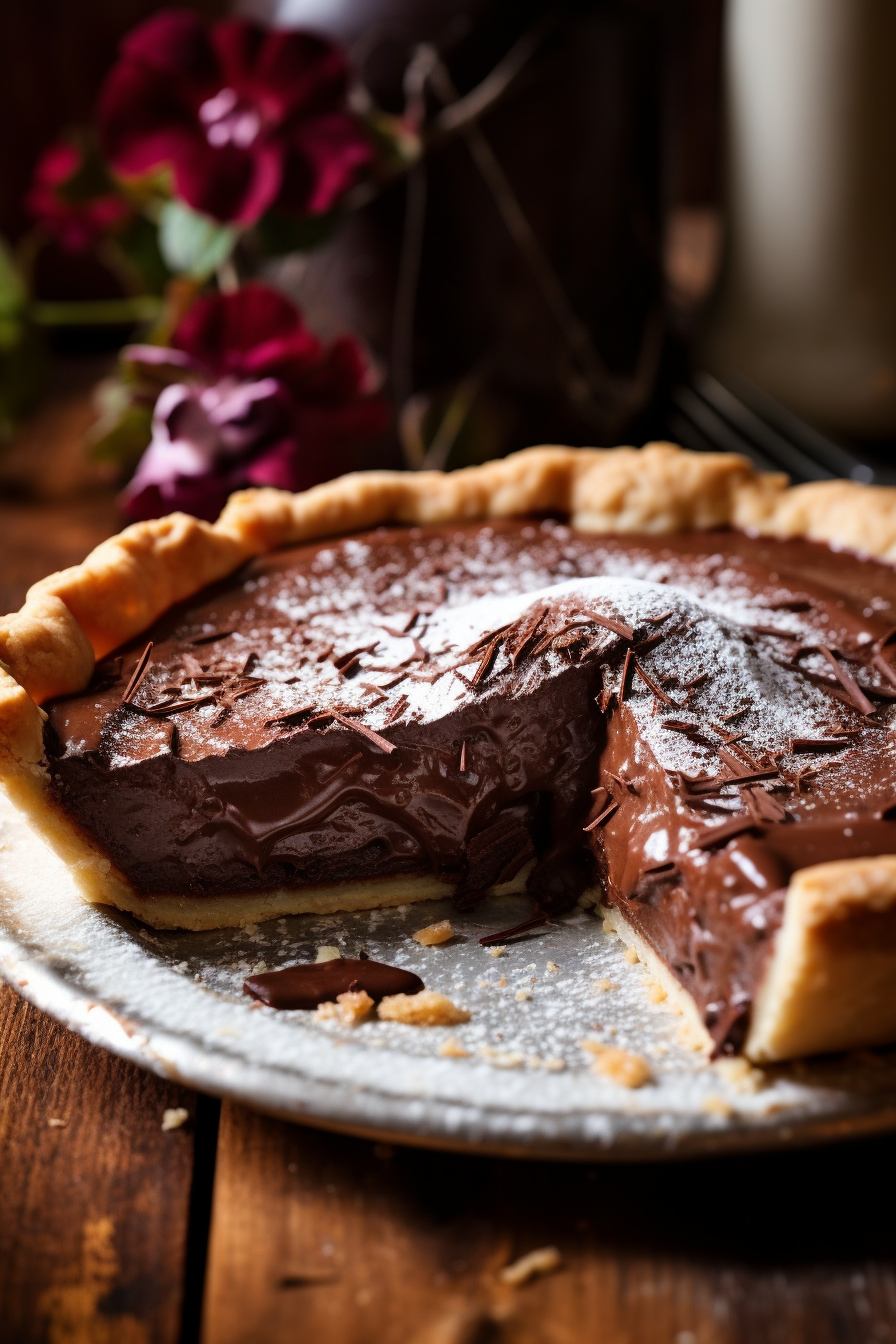 Storage Options:
Once you've indulged (and trust me, resisting a second slice will be the hardest thing you'll do), if there's any pie left, you can refrigerate it, covered, for up to 3 days. Though, between you and me, I doubt it'll last that long!
Variations & Substitutions:
Chocolate: More of a milk chocolate fan? You can swap out the dark chocolate, though it'll be a tad sweeter.
Vegan Delight: Use coconut milk and a vegan butter alternative to make a dairy-free version.
Topping: Not a whipped cream enthusiast? How about a drizzle of caramel or a sprinkle of sea salt to offset the sweetness?
Remember, the best thing about this pie isn't just the chocolate; it's the love you put into it. Slice, serve, and watch as everyone gets a little sweeter. Happy baking! 🍫🥧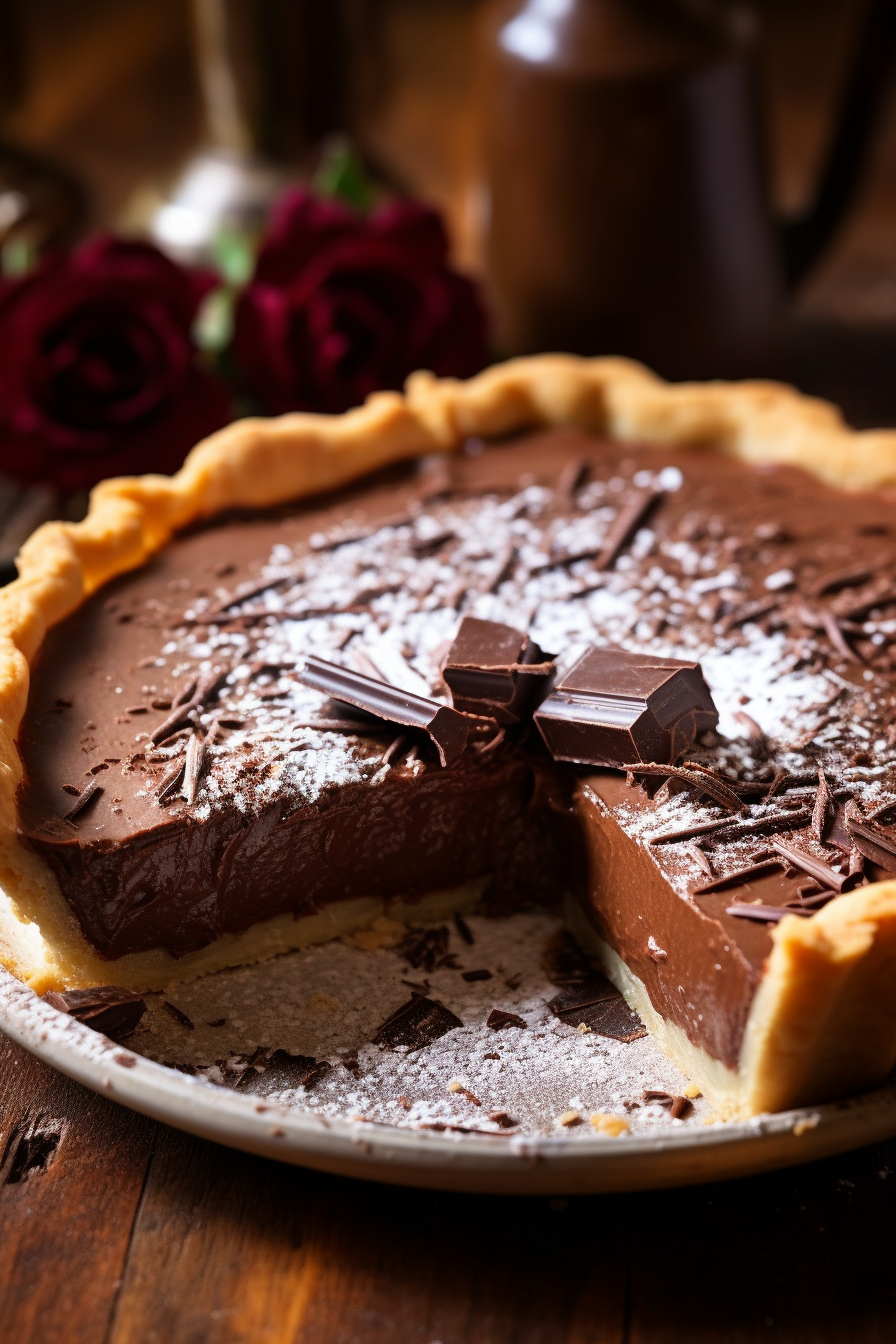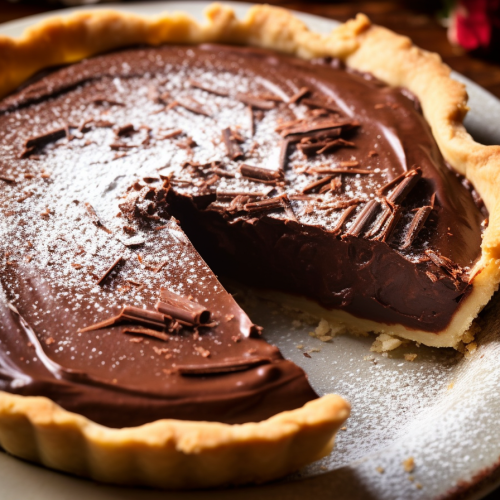 Chocolate Pie
Dive into a pie crust brimming with rich dark chocolate and crowned with velvety whipped cream! Main ingredients? Dreamy chocolate, cream, and a dash of love.
Print
Pin
Rate
Ingredients
1

prepared pie crust

⅓

cup

of cornstarch

1

and ¼ cup of granulated sugar

¼

teaspoon

of salt

4

large egg yolks

2

and ½ cups of whole milk

½

cup

of heavy cream

6

ounces

of finely chopped dark chocolate

70% cocoa

2

Tablespoons

of unsalted butter

1

Tablespoon

of pure vanilla extract
Topping:
Freshly whipped cream

Finely chopped dark chocolate for garnish
Instructions
Blind Baking the Pie Crust:
Preheat the oven to 350℉.

Carefully position the pie crust in a 9-inch pie dish. Trim any excess dough and shape the edges neatly.

Line the crust with parchment paper, ensuring that the crust is fully covered. Fill the interior with pie weights or dried beans.

Bake in the preheated oven for 20 minutes. After this duration, meticulously remove the parchment paper and the weights.

Continue to bake the crust for an additional 10 minutes or until it achieves a light golden hue. Once done, set it aside to cool to room temperature.
Preparation of the Chocolate Pudding Pie Filling:
In a medium-sized saucepan, combine the cornstarch, granulated sugar, and salt. Mix well.

Incorporate the egg yolks, whole milk, and heavy cream into the saucepan, whisking continuously to ensure a uniform mixture.

Place the saucepan over medium heat. Constantly whisk the mixture until it begins to produce bubbles around the edges and the pudding reaches a thick consistency.

Upon achieving the desired consistency, remove the saucepan from heat. Add the finely chopped dark chocolate, unsalted butter, and pure vanilla extract to the mixture. Stir thoroughly until all the chocolate and butter have melted, and the mixture becomes smooth.

Carefully pour the chocolate pudding filling into the cooled pie crust, ensuring an even distribution.

Smooth the surface of the filling with a spatula and transfer the pie to a refrigerator. Allow it to chill for a minimum of 6 hours to set properly.

Once chilled, the pie may be served with freshly whipped cream. Garnish with finely chopped dark chocolate, if desired.