Dive into this Baked Crack Chicken recipe loaded with succulent chicken, smoky bacon, and creamy cheese, spiced perfectly with garlic, smoked paprika, and Italian seasonings. A perfect meal for those cozy nights!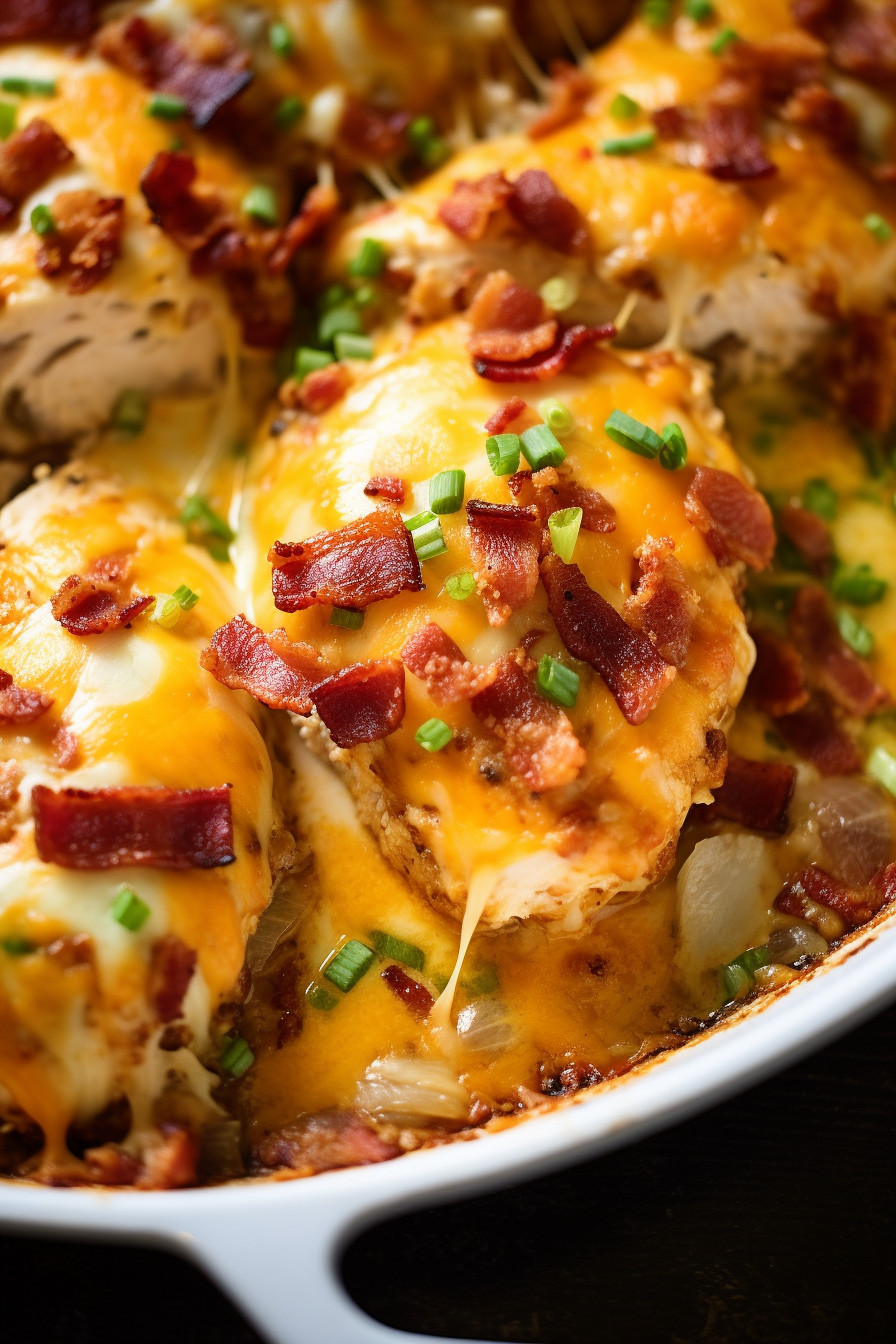 Oh boy, let me take you on a trip down memory lane. There was this one evening after a particularly grueling day at work. I was in need of some serious comfort food, but also something that wouldn't have me slaving in the kitchen for hours. I scoured my fridge, finding some chicken breasts, bacon, and cream cheese. And, with a dash of creativity, the Baked Crack Chicken was born! The name? Well, it was so addictive, my friends jokingly said it must have some "crack" in it. Though I assure you, it's all pure, delicious ingredients! Every time I make this now, it's like a warm hug from the past, reminding me of the power of a good dish to turn a day around.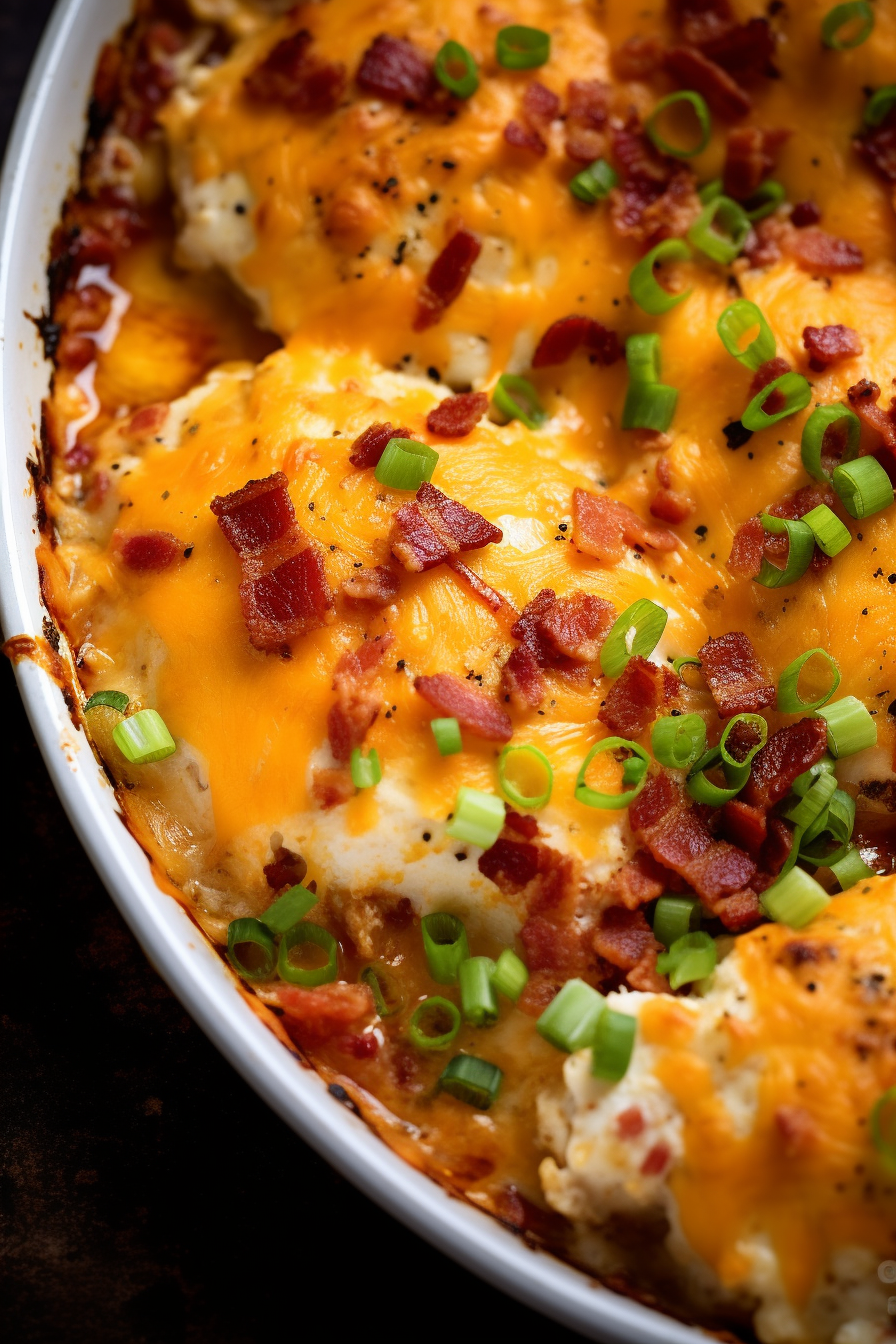 Why You'll Love Baked Crack Chicken:
What sets the Baked Crack Chicken apart? Let's start with the symphony of textures: crispy bacon, juicy chicken, and the melting allure of cream cheese and cheddar. And flavor? It's a harmonious blend of smokiness, creamy richness, and a touch of spice. Plus, let's not forget convenience! With a prep of just 20 minutes, it's a dream for those busy nights when you want gourmet without the fuss.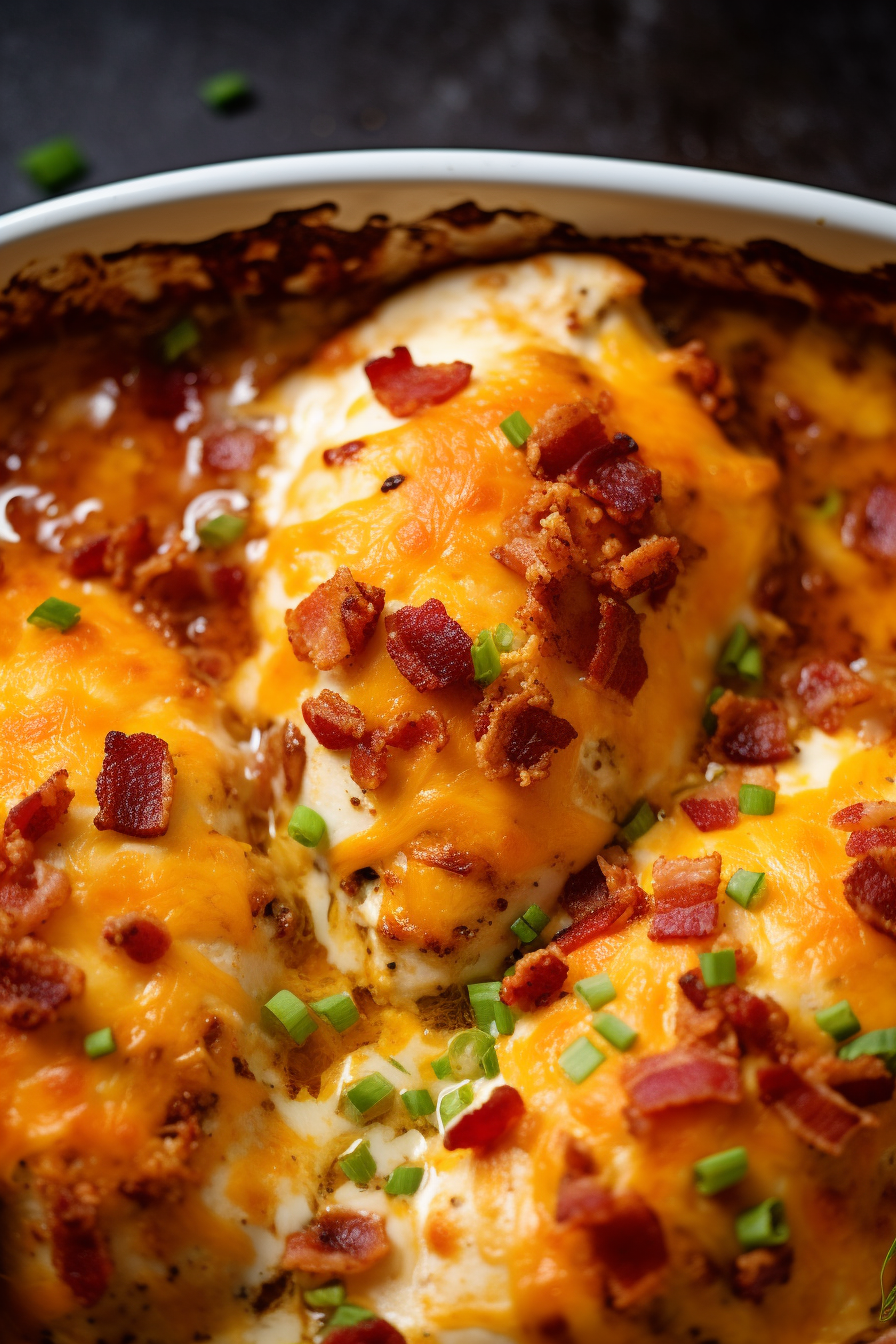 Ingredients For Baked Crack Chicken:
Thick-Cut Bacon: This gives a meaty, robust flavor and doesn't get lost among other ingredients.
Boneless Chicken: Easier for serving and eating; make sure they're sliced horizontally for even cooking.
Garlic & Onion Powders: For depth. Feel free to adjust quantities based on your love for garlic!
Cream Cheese: This provides creaminess; ensure it's softened for easier mixing.
Cheeses: White or yellow cheddar work well, but feel free to mix in some mozzarella for extra gooeyness!
Garnishes: Parsley and scallions not only add color but a fresh pop of flavor!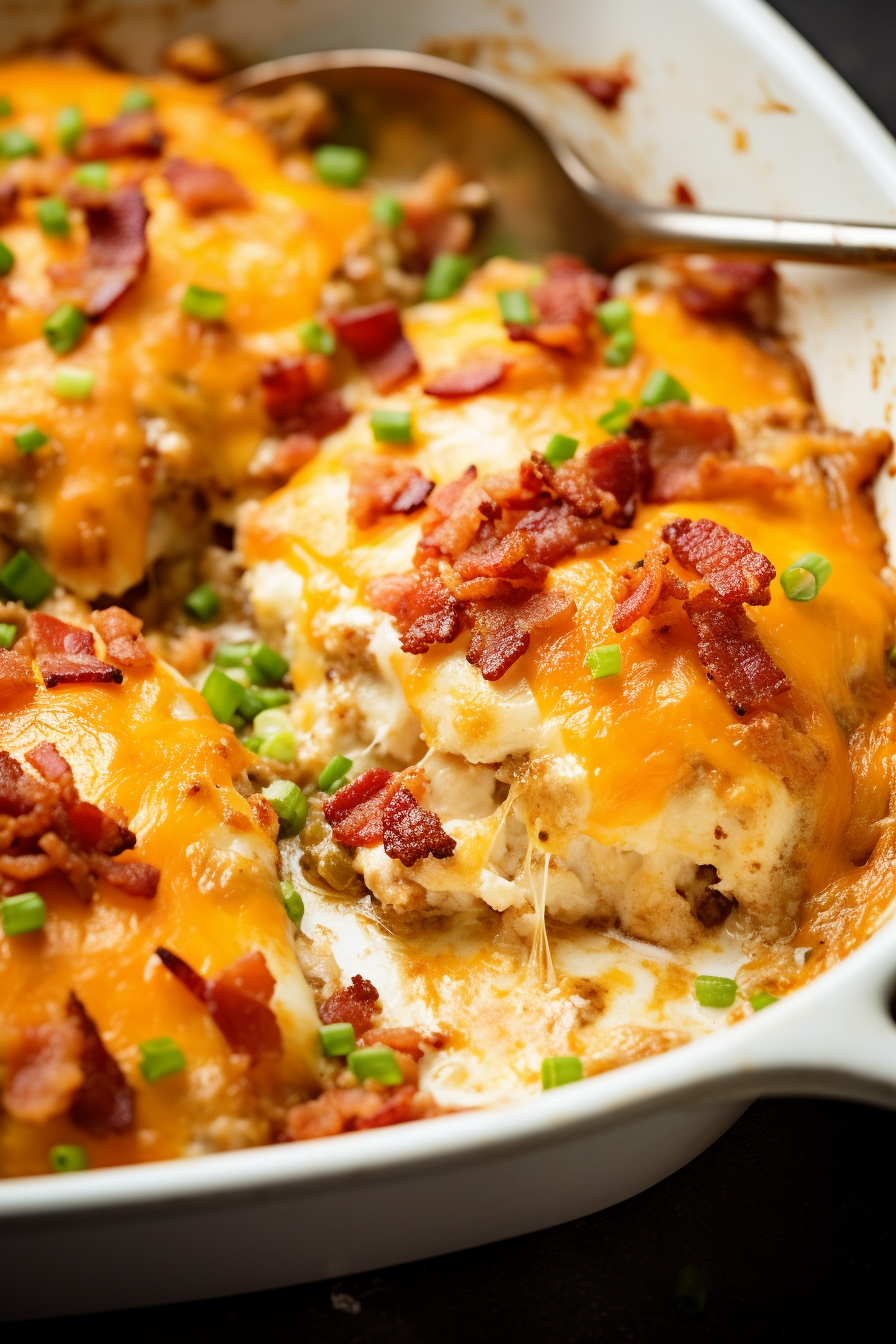 How To Make Baked Crack Chicken:
Step One: First and foremost, you're going to want to preheat that oven to 400ºF. Grab your 9×13 baking dish, grease it, and set it aside like the treasure it is. Now, for those chicken breasts – pound them to 1/4-inch thickness and sprinkle with love… and salt, pepper, garlic powder, and paprika.
Step Two: Channel your inner skillet master! Over medium-high heat, toss in that bacon and let it cook until crispy. Once done, remove and set aside, but keep that flavorful bacon fat. It's gold, people!
Step Three: Time for some sizzle! Add vegetable oil to your skillet, alongside the bacon remnants. Introduce the chicken breasts to this mix until they're golden. Once flipped, let butter join this party for an extra layer of flavor. And for a grand finale, pour in some chicken stock.
Step Four: With your chicken looking fabulous, place them in your baking dish. Pour over any delightful juices from the pan.
Step Five: Cream cheese time! In a bowl, unite the cream cheese with garlic and onion powders and Italian seasoning. Spread this mix on each chicken piece.
Step Six: Now sprinkle half your bacon (resist eating the rest) and the shredded cheese atop the chicken.
Step Seven: Baking time! Let it bake for 15 minutes or until the chicken sings with perfection. Once out, make it rain with bacon, parsley, and scallions. Serve and watch faces light up!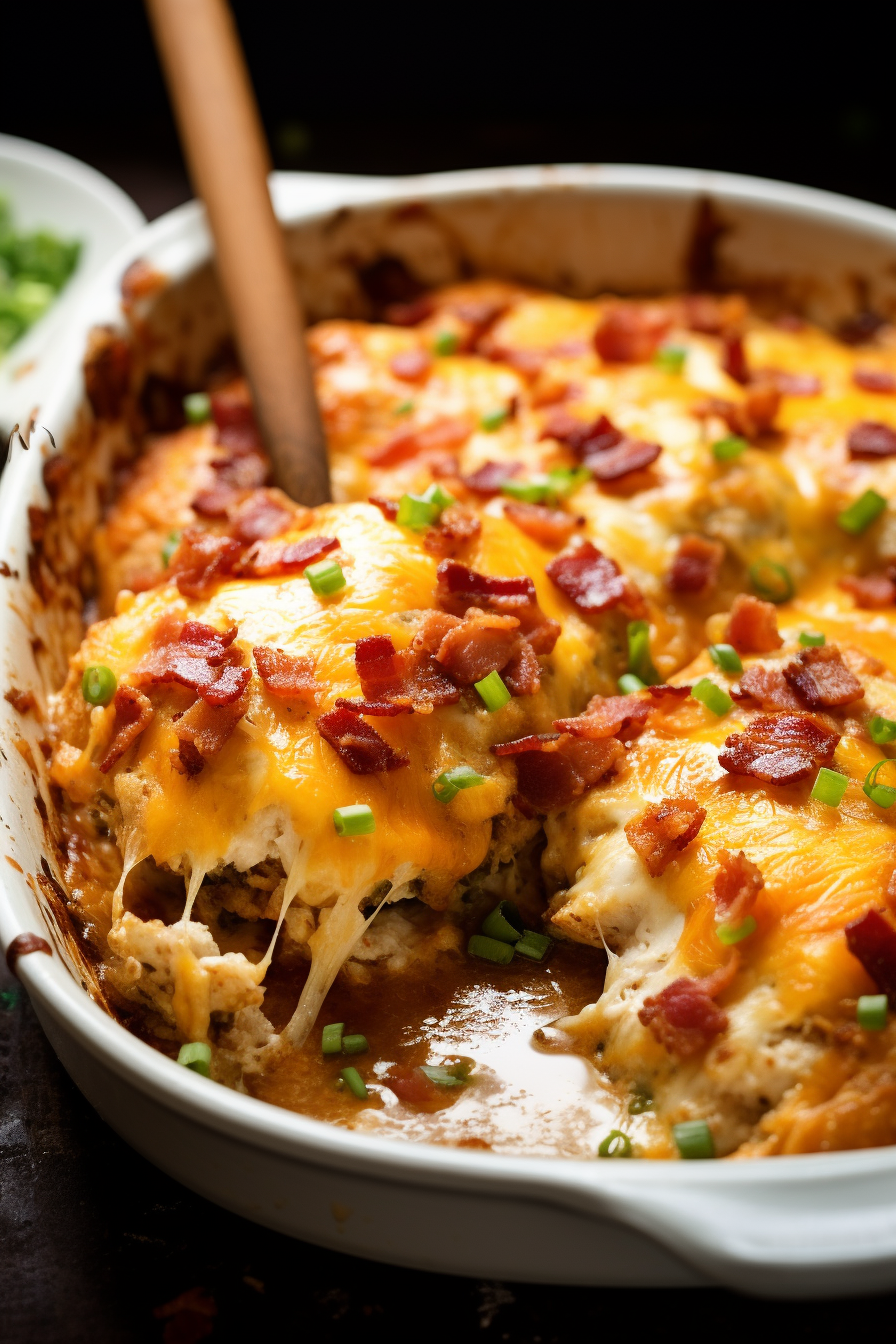 Storage Options:
Leftovers? Cool the Baked Crack Chicken completely before placing in an airtight container. Refrigerate for up to 3 days. For longer storage, freeze for up to a month. To reheat, thaw and bake until heated through.
Variations & Substitutions:
Chicken: Try thighs for a juicier version.
Bacon: Turkey bacon or prosciutto can be used for a leaner or fancier twist.
Cheeses: Mix it up with Monterey Jack or pepper jack for some zing!
Spices: Experiment with other herbs or even some red pepper flakes if you like the heat.
And remember, when in doubt, add more cheese! 😉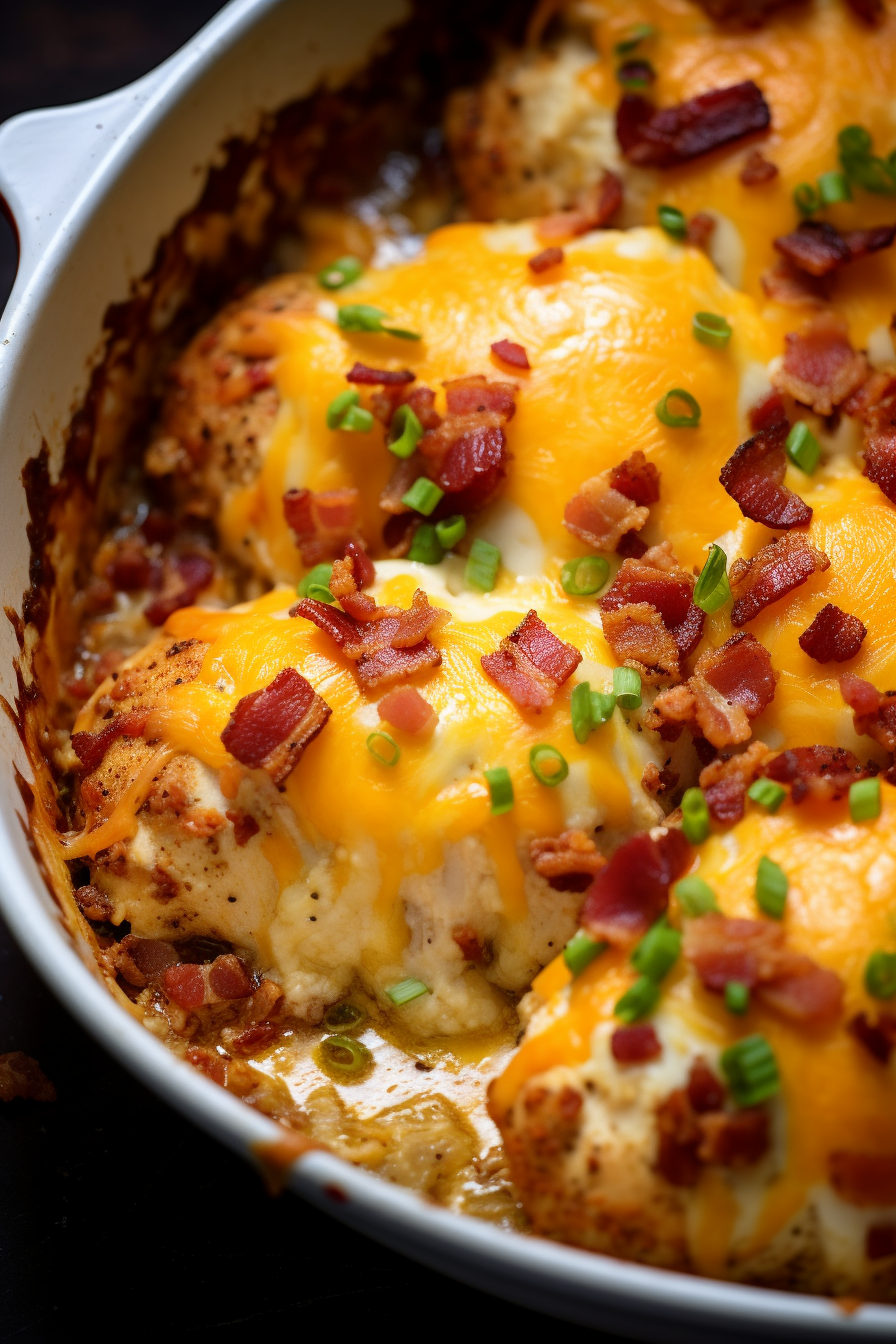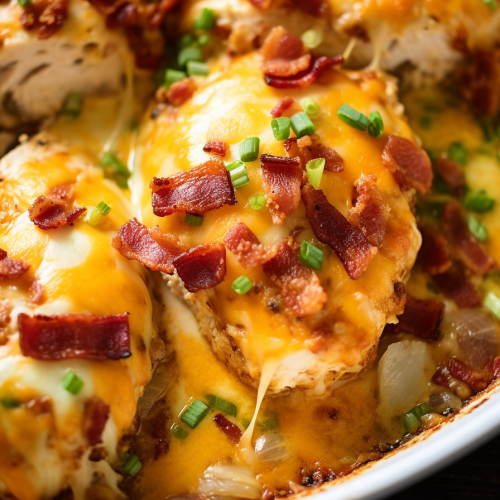 Baked Crack Chicken
Dive into this Baked Crack Chicken recipe loaded with succulent chicken, smoky bacon, and creamy cheese, spiced perfectly with garlic, smoked paprika, and Italian seasonings. A perfect meal for those cozy nights!
Print
Pin
Rate
Ingredients
4

slices

of thick-cut bacon

diced

1

tablespoon

of vegetable oil

1

tablespoon

of butter

2

boneless

skinless chicken breasts (totaling approximately 1 pound), sliced horizontally

Salt and freshly ground pepper

as required

1/4

cup

of low-sodium chicken stock

1

tablespoon

of garlic powder

1/2

teaspoon

of smoked paprika

4

ounces

of softened cream cheese

1/4

teaspoon

of onion powder

1

teaspoon

of Italian seasoning

4

ounces

of shredded cheddar cheese

white or yellow variety is acceptable

Fresh parsley

finely chopped for garnishing

Green scallions

thinly sliced for garnishing
Instructions
Commence by preheating the oven to 400ºF (200ºC). A 9×13 baking dish should be lightly greased to prevent sticking.

The chicken breasts should be evenly pounded to achieve a thickness of approximately 1/4-inch. Once achieved, season them uniformly with salt, pepper, garlic powder, and paprika.

Employing a sizable skillet, it should be set over medium-high heat. Upon achieving the desired temperature, introduce the diced bacon and allow it to attain a crisp texture. Subsequently, the crispy bacon should be extracted and reserved for later.

The residual bacon fat in the skillet should not be discarded. Instead, reintroduce the skillet to the heat and combine the bacon fat with the vegetable oil. This will act as the cooking medium for the chicken breasts. Ensure the chicken is golden brown on each side. Should there be a surplus of chicken that cannot fit into the skillet, partition the chicken and cook in batches.

Following the browning of the chicken, incorporate butter into the skillet. After this, use the chicken stock to deglaze the skillet. This process will lift the browned bits from the bottom of the skillet.

The chicken breasts, once adequately cooked, should be meticulously arranged in the pre-greased baking dish. Any remaining cooking juices from the skillet should be drizzled upon the chicken.

In a separate mixing bowl, amalgamate the softened cream cheese with garlic powder, onion powder, and Italian seasoning. Ensure a homogeneous mixture is attained.

Subsequently, allocate and spread approximately 2 tablespoons of the cream cheese mixture onto each chicken breast.

The chicken breasts should then be garnished with half of the previously prepared crispy bacon. Following this, the shredded cheddar cheese should be uniformly distributed over the chicken breasts.

The baking dish, now filled with the seasoned chicken breasts, should be placed in the oven. Allow for an uninterrupted baking period of 15 minutes or until the chicken is thoroughly cooked and the cheese is adequately melted with a slight browning on top.

Upon completion, remove the dish from the oven. Final garnishing should be done using the reserved bacon, freshly chopped parsley, and thinly sliced green scallions.

Serve promptly.