Delight in Southern comfort with Smothered Pork Chops! Made with succulent boneless pork, aromatic seasonings, crispy bacon, and drenched in a rich, creamy gravy. Your dinner just got a hearty upgrade!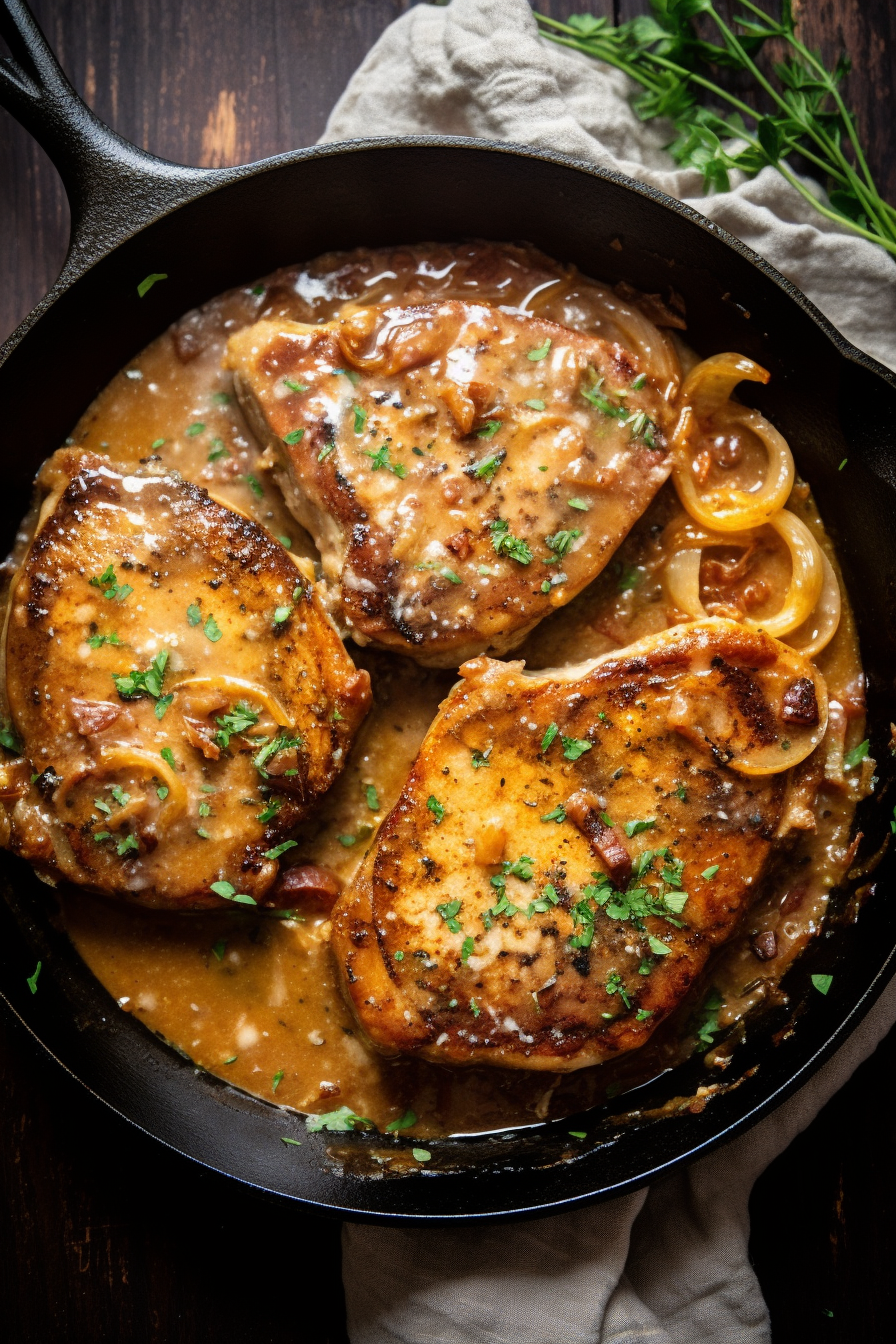 Now, let's wind the clock back to my childhood. Growing up in the South meant two things for me: listening to tales on the porch as fireflies danced, and mouth-watering dishes that smacked of tradition. It was my grandmother, or as we fondly called her, 'Granny Mae', who introduced me to the world of Smothered Pork Chops. I still remember those Sunday family dinners, the aroma from Granny's kitchen wafting through the house, hinting at the culinary masterpiece she was whipping up. This recipe? Well, it's a tribute to her, and a means to share with you the warmth, the love, and the rich flavors that were a hallmark of our family gatherings. Don't blame me if you suddenly feel the urge to put on some blues and sway!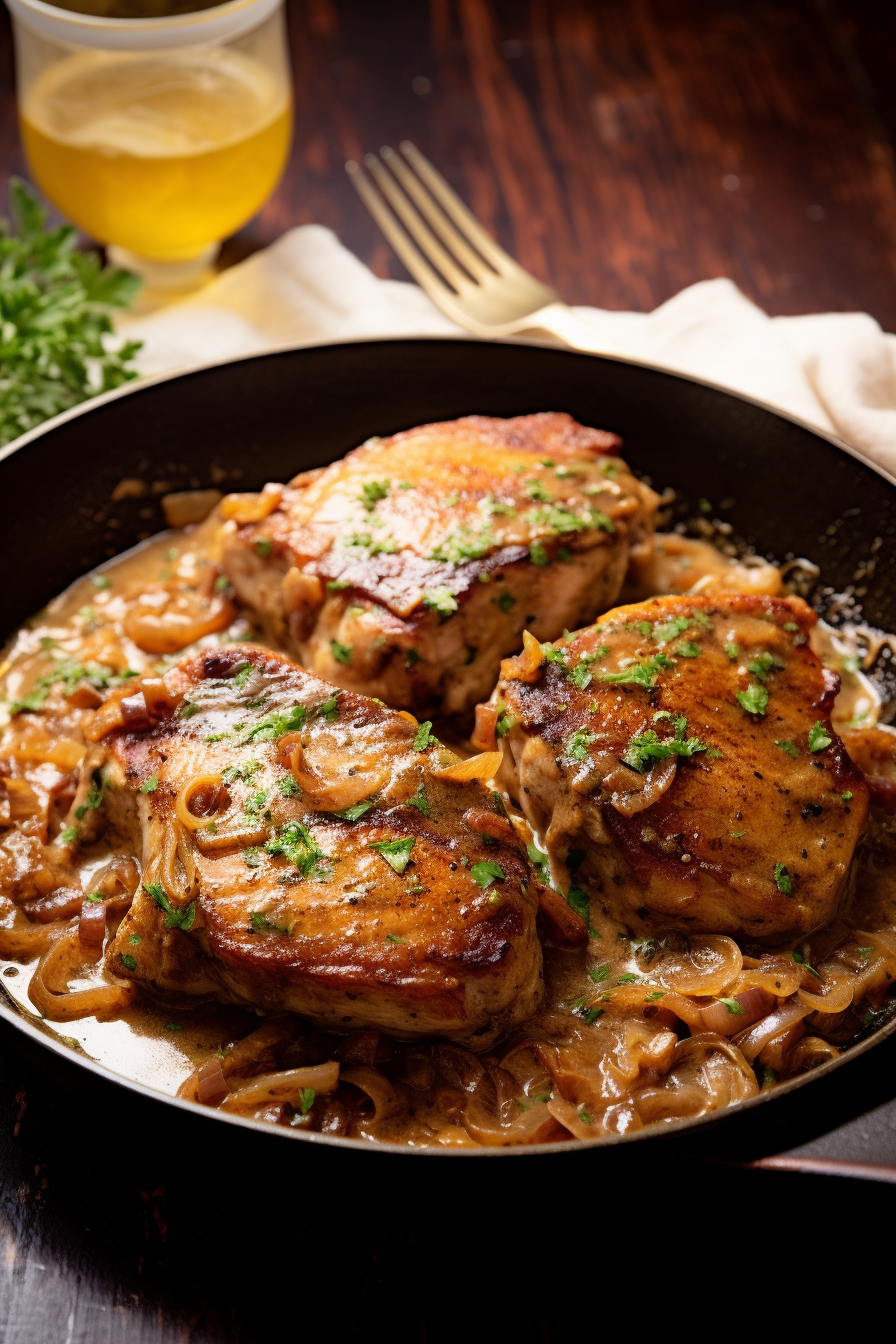 Why You'll Love Smothered Pork Chops:
Now, what makes these Smothered Pork Chops a cut above the rest? First, they hail from a time-tested Southern tradition, promising authenticity. Next, there's no skimping on flavor here. We're talking about juicy chops that are kissed by a blend of spices, crowned with crispy bacon, and finally bathed in a sumptuous gravy. Oh, and did we mention it's a one-pot wonder? Less cleanup, more savoring. And in just 25 minutes? That's a culinary touchdown!
Ingredients For Smothered Pork Chops:
Before we jump right in, let's dissect our key players, shall we? Boneless pork chops: Go for those thick cuts, they hold up well in our gravy sea. Seasoning salt: This is the jazz to our blues, adding that extra zing. Love your bacon thick-cut; trust me, the texture's worth it. And for the pièce de résistance, heavy whipping cream. Why? Because life's too short for thin sauces. But if you're watching your waistline (or pretending to, like me), a milk alternative can pinch-hit!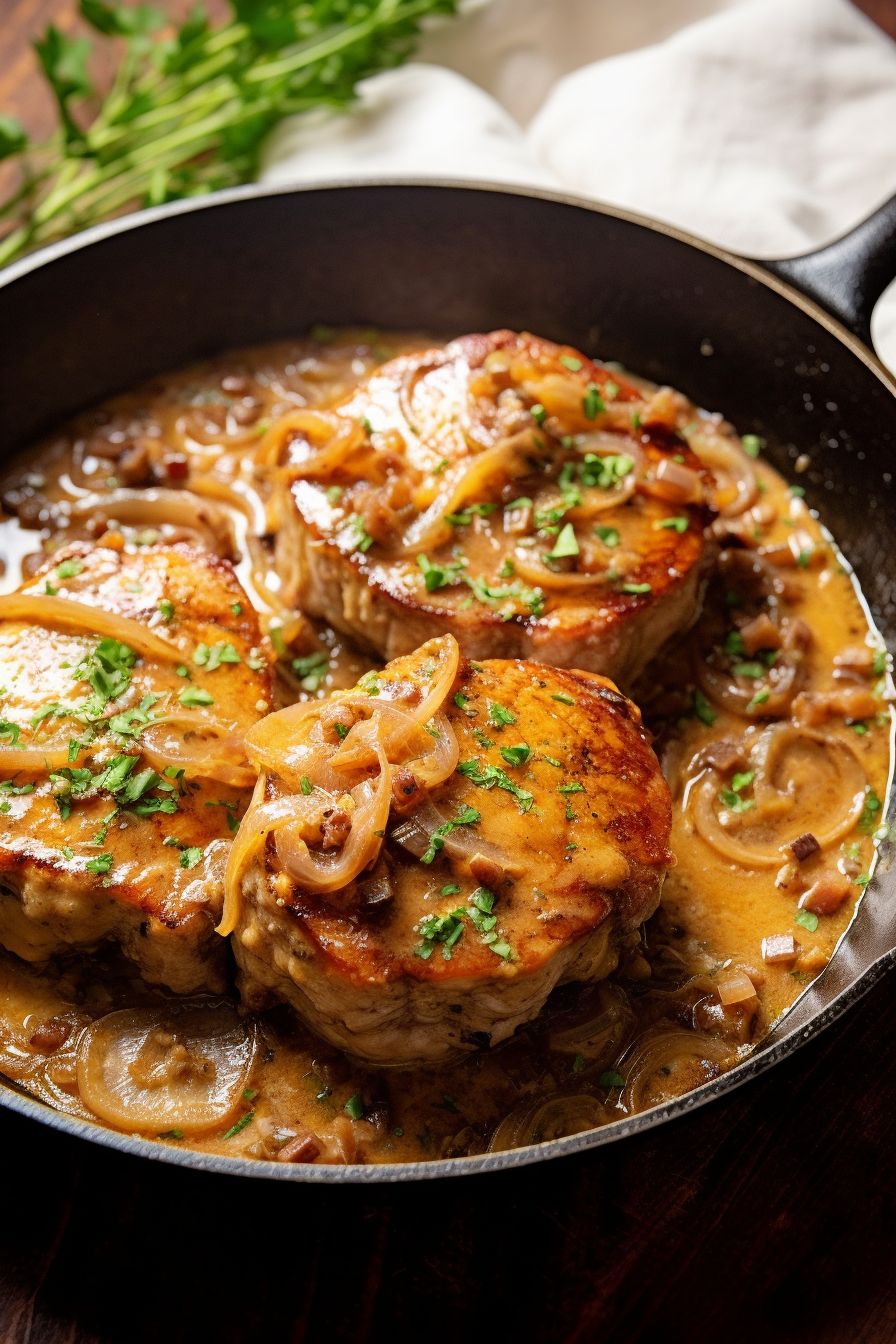 How To Make Smothered Pork Chops:
Alright, my budding chefs, on to the step-by-step:
Prepping the Stars: Let your pork chops sit pretty on the counter, coming to room temperature. This ensures even cooking.
The Sizzle Begins: Fire up your skillet over medium-high heat. Drizzle in that oil; it's showtime.
Flavor Bath: Whisk together your flour and spices in a bowl. Now, imagine your pork chop is at the spa, give it a good dredge in this mixture, shaking off the extras. But hey, keep that flour-spice mix, it's making a comeback later.
Golden Moment: In your hot skillet, lay the pork chops down. Let them turn a beautiful golden on each side. Once done, set them aside but keep them warm. Maybe sing them a lullaby?
Bacony Bliss: Using the same pan (see, I care about your dishwashing woes), fry your bacon bits to crispy perfection. And butter? Yes, please. It's like a hug for your taste buds.
Oniony Orchestra: In goes the diced onion. Let it soften, and soak in the bacon-butter magic.
Flour Power: Remember our flour mix? Stir in a bit, let it cook until it's golden and acting all thick.
Gravy Town: Time for chicken broth and that decadent cream. Stir well until it's one harmonious creamy concoction.
Pork's Encore: Nestle the chops back in. Simmer them till they're basking in the gravy, ensuring they're cooked just right.
Plate & Praise: Serve those beauties up and wait for the applause!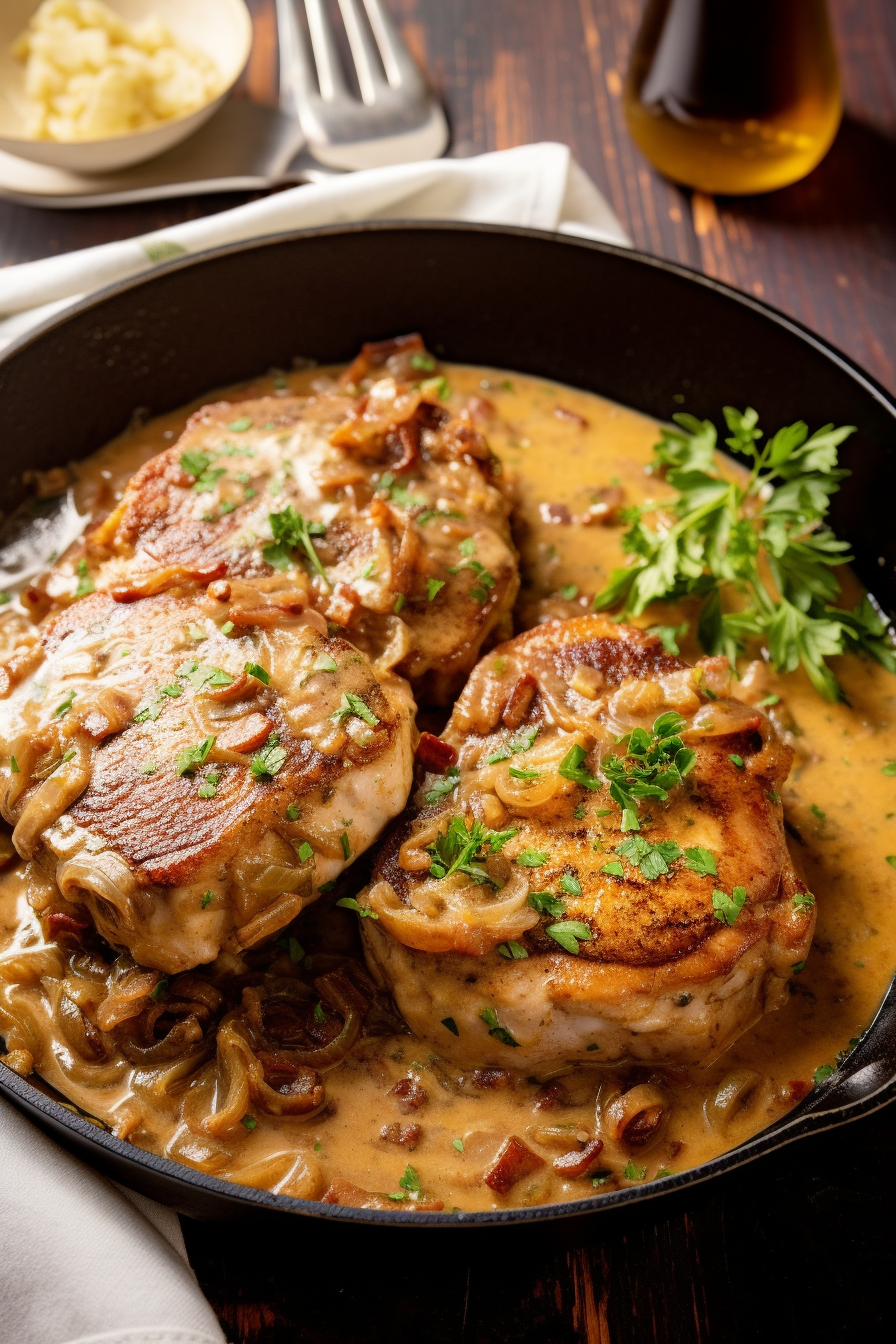 Storage Options:
Wrapped up your dinner and got some leftovers? Lucky you! Store these juicy chops in an airtight container and they'll play nice in your fridge for 3-4 days. For a longer gig, you can freeze them for up to 2 months. Just ensure the gravy and chops are in perfect harmony when reheating. Microwave or stovetop, both work. But remember, a gentle reheat keeps the tender loving going!
Variations and Substitutions:
Feeling experimental? Or maybe missing an ingredient? Fret not! Swap chicken for pork for a lighter variant. Not a bacon fan? (Firstly, who are you?!) But alright, smoked turkey or even mushrooms can come to the rescue. If dairy's not your darling, coconut milk or almond milk can make for a creamy twist. And for those wanting a bit more kick, a sprinkle of cayenne does wonders. The world's your culinary oyster, so play, swap, and relish!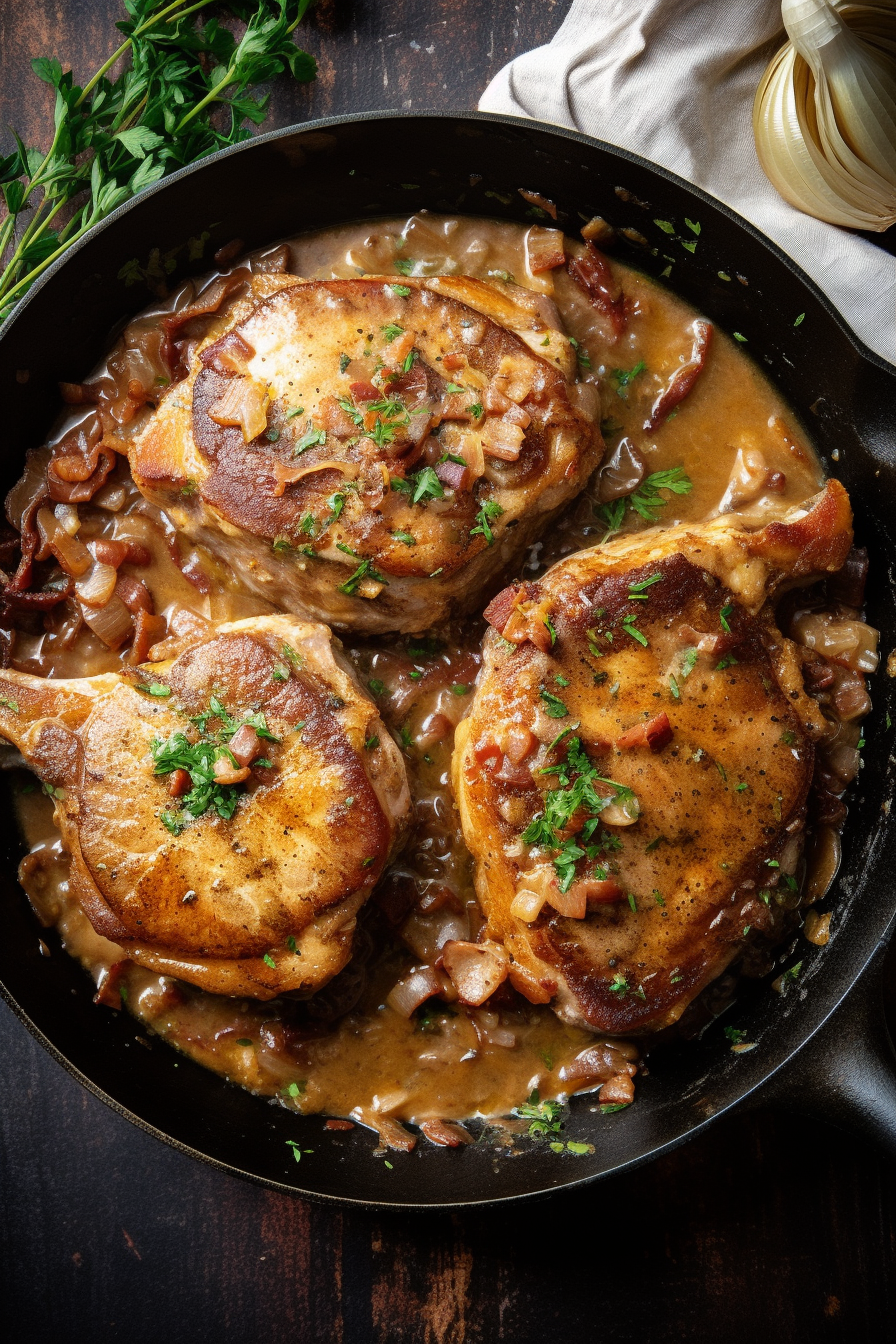 Well, that's the dish, the drama, and the dance. Here's to Southern culinary magic and tales from Granny Mae! 🍽️🍖🥂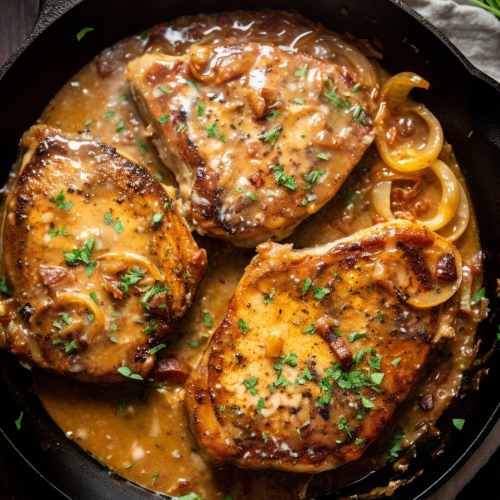 Smothered Pork Chops
Delight in Southern comfort with Smothered Pork Chops! Made with succulent boneless pork, aromatic seasonings, crispy bacon, and drenched in a rich, creamy gravy. Your dinner just got a hearty upgrade!
Print
Pin
Rate
Ingredients
1

lb

boneless pork chops

approximately ¾-1″ in thickness, at room temperature

½

cup

all-purpose flour

1½

tablespoons

seasoning salt

1

teaspoon

onion powder

1

teaspoon

paprika

½

teaspoon

garlic powder

½

teaspoon

dried thyme leaves

¼

teaspoon

ground black pepper

2

slices

of thick-cut bacon

diced

1

medium-sized onion

finely diced

1

tablespoon

of salted butter

this is optional but recommended

¾

cup

chicken broth

with low sodium content

¼

cup

heavy whipping cream
Instructions
Ensure that the pork chops are at room temperature before beginning the preparation process.

Preheat a sizeable skillet over a medium-high flame and add two tablespoons of cooking oil.

In a medium mixing bowl, combine the all-purpose flour with the seasoning salt, onion powder, paprika, garlic powder, dried thyme, and black pepper. Mix thoroughly.

Carefully coat each pork chop in the flour mixture, ensuring an even layer while shaking off any superfluous mixture. It's vital to reserve the remaining flour mixture for later use.

Place the pork chops into the preheated skillet. Cook each side for approximately 2-3 minutes or until each side achieves a golden hue. Once accomplished, transfer the pork chops to a separate dish, covering them to retain warmth.

Utilizing the same skillet, fry the diced bacon until it reaches a crispy consistency. Should you choose to use butter, incorporate it now, allowing it to melt completely.

Proceed to add the diced onions to the skillet, sautéing them until they attain a softened texture.

Gradually stir in approximately 2 tablespoons of the reserved flour mixture. Continue to cook for an additional 1-2 minutes, ensuring the mixture achieves a golden coloration and no remnants of white flour are visible. If the mixture appears too dry, consider adding more butter.

Slowly pour in the chicken broth followed by the heavy whipping cream. Stir continuously until the components are fully integrated.

Return the pork chops to the skillet, allowing them to simmer in the sauce. The sauce should thicken, and the pork chops should reach an internal temperature of approximately 145°F. This process should take around 4-5 minutes. Caution is advised against overcooking the pork chops to maintain their tenderness.

Once cooking is completed, the dish is ready for serving.