Dive into the delight of crispy-edged Cinnamon Roll Cookies, boasting a tender swirl of buttery, cinnamon-sugar bliss.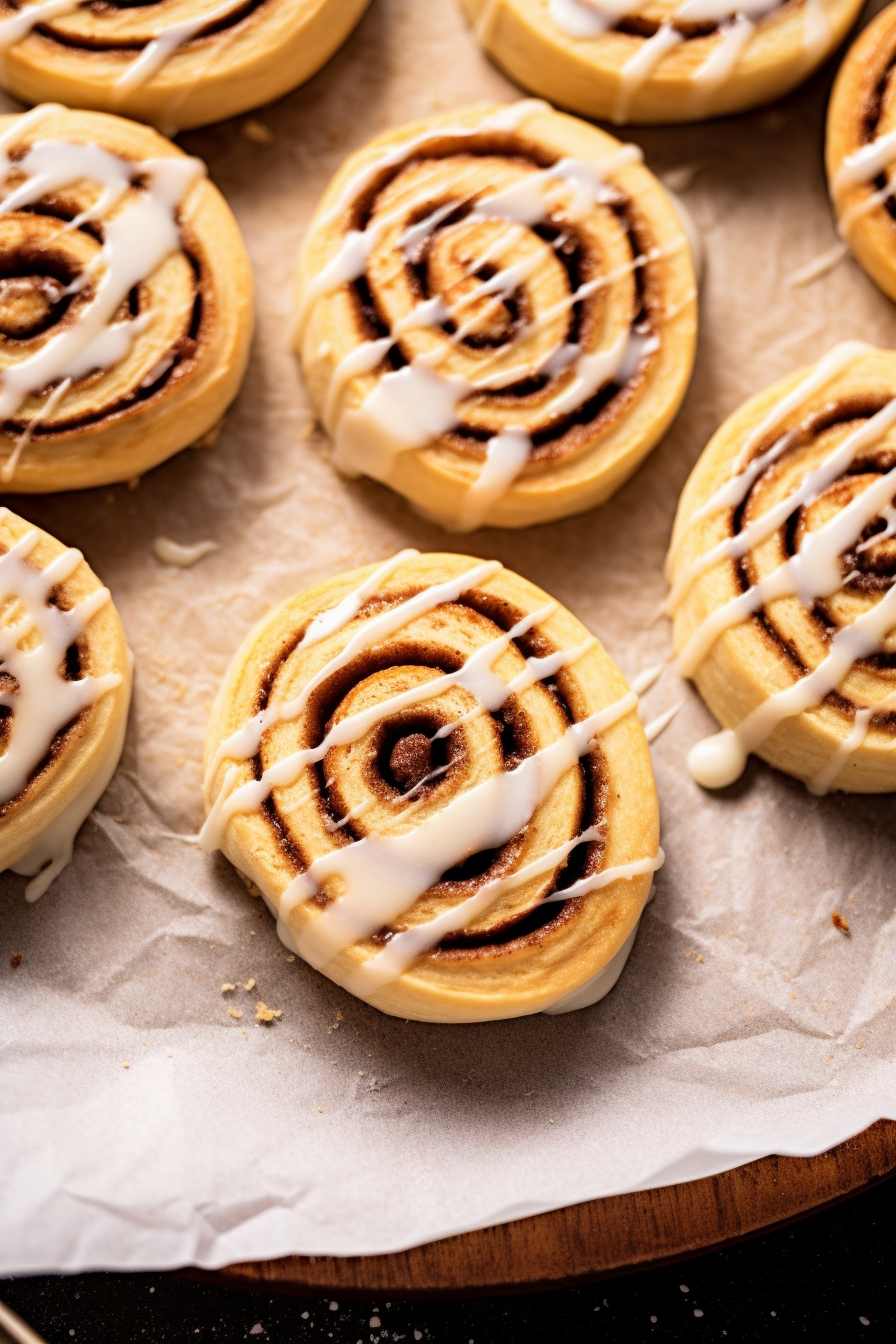 The first time I tasted a cinnamon roll, I was about 7. My grandma would make them from scratch, and I'd impatiently sit by the oven, taking in the intoxicating aroma of cinnamon and butter wafting through the air. Fast forward a few decades, and while I still crave those pillowy cinnamon rolls, adulting doesn't always allow the luxury of time. Enter: Cinnamon Roll Cookies! Inspired by my grandma's love and my impatience, these cookies capture the soul-soothing taste of a cinnamon roll but in a fun-sized, cookie format. Because let's be real, adulting is hard, but with these cookies? It gets a tad bit sweeter!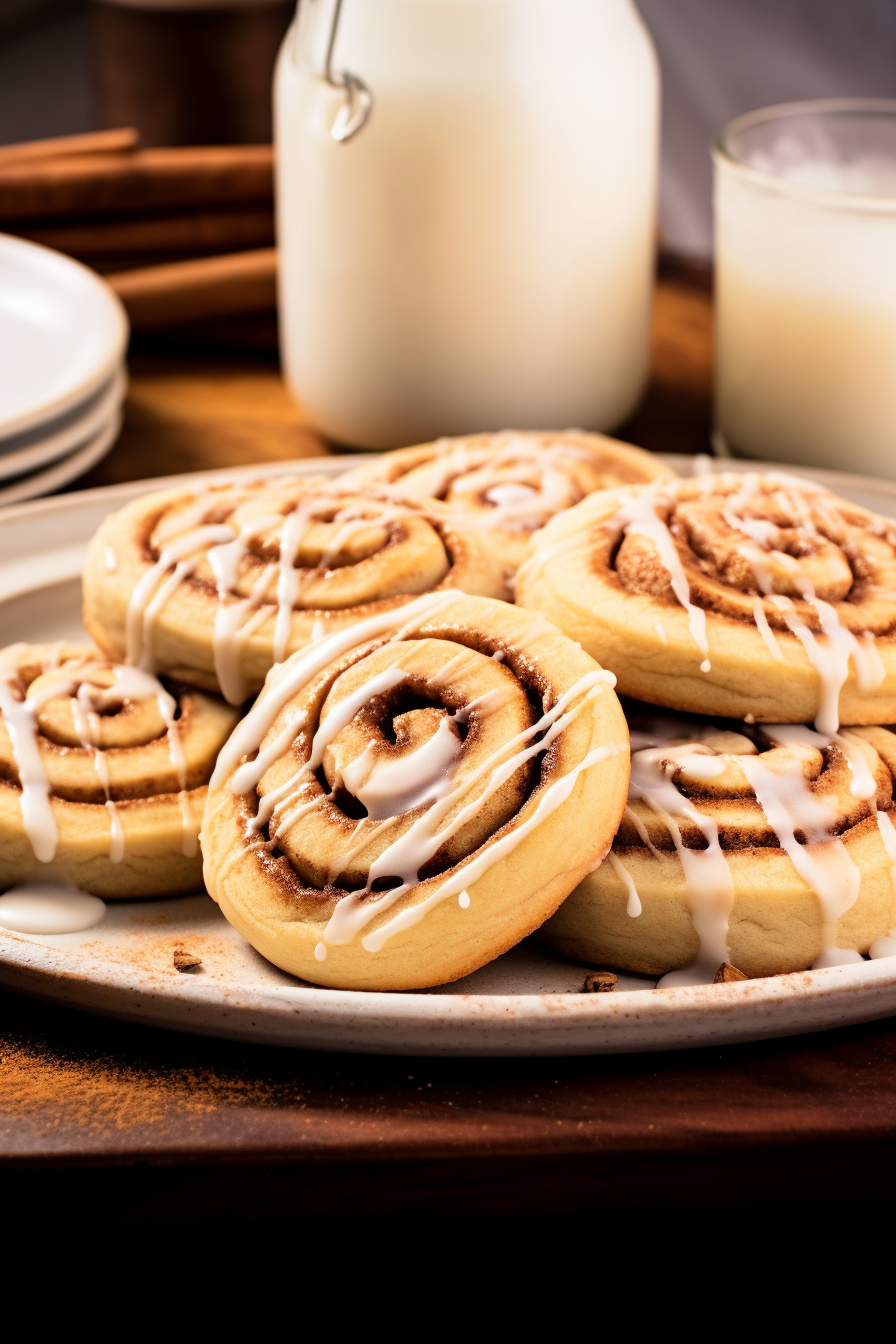 Our Cinnamon Roll Cookies are not just any ordinary cookies:
Nostalgia Packed: A bite-sized version of a classic cinnamon roll.
Versatility: Perfect for coffee pairings, school snacks, or that 3 PM work munch.
Texture Galore: Crispy edges with a soft, buttery cinnamon core.
Crowd Pleaser: From kids to adults, everyone's tastebuds will dance!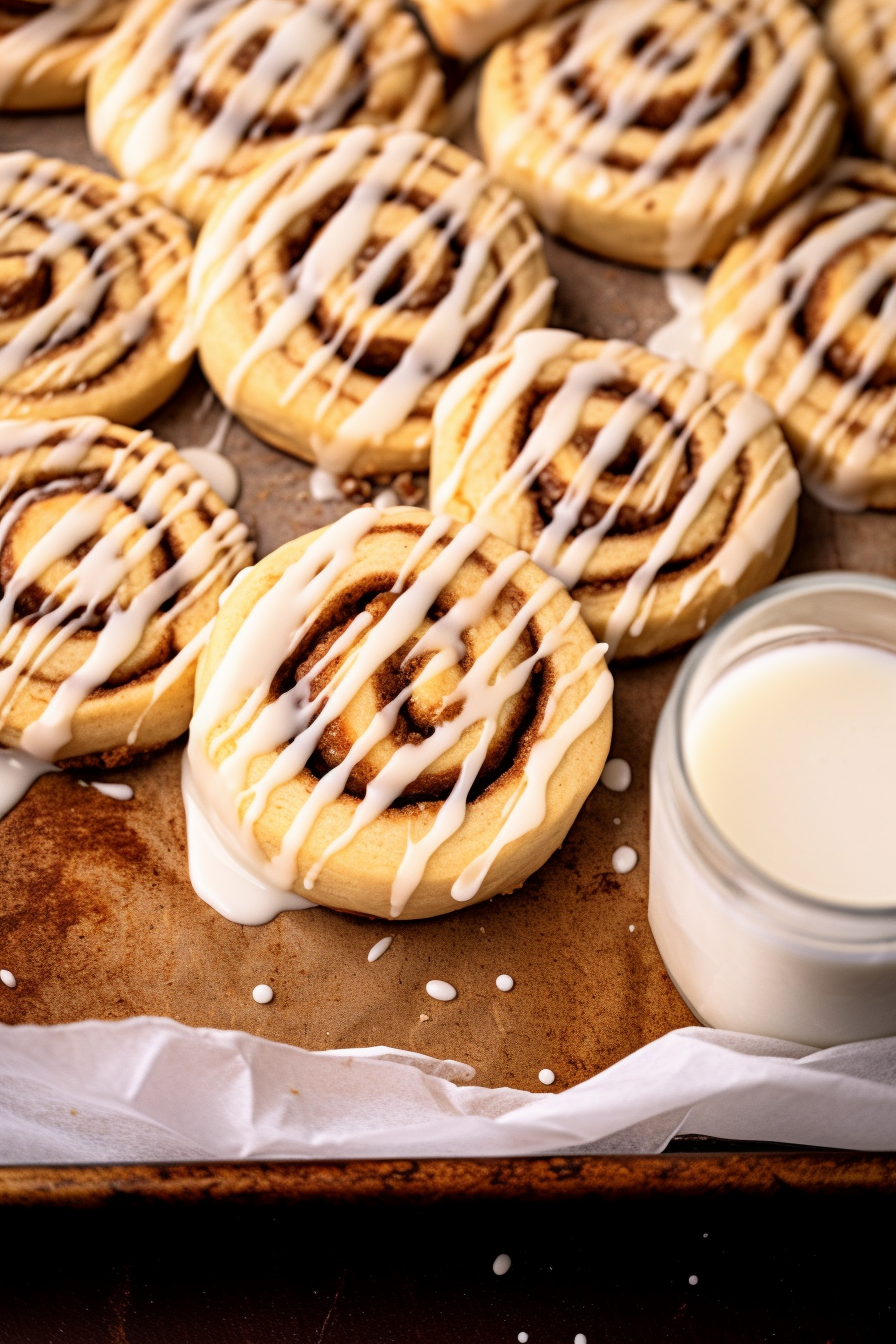 Ingredients For Cinnamon Roll Cookies:
All-purpose flour: Spooned and leveled to avoid compacting, which could make your cookies denser.
Butter: Using unsalted butter lets you control the salt in your recipe. Make sure it's softened, not melted – we're looking for creamy goodness here!
Granulated Sugar: Provides sweetness and aids in that crisp texture.
Egg: Room temperature, please! It ensures even distribution.
Pure Vanilla Extract: Because imitation vanilla is where dreams go to die.
FILLING: This buttery, sugary, cinnamony swirl is what dreams are made of.
ICING: The cherry on top! Or, more aptly, the drizzle on top.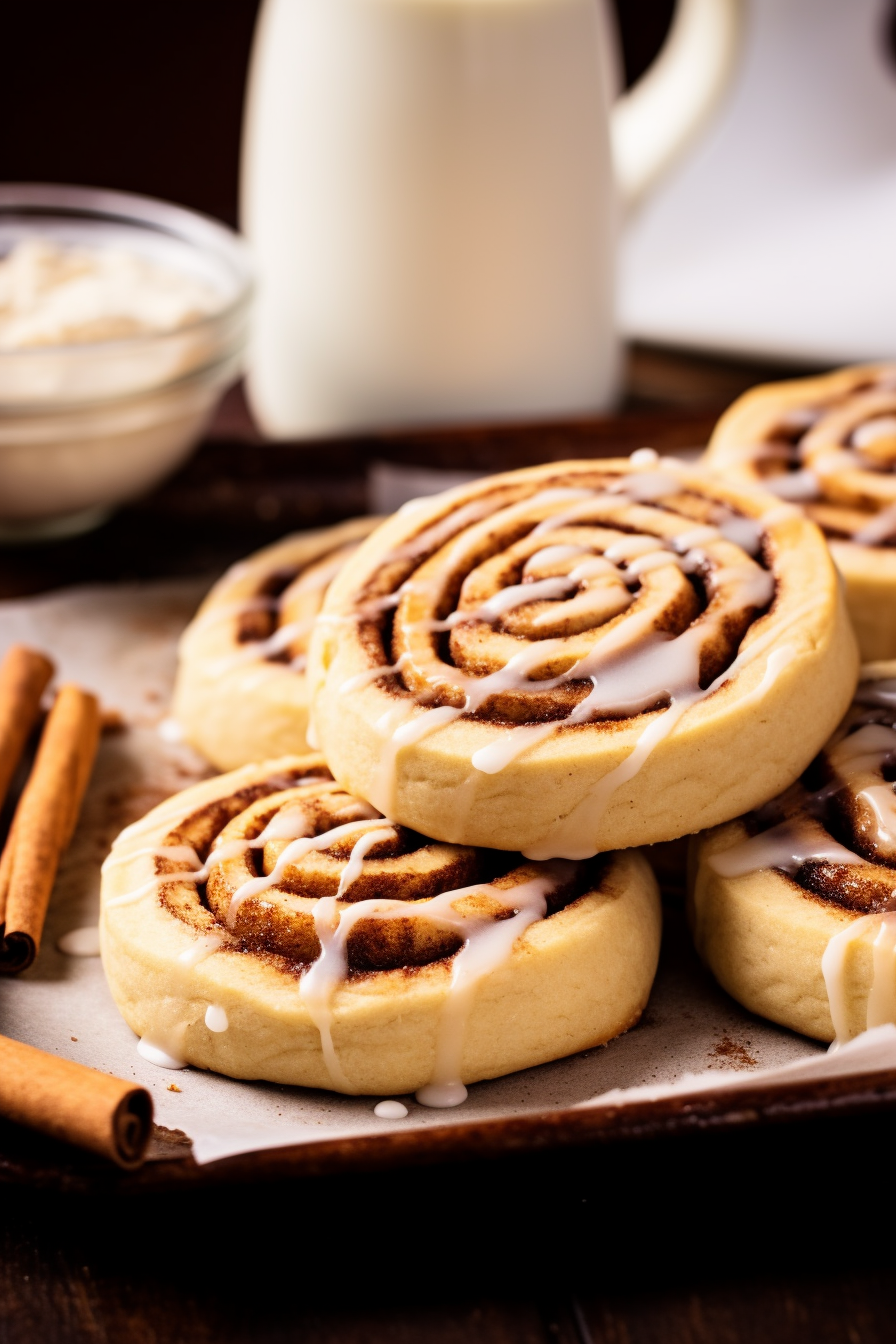 How To Make Cinnamon Roll Cookies:
Dough Preparation: Start by whisking your dry ingredients (flour, baking powder, salt) in a medium bowl. On the side, take a large bowl and mix butter and sugar till it's dreamily creamy. This is where the magic begins. Beat in that room-temp egg and the vanilla till they're one big happy family. Now, introduce your dry ingredients to this mix, gently. Your dough might be soft; if it's acting too soft, don't hesitate to add an extra tablespoon of flour.
Shaping & Filling: Divide your dough into two. Roll each part into a rectangle, think about the size of a small tablet. Brush them with that heavenly melted butter, and sprinkle your cinnamon-sugar mix as if you're sprinkling love. Now, slowly roll this into a log. Yes, like a mini carpet roll. Wrap these in some plastic wrap, and let them chill. We're talking at least 2 hours. The wait's worth it!
Baking Time!: Preheat your oven, slice your chilled logs into neat circles, lay them out on your baking sheet and let them tan in your oven for about 10-11 minutes. You're looking for slightly golden edges.
Icing Drill: Whisk together all the icing ingredients till smooth. Now, channel your inner artist and drizzle over the cookies. The more, the merrier!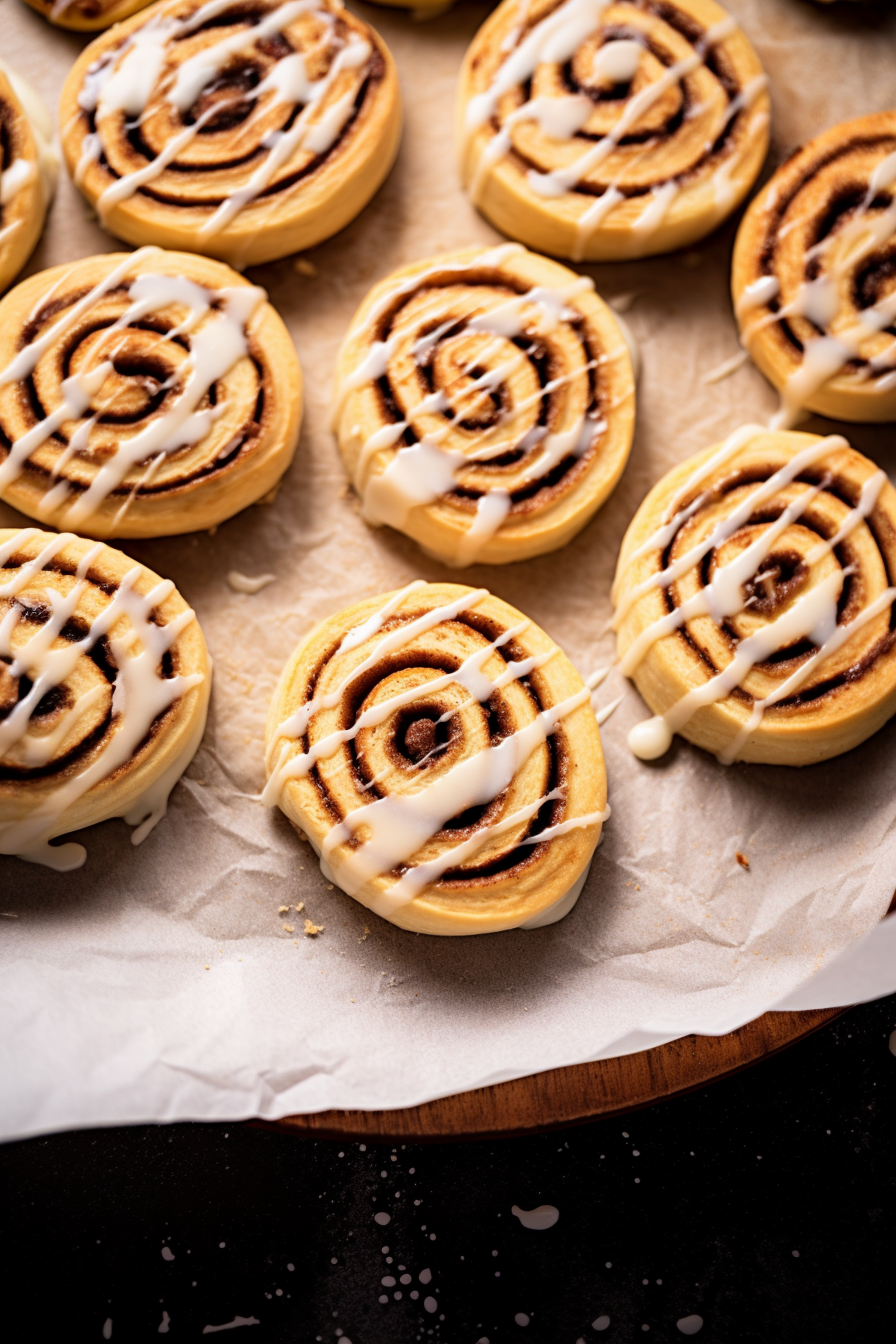 Storing Leftovers:
Once they've cooled down (if you can resist devouring them instantly), store them in an airtight container. They'll stay best buddies with freshness for up to 5 days at room temperature. If you're thinking long-term (which might be challenging given their yum factor), you can freeze the rolled dough logs for up to 3 months!
Variations & Substitutions:
Spice it up! Feel free to add nutmeg or cardamom to your filling for an extra layer of flavor.
Dietary Needs? You can use gluten-free flour or coconut sugar for a slightly healthier twist.
Vegan Delight: Swap regular butter for vegan butter and use a flax egg. For icing, almond or oat milk works wonders.
Chocolate Drizzle: Instead of traditional icing, melt some chocolate and drizzle over for a choco-cinnamon fusion!
Remember, just like life, recipes can be tweaked to taste. So, roll with it (pun totally intended)! 🍪🌀😉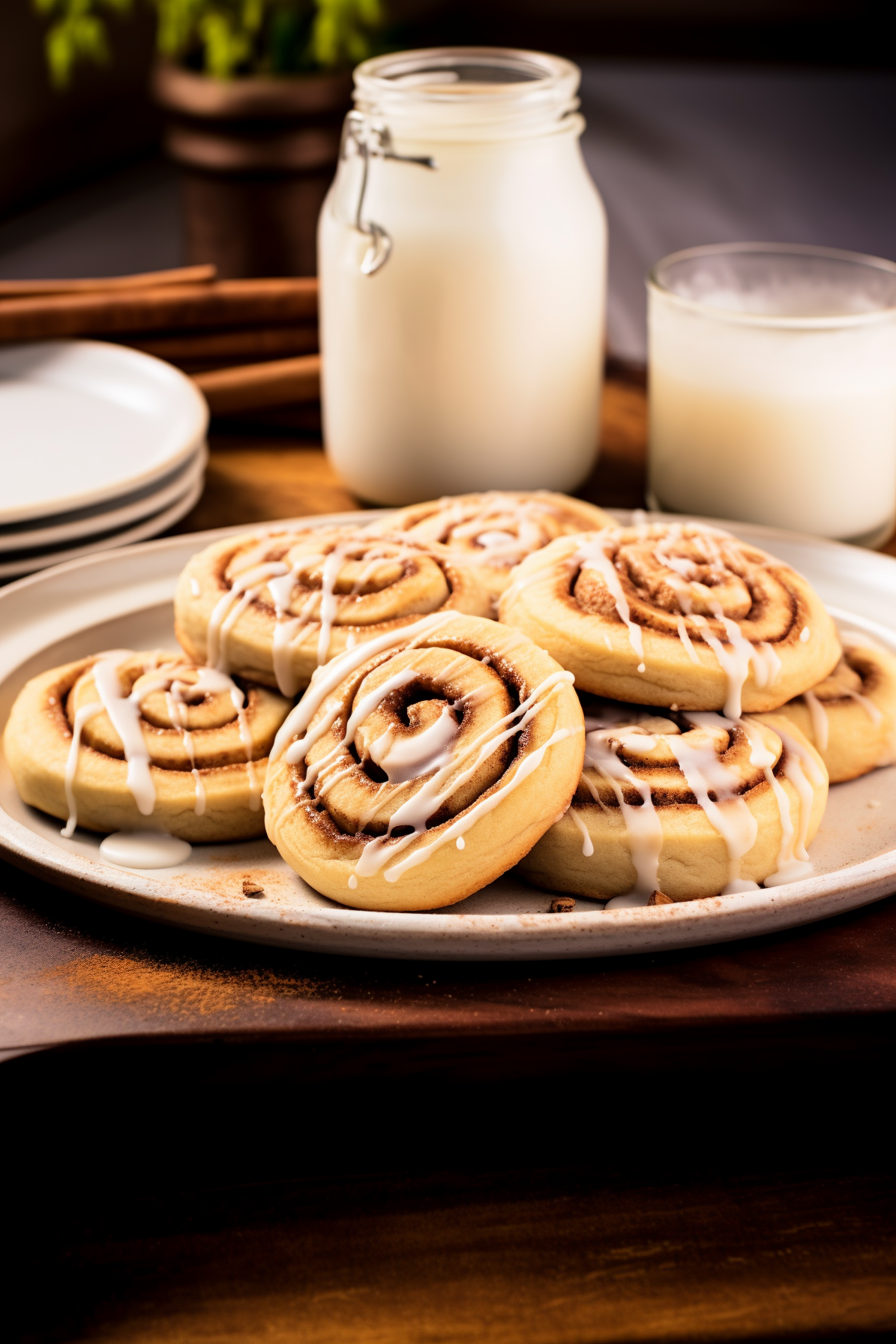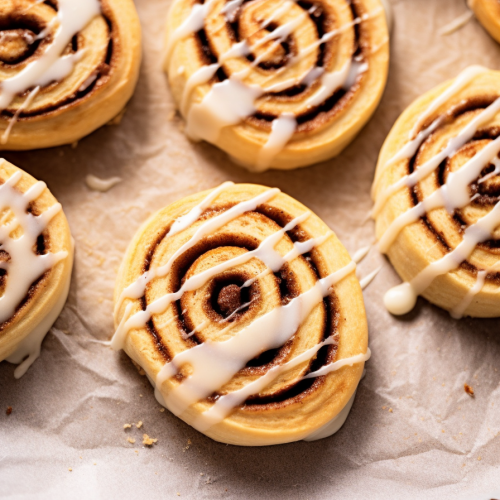 Cinnamon Roll Cookies
Dive into the delight of crispy-edged Cinnamon Roll Cookies, boasting a tender swirl of buttery, cinnamon-sugar bliss.
Print
Pin
Rate
Ingredients
2

and 1/4 cups

281g of all-purpose flour, measured with precision, plus additional as required for the rolling process and work surface

1/2

teaspoon

of baking powder

1/4

teaspoon

of salt

3/4

cup

1.5 sticks or 170g of unsalted butter, allowed to soften at ambient temperature

3/4

cup

150g of granulated sugar

1

large egg

maintained at room temperature

2

teaspoons

of pure vanilla extract
For the Filling:
2

Tablespoons

30g of butter, melted and cooled to a mild temperature

1/4

cup

50g of granulated sugar

1

Tablespoon

of finely ground cinnamon
For the Icing:
1

cup

120g of confectioners' sugar

3

Tablespoons

45ml of milk

1/2

teaspoon

of pure vanilla extract
Instructions
Dough Preparation:

In a medium-sized mixing bowl, amalgamate the flour, baking powder, and salt.

Using an electric mixer with a paddle attachment in a large bowl, cream together the butter and sugar until achieving a smooth consistency. This should take approximately 2 minutes.

Incorporate the egg and vanilla into the butter mixture, ensuring a homogenous blend. Should there be any remnants on the bowl's sides or base, scrape and mix once again for uniformity.

Gradually introduce the earlier prepared dry ingredients into the wet mixture. Combine on a low setting until fully integrated. If the dough appears excessively pliable and sticky, an additional tablespoon of flour may be incorporated.

Shaping and Filling:

Equally segregate the dough into two portions. Each portion should be rolled out into a rectangle, roughly measuring 9×7 inches, on a floured surface, ensuring a thickness of about 1/4 inch. Evenly disseminate 1 tablespoon of the melted butter on each rectangle. Subsequently, distribute the combined granulated sugar and cinnamon over the butter layer.

With precision and care, roll each rectangle into a tight log measuring 9 inches in length. If any cracks appear, gently smoothen them. It is advisable to refrigerate the logs for a minimum of 2 hours to ensure firmness. If preferred, the logs may also be stored in the freezer for future use, for up to 3 months.

Preheat the oven to a temperature of 350°F (177°C) and line a baking sheet with either parchment paper or a silicone mat for optimal results.

Remove the logs from the refrigerator and slice them into half-inch thick rounds. Arrange the rounds on the prepared baking sheet, maintaining a distance of approximately 2 inches between each.

Bake the cookies for a span of 10-11 minutes, or until the sides exhibit a light brown hue. Post baking, permit the cookies to cool on the sheet for 5 minutes, and thereafter, transfer them to a wire rack for complete cooling.
Icing Preparation:
Whisk the confectioners' sugar, milk, and vanilla extract together until achieving a smooth icing. Once the cookies are cooled, drizzle them with this icing.