Dive into these tempting Taco Ranch Bites! Made with juicy ground beef, zesty taco seasoning, fiery diced tomatoes & green chiles, rich cheddar cheese, creamy ranch dressing, all cradled in delicate phyllo tart shells. A flavor fiesta in every bite!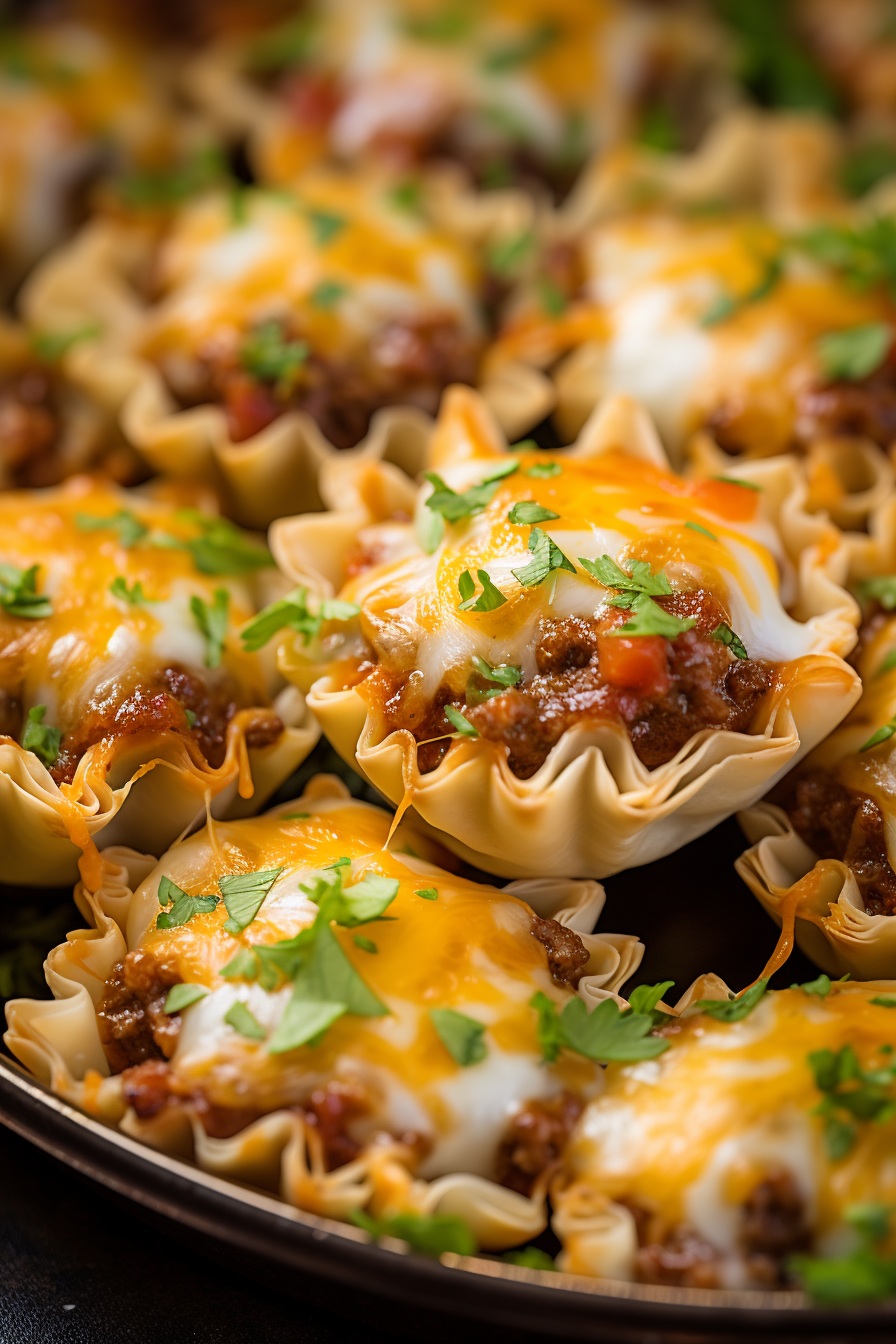 Picture this: a warm summer evening with friends, laughters filling the air, and there I was, holding a plate of what seemed to be the 100th appetizer of the evening. But these weren't just any appetizers. They were my Taco Ranch Bites. A recipe born out of a mishap when I accidentally poured ranch dressing into my taco mix instead of sour cream! But, sometimes accidents are simply serendipities in disguise. These bites were an instant hit! From backyard BBQs to potlucks, tailgating events to intimate gatherings, I've never come home with even a single leftover. These tiny delights have a way of capturing hearts. As my grandmother always said, "Sometimes the tastiest surprises come from the funniest mistakes."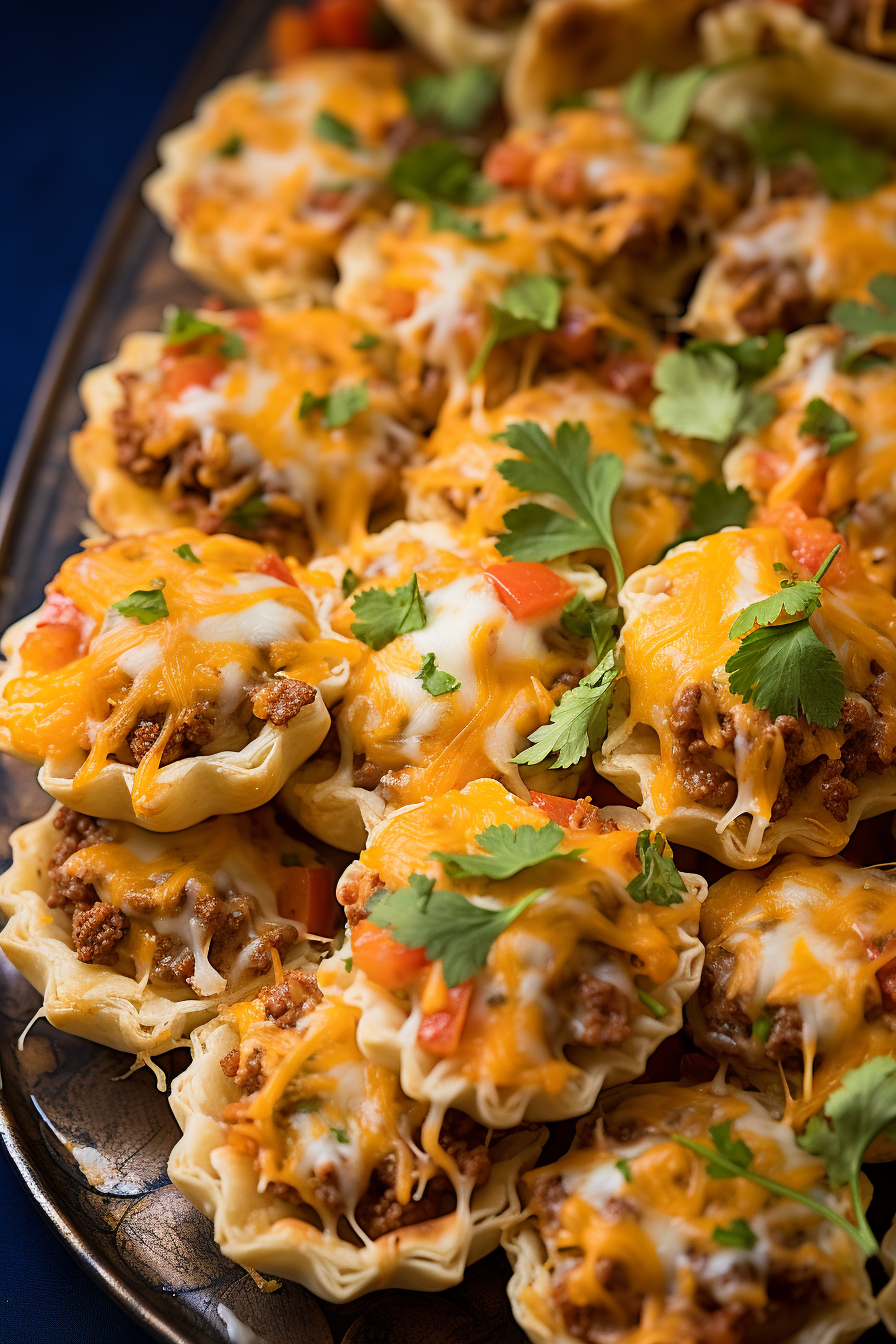 Why You'll Love Taco Ranch Bites:
Simple Ingredients: Just six, count 'em, SIX ingredients.
Convenience: Make 'em ahead of time and freeze. Perfect for last-minute get-togethers.
Versatile: Whether it's a high-class soirée or a game night, they fit right in!
Crowd Pleaser: Cheesy, meaty, and with a hint of zest. These bad boys have a 100% "WOW" rate.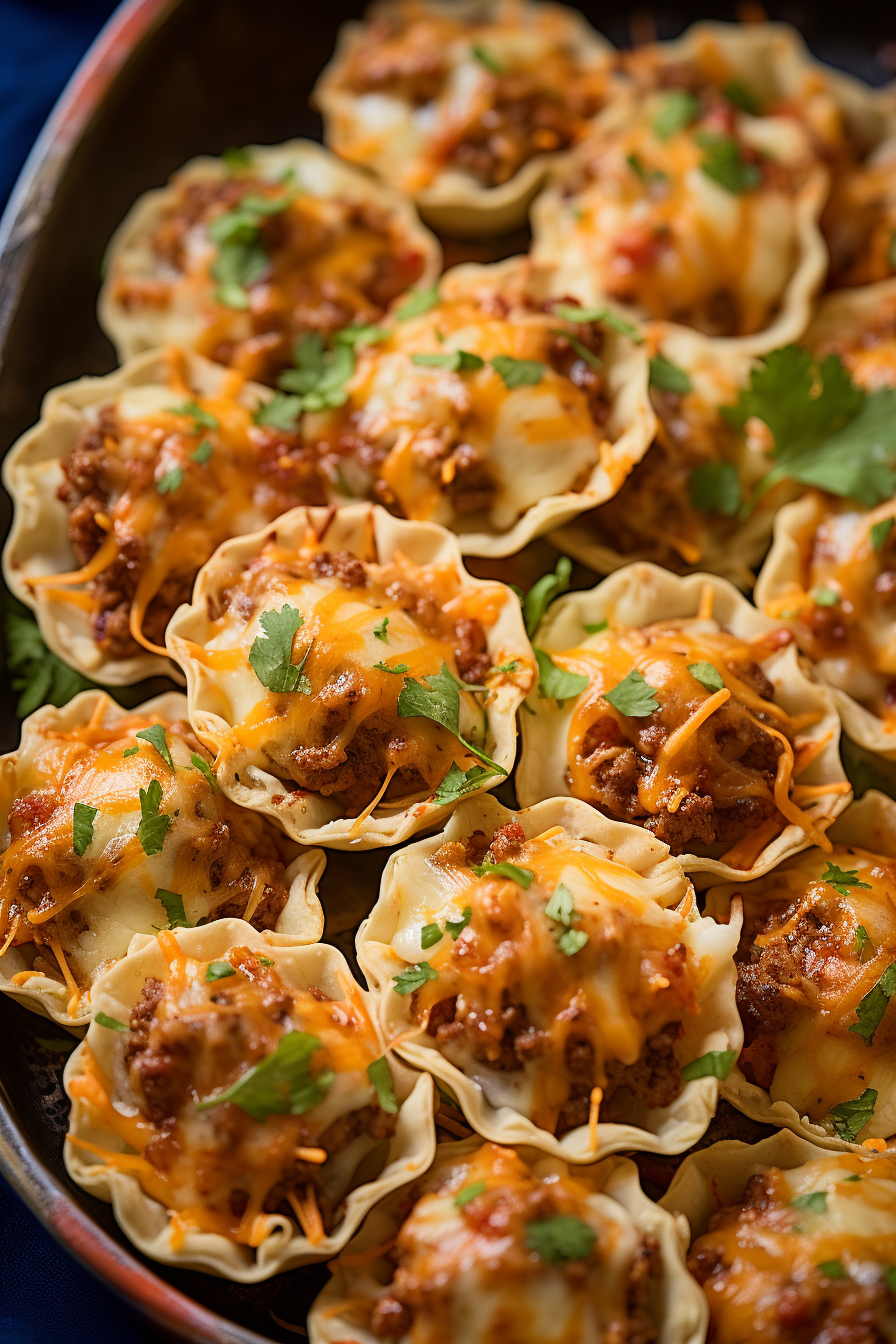 Ingredient Notes For Taco Ranch Bites:
Ground Beef: Opt for lean meat to ensure less fat.
Taco Seasoning: Store-bought is fine, but if you have a homemade blend, even better!
Diced Tomatoes and Green Chiles: These come canned, but if you're feeling fancy, go fresh.
Cheddar Cheese: Use freshly shredded for the best melt.
Ranch Dressing: The bottled variety works wonders, but again, homemade? Stellar!
Phyllo Tart Shells: Find these in the frozen section, but hey, if you want to go all Martha Stewart and make 'em from scratch, you have my blessing.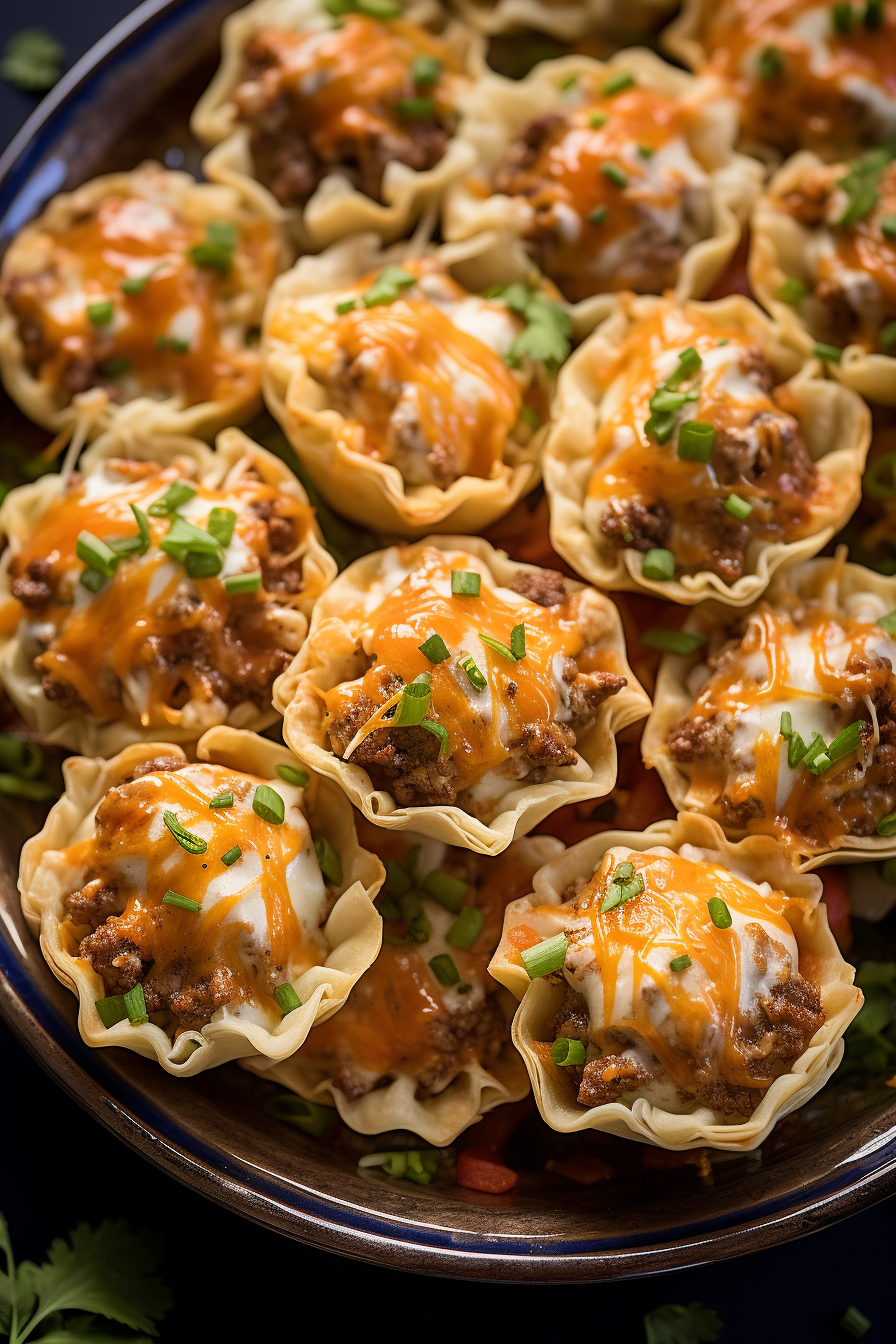 Clear, Easy-to-Follow Steps To Make Taco Ranch Bites:
Preheat That Oven: 350ºF is the magic number, my friends.
Cooking the Beef: In a skillet, cook that beef till it forgets it was ever pink. Then, give it a little drain spa day to get rid of excess fat.
Flavor Town: Sprinkle in the taco seasoning. Add those saucy tomatoes and green chiles. Stir it up and let it simmer for 5 minutes. Let it rest afterward; even taco mix deserves a break.
Mixy Mix: Grab a big bowl and unite the cheddar cheese, ranch dressing, and your taco meat. It's a flavorful union.
Fill 'Em Up: Carefully spoon that delicious mixture into your phyllo tart shells. If you're feeling like a snack-time prepper, freeze them now and thank yourself later.
Baking Time: Pop them into the oven and bake for 8-10 minutes. If they're coming out of your freezer spa, add an extra 2-3 minutes to make sure they're piping hot!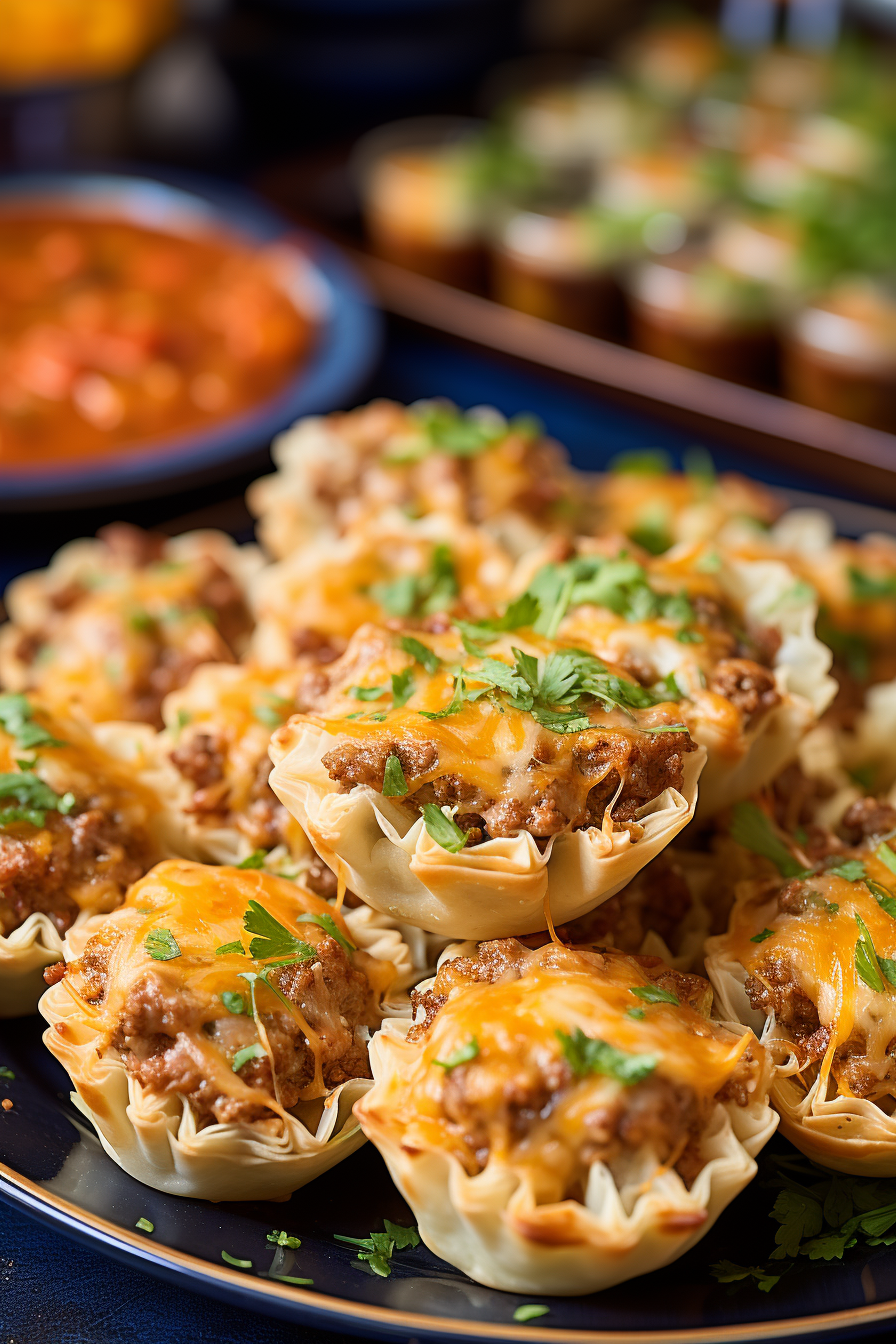 Storage Options:
Once cooled, these bad boys can be stored in an airtight container in the fridge for 3-4 days. Or, freeze the unbaked ones by placing them on a baking sheet in the freezer until frozen, then transfer to a zip-top bag. They'll keep for up to 3 months. Just remember to bake a bit longer when you're ready to serve.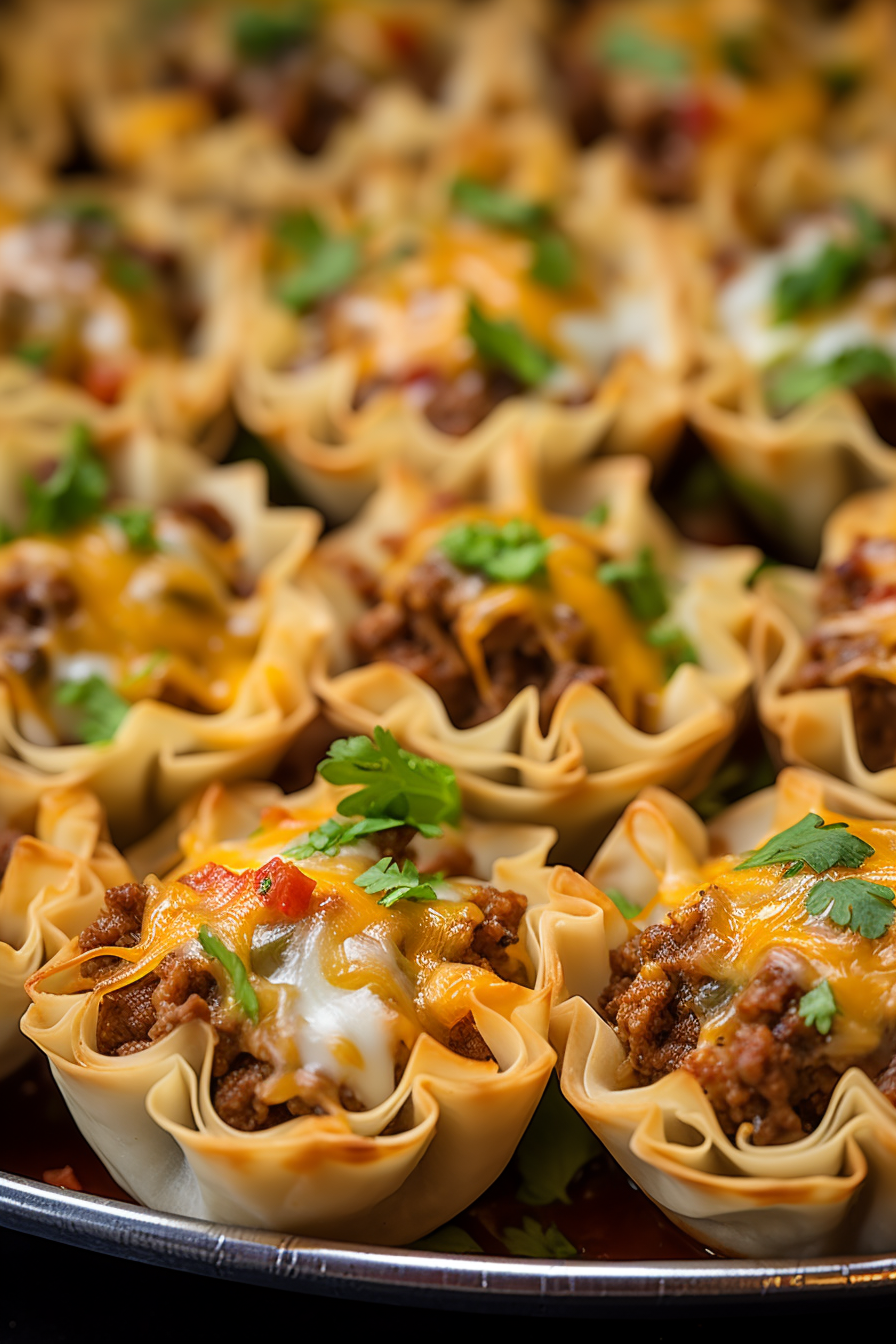 Variations & Substitutions:
Meat Swap: Ground turkey or chicken can be a lighter choice.
Veggie Delight: Skip meat, and opt for black beans, corn, and bell peppers for a vegetarian version.
Cheese Switcheroo: Monterey Jack or Pepper Jack for a spicier kick.
Dressing Swap: Try using a spicy ranch or a cilantro-lime dressing for a different tang.
Shell Choices: Mini pie crusts or wonton wrappers can replace phyllo tart shells if you're feeling experimental.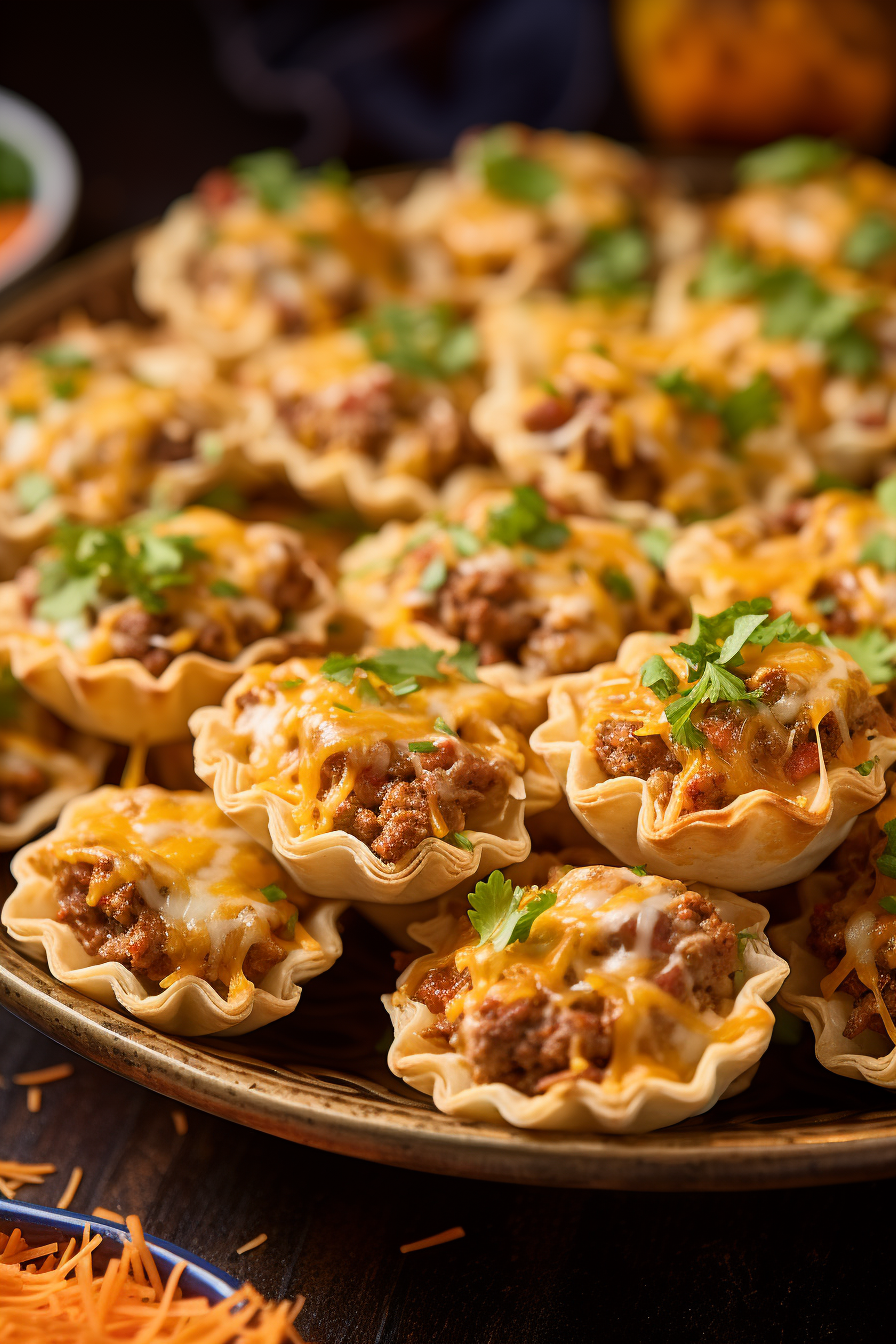 There you have it! Taco Ranch Bites: where delicious meets convenient. Happy munching! 😉🌮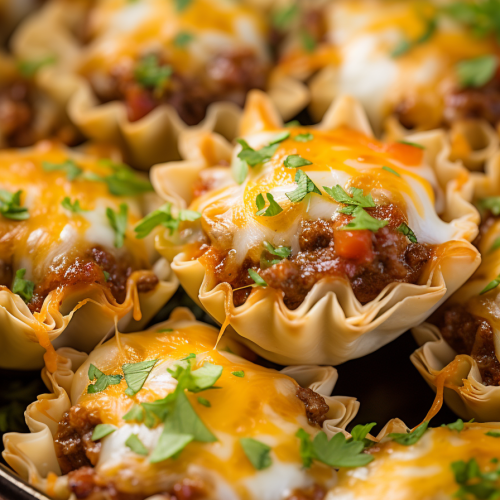 Taco Ranch Bites
Dive into these tempting Taco Ranch Bites! Made with juicy ground beef, zesty taco seasoning, fiery diced tomatoes & green chiles, rich cheddar cheese, creamy ranch dressing, all cradled in delicate phyllo tart shells. A flavor fiesta in every bite!
Print
Pin
Rate
Ingredients
1

lb

ground beef

preferably lean

1

1-oz package of taco seasoning, of a premium brand

1

10-oz can of diced tomatoes and green chiles, undrained

2

cups

of shredded cheddar cheese

preferably aged for richer flavor

1

8-oz bottle of Ranch dressing, premium quality

5

sets of

15-count frozen phyllo tart shells
Instructions
Oven Preparation: Begin by preheating the oven to a temperature of 350ºF.

Meat Preparation: In a refined skillet, cook the ground beef until it has fully transitioned from its pink hue. Proceed to drain any residual fat.

Seasoning Addition: Incorporate the taco seasoning to the meat. Subsequently, add the can of diced tomatoes and green chiles. Mix thoroughly and allow to cook for an additional 5 minutes. Once complete, remove from heat source.

Mixture Preparation: In a separate mixing bowl, combine the shredded cheddar cheese with the Ranch dressing. Once blended, integrate the previously cooked taco meat.

Assembly: With meticulous care, spoon the finalized taco meat mixture into the frozen phyllo tart shells. Should you desire to serve at a later time, this would be the appropriate juncture to freeze them.

Baking: Place the assembled bites into the preheated oven and bake for a duration of 8-10 minutes. If baking from a frozen state, it is advisable to extend the baking time by an additional 2-3 minutes to ensure thorough heating.