Unleash the rich flavors of russet potatoes, heavy cream, and peas, all brought together with aromatic onions and dill in our unforgettable Creamed Peas and Potatoes recipe. The ultimate comfort food awaits!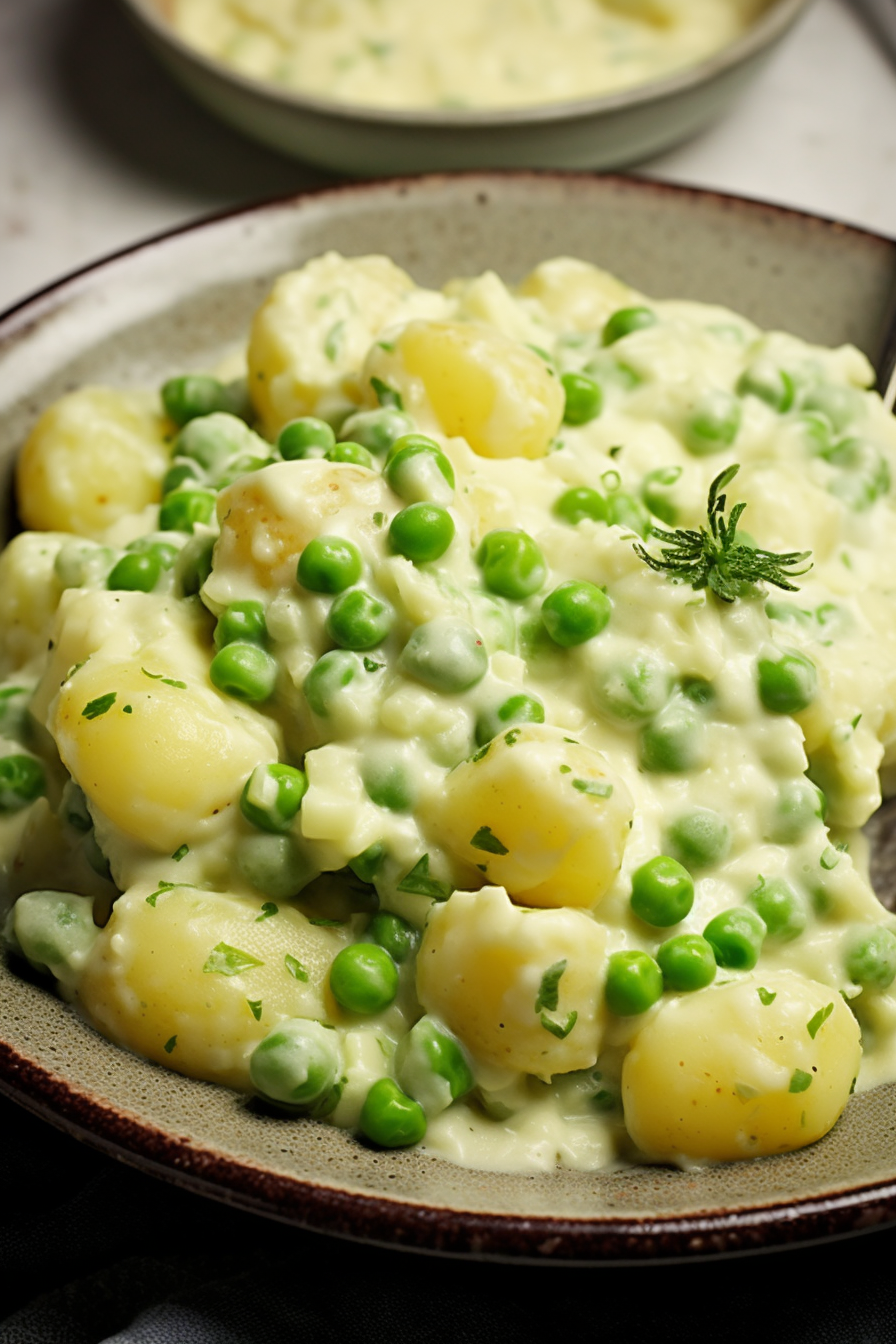 Oh, where do I begin? You see, every time I taste this divine concoction of Creamed Peas and Potatoes, I'm instantly transported back to my grandmother's rustic kitchen. It's the mid-'90s, and while most kids were trading Pokémon cards, I was excitedly waiting by the kitchen counter, hoping to snag a taste of what granny was whipping up. This wasn't just any dish—it was our family's beloved Creamed Peas and Potatoes, a recipe that had been passed down through generations. As a kid, I never quite understood the obsession adults had with this dish until I took my first bite. That creaminess, the buttery undertones, the surprise kick of dill – it was like a culinary ballet in my mouth. Fast forward to today, and I've added my own little twists to make it even better (if that's possible). So, gather round, dear readers, and let me share this treasured family heirloom with you. Trust me, it's a trip down memory lane you won't regret.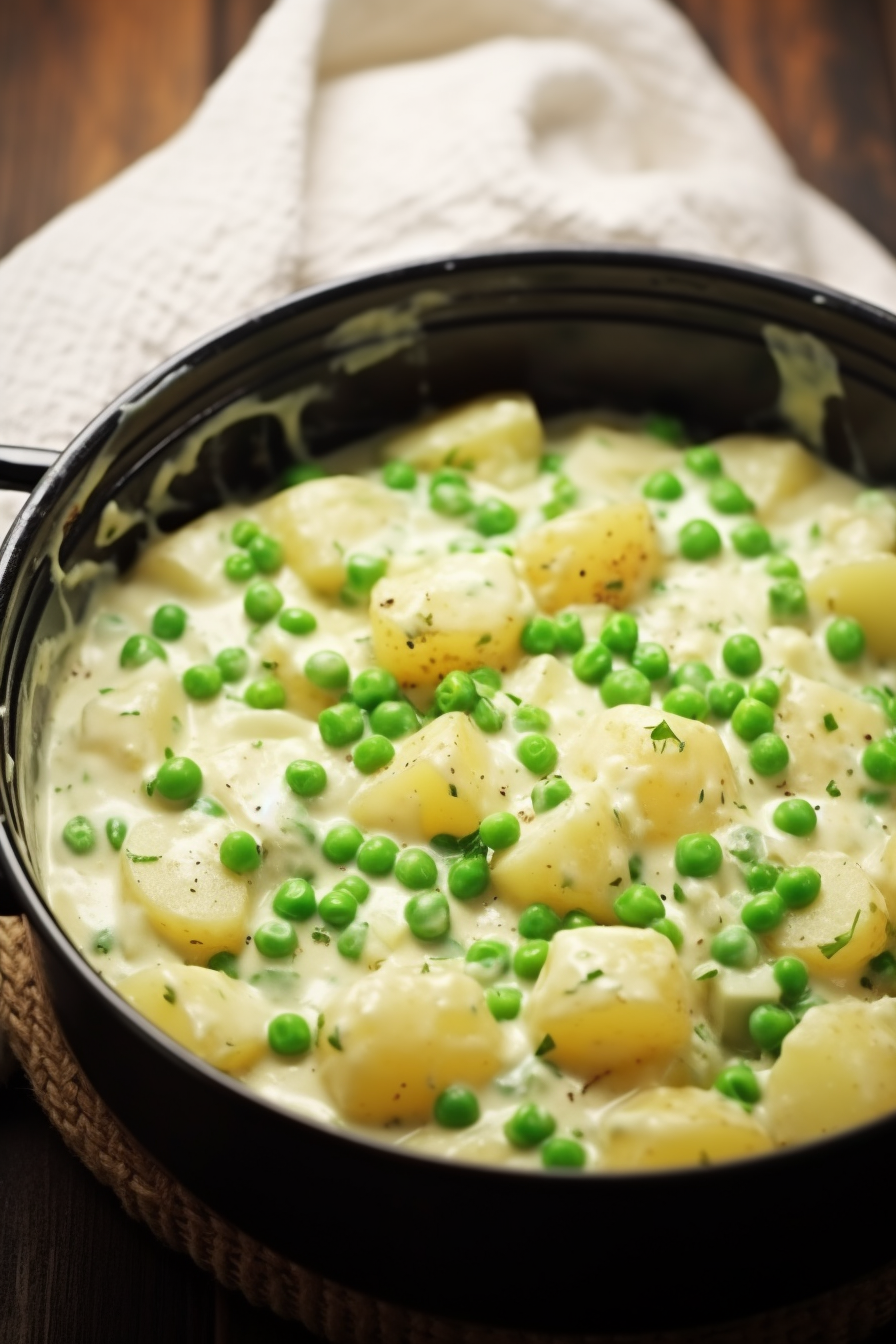 Why You'll Love Creamed Peas and Potatoes:
Now, let's spill the beans (or should I say peas?) on why this Creamed Peas and Potatoes dish stands out in a sea of comfort foods:
Tradition Meets Innovation: We're talking about a recipe that's been tried and tested through generations, with a dash of modern zing!
Quick & Easy: In just 45 minutes, you'll have a dish that looks and tastes like you've slaved over it for hours. But shhh, that'll be our little secret.
Versatility: Perfect as a holiday side, or the star of a weeknight dinner, this dish is a crowd-pleaser in every setting.
Flavor Symphony: The melding of the creamy texture, the sweetness of peas, and the earthiness of dill create a harmonious flavor explosion.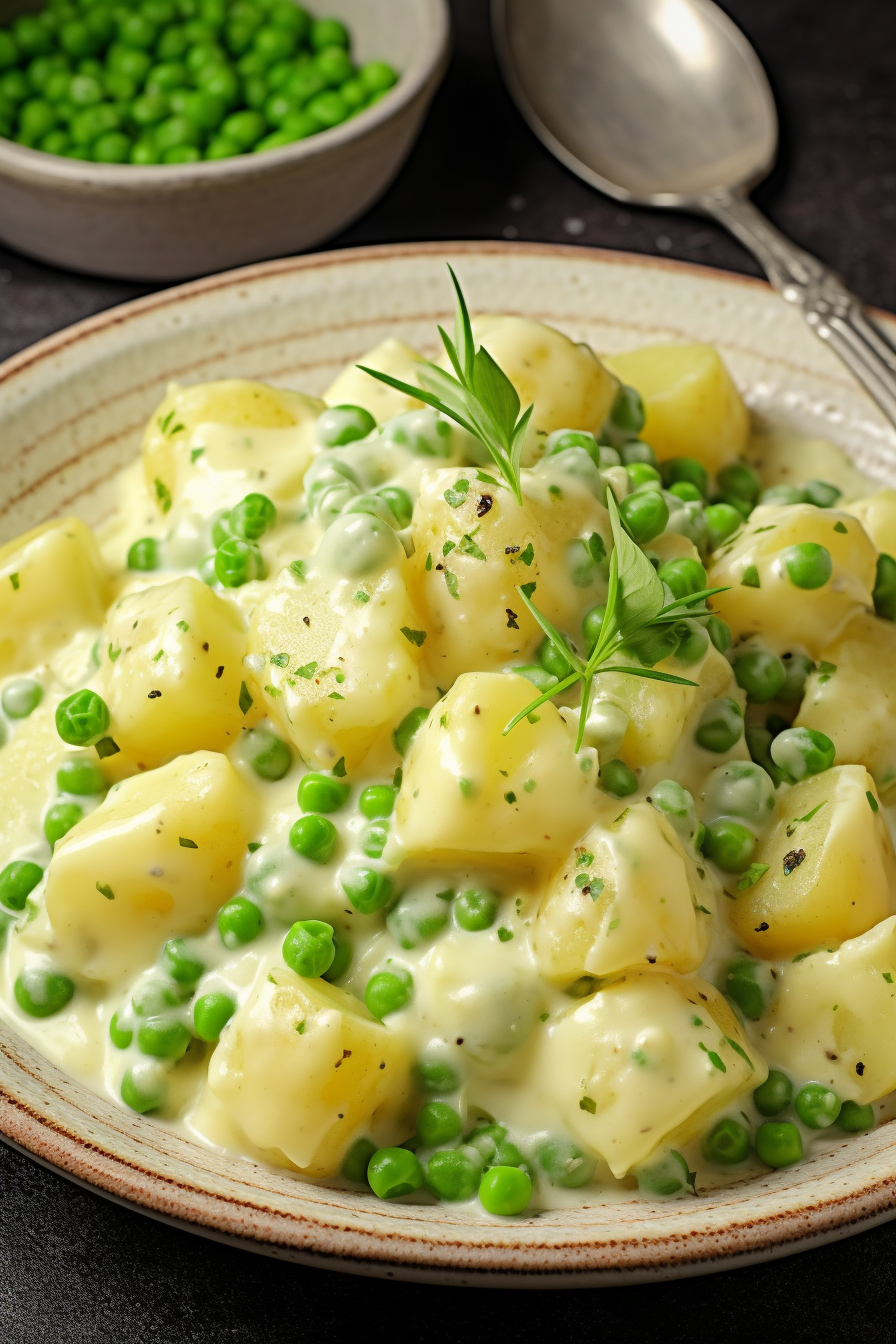 Ingredients Notes For Creamed Peas and Potatoes:
Russet Potatoes: They have a higher starch content, making the dish creamier and dreamier. Make sure they're well-cooked to get that perfect texture.
Heavy Cream: This ingredient elevates the dish to lusciousness. Trust me, your taste buds will thank you.
Frozen Peas: A time-saver, and they bring in that pop of color and sweetness. If you can, opt for organic.
Onion & Dill: Don't skimp on these! They add that extra depth and zesty punch to the dish.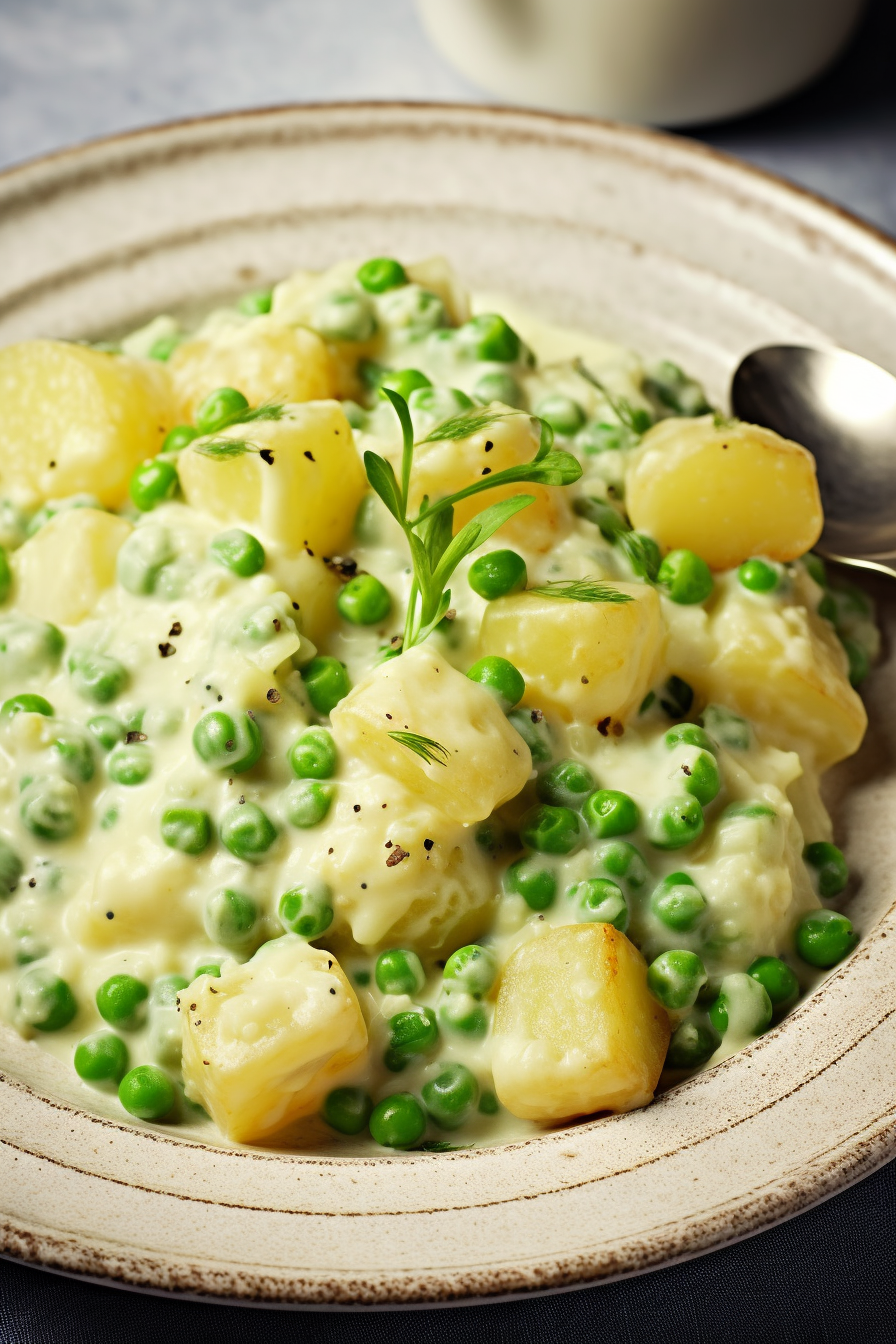 Detailed Recipe Steps:
Alright, my budding chefs, strap on your aprons and let's dive in:
The Potato Dance: Start by cubing your russet potatoes. You're aiming for bite-sized perfection. Boil them for about 12-15 minutes. You want them tender, but not mushy. At the 12-minute mark, add in the peas. They'll need about 3-5 minutes to get just right. Once done, drain and set aside, maybe whisper sweet words to them for added taste.
The Onion Sauté: Melt that butter in a saucepan like it's hot. Add your onions and let them dance in the pan until they're translucent and smelling divine.
Cream Dream: Now, pour in that heavy cream. Bring it to a slight boil, watch as it thickens, and then, with a dramatic flourish, turn off the heat.
Mix it Up: Time to unite the potatoes and peas with the creamy concoction. Gently stir, season with the dill, salt, and pepper. Voila! You've just crafted culinary magic.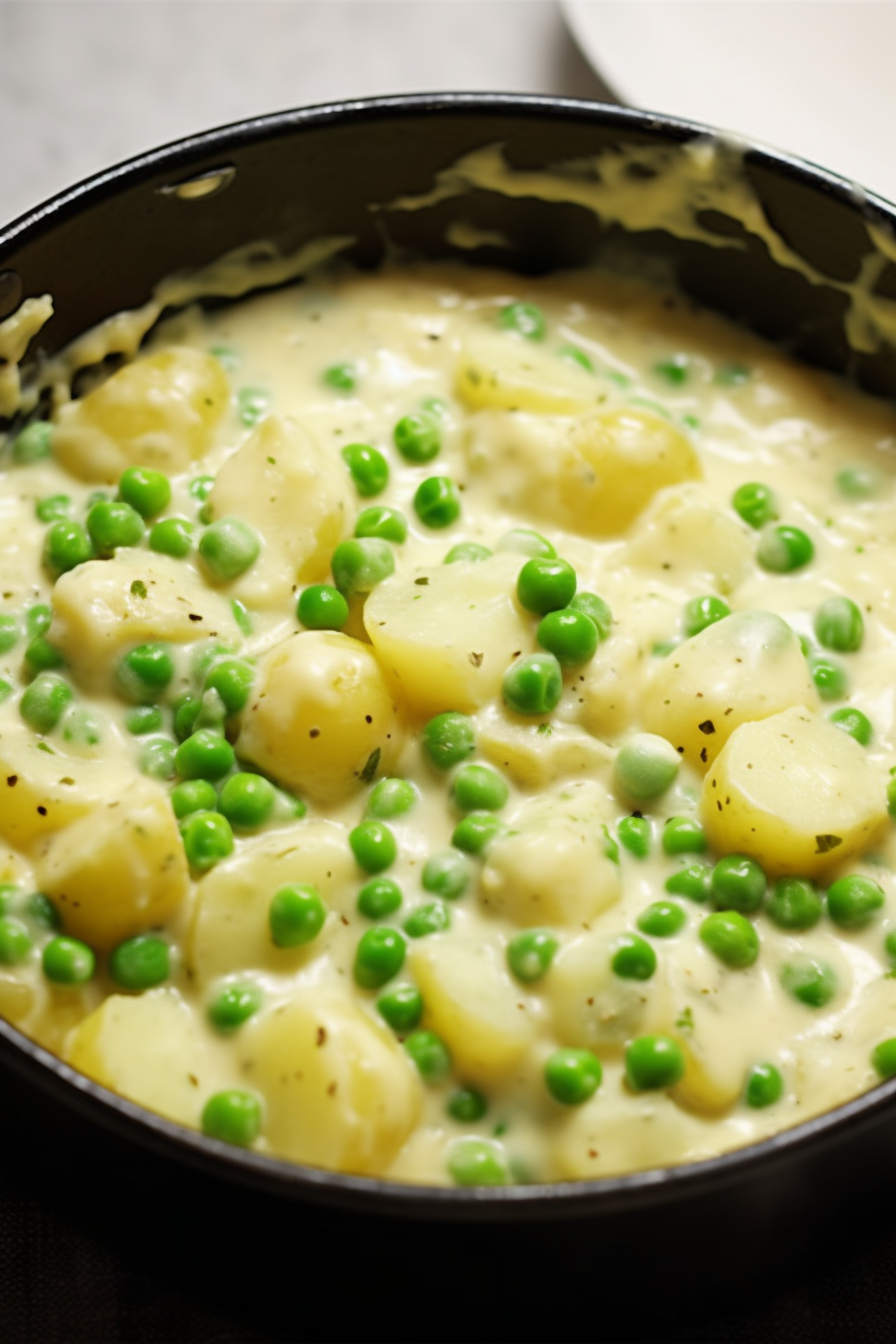 Storage Options:
If by some sorcery, you have leftovers, you can refrigerate this dish in an airtight container for up to 3 days. To reheat, just pop it in the microwave or warm it on the stove over low heat. Add a splash of milk or cream if it thickens too much.
Variations and Substitutions:
Feeling adventurous? Here are some twists to try:
Potato Varieties: Swap russet with Yukon gold for a buttery flavor.
Veggies: Throw in some carrots or corn for added texture and sweetness.
Herbs: Not a dill fan? Basil or parsley can be a delightful alternative.
Vegan Version: Use coconut cream instead of heavy cream, and vegan butter. You won't miss the dairy, I promise!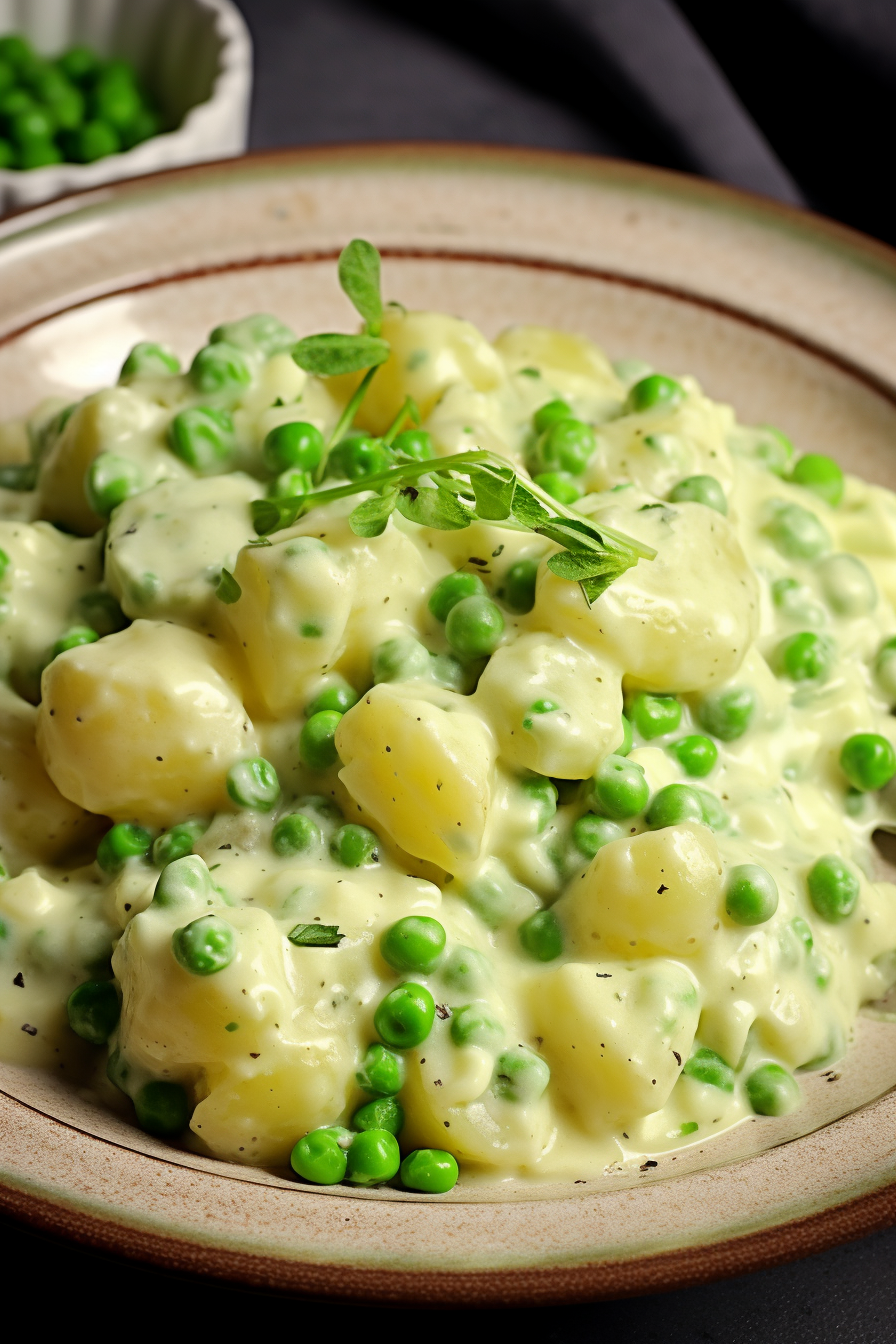 Well, my food-loving comrades, there you have it! A dish that not only fills your tummy but also warms your soul. Go on, give it a whirl and let the foodie adventures begin! 🍽️🌟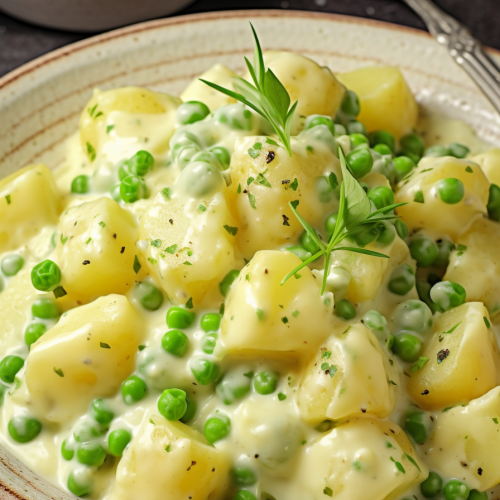 Creamed Peas and Potatoes
Unleash the rich flavors of russet potatoes, heavy cream, and peas, all brought together with aromatic onions and dill in our unforgettable Creamed Peas and Potatoes recipe. The ultimate comfort food awaits!
Print
Pin
Rate
Ingredients
2

cups

of diced russet potatoes

approximately ½" in size

1

cup

of high-quality heavy cream

½

cup

of premium frozen peas

½

of a medium-sized onion

finely diced

1

tablespoon

of unsalted butter

¼

teaspoon

of dried dill

Salt and pepper

adjusted to preference
Instructions
Begin by dicing the russet potatoes into approximately ½-inch cubes. Once prepared, place them in a pot of boiling water. Allow them to boil for roughly 12-15 minutes or until they approach a fork-tender consistency.

Following this, introduce the frozen peas into the pot and continue boiling for an additional 3-5 minutes. Once the potatoes and peas are adequately boiled, drain the water and set them aside in a separate dish.

In a clean saucepan, melt the unsalted butter over a medium flame. Subsequently, incorporate the finely diced onions. Sauté the onions until they attain a translucent appearance.

Pour the heavy cream into the saucepan containing the onions. Allow this mixture to come to a slight boil. Monitor the cream closely; once it begins to thicken, promptly remove the saucepan from the heat.

Carefully combine the boiled potatoes and peas into the creamed mixture in the saucepan. Finish by seasoning the dish with dried dill, salt, and pepper. Ensure all ingredients are well-integrated before serving.