Indulge in a delightful treat made with cherry pie filling, crescent rolls, and a dash of powdered sugar icing! A simple yet delectable dessert waiting to be devoured.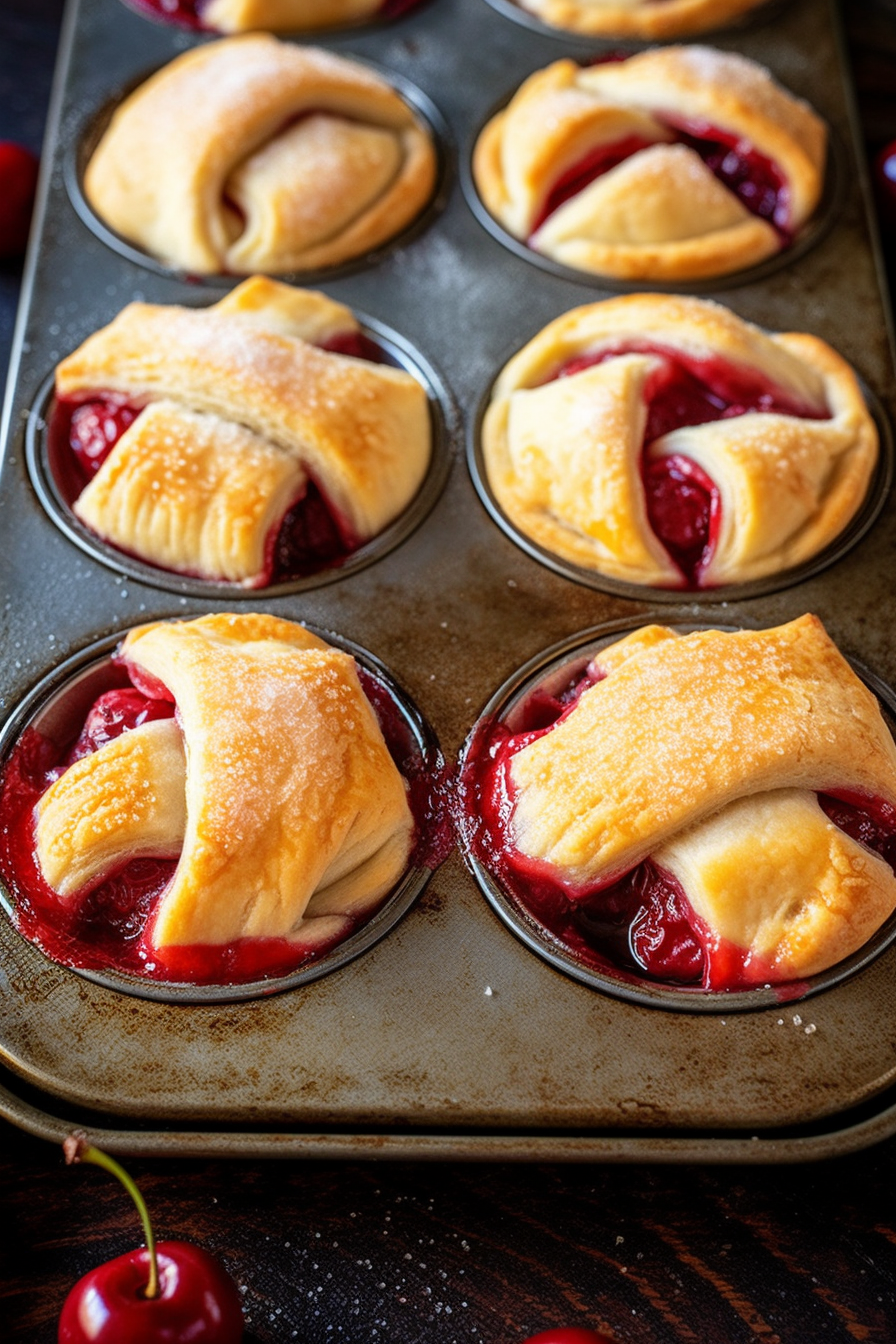 You know, growing up, my grandma had this vast cherry orchard. Every summer, it was a family tradition to help her with the harvest, which was more like an annual cherry food fight! Post-battle, with our stained clothes and full hearts, we'd gather around grandma's kitchen. One particular day, she whipped up these Cherry Pie Bites, a tribute to our cherry escapades. They were an instant hit! Fast, simple, and bursting with memories (and cherry goodness) in every bite. Whenever I make these now, it's like a trip down memory lane. To the orchard, the food fights, and most importantly, to grandma's kitchen.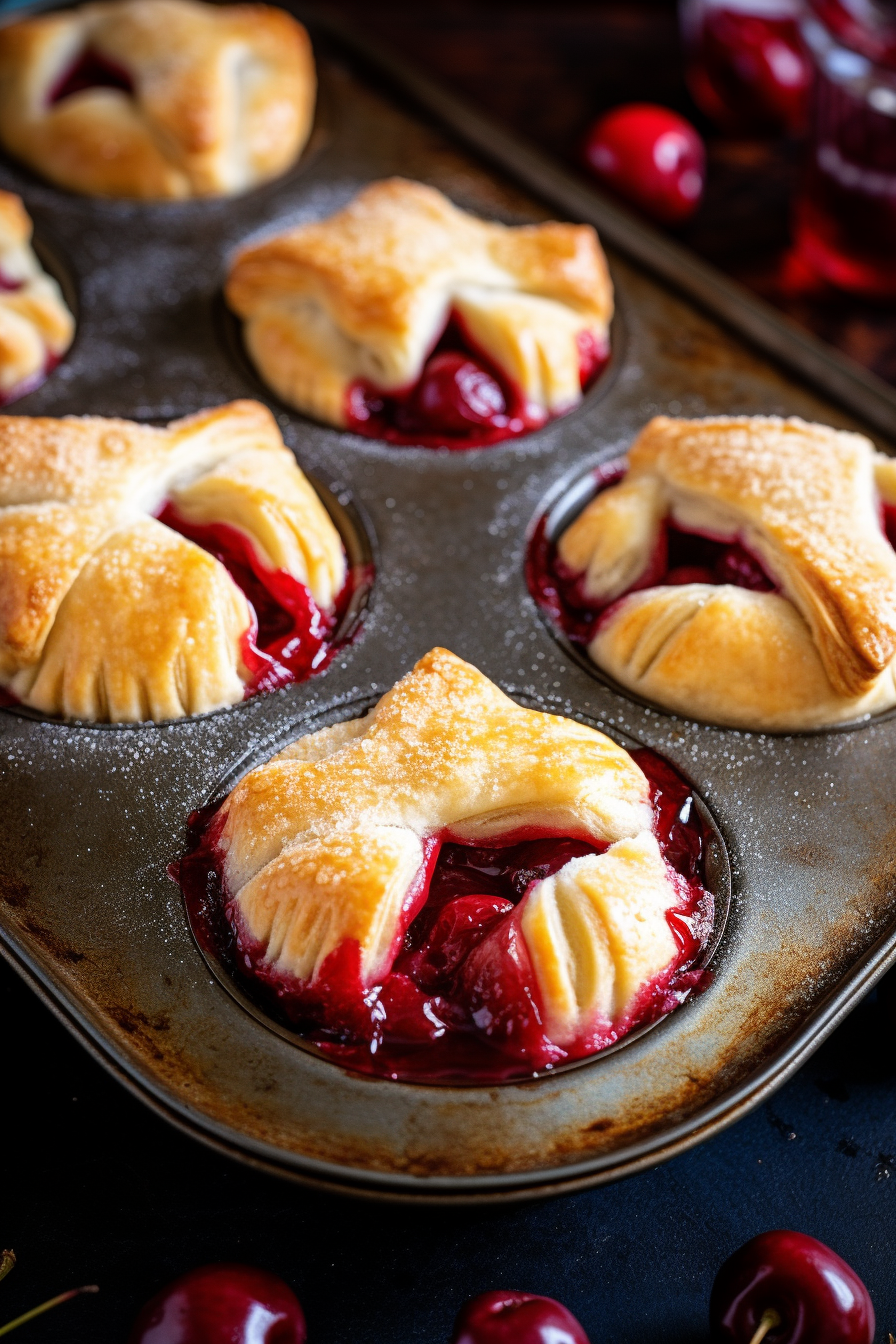 Why You'll Love These Cherry Pie Bites:
Ladies and gentlemen, presenting the Cherry Pie Bites: a game-changer in the dessert world! Why? Because, first, it's ludicrously simple. Forget the intricacies of pie crust, this baby uses crescent rolls! Second, the taste. Oh boy, the explosion of sweet cherry with the softness of the roll is a match made in heaven. Lastly, it's versatile! Perfect for tea-time, as a dessert after dinner, or when you've just had 'one of those days' and need a cherry on top.
Ingredient Notes:
Cherry Pie Filling: Opt for good quality filling; after all, it's the star of the show! Homemade works wonders if you have the time.
Crescent Roll Dough: Many brands available, but any light pastry dough will work. Check for the 'puffiness' level you prefer.
Powdered Sugar: The finer, the better. It mixes well, ensuring a smooth glaze.
Milk: Whole milk gives the icing a rich flavor. If watching the waistline, skimmed works too but might lack the richness.
Easy-to-Follow Steps:
First things first, ensure your oven is preheated to 375F degrees. No one likes waiting around with a tray in their hands, right? Once that's warming up, lightly spray your regular muffin tin with some nonstick cooking spray. This ensures our bites don't play hard to get later.
Now, unroll your crescent roll dough. The widest bit should lovingly embrace the bottom of your tin.
Next, channel your inner generosity as you scoop that luscious cherry pie filling into each crescent dough piece. Don't be shy; 3 to 4 heaping tablespoons are what you're aiming for.
Now, it's origami time! Fold the dough around the filling. Imagine tucking it in for bedtime. Pop them into the oven and let them bake for a good 13-14 minutes. While these beauties are getting golden, whisk your powdered sugar and milk. Keep at it until you get a smooth, dreamy consistency.
Finally, as the pie bites are warm and waiting, drizzle over that glaze. And voila! Cherry perfection.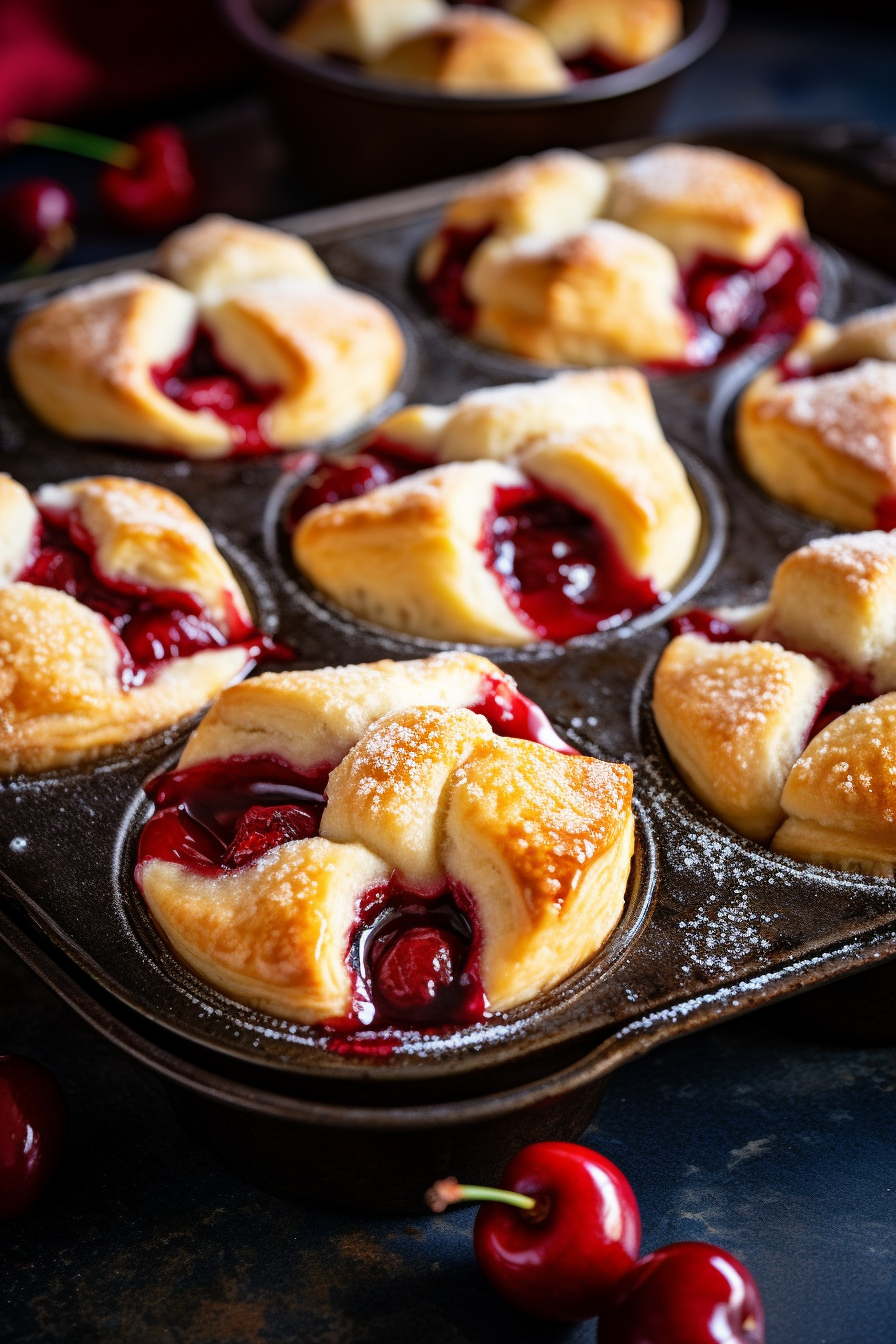 Storage Options:
These Cherry Pie Bites are best devoured warm. However, if by some miracle, you have leftovers, store them in an airtight container. They'll stay fresh for 2-3 days at room temperature. You can also refrigerate them for longer shelf life, but remember to warm them up before serving. A hint? They taste even better the next day, after all the flavors mingle at the pie party!
Variations and Substitutions:
Diversify, my friends! Not a cherry fan? Swap it out for blueberry, apple, or any pie filling of your choice. Vegan? Use dairy-free milk for the glaze and opt for vegan crescent roll dough. For a richer taste, consider adding a pinch of cinnamon or nutmeg to your filling. If you're feeling extra indulgent, a dollop of whipped cream or a scoop of vanilla ice cream on the side never hurts. The world is your pie-filled oyster!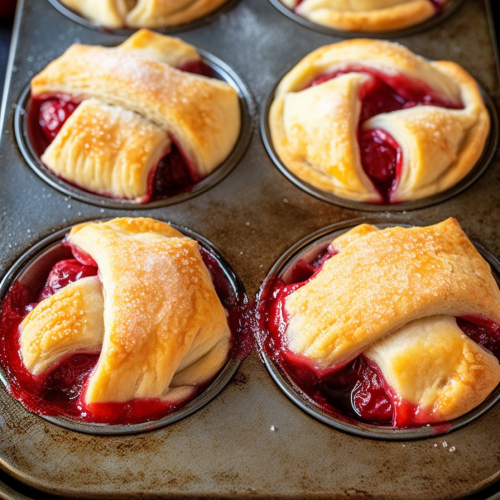 Cherry Pie Bites
Indulge in a delightful treat made with cherry pie filling, crescent rolls, and a dash of powdered sugar icing! A simple yet delectable dessert waiting to be devoured.
Print
Pin
Rate
Ingredients
21

ounces

of cherry pie filling

2

tubes

8 ounces each of crescent roll dough

1

cup

of powdered sugar

1-2

tablespoons

of milk
Instructions
Preheat the oven to a temperature of 375°F.

Prepare a standard muffin tin by applying a layer of nonstick cooking spray.

Carefully unroll the crescent roll dough and position individual pieces into the respective sections of the muffin tin, ensuring that the wider section of the dough is placed at the bottom.

Precisely add the cherry pie filling to each portion of the crescent roll dough. Each section should receive approximately 3 to 4 tablespoons of filling. Ensure uniform distribution.

Proceed by methodically folding the dough over the filling, ensuring it encases the filling securely.

Bake the assembled pie bites in the preheated oven for a duration of approximately 13-14 minutes, or until they achieve a golden-brown hue.

In a separate mixing bowl, combine the powdered sugar and milk. Whisk the ingredients together until a smooth consistency is achieved.

Once the pie bites are sufficiently cooled, uniformly drizzle the prepared glaze over each bite.