Dive into the irresistible blend of graham crackers, rich brown sugar, creamy butter, and crunchy pecans in this delightful Pecan Pie Bark. Topped with a hint of vanilla, this treat promises a sweet crunch in every bite.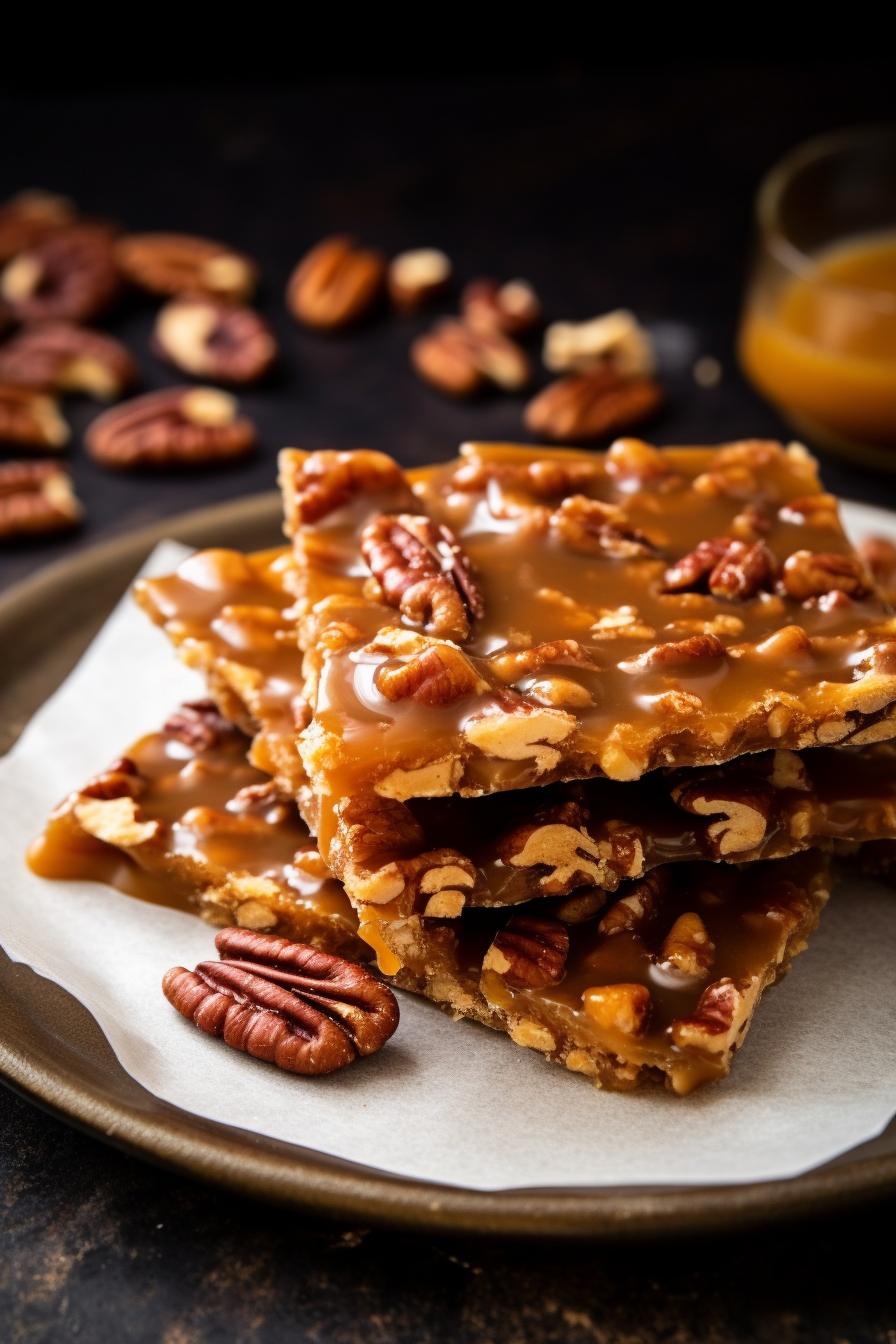 Every year during the holidays, our family had a peculiar tradition. Instead of making the classic pecan pie, Grandma Lily would whip out this absolutely genius Pecan Pie Bark. I remember the first time I tasted it; I was sneaking a bite as a mischievous ten-year-old. I was expecting a simple candy, but what I got was an explosion of flavors so perfect, it felt like Christmas had arrived early! Grandma Lily used to say, "Why fuss with a pie when you can have all the flavors in a simple bark?" As years passed, this became our go-to treat, and I've proudly carried on the tradition. If you want a taste of my childhood Christmas memories, this bark is your ticket!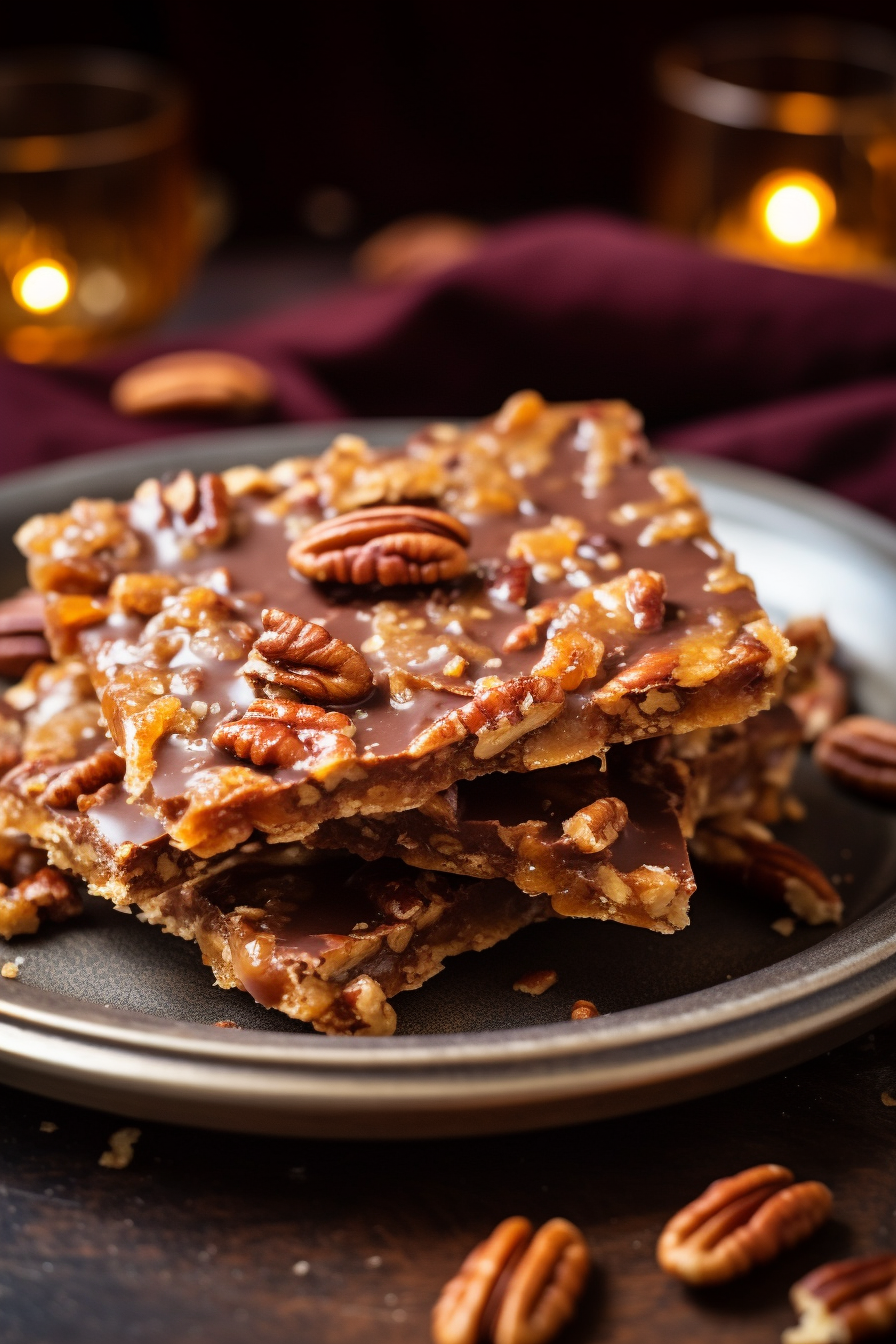 Why You'll Love Pecan Pie Bark:
The Pecan Pie Bark takes the classic rich and delightful flavors of a pecan pie and transforms them into a snackable, handheld form. It's an effortless treat, eliminating the complexities of baking an entire pie. No need for any fancy tools or ingredients, and yet the end result is a gourmet-level dessert. And let's face it, anything that requires just 20 minutes from start to finish, and tastes this divine, is a winner in every dessert playbook!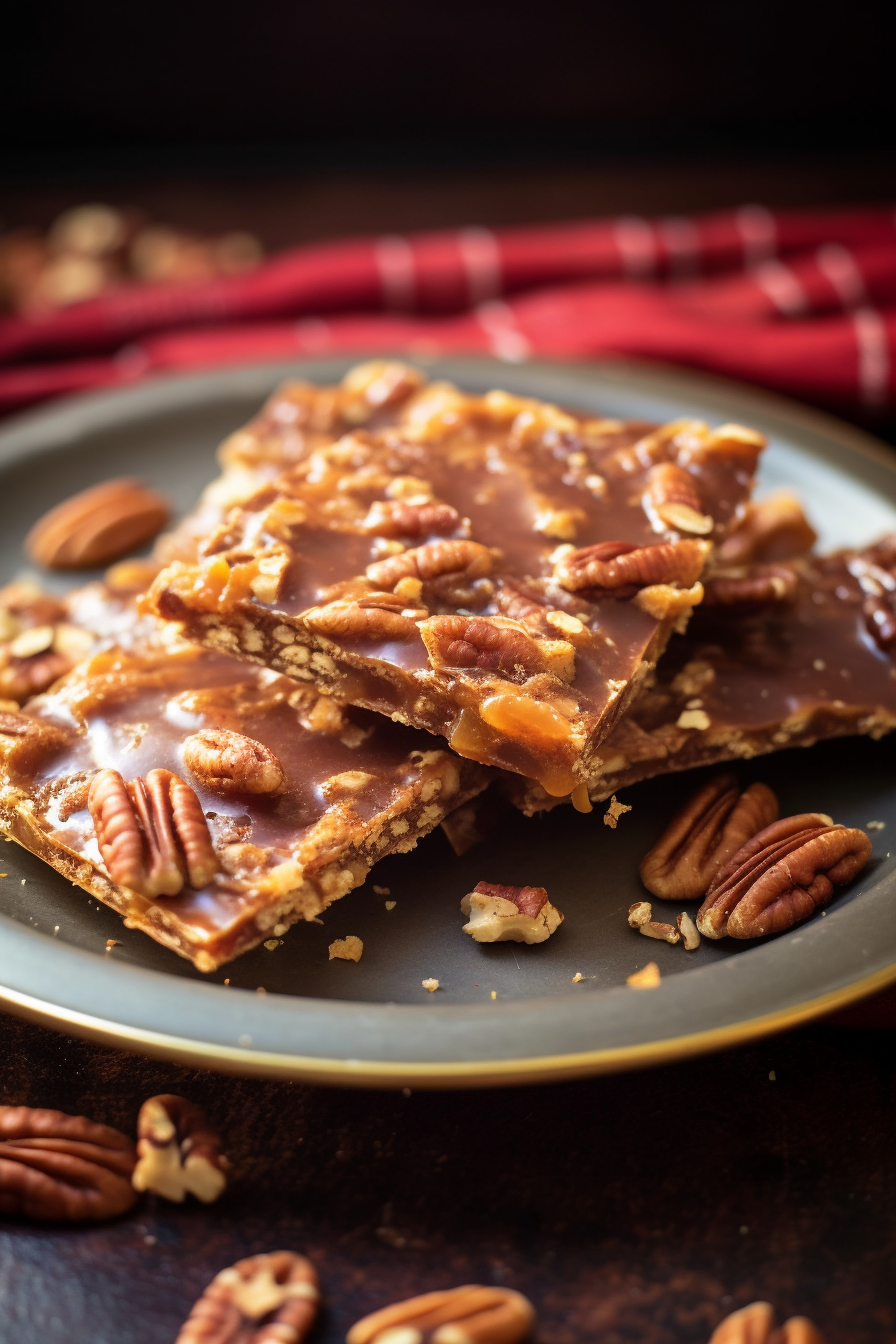 Ingredients Notes For Pecan Pie Bark:
Graham Crackers: Opt for the original variety for the best texture and flavor, but if you're feeling experimental, cinnamon graham crackers could add an extra kick.
Butter: Always use unsalted as this allows you to control the saltiness of your bark.
Brown Sugar: Ensure it's fresh and free from clumps. It gives the bark that rich, molasses touch.
Pecans: While roughly chopped gives a nice texture, you can also go for finely chopped if you prefer a smoother finish.
Vanilla Extract: Genuine extract over imitation always! It elevates the overall flavor of the bark.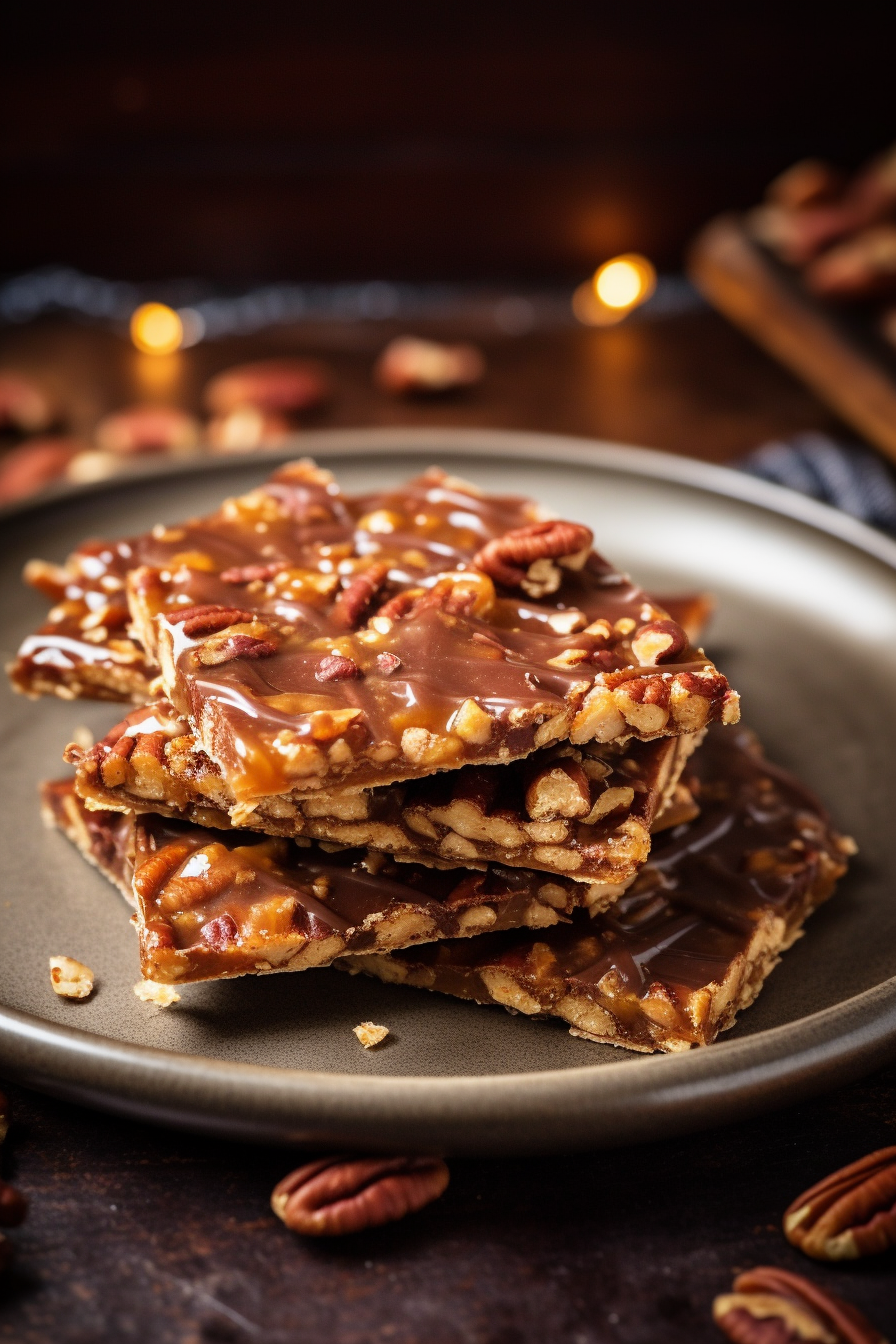 Step-by-Step Instructions:
Start by warming up your oven to 350°F. Preparing your sheet pan is essential; lining it with aluminum foil not only prevents sticking but makes cleanup a breeze.
That foil needs some greasing love, so lightly butter it up. Place your graham crackers on the baking sheet. Play some puzzle games to ensure they fit snugly!
In a saucepan, unite your butter, brown sugar, pecans, and salt. Your mission? To bring this mix to a boil. And once you achieve it, keep it going for 2 minutes with consistent stirring (a mini arm workout!).
Once your timer dings, it's time for the vanilla magic. Stir it in, and without dilly-dallying, pour this hot concoction over the graham crackers. Use a spatula to ensure it spreads out evenly, covering all the crackers.
Let your oven do its magic for about 10 minutes. Once it's bubbly and has that gorgeous golden hue, it's done!
The waiting game begins. Let it cool down entirely (if you can resist), then go ahead and break them into the desired pieces. Time to munch!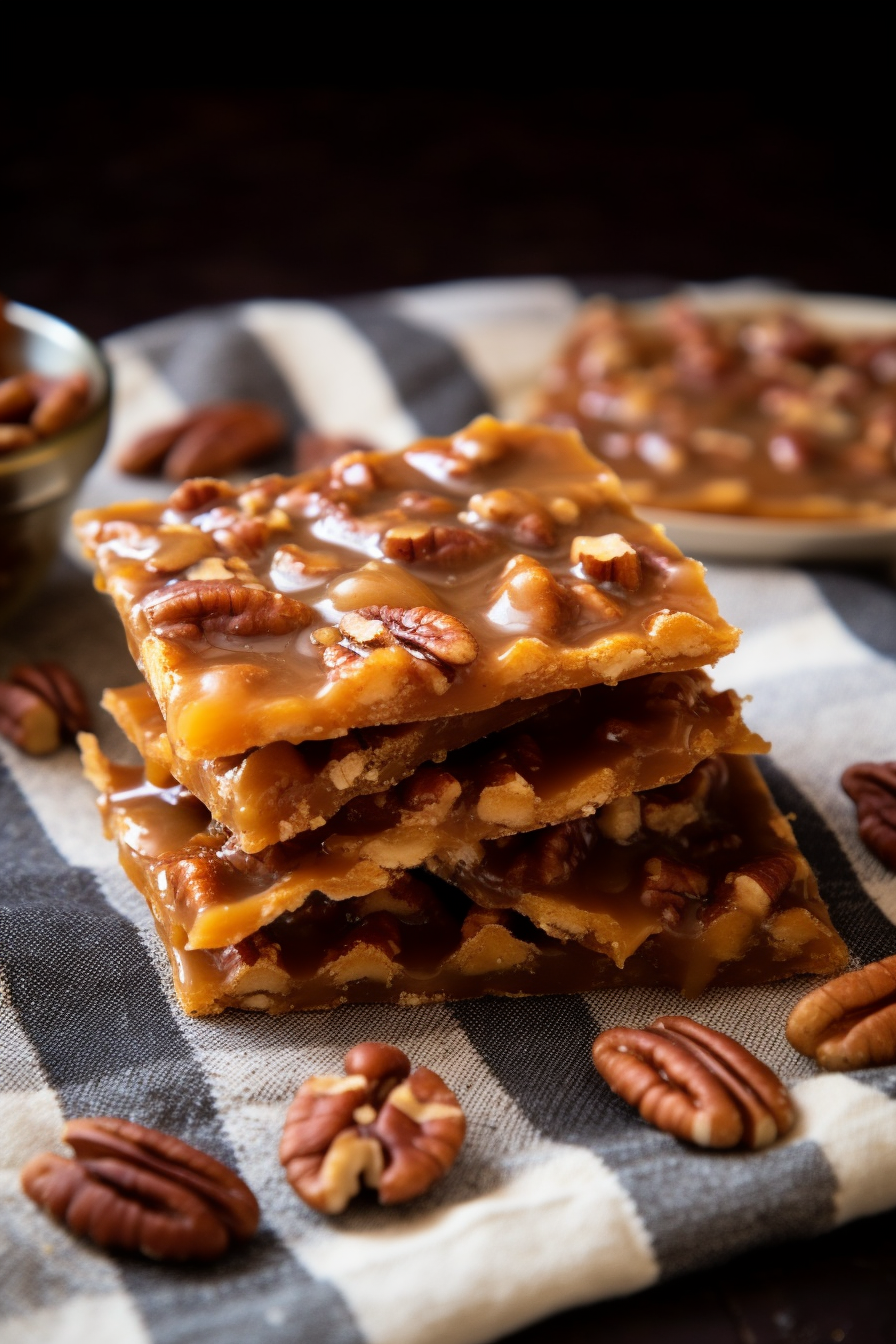 Storage Options:
Store this Pecan Pie Bark in an airtight container. It can comfortably sit at room temperature for about a week, but if you prefer it chilled, the refrigerator is your best bet, extending its life for another week.
Variations and Substitutions:
Dietary Restrictions: For a dairy-free version, opt for dairy-free butter. You can also swap regular graham crackers for gluten-free ones.
Flavor Enhancements: Sprinkle some cinnamon or nutmeg before baking for an added spicy kick. Want to go fancy? Drizzle some melted dark chocolate on top after baking.
Nut Variations: Not a fan of pecans or just feeling adventurous? Try walnuts or almonds for a different flavor profile.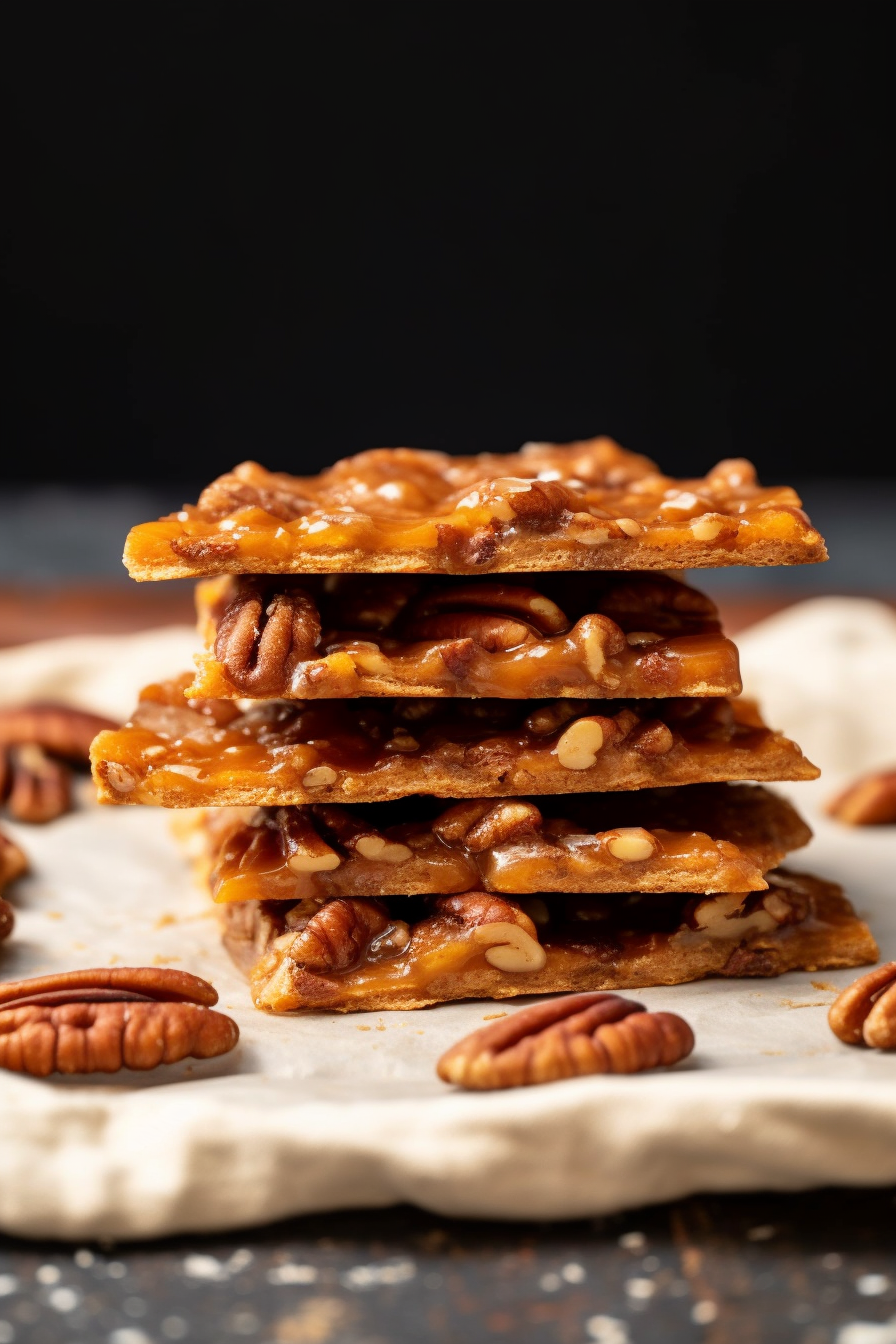 I hope this Pecan Pie Bark brings as much joy to your table as it has to ours over the years. Happy munching, fellow sweet-tooth warriors! 🌰🍫🤤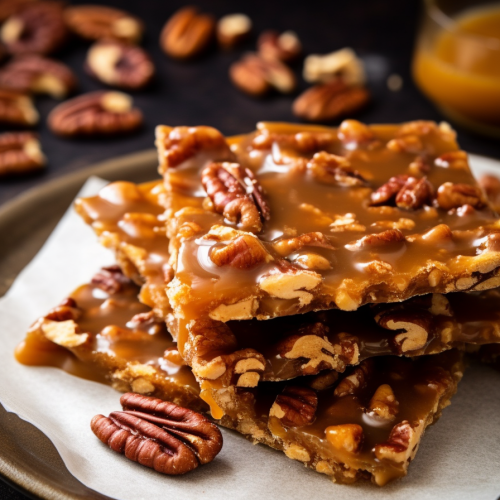 Pecan Pie Bark
Dive into the irresistible blend of graham crackers, rich brown sugar, creamy butter, and crunchy pecans in this delightful Pecan Pie Bark. Topped with a hint of vanilla, this treat promises a sweet crunch in every bite.
Print
Pin
Rate
Ingredients
13

standard graham crackers

1

cup

of unsalted butter

1

cup

of high-quality brown sugar

2

cups

of roughly chopped pecan halves

1/4

teaspoon

of fine salt

1

teaspoon

of pure vanilla extract
Instructions
Commence by preheating the oven to precisely 350°F. Simultaneously, prepare a rimmed baking sheet by lining it meticulously with aluminum foil.

Once the sheet is lined, it is prudent to lightly grease the foil using a small portion of butter. Arrange the graham crackers on the prepared sheet in a systematic manner, ensuring that they cover the entire surface. If necessary, the crackers may be broken to achieve an optimal fit.

In a medium-sized saucepan, amalgamate the unsalted butter, brown sugar, pecan pieces, and salt. Place the saucepan on medium heat and bring the contents to a gentle boil. It is imperative to continuously stir the mixture for a duration of 2 minutes to prevent scorching.

Following the stipulated time, remove the saucepan from the heat and carefully incorporate the vanilla extract into the mixture.

Pour the mixture immediately over the arranged graham crackers, ensuring a uniform distribution. Utilize a spatula to facilitate the spreading process, making certain that the crackers are entirely covered and the pecans are evenly dispersed.

Place the baking sheet in the preheated oven and allow the bark to bake until it manifests a bubbly consistency, which typically takes around 10 minutes.

Once baked to perfection, remove the baking sheet from the oven and allow the Pecan Pie Bark to cool to room temperature. Once cooled, it is advised to break the bark into individual pieces prior to serving.