Indulge in the festive delight of Crockpot Christmas Crack! A heavenly holiday treat that combines the crunch of dry-roasted peanuts with the creamy richness of white and dark chocolate, all perfectly melded together with peanut butter and a sprinkle of toffee bits. This easy-to-make crockpot candy is the essence of Christmas joy in every bite!
Every family has that one recipe that seems to capture the essence of the holidays, and in our home, it's the Crockpot Christmas Crack. It all started with my grandmother's legendary holiday gatherings, where the air was thick with the scent of chocolate and spices. She had this old, dented crockpot that was the unsung hero of every Christmas Eve, faithfully churning out batch after batch of what we all lovingly dubbed "Christmas Crack." The year she passed it down to me, I knew I had big shoes to fill. As I dropped the first batch of peanuts into the pot, I felt her spirit guiding my hands. The hours spent laughing and storytelling around the crockpot, waiting for the chocolate to reach that perfect level of melty goodness, have become some of my most cherished memories. This recipe isn't just candy; it's a little piece of my family's heart that I'm honored to share every holiday season.
Why You'll Love Crockpot Christmas Crack:
The Crockpot Christmas Crack is not just a treat; it's a festive revolution in the making. Here's why it stands out:
Effortless Elegance: With a prep time that's less than the time it takes to pick out a Christmas sweater, this recipe is simplicity at its finest.
Slow-Cooked to Perfection: The crockpot does all the heavy lifting, ensuring even heat distribution for a smooth, velvety chocolate that's impossible to resist.
Versatile Vavoom: Whether you're looking to dazzle at a cookie exchange, sprinkle some joy at a holiday platter, or just enjoy a cozy night in, this candy fits the bill.
Customizable Charm: With options to garnish, this recipe can dress up or down for any holiday occasion, making it a versatile addition to your festive repertoire.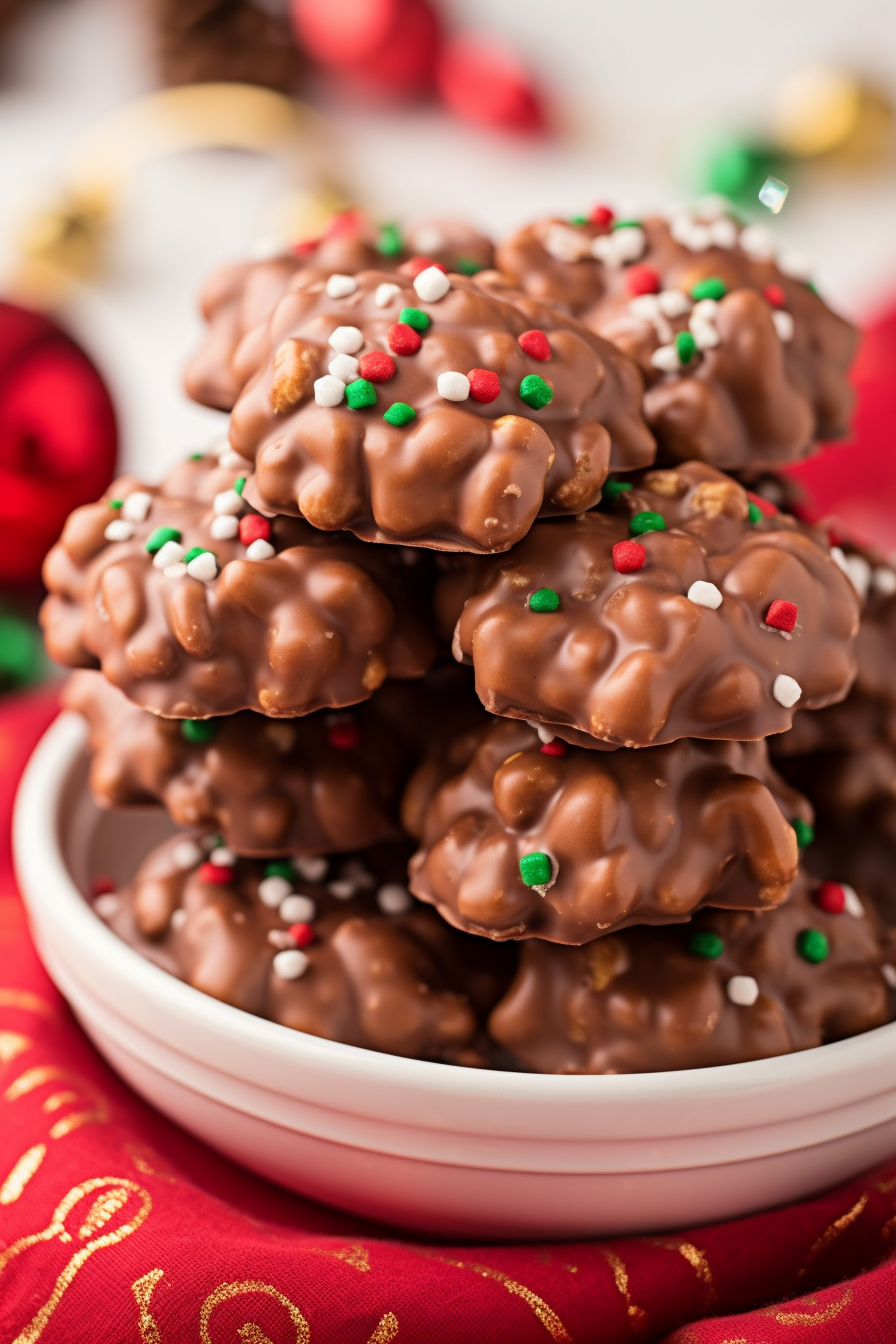 Ingredients Notes For Crockpot Christmas Crack:
Before we dive into the crockpot and start crafting this addictive Christmas confection, let's chat about the cast of characters that make up the Crockpot Christmas Crack:
Peanuts: We're going for lightly salted, dry-roasted peanuts here. They bring the crunch and a hint of saltiness to balance the sweet.
White Chocolate Chips: The creamy base of our candy, these little morsels melt into a dreamy, white canvas for our other ingredients.
Dark Chocolate Chips: For a touch of sophistication and depth, dark chocolate chips add a rich, complex flavor profile.
Peanut Butter: This creamy spread is the glue that holds our concoction together, infusing it with a smooth, nutty flavor that pairs perfectly with our chocolates.
Toffee Bits: These little golden nuggets add a delightful crunch and a buttery dimension that'll have your taste buds singing carols.
Festive Sprinkles and Sea Salt (optional): These are the finishing touches that add sparkle and a pop of contrast to each bite.
How To Make Crockpot Christmas Crack:
Let's transform these humble ingredients into a festive masterpiece with a few simple steps:
Preparation: Begin by giving your crockpot a little love with a non-stick spray or lining it with a crockpot liner. It's like the parchment paper of the slow cooker world—a little insurance policy against sticking. Next, line your baking sheets with wax paper or silpat liners. Think of this as prepping your landing pads for the incoming candy troops.
Layering the Ingredients: Create a foundation of almond bark pieces at the bottom of your crockpot. This is the base that's going to support all the other flavors. Then, unleash the peanuts, the white chocolate, the dark chocolate, and the chocolate barks into the pot. It's a free-for-all in there, and that's just how we like it.
The Meltdown: Pop the lid on, set the crockpot to low, and let it work its magic for about an hour. This is a great time to catch up on that holiday movie you've been meaning to watch.
Stirring the Pot: After an hour, lift the lid (get ready for that heavenly smell) and give everything a good stir. If you see any stubborn chocolate pieces that refuse to melt, show them who's boss by covering them up again and letting them simmer. Remember to stir every 15 minutes to achieve that silky-smooth texture.
Scooping and Setting: Once all the chocolate has surrendered to the heat, grab a cookie scoop or two tablespoons and start shaping your candy onto the prepared baking sheets. This is where your inner artist can shine—no two pieces are the same.
Garnish and Cool: If you're using sprinkles or sea salt, now's the time to sprinkle that festive cheer on top. Let your creations cool and set, which is the perfect opportunity to lick the spoon (or two).
Storage Options:
Once you've successfully resisted the urge to devour all of the Crockpot Christmas Crack on sight, you'll want to store it properly. This treat is like the winter bear of candies—it hibernates beautifully. Just nestle your candy in an airtight container, and it'll stay fresh and delicious. You can keep it at room temperature if your house isn't too warm, but if your home is toasty or you want to extend its life, the fridge is your friend. Just let it come to room temperature before serving for the best flavor experience.
Variations and Substitutions:
Flexibility is the name of the game with this recipe, so feel free to play around:
Nutty Nuances: If peanuts aren't your jam, feel free to swap them out for almonds, pecans, or any other nut that makes your heart sing.
Chocolate Choices: Not a fan of white chocolate? Milk chocolate or semi-sweet can step in. The chocolate world is your oyster.
Butter Bending: If peanut butter isn't your thing, almond butter or cashew butter can fill in without missing a beat.
Toffee Twists: Swap out toffee bits for crushed pretzels or your favorite crushed candy for a different crunch.
Sprinkle Spectrum: Go wild with the sprinkles! There's a whole rainbow out there waiting to top your candy. Just remember: the more festive, the better.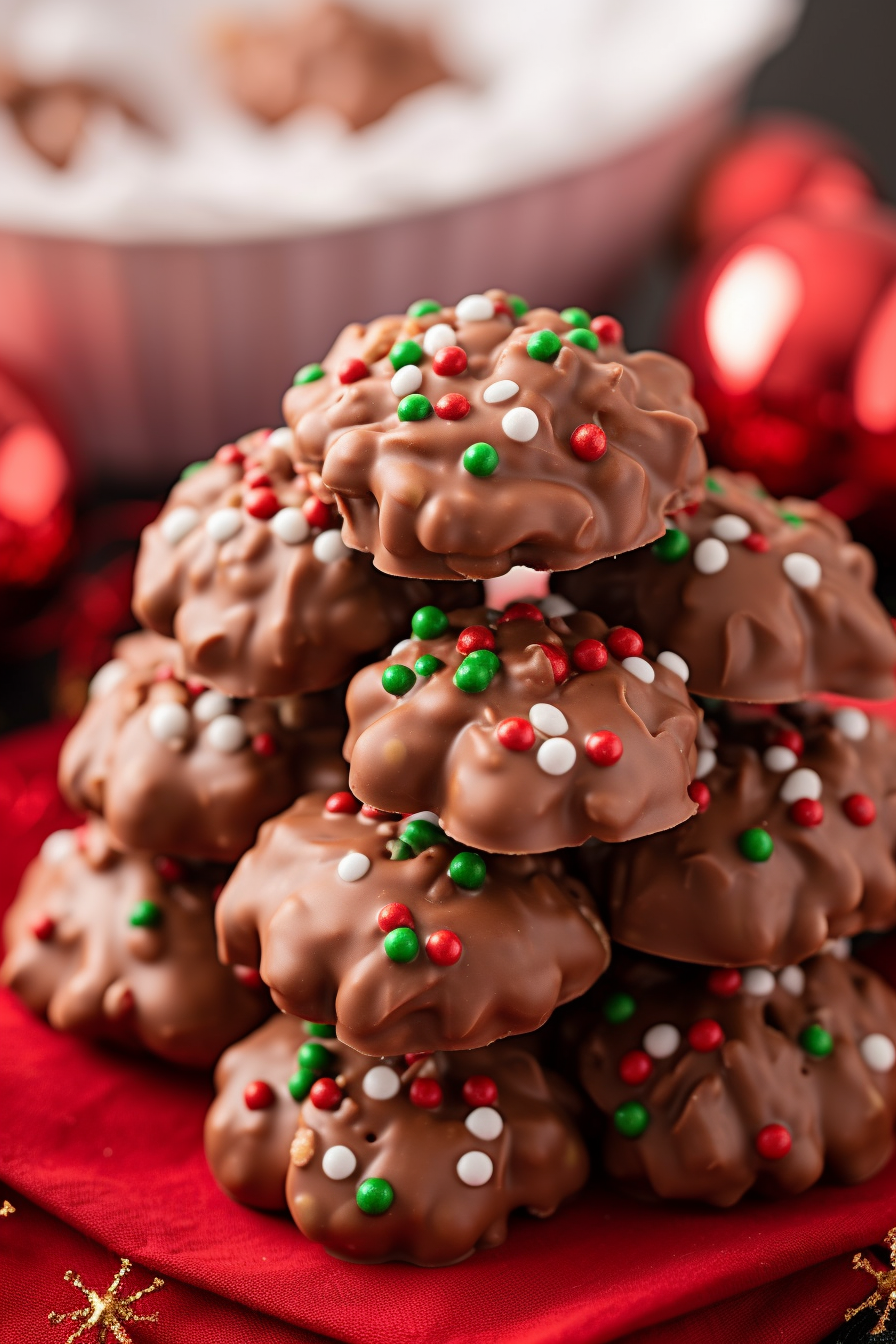 Remember, the best recipes are the ones that bring joy to your kitchen and smiles to the faces of those who taste them. This Crockpot Christmas Crack is more than just a recipe—it's a canvas for your culinary creativity. So, go ahead and make it your own!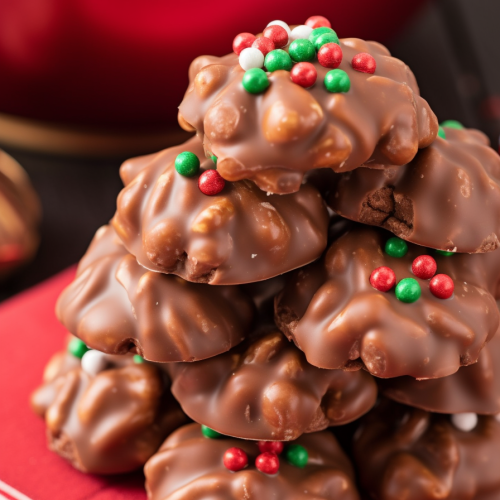 Crockpot Christmas Crack
Indulge in the festive delight of Crockpot Christmas Crack! A heavenly holiday treat that combines the crunch of dry-roasted peanuts with the creamy richness of white and dark chocolate, all perfectly melded together with peanut butter and a sprinkle of toffee bits. This easy-to-make crockpot candy is the essence of Christmas joy in every bite!
Print
Pin
Rate
Ingredients
One 16-ounce jar of lightly salted

dry-roasted peanuts

Two 11-ounce packages of white chocolate chips

totaling 22 ounces

One half of a 10-ounce package of dark chocolate chips

approximately 5 ounces

One-half cup of smooth peanut butter

One-third cup of toffee bits

Optional garnish: Festive sprinkles

Optional garnish: Sea salt
Instructions
Prepare the interior of the crockpot by applying a non-stick cooking spray or placing a liner within to ensure an easy cleanup process.

Arrange two baking sheets, lining them with silicone baking mats or wax paper, and set them aside in anticipation of the finished candy.

Position the pieces of almond bark at the base of the crockpot.

Introduce the peanuts followed by the white chocolate, dark chocolate barks, and chocolate chips into the crockpot.

Secure the lid on the crockpot and activate the device to a low setting, allowing the contents to cook for one hour.

After the hour has elapsed, remove the lid and stir the mixture, ensuring the peanuts are thoroughly coated with the melted chocolate. Should any solid chocolate pieces persist, replace the lid and continue to cook. It is advisable to stir the mixture every 15 minutes until the chocolate has completely melted and is capable of coating the peanuts evenly.

With a cookie scoop or a pair of tablespoons, extract a generous tablespoon of the candy mixture and deposit onto the prepared baking sheets.

If opting to use sprinkles, apply them immediately to the scooped candy before it cools. Allow the candy to cool at room temperature until the chocolate sets firmly.

For storage, transfer the candy into an airtight container.