Dive into a savory blend of ground beef, sharp cheddar, and aromatic onion and garlic, all held together by the magical Bisquick crust. This Impossible Cheeseburger Pie is where comfort meets convenience!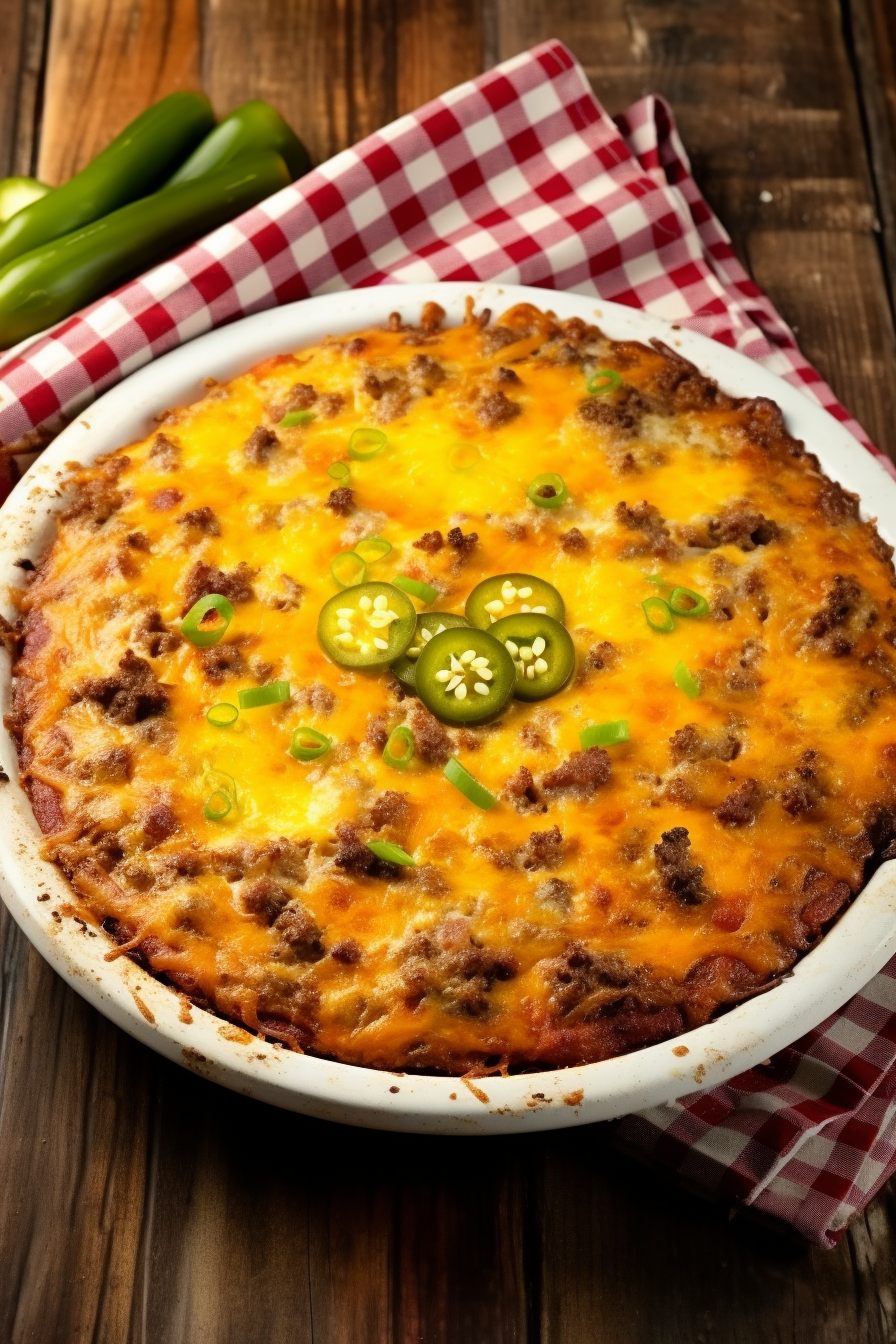 Ah, the BISQUICK IMPOSSIBLE CHEESEBURGER PIE. It sounds like something straight out of a fairy tale, doesn't it? Well, let me take you back to a chilly evening in my college dorm. Budgets were tight, time was tighter, and my roommates and I were rummaging through our shared pantry, dreaming of a dish that would remind us of home. With a few odds and ends, and inspired by the Bisquick box's promise, we decided to create our own version of a cheeseburger – without the bun! And voila, this pie was born. It was an instant hit among our circle, passed down through roommates, friends, and even a skeptical professor or two. It wasn't just a dish; it was a story of making the most of what you have and turning the impossible into the delightful.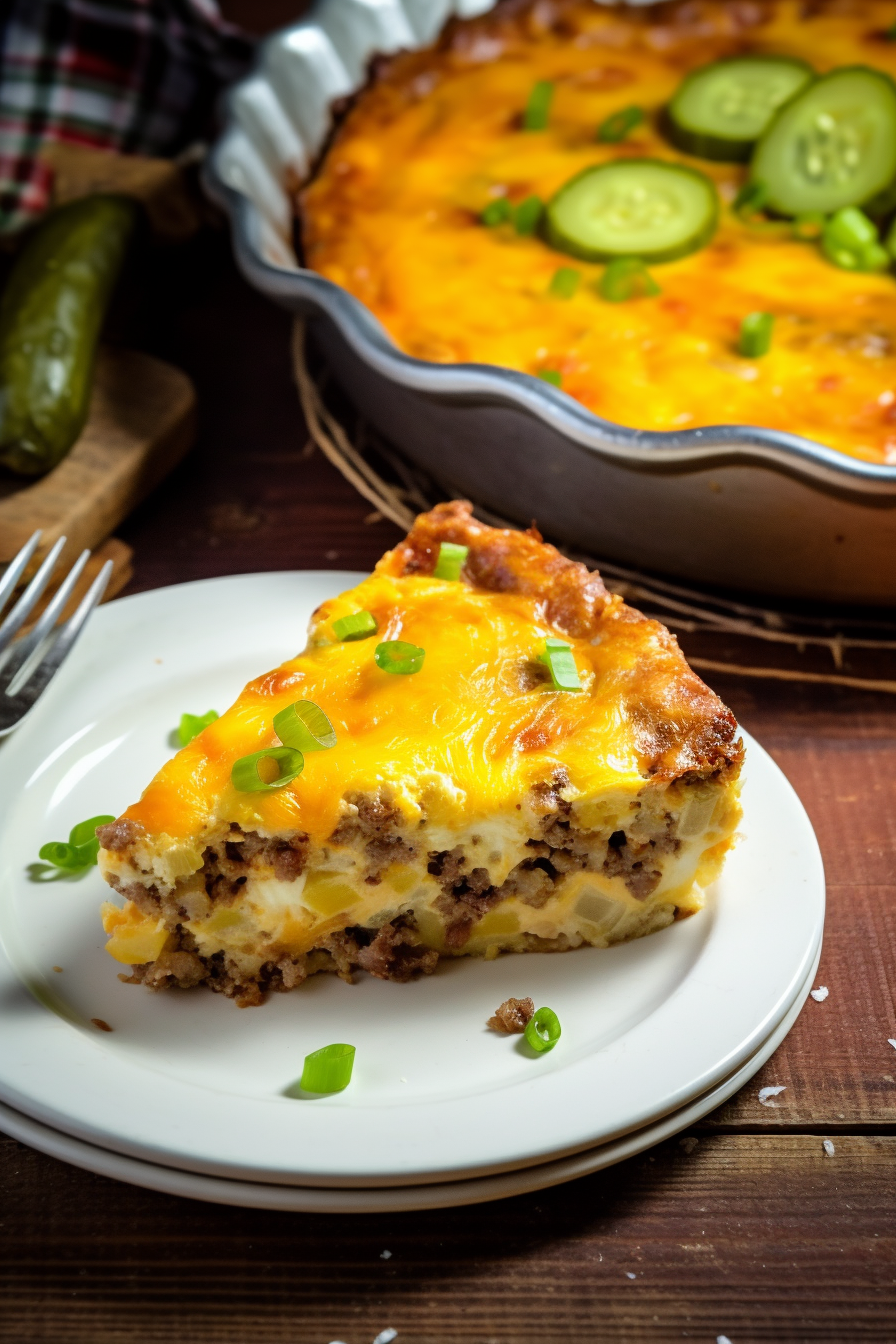 First, it's impossible NOT to love this! This dish merges the juiciness of a cheeseburger with the warmth of a pie. The Bisquick crust is flaky and effortless, making it a total game-changer for those not in the mood to fuss over a traditional pie crust. It's a one-plate wonder, balancing protein, dairy, and grains. Plus, it's versatile. Want a brunch twist? Add some diced tomatoes. Looking for a spicier kick? Toss in some jalapenos. With this recipe, you can have your pie and eat your burger too!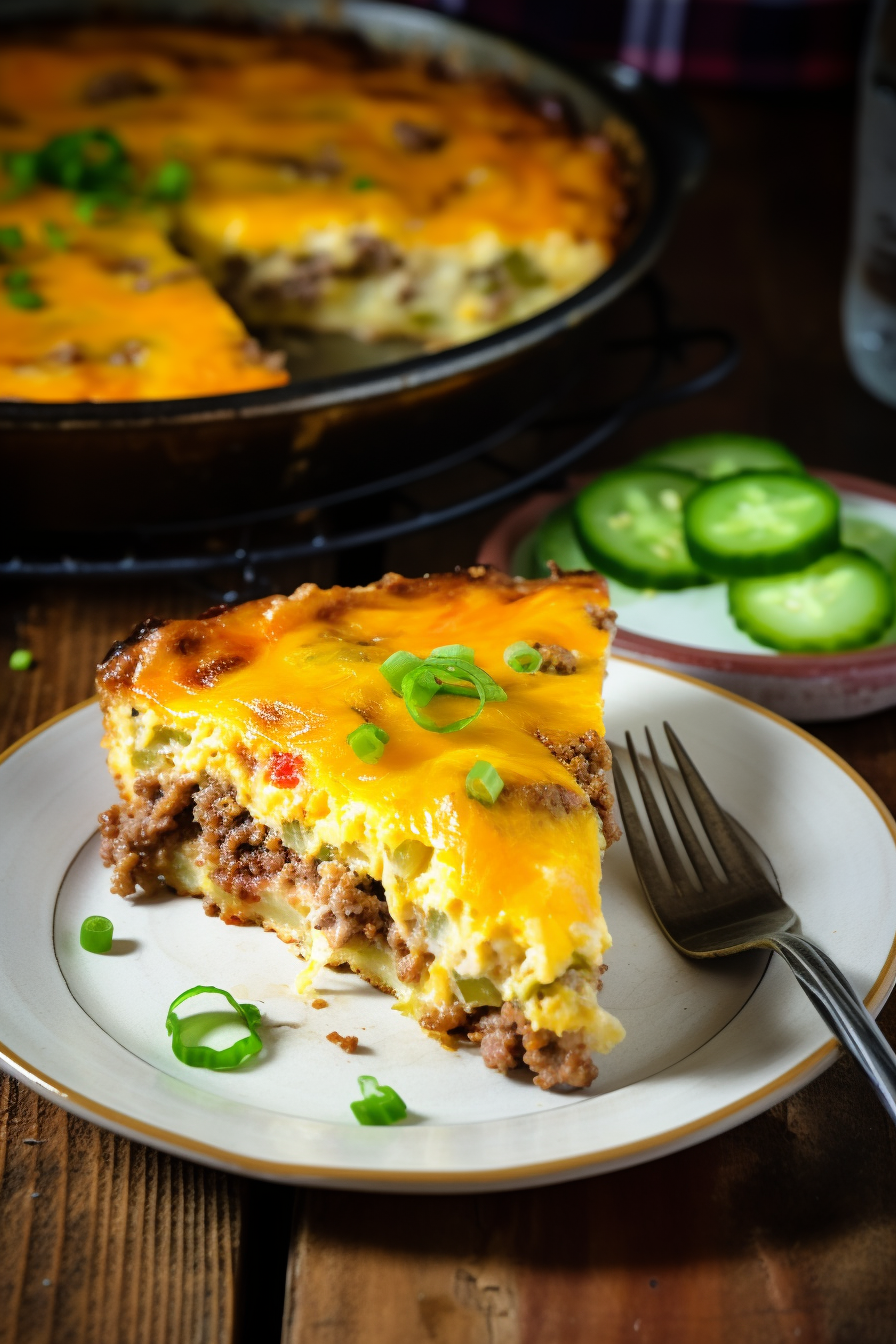 Ingredients For BISQUICK IMPOSSIBLE CHEESEBURGER PIE:
Ground beef 80/20 is the way to go – that bit of fat brings out a luscious flavor. But hey, if you're looking to cut back on fat, leaner versions work too. Just might need a tad more seasoning. The onion gives a sweetish layer while the garlic punches it up. Worcestershire sauce? That's the secret umami twist. And, let's talk about Bisquick – it's the shortcut to happiness in this recipe, adding fluffiness without fuss. The extra-sharp cheddar? It's the gooey, melty dream that makes this pie the stuff of legends. But don't let me stop you there; feel free to experiment with your cheese preferences!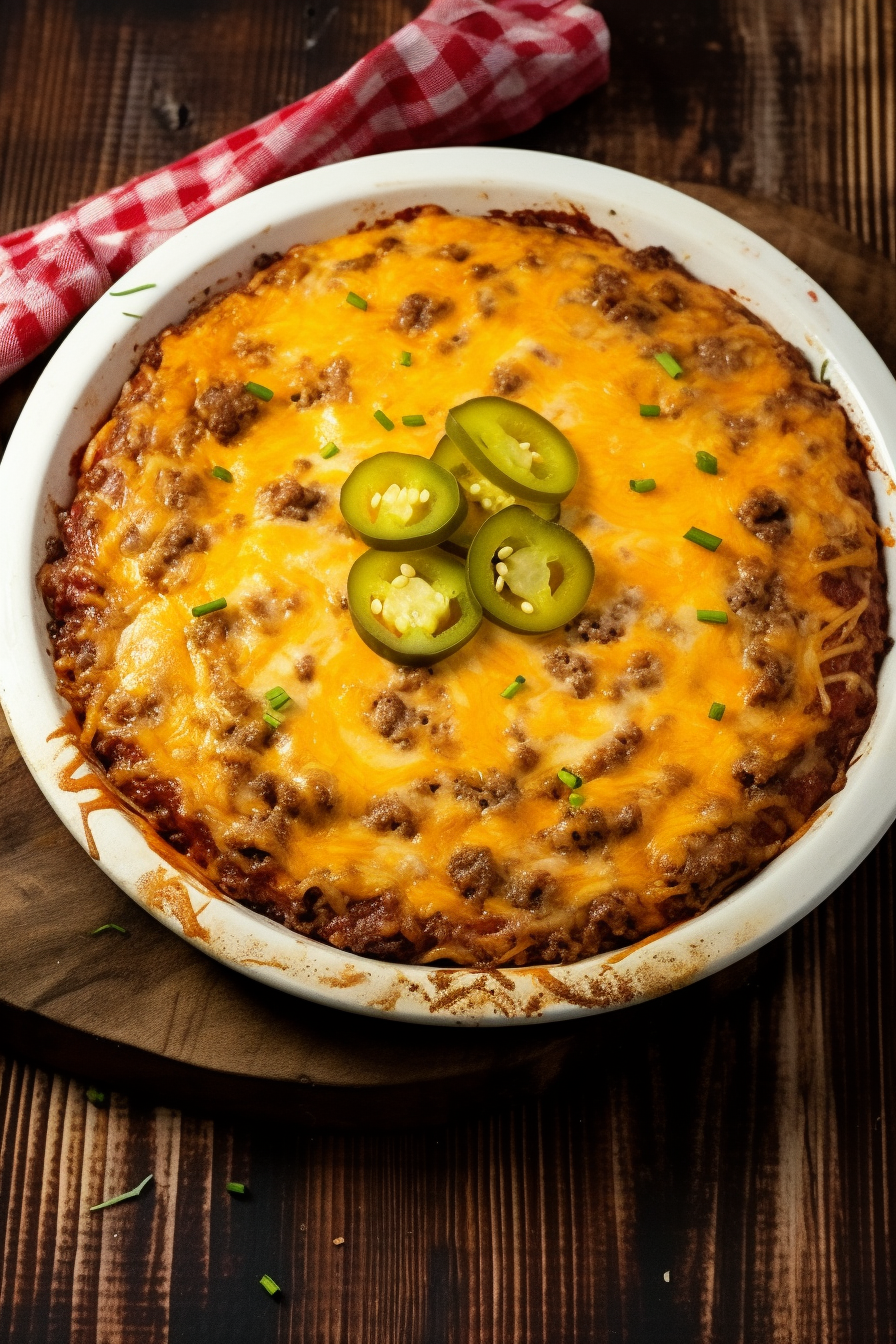 How To Make BISQUICK IMPOSSIBLE CHEESEBURGER PIE:
Starting Off Right: Before anything else, get that oven buzzing at 400 °F. And to ensure nothing sticks (because we want every morsel), give a 9-inch pie plate a good spray of non-stick love.
The Meaty Middle: Take a large skillet and invite your beef, onion, and garlic to the party. Season with Worcestershire, salt, and pepper and cook until the beef's nice and brown. Once done, escort this delightful mix into your pie plate.
Crusty Affair: Grab a bowl and give your Bisquick, milk, and eggs a whisk till they're all chummy. Pour this over your beefy goodness, and to finish, rain down that cheddar like confetti!
Bake & Wait: Pop it in the oven and bake till it's sun-kissed golden, roughly 30-40 minutes. But don't pounce just yet! Give it a 10-minute breather before slicing and indulging.
Storage Options:
Got leftovers? Lucky you! Let the pie cool down completely, then either wrap it in cling film or store in an airtight container. It's good in the fridge for 3-4 days. For a longer stint, you can freeze it too. Just ensure it's well-wrapped or in a freezer-safe container. When the cravings strike, reheat in the oven or microwave till warmed through.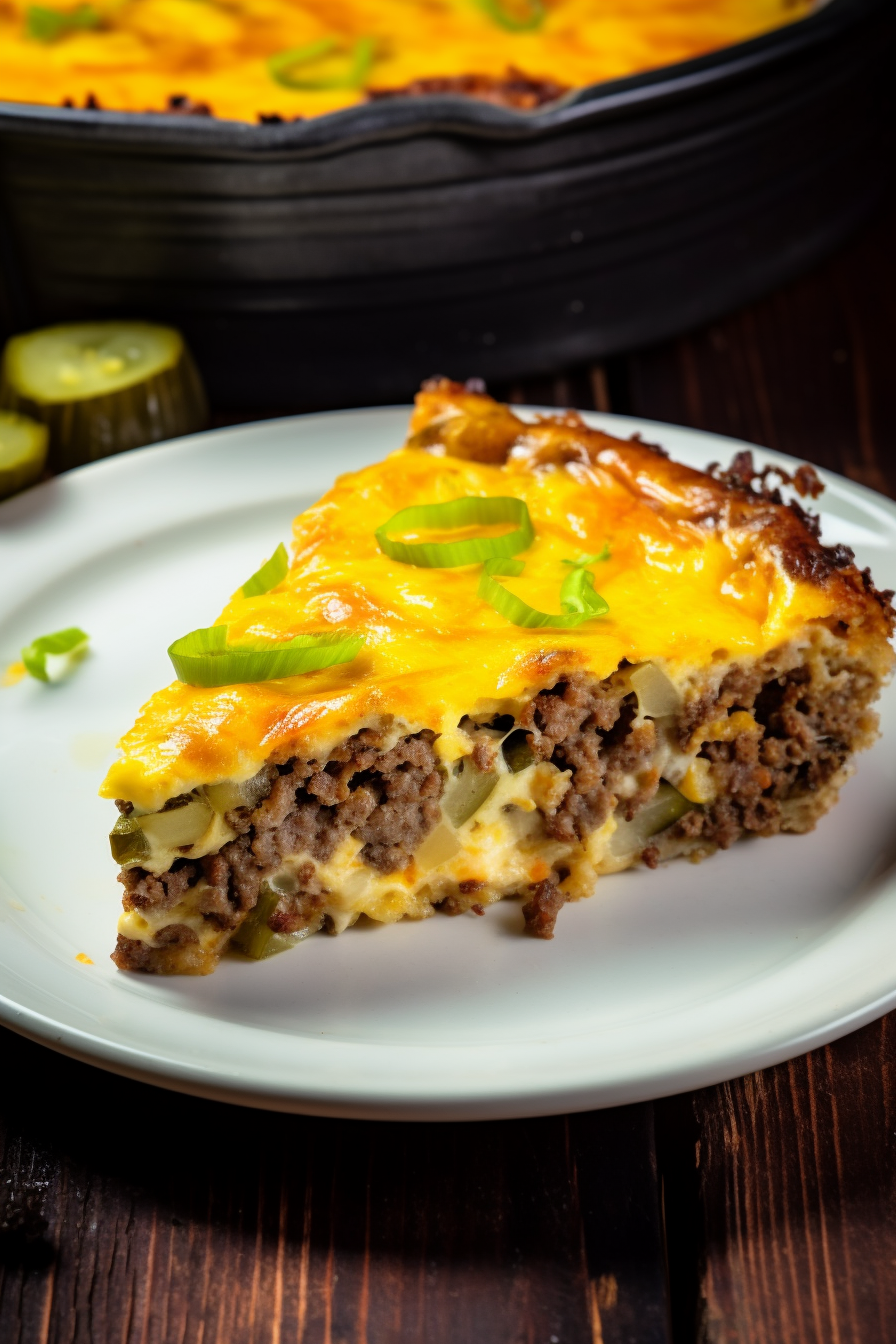 Variations and Substitutions:
Vegetarian Dream: Swap out the beef for a mix of mushrooms, zucchini, and bell peppers for a vegetarian delight.
Spice it Up: Jalapeños or crushed red pepper will light the fire.
Cheese Odyssey: Swap cheddar for mozzarella, pepper jack, or even blue cheese. Why not mix and match?
Crust Adventure: While Bisquick is the star, in a pinch, other pancake mixes or even a readymade pie crust can come to the rescue.
Happy cooking, dear readers! And remember, the real magic is not just in the pie, but in the stories and memories you cook up with it! 🍔🥧💖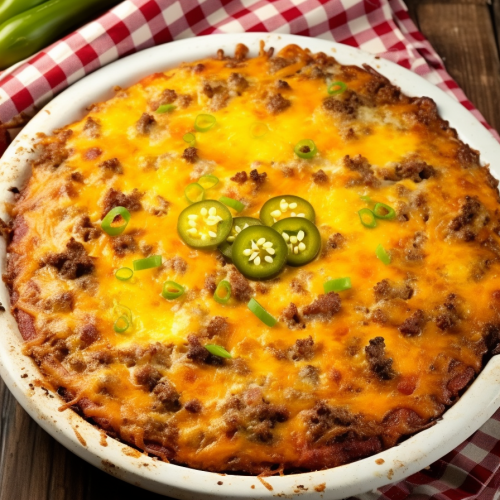 BISQUICK IMPOSSIBLE CHEESEBURGER PIE
Dive into a savory blend of ground beef, sharp cheddar, and aromatic onion and garlic, all held together by the magical Bisquick crust. This Impossible Cheeseburger Pie is where comfort meets convenience!
Print
Pin
Rate
Ingredients
Beef

80/20 ground: 1 pound

Onion

large, finely chopped: 1

Garlic cloves

minced: 2

Worcestershire sauce: 1 tablespoon

Salt: 1 teaspoon

Black pepper: 1/2 teaspoon
For the Crust:
Bisquick: 1/2 cup

Whole milk: 1 cup

Eggs

large: 2
For the Topping:
Cheddar cheese

extra-sharp, grated: 1 cup
Instructions
Oven Preparation: Set the oven to preheat at a temperature of 400 °F. Carefully coat a 9-inch pie plate with a nonstick cooking spray to ensure ease of serving post-cooking.

Beef Preparation: Utilize a skillet of significant size. Combine the beef, finely chopped onion, minced garlic, Worcestershire sauce, salt, and black pepper. Cook over a medium heat setting. Ensure the beef achieves a brown hue, eliminating any pink traces. This process should approximately take 10 minutes. Once achieved, carefully extract and discard any superfluous fat. Transfer the cooked beef mixture into the pie plate prepared earlier.

Crust Formation: In a separate, smaller bowl, integrate the Bisquick, milk, and eggs. Employ a whisking method to ensure a homogenous mixture. This mixture should be gently poured over the beef preparation in the pie plate. Following this, evenly distribute the grated cheddar cheese atop the mixture.

Baking: Place the pie plate in the preheated oven. The cooking duration is estimated between 30 to 40 minutes. The dish is adequately cooked when the top presents a golden brown shade. Post baking, it is advisable to allow the pie to rest for a minimum of 10 minutes prior to serving.