Dive into a bowl of rich flavors with key ingredients like white beans, smoked ham, carrots, and onions, effortlessly coming together in this Easy Ham and Bean Soup. It's a warming, hearty delight!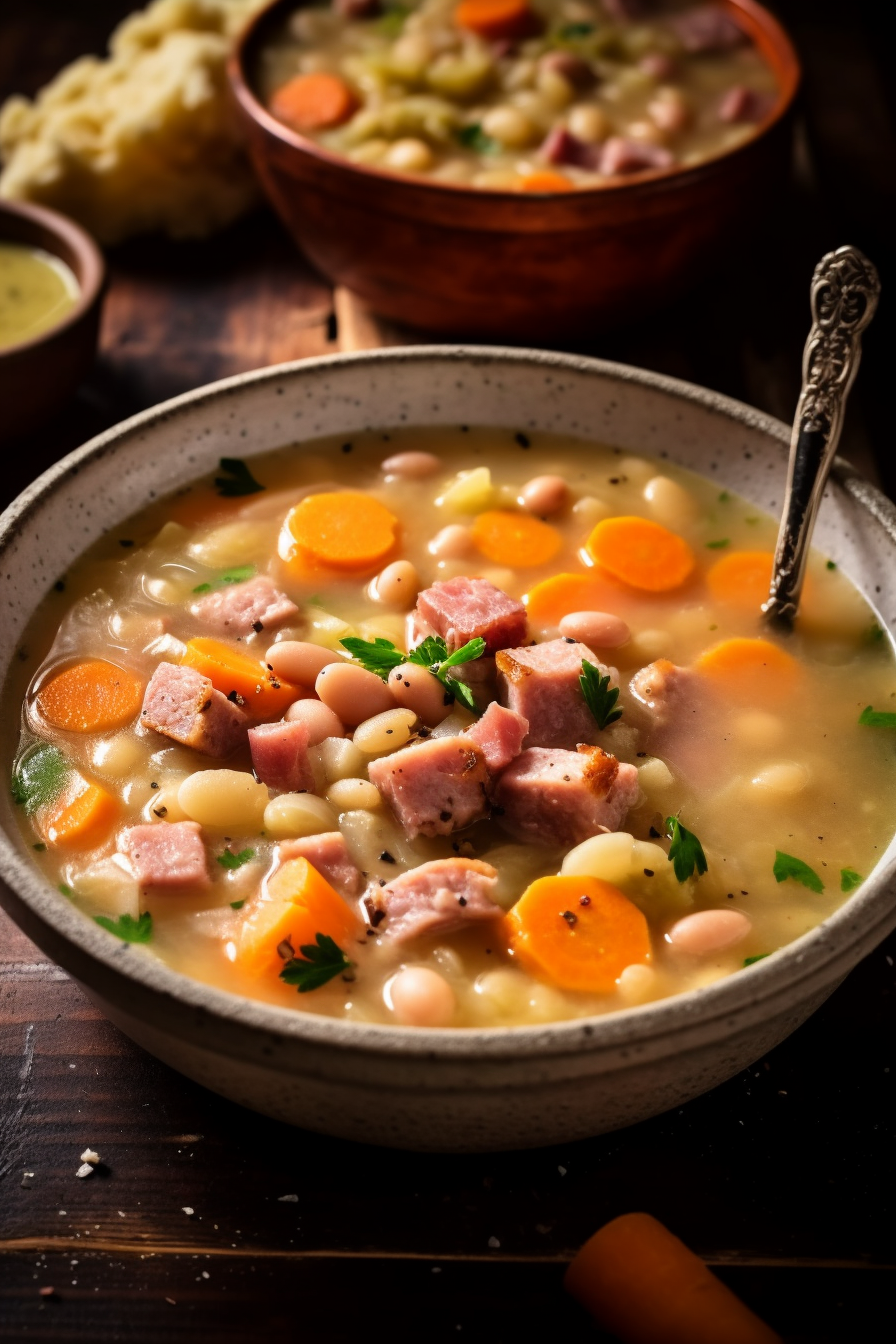 Oh boy, this Easy Ham and Bean Soup brings back memories! Remember those lavish holiday feasts where Uncle Joe would rave about his smoked ham skills? Yeah, those were great until the next day, when I was left with mounds of leftover ham. Enter my hero, this soup. Inspired by a recipe scribbled in Grandma's old cookbook, with a dash of my own laziness (I mean, genius), this 30-minute lifesaver emerged. It's been my go-to post-holiday ritual ever since. The warm, hearty texture of the beans and the savory goodness of the ham truly make every bite nostalgic!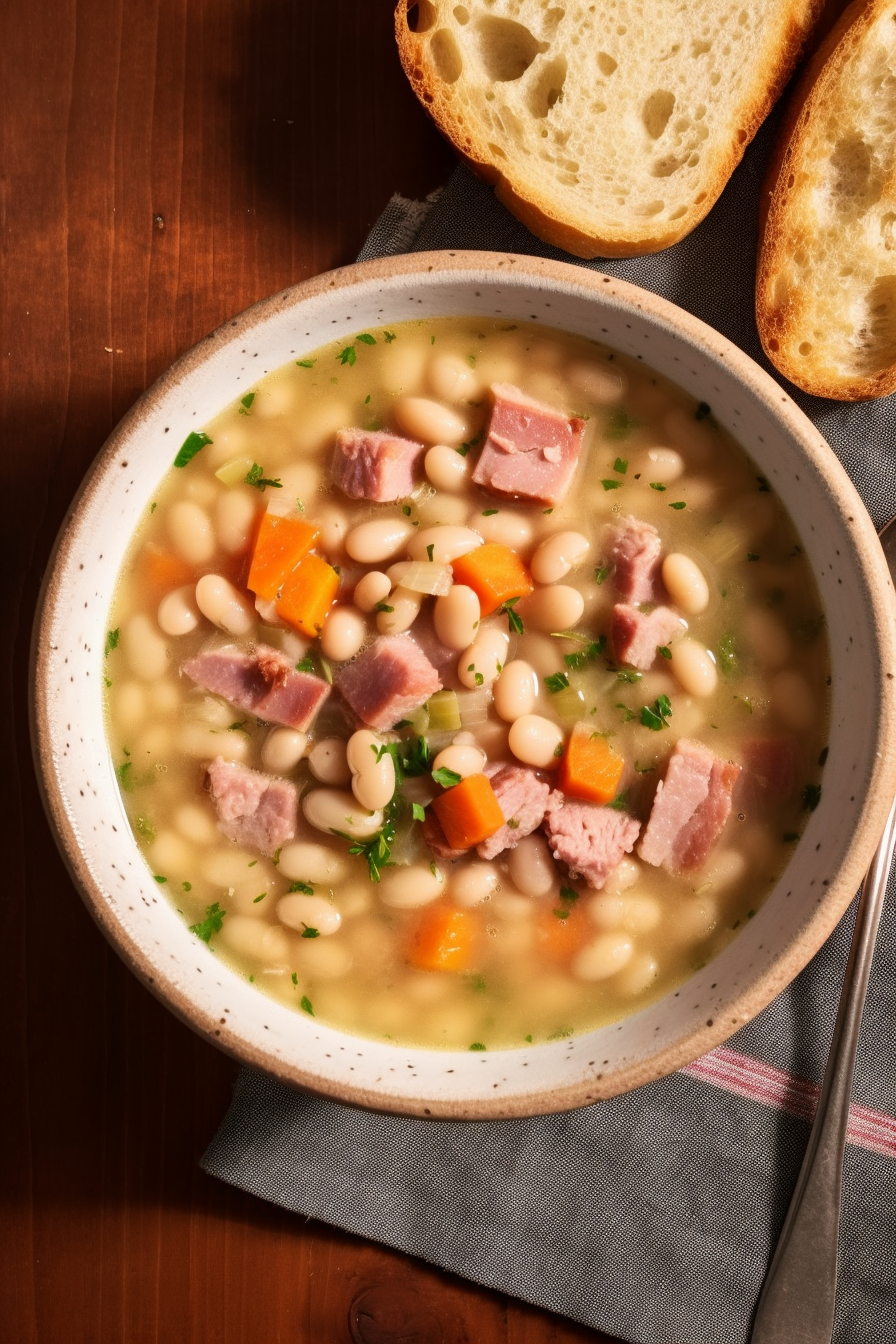 Why You'll Love This Easy Ham and Bean Soup:
What sets our Easy Ham and Bean Soup apart? Firstly, it's a one-pot wonder! Less mess, less stress. Additionally, it's a fantastic way to transform leftover ham into a whole new masterpiece. Thirdly, it's speedy; in just 30 minutes, you're dining like a king. Finally, it's seasoned with love, featuring aromatic herbs that elevate the flavor profile to "You're-hiring-me-for-Thanksgiving-next-year" levels.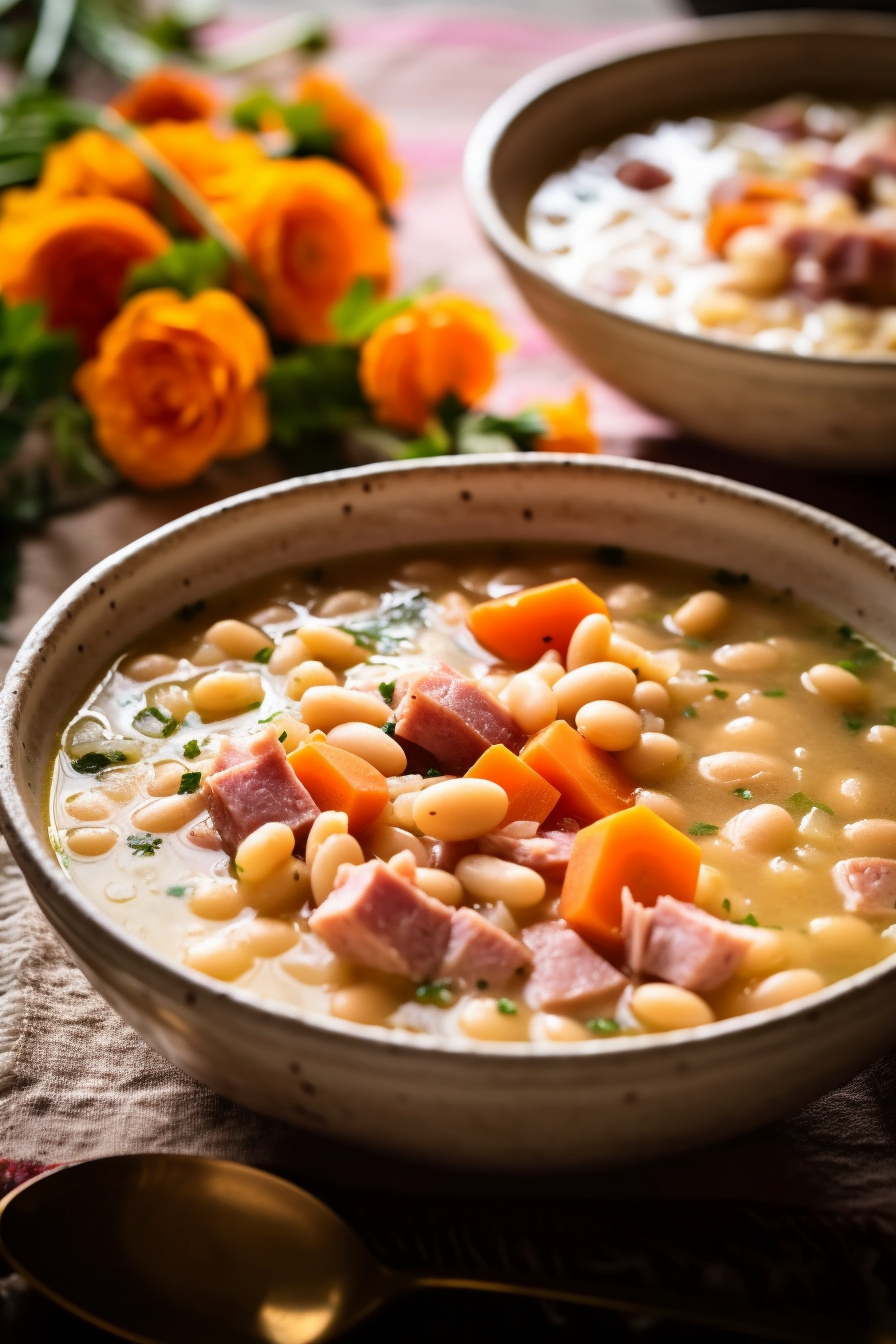 Ingredient For This Easy Ham and Bean Soup
Olive oil: The base for our aromatic symphony. Use a good quality one, and you'll notice the difference.
White Beans: Canned saves time, but if you're an overachiever, go ahead and soak and cook dry beans.
Chicken stock: Opt for low sodium, so you have more control over the seasoning.
Smoked Ham: Leftovers are ideal, but store-bought diced ham works in a pinch.
Ham Hock: This little beauty adds depth and smokiness. If unavailable, just add a touch more diced ham.
Herbs & Seasoning: Fresh is best, but dried thyme can also be substituted in dire situations.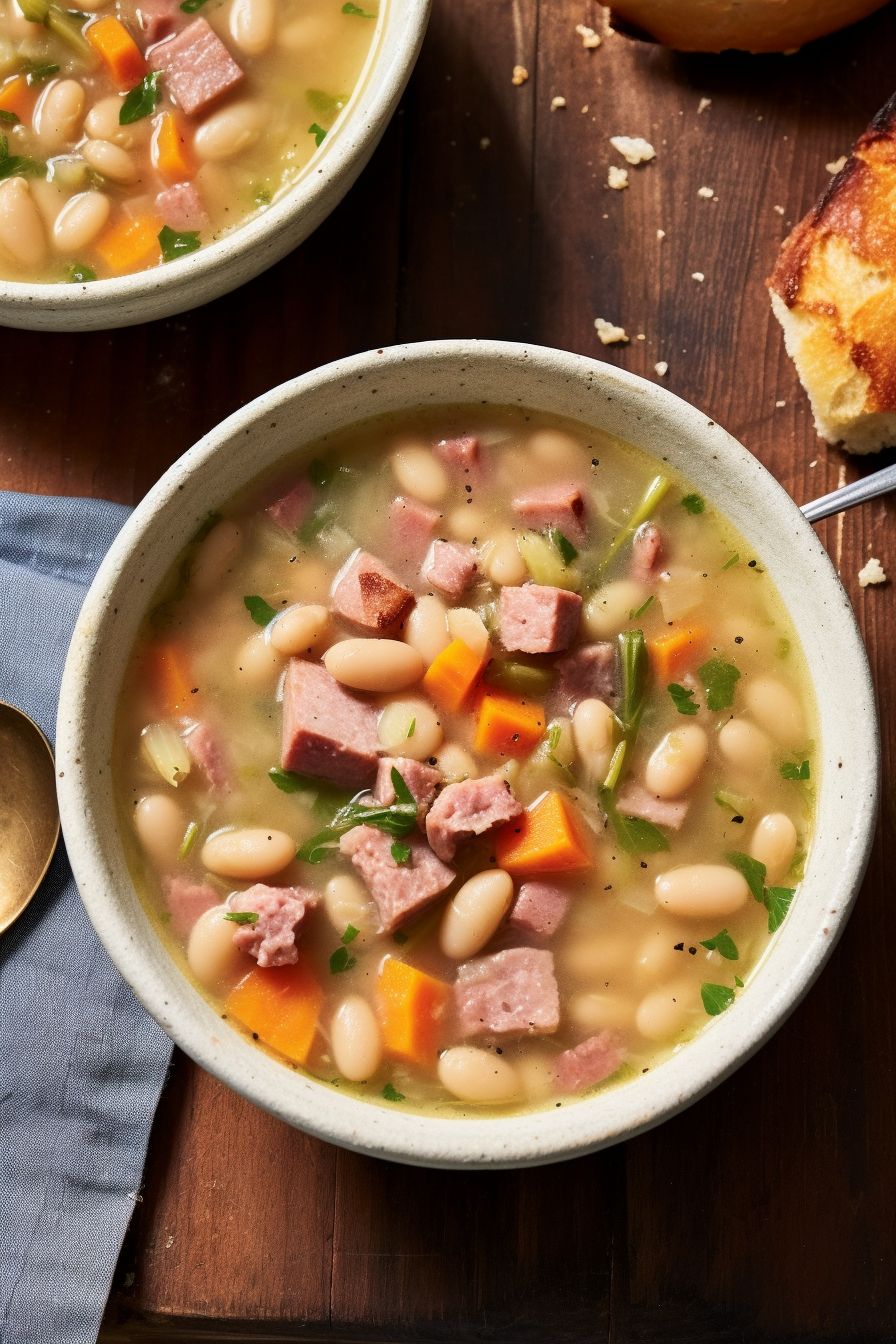 How To Make This Easy Ham and Bean Soup
Step One: Start with that trusty 5-quart soup pot. Warm it up, let the olive oil dance in it, setting the stage for what's to come.
Step Two: Now, introduce the carrots and onions. This duo will become besties in about 5 minutes. The onions will play shy, turning a soft translucent shade.
Step Three: It's garlic and thyme's moment. They're not just in for their good looks but for the aroma they infuse. Stir them into the mix and let the magic happen.
Step Four: Here comes the heavy artillery: beans (with their juice, because why not?), chicken stock, ham, ham hock, and the bay leaves. Make sure everything gets acquainted properly with a good stir.
Step Five: Patience, my dear! Allow your concoction to simmer for about 10-15 minutes. It'll thicken slightly, becoming more soup-like.
Step Six: Time for a taste test. Season with salt and pepper as your heart desires.
Step Seven: Before serving, sprinkle in the parsley for that gourmet touch. Serve it piping hot and watch the compliments roll in!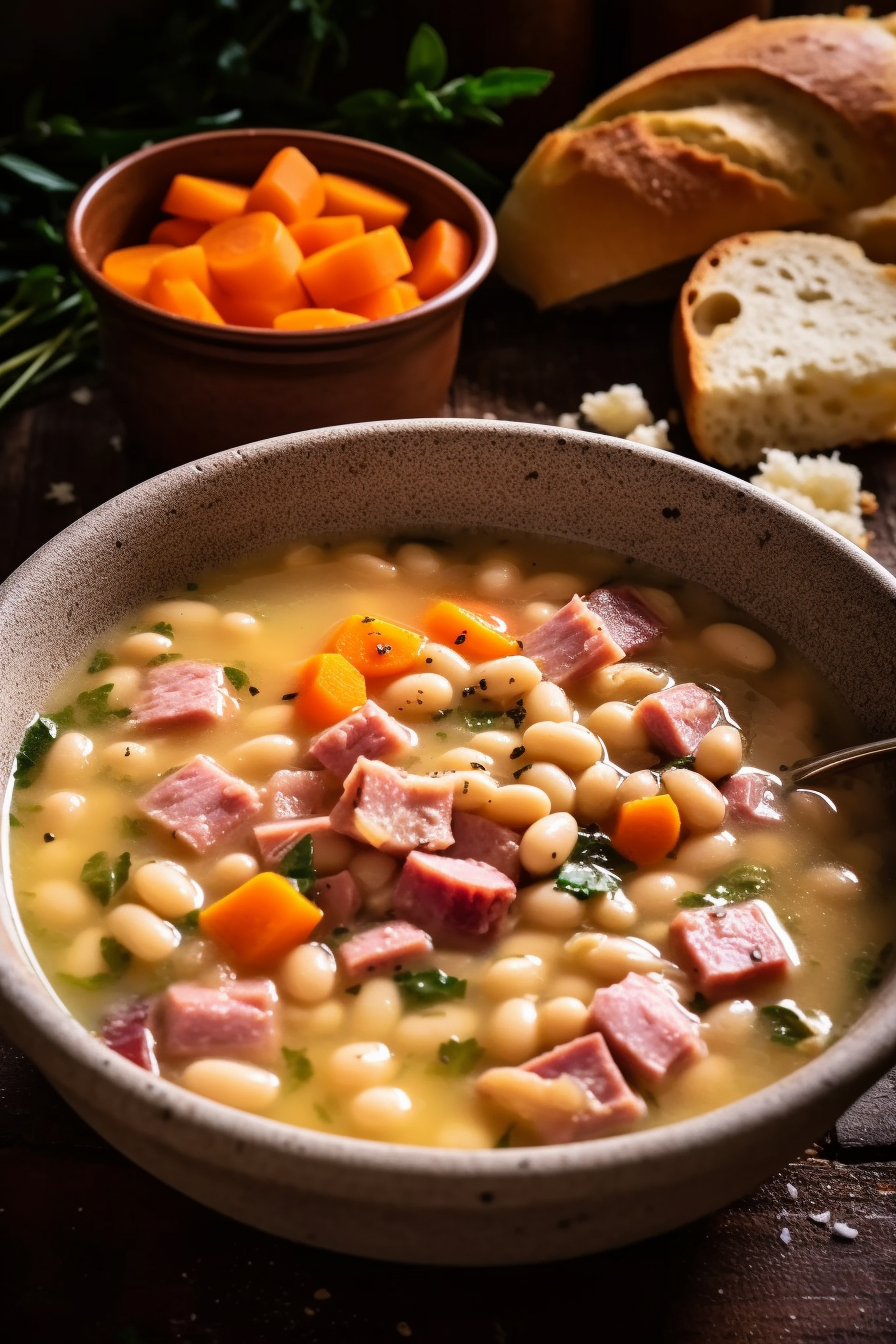 Storage Options
If by some wild, unimaginable chance you have leftovers, store this liquid gold in an airtight container in the refrigerator for up to 3 days. Want to enjoy it much later? It also freezes well. Just let it cool down, transfer to freezer bags, lay flat, and you have soup ready to reheat on a chilly day.
Variations and Substitutions
Feel like mixing it up? Swap white beans for kidney or pinto beans.
Vegetarians, omit the ham and use vegetable stock, maybe add some smoked paprika for that smoky touch.
No fresh thyme on hand? Use half the amount of dried thyme.
And if parsley isn't your thing, fresh chopped spinach or kale stirred in at the end adds a nice touch of green and an extra nutrient boost!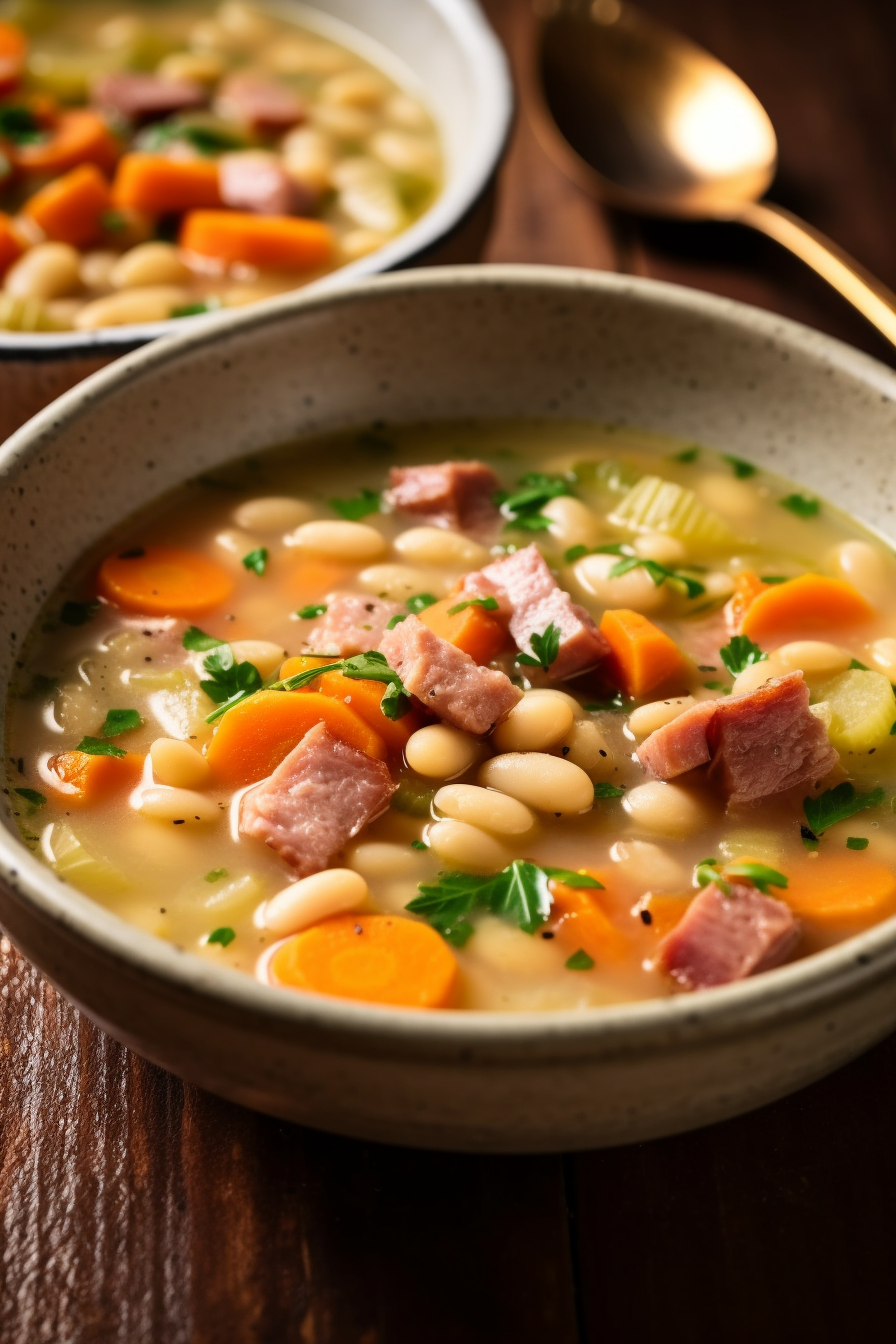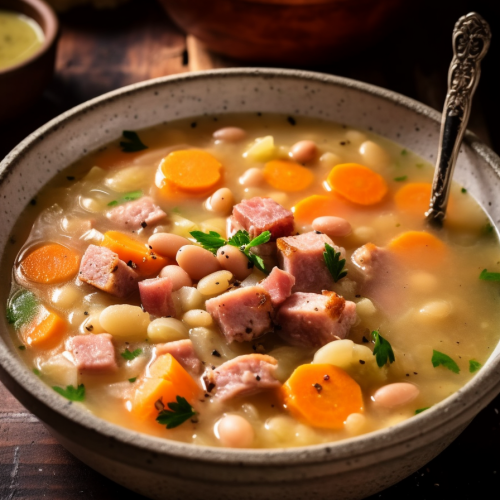 Easy Ham and Bean Soup
Dive into a bowl of rich flavors with key ingredients like white beans, smoked ham, carrots, and onions, effortlessly coming together in this Easy Ham and Bean Soup. It's a warming, hearty delight!
Print
Pin
Rate
Ingredients
1

tablespoon

olive oil

3

carrots

small dice

1

small onion

small dice

2

garlic cloves

minced

1

tablespoon

fresh thyme leaves

4

14.5 ounce cans white beans

3

cups

chicken stock

2

cups

diced smoked ham

1

smoked ham hock

2

dried bay leaves

Kosher salt

to taste

Black pepper

to taste

1/4

cup

minced parsley
Instructions
In a 5-quart soup pot, pour the olive oil and set it over a medium-high flame, ensuring an even distribution of heat.

Once the oil reaches its optimum temperature, introduce the carrots and onions, ensuring they are spread out evenly. Allow them to cook for approximately 5 minutes, or until the onions achieve a translucent appearance.

Incorporate the garlic and fresh thyme leaves, stirring them in until well combined with the other ingredients.

Proceed to add the white beans – ensuring to include the juice for enhanced flavor – the chicken stock, diced ham, ham hock, and bay leaves into the pot. Stir meticulously to ensure an even mixture.

Let the soup simmer gently for a duration of 10-15 minutes, during which it should attain a slightly thickened consistency, indicating the melding of flavors.

After achieving the desired consistency, sample the soup and season with kosher salt and freshly ground black pepper to your preferred taste profile.

Lastly, integrate the minced parsley and ensure it's evenly dispersed before serving the soup while it's still at its optimal temperature.