Gorge on heavenly cream puffs made with a blend of buttery shells stuffed with our Famous Mom's creamy vanilla pudding filling. A classic treat in under an hour!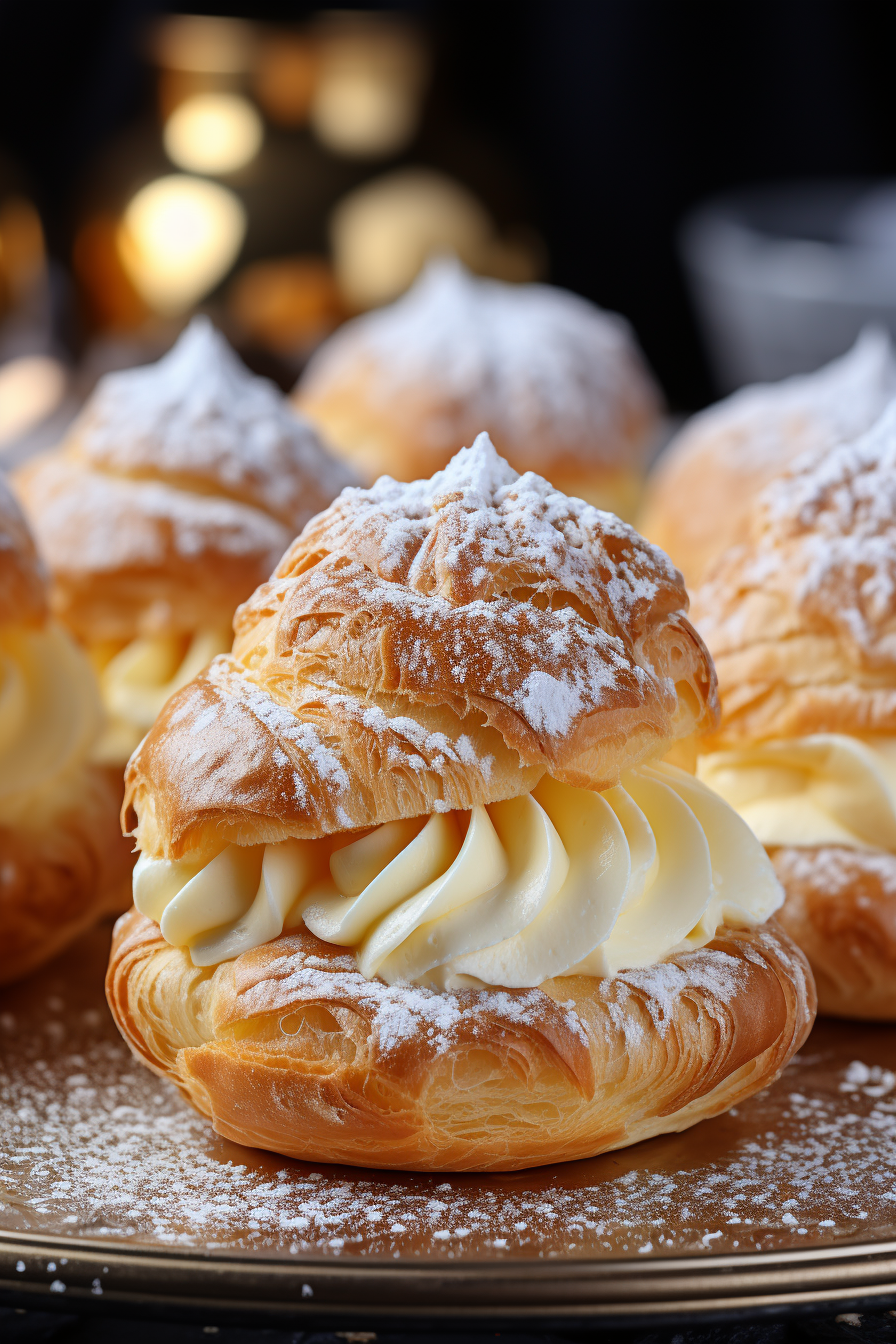 Oh, the memories! Growing up, every special occasion or family gathering had one constant – my mom's cream puffs. It was like a rite of passage. I remember tiptoeing into the kitchen, hoping to steal one (or three) before dinner. These puffs became so famous in our neighbourhood that friends would conveniently 'drop by' when they smelled the sweet aroma wafting from our windows. And now, after years of coaxing and bribing with countless other dessert recipes, I've finally managed to get this coveted secret from her. Today, my dear readers, I'm not just sharing a recipe, but a slice of my childhood.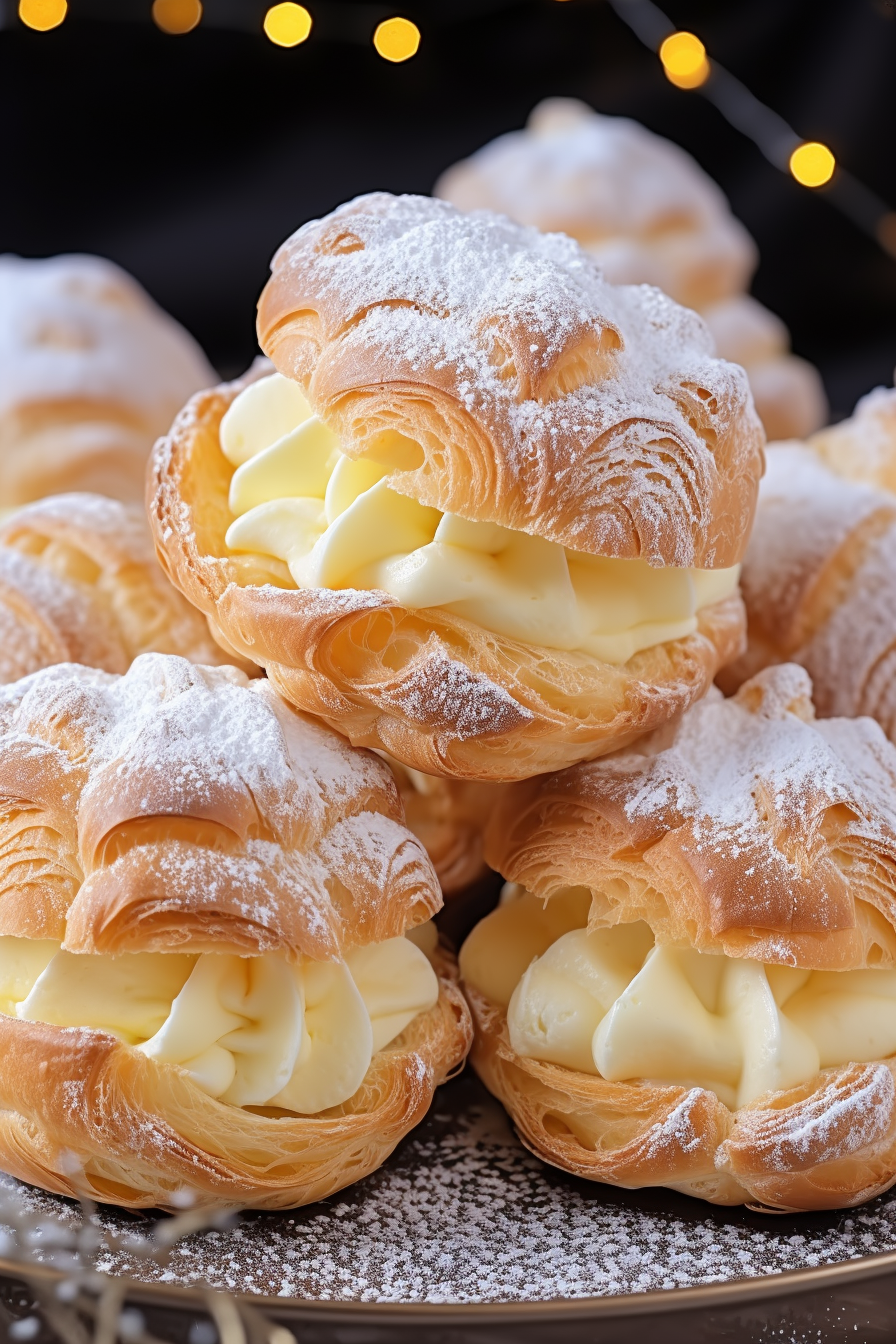 Why You'll Love CREAM PUFFS:
Ah, where do I even start? Firstly, the simplicity! You don't need a culinary degree to whip up these beauties. In under an hour, you have a dessert that looks like it's straight out of a Parisian bakery. Secondly, the filling. Oh my, the filling! Our Mom's Famous Filling isn't called "famous" just for fun – it's the real deal! Rich yet not overpowering, creamy yet light, it's the heart of this recipe. Lastly, the versatility. Serve them at high tea, at a birthday bash, or just gobble them up while binge-watching your favourite show. These puffs are always a hit!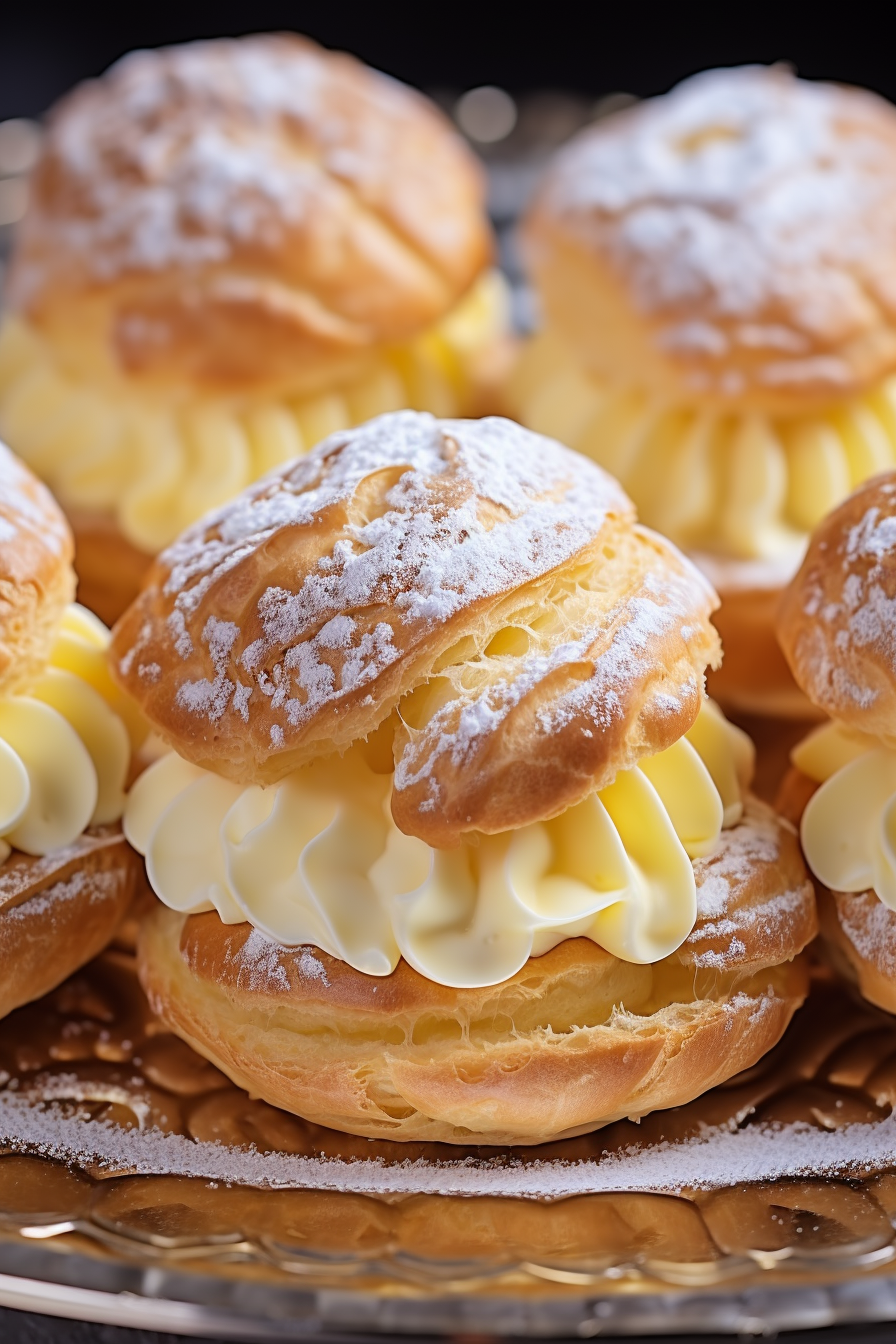 Ingredients for the "FAMOUS CREAM PUFFS" Recipe:
Let's break it down, ingredient by ingredient:
Butter: Always go for unsalted butter. It gives you better control over the saltiness.
Flour: Standard all-purpose flour is what you're looking for.
Eggs: Freshness matters. Always crack your eggs in a separate bowl to avoid any surprises.
Vanilla: Please, for the love of all that's sweet, use real vanilla extract. It makes a difference!
Instant Vanilla Pudding: This is where the magic happens. This little packet is the unsung hero of our filling.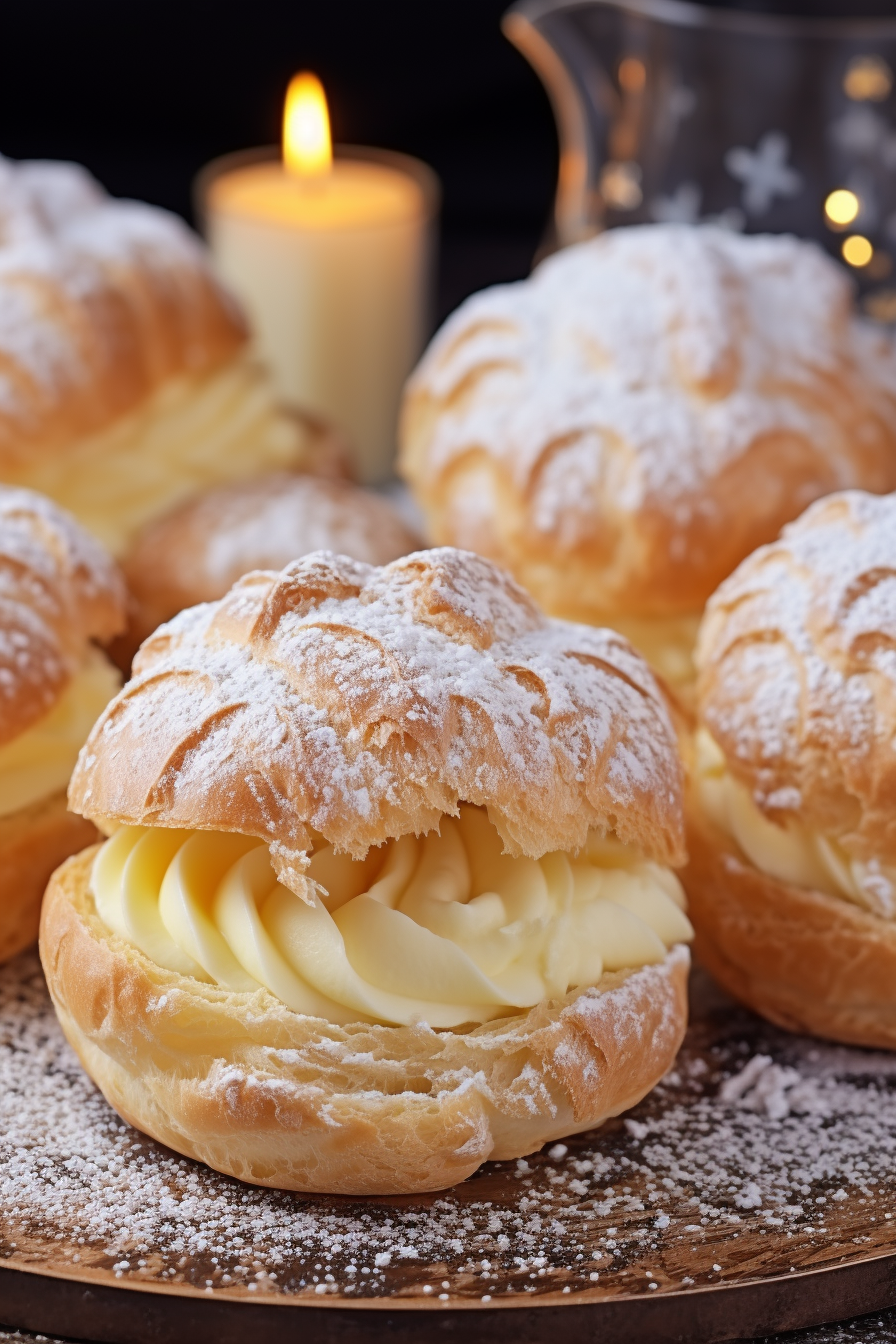 How To Make CREAM PUFFS:
Start by preheating your oven. This ensures even baking.
In a pot, bring your butter, sugar, water, and vanilla to a gentle boil. It's essential to keep an eye on this; we don't want any burnt surprises!
Once boiling, swiftly mix in the flour. Stir until you witness the magic of the dough pulling away from the pot sides and forming a soft ball.
Let this dough cool for a bit; we don't want scrambled eggs in the next step!
Beat in the eggs, one by one, ensuring each is well-incorporated before adding the next. Your dough should now be smooth and glossy.
Now, spoon or pipe this dough onto your parchment-lined trays, leaving some space between each for them to grow and puff.
Bake these babies first at 400 degrees for 15 minutes, then tone it down to 350 degrees for the next 15.
Once golden and beautiful, take them out, give them a tiny slit to let out the steam (this helps keep them crisp), and let them cool.
Filling:
In a mixer, combine the heavy cream, pudding powder, and milk. Whip until it's thick, creamy, and has you resisting the urge to eat it straight from the bowl.
Once your shells are cooled, slice 'em in half and generously stuff with this heavenly filling.
Finish with a sprinkling of powdered sugar to make them extra pretty and voila!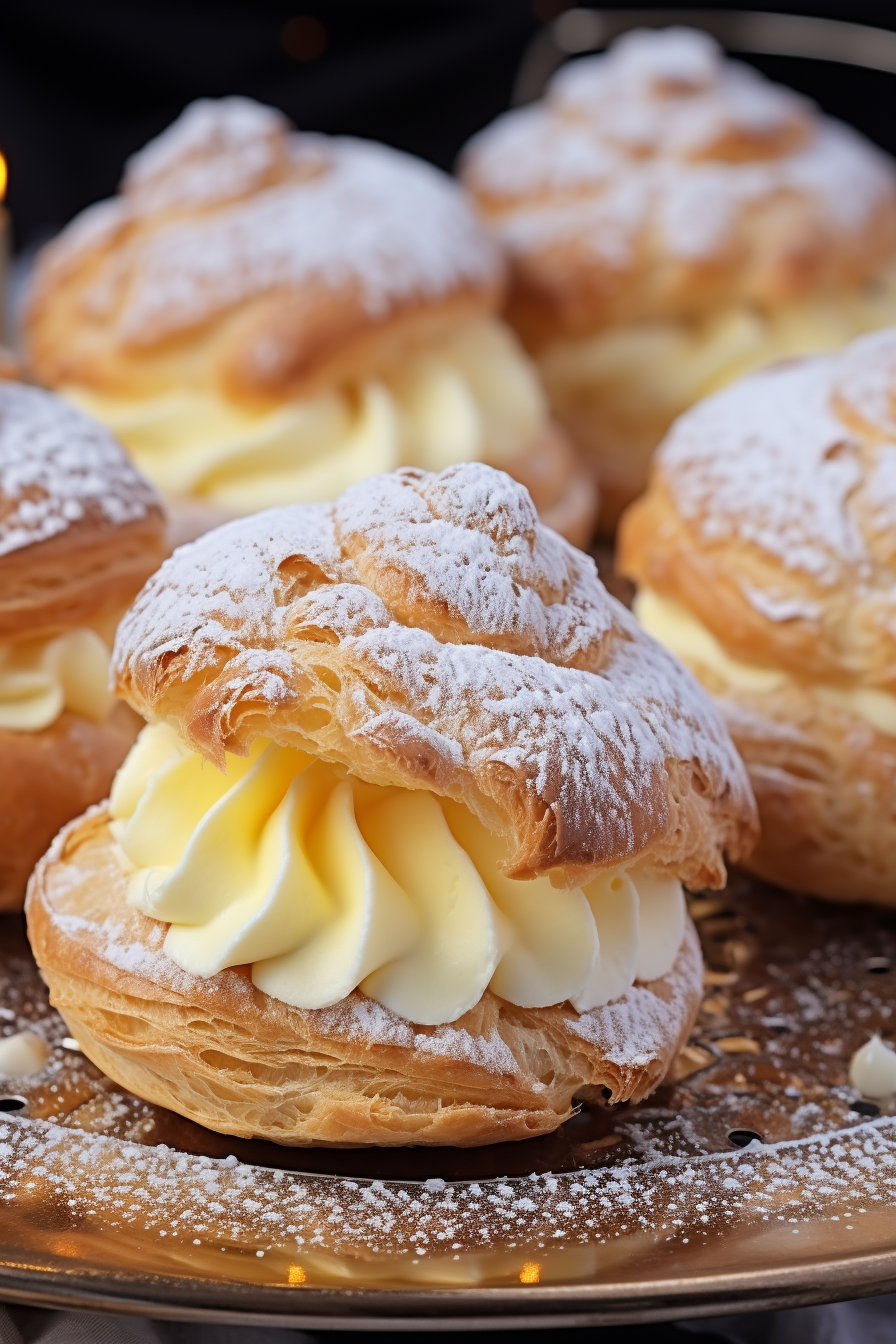 Storage Options for the "FAMOUS CREAM PUFFS":
Storing these cream puffs is a test of willpower! If, by some miracle, you have leftovers, place them in an airtight container. They should keep in the fridge for up to 2 days. Though, let's be real, they probably won't last that long!
Variations and Substitutions for the "FAMOUS CREAM PUFFS":
Feeling adventurous?
Filling: Swap the vanilla pudding for chocolate or even lemon for a twist!
Toppings: Instead of powdered sugar, how about a drizzle of chocolate sauce or caramel? Or even a sprinkle of crushed nuts for added crunch?
Eggless?: You can use an egg-replacement powder available in health stores. The texture might vary slightly, but the taste will still be on point!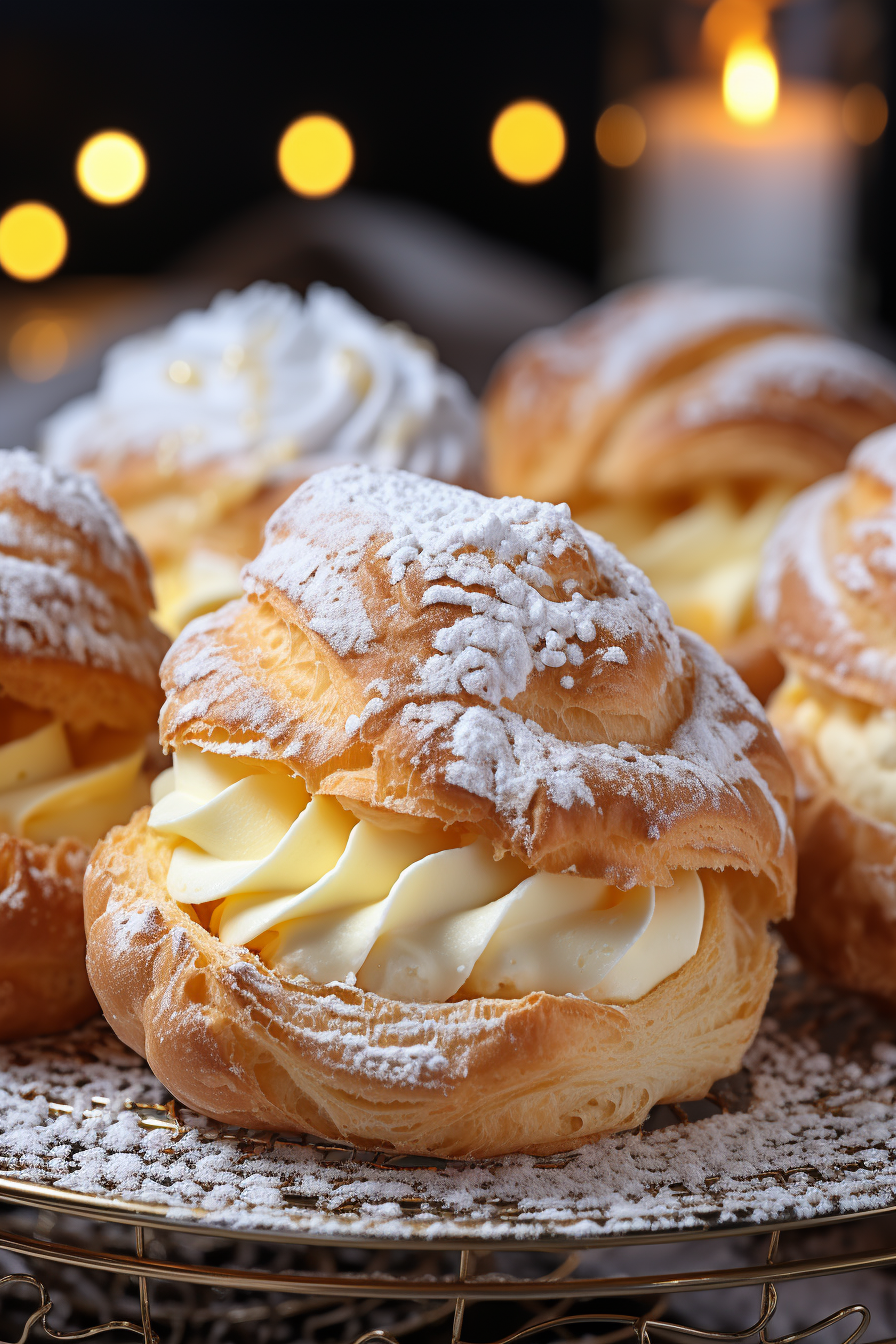 Ingredients
Shells:
Butter: 8 Tablespoons

unsalted preferred

Water: 1 cup

Vanilla Extract: 1 teaspoon

Granulated Sugar: 1 teaspoon

Eggs: 4

preferably at room temperature

All-purpose Flour: 1 cup
Filling:
Heavy Cream: 1 pint

Instant Vanilla Pudding: 3.4 ounces

Milk: ⅓ cup

Approximate yield: 16 cream puffs.
Instructions
For the Shells:
In a heavy-bottomed pot, combine butter, sugar, water, and vanilla extract. Place over medium heat until the mixture reaches a boil.

Once boiling, promptly add the flour, stirring continuously until the mixture pulls away from the sides of the pot, forming a cohesive ball.

Remove the pot from heat and allow the dough to cool slightly.

Gradually incorporate the eggs, one at a time, into the dough, ensuring each is fully integrated before adding the next.

On a baking sheet lined with parchment paper, portion out the dough, using either two spoons or a pastry bag, as preferred.

Preheat the oven to 400°F (204°C). Once heated, place the baking sheet in the oven for 15 minutes. After this time, reduce the temperature to 350°F (177°C) and continue baking for an additional 15 minutes.

Upon removal from the oven, swiftly make a small incision on the side of each cream puff to allow the escape of steam. Allow to cool thoroughly.
For the Filling:
In a mixing bowl, combine the heavy cream, instant vanilla pudding, and milk. Using an electric mixer, beat the mixture until it achieves a thick consistency resembling whipped cream.

Once the shells have cooled, they may be sliced open and filled with the prepared filling. It is recommended to either pipe or spoon the filling into each shell.

For a refined finish, a light dusting of powdered sugar can be applied atop each cream puff.