Dive into the creamy delight of Tres Leches Cake! Made from light sponge cake, soaked in a tri-blend of milks and crowned with whipped cream and a sprinkle of cinnamon. Pure indulgence in every bite!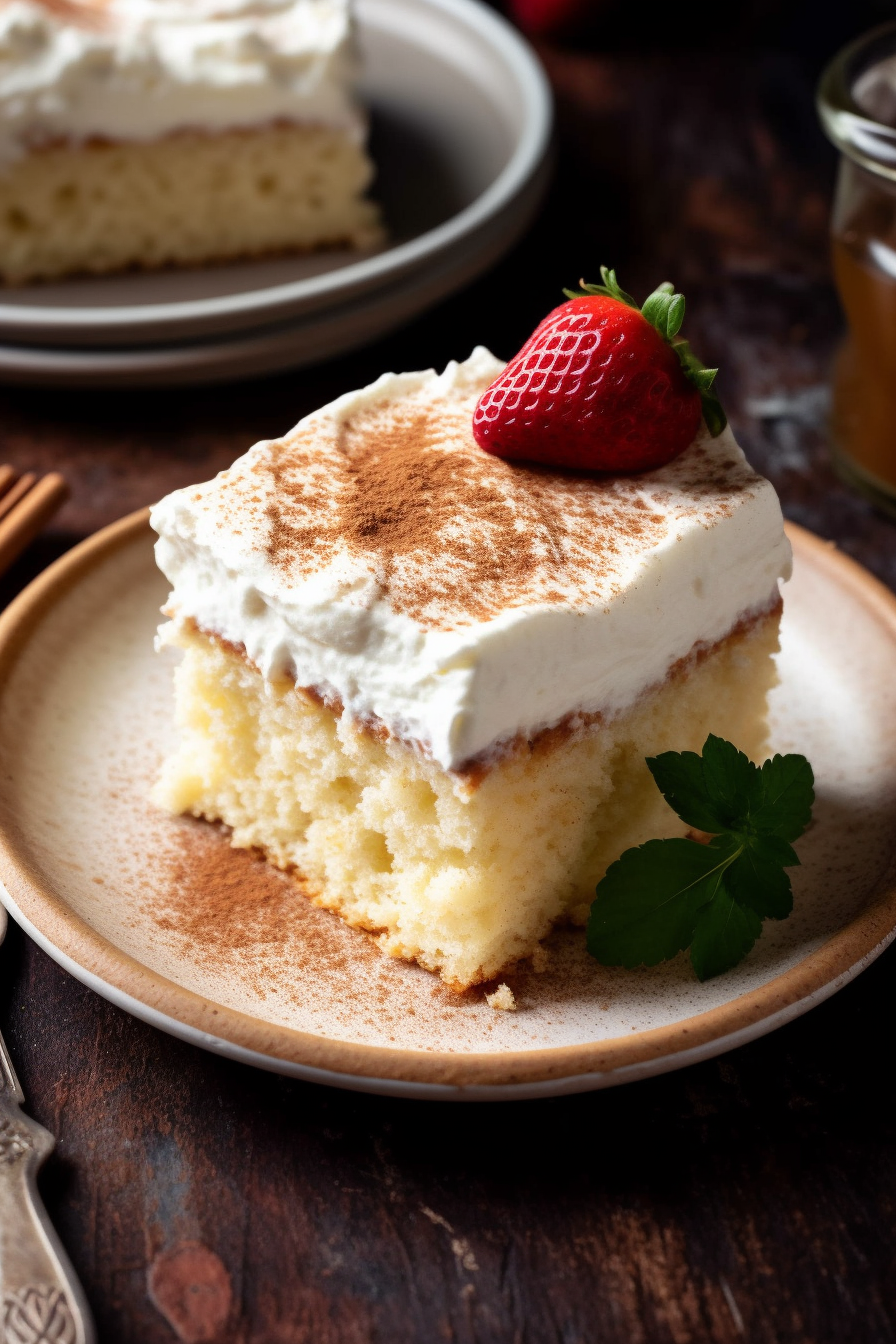 Oh, Tres Leches! This cake brings back memories of sunny afternoons in my grandmother's kitchen. As a kid, I'd always be entranced by the process – watching the cake come alive, right from the time those eggs were separated to when the aromatic cinnamon was sprinkled on top. Grandma would say, "Patience, mija. Good things come to those who wait." And wait I did! The tantalizing aroma when it baked and the magic when the milks seeped into the sponge had me hovering around, barely able to contain my excitement. Fast forward to today, and I'm sharing this family gem with you all. A slice of nostalgia, warmth, and rich flavors, all in one plate!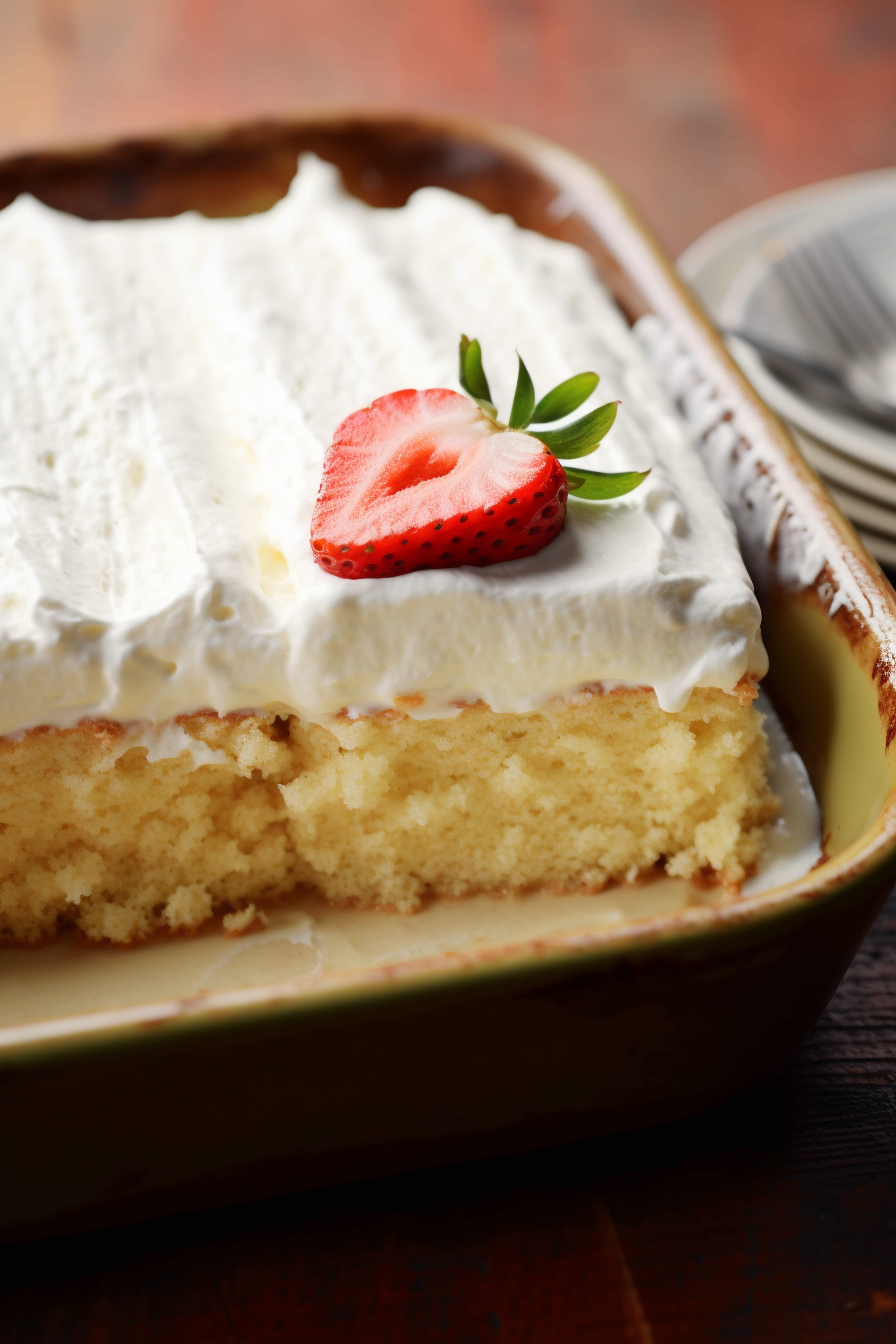 Why You'll Love Tres Leches Cake:
Ah, the Tres Leches Cake. What sets ours apart? First, it's the impeccable blend of those three milks that make this cake sinfully moist without being soggy. Then, there's the ethereal lightness of the cake, achieved by painstakingly separating the eggs and whisking to perfection. And let's not forget the whipped cream – it's like a fluffy cloud, light yet decadent. But what truly makes this recipe a showstopper is the nostalgia, the memories, and the love baked right in.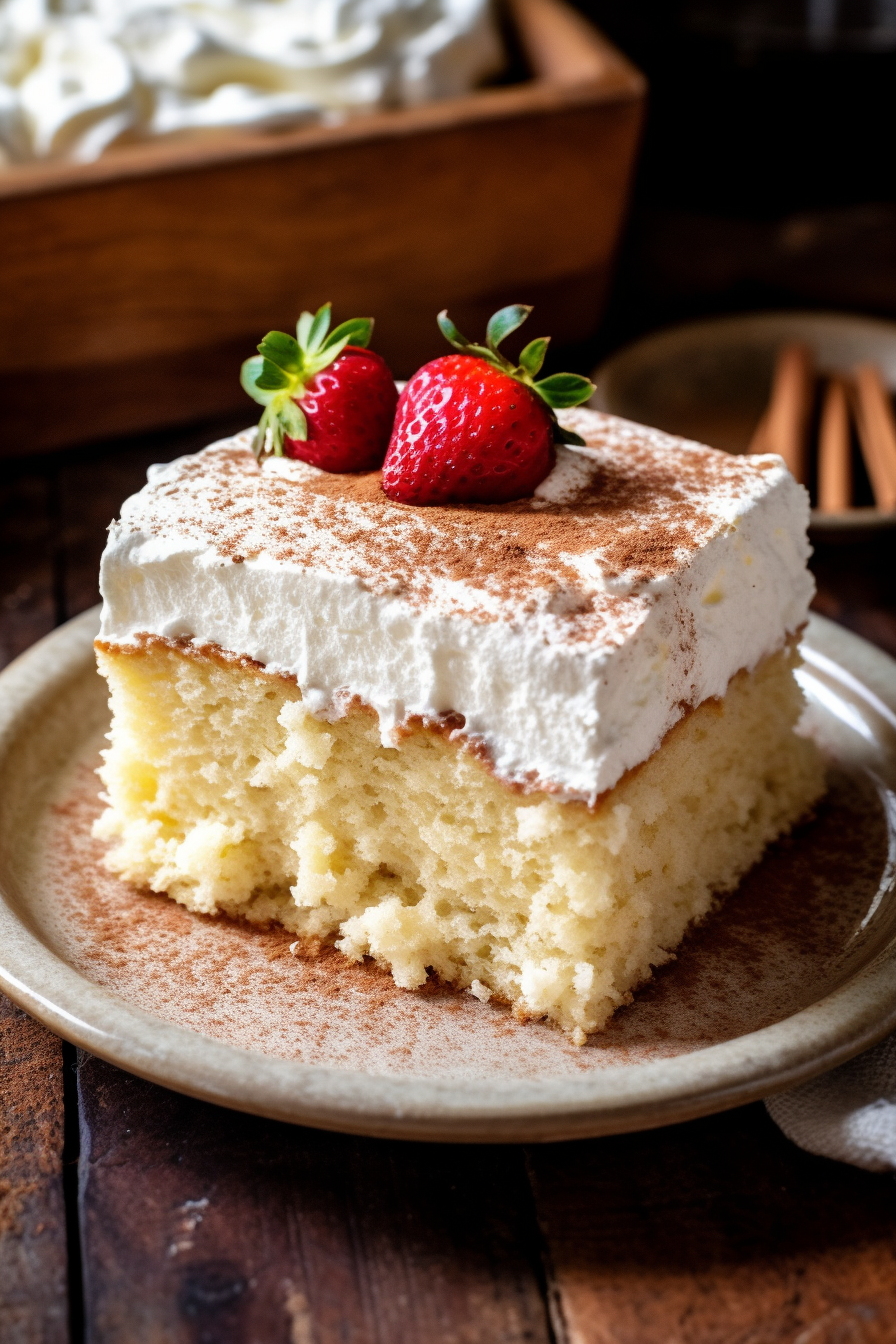 Ingredients for the Tres Leches Cake:
Alright, dear readers, let's chat ingredients. For the cake, it's crucial to use large eggs. They're the backbone, giving our cake its structure. The quality of the milks? Non-negotiable! Opt for good-quality evaporated and condensed milk. As for the whipped topping, do yourself a favor and go for genuine heavy whipping cream. Your taste buds will thank you later. And that sprinkle of cinnamon? It's the cherry on top – or rather, the sprinkle on the cream!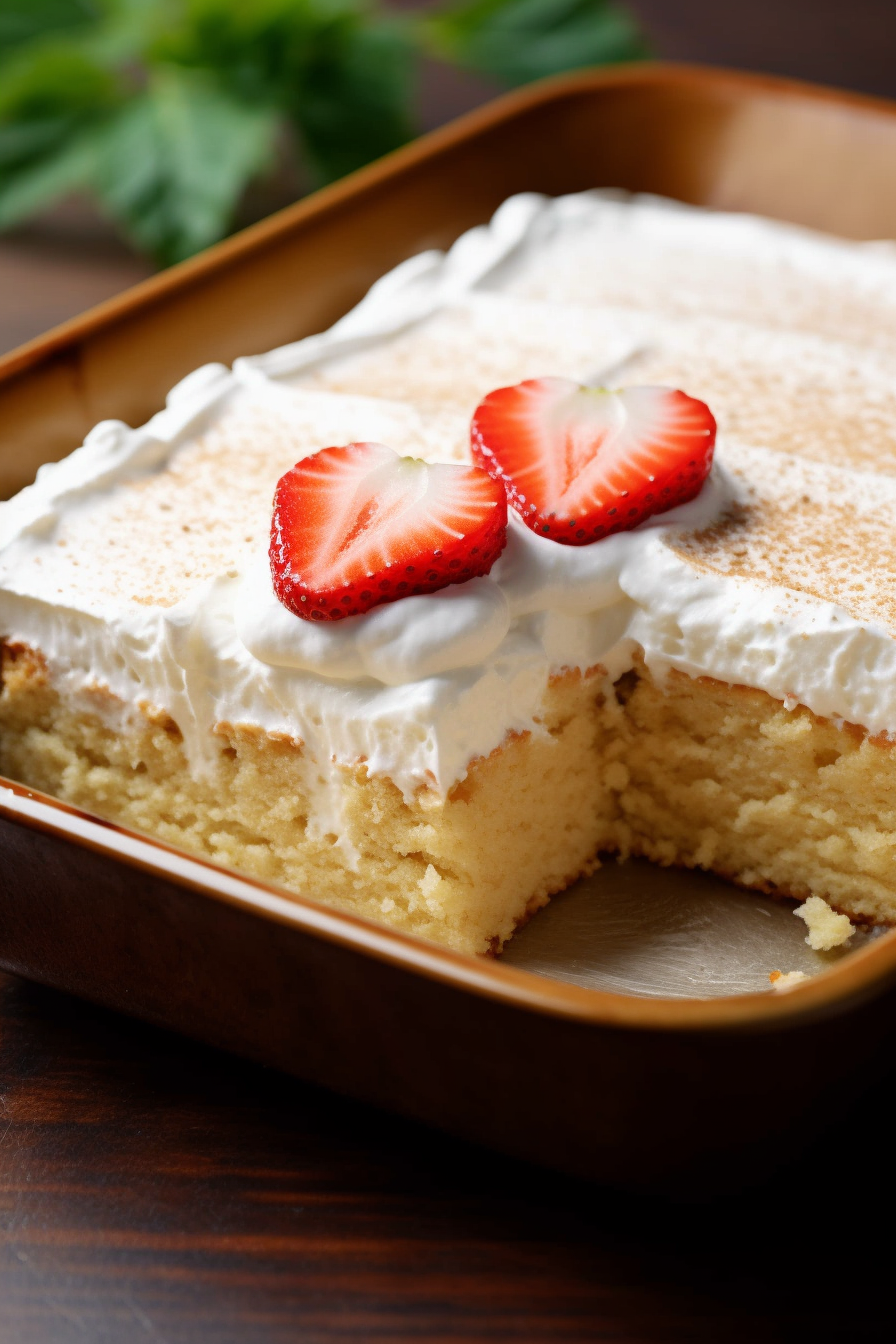 How To Make Tres Leches Cake:
Let's break it down, cake-style:
Step One: The Oven Warm-up: Preheat your oven to 350 degrees F. This ensures even baking for our delicate cake.
Step Two: Dry Mix: Blend the flour, baking powder, and salt in a bowl. This is our cake's base.
Step Three: Egg Yolk Magic: In another bowl, whisk egg yolks with ¾ cup sugar until you get a sunny yellow hue. Mix in milk and vanilla. Gently blend this with your dry mix.
Step Four: Fluffy Whites: In a third bowl, beat those egg whites. As they get frothy, add the ¼ cup sugar, and whip until you see stiff peaks. Gently fold this into your batter.
Step Five: Bake it Up: Pour the batter into your pan and bake for 25-35 minutes. Remember, patience is key. Once done, let it cool down completely.
Step Six: Milk Fusion: Time to blend the evaporated milk, condensed milk, and whole milk. Grab a fork and poke generous holes atop the cake, then pour the milk mix, ensuring every inch is soaked.
Step Seven: Chill Session: Pop the cake in the refrigerator. An hour should suffice, but overnight? Even better!
Step Eight: Creamy Finish: Whip the heavy cream, sugar, and vanilla until you get stiff peaks. Slather this over the cake, sprinkle cinnamon, and you're done!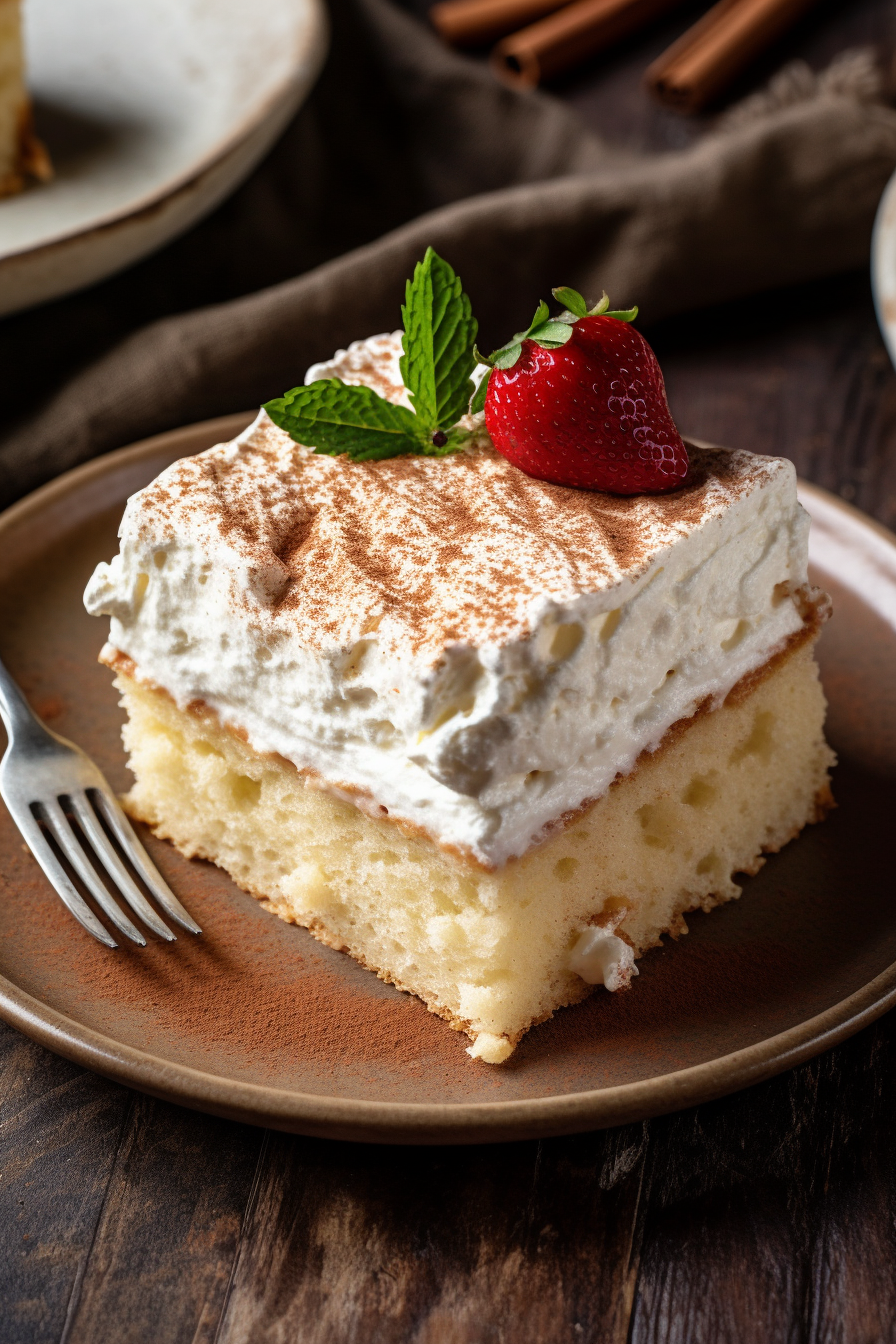 Storage Options for Tres Leches Cake:
Got leftovers? (Though I'd be surprised if you did!) Keep your Tres Leches Cake in an airtight container in the refrigerator. It'll stay fresh for up to 3 days. But remember, the longer it sits, the more the milk will be absorbed, making it even more delicious!
Variations and Substitutions for the Tres Leches Cake:
Shake it up, cake lovers! Want a fruity twist? Add some lemon or orange zest to the batter. Not a fan of cinnamon? Try a sprinkle of cocoa powder or grated chocolate. Vegan friends, swap out the dairy for coconut milk, almond milk, and cashew milk. And for an extra kick, a splash of rum or coffee liqueur in the milk mix can be our little secret. 😉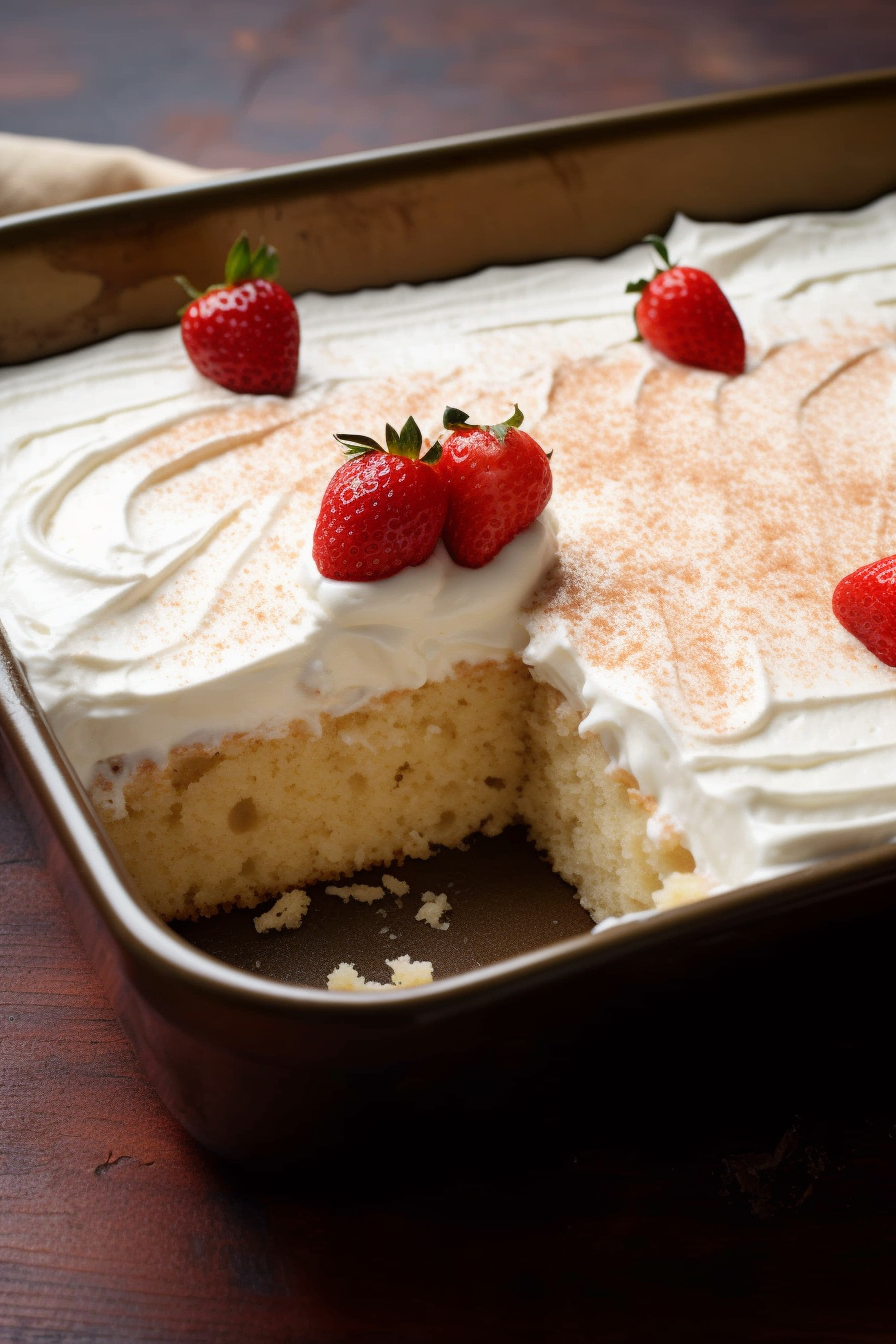 Tres Leches Cake
Dive into the creamy delight of Tres Leches Cake! Made from light sponge cake, soaked in a tri-blend of milks and crowned with whipped cream and a sprinkle of cinnamon. Pure indulgence in every bite!
Print
Pin
Rate
Ingredients
Cake:
1

cup

all-purpose flour

1 1/2

teaspoons

baking powder

1/4

teaspoon

salt

5

large eggs

separated

1

cup

granulated sugar

divided

1/3

cup

whole milk

1

teaspoon

vanilla extract
Milk Mixture:
12

ounces

evaporated milk

14

ounces

sweetened condensed milk

1/4

cup

whole milk
Whipped Topping:
1

pint

heavy whipping cream

3

Tablespoons

powdered sugar

1/2

teaspoon

vanilla extract

Ground cinnamon for garnishing
Instructions
Preheat the oven to 350 degrees F.

Combine the flour, baking powder, and salt in a medium-sized bowl.

Separate the eggs. In another bowl, mix the egg yolks with 3/4 cup of sugar until the mixture turns pale yellow in color. Subsequently, integrate the 1/3 cup milk and vanilla extract.

In a separate container, beat the egg whites using an electric mixer. As they begin to form stiff peaks, gradually incorporate the remaining 1/4 cup sugar. Gently fold the beaten egg whites into the earlier prepared batter, ensuring thorough mixing without over-beating.

Transfer the batter into an un-greased baking pan and ensure even spreading. Bake in the preheated oven for a duration of 25 to 35 minutes, or until a toothpick inserted into the cake's center emerges clean.

Allow the cake to cool completely. Meanwhile, mix together the evaporated milk, sweetened condensed milk, and whole milk in a suitable container.

Once the cake has adequately cooled, puncture the surface uniformly with a fork. Proceed to pour the prepared milk mixture over the cake, ensuring it's evenly saturated.

Refrigerate the cake for a minimum of 1 hour or optimally, overnight.

Prepare the whipped topping by beating together the heavy cream, powdered sugar, and vanilla extract until stiff peaks form. Spread this whipped topping over the cake uniformly. Garnish with ground cinnamon. It's advisable to serve with freshly sliced strawberries if available.
Nutrition
Calories:
433
kcal
|
Carbohydrates:
50
g
|
Protein:
9
g
|
Fat:
22
g
|
Saturated Fat:
13
g
|
Cholesterol:
152
mg
|
Sodium:
171
mg
|
Potassium:
344
mg
|
Sugar:
41
g
|
Vitamin A:
865
IU
|
Vitamin C:
1.7
mg
|
Calcium:
242
mg
|
Iron:
1
mg