Indulge in the harmonious blend of velvety baked potatoes, caramelized onions, fragrant thyme, and nutty Gruyere cheese; an elegant twist to the humble spud inspired by the classic French Onion Soup.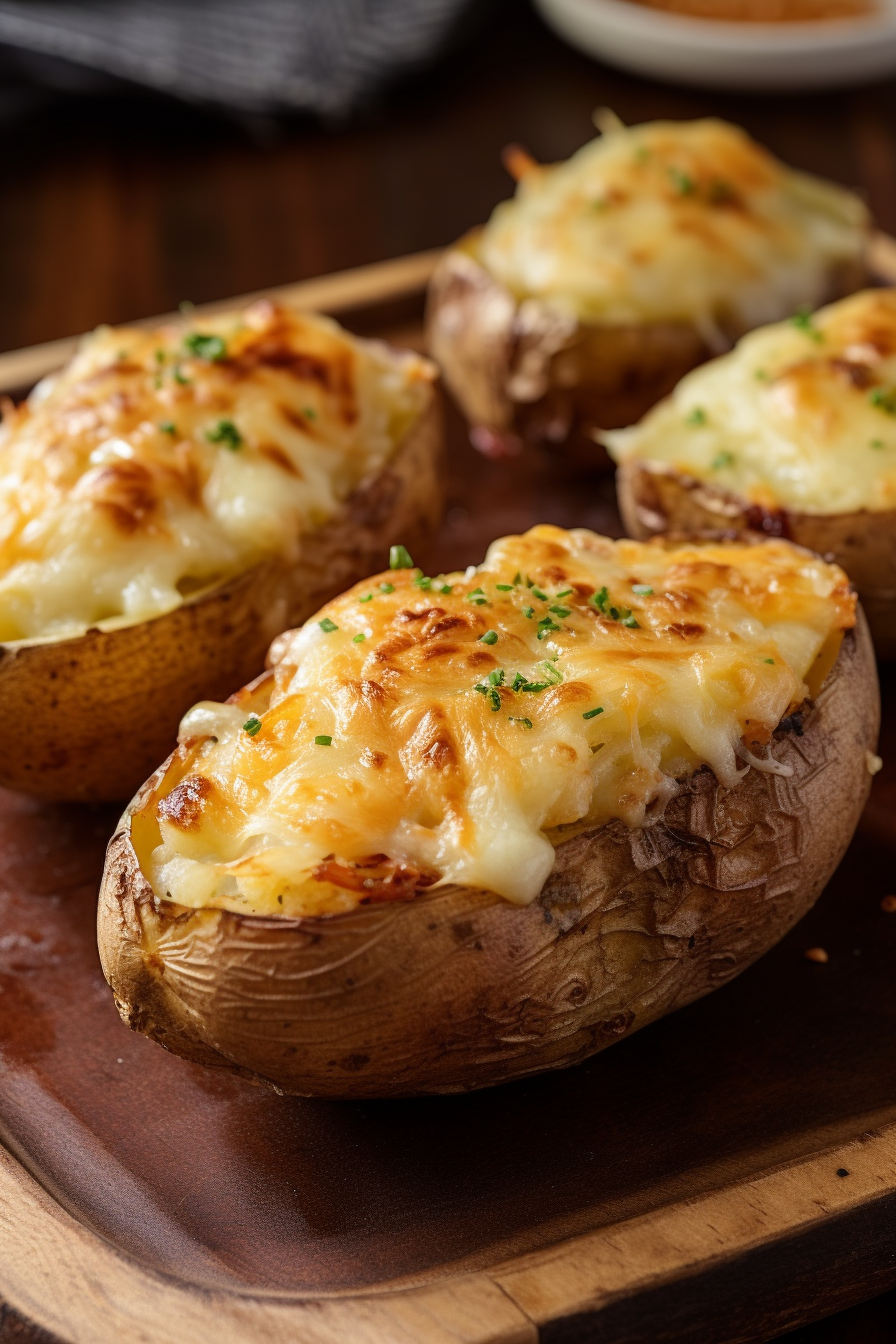 Oh, where to begin? One chilly evening, sitting by the fireside, I was torn between my love for a comforting bowl of French Onion Soup and the homeliness of baked potatoes. Why not have both? I thought. And then – lightbulb moment! The concept of French Onion Stuffed Potatoes was born. Taking a bite, it was like traveling through the bustling lanes of Paris without ever leaving my kitchen. Each potato bite held a story, a fusion of rustic warmth and gourmet sophistication. Ever since that day, it's become my go-to recipe whenever I'm craving something heartwarming and chic at the same time. Who knew potatoes could get a French twist?
Pin this recipe to your favorite board now to remember it later!
Why You'll Love French Onion Stuffed Potatoes
Firstly, who would've thought of combining two all-time favorites – French Onion Soup and baked potatoes? It's like the Beyoncé and Jay-Z of the culinary world, a powerhouse duo! This recipe offers an avant-garde twist on comfort food, taking the flavors of the classic soup and elevating the humble potato to gourmet levels. Additionally, it's remarkably easy, making gourmet accessible even on weeknights! Plus, the rich aroma of caramelized onions and melting Gruyere? Pure kitchen romance.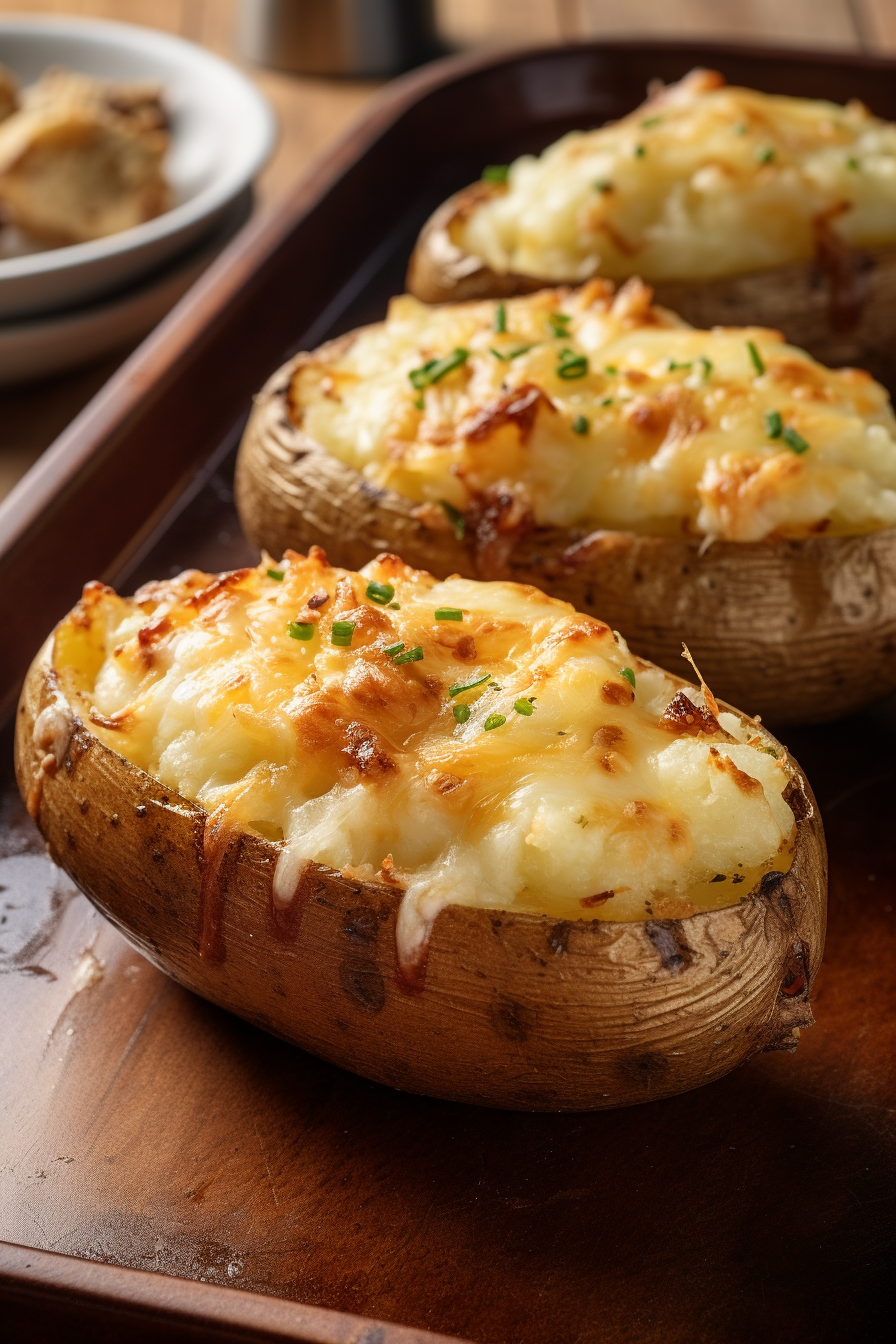 Ingredients For French Onion Stuffed Potatoes:
Baked Potatoes: Opt for russet potatoes. Their starchy, fluffy texture makes them the ideal choice for baking.
Butter: Unsalted butter is preferred to control the seasoning. Its creamy richness harmonizes beautifully with onions.
Onions: Yellow onions are best for their sweet flavor which caramelizes well.
Sherry or Dry White Wine: This adds depth to the caramelized onions. If avoiding alcohol, a splash of apple cider vinegar will do.
Gruyere Cheese: The nutty and slightly sweet flavor complements the onions. But if Gruyere is playing hard to get, Swiss or Emmental is a good understudy.
Seasonings: Quality kosher salt and freshly ground black pepper can really elevate this dish. The dried thyme adds an aromatic, slightly lemony touch.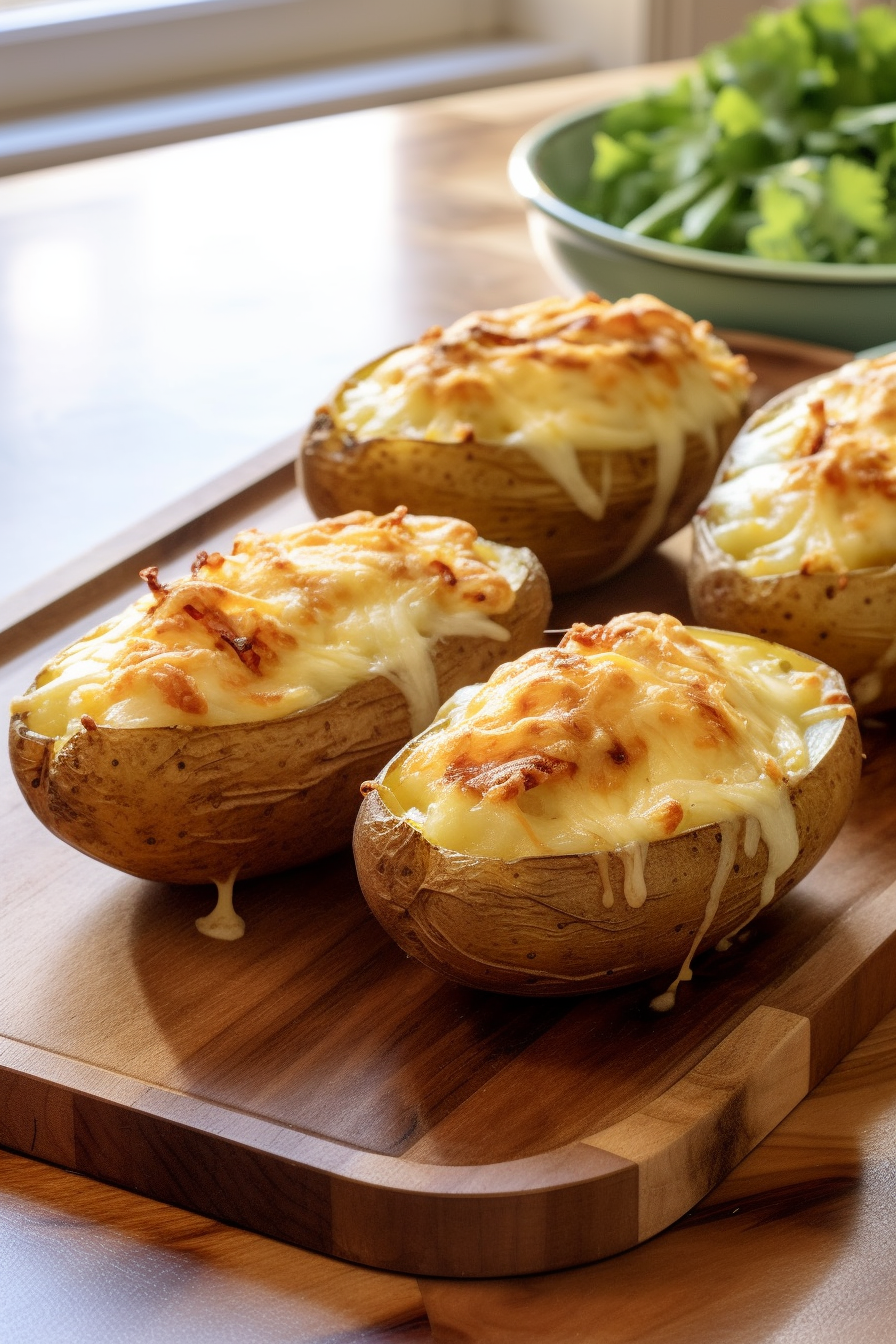 How To Make French Onion Stuffed Potatoes:
Start by firing up your oven to 375°F, setting the stage for some magic! In a spacious skillet, allow the butter to melt and become one with the thinly sliced onions. Season them with the classic combo of salt, pepper, and dried thyme.
Cook these beauties patiently until they're soft and wearing a caramel-colored robe. For a touch of drama, deglaze the pan with your chosen sherry or wine, letting those rich flavors meld.
Pour in the beef stock and watch the sizzling performance until the liquid takes its exit. With those perfectly baked potatoes, be gentle – slice off their tops and tenderly scoop out their soft hearts into a welcoming bowl.
Here, let the potato meet half of that sumptuous onion blend, stirring to create the perfect union. Lovingly stuff this mix back into the potato shells, giving them new life!
As they line up on a baking tray, shower them with the remaining onions and a generous sprinkle of Gruyere. Into the oven they go, until that cheese melts into a golden blanket. For an encore, let them see the broiler for a minute. Voila! An edible masterpiece.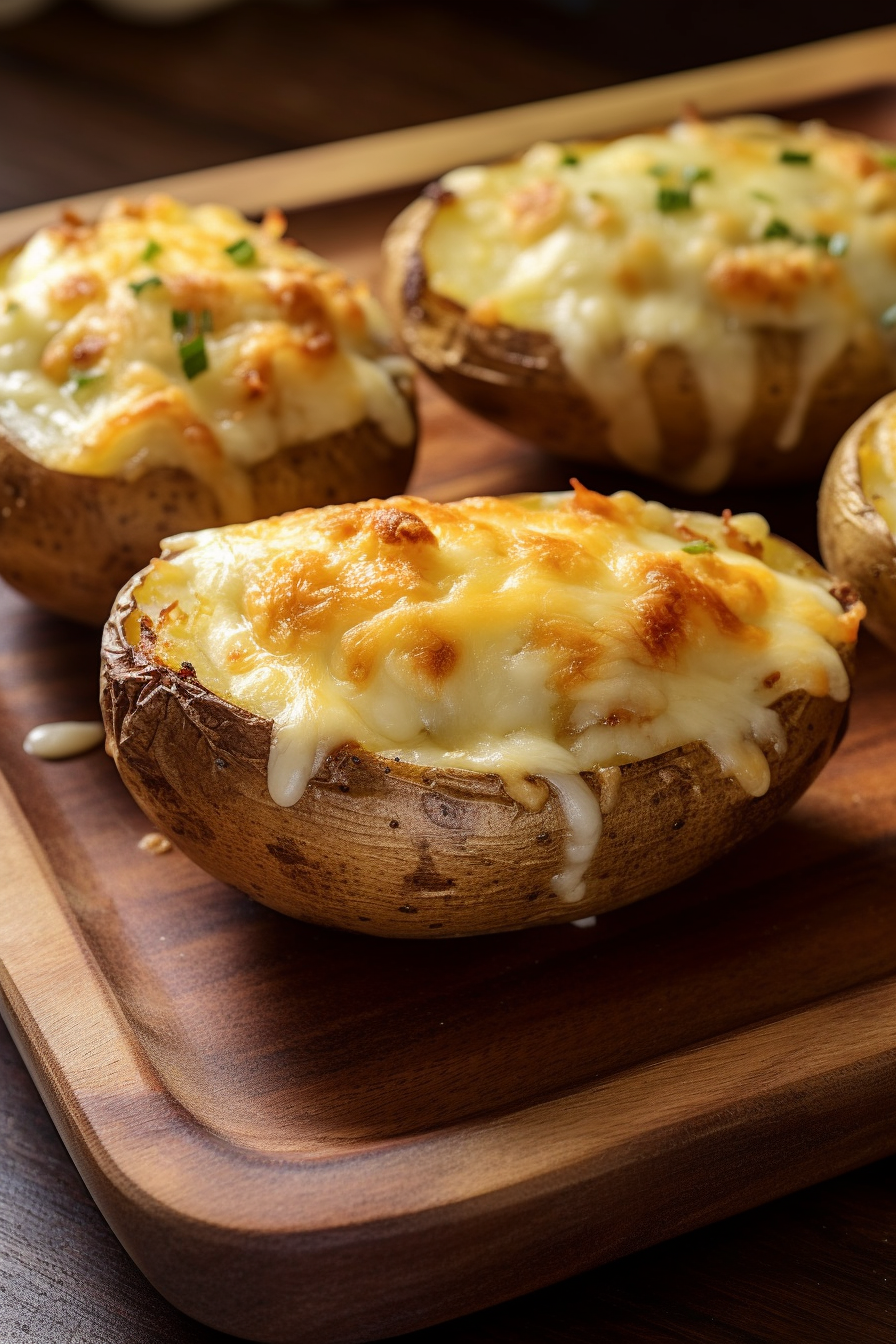 Storage Options:
If by some twist of fate you have leftovers (which, let's be honest, is rare in my house!), let the stuffed potatoes cool down. Then, wrap them individually in foil or place them in an airtight container. They'll happily chill in your fridge for up to 3 days. To reheat, simply bake them at 350°F until they're warm and the cheese is all melty again.
Variations and Substitutions:
Feeling adventurous? For a vegetarian twist, swap out beef stock for vegetable stock. For a dairy-free version, try using vegan butter and cheese – it's a bit non-traditional, but hey, we're all about pushing boundaries here! If Gruyere is proving elusive, a good Swiss cheese or Emmental can step in. And for those who like some crunch, consider adding a sprinkle of crispy bacon bits or even some toasted breadcrumbs on top. The world's your oyster… or in this case, potato!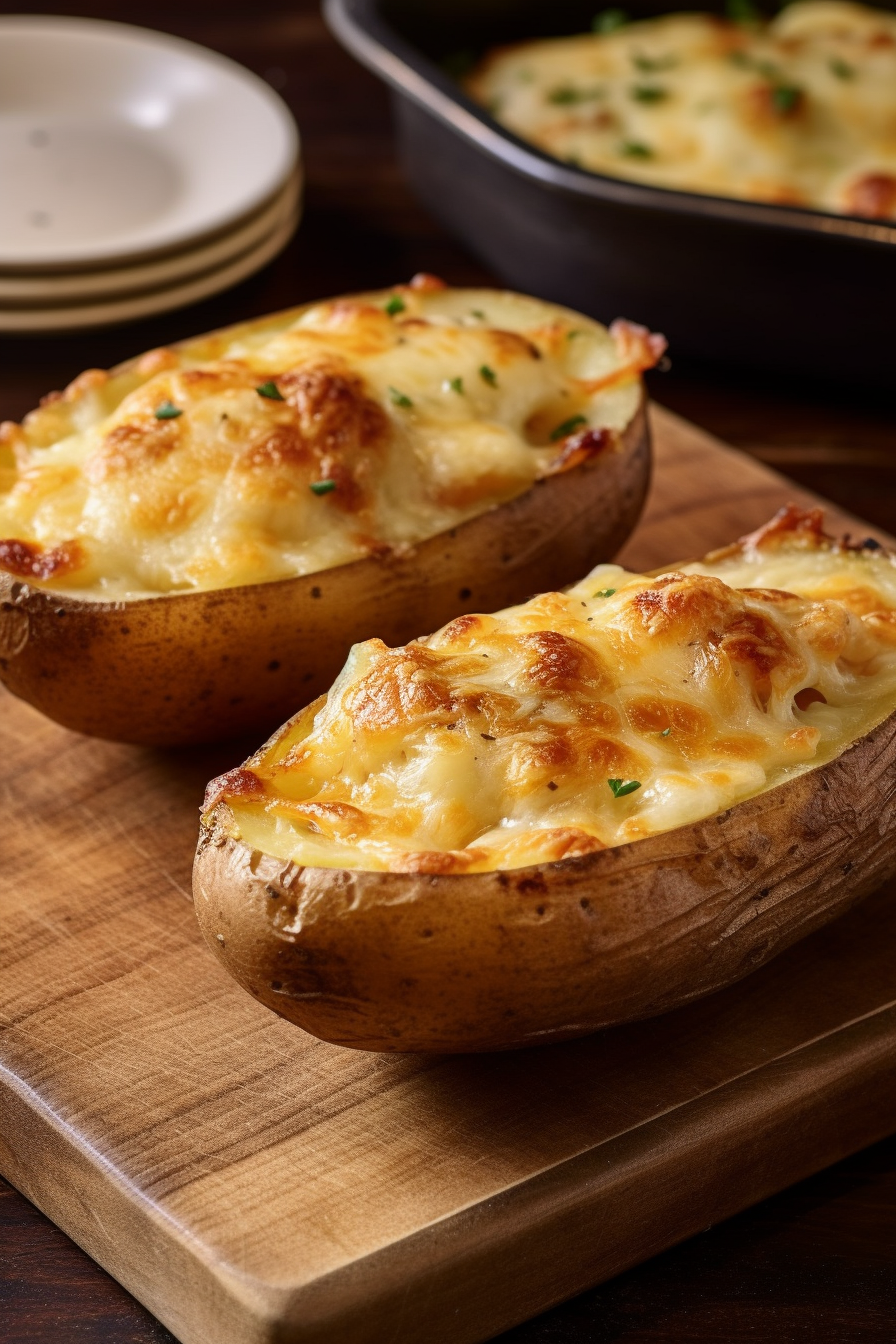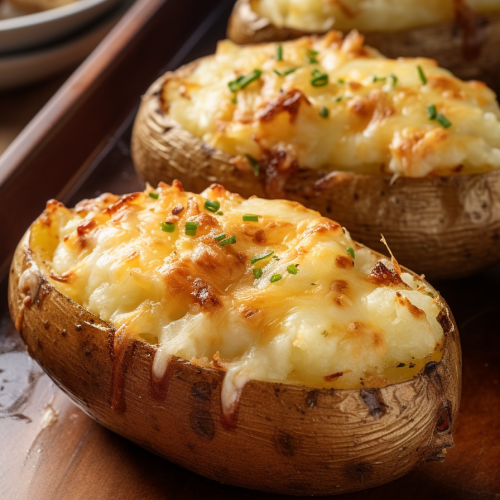 French Onion Stuffed Potatoes
Indulge in the harmonious blend of velvety baked potatoes, caramelized onions, fragrant thyme, and nutty Gruyere cheese; an elegant twist to the humble spud inspired by the classic French Onion Soup.
Print
Pin
Rate
Ingredients
4

large russet potatoes

4

tablespoons

unsalted butter

4

medium yellow onions

halved longitudinally and finely sliced

1/2

teaspoon

dried thyme leaves

1/2

cup

dry sherry or alternative dry white wine

1

cup

beef broth

2

cups

Gruyere cheese

grated

Kosher salt and freshly ground black pepper

as required
Instructions
Preheat the oven to a temperature of 375°F.

In a large skillet, melt the unsalted butter over medium-high heat. Once melted, add the finely sliced onions. Season these onions with kosher salt, freshly ground black pepper, and dried thyme leaves. Allow them to cook gradually until they achieve a soft texture and adopt a caramelized color. Stir occasionally to ensure even cooking.

To the skillet, add the dry sherry or white wine, using it to deglaze the pan and incorporate the flavors from the bottom. Following this, introduce the beef broth and allow the mixture to reach a subdued boil. Continue to cook until the liquid has almost completely reduced, which should take approximately 5-10 minutes.

Concurrently, remove the top third of each baked russet potato and carefully extract the inner flesh, placing it into a medium-sized bowl. To this potato flesh, incorporate half of the previously prepared onion mixture and mix until combined.

With precision, fill each potato shell with the combined mixture and arrange them on a baking tray. Garnish the top of each potato with the remaining onion mixture, followed by a generous layer of grated Gruyere cheese.

Place the baking tray in the preheated oven and bake until the Gruyere cheese has melted and adopted a light golden hue. For additional browning, one may place the potatoes under a broiler set to high for a brief period of approximately 1 minute.

Once completed, remove from the oven and serve the potatoes while warm.