These Cinnamon Sugar Apple Chips will fill your house with the aroma of baked apple pies, without the guilt. These apple chips are the perfect year-round healthy snack. Best of all, there is no need to buy a dehydrator. Just bake the thin apple slices at a very low heat and you'll get a great crunchy snack. Don't let the long cooking time scare you though, it's mostly hands-off.
Just be careful: they are so addicting!
I got a new kitchen gadget this week that I'm super-excited about: a Spiralizer. I'm sure many of you already have one, but I finally made the jump this week. I always considered a spiralizer as one of those tools that you use a few times before it lives out its days in a cupboard, but I think I'm going to be wrong. Sure, it probably really isn't a necessity, but it beats nearly cutting off my fingers with a mandolin or julienne peeler. That's a story I won't bring up today.
Or ever.
Within five minutes of using it, I was already running out to the store to buy any vegetable that I thought I could slice or make into noodles.
Honestly, I had no plans to post an Apple Chip recipe on That Oven Feelin'. I was testing out the flat ribbon blade and decided to pop the apples into the oven on a whim. I'm so glad I did.
As soon as we finished the chips, Elliott said "you've got to make those again." So in the mist of launching the new website, I was testing my apple chip recipes.
I found that my favorite chips were made using a baking rack. There was no need to flip the chips halfway through baking and they ended up super-crunchy every time. If you don't have a baking rack, you can place the slices on a baking sheet with a sheet of parchment paper. Just flip the slices after an hour of baking.
Be sure to let the apple chips cool completely in the oven. This is when the magic happens and they really crisp up!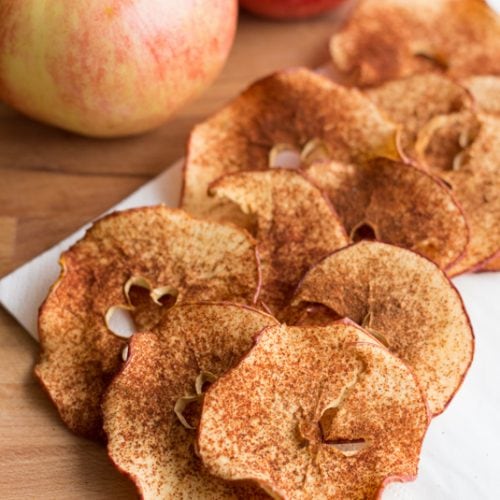 Ingredients
2

medium-sized apples (I used Gala)

1

tsp

ground cinnamon, or to taste

1

tsp

sugar, or to taste
Instructions
Preheat the oven to 225 degrees Fahrenheit.

Using a spiralizer or mandolin, slice the apples thinly crosswise (up to ⅛th inch thick). Remove any seeds.

Arrange the slices on two baking racks or on two parchment-lined baking sheets. Sprinkle the slices with a light dusting of cinnamon and sugar.

Bake in the preheated oven for 2 hours. If using parchment-lined baking sheets, flip the slices over after an hour.

After baking, turn the oven off. Let the chips cool completely in the oven, then enjoy!

Store in an airtight container for up to a week.
Notes