This Lemon Pound Cake is deliciously moist and bursting with a fresh citrus flavor. A slice of pound cake is the perfect accompaniment to a hot cup of coffee or tea. It's a great recipe to start off the new year after all of those comforting fall dishes. I don't know about you, but I'm really looking forward to seeing fresh fruits and vegetables in the farmers markets this spring.
I served this cake for guests, ate it for breakfast, and after dinner. Honestly, this pound cake only lasted a couple of days in our house before it was gone.
I think that's the sign of a successful recipe.
Originally, pound cakes were made with a pound each of flour, butter, eggs, and sugar. Even though the amount of each ingredient has changed over the years, the name stuck.
This lemon pound cake does not have any leaveners (like baking powder/soda), but uses the air whipped into the butter, sugar, and eggs to create a light, but dense and moist pound cake.
My biggest tip for this cake is to use fresh lemons. I was lucky to receive fresh lemons from family and friends (thanks Inez!) since my little lemon tree didn't produce any viable fruit this year. Fresh lemons are bursting with a bright, citrusy flavor that you just can't get from a bottle of watery lemon juice.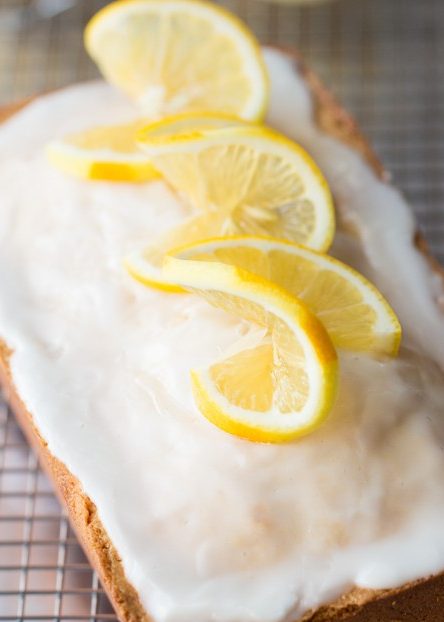 This lemon pound cake utilizes both the juice and zest of fresh lemons. If the lemon in the pound cake wasn't enough, I added a few drops of lemon juice to the icing to create a tangy flavor. It's tangy, but not overwhelming.
You can adjust the strength of the lemony-ness by modifying the amount of lemon zest. I used the zest of 1 1/2 lemons and thought the pound cake was definitely lemony, but not too sour.
I stored the lemon pound cake at room temperature, then heated up the slices in the microwave before serving. Just place a couple of slices on a plate and microwave on high for 30 to 45 seconds, until warm. The slices will taste like they are fresh out of the oven!