Dive into a savory Maryland experience with jumbo lump crab meat, zesty Dijon, and the crispy embrace of panko crumbs. Pure crabby goodness, no filler fuss!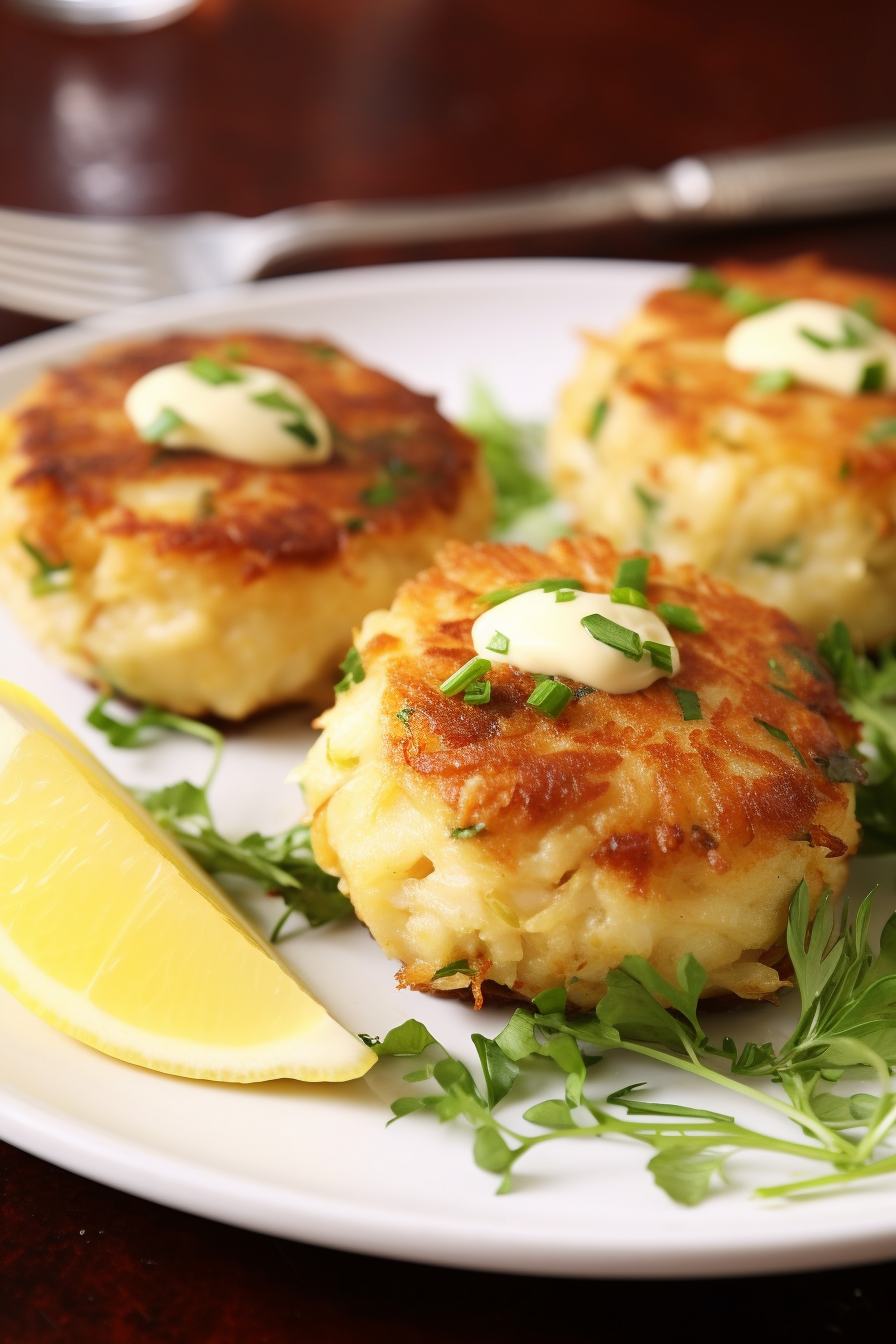 Ah, the Eastern shores of Maryland! I remember my first trip there, as if it was yesterday. The salty air, the picturesque lighthouses, and of course, the genuine Maryland crab cakes. I was on a culinary pilgrimage, and boy, did Maryland deliver! It was at a quaint bayside shack where I had my first taste of these crab cakes, and to say I was smitten would be an understatement. Every bite was a harmonious symphony of succulent crab and the subtle punch of Dijon. I knew I had to recreate this culinary magic back home. After countless experiments (and many happy bellies), here it is, my take on that memorable crab cake!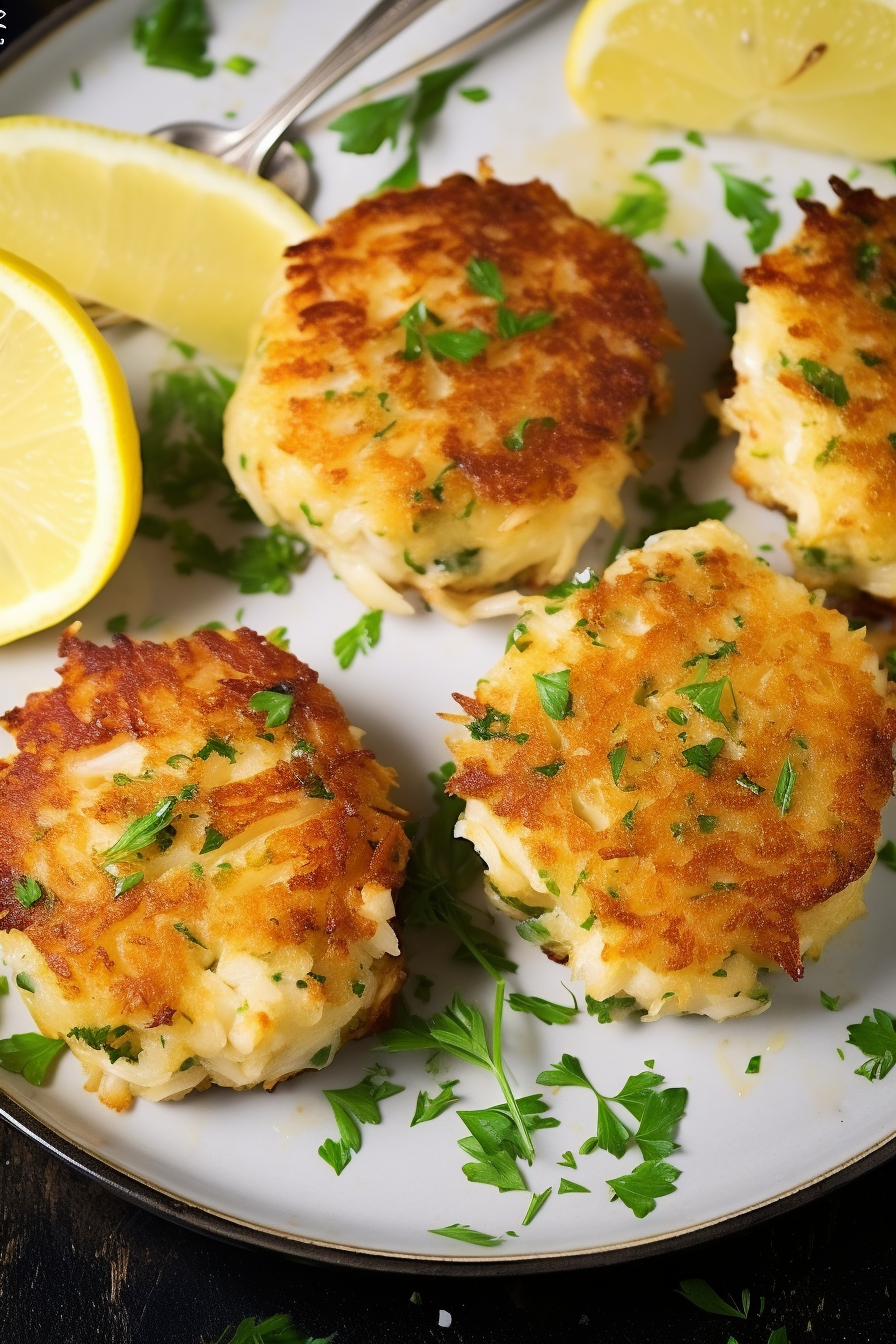 Why You'll Love Maryland Crab Cakes:
What makes these Maryland Crab Cakes stand out? First, we prioritize QUALITY over quantity – using jumbo lump crab meat ensures a succulent, meaty bite every time. Second, less is more! With minimal filler and all flavor, you're getting an authentic taste of the Chesapeake Bay. Lastly, the delicate balance of flavors – the tang of Dijon, the zest of lemon, and the crispy panko finish. These aren't just crab cakes; they're an experience.
Ingredients For Maryland Crab Cakes:
The crab is the star here, folks, so always opt for fresh jumbo lump crab meat. Those little bits of luxury make all the difference! For the panko bread crumbs, they're your golden ticket to the crispy exterior. You might find other breadcrumbs tempting, but panko provides that light, airy, and oh-so-crunchy texture. Lastly, that dash of Tabasco? It's the zingy whisper that says, "Hey! There's a party happening in your mouth!"
How To Make Maryland Crab Cakes:
Start by lovingly (but thoroughly) checking your crab meat for any sneaky shells. You want your guests raving about the taste, not the unexpected crunch.
Grab a separate bowl and mix together your mayonnaise, dijon, and all those wonderful seasonings. Remember to blend until it's as smooth as your dance moves.
Now, for the meeting of titans. Combine your crab and mayo mixture, folding delicately. Treat it like a fragile love letter.
Gently fold in your breadcrumbs – think of it as tucking your crab into a cozy breadcrumb blanket.
Fashion those patties and lay them on parchment paper. Give them a 15-20 minute chill session in the fridge. They're cool, but they need to be cooler.
Heat that skillet! Drizzle in your olive oil, wait for it to shimmer like a morning sea, and then welcome your crab cakes to the pan.
Cook them until they're golden and crispy, but remember, patience is the key to a delectably golden crust. Once done, serve them hot and enjoy the cascade of compliments!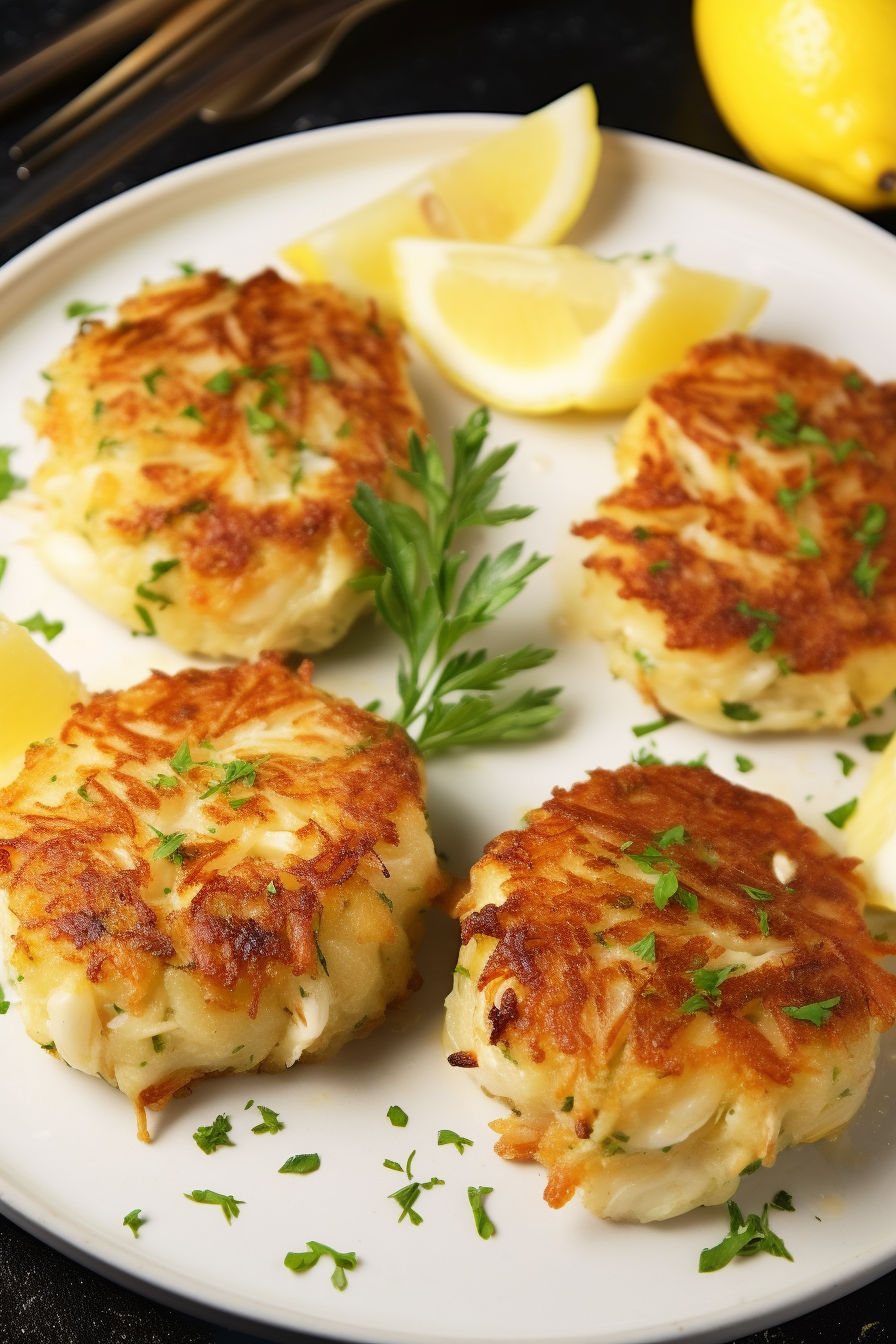 Storage Options:
If by some miracle you've got leftovers, these crabby delights can be stored in an airtight container in the refrigerator for up to 3 days. Want to keep them longer? Flash freeze the uncooked patties on a tray, then transfer to a freezer bag. They'll be good for up to 3 months. Just thaw overnight in the fridge before cooking.
Variations & Substitutions:
Feeling crabby? Let's mix it up! You can swap out the panko for crushed Ritz crackers for a richer taste. If you're not a Dijon lover, whole grain mustard can be a fabulous substitute. For a gluten-free version, use gluten-free breadcrumbs. And if you're feeling fancy, why not add a smidge of Old Bay seasoning for that extra Maryland authenticity? However you customize, just remember to have fun and savor every bite!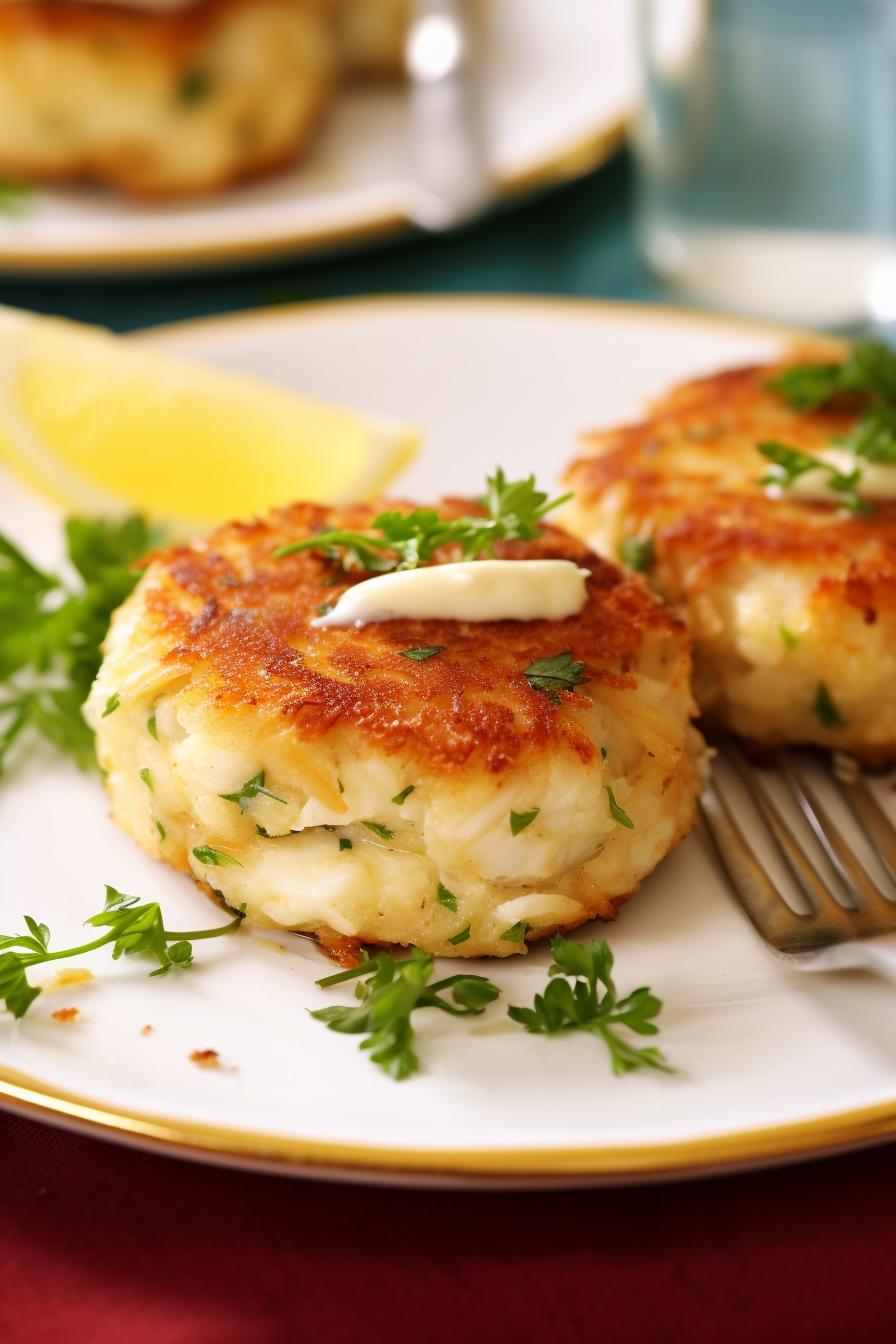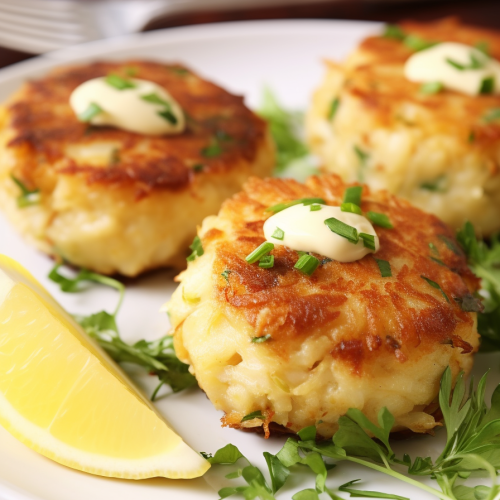 Maryland Crab Cakes
Dive into a savory Maryland experience with jumbo lump crab meat, zesty Dijon, and the crispy embrace of panko crumbs. Pure crabby goodness, no filler fuss!
Print
Pin
Rate
Ingredients
1

pound

of jumbo lump crab meat

ensuring no shells remain

1/2

cup

of mayonnaise

1

tablespoon

of Dijon mustard

1

teaspoon

of Worcestershire sauce

1

teaspoon

of Tabasco sauce

1

large egg

beaten lightly

1

teaspoon

of fresh lemon zest

1/8

teaspoon

of freshly ground pepper

2

tablespoons

of freshly chopped parsley

1/4

cup

of panko bread crumbs

1

tablespoon

of olive oil
Instructions
Begin by meticulously examining the crab meat in a medium-sized bowl to ensure no shells are present.

In a separate smaller bowl, combine the mayonnaise, Dijon mustard, Worcestershire sauce, Tabasco sauce, egg, ground pepper, lemon zest, and parsley. Stir until the mixture is uniform.

Carefully incorporate the mayonnaise mixture with the crab meat to preserve the integrity of the crab lumps. Once blended, gently integrate the breadcrumbs into the mixture.

Methodically form the crab mixture into eight patties, each measuring approximately 1/3 cup. Place these patties on a baking sheet lined with parchment paper and refrigerate for 15 to 20 minutes to allow them to firm.

In a large skillet, heat the olive oil over a medium-high flame.

Once the oil is hot, introduce the crab cakes to the skillet. Cook each side for approximately 3 to 4 minutes or until they attain a golden hue and are cooked throughout.

Remove the crab cakes from the skillet and place them on a serving dish. It is recommended to serve the crab cakes promptly, accompanied by tartar sauce and lemon wedges if desired.