Dive into a world of flavor with Raspberry Crumble Cookies! Blending buttery dough with hints of vanilla and almond, and topped with tart raspberry jam, this treat is an absolute must-bake.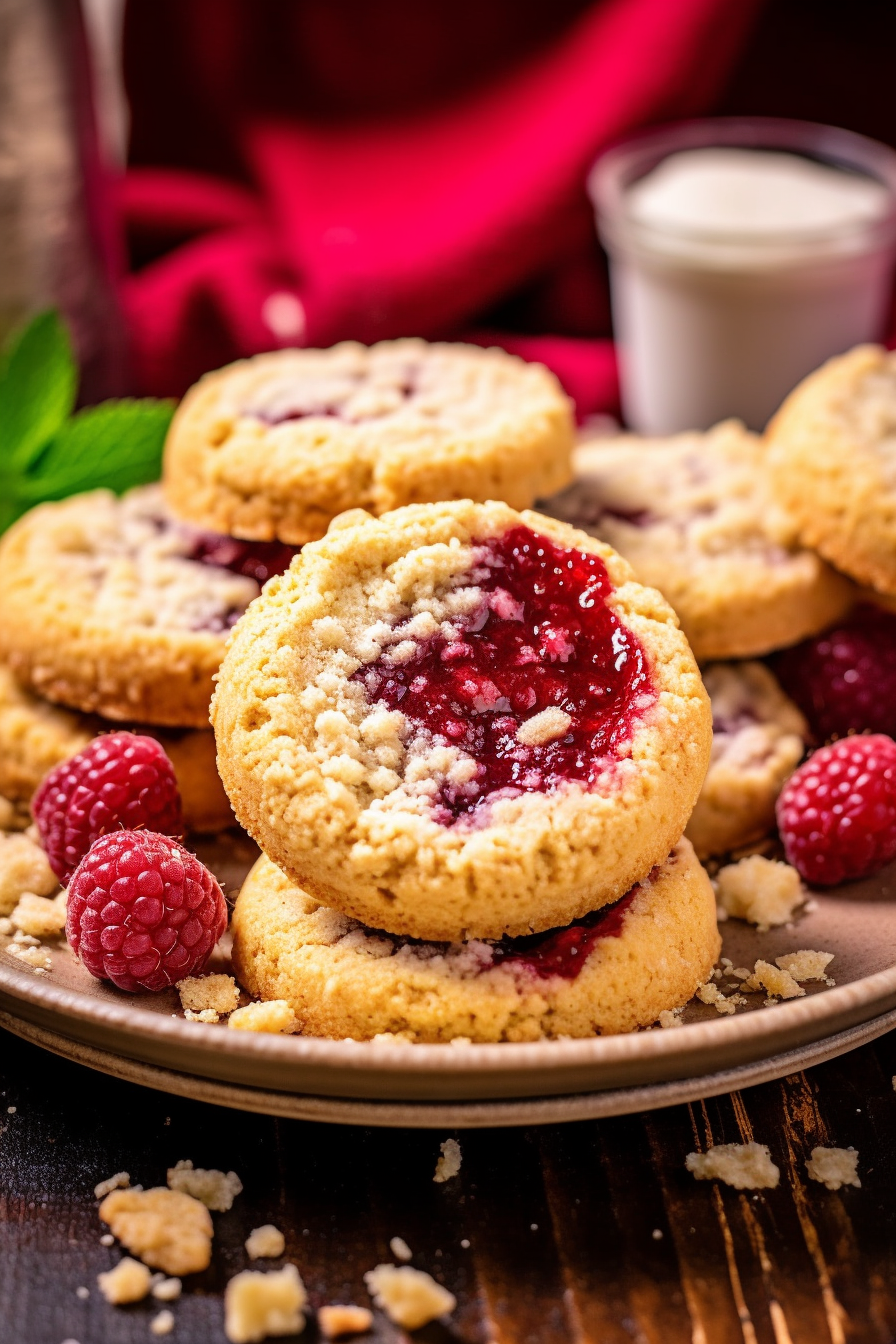 My love affair with Raspberry Crumble Cookies began on a whimsical day during a family vacation at a quaint little seaside town. The air smelled of salt, freshly baked goods, and adventure. My siblings and I stumbled upon a bakery that claimed to have the "World's Best Cookies". Skeptical yet intrigued, we took the bait, and what do you know, it was love at first bite! However, the heartbreak of leaving that town also meant saying goodbye to those dreamy cookies. Fast forward to years later, after countless experiments in my kitchen (and numerous taste tests that my waistline didn't appreciate), I finally recreated that unforgettable taste! And today, it feels like a delicious piece of déjà vu every time I bake these. Oh, and the Costco twist? Let's just say it's my homage to modern day conveniences mixed with old-world charm.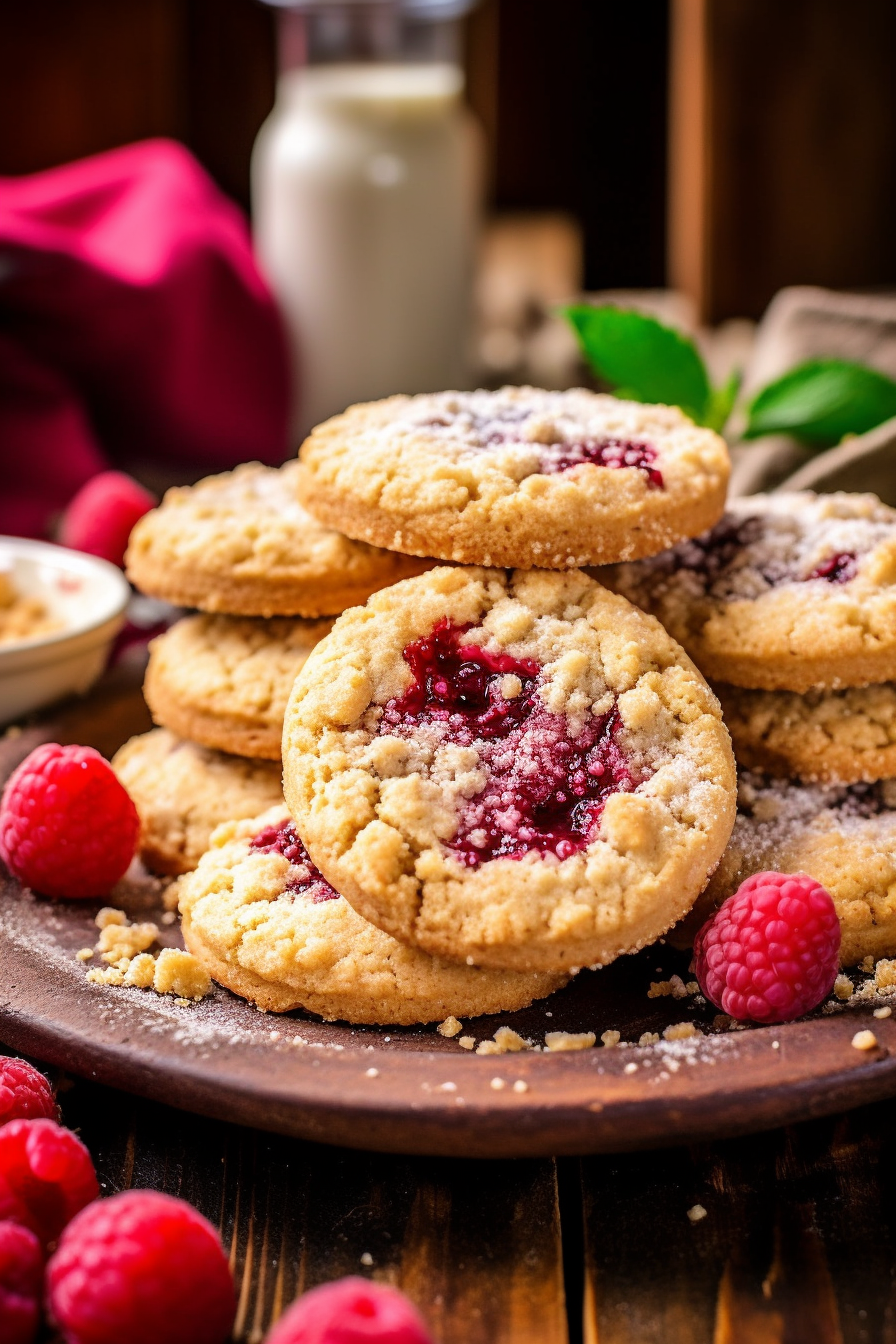 Why You'll Love Raspberry Crumble Cookies Recipe:
These Raspberry Crumble Cookies are no ordinary treat. First off, they combine the comforting familiarity of home-baked goods with the iconic taste of Costco's much-loved cookies. But wait, there's more! These goodies offer a perfect balance between a soft, melt-in-your-mouth texture and a crumbly, cookie-like crust. And that delightful burst of raspberry jam in every bite? It's like an unexpected plot twist in your favorite novel – totally addictive!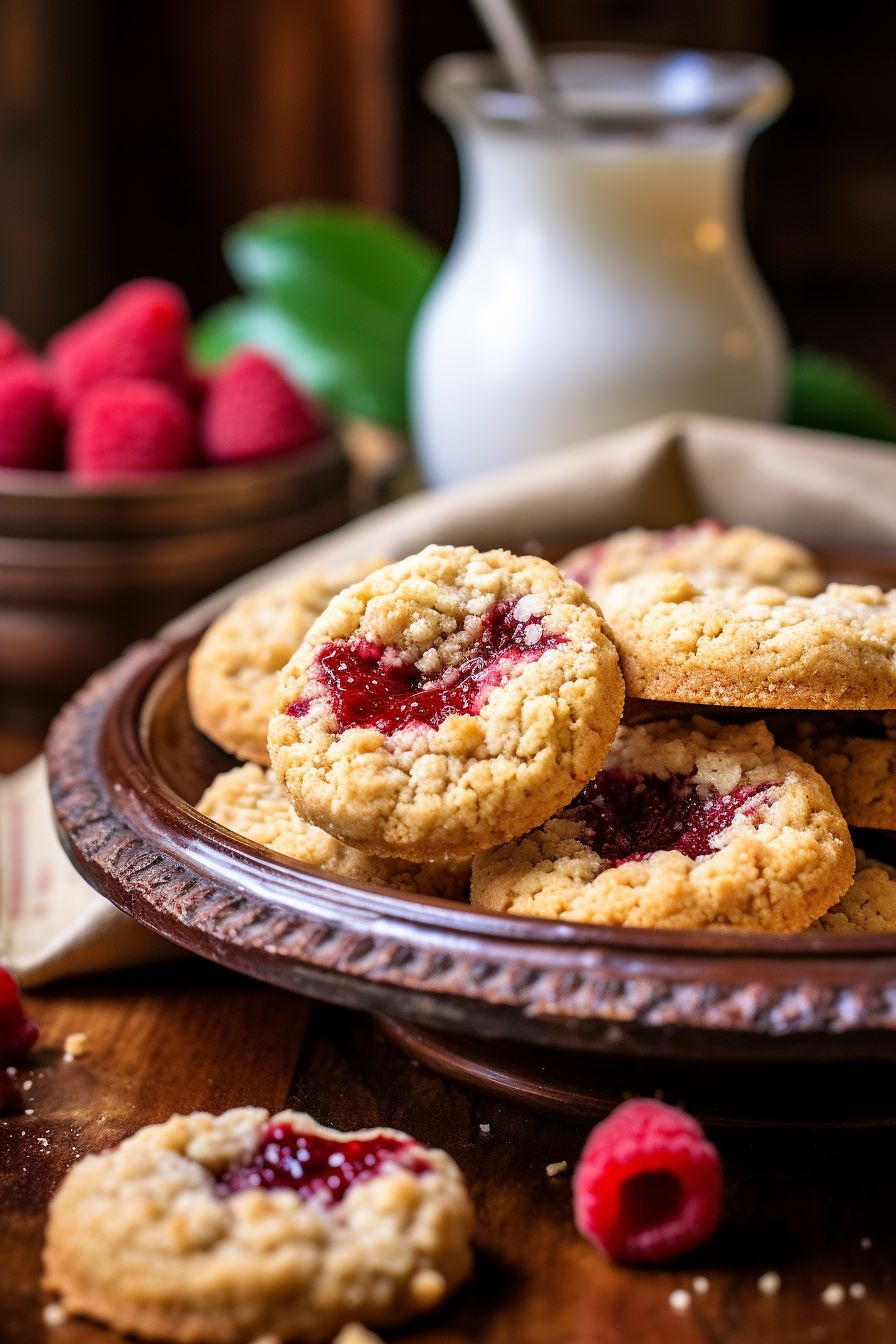 Ingredients for Raspberry Crumble Cookies:
Unsalted Butter: Always ensure it's softened for a smoother mixture, but not melted.
Granulated Sugar and Powdered Sugar: While the granulated sugar offers structure, the powdered sugar lends a delicate texture.
Vanilla and Almond Extracts: These are the dynamic duo of the baking world. While vanilla offers depth, almond gives a nutty undertone. But be careful; a little almond extract goes a long way.
All-purpose Flour: No need for anything fancy here; your standard all-purpose flour does the trick.
Kosher Salt: This is our little secret to balance the sweetness.
Raspberry Jam: Always opt for seedless. Trust me; nobody wants to be the dentist's best friend.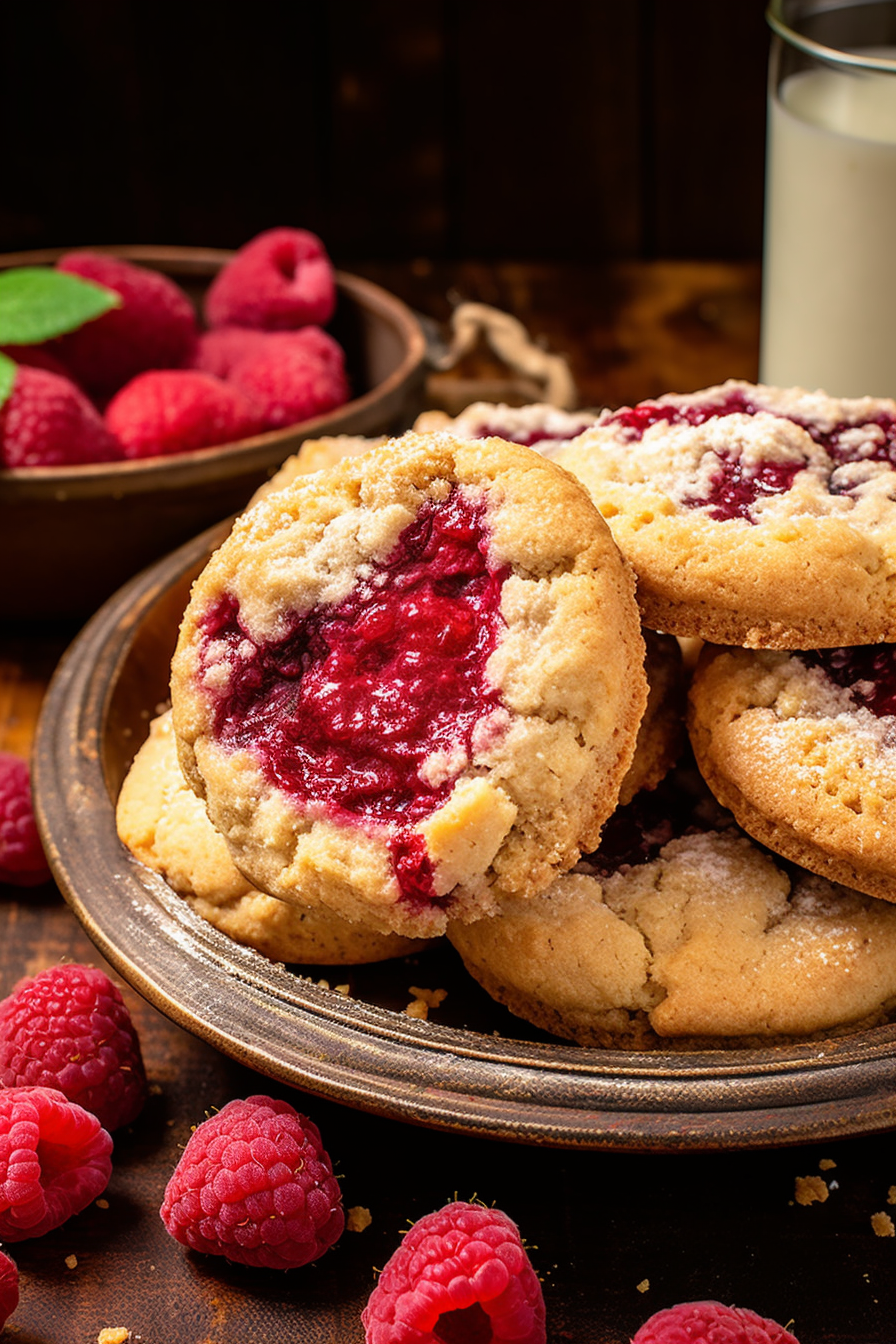 Easy-to-follow Steps for Raspberry Crumble Cookies:
Let's embark on this baking adventure, shall we?
First, set the stage by preheating your oven to 350℉. Make sure your jumbo muffin tin feels all loved up by greasing it generously.
Now, for the star of the show – the crust and topping! Begin by creaming together butter, sugars, and our extract heroes until it's all smooth and dreamy.
Now, gently bring in the flour and salt, mixing until they're just acquainted – remember, no over-mixing allowed! Take about ¼ cup of this mixture and show your muffin tin some love by pressing the mixture in. Create a cozy well in the center, which will soon be filled with jammy goodness.
Next, pour in that luscious raspberry jam and crown each cookie with some more of the crumble. Into the oven they go, for a golden-brown tan. Once done, be patient. Let them cool, show off a bit, and then gobble them up!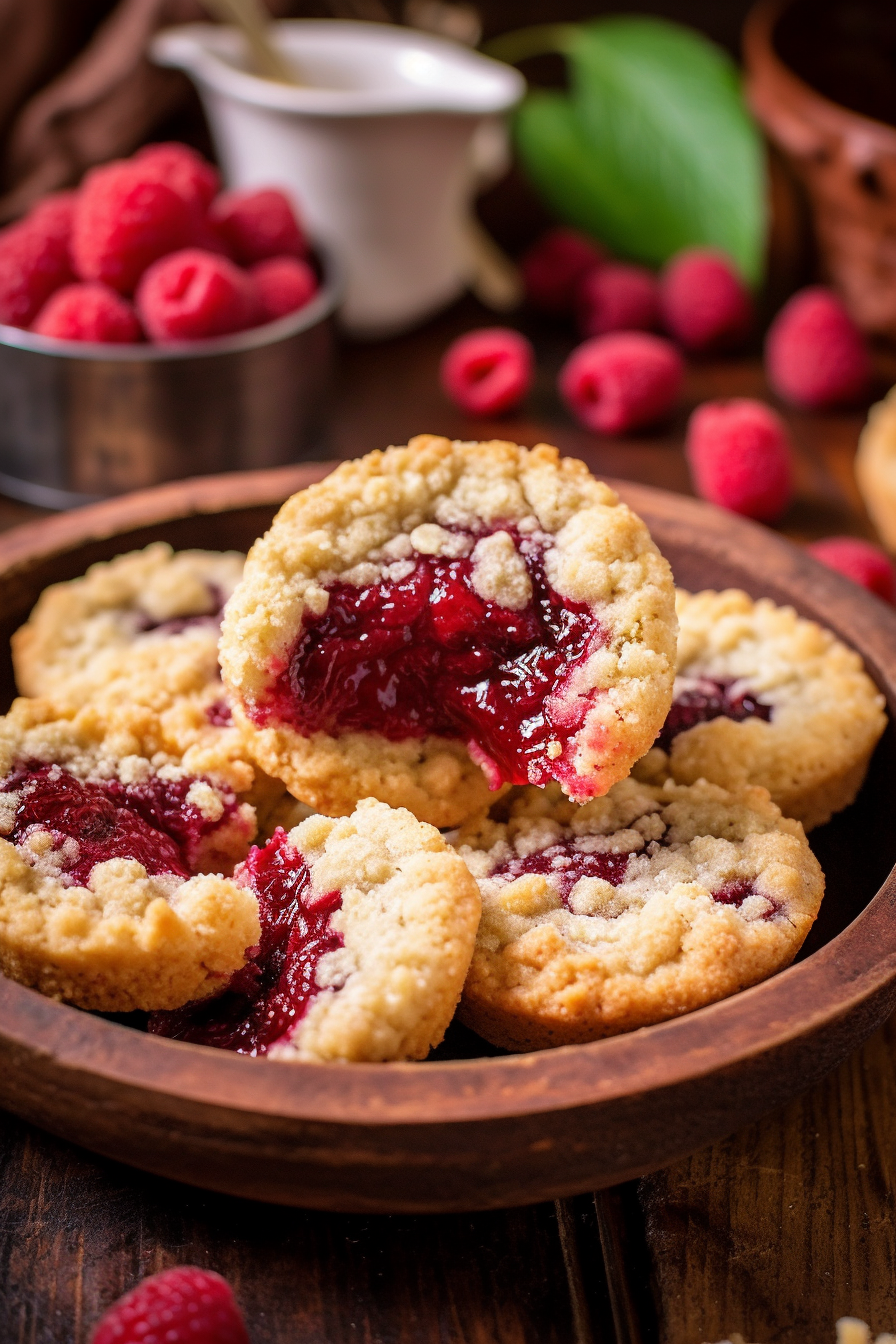 Storage Options for Raspberry Crumble Cookies:
So, if by some miracle, you have leftovers, store these darlings in an airtight container at room temperature. They'll happily stay fresh for about 3-4 days. But, between you and me, they rarely last that long!
Variations and Substitutions for Raspberry Crumble Cookies:
Feeling adventurous? Swap the raspberry jam with blueberry or apricot preserves for a delightful twist. If almond extract isn't your thing, simply double up on the vanilla extract. For a crunchier twist, consider sprinkling some toasted almonds or granola on top. The world's your cookie – or in this case, your crumble!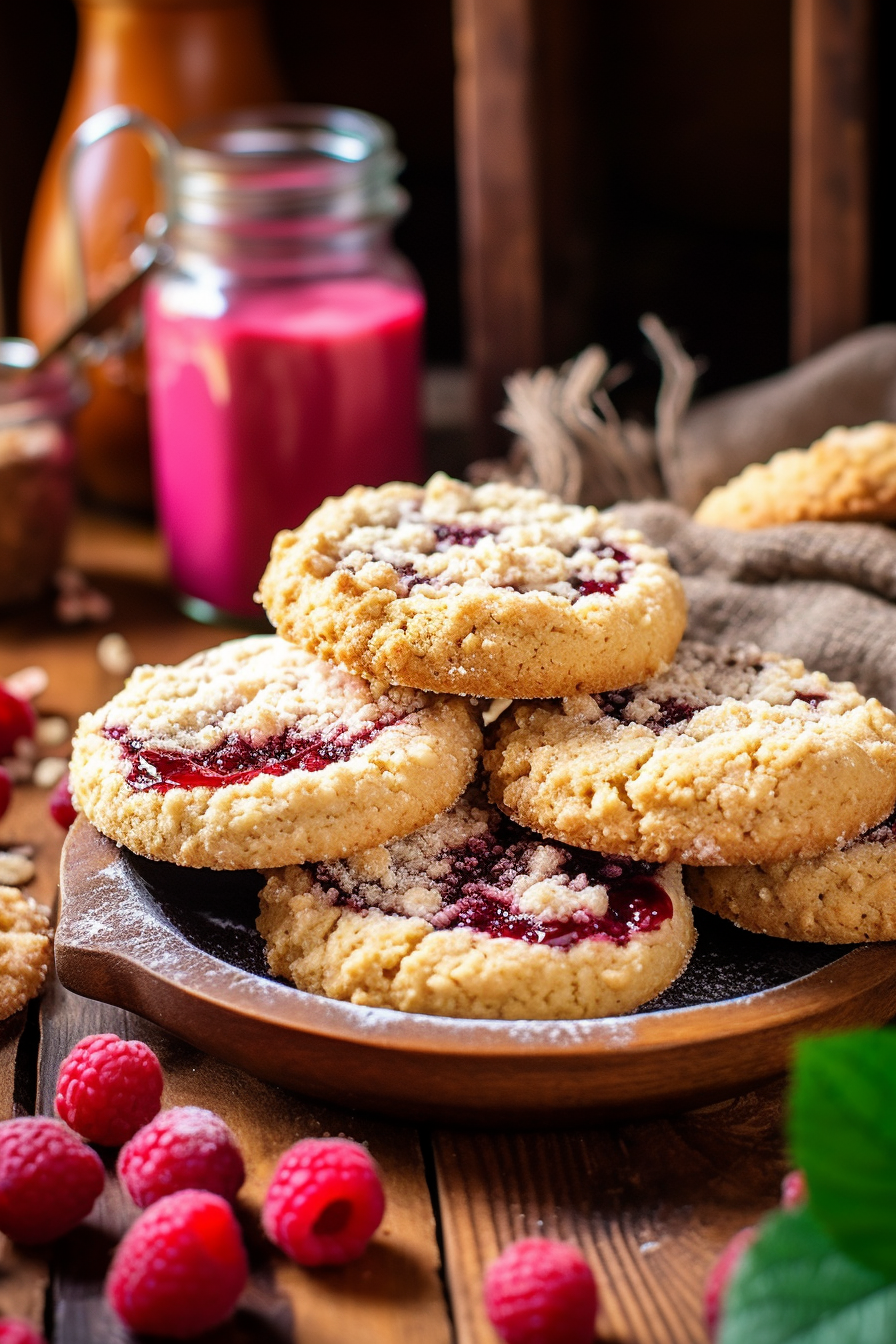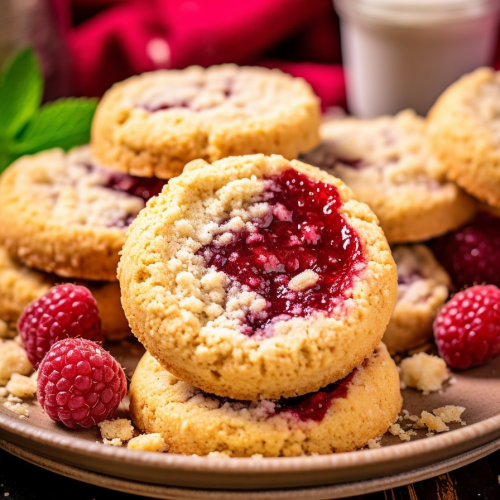 Raspberry Crumble Cookies
Dive into a world of flavor with Raspberry Crumble Cookies! Blending buttery dough with hints of vanilla and almond, and topped with tart raspberry jam, this treat is an absolute must-bake.
Print
Pin
Rate
Ingredients
1

cup

unsalted butter

at room temperature

1/4

cup

granulated sugar

1/3

cup

confectioners' sugar

1

teaspoon

pure vanilla extract

1

teaspoon

almond extract

2 1/4

cups

all-purpose flour

1/4

teaspoon

kosher salt

1/2

cup

seedless raspberry jam
Instructions
Begin by preheating the oven to 350℉ (175℃). Prepare a jumbo muffin tin by applying a non-stick cooking spray or by greasing and lightly flouring each well. Place the tin aside.

For the crust and topping (which will be utilized in two distinct manners within this recipe), cream together the unsalted butter, granulated sugar, confectioners' sugar, vanilla extract, and almond extract in a mixing bowl for approximately 1-2 minutes.

Gently incorporate the all-purpose flour and kosher salt into the creamed mixture, ensuring the ingredients are just combined. It is important to avoid overmixing; the mixture should retain a slightly crumbly texture.

Transfer roughly ¼ cup of the mixture into each prepared muffin well, pressing it onto the bottom and slightly up the sides to form a shallow cavity. Press the mixture gently to ensure uniformity, taking care to avoid over-packing which may result in a denser crust.

Deposit ½ to 1 tablespoon of seedless raspberry jam into the center of each formed crust.

Distribute an ample tablespoon of the reserved crust/topping mixture atop each filled crust.

Place the muffin tin in the preheated oven and bake for a period of 18-22 minutes, or until the cookies attain a light brown hue.

Upon completion of baking, allow the cookies to fully cool before extracting them from the muffin tin. Employ a knife, if necessary, to facilitate the removal of the cookies from the tin by running it around the perimeter of each cookie.