Indulge in the delightful crunch and sweetness of Mini Pecan Pies! This recipe makes it simple to bake your own with homemade or store-bought pie crusts, a filling that perfectly balances brown sugar and corn syrup, and the star ingredient—chopped pecans—all baked into adorable individual servings.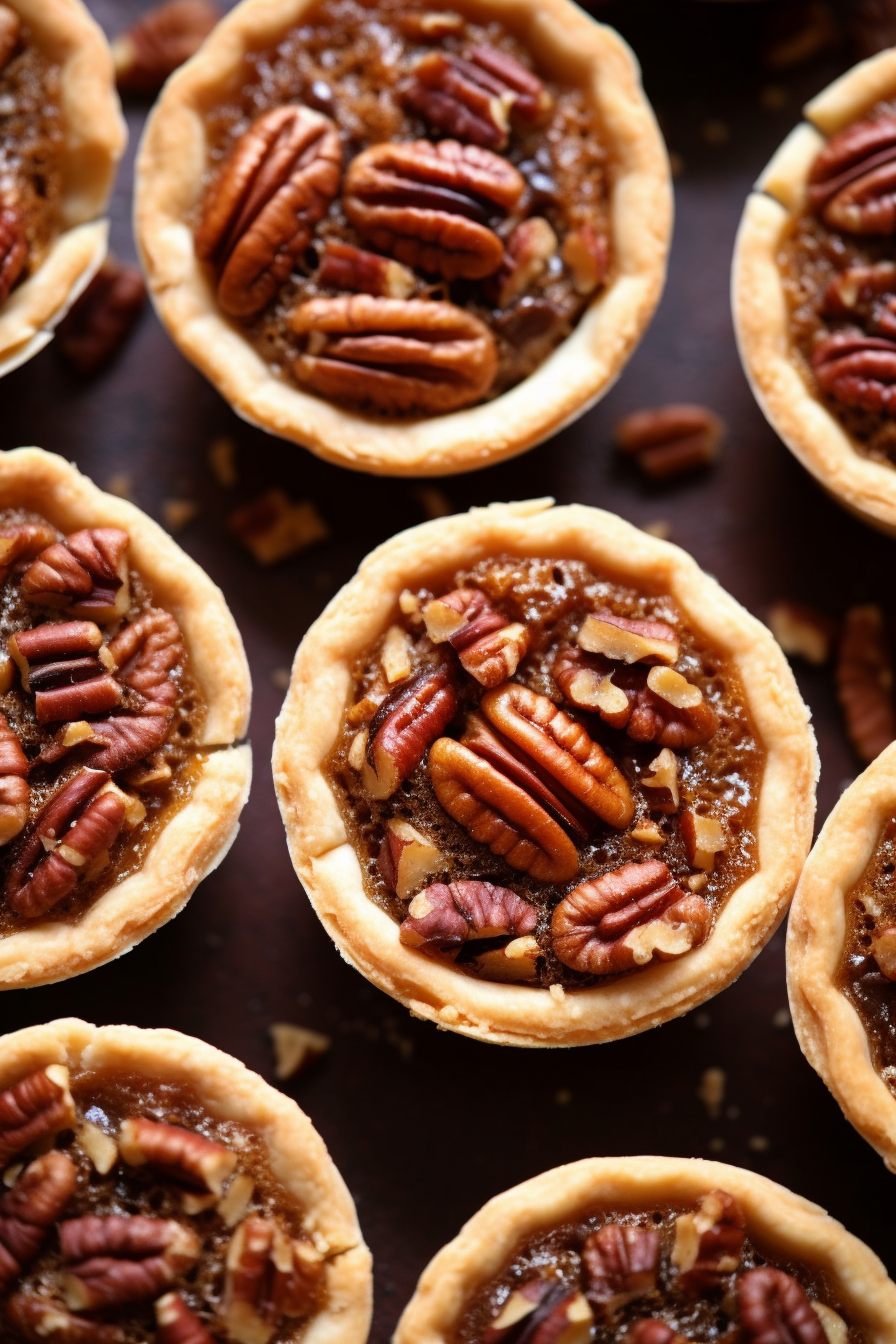 Every Thanksgiving, my kitchen transforms into a hub of flour clouds and sugar-coated counters. Amidst the chaos, the star has always been the Mini Pecan Pies. As a kid, I'd watch my grandmother deftly chop pecans, her hands telling stories of countless pies past. I inherited the tradition, and with each meticulous press of crust into the muffin pan, I'm whisked back to those sweet moments. These miniatures aren't just pies; they're time capsules, capturing the essence of family gatherings where everyone clamors for their own little piece of nostalgia.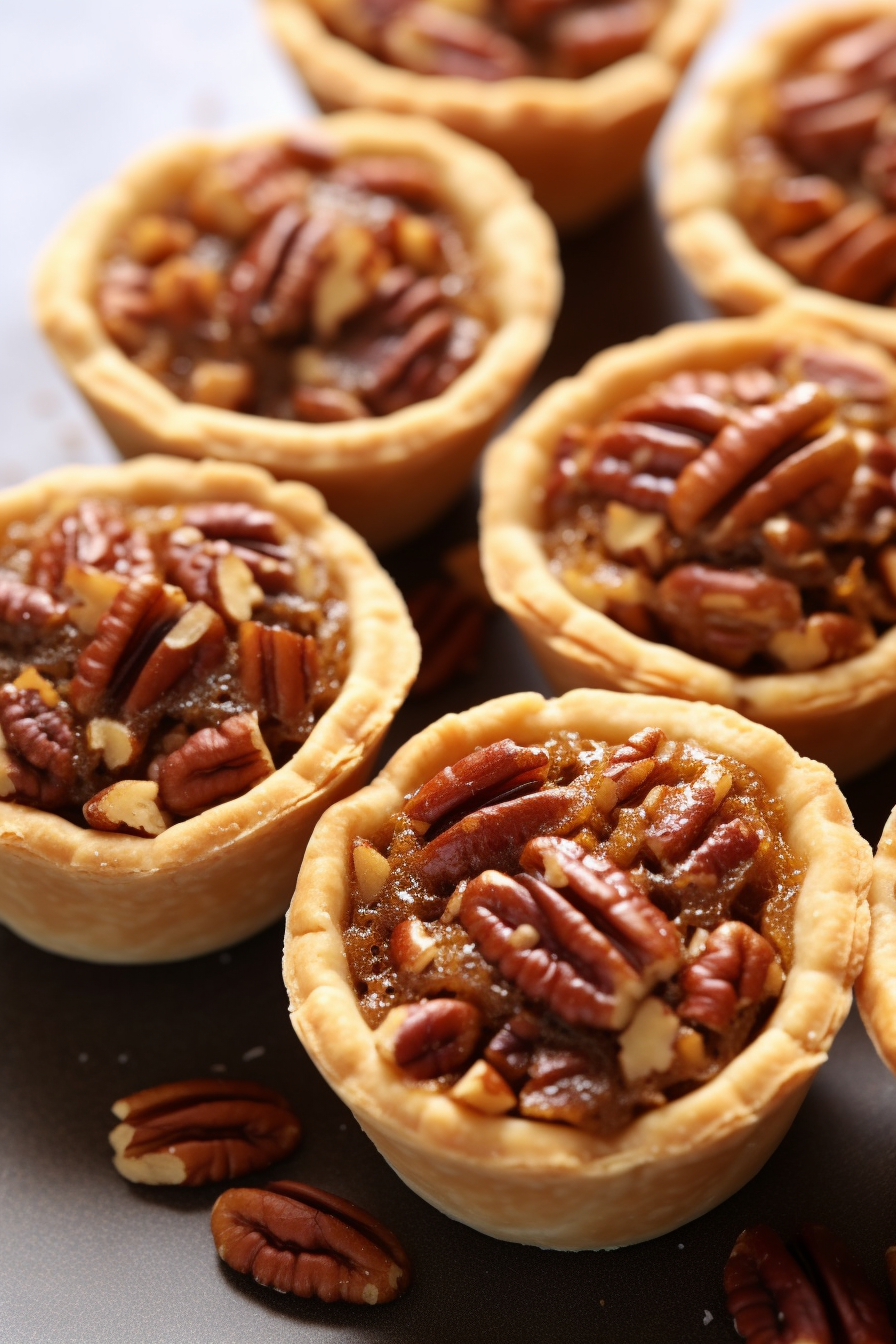 Why You'll Love Mini Pecan Pies:
The Mini Pecan Pies recipe is a game-changer for entertaining! It takes the fuss out of dessert with quick prep and easy serving. These bite-sized treats eliminate the need for slicing, making them perfect for parties. Plus, the individual servings mean every guest gets an equal share of the crumbly crust and rich, nutty filling—no more pie envy!
Ingredients Notes For Mini Pecan Pies:
Before you tie on your apron and channel your inner pastry chef, let's talk shop about the ingredients you'll need for these charming Mini Pecan Pies:
Pie Crusts: Whether you're a dough whiz or a supermarket shortcut savant, you'll need enough for two 9-inch pies. The beauty is in the flexibility; go homemade or store-bought, whichever flutters your whisk.
Brown Sugar & Granulated Sugar: These sweet siblings join forces to give your filling depth and crystal-clear sweetness.
Unsalted Butter: Melted down, it's the slick that brings the sugars together in sweet harmony.
Large Egg: Beaten into submission, it's the glue that binds the filling for that perfect custard-like texture.
Light Corn Syrup: This gives your pie that gooeyness that pecan pies are famed for.
Vanilla Extract: A dash of vanilla is like the flick of a magic wand, turning ordinary into extraordinary.
Salt: Just a pinch to balance the sweetness and make those flavors pop.
Chopped Pecans: The pièce de résistance, they bring the crunch and the nuttiness that's the heart of any pecan pie.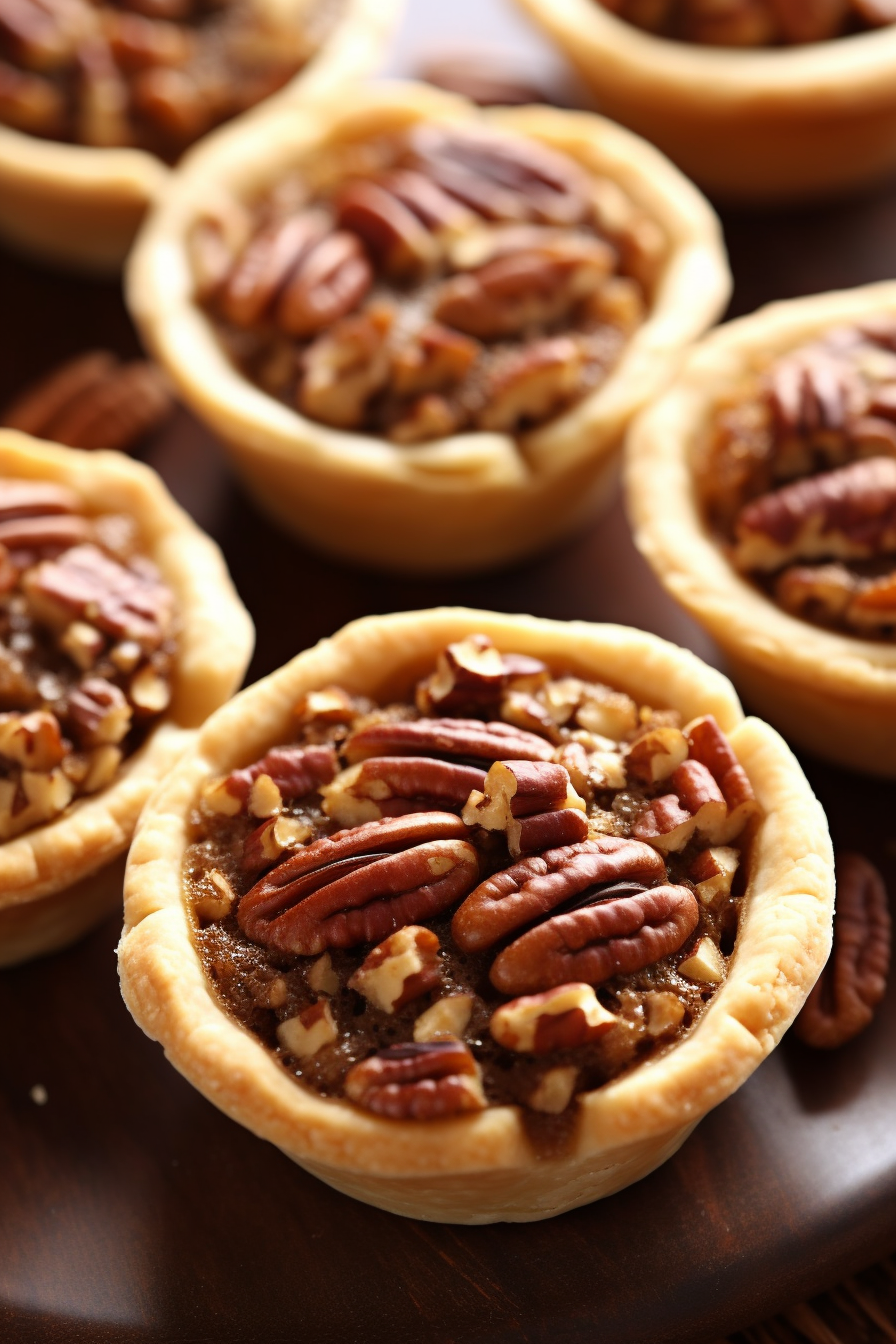 How To Make Mini Pecan Pies:
Ah, the symphony of baking! Let's break it down into movements:
Preparation: Crank up that oven to 350°F and arm your muffin pan with a slick coat of nonstick spray. It's like setting the stage for a Broadway show.
Crust Time: Roll out those pie crusts with the finesse of a baker's waltz and cut out your circles. Aim for precision but embrace the rustic charm of imperfection.
The Nestling: With a gentle touch, tuck those doughy rounds into their muffin tin beds. The crusts are the loving embrace, ready to hold the filling safe and sound.
The Filling Mix: In the orchestra of your mixing bowl, whisk the sugars, butter, and egg into a melody of sweetness. The corn syrup, vanilla, and salt chime in like a harmonious chorus, and the pecans drop in like a beat drop.
Fill 'Em Up: Spoon the pecan mixture into each crust with a 1 1/2 tablespoon serenade, and watch as what seems like a dollop transforms into a bounty.
Bake and Wait: Slide the pan into the oven and bake for about 25 minutes. This is the crescendo, where all elements combine under the heat of the spotlight.
Cooling Jam: Post-bake, these pies need a chill session. Let them cool down completely in the pan, they're like mini rockstars after a performance.
The Grand Finale: With a careful knife and a steady hand, set the pies free from their tin constraints and serve them to the standing ovation of your eager guests.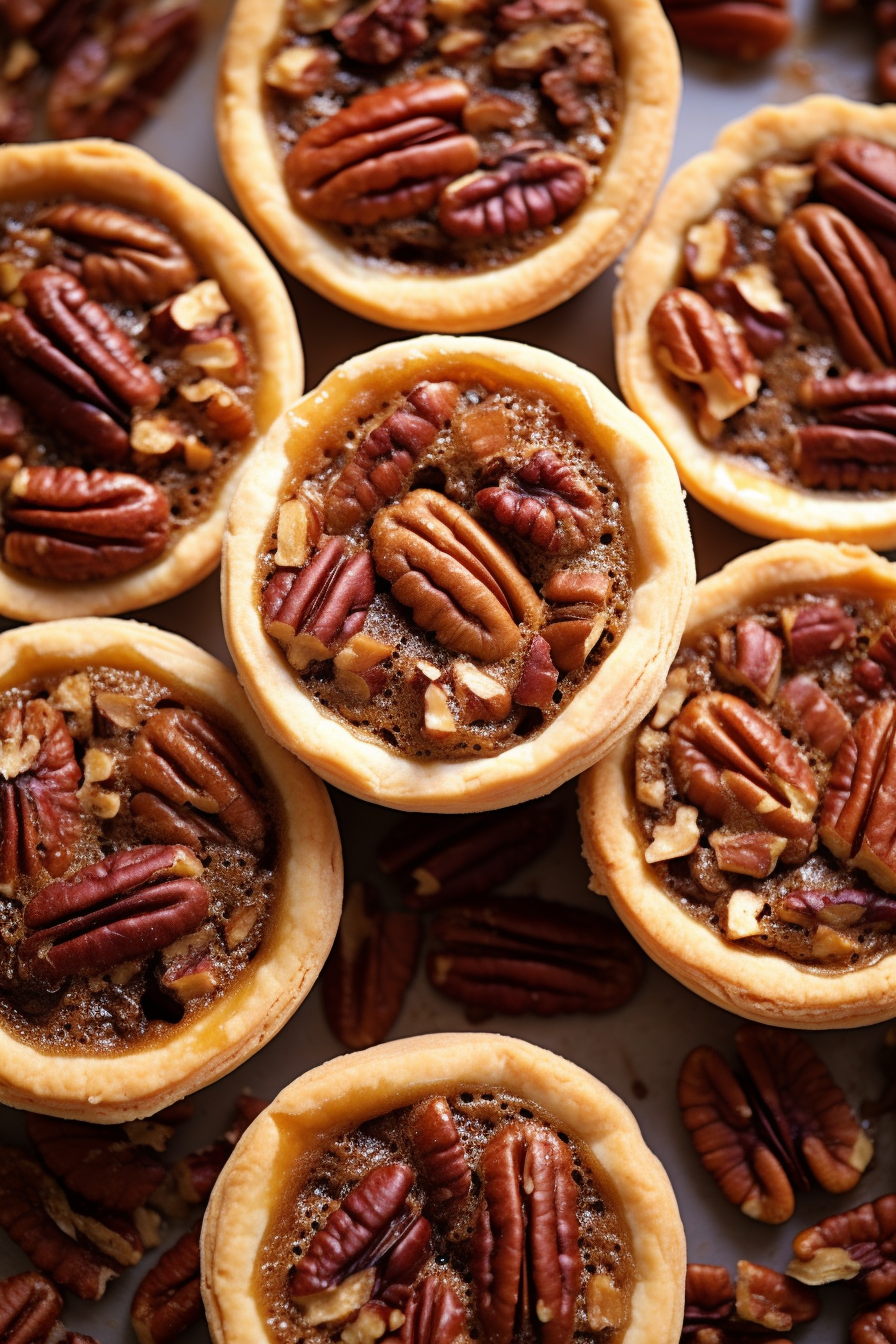 Storage Options:
Finished with the feast but still got a few mini pecan pies hanging around? These little guys are the perfect candidates for a snug wrap-up in plastic wrap or an airtight container. Pop them in the fridge, and they'll play the waiting game for up to four days. If you're looking ahead, they're also freezer-friendly. Just imagine, pecan pies on-demand! Flash freeze them first so they don't stick together, then transfer to a bag or container where they'll hibernate happily for up to two months.
Variations and Substitutions:
When it comes to tweaking the Mini Pecan Pies to your taste or pantry stock, the world is your oyster—or, in this case, your pecan!
Pie Crust: Got a thing for graham crackers or cookies? Crush them and mix with butter for a crust with a twist.
Sugars: Feel free to swap granulated sugar with honey or maple syrup for a different kind of sweet high.
Butter: Coconut oil can sneak in here for a dairy-free alternative.
Egg: Are eggs not your jam? Try a flax egg; it's quirky but it works!
Corn Syrup: If it's not your cup of tea, brown rice syrup can stand in as understudy.
Pecans: Walnuts or almonds can jump in if pecans are playing hard to get. Just give them a good chop and in they go!
Spices: A dash of cinnamon or a whisper of nutmeg can bring a warm spice to the pecan party.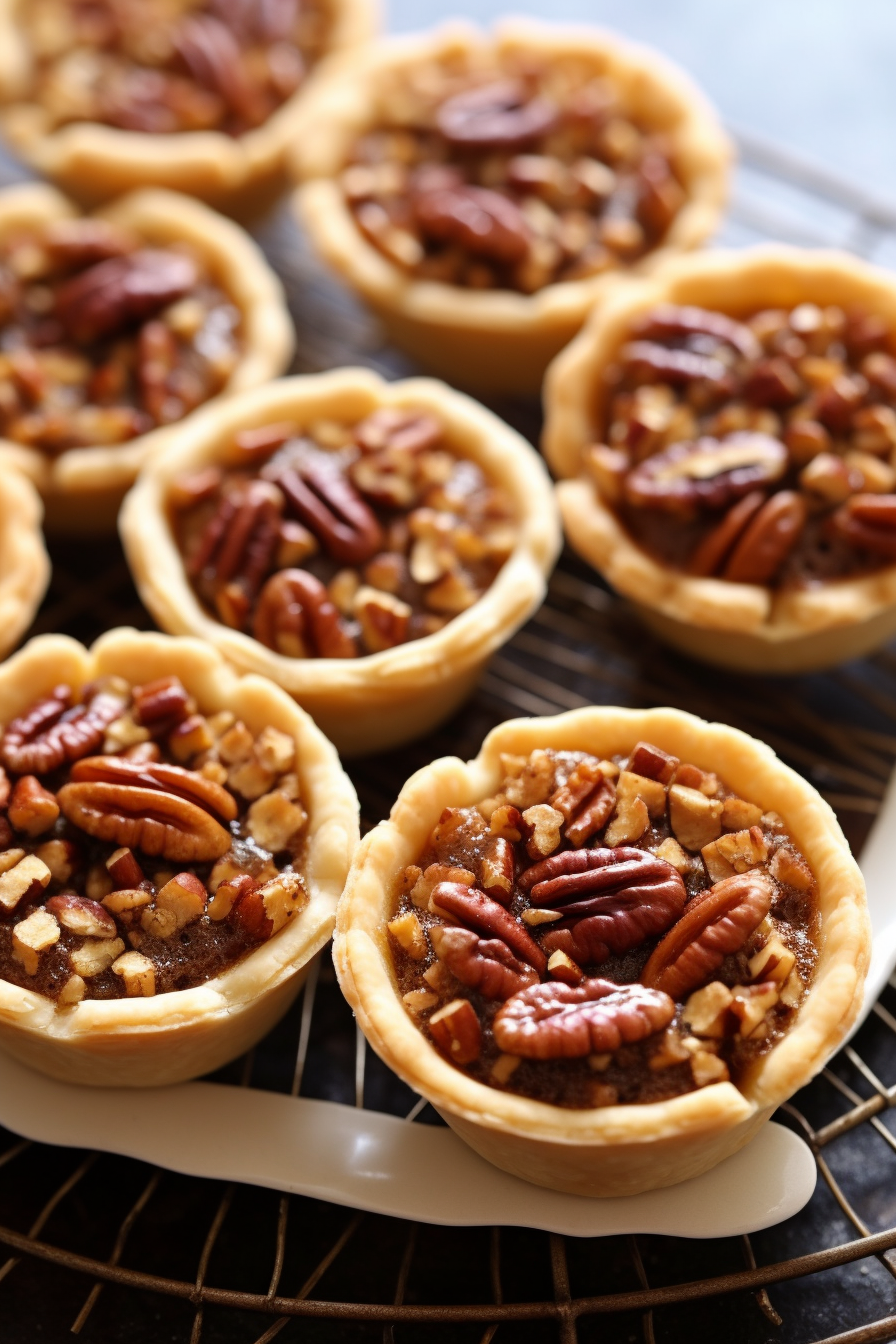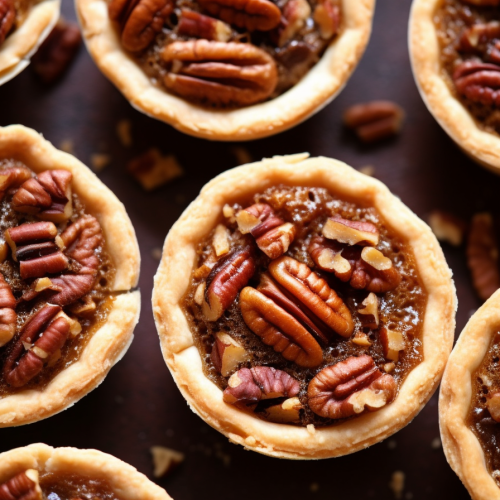 Mini Pecan Pies
Indulge in the delightful crunch and sweetness of Mini Pecan Pies! This recipe makes it simple to bake your own with homemade or store-bought pie crusts, a filling that perfectly balances brown sugar and corn syrup, and the star ingredient—chopped pecans—all baked into adorable individual servings.
Print
Pin
Rate
Ingredients
2

units of 9-inch pie crusts

homemade preferred, alternatively one 14-ounce package of refrigerated pie crusts may be utilized

1/4

cup

of brown sugar

firmly packed

2

tablespoons

of granulated sugar

1

tablespoon

of unsalted butter

melted and cooled to room temperature

1

large egg

preferably organic, beaten until homogeneous

1/3

cup

of light corn syrup

1

teaspoon

of pure vanilla extract

A pinch of fine kosher or sea salt

1/2

cup

of pecans

freshly chopped
Instructions
Begin by preheating the oven to a steady 350 degrees Fahrenheit (175 degrees Celsius). Prepare a 12-cup standard muffin pan by liberally applying nonstick cooking spray to ensure easy release of the pies after baking.

On a clean, flat surface, roll out the pie crusts with a rolling pin to an even thickness. Utilize a circular cookie cutter or the open end of a glass, approximately 3.5 inches in diameter, to cut out 12 circles from the dough. Maximize dough usage by cutting the circles as closely together as possible.

With deliberate and careful motions, press each dough circle into the cups of the prepared muffin pan, making sure the dough extends approximately halfway up the sides of each cup to form a crust.

In a medium-sized, non-reactive mixing bowl, combine the brown sugar, granulated sugar, and melted butter, whisking until well combined. Add the beaten egg, light corn syrup, vanilla extract, and a pinch of salt. Continue to whisk until the mixture is thoroughly combined. Stir in the chopped pecans until evenly distributed throughout the filling.

Distribute the filling among the pie crusts, allotting approximately 1 1/2 tablespoons of filling per crust. Do not overfill, as the filling will expand during the cooking process.

Place the muffin pan in the center rack of the preheated oven and bake for approximately 25 minutes. The pies are done when the centers are set and no longer appear liquid or jiggly upon gentle shaking of the pan.

Remove the pan from the oven and allow the pies to cool completely while still in the muffin pan. This will ensure that the pies retain their shape upon removal.

Once cooled, use a dull knife to gently loosen the pies from the muffin cups. Carefully remove each pie from the pan, taking care to preserve the integrity of the crust.

These mini pecan pies are now ready to be served. They may be presented as is or garnished with a light dusting of powdered sugar or a dollop of whipped cream, if desired. Enjoy your impeccably crafted Mini Pecan Pies.