A delightful treat combining biscuits, apple pie filling, and a sweet spice coating. Quick to make and perfect for a cozy dessert.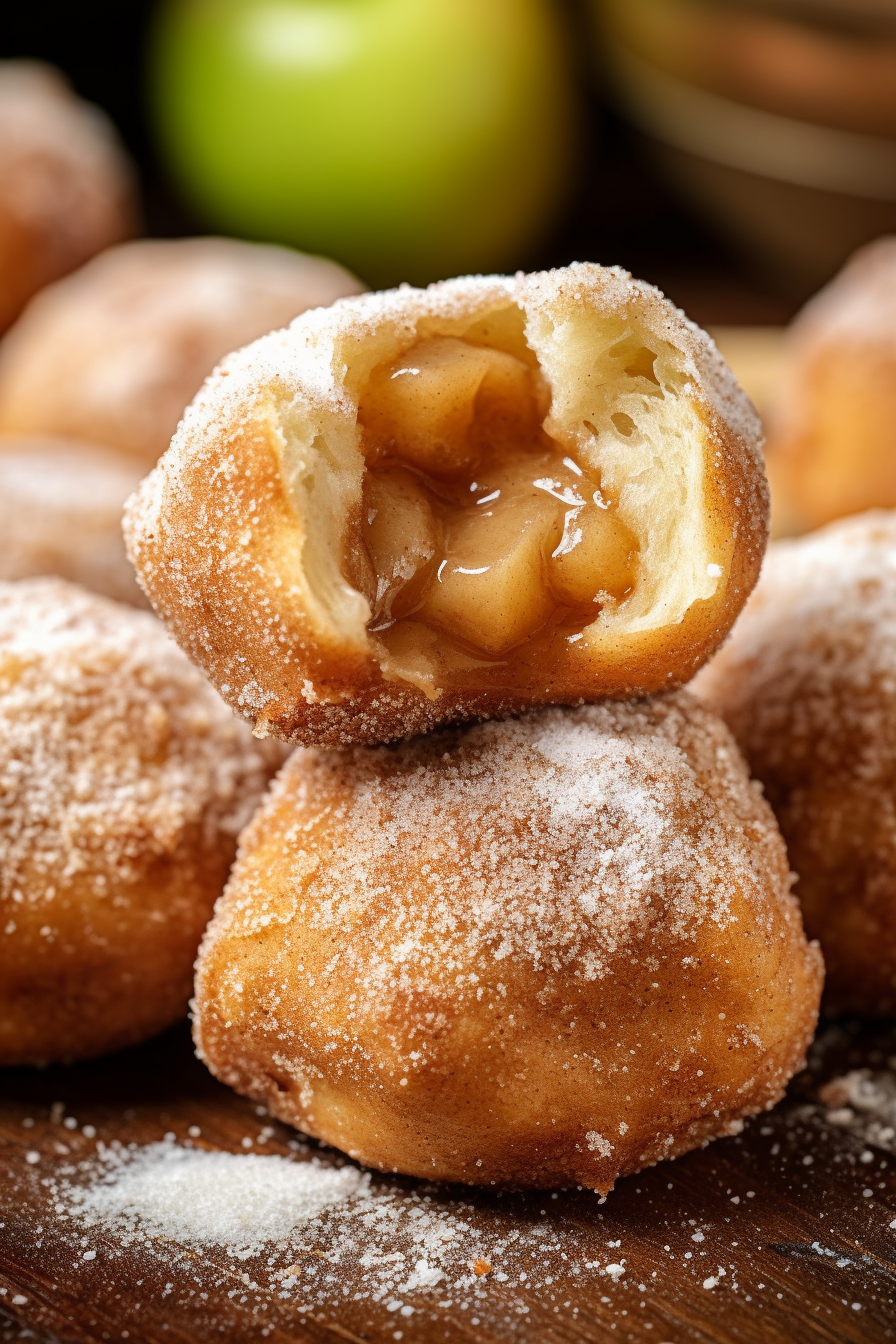 Growing up, my grandmother's apple pie was the crown jewel of family gatherings. Her recipe, a closely guarded secret, was a blend of tender love and culinary magic. Years later, in my own kitchen, I stumbled upon a modern twist to her classic – Air Fryer Apple Pie Bombs. The first bite was a nostalgic trip back to childhood. These bite-sized delights, with their warm apple filling and sugary crust, not only honored my grandmother's legacy but also adapted it for my hectic lifestyle. Now, they are a cherished tradition in my family, a sweet reminder of past and present intertwining.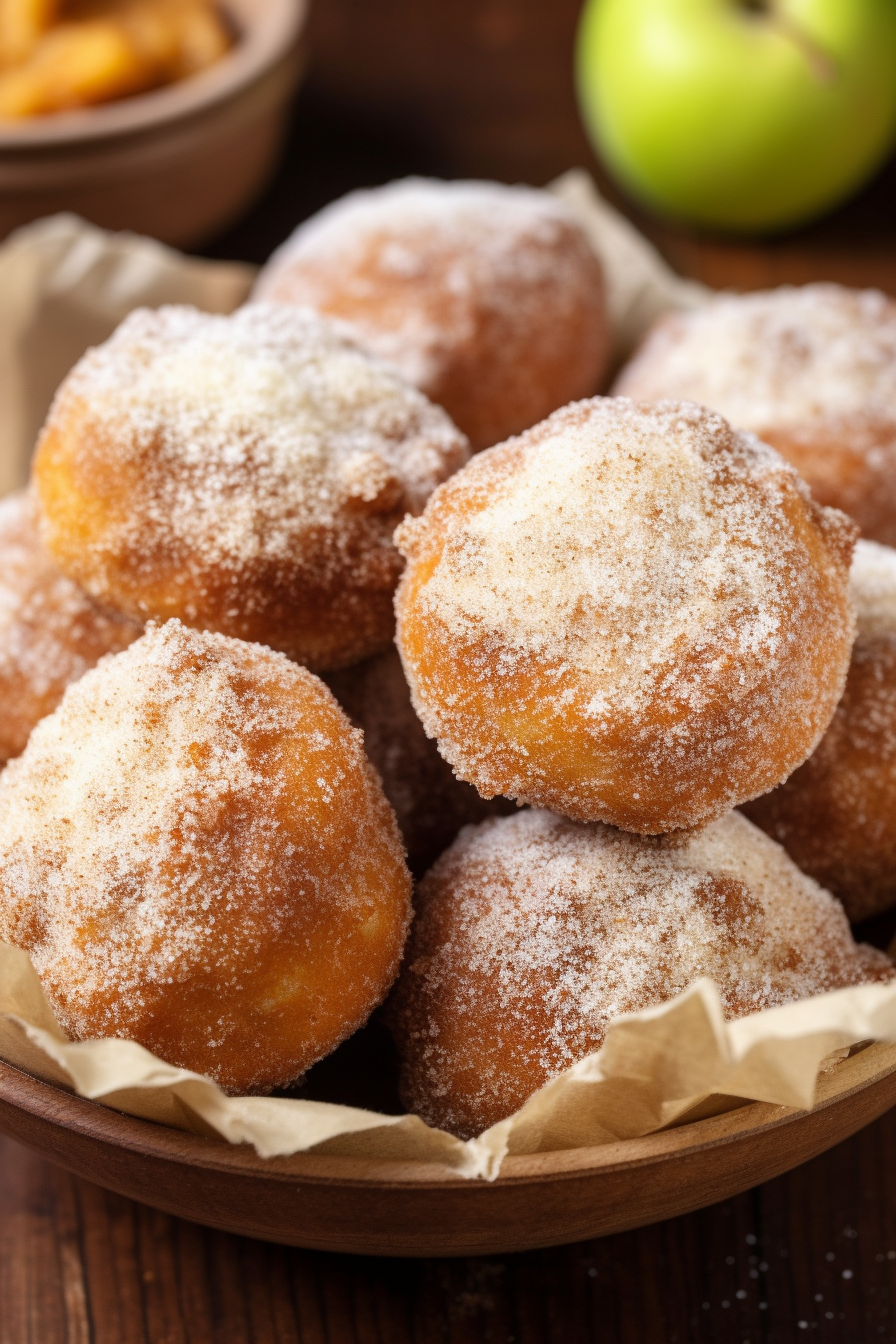 Why You'll Love Air Fryer Apple Pie Bombs
Quick and Easy: With a total time of just 29 minutes, these Air Fryer Apple Pie Bombs are perfect for a swift yet satisfying dessert.
Innovative Use of Air Fryer: The air fryer ensures a golden, crisp exterior without the mess and calories of deep frying.
Versatility: Ideal for various occasions, from casual family desserts to festive gatherings.
Comforting Flavors: The classic taste of apple pie, encapsulated in a convenient, finger-food format.
Customizable: Easily adaptable with different fillings and spices to suit personal tastes.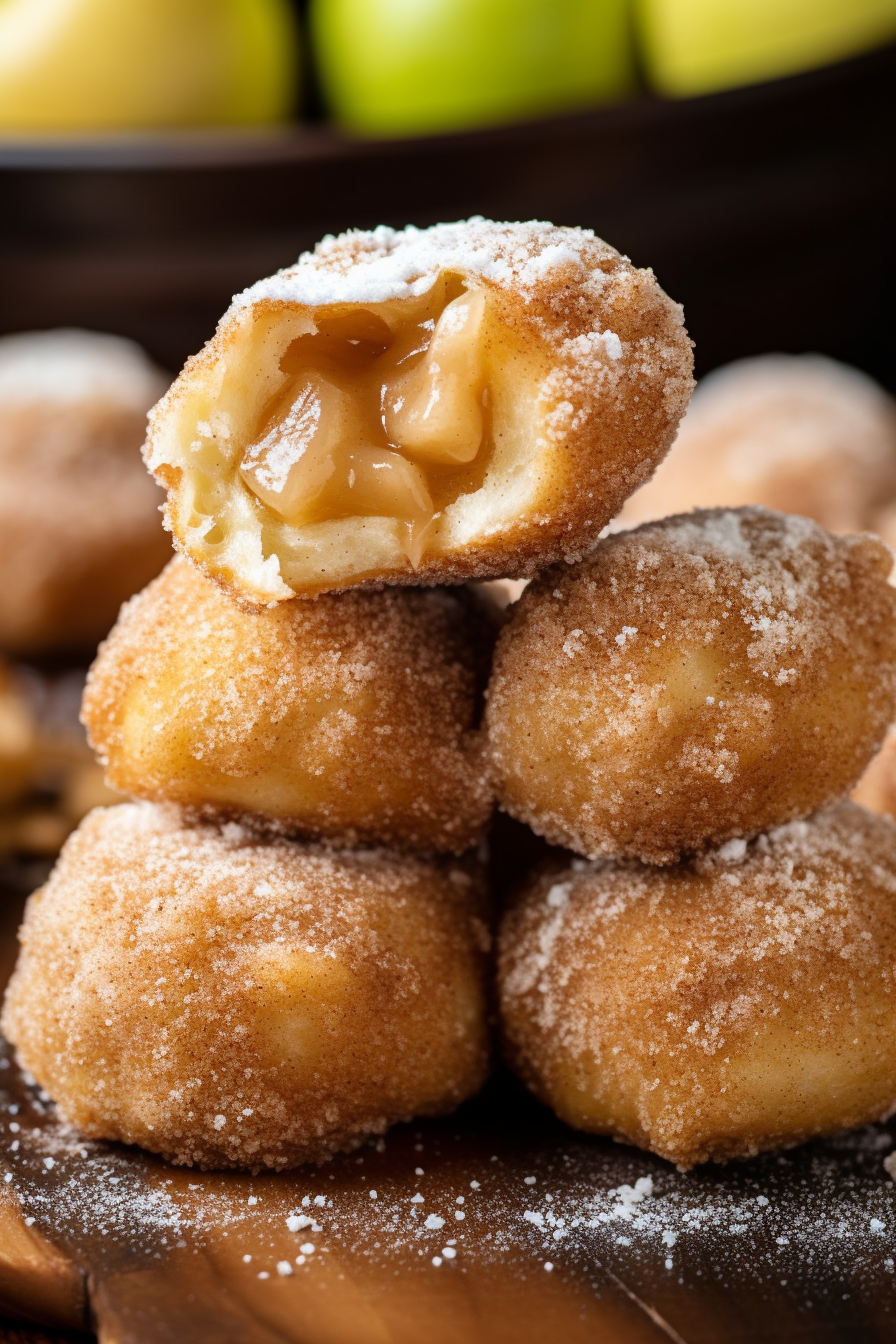 Ingredients Notes For Air Fryer Apple Pie Bombs
Air Fryer Apple Pie Bombs are a symphony of simple yet flavorful ingredients. The biscuits provide a convenient and fluffy base, easily transformed into a pocket for the sweet apple pie filling. Granulated sugar and apple pie spice blend harmoniously for a coating that's delightfully sweet with a hint of spice. Unsalted butter, in its melted form, not only binds the sugar coating but also adds a rich, buttery flavor. Lastly, the cinnamon adds a warm, comforting note, enhancing the apple pie filling's taste.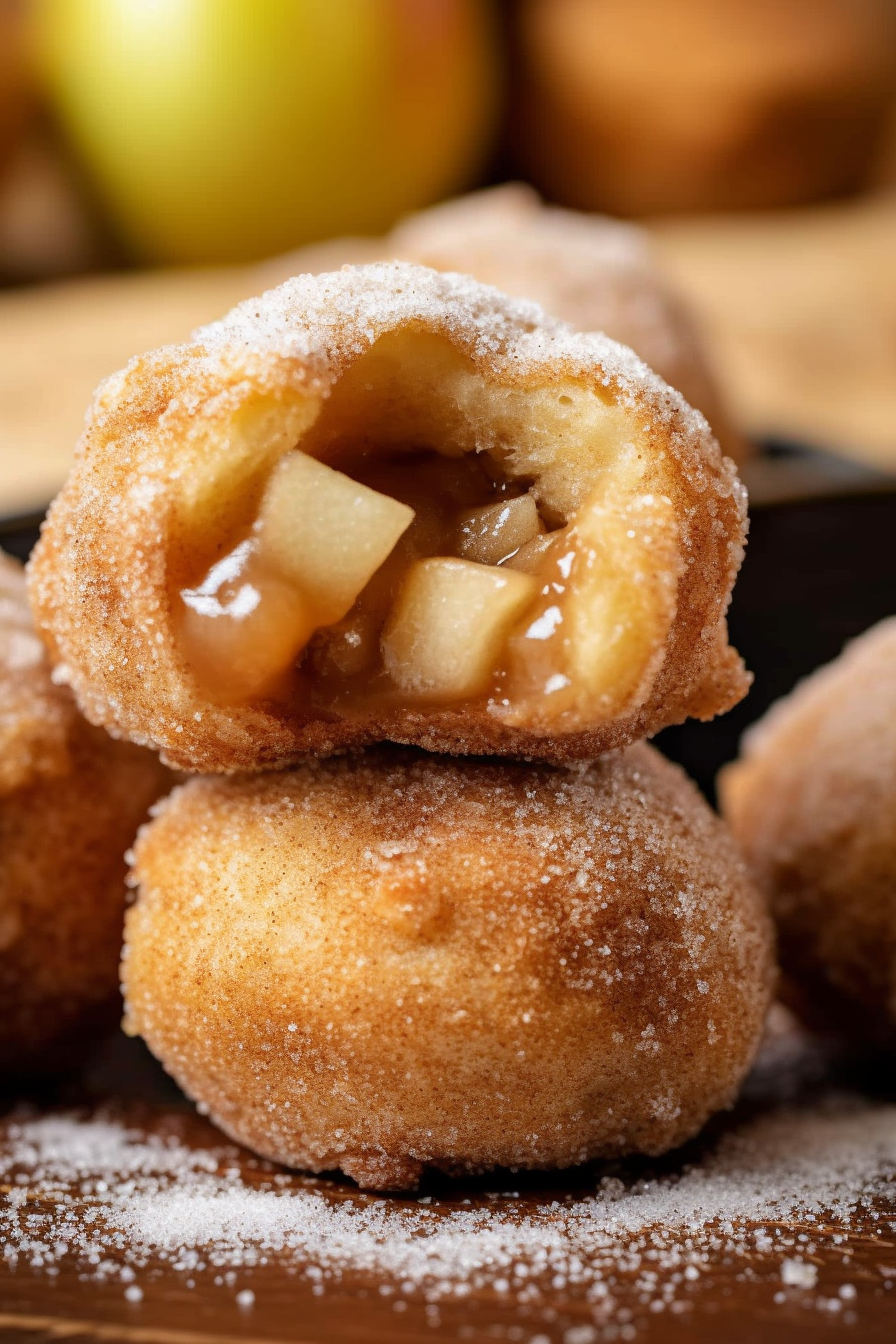 How To Make Air Fryer Apple Pie Bombs
Preparation: Begin by blending sugar and apple pie spice for the coating. This mixture is the secret to the recipe's sweet and spicy allure.
Forming the Base: Biscuits are transformed into the foundation of your pie bombs. Flatten them into circles, creating the perfect canvas for the filling.
Filling: Mix apple pie filling with cinnamon for an aromatic and flavorful heart. Spoon this mixture onto your biscuit circles.
Assembly: Seal the deal by folding and pinching the biscuits into little pockets of joy. Roll them into balls to ensure even cooking.
Air Frying: Spray your air fryer basket and place the balls inside. Air frying them brings out a golden texture that's irresistibly crispy.
Finishing Touches: After air frying, each bomb is dunked in melted butter, then rolled in the sugar-spice mixture for a sweet, spiced exterior.
Serving: Serve these golden delights immediately, or let them cool to room temperature to suit your preference.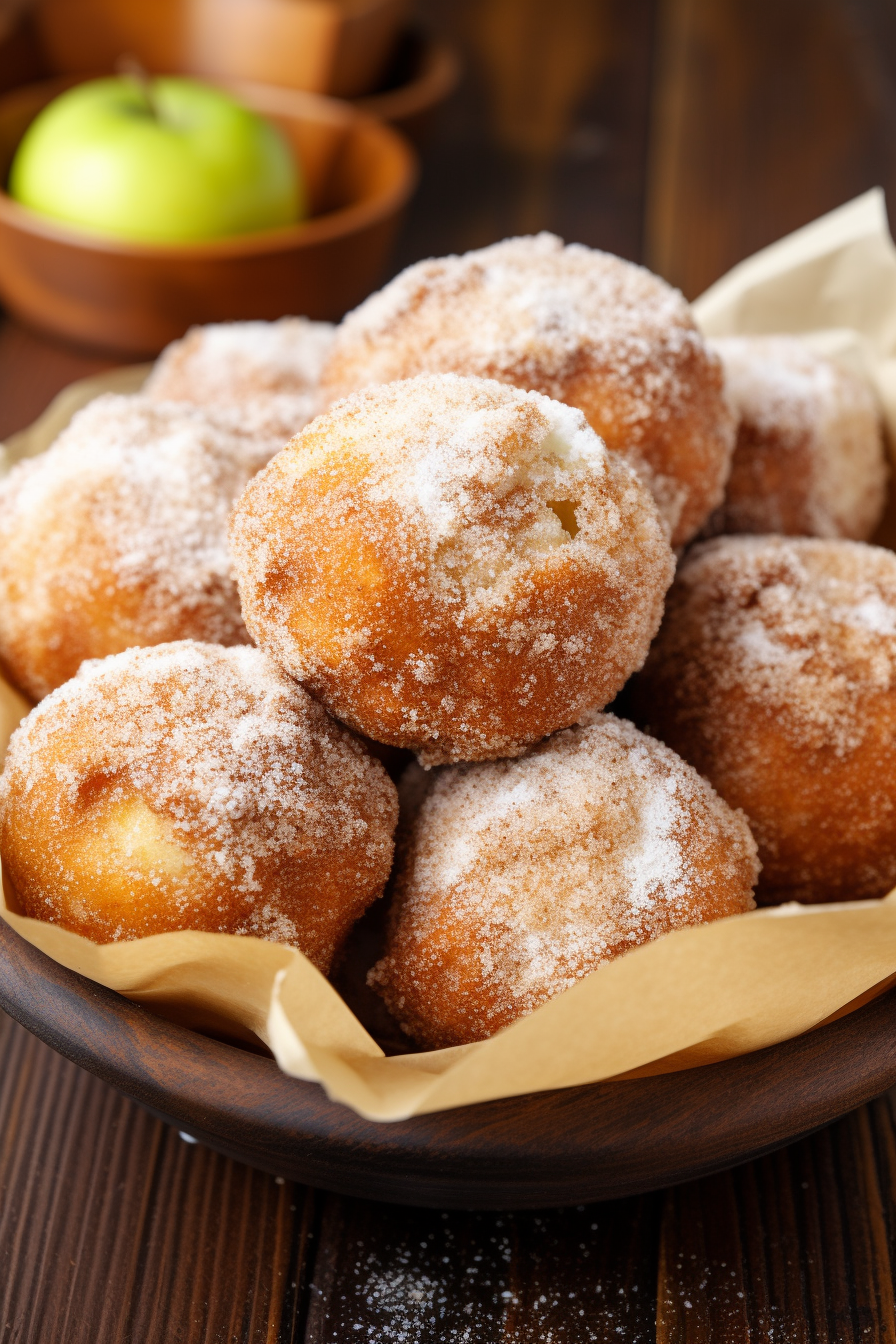 Storage Options
Air Fryer Apple Pie Bombs retain their charm even when stored. Cool them completely and keep in an airtight container at room temperature for up to two days. For longer storage, refrigerate for up to a week. You can also freeze them for up to three months, reheating in the air fryer to bring back that fresh-baked warmth and crispiness.
Variations and Substitutions
Filling Swap: Try different pie fillings like cherry, blueberry, or peach for a fruity twist.
Spice It Up: Experiment with spices like nutmeg or cardamom in the sugar coating for a unique flavor profile.
Vegan-Friendly: Use vegan biscuits and butter for a plant-based version.
Gluten-Free: Opt for gluten-free biscuits to cater to dietary needs.
Sweetener Variations: Replace granulated sugar with brown sugar or a sugar substitute for a different sweetness level.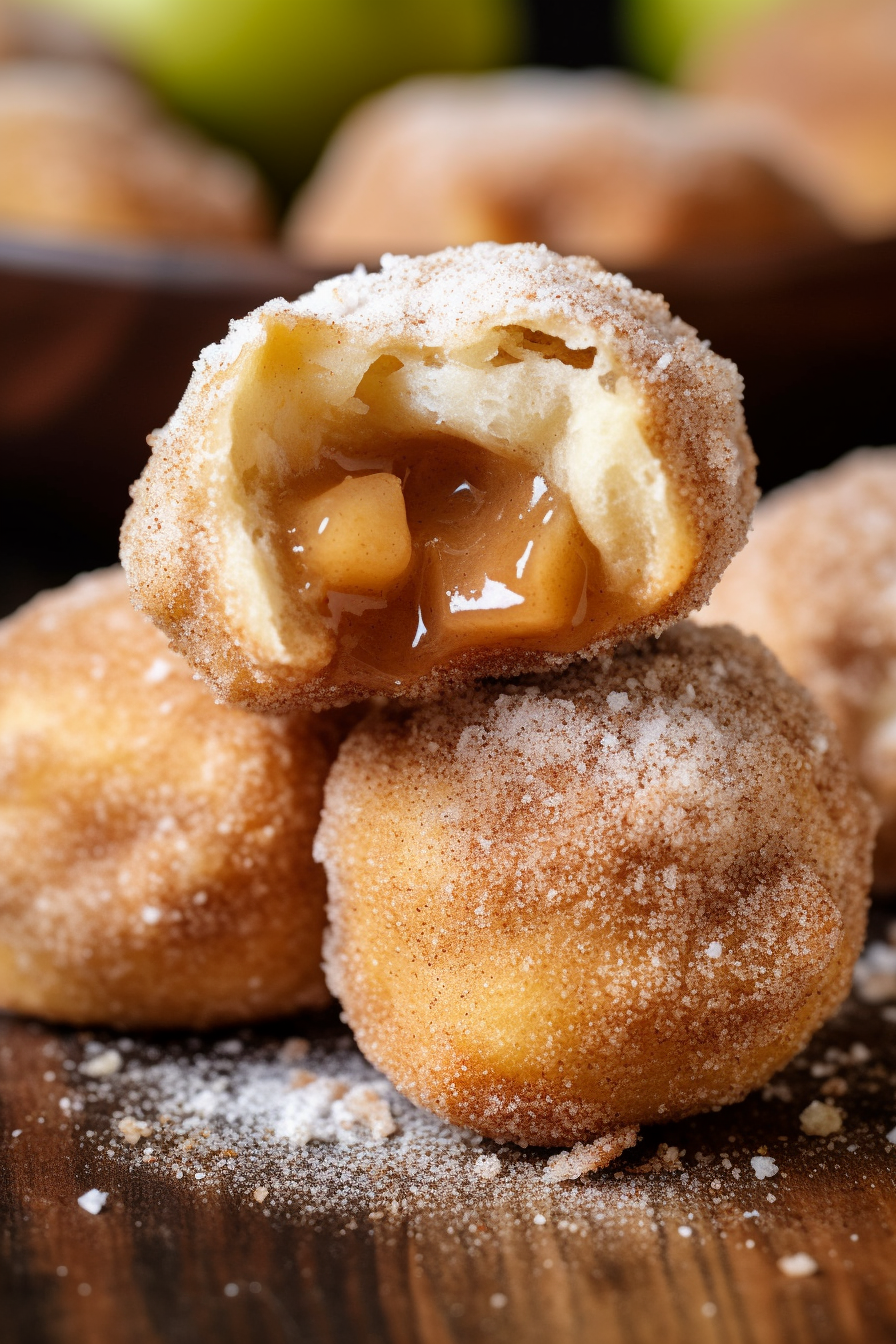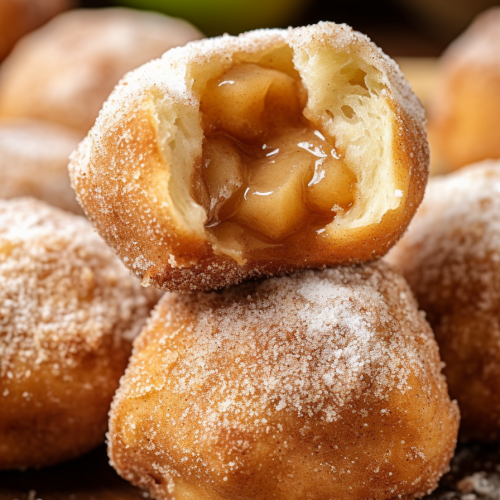 Air Fryer Apple Pie Bombs
A delightful treat combining biscuits, apple pie filling, and a sweet spice coating. Quick to make and perfect for a cozy dessert.
Print
Pin
Rate
Ingredients
Granulated Sugar: ¾ cup

150 grams

Apple Pie Spice: 3 teaspoons

Biscuits

Pillsbury Grand, 8-count: 1 can

Apple Pie Filling

finely chopped: 1 cup (243 grams)

Cinnamon: 1 teaspoon

Unsalted Butter

melted: ½ cup (1 stick / 113 grams)
Instructions
Sugar and Spice Mixture Preparation: In a medium-sized bowl, combine ¾ cup of granulated sugar with 3 teaspoons of apple pie spice. Stir the mixture until well integrated and set aside.

Biscuit Preparation: Open the can of Pillsbury Grand biscuits. Carefully separate each biscuit into two layers by peeling them apart. Flatten each layer into a circle approximately 4 inches in diameter, yielding a total of 16 circles.

Filling Mixture: In a separate small bowl, combine 1 cup of finely chopped apple pie filling with 1 teaspoon of cinnamon. Stir the ingredients together until they are thoroughly mixed.

Assembling the Bombs: Place approximately 1 tablespoon of the apple pie filling mixture in the center of each biscuit circle. Carefully fold the edges of the biscuit over the filling, pinching them together to seal. Gently roll each filled biscuit into a ball shape, ensuring the filling is completely enclosed.

Air Fryer Preparation: Spray the basket of the air fryer with nonstick cooking spray to prevent sticking.

Cooking Process: Place the prepared balls into the air fryer basket, spacing them about 2 inches apart to allow for even cooking. Spray the tops of the balls lightly with cooking spray. Cook in the air fryer at 350°F (177°C) for 8-9 minutes, or until they turn golden brown. You may need to cook in batches depending on the size of your air fryer.

Finishing Touches: After cooking, remove the apple pie bombs from the air fryer. Dip each one in the previously melted ½ cup of unsalted butter, ensuring a thorough coating. Subsequently, roll each butter-coated bomb in the prepared sugar and apple pie spice mixture, ensuring an even layer of coating.

Serving: The Air Fryer Apple Pie Bombs are best served immediately while warm, but they can also be enjoyed at room temperature.