Dive into a crispy, cheesy affair with our Parmesan Crusted Chicken! A blend of succulent chicken breasts, authentic parmesan, aromatic Italian seasonings, and crunchy panko breadcrumbs make every bite an irresistibly delightful experience.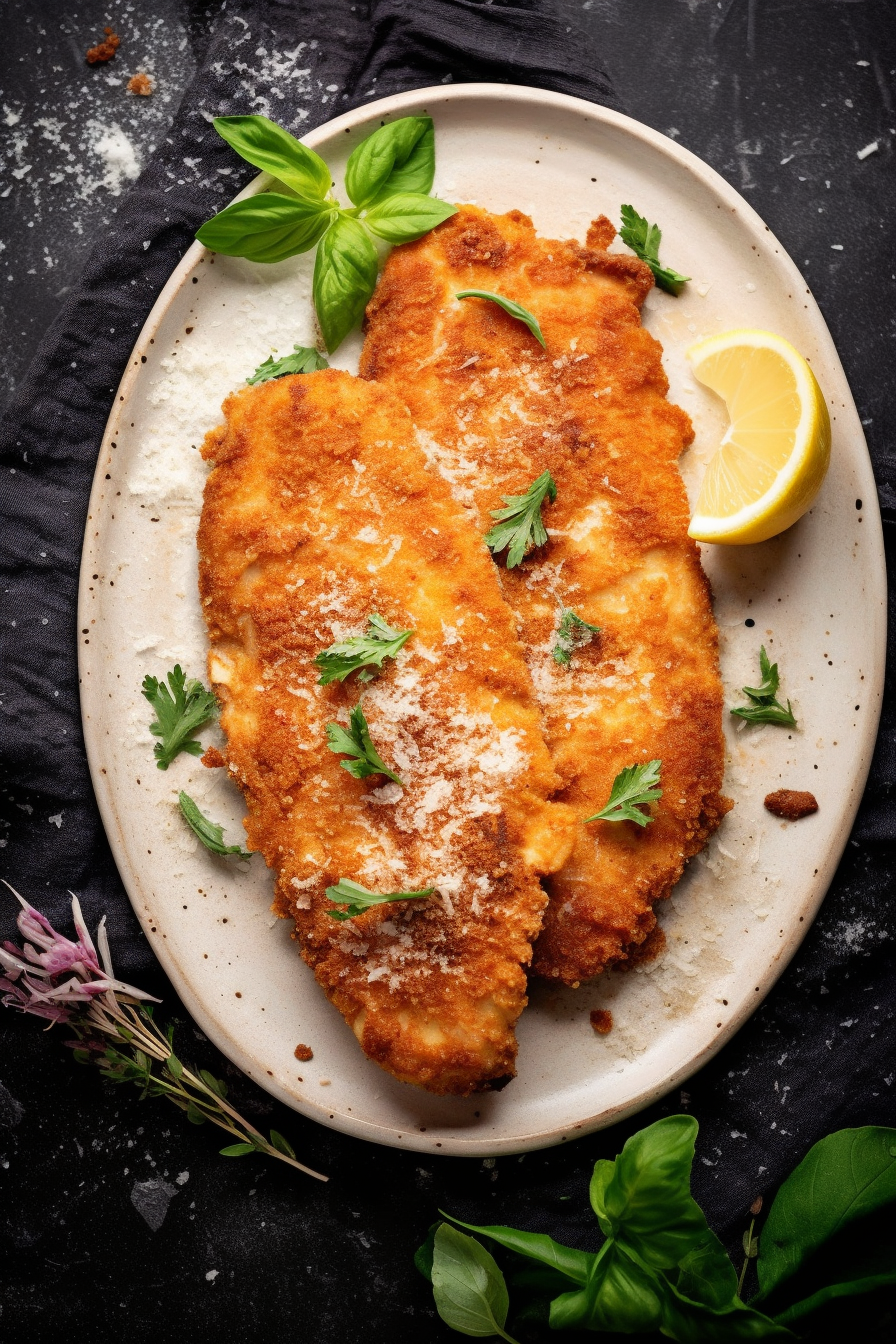 Every family has that one dish – the showstopper that steals the limelight at every gathering. In our home, it's the Parmesan Crusted Chicken. My grandmother, an Italian immigrant with a penchant for flavors, brought this recipe with her, as a token of her homeland. As kids, we'd sit eagerly around the dinner table, watching her magically transform simple chicken breasts into golden, crispy delights. The soft crunch of the breadcrumb coating, followed by the tender chicken within, was, and still is, the stuff of dreams. Every bite is a trip down memory lane, a reminder of family, laughter, and most importantly – Nonna's unwavering love.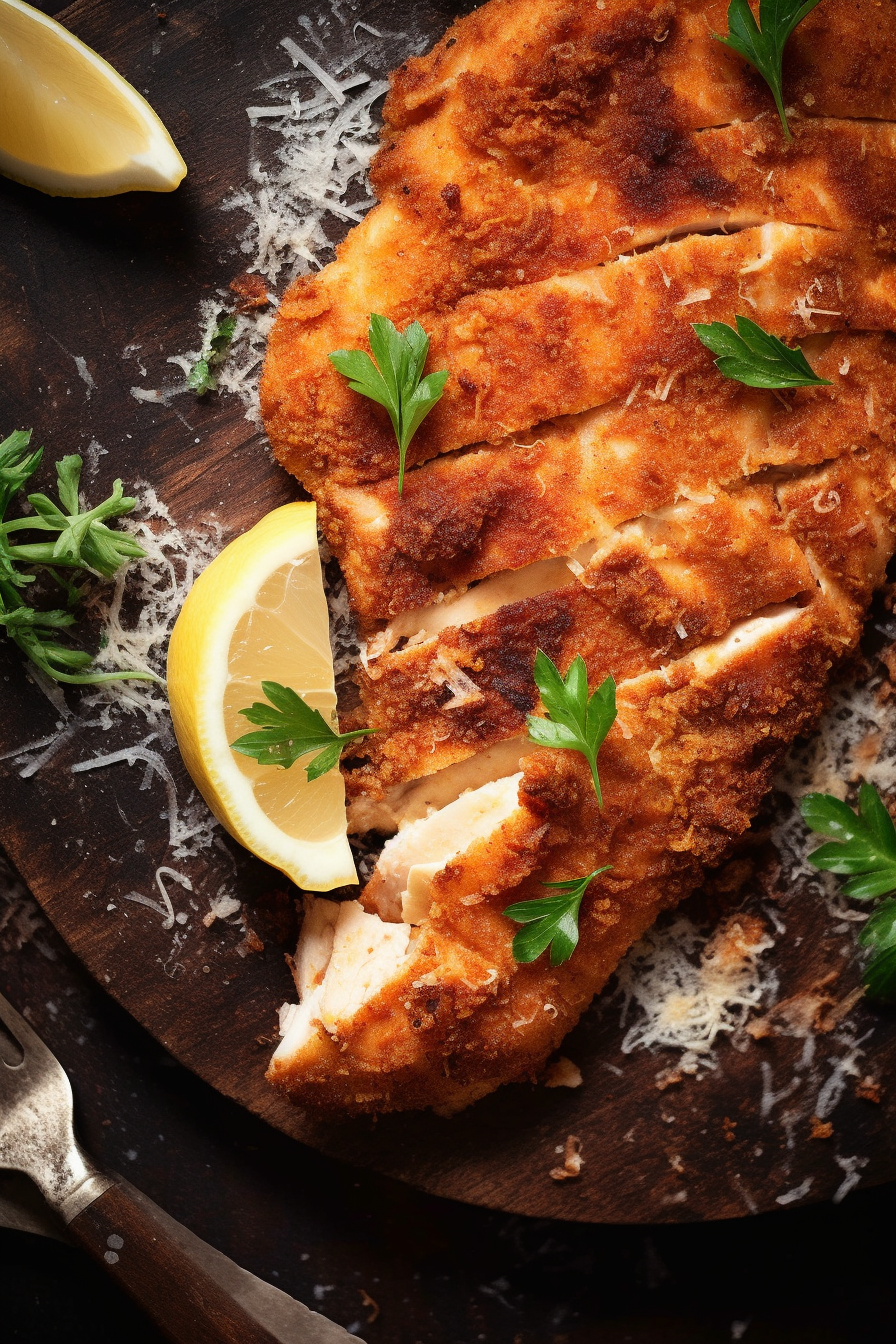 Why You'll Love Parmesan Crusted Chicken:
If you're someone who believes simplicity is the key to a mouth-watering dish, our Parmesan Crusted Chicken is just the ticket! What sets this recipe apart? First off, it's as speedy as it gets – a gourmet dish ready in under 15 minutes? You bet! Second, while many might compromise on the authenticity of flavors, ours doesn't; the rich parmesan combined with genuine Italian seasoning brings Italy right to your plate. And finally, let's talk texture – crispy on the outside, tender and juicy on the inside, our chicken is a roller-coaster of culinary emotions, leaving your taste buds begging for more!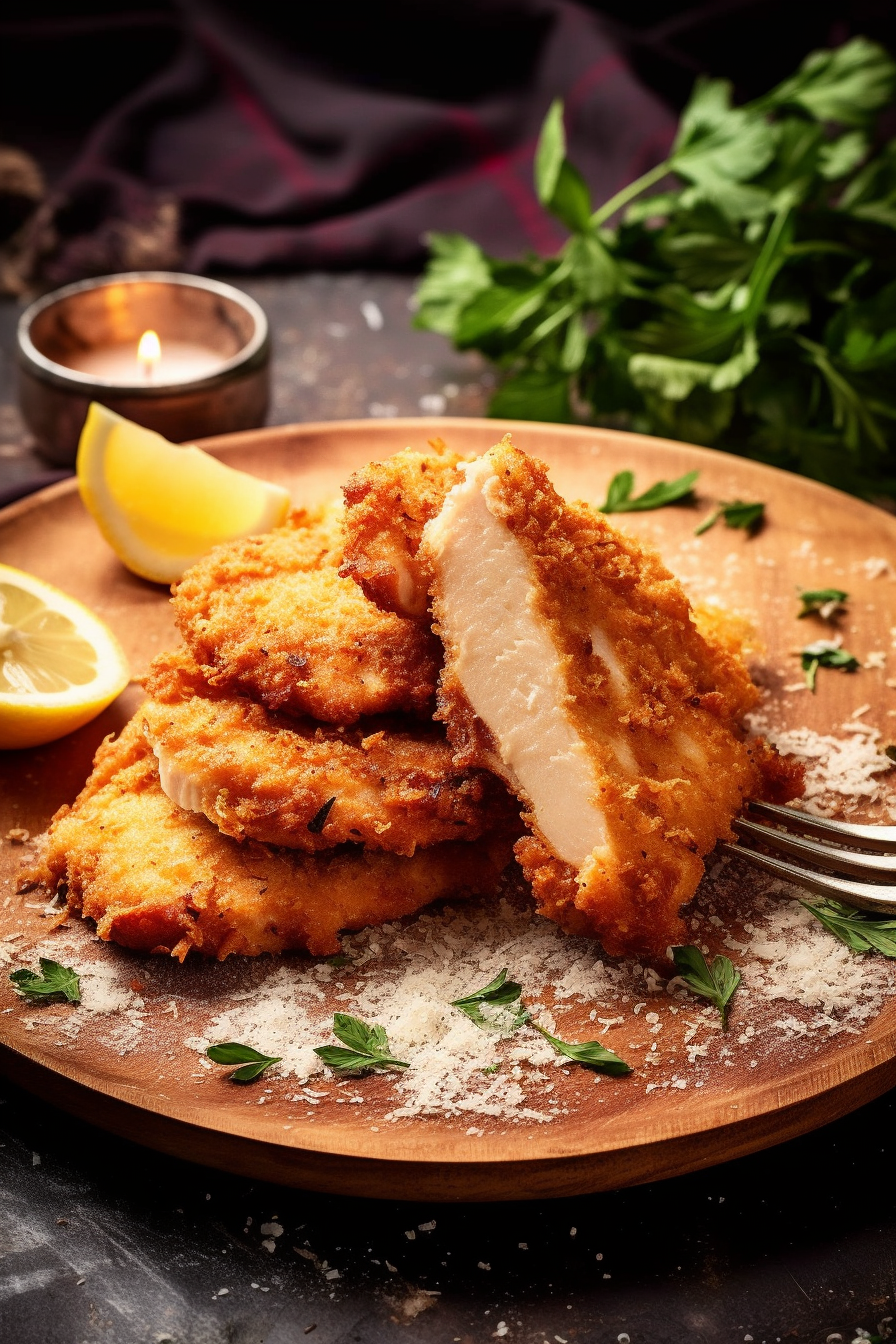 Ingredients Notes for the Parmesan Crusted Chicken:
Alright, culinary enthusiasts, let's break down our star players:
Chicken Breasts: Opt for uniform-sized breasts to ensure even cooking. Thinly sliced or pounded breasts work best for a perfectly crusted exterior.
Parmesan Cheese: Grated fresh is always best! It ensures the perfect melt and a rich taste.
Panko Breadcrumbs: These Japanese breadcrumbs are coarser than their traditional counterparts, giving you that desired crunch. Absolutely non-negotiable!
Italian Seasoning: Because what's an Italian-inspired dish without the authentic herbs?
Eggs: They act as the glue, making sure your breadcrumbs stay put!
Olive Oil: Choose a good quality extra virgin olive oil; it will enhance the overall flavor profile.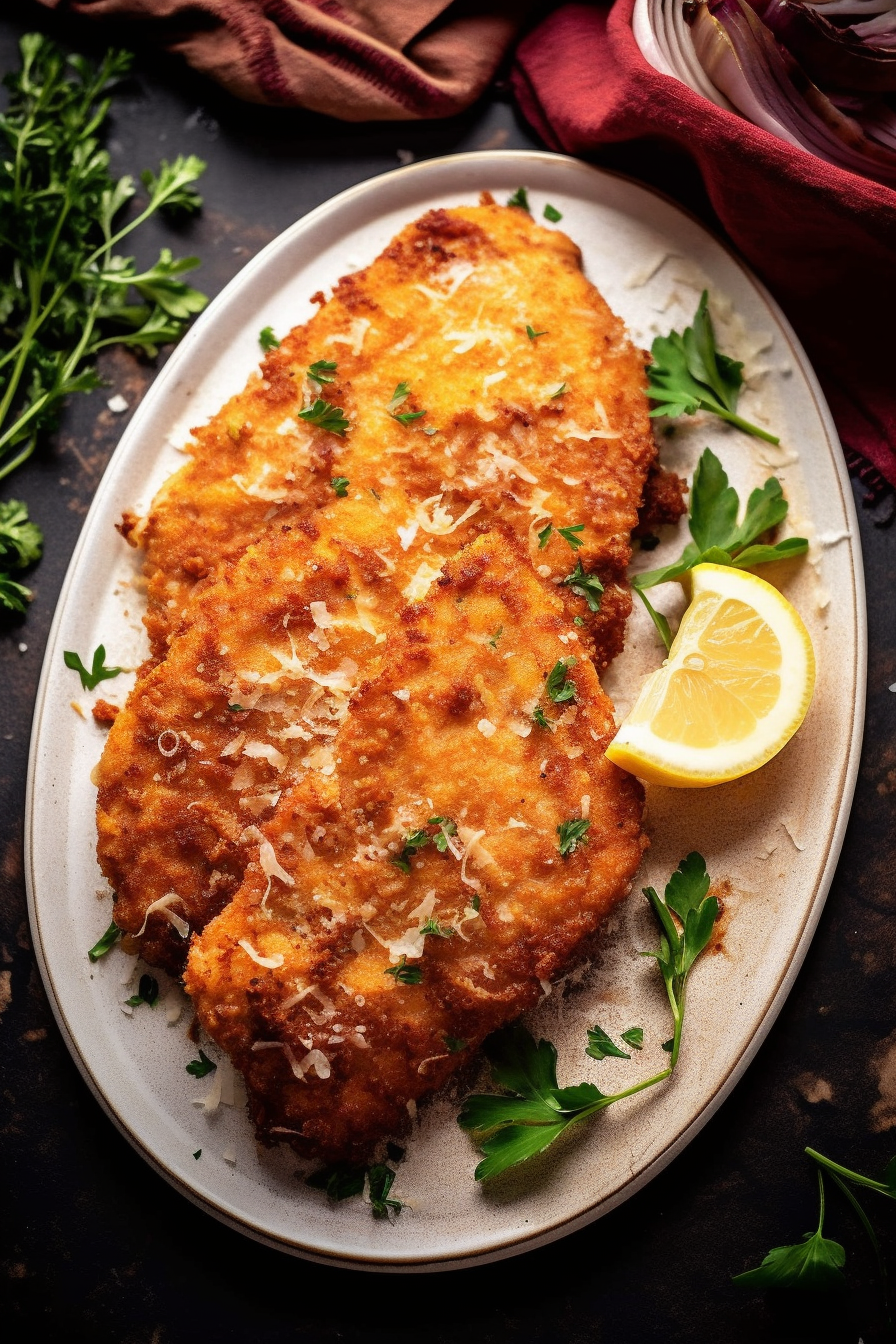 Easy-to-Follow Steps for the Parmesan Crusted Chicken:
Let's embark on this gastronomic journey, shall we?
Step 1: Prep Station: Line up three shallow bowls. In the first one, whisk together your flour, Italian seasoning, garlic powder, salt, and black pepper. This is where your chicken will get its initial flavor kick. In the second, beat those eggs. They're your adhesive. And in the third, toss together those all-important parmesan cheese and panko breadcrumbs. The magical crust begins here.
Step 2: Dive Right In: Take a chicken breast and give it a flour bath, ensuring it's coated all over. Dip it into the beaten eggs, letting the excess drip away. Lastly, press the chicken firmly into the parmesan-panko mix, giving it a generous, even coat.
Step 3: The Sizzle Dance: In a large skillet, heat that olive oil over medium-high flame. Once shimmering, introduce your chicken. Cook each side for 3-4 minutes, or until it's wearing a golden-brown tan. Place them on a plate, and voila! You're now the proud chef of an Italian masterpiece.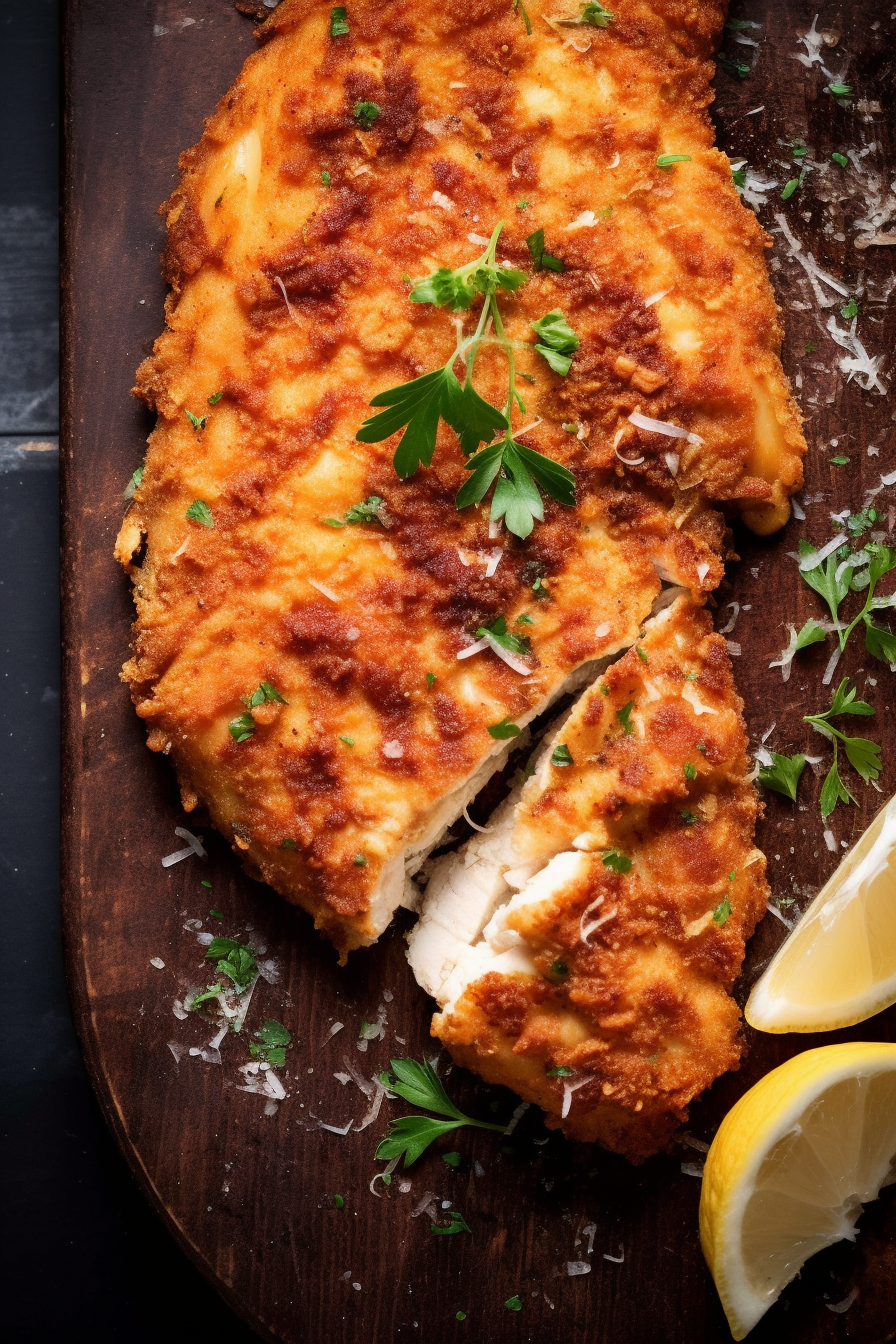 Storage Options for the Parmesan Crusted Chicken:
Wrapped your lips around one too many pieces and got leftovers? Fear not! Store your Parmesan Crusted Chicken in an airtight container and pop it into the refrigerator. It'll sing its crispy song for another 2-3 days. Planning on a longer vacation for them? Freezing works too! Just remember to thaw in the fridge overnight before reheating in an oven to regain that golden crunch.
Variations and Substitutions for the Recipe:
Shake things up, why don't you?
Cheese Swap: Feeling adventurous? Try gruyère or Asiago instead of parmesan.
Herb Love: Fresh herbs like rosemary or thyme can be an exciting twist.
Gluten-Free?: Swap panko breadcrumbs for gluten-free alternatives.
Vegan Take: Use almond or soy milk with a touch of apple cider vinegar as an egg substitute, and vegan parmesan for the real thing.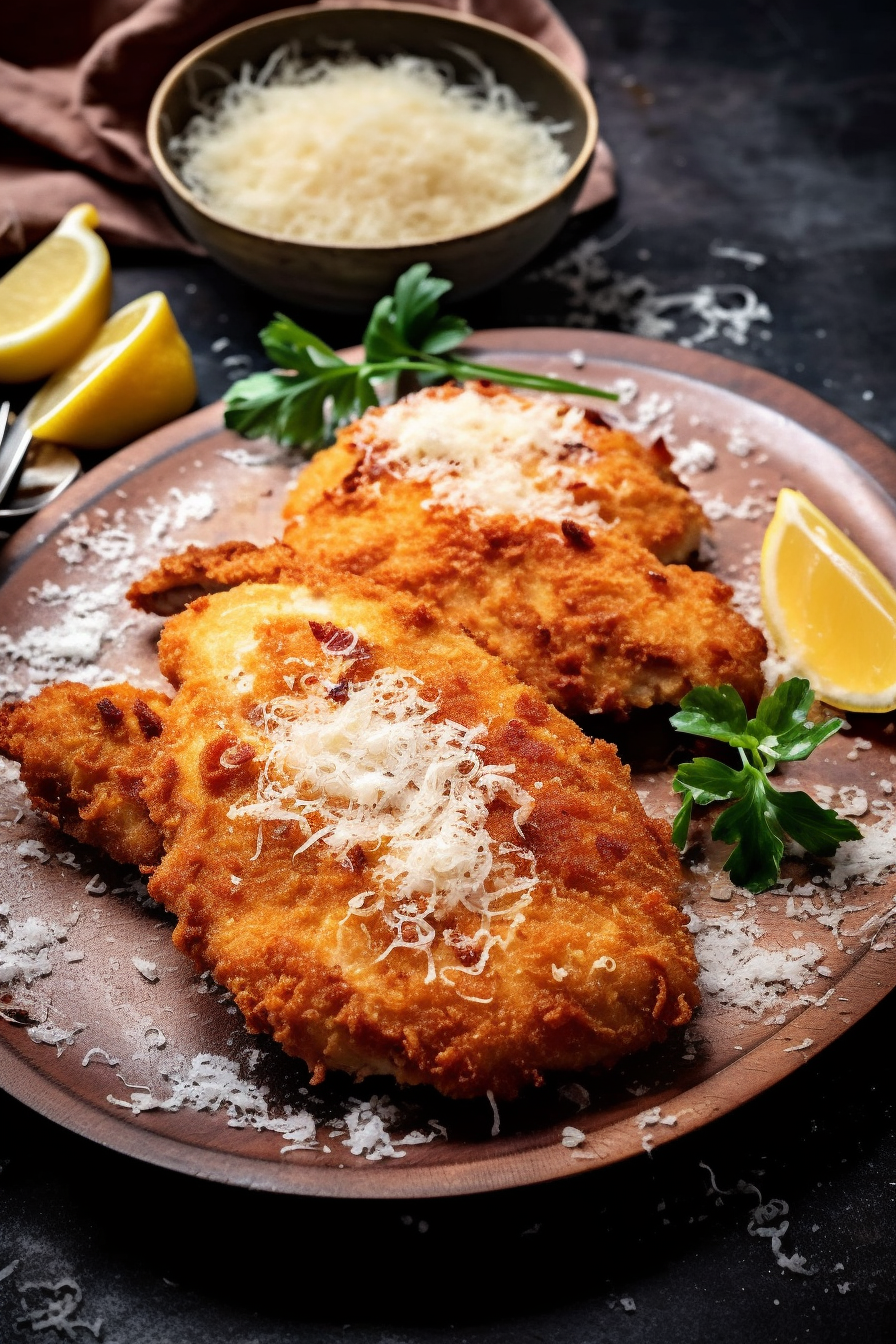 Happy cooking, folks! And remember, the heart of this dish isn't just in its ingredients but the memories you make while eating it. Cheers to creating your own stories! 🍗🥂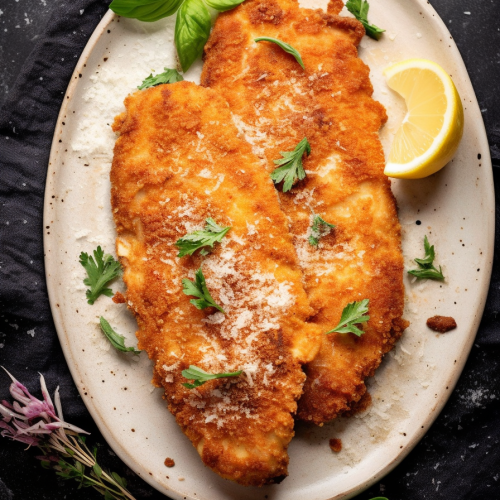 Parmesan Crusted Chicken
This recipe for Parmesan Crusted Chicken provides a sophisticated culinary experience. Through a combination of select ingredients, one can produce a dish where chicken breasts are elegantly enveloped in a refined Italian-seasoned parmesan breading, resulting in a balance of texture and flavor.
Print
Pin
Rate
Ingredients
4

boneless

skinless chicken breasts

1

cup

of finely grated Parmesan cheese

1

cup

of Panko breadcrumbs

2

teaspoons

of authentic Italian seasoning

1/4

cup

of all-purpose flour

1/2

teaspoon

of garlic powder

1/2

teaspoon

of fine salt

1/4

teaspoon

of freshly ground black pepper

2

large eggs

thoroughly beaten

1/4

cup

of high-quality olive oil
Instructions
Preparing the Coating: Begin by allocating three separate shallow dishes. In the first dish, blend the all-purpose flour, Italian seasoning, garlic powder, salt, and black pepper until uniformly mixed. In the second dish, place the beaten eggs. In the third dish, combine the grated Parmesan cheese with Panko breadcrumbs, ensuring an even mixture.

Coating Procedure: Each chicken breast should first be immersed in the flour mixture, ensuring it is adequately covered. Subsequently, submerge the flour-coated chicken breast into the beaten eggs, allowing superfluous egg to drip off. Finally, firmly press the chicken breast into the Parmesan and breadcrumb combination, ensuring both sides are uniformly coated.

Cooking Process: Utilize a large skillet and heat the olive oil over a medium-high flame. Once the oil is adequately heated, introduce the coated chicken breasts. Cook each side meticulously for approximately 3-4 minutes or until it achieves a golden-brown hue. Remove from heat and serve promptly.