Dive into these soft cookies bursting with classic peanut butter flavor, sweetened by a dollop of jam and made irresistible in just 23 minutes!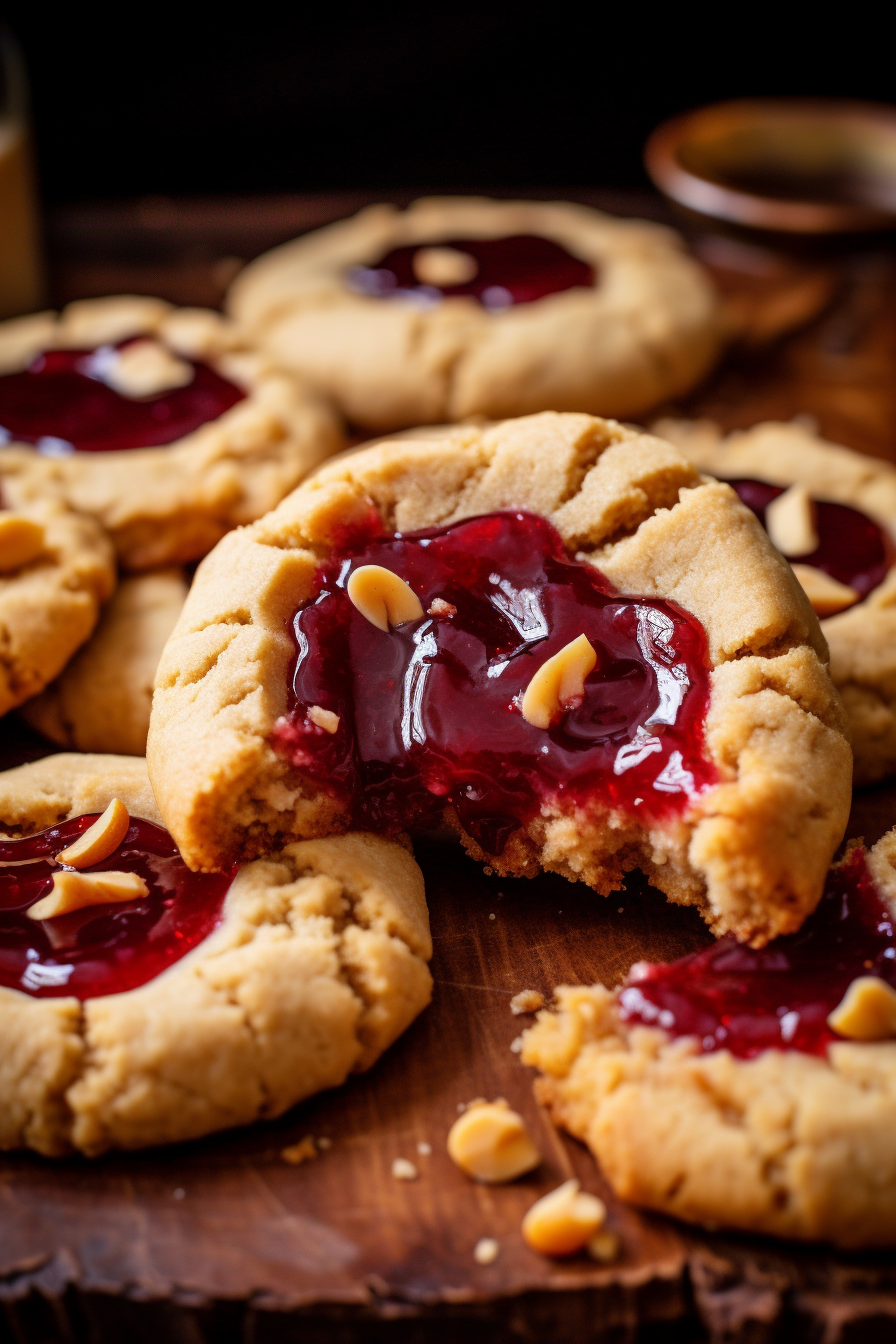 It was on one of those laid-back Sunday afternoons, my kids were raiding the kitchen for a snack and I was raiding my brain for a quick and fun way to satiate their snack attack. With a jar of peanut butter in one hand and jam in the other, a lightbulb moment hit. Why not merge the nostalgia of a PB&J sandwich into a cookie? The first batch was devoured faster than I could pour milk into glasses. Since that fateful day, our Peanut Butter and Jelly Cookies have become an emblem of sweet serendipity in our household. Each bite is like a trip down memory lane, reminding me of childhood school lunches and sneaky midnight kitchen escapades.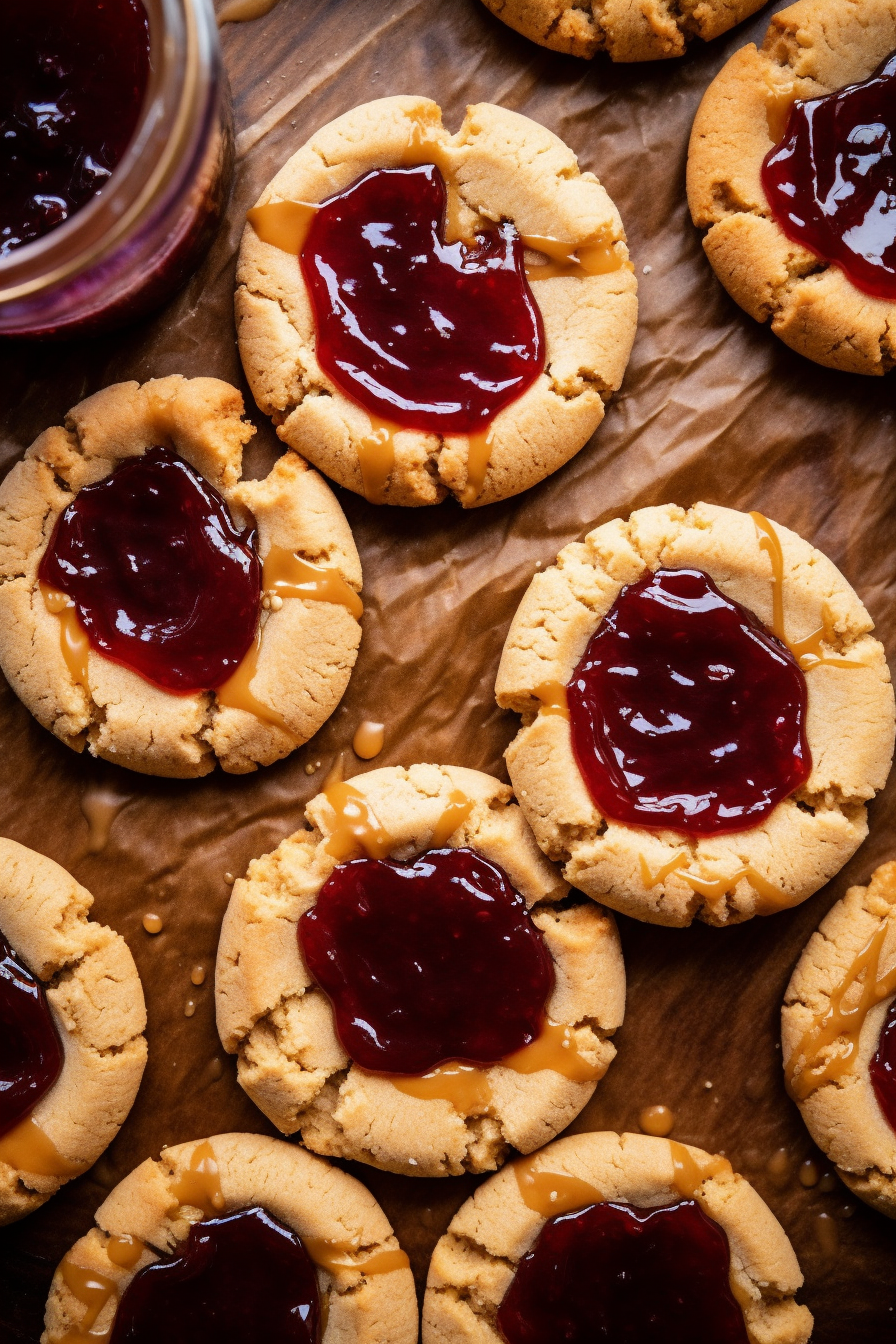 Why You'll Love Peanut Butter and Jelly Cookies:
Here's the sitch, fellow cookie lovers: These Peanut Butter and Jelly Cookies are the perfect fusion of nostalgia and innovation. Think about it! The comforting essence of a childhood PB&J sandwich combined with the tender, melt-in-your-mouth magic of a cookie. And the best part? No chilling required! That's right, these beauties are ready in a flat 23 minutes. Talk about convenience meets deliciousness.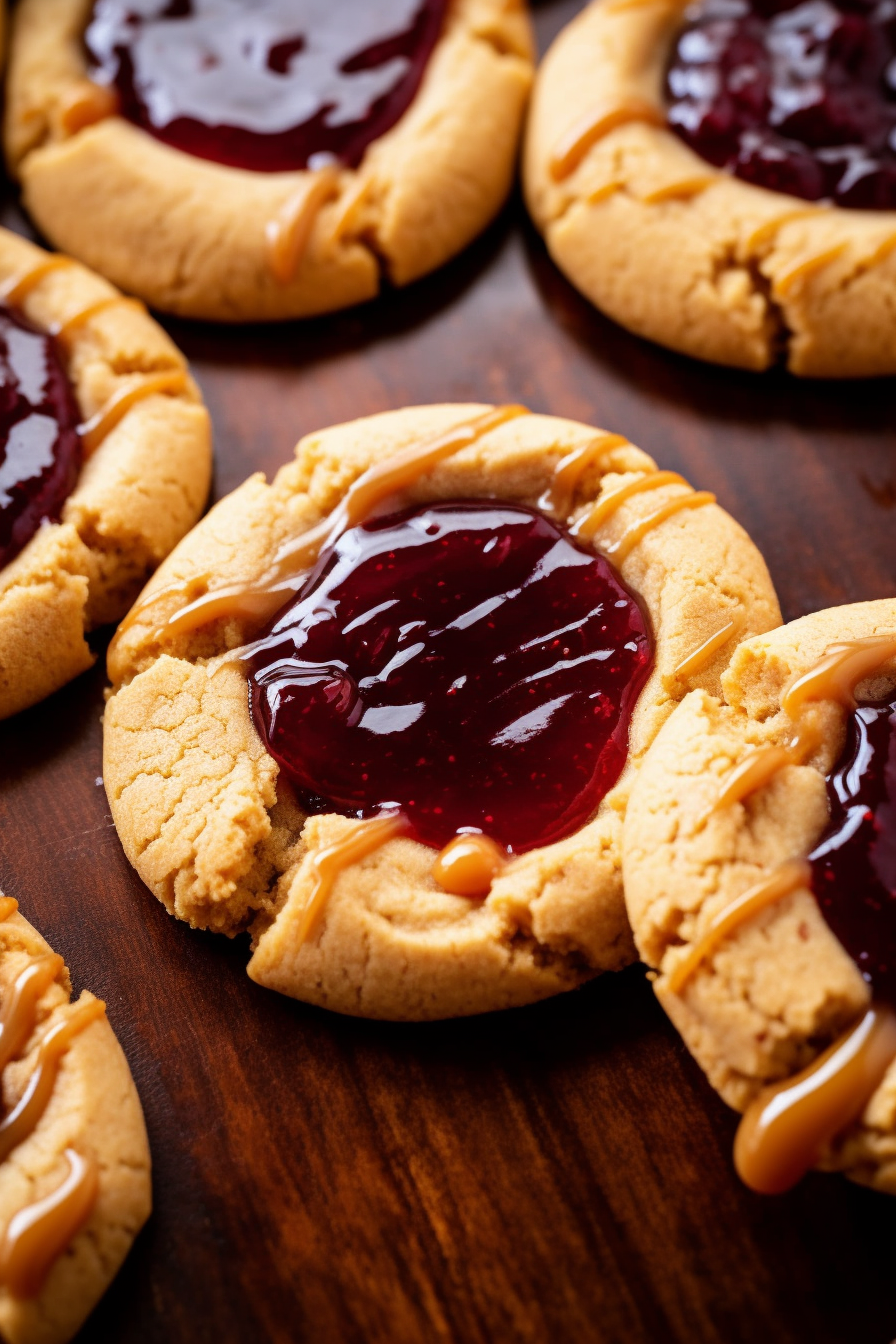 Ingredient Notes For The Peanut Butter and Jelly Cookies:
Butter: Stick to real butter and avoid margarine for that authentic creamy texture.
Peanut Butter: Creamy works best for this recipe, but if you're team crunchy, go wild! It's your cookie after all.
Jam: I'm a sucker for seedless jams but if seeds don't bother you, any jam variety will do. Raspberry? Strawberry? Boysenberry? The jam world is your oyster.
Flour: Remember, spoon and level your flour! Don't just scoop it. We don't want dense cookies, we're aiming for light and fluffy.
Garnish: That melted peanut butter and chopped peanuts? Purely optional but highly recommended. Because who says no to more peanut butter?
FULL RECIPE CARD BELOW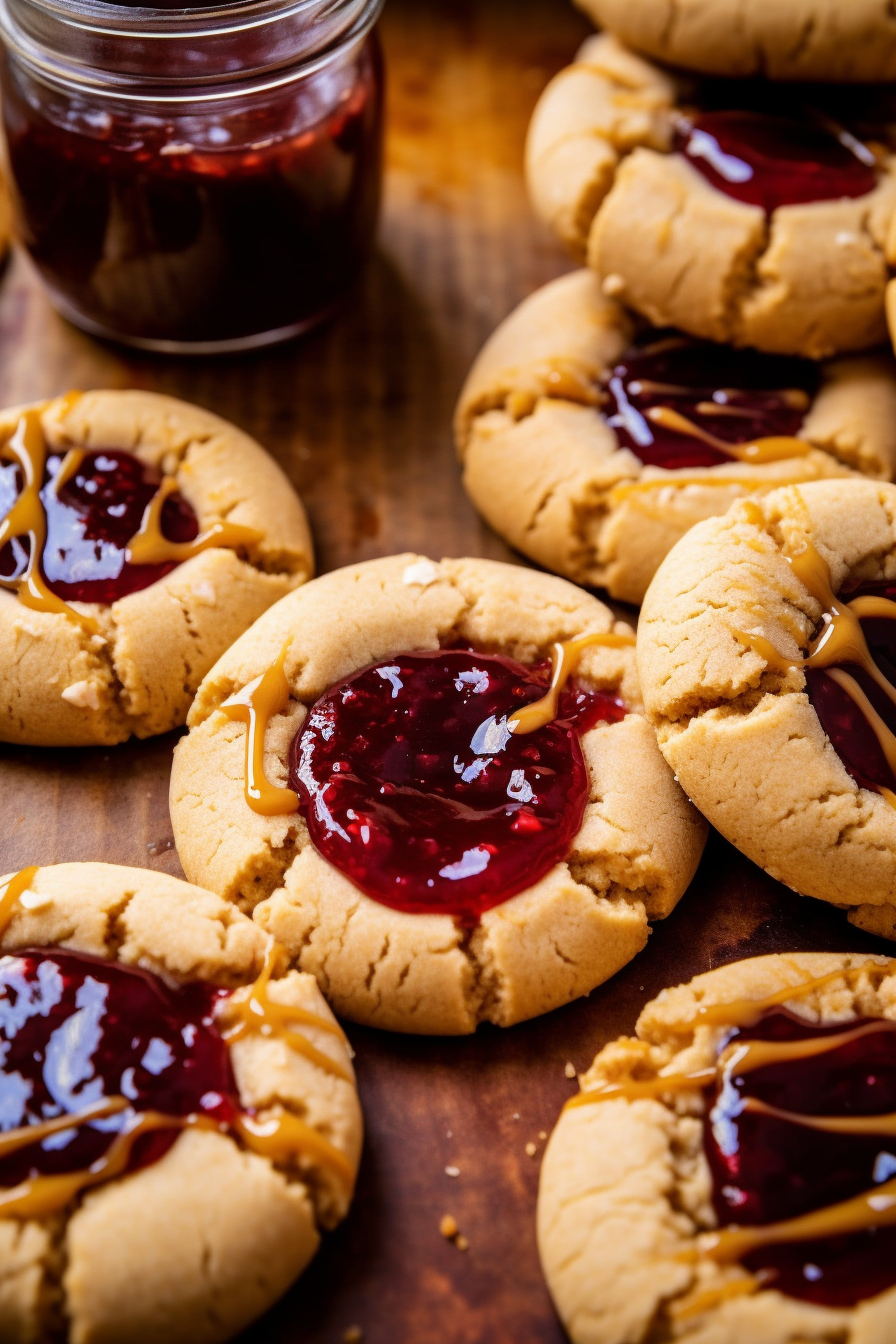 Detailed Steps To Make These Peanut Butter and Jelly Cookies:
Preparation: Set your oven to a cozy 350 degrees F and lovingly line your baking sheets with parchment paper. This ensures those cookies don't stick and have a perfect lift-off!
Butter Beating: In your mixing bowl, tenderly beat that 1/2 cup of butter until it's smoother than a Sinatra song.
Sweetness: Add both granulated and brown sugar to your butter. Beat until the combo is so fluffy, it could float!
Peanut Butter Fusion: Time to introduce your butter mix to the star of the show, our 1 cup of peanut butter.
Egg & Vanilla Magic: Gently incorporate the egg and vanilla, ensuring the cookie mix gets all their delicious benefits.
Dry Ingredients: Add flour to your mixture without stirring. Layer the baking soda and salt atop the flour, gently mixing just these dry ingredients. Now, combine everything without overdoing it. We aim for tender cookies, not tough cookies!
Cookie Shaping: Time to mold those delectable dough balls! Around 1 and 1/2 inch in diameter is perfection.
Fork Fun: Use your fork (dipped in sugar or flour) to give those cookies a cute criss-cross pattern, pressing them to around 1/2 inch thickness.
Jam Session: Gently place a teaspoon of jam at the center of each cookie. Ensure the jam stays put and doesn't wander off.
Baking Time: Pop those beauties into the oven for 13-15 minutes. Keep an eye out for that subtle browning at the edges.
Cooling: Let the cookies chill on the pan for about 5-10 minutes before moving them to a wire rack. (Pro tip: try one warm; it's a game-changer!)
Garnish Gala: If you're feeling fancy, drizzle some more jam, melted peanut butter, and sprinkle chopped peanuts for that gourmet touch.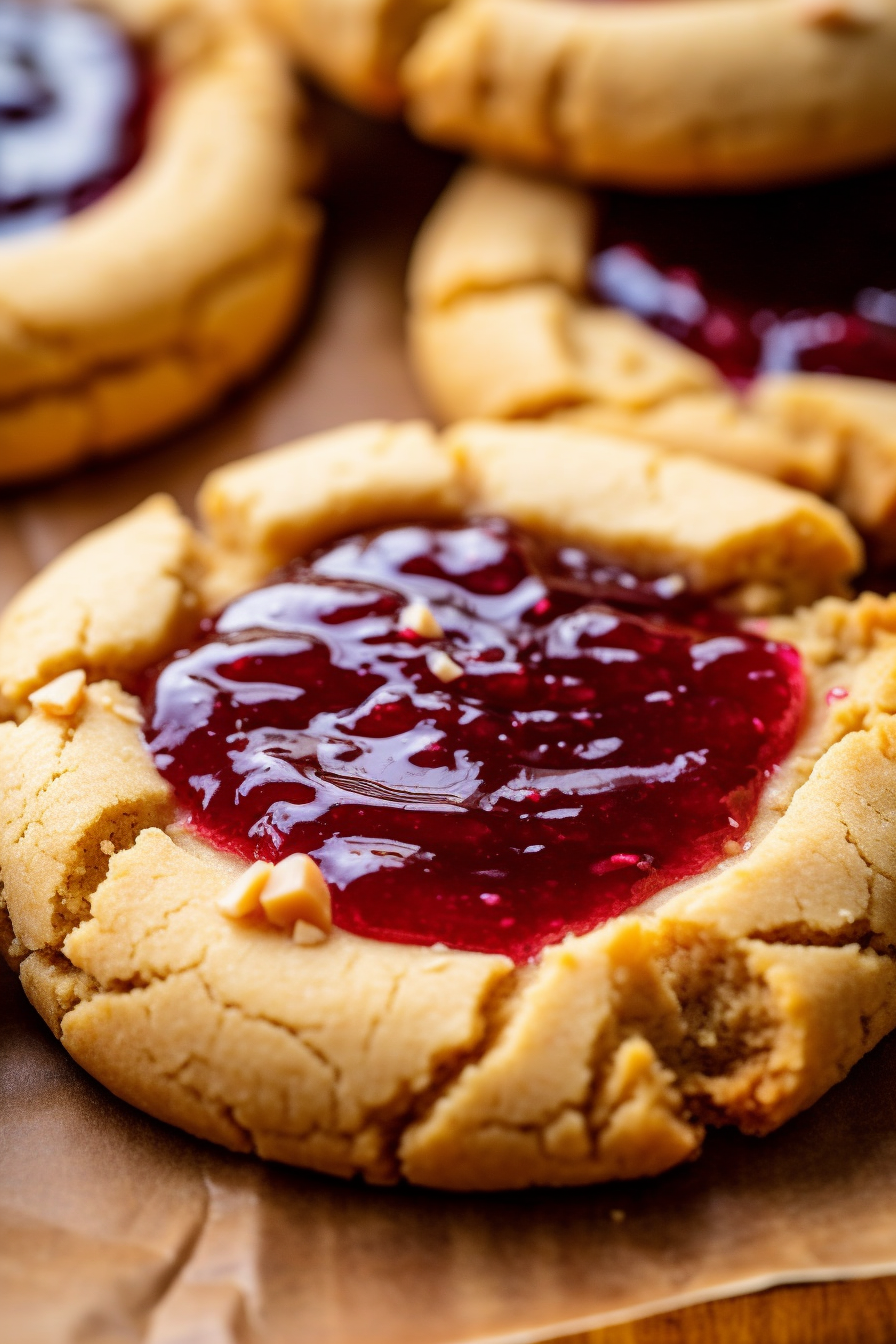 Storage Solutions:
These cookies are like treasures – store them in a sealed container for up to 3 days. But really, who can resist them for that long? Planning ahead? The dough is freezer-friendly! Shape, press, freeze, and bake whenever the craving strikes.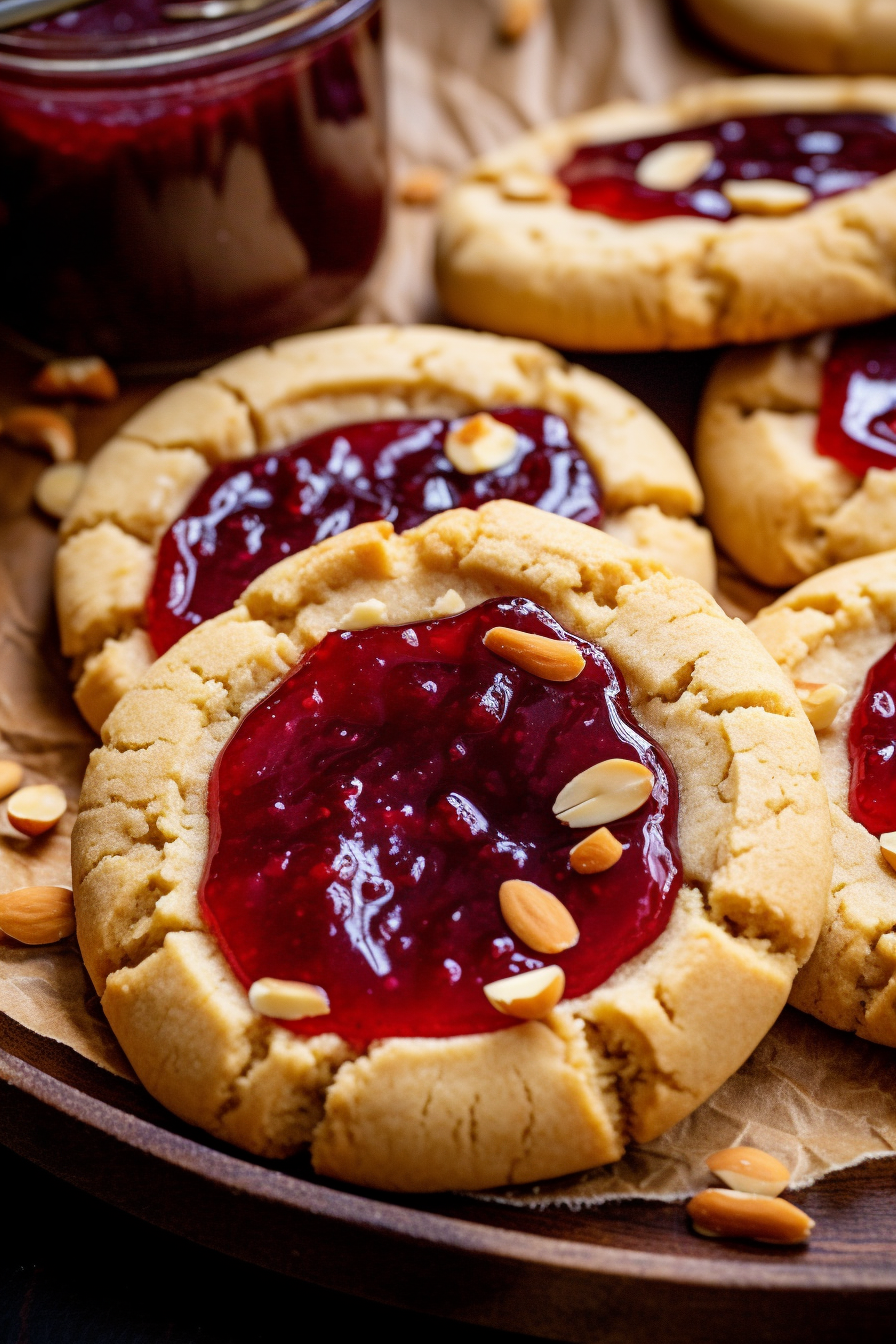 Variations & Substitutions:
Jam Choices: Branch out with different jam flavors. Apricot or blackberry, perhaps?
Nutty Variations: Swap peanut butter with almond or cashew butter for a nutty twist.
Vegan Vibes: Use vegan butter, an egg substitute, and ensure your peanut butter is vegan-friendly.
Gluten-free Goodness: Swap out the all-purpose flour for a gluten-free alternative.
Now, remember, whether you're a seasoned baker or a newbie, these Peanut Butter and Jelly Cookies are all about fun and flavors. So, don your aprons and let's get baking, cookie monsters! 🍪🥜🍓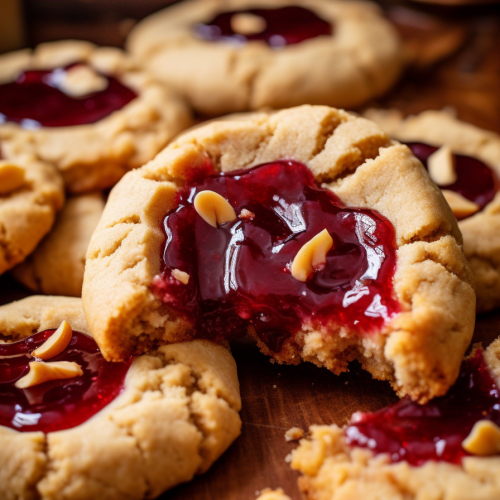 Peanut Butter and Jelly Cookies
Dive into these soft cookies bursting with classic peanut butter flavor, sweetened by a dollop of jam and made irresistible in just 23 minutes!
Print
Pin
Rate
Ingredients
1/2

cup

butter

equivalent to one stick

3/4

cup

granulated sugar

1/4

cup

packed brown sugar

1

cup

creamy peanut butter

1

large egg

1

teaspoon

vanilla extract

1

& 1/2 cups all-purpose flour

measured with the spoon and level method

1

teaspoon

baking soda

1/4

teaspoon

kosher salt

1/2

cup

seedless jam

for incorporation

Additional jam

for post-bake garnish

Melted peanut butter

for garnishing

Chopped peanuts

for garnishing
Instructions
Begin by preheating the oven to 350 degrees F. Prepare two baking sheets with either parchment paper or a silicone baking mat.

In a suitably sized mixing bowl, cream 1/2 cup butter until it achieves a smooth consistency. Ensure the sides of the bowl are scraped during this process.

Proceed by incorporating 3/4 cup granulated sugar and 1/4 cup brown sugar into the mixture. It is paramount to ensure a fluffy texture without any residual butter lumps.

Introduce 1 cup of peanut butter to the mixture. Ensure a homogeneous blend.

Subsequently, add the egg and vanilla extract to the mixture and mix until fully integrated.

Without stirring, add 1 and 1/2 cups of all-purpose flour to the bowl. On top of this, sprinkle the baking soda and kosher salt. Before mixing with the wet ingredients, combine these dry ingredients slightly.

Using a mixer, gently incorporate the dry ingredients into the wet mixture. It is imperative to avoid over-mixing. Once a rough dough forms, with some flour still visible, pause to scrape the sides and bottom of the bowl. Continue until the dough is uniform, but refrain from overworking it to maintain cookie tenderness.

Form the dough into balls of approximately 1 and 1/2 inches in diameter.

Arrange the formed dough on the prepared baking sheets, ensuring adequate spacing between each piece to allow for spreading.

Employ a fork, periodically dipped in sugar or flour to prevent sticking, to press a criss-cross pattern onto each cookie, flattening them to an approximate thickness of 1/2 inch.

In a separate vessel, smooth out 1/2 cup of seedless jam to remove any lumps. With precision, place up to 1 teaspoon of this jam at the center of each cookie, ensuring it remains centralized and does not reach the edges.

Bake the prepared cookies in the preheated oven for a duration of approximately 13-15 minutes. It is critical to observe for a slight browning along the edges, indicating their completion.

Once baked, it is advised to let the cookies solidify on their respective baking sheets for a duration of 5-10 minutes prior to transferring them onto a cooling rack.

For those prioritizing aesthetics, one may opt to enhance the cookies' appearance by adorning them with additional jam, melted peanut butter, and a sprinkle of chopped peanuts.

This procedure yields approximately 28 cookies. Store any excess in an airtight container, where they will remain optimal for consumption for up to three days.

Note: The cookie dough exhibits excellent freezing properties. For those inclined to prepare ahead, one can form the dough, flatten it using the aforementioned fork technique, and subsequently freeze it. This enables direct baking from the freezer, requiring only a minor adjustment in baking time. If one desires, the jam can be added prior to freezing, but ensure a preliminary flash freeze on a baking sheet before transferring to a freezer bag for longer-term storage.