Dive into the symphony of Southwest flavors with this crock pot recipe boasting juicy chicken breasts, black beans, corn, and a cheesy, creamy rice mix, all seasoned to perfection.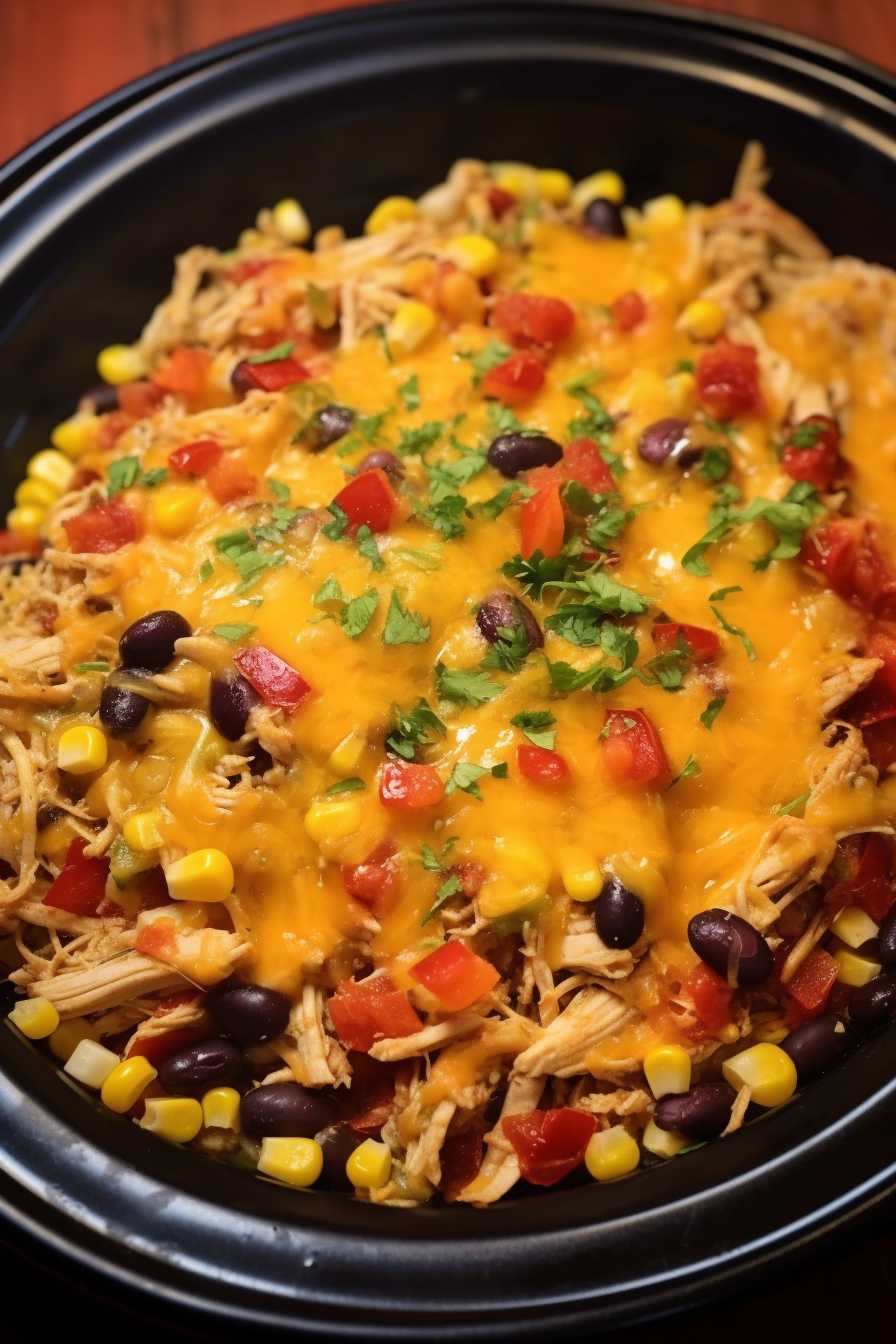 I remember that summer evening in Santa Fe, when an elderly woman named Maria invited me over for a home-cooked meal. The aroma was something I had never encountered before. It was the smell of tradition, of stories, and of love. She told me tales of her ancestors, who handed down this special "Southwest Crock pot Chicken and Rice" recipe through generations. Maria said it was their go-to dish for family reunions, a symbol of their rich heritage. Each bite was a delicious testament to the blend of cultures and flavors that is Southwest cuisine. Inspired by Maria, I've tried to recreate that magic in my kitchen, with my little tweaks. Each time I cook this, I feel connected to a land, a tradition, and a sweet elderly woman's memory.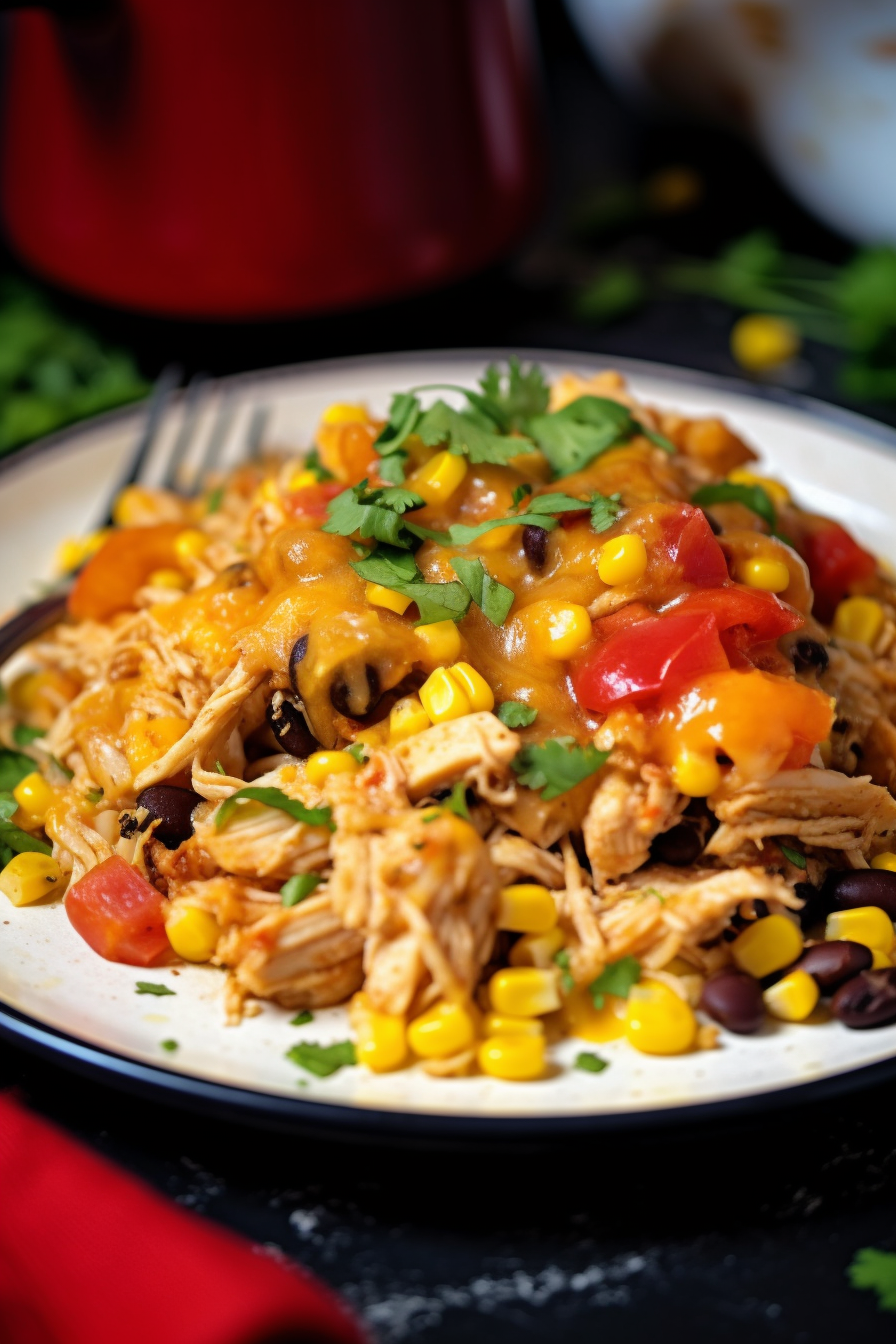 Why You'll Love Southwest Crock pot Chicken and Rice:
Think you've tried every chicken and rice out there? Think again, folks! Our "Southwest Crock pot Chicken and Rice" is a game changer.
Firstly, it's hassle-free – a 10-minute prep, and the crock pot does the rest. No standing, no stirring!
Secondly, it's a meal in itself – a balanced blend of protein, fiber, and carbs. And did I mention, it's freezable? Yep, make a large batch, and you've got meals sorted for days.
Last but not least, it's the Swiss army knife of recipes – perfect for potlucks, picnics, or a family dinner. So, are you ready to savor the Southwest at its finest?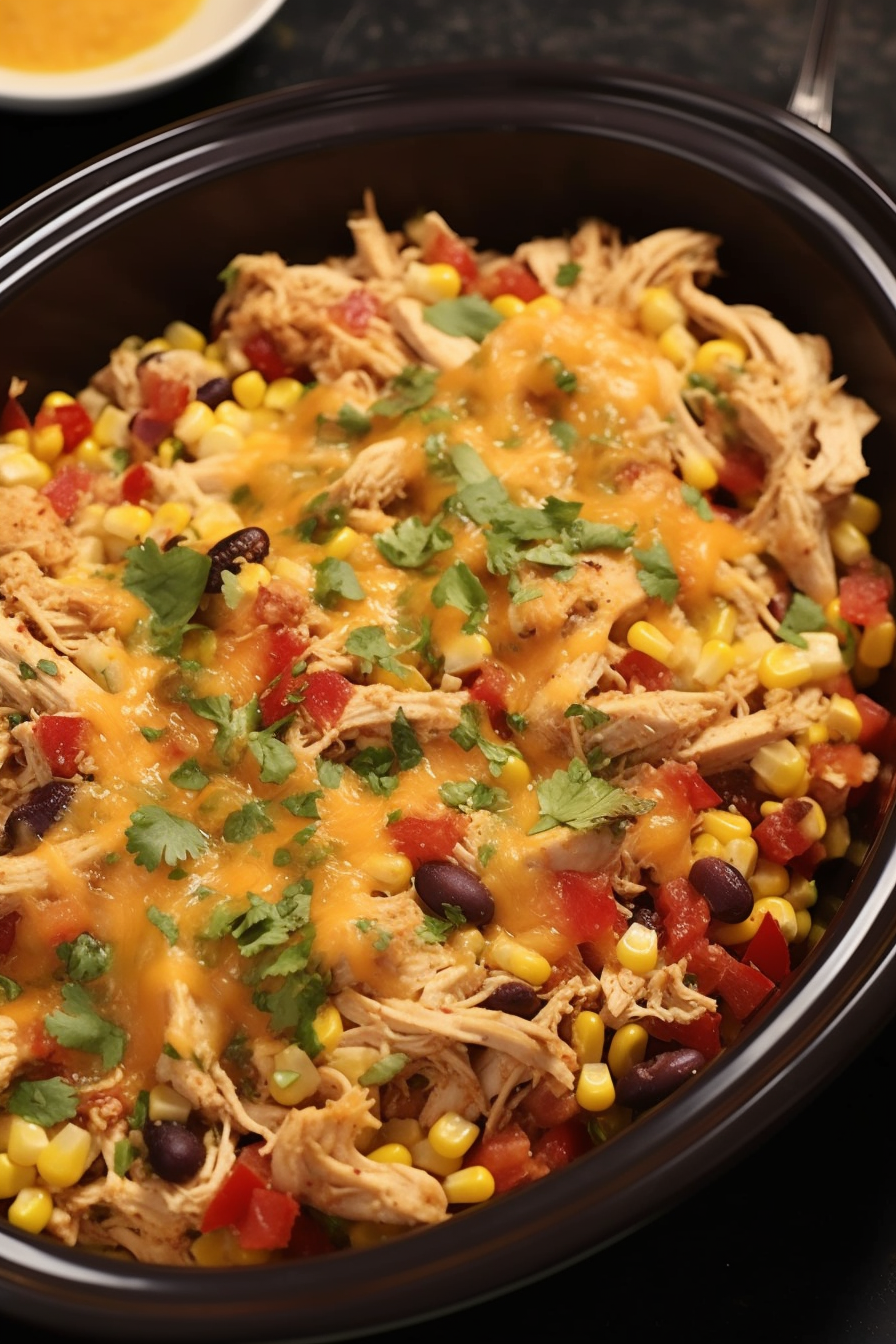 Ingredient Notes For Southwest Crock pot Chicken and Rice:
The brilliance of this recipe lies in its ingredients.
The chicken breasts are lean and packed with protein. Go for boneless and skinless for easy shredding.
Onions? They add a natural sweetness and depth. Remember, for our beans and corn, we're using canned versions. But if you're feeling fancy, freshly cooked beans and roasted corn can elevate the dish.
The cream of chicken soup offers that creamy texture, making the dish lusciously rich.
And oh, the diced tomatoes with green chiles – they're the secret behind the dish's zing! That slight kick!
The taco seasoning – our fairy dust – provides that quintessential Southwest flair.
And of course, don't get me started on the sharp cheddar; it's the golden (literally!) touch on top.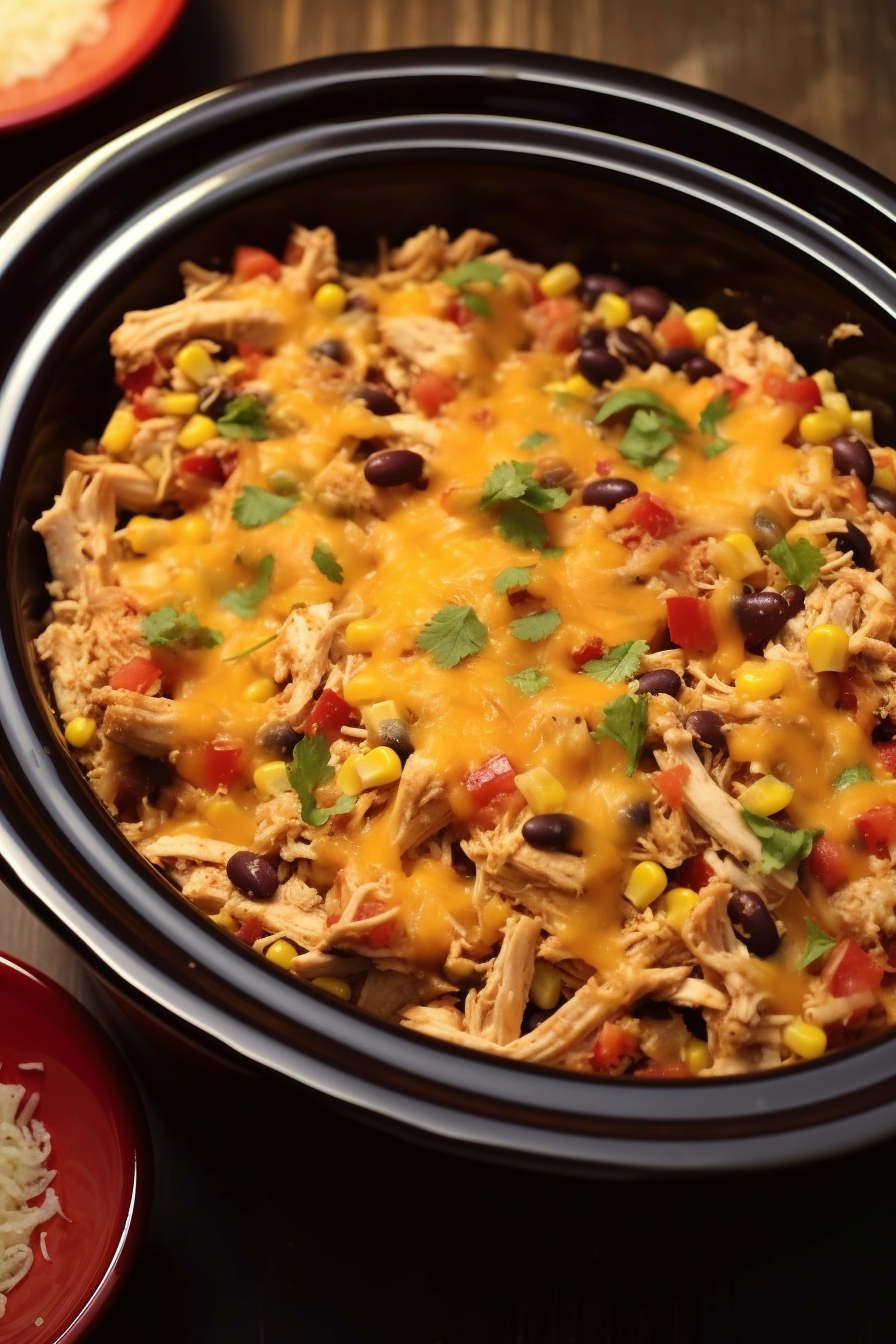 Step-by-step Instructions:
Alright, let's break it down, folks!
First, grab your trusty crock pot. Lay your chicken breasts at the bottom like they're sunbathing.
Now, it's topping time. Layer those beans, corn, tantalizing tomatoes, and onions. Pour in the cream of chicken soup and milk like you're Jackson Pollock. Sprinkle in the paprika, taco seasoning, and pepper.
Now, cover it up and let the crock pot work its magic. Low and slow for 6-8 hours, or if you're in a hurry, high for 3-4 hours.
Once done, take out that chicken and shred it like a rockstar on a guitar. Pop it back in, stir in the rice and half the cheese.
Top it up with the rest of the cheese and let it melt to perfection. Voilà! Dinner is served!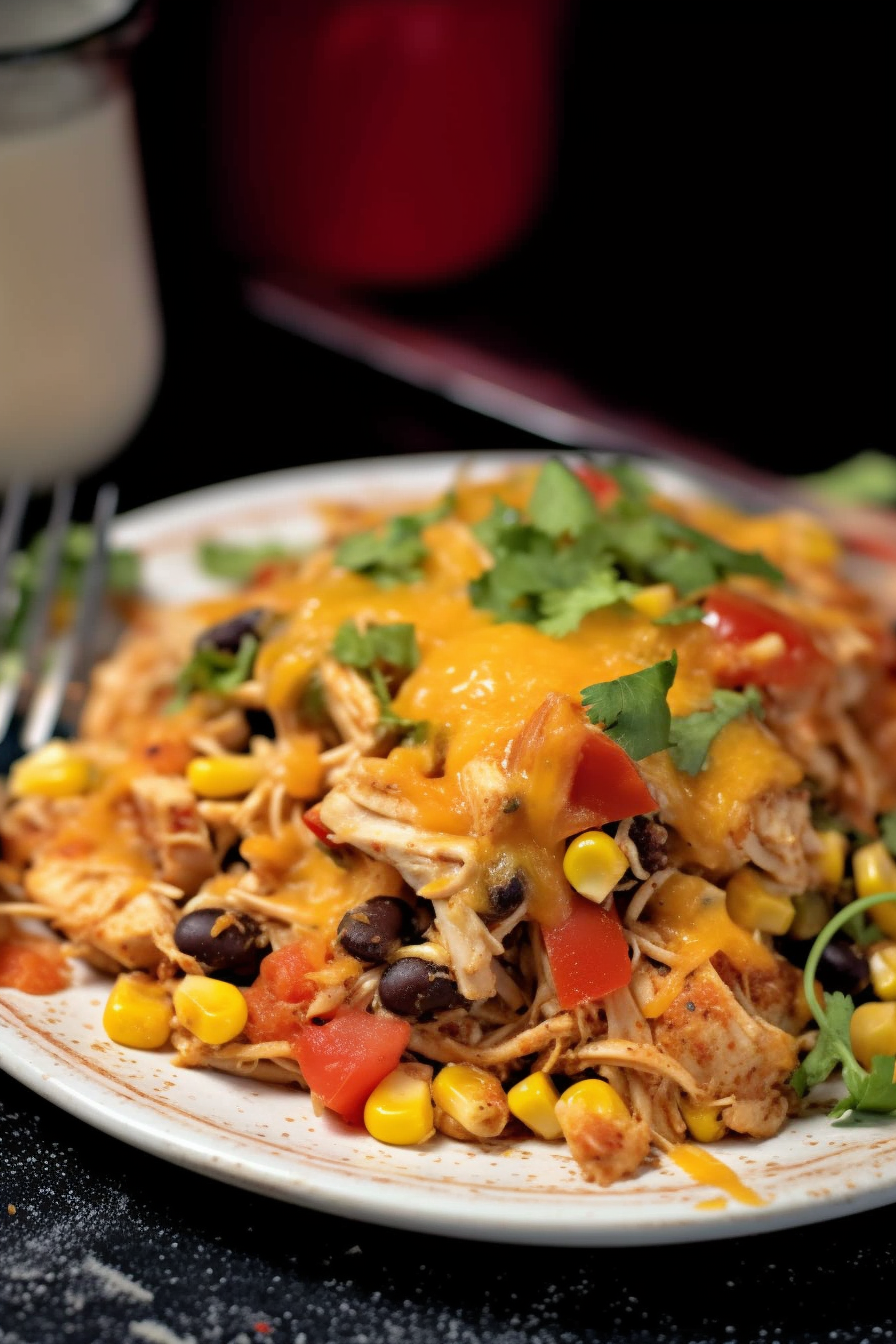 Storage Options:
Alright, by some miracle if you have leftovers (because, let's face it, it's THAT good), store them in an airtight container. Pop it in the fridge, and it's good to go for up to 3 days. And remember that freezable point I teased you with? Yep, portion it out, freeze it, and enjoy a hearty meal whenever the craving strikes.
Variations and Substitutions:
Want to mix things up? Swap out chicken breasts for thighs for a juicier bite. Not a fan of white rice? Go wild with brown or even quinoa. Dairy-free folks can replace the milk with a non-dairy alternative and use dairy-free cheese. If you're going for a vegetarian version, omit the chicken and bulk up on beans or throw in some bell peppers. And if you want it spicier, throw in some jalapeños. Because, why not? The Southwest is all about a little wild flair!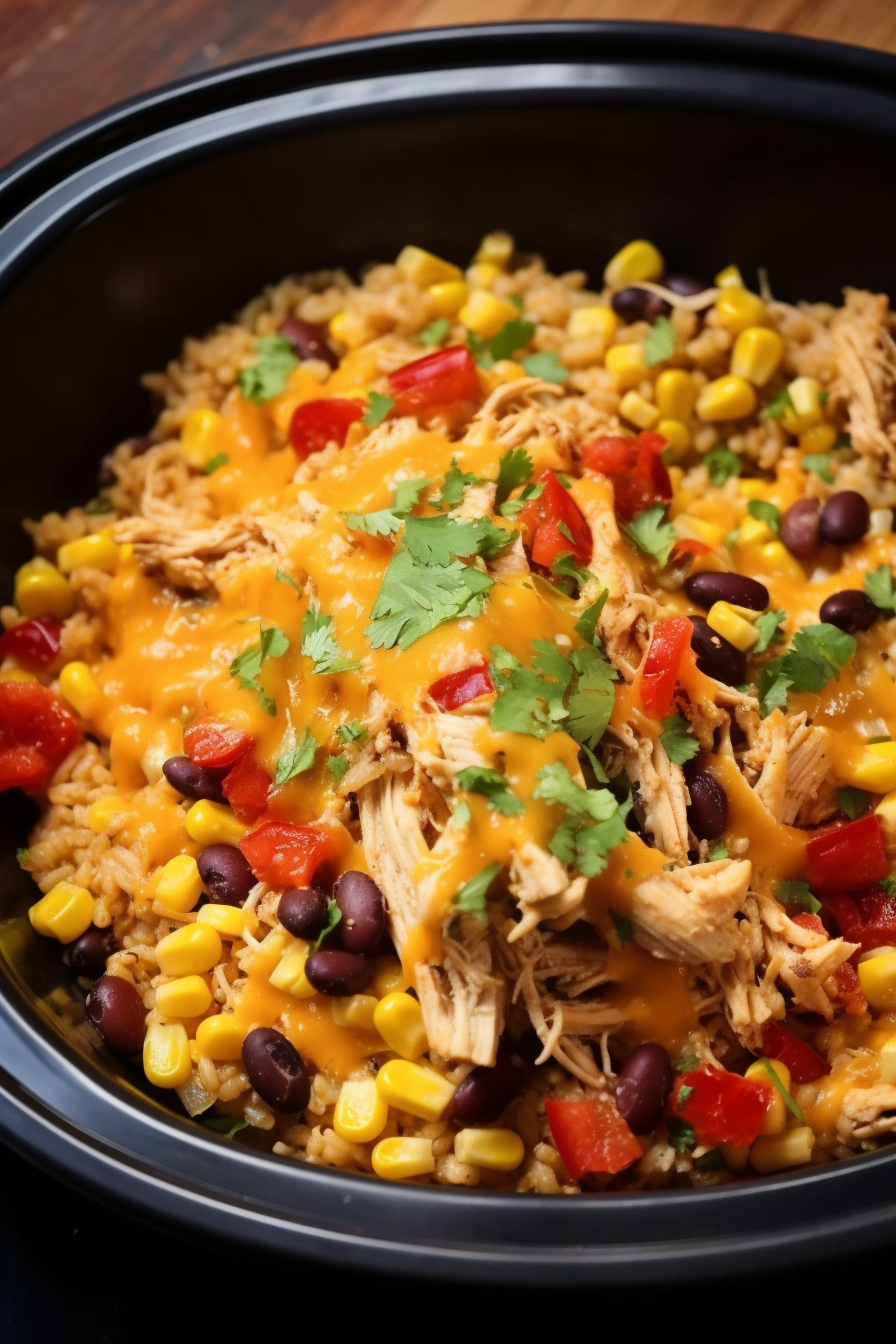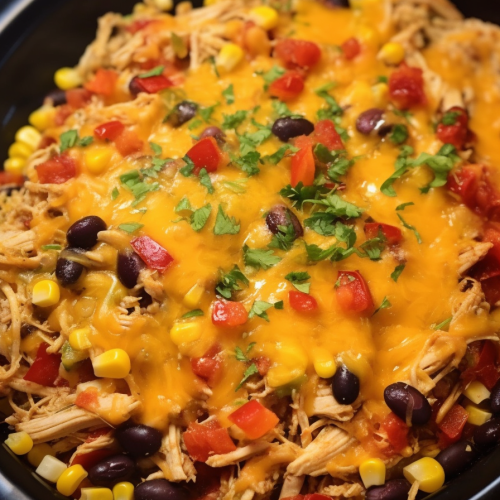 Southwest Crock pot Chicken and Rice
Dive into the symphony of Southwest flavors with this crock pot recipe boasting juicy chicken breasts, black beans, corn, and a cheesy, creamy rice mix, all seasoned to perfection.
Print
Pin
Rate
Ingredients
4

Boneless Chicken Breasts

1/2

Medium Onion

finely diced

1

can Black Beans

thoroughly drained and rinsed

1

can Corn

thoroughly drained

1

can Cream of Chicken Soup

1

can Diced Tomatoes with Green Chiles

1

cup

Whole Milk

1

Tbsp

Authentic Taco Seasoning

1

tsp

Ground Paprika

1

tsp

Ground Pepper

3

cups

Cooked White Rice

preferably long-grain

2

cups

Sharp Cheddar Cheese

finely shredded
Instructions
Begin by positioning the boneless chicken breasts at the base of the crock pot.

Sequentially layer the black beans, corn, diced tomatoes, and finely chopped onion over the chicken.

Gently pour the cream of chicken soup and whole milk over the layered ingredients. Subsequently, sprinkle the ground paprika, taco seasoning, and ground pepper uniformly across the mixture.

Securely cover the crock pot and initiate the cooking process. If utilizing the low heat setting, allow for a duration of 6-8 hours. Conversely, if employing the high heat setting, a duration of 3-4 hours is recommended.

Upon completion of the cooking cycle, cautiously remove the chicken breasts from the crock pot. Once safely extracted, proceed to shred the chicken uniformly and reintroduce it to the crock pot mixture.

Incorporate the cooked white rice into the mixture, followed by 1 cup of the finely shredded sharp cheddar cheese. Stir diligently to ensure homogeneity.

Conclude by garnishing the dish with the remaining cheddar cheese. Replace the crock pot cover and allow a span of 3-5 minutes for the cheese to melt adequately.

The dish is now ready for serving. Any remnants should be promptly stored in an airtight container to maintain freshness.