Are you craving a hearty, homely pasta? Dive into a skillet filled with luscious pasta shells, juicy ground beef, fresh spinach, and tangy tomatoes, all enveloped in a velvety Italian seasoned sauce. Did we mention the generous sprinkle of Parmesan? Ready in just 30 minutes!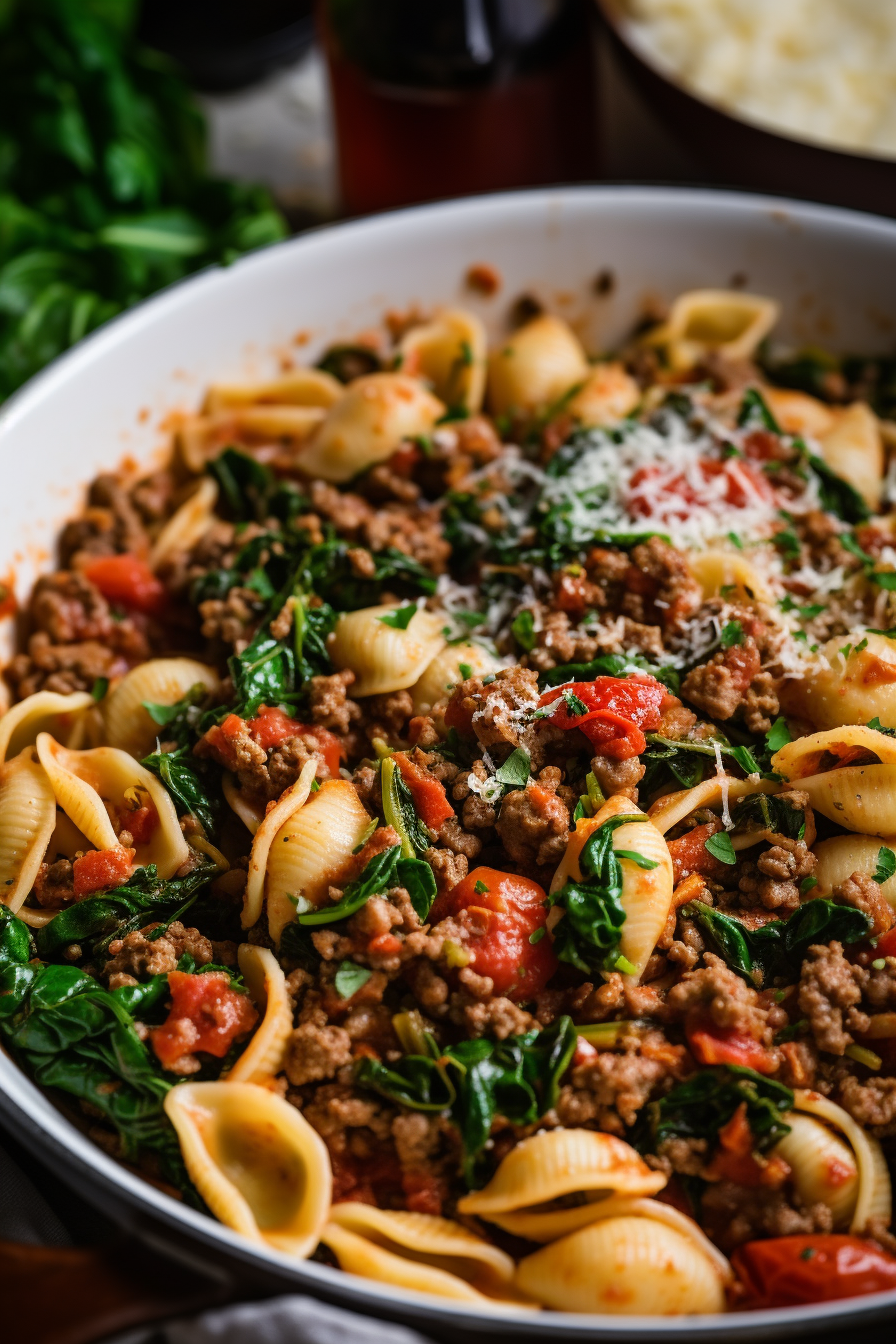 Let me take you on a little trip down memory lane. It was a rainy evening when I first concocted the "SIMPLE GROUND BEEF SHELLS SKILLET". It started out as an unplanned mishmash. You know those days when you open the fridge, sigh dramatically, and wonder what culinary magic you can create with limited ingredients? That was me. I grabbed ground beef, some pasta shells, and fresh veggies I had on hand, and just went with the flow. Little did I know, it would turn into this beloved family favorite that even my finicky little niece begs for. Now, each time I whip this up, it reminds me of that spontaneous evening, full of hearty laughs and comfort food, surrounded by the people I love.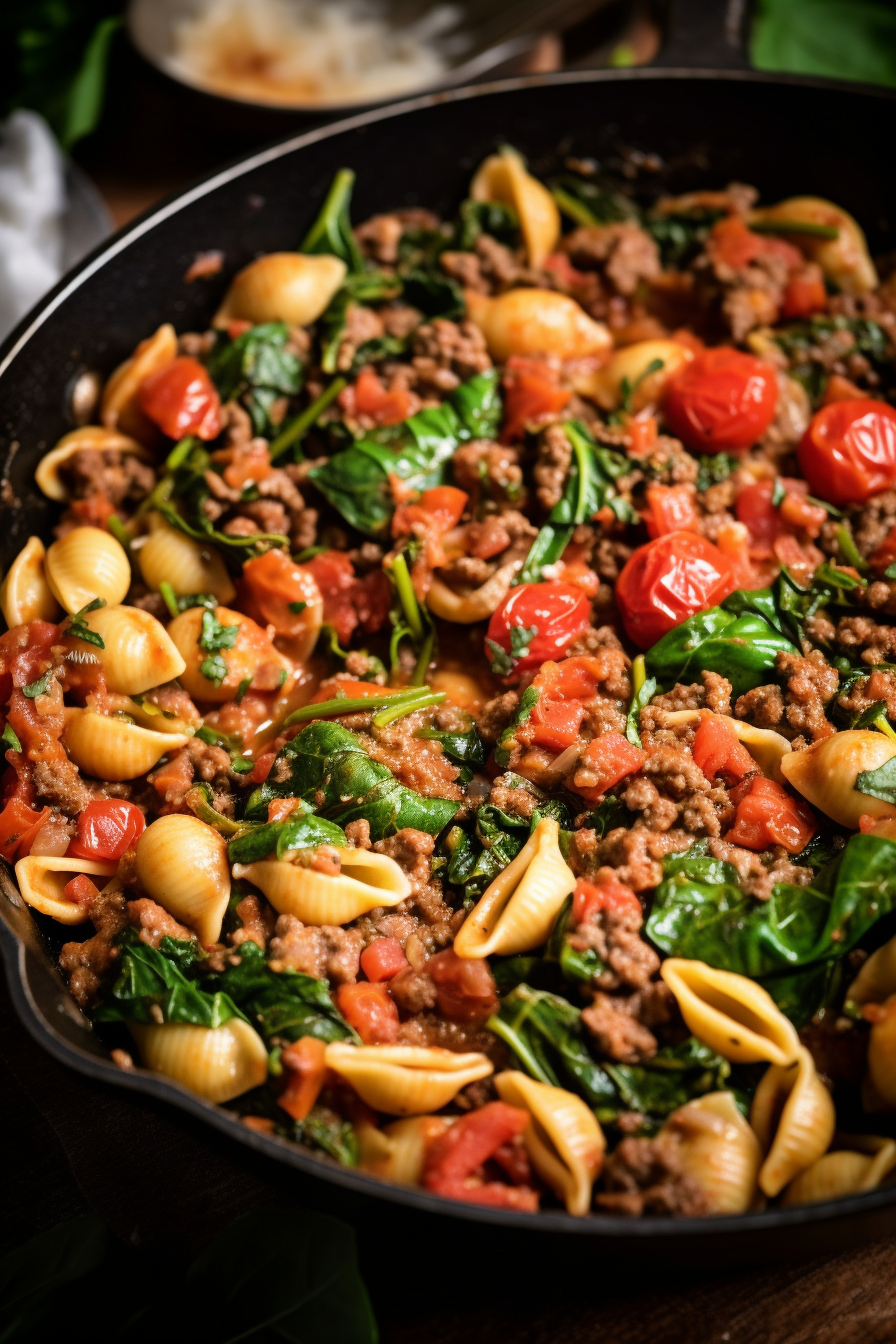 What makes this Simple Ground Beef Shells Skillet stand out?
Alright, let's talk about why this isn't just any ordinary beef pasta skillet. First off, it's fast—like, you can win a race against your hungry stomach kind of fast. Secondly, it's packed with nutritional goodness. We're talking baby spinach (your muscles will thank you) and diced tomatoes (hello, antioxidants). Then there's the whole symphony of flavors that dance in your mouth—the right balance of creamy and tangy with the Italian seasoning sprinkled in like fairy dust. And if you're one of those people who believe cheese makes everything better (join the club!), this dish has the mesmerizing, melty goodness of Parmesan.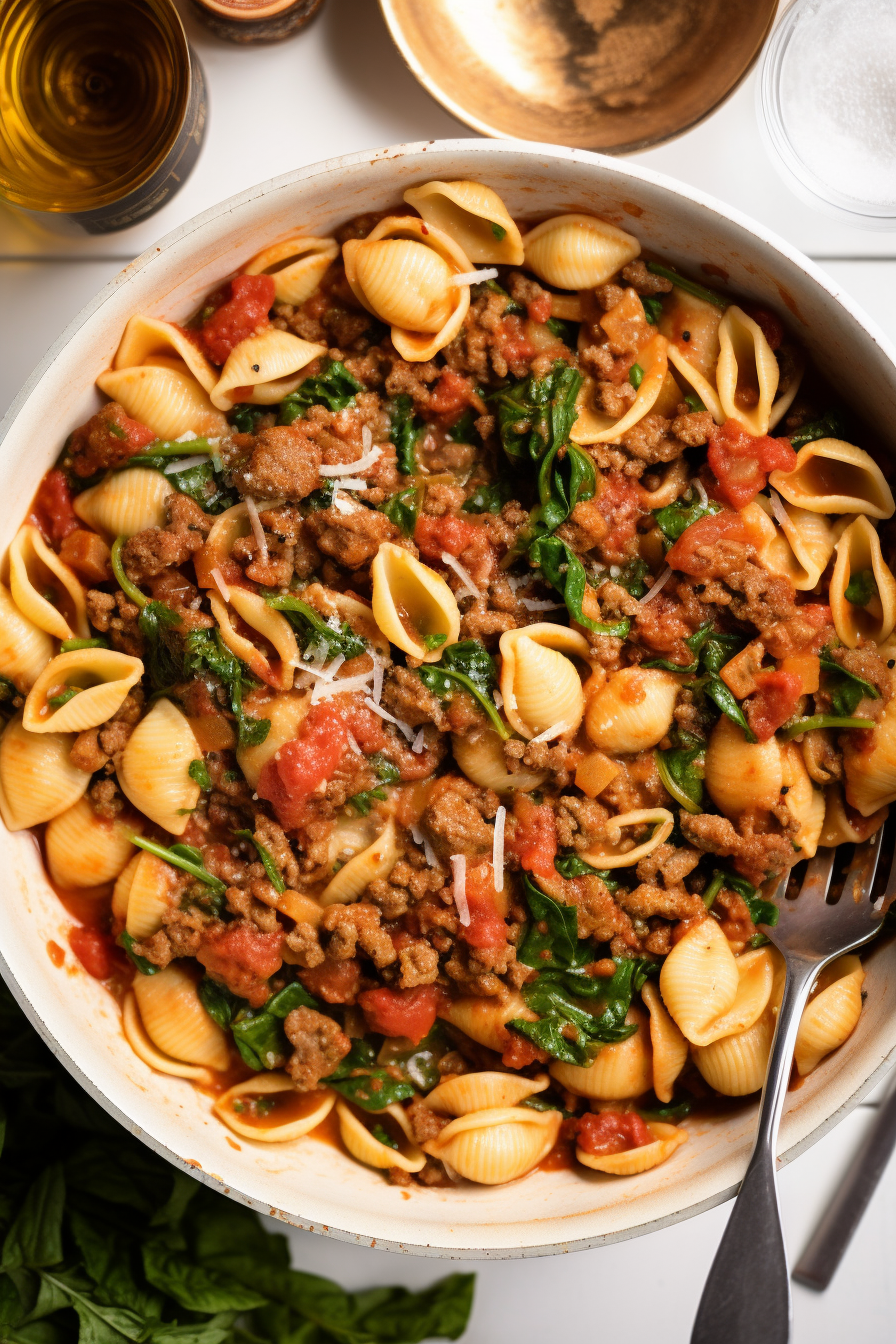 Ingredients for the Simple Ground Beef Shells Skillet:
Pasta Shells: Medium-sized shells work the best here. They cradle that beefy, cheesy goodness like a dream.
Ground Beef: Opt for lean ground beef to keep the dish less oily.
Olive Oil: For a richer flavor, try using extra virgin.
Baby Spinach: Packed with nutrients and a subtle flavor, but hey, if you're feeling kale or Swiss chard, swap it in!
Diced Tomatoes: Those juices? Liquid gold! They add a depth to your sauce.
Heavy Cream: Optional, but highly recommended for a creamier texture. However, if you're looking to lighten things up, go for half-and-half or milk.
Spices: Fresh is best, but hey, in a pinch, dried will do the trick too.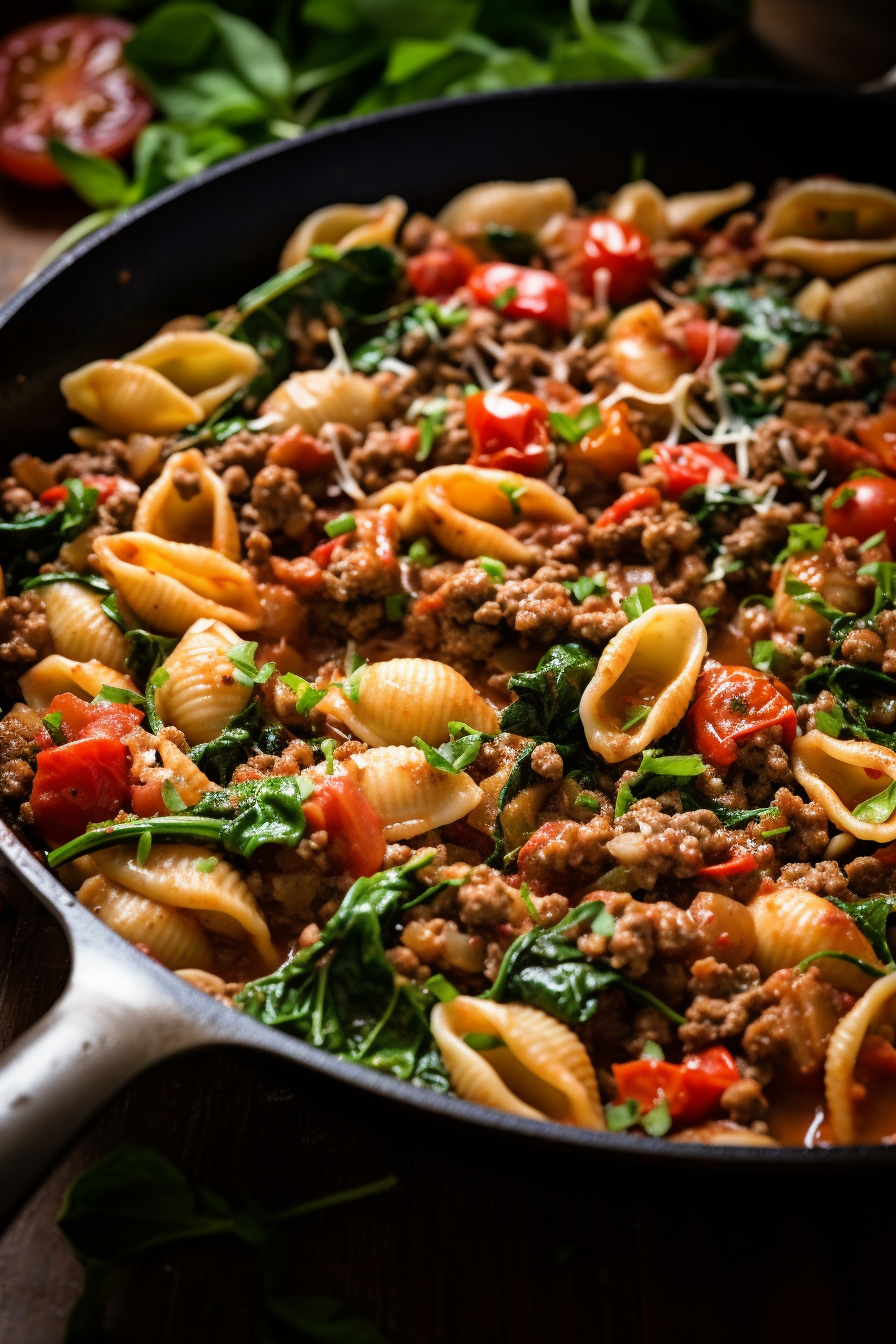 How To Make This Simple Ground Beef Shells Skillet:
Step 1: Begin with the pasta. Cook them as per the box's guidelines till al dente. Remember, the pasta will soak in that amazing sauce later, so you don't want them too soft. Once cooked, drain but keep about ¾ cup of that starchy pasta water. This is going to be your secret weapon! Toss the pasta gently with a tablespoon of olive oil and put it aside, maybe hum a tune while you're at it.
Step 2: Now, onto the beefy business. Get that skillet sizzling with a tablespoon of olive oil over a medium-high flame. When you see it shimmering like morning dew, throw in the onions. Give them a minute or two to soften before introducing them to the ground beef. Now's the fun part—keep stirring till the beef is perfectly browned. It's like a little workout, isn't it?
Step 3: Time to give this dish its character. Introduce your beef to the spinach, tomatoes, broth, tomato paste, garlic, and all those lovely seasonings. Once the spinach gives up and wilts, lower the heat to medium-low, pouring in that reserved pasta water, the optional heavy cream, and Parmesan. Let it simmer. Your job? Just stir and watch the magic happen.
Step 4: Reunite the pasta with its new found flavorful friends in the skillet. Toss them around till every shell is coated with the beefy, cheesy goodness.
Step 5: And for the final touch? Sprinkle a little more Parmesan, maybe some basil, or parsley. Voila! You've just created magic in a skillet.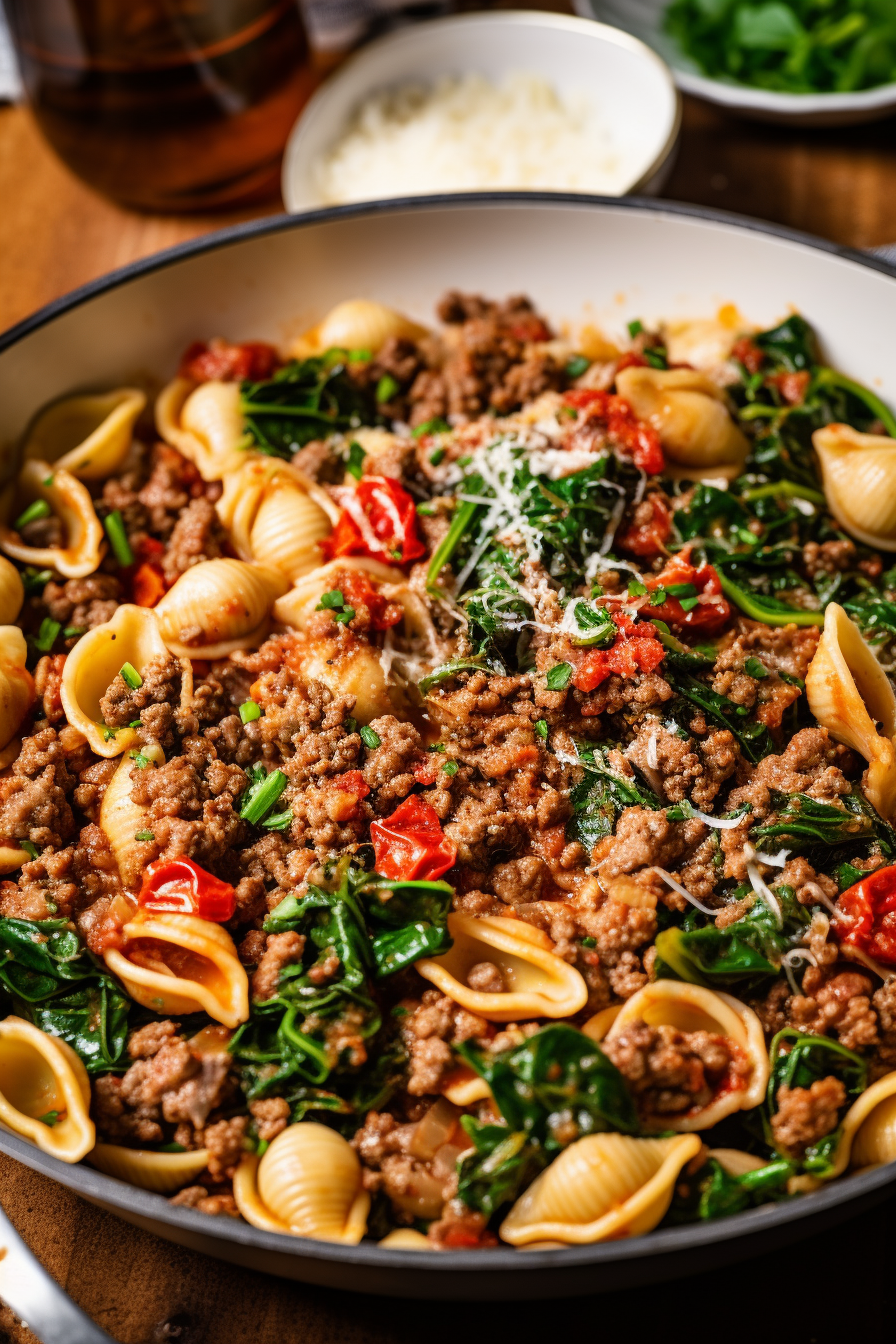 Storage Options:
After basking in the glory of your cooking, if you're left with any, store it in an airtight container in the refrigerator. It'll be good for 3-4 days. Want to stash some for a rainy day? Freeze it! Just thaw in the fridge overnight before reheating. Microwaving works, but for best results, a gentle reheat in a skillet will bring it back to its original glory.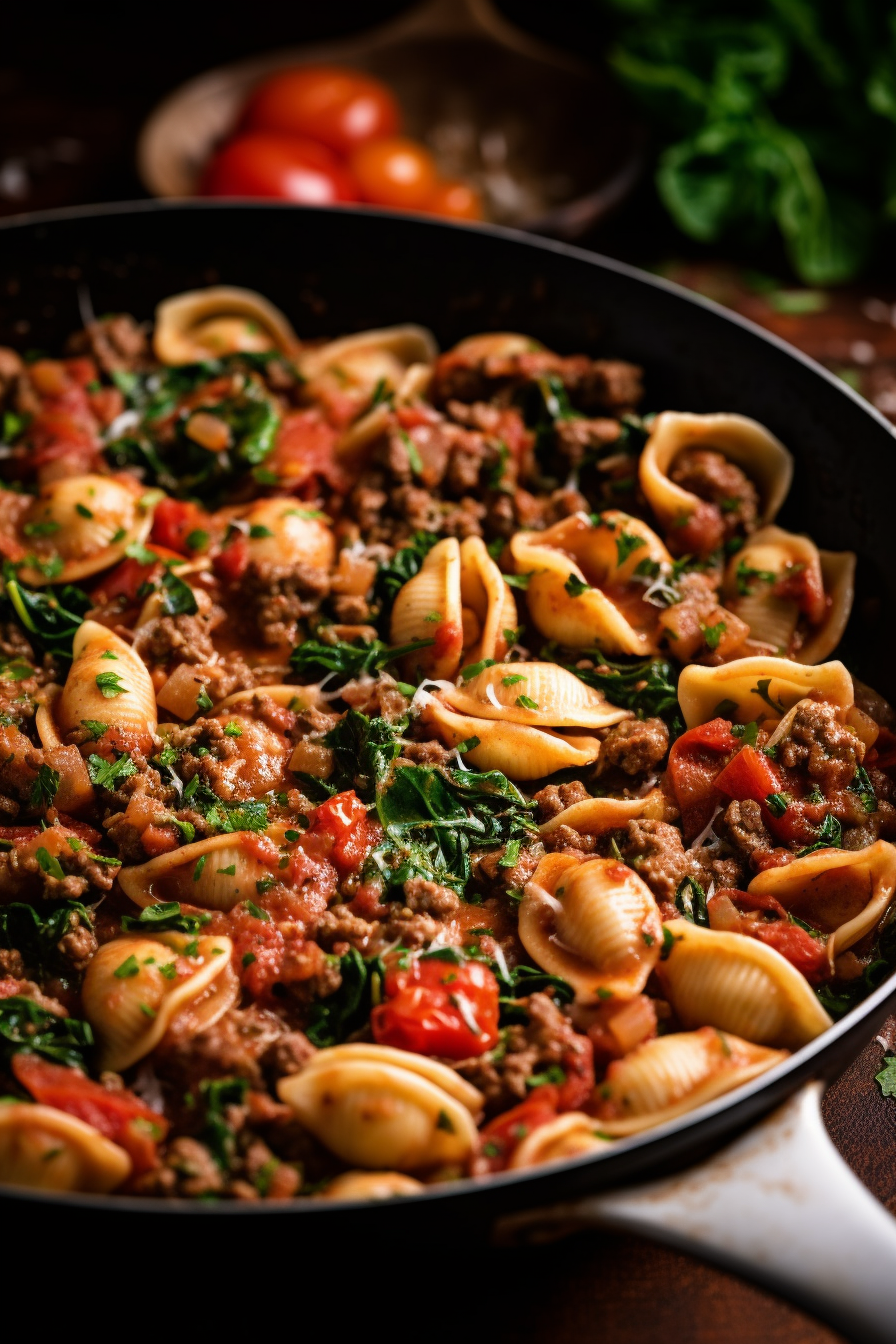 Variations and Substitutions:
Feeling adventurous? Mix it up! Swap out ground beef for ground turkey or chicken. If you're going veggie, lentils or a meat substitute can do the trick. Not a spinach fan? No worries, kale or arugula would gladly jump in. For a dairy-free version, replace heavy cream with coconut milk or a non-dairy alternative. And if Parmesan isn't your cheese, feel free to experiment with mozzarella or cheddar. Remember, it's your kitchen, and you're the artist!
There you have it, dear readers! The fantastic journey of the "SIMPLE GROUND BEEF SHELLS SKILLET". Ready to get your hands dirty and your belly full? Go on, you culinary genius, you! 🍝😋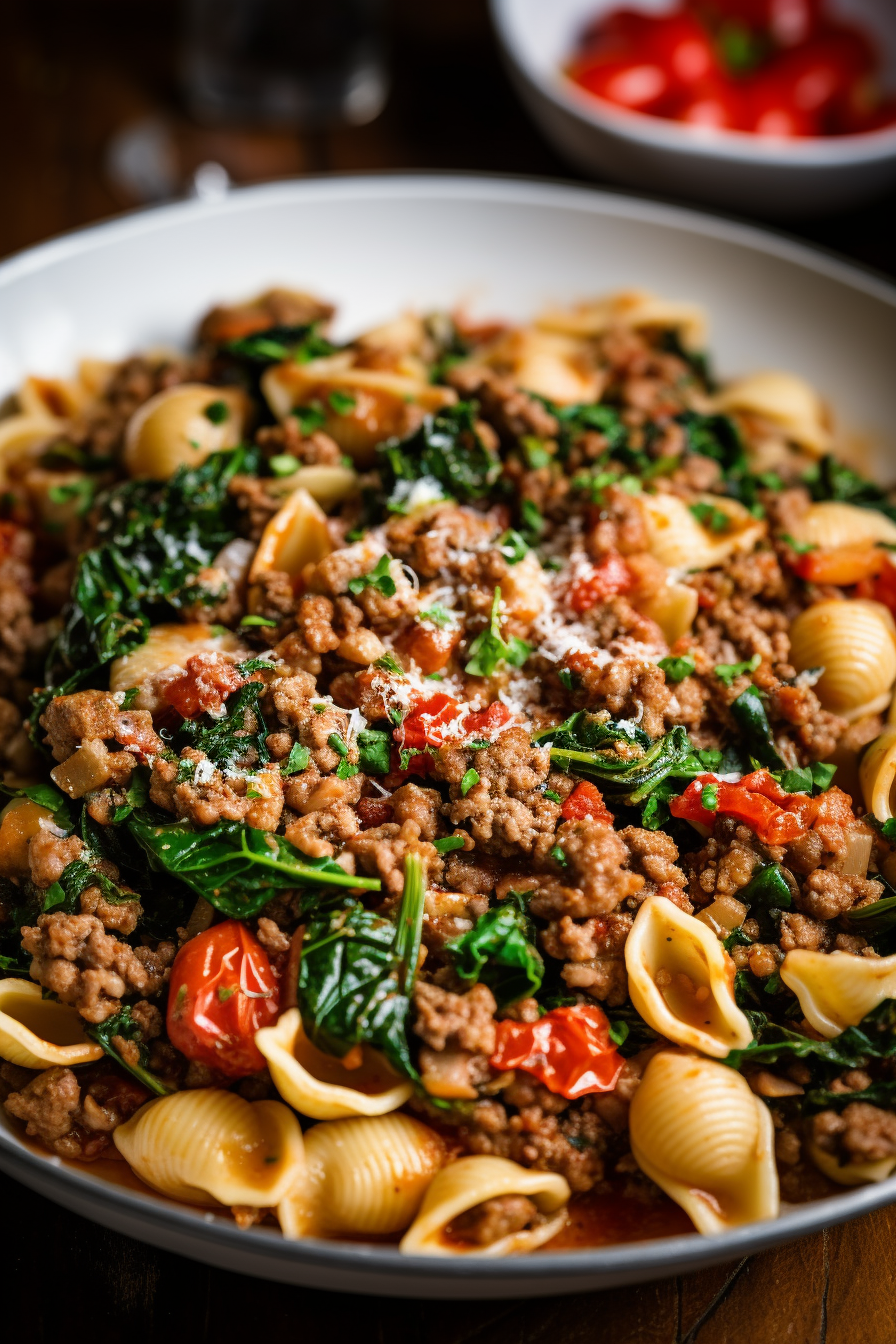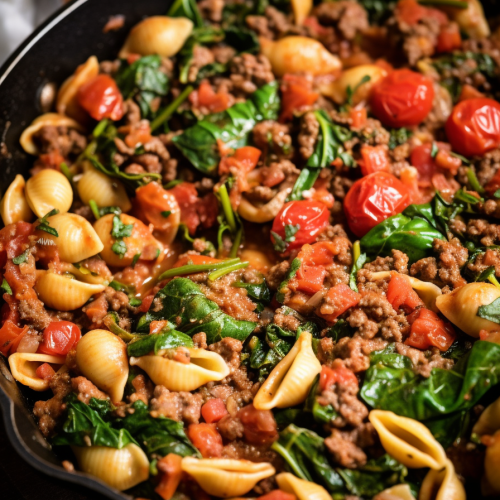 Simple Ground Beef Shells Skillet
Are you craving a hearty, homely pasta? Dive into a skillet filled with luscious pasta shells, juicy ground beef, fresh spinach, and tangy tomatoes, all enveloped in a velvety Italian seasoned sauce. Did we mention the generous sprinkle of Parmesan? Ready in just 30 minutes!
Print
Pin
Rate
Ingredients
16

oz

box of medium-sized pasta shells

1

lb

lean ground beef

2

tablespoons

olive oil

preferably extra virgin

½

medium-sized onion

finely diced

2-3

cups

fresh baby spinach

thoroughly washed

Two 14.5 oz. cans of diced tomatoes

inclusive of juices

3

tablespoons

tomato paste

1

cup

beef broth

2

teaspoons

Italian seasoning

3

cloves

of garlic

minced (alternatively, 1 teaspoon of garlic powder can be used)

¼ – ½

teaspoon

crushed red pepper flakes

¾

cup

grated Parmesan cheese

½

teaspoon

freshly cracked black pepper

½

teaspoon

salt

adjust according to preference

¾

cup

water reserved from cooked pasta

½

cup

heavy cream

this ingredient is optional
Instructions
Commence by preparing the pasta shells. Cook them according to the manufacturer's guidelines until they reach an al dente texture. Post cooking, drain the pasta while ensuring the reservation of approximately ¾ cup of the cooking water. Subsequently, toss the drained pasta in a tablespoon of olive oil and set it aside for later integration.

Concurrently, as the pasta cooks, proceed with the beef preparation. In a large skillet, introduce a tablespoon of olive oil and place it over medium-high heat. Once the oil achieves a slight shimmer, incorporate the diced onions. Allow the onions to cook until translucent, typically requiring 1-2 minutes. Following this, add the ground beef to the skillet. Continue cooking while stirring intermittently until the beef is thoroughly browned, which usually takes about 7-9 minutes. Drain off any surplus oil that accumulates during this process.

Upon satisfactory cooking of the beef, integrate the baby spinach, diced tomatoes, beef broth, tomato paste, minced garlic, and all requisite seasonings into the skillet. Allow the mixture to cook until the spinach has wilted and all the ingredients have amalgamated seamlessly. Reduce the heat to medium-low, and proceed to introduce the reserved pasta water, optional heavy cream, and Parmesan cheese. Continuously stir this concoction and let it simmer, ensuring the cheese melts uniformly into the sauce and the mixture slightly thickens.

To finalize, incorporate the previously prepared pasta into the skillet, ensuring that every pasta shell is adequately coated with the beef and cheese mixture.

As a garnish, consider adding an additional sprinkling of grated Parmesan cheese, finely chopped basil, or parsley prior to serving.
Nutrition
Calories:
593
kcal
|
Carbohydrates:
62
g
|
Protein:
31
g
|
Fat:
24
g
|
Saturated Fat:
10
g
|
Polyunsaturated Fat:
2
g
|
Monounsaturated Fat:
9
g
|
Trans Fat:
0.5
g
|
Cholesterol:
82
mg
|
Sodium:
501
mg
|
Potassium:
638
mg
|
Fiber:
3
g
|
Sugar:
4
g
|
Vitamin A:
1497
IU
|
Vitamin C:
5
mg
|
Calcium:
178
mg
|
Iron:
4
mg