Delight in the lavish combination of soft sugar cookies, brimming with chewy salted caramel, and crowned with a touch of flaked sea salt. Indulgence redefined!
There's something truly magical about the Christmas season. The lights, the carols, and oh, the food! Every Christmas, as a family tradition, we'd dive into a cookie-making spree. But it was last year when my young niece, Emily, a salted caramel fanatic, proposed we twist our classic sugar cookie recipe. Skeptical but intrigued, we gave it a shot. And boy, was it a game changer! The marriage of the sweet sugar cookie and rich salted caramel was a match made in dessert heaven! We all have our treasured Christmas memories, and this cookie experiment became one of mine. So here's to traditions, new and old, and the magic that they bring into our lives!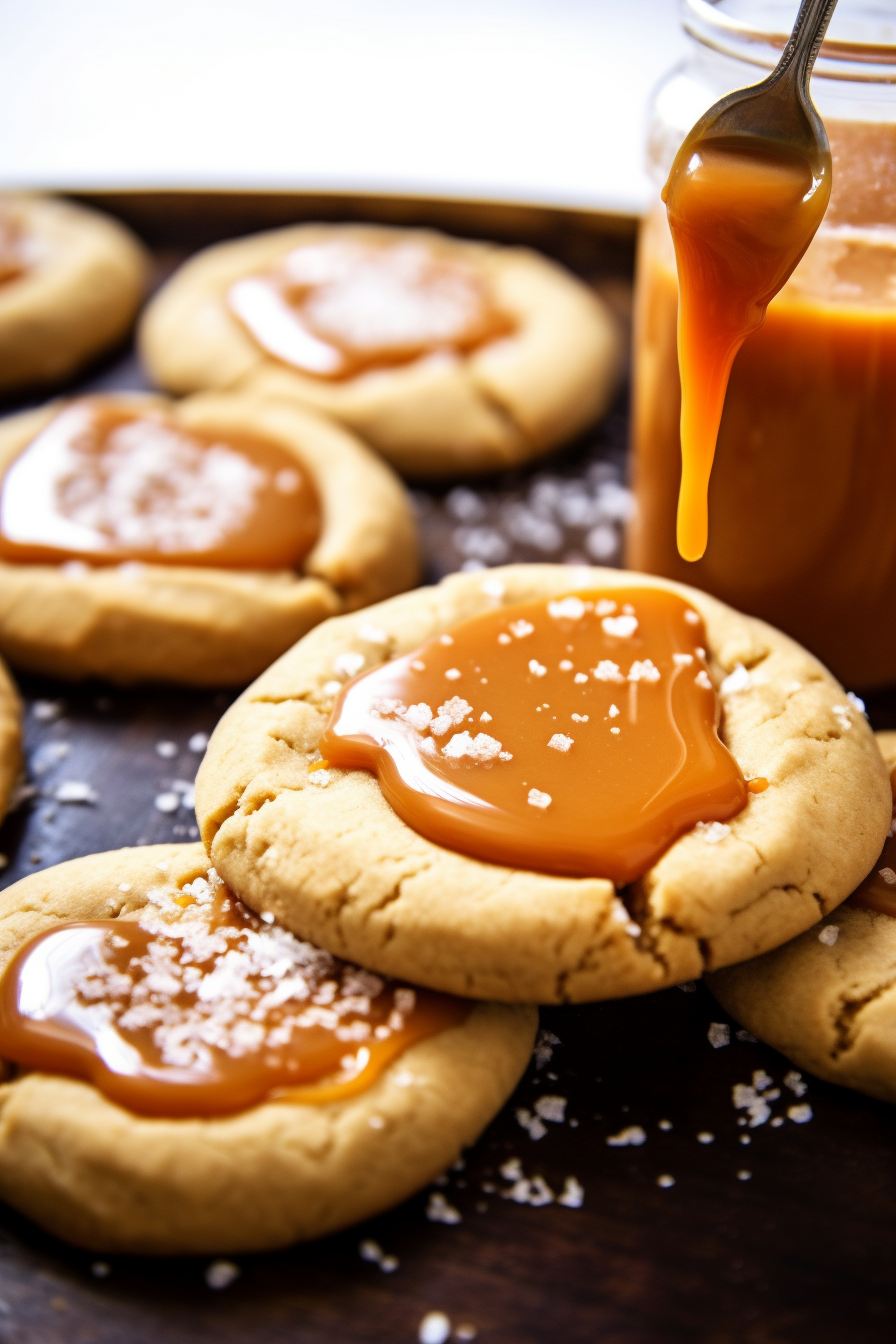 Why You'll Love Salted Caramel Cookies:
When your cravings swing between sweet and salty, these cookies bridge that gap effortlessly. They're not just any cookies; they're a gourmet journey – starting with the soft, melt-in-the-mouth sugar cookie base, advancing to the heart of chewy, rich caramel, and culminating in the slightly crunchy flaked sea salt that just ties everything together. And the best part? No special bakery trip required. Your kitchen will transform into the best bakery in town!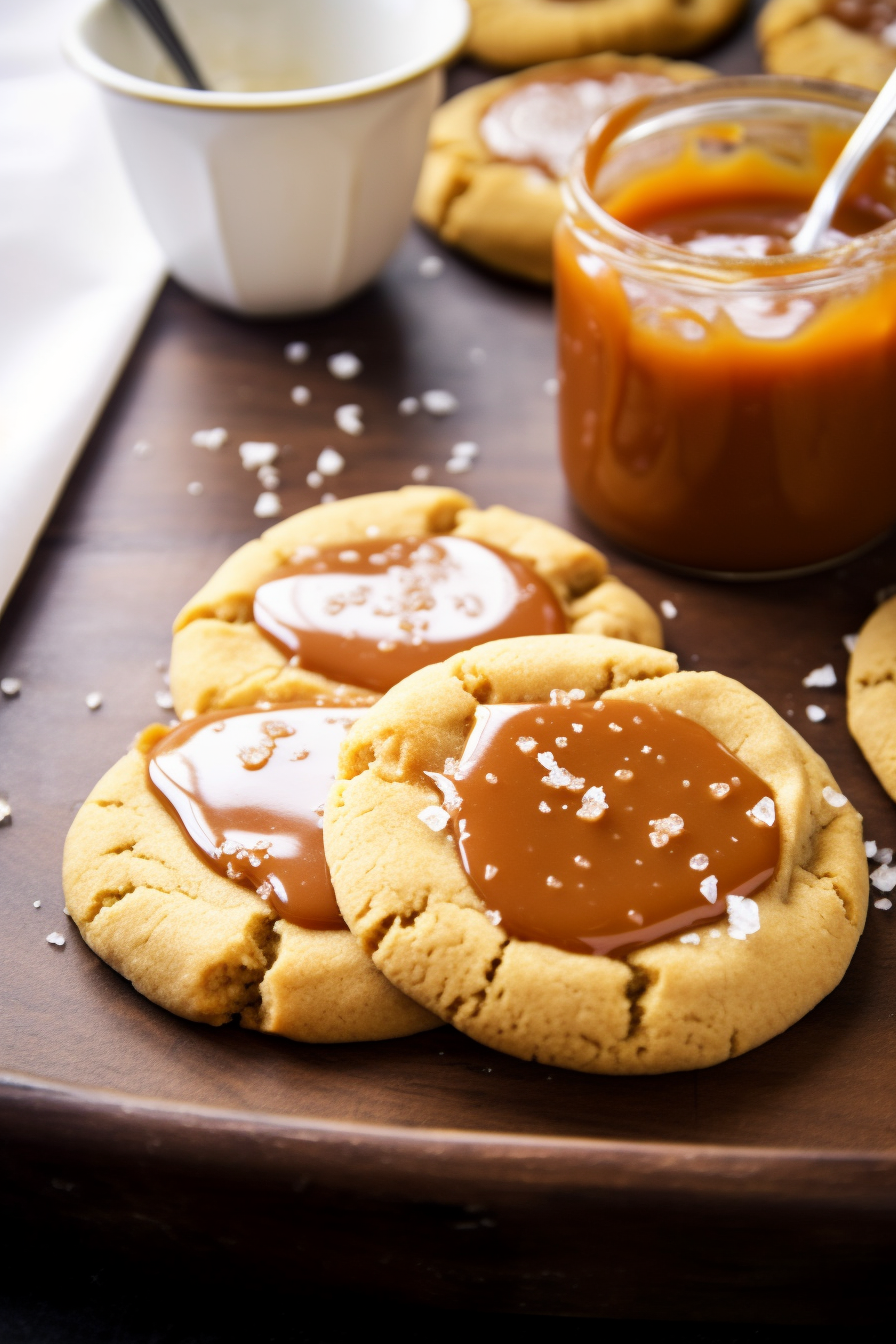 Ingredient Notes for the "Salted Caramel Cookies":
All-purpose flour: The backbone of our cookie, giving it structure.
Unsalted butter: Essential for that rich, buttery flavour. Softened butter ensures a smoother mixture.
Vegetable oil: Adds moisture to the cookies, ensuring they stay soft and chewy.
Light Brown Sugar: Gives the cookies a rich molasses touch.
Werther's Chewy Caramels: Ah! The star of the show. These caramels are just the right level of chewiness for the cookie. However, you can use your favourite brand.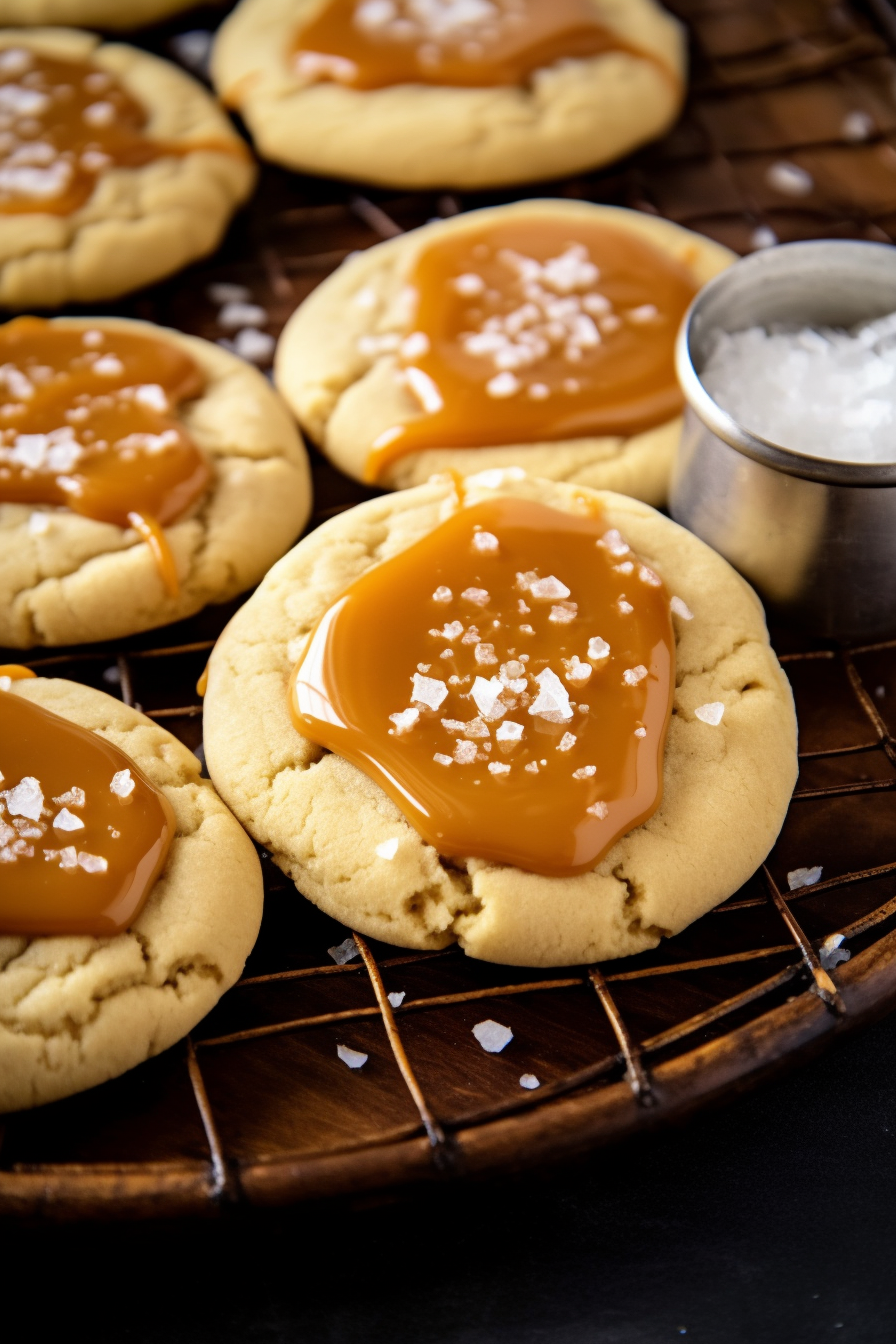 Clear, Easy-To-Follow Steps:
Cookie Dough Prepping: First things first, get that oven preheated to 350°F. And don't forget to pamper those baking sheets with some parchment paper love or a silicone baking mat for easy cookie lifting later.
Dry Ingredients: Whisk together flour, salt, baking soda, and cream of tartar in a bowl. This ensures all the rising agents are evenly distributed.
The Wet Squad: Beat butter, oil, and the sugars until creamy. Then throw in the egg, milk, and vanilla, ensuring they mingle well.
Combine: Introduce the dry ingredients to the wet, slowly. No rush here! Gently combine until just incorporated.
Shape: Now, channel your inner sculptor. Roll the dough into golf-ball-sized spheres. Place them on the baking sheet with ample space around. Now, here's a fun part. Make little dents in the center of each cookie using a buttered measuring cup.
Baking Time: Slide them into the oven for about 8-10 minutes. Even if they seem a bit underdone, trust the process. Cool them for a good 5 minutes on the baking sheet before transferring to a wire rack.
Caramel Magic: Melt those caramels and milk together in the microwave. Patience is key. Stir in the salt, and voila! Your caramel is ready.
Dress Up: Drizzle the divine caramel into the cookies' indents. Garnish immediately with flaky sea salt. Let them set, and try resisting the urge to eat them all!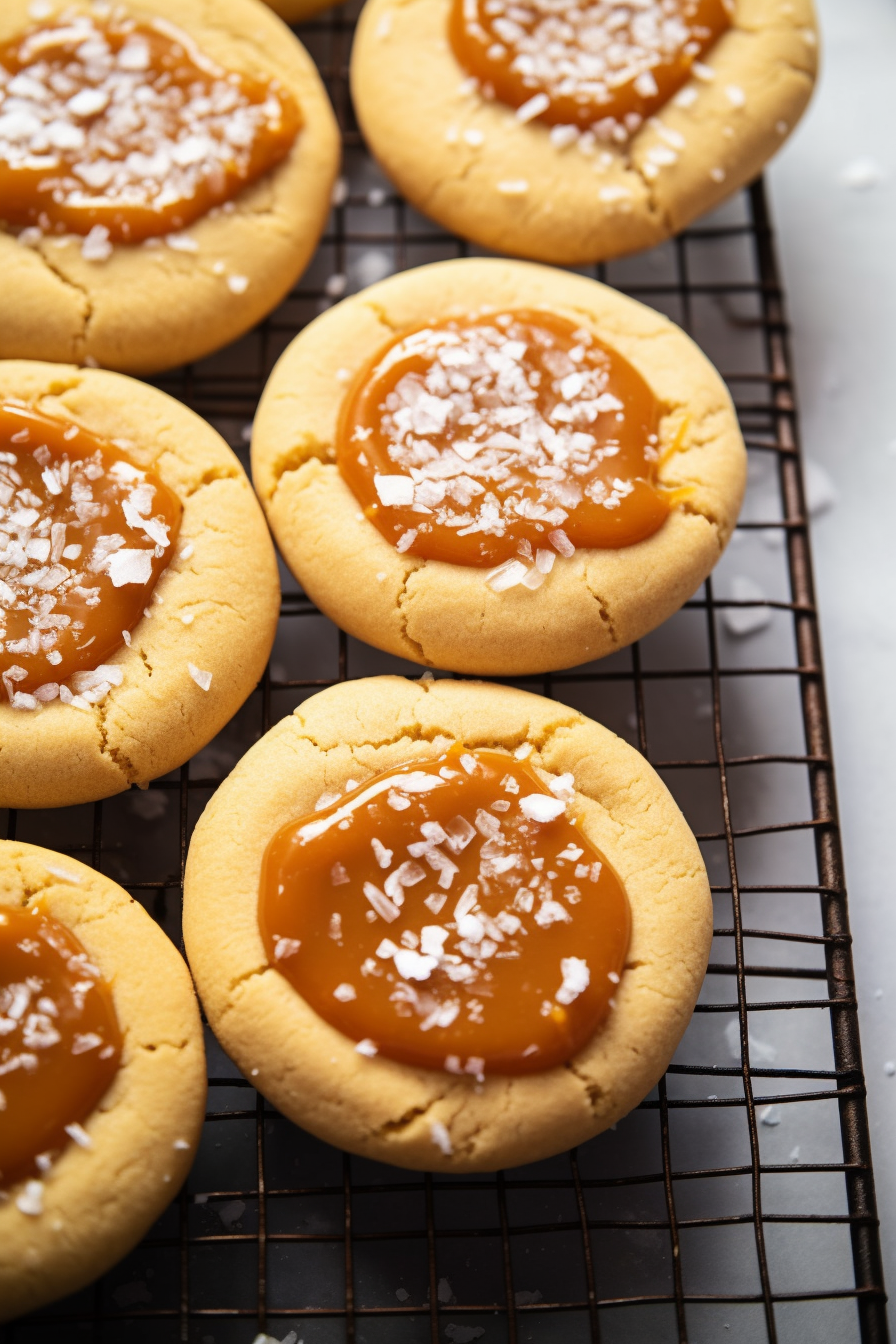 Storage Options for "Salted Caramel Cookies":
Now, if you're among the rare species who can resist devouring all these cookies at once, hats off! Store these beauties in an airtight container. They're perfect munchies for up to a week. But let's be honest, they're too irresistible to last that long.
Variations and Substitutions for the "Salted Caramel Cookies":
Feeling adventurous? Try substituting brown sugar with dark brown for an even deeper molasses flavour. For a dairy-free version, opt for coconut oil in place of butter and use a dairy-free caramel. For an added crunch, sprinkle some chopped nuts over the caramel before it sets. And if you're not a fan of Werther's, any good-quality chewy caramel will do. Just remember, the key is in the balance of sweet and salty, so adjust to your palate!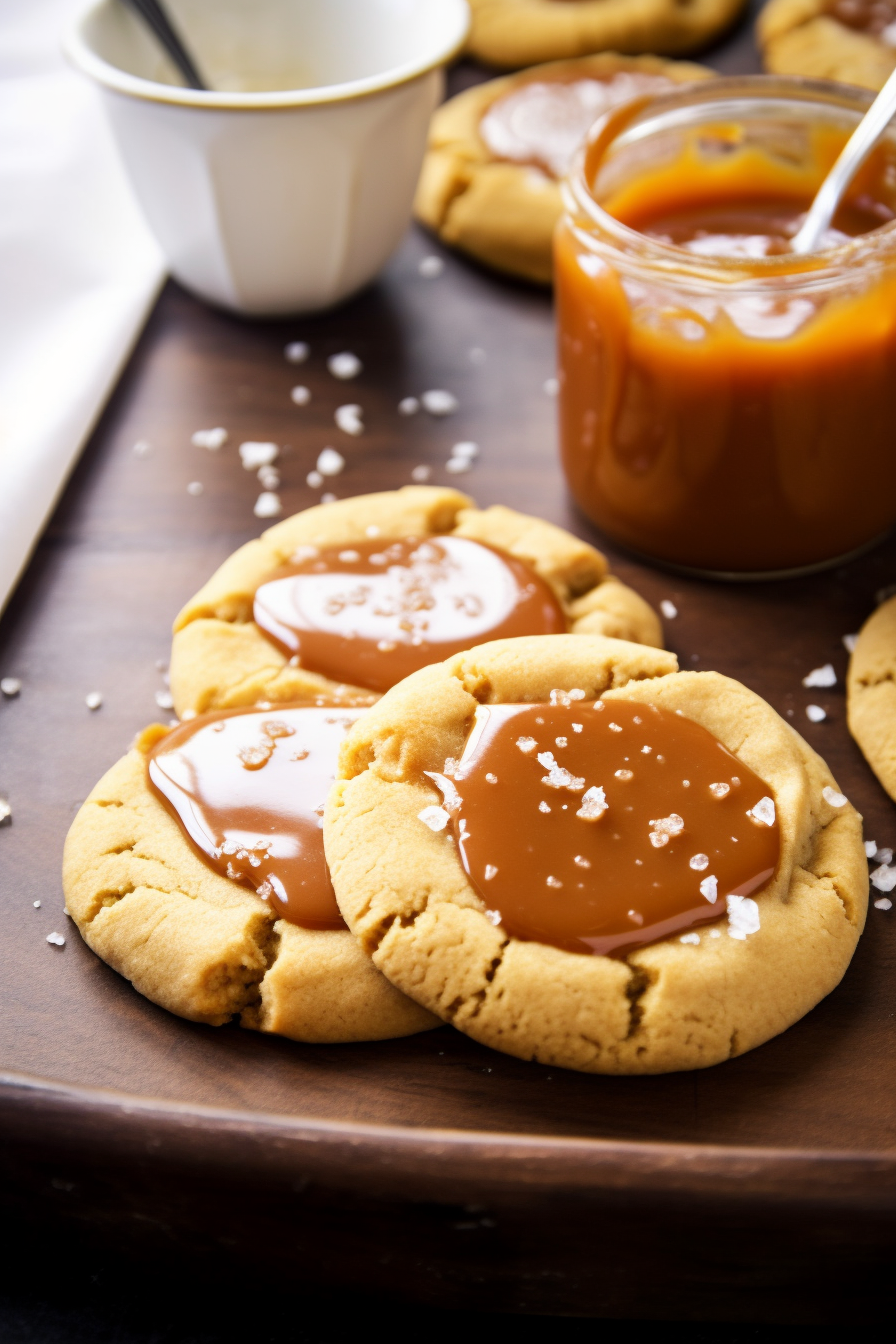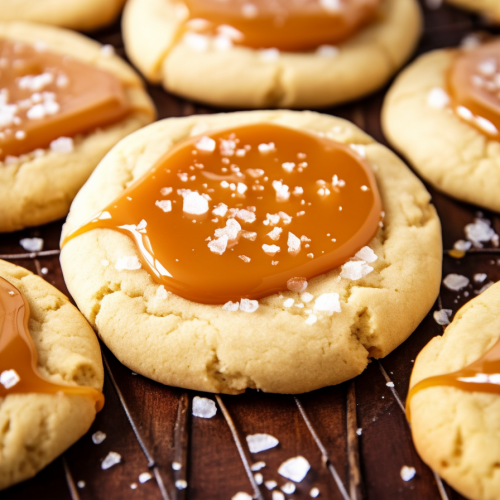 Salted Caramel Cookies
Delight in the lavish combination of soft sugar cookies, brimming with chewy salted caramel, and crowned with a touch of flaked sea salt. Indulgence redefined!
Print
Pin
Rate
Ingredients
For the Sugar Cookies:
3

cups

of all-purpose flour

1/2

teaspoon

of salt

1/4

teaspoon

of baking soda

1/4

teaspoon

of cream of tartar

1/2

cup

of unsalted butter

softened

1/3

cup

of vegetable oil

2/3

cup

of packed Light Brown Sugar

1/2

cup

of Confectioners Powdered Sugar

1

egg

room temperature

1

tablespoon

of milk

1

tablespoon

of vanilla extract
For the Salted Caramel Topping:
2

packages

10.5 oz each of Werther's Chewy Caramels (unwrapped)

2

tablespoons

of milk

2

teaspoons

of salt

Flaky sea salt for garnish
Instructions
Oven Preparation: Initiate the preheating process of the oven to 350°F. Prepare two baking sheets by lining them with either parchment paper or a silicone baking mat.

Dry Ingredients Mixture: In a medium-sized mixing bowl, combine the all-purpose flour, salt, baking soda, and cream of tartar. Ensure thorough mixing.

Wet Ingredients Mixture: In a separate, larger bowl, blend the softened butter, vegetable oil, brown sugar, and powdered sugar until a uniform consistency is achieved. Subsequently, incorporate the egg, milk, and vanilla extract, ensuring they amalgamate effectively.

Dough Formation: Gradually introduce the previously mixed dry ingredients into the wet mixture. Stir until a cohesive dough forms.

Dough Shaping: Manually shape the dough into spheres roughly the size of a large golf ball. Position these on the prepared baking sheets, ensuring there's adequate space between each.

Creating Indentations: Utilizing a buttered measuring cup, gently form an indentation in the center of each cookie sphere.

Baking Process: Commit the cookies to the oven for a period of 8 to 10 minutes. Upon completion, the cookies should remain light in coloration. Allow them to cool on the baking sheet for 5 minutes before relocating them to a cooling rack.

Caramel Preparation: In a microwave-safe container, combine the caramels and milk. Microwave in 30-second intervals, stirring after each, until the caramels are fully melted. Integrate the salt into the melted caramel mixture.

Finalizing the Cookies: Carefully pour or drizzle the prepared caramel into the indentations of each cooled cookie. Immediately garnish with flaked sea salt. Ensure the caramel sets firmly before relocating the cookies.

Storage: Once the caramel has set, these cookies can be stored in an airtight container for a maximum of one week.