Indulge in a comforting Sausage Green Bean Potato Casserole, featuring kielbasa sausage, baby creamer potatoes, and green beans, all baked to perfection with a blend of savory seasonings. A perfect recipe for a hearty family dinner!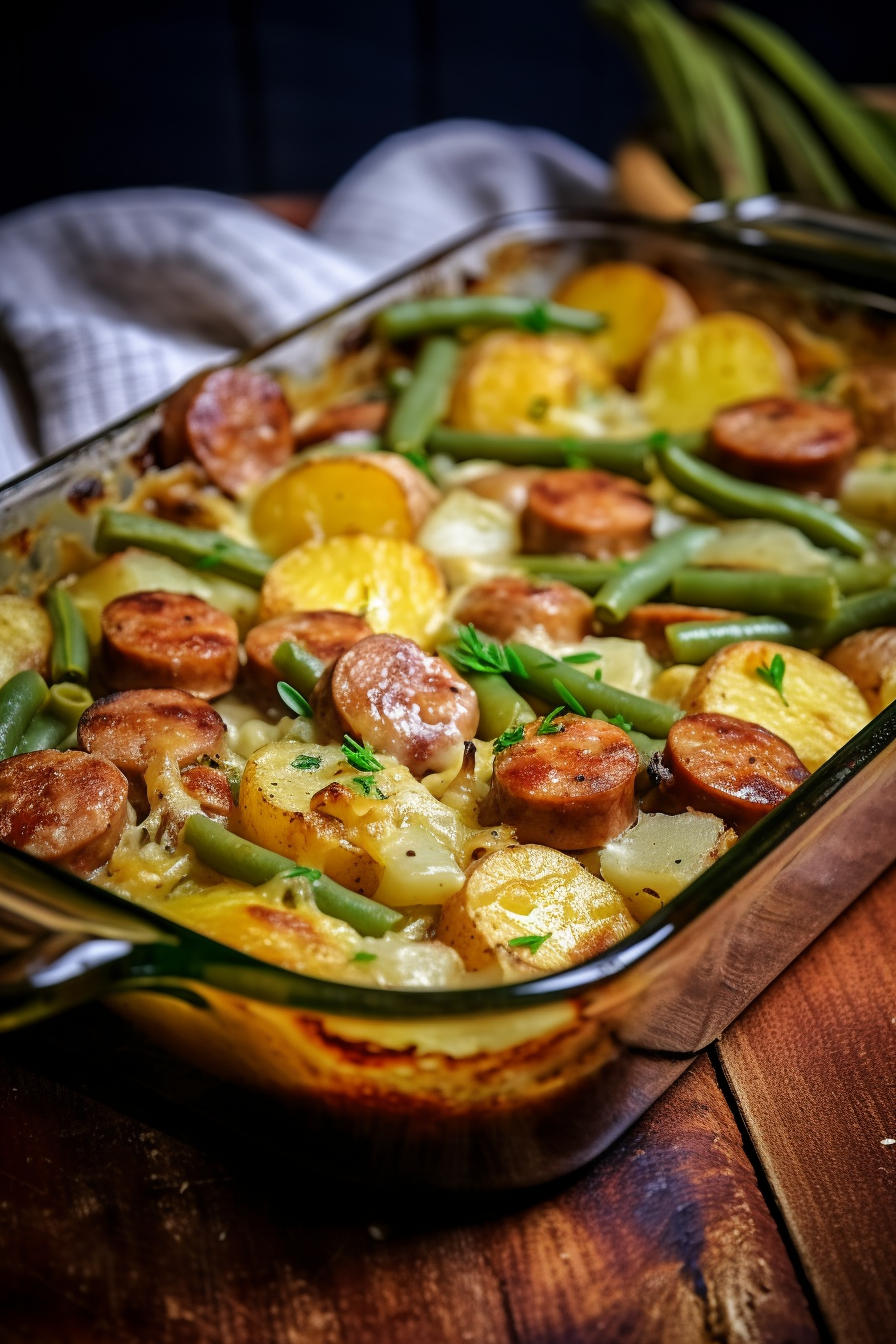 Ah, the Sausage Green Bean Potato Casserole – a dish that whisks me back to my childhood kitchen where aromas danced and laughter reigned. My grandmother, a wizard with a wooden spoon, first introduced me to this magical concoction. She'd hum old tunes, slicing kielbasa with a rhythm that matched her melodies, her hands weaving stories as they moved. Every holiday, our family would gather around her antique oak table, eager for the first bite of this cherished casserole. It wasn't just a dish; it was a tapestry of our family's heritage, a blend of simplicity and love. Now, as I recreate this recipe, each slice of sausage, each halved potato, feels like reconnecting with a piece of my past, a delicious tribute to the warmth and joy of my grandmother's kitchen.
Why You'll Love Sausage Green Bean Potato Casserole:
Hearty Comfort Food: This casserole is the epitome of comfort food. It's packed with hearty ingredients like kielbasa sausage, potatoes, and green beans, making it a filling and satisfying meal that is perfect for a cozy family dinner.
Flavorful Blend: The combination of Slap Ya Mama® seasoning, garlic, and onion, along with the natural flavors of the sausage and vegetables, creates a symphony of tastes that is incredibly pleasing to the palate.
Easy Preparation: One of the best things about this casserole is how easy it is to prepare. With simple, straightforward steps, this recipe is ideal for both beginner cooks and busy parents looking for a quick yet delicious dinner option.
Versatility: This casserole can be easily adapted to suit different tastes or dietary needs, making it a versatile option for various households.
Crowd-Pleaser: Given its delightful taste and comforting nature, this casserole is a hit at family gatherings, potlucks, and parties. It's a recipe that appeals to both adults and children, making it a reliable choice for any event.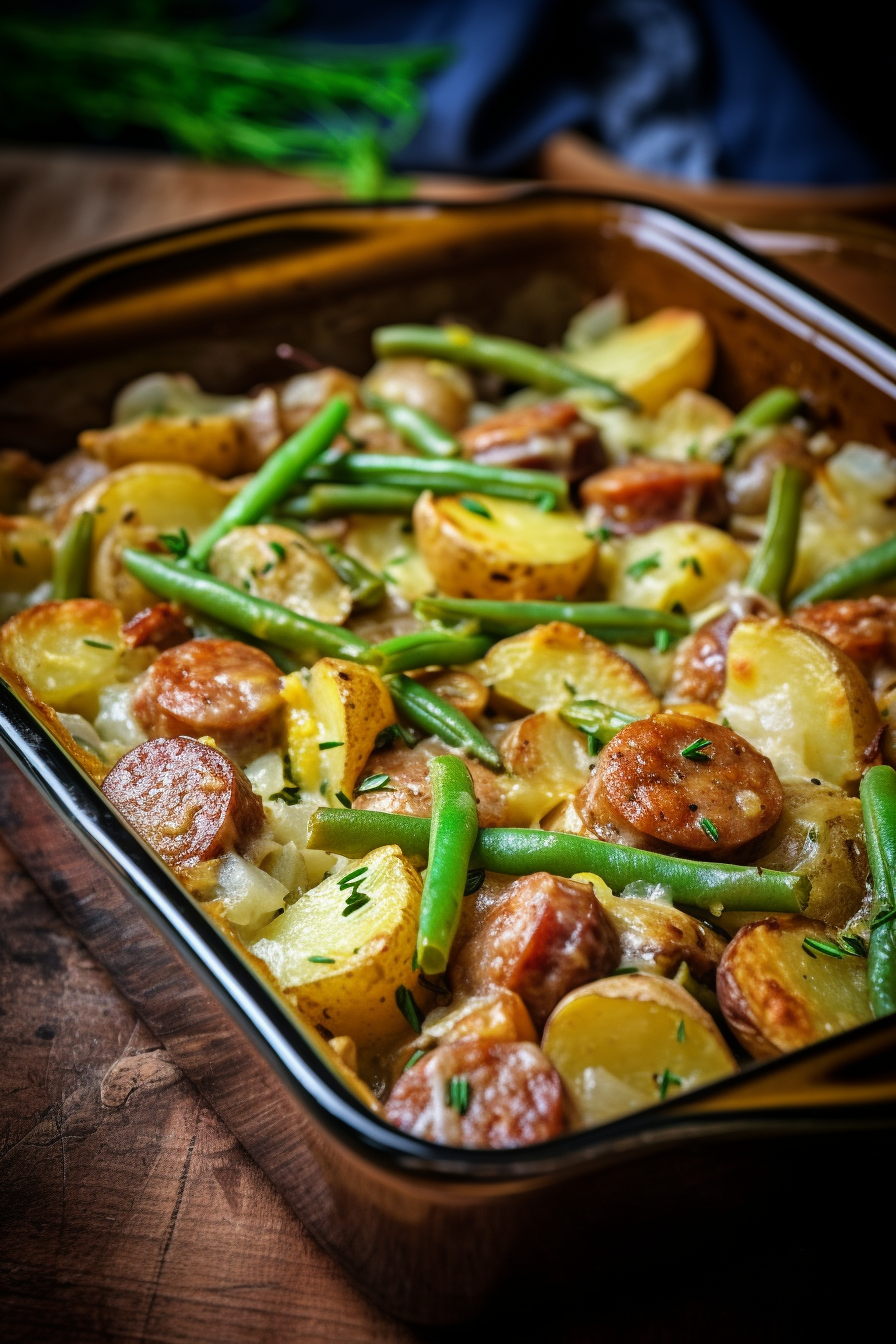 Ingredients Notes:
Before we dive into the making of our Sausage Green Bean Potato Casserole, let's talk ingredients. It's like gathering your friends for a party – each brings something unique to the table!
Sausage Kielbasa: The star of the show! This smoked sausage packs a punch of flavor and adds a lovely smokiness to the dish. Feel free to use any smoked sausage you love or have on hand.
Baby Creamer Potatoes: These little gems are perfect for casseroles. Their size means they cook quickly and their creamy texture melds beautifully with the other ingredients.
Green Beans: Canned for convenience, these add a pop of color and a nice, tender crunch. If you're feeling adventurous, fresh green beans could also be a delightful twist.
Vegetable Oil & Butter: Our dynamic duo for cooking. They ensure everything gets nicely sautéed, adding richness and depth to the flavors.
Onions & Garlic: The flavor foundation! They add that essential savory note that ties everything together.
Seasonings: With Slap Ya Mama® seasoning, garlic powder, pepper, and red pepper flakes, we're building layers of flavor here. Each one plays its part in creating a well-rounded taste profile.
Water: Just a bit, to help cook the sausage and meld the flavors together in the pan.
Recipe Instructions:
Alright, chefs, aprons on and let's get cooking! Our Sausage Green Bean Potato Casserole isn't going to make itself, and the family's tummies are rumbling!
Preheat & Prep: Kick off by preheating your oven to 400° F and getting that 9×13 baking dish ready with a spray of non-stick goodness. We want our casserole sliding out smoother than a jazz tune.
Potato Prep: Give those baby creamer potatoes a good wash (they've been rolling in the dirt, after all), chop them in half for bite-sized joy, and toss them into a sealable bag. Think of it as sending them off to a spa – they're about to get a nice oil and seasoning massage.
Seasoning Shake-up: In goes the oil, Slap Ya Mama® seasoning, pepper, and those feisty red pepper flakes into the bag with the potatoes. Seal it up and give it a good shake. This is where you can dance around the kitchen a bit – the potatoes won't mind.
Sausage Sizzle: Time to heat up the frying pan and get those sausages cooking with a splash of water. Cook them until they're nicely browned and the water has said its goodbyes. Then, once cool, add them to the bag of potatoes.
Onion and Garlic Tango: In the same pan, let the butter melt and add in the onions and garlic. Cook them until they're translucent and fragrant, then let them cool a bit. Once they've taken a breather, into the bag they go.
Green Bean Finale: Now, for the final guest – the green beans. Add them to the bag, give it another hearty shake to mix everything well, and then cascade the contents into your prepared baking dish.
Bake It Till You Make It: Cover the dish with foil and pop it into the oven. Let it bake for 40 minutes or until the potatoes are tender and the flavors have had a chance to get to know each other.
Serve and Enjoy: Carefully remove your masterpiece from the oven, let it cool just a tad, and then dive in! Your Sausage Green Bean Potato Casserole is ready to wow the crowd.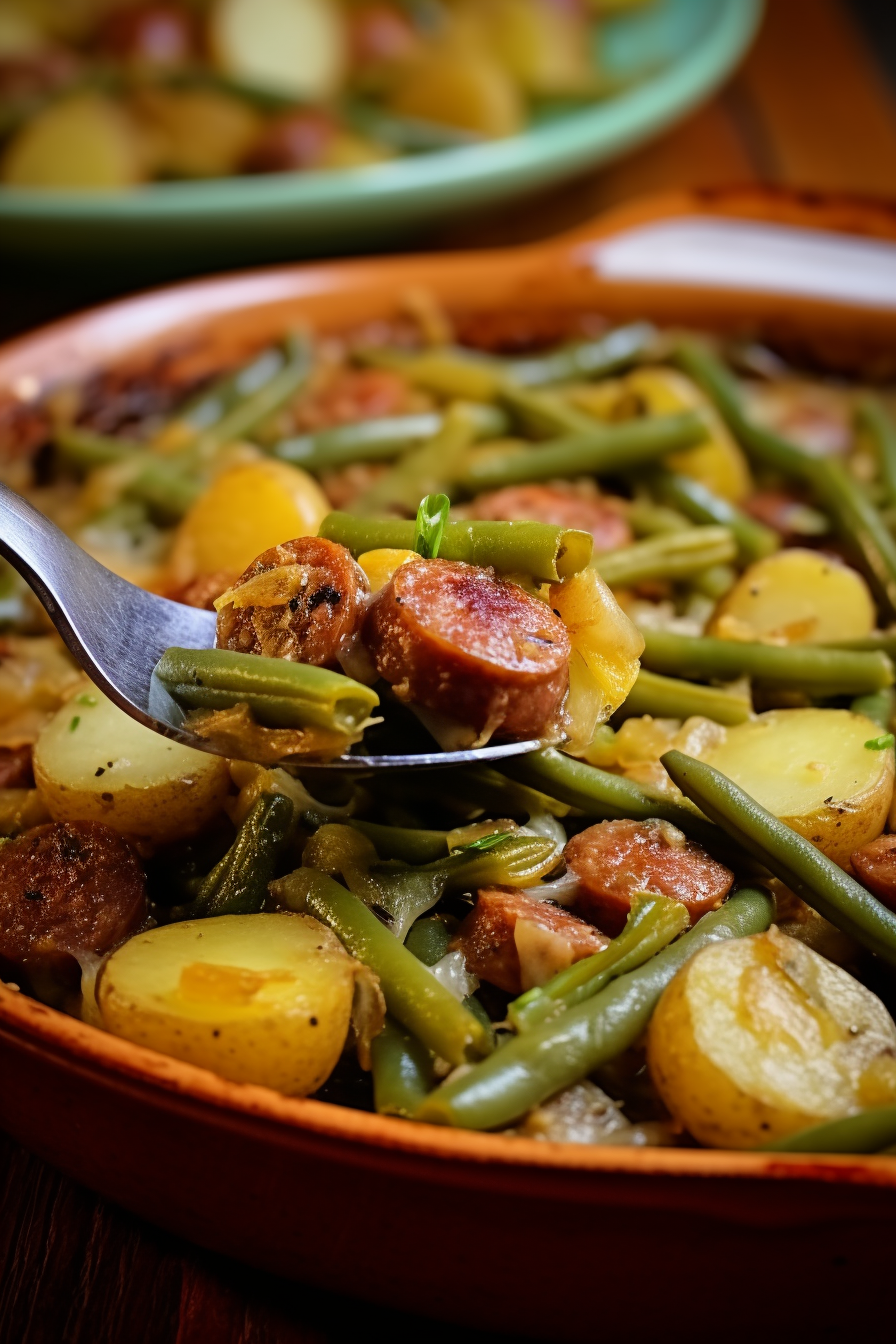 Storage Options:
Now, let's talk leftovers, because let's be honest, this casserole is like that guest who's so much fun you want them to stick around!
Refrigerator: The easiest option. Just cover the casserole dish with plastic wrap or transfer the leftovers to an airtight container. It will stay good for about 3 to 4 days. Reheat it in the microwave or oven, and it's like reliving the party all over again.
Freezer: If you're playing the long game, portion the casserole into freezer-safe containers. It can chill there for up to 2 months. Thaw it in the fridge overnight, then reheat. It's like a tasty time capsule!
Variations and Substitutions:
Variety is the spice of life, and this casserole is ready to shake things up!
Meat Swap: Not a fan of kielbasa? No problem! Swap it out for chicken sausage, chorizo, or even ground beef. Each brings its own unique twist to the party.
Potato Play: Baby creamer potatoes are great, but feel free to experiment. Diced russets or colorful red potatoes can make for a fun change.
Veggie Variety: Swap out the green beans for your favorite veggies. Broccoli, bell peppers, or corn can add a whole new dimension.
Cheese, Please: For an extra layer of yum, sprinkle some shredded cheddar or mozzarella on top during the last 10 minutes of baking.
Spice It Up or Down: Adjust the seasonings to suit your taste buds. More red pepper flakes for the spice lovers, or keep it milder with just a pinch.
Vegan Version: For a plant-based twist, use vegan sausage and swap out the butter for a plant-based alternative. The flavor will still be top-notch!
Gluten-Free: Ensure your sausage and seasonings are gluten-free if you're catering to that dietary need. It's a small switch for a big difference in inclusivity.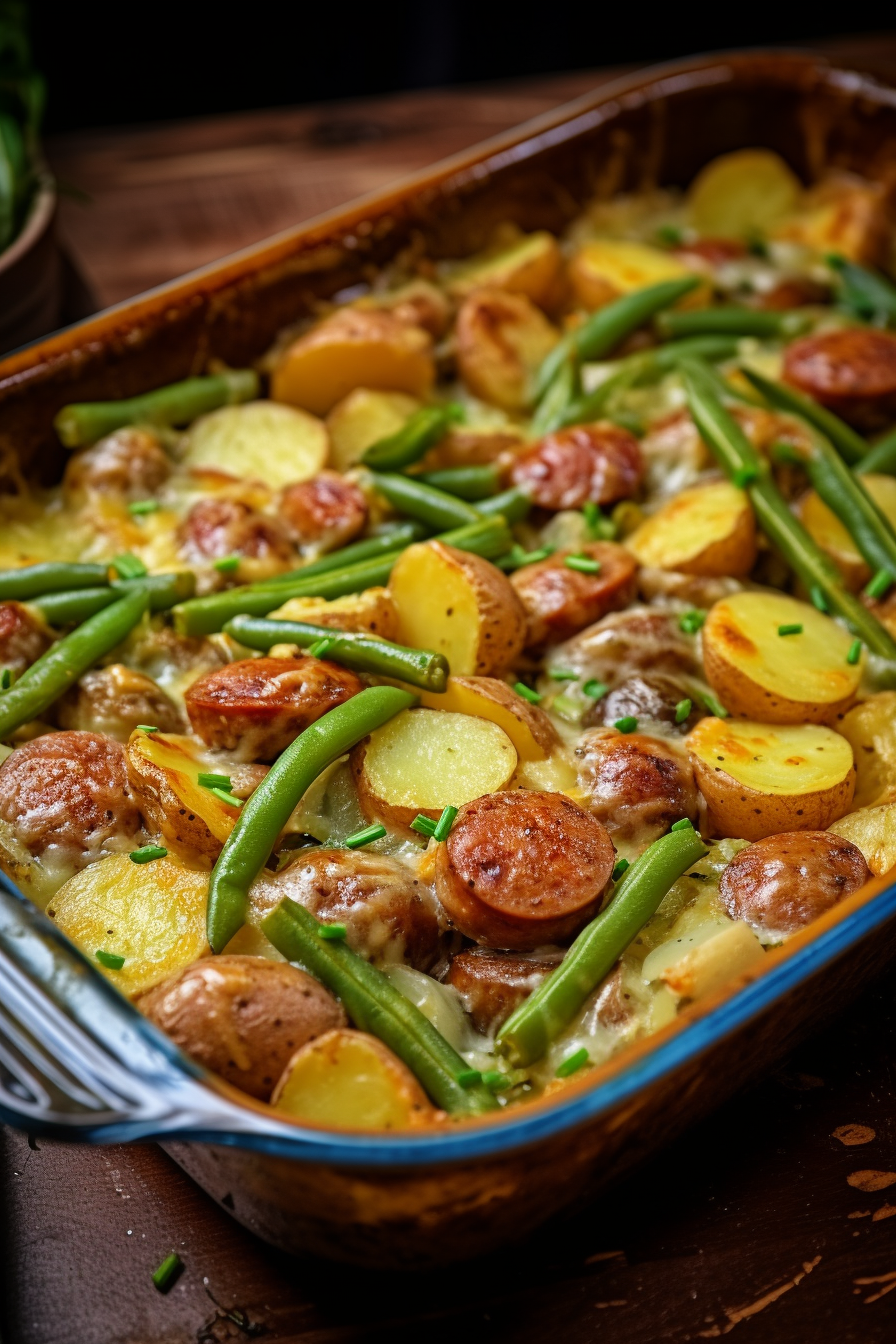 With these ideas, your Sausage Green Bean Potato Casserole is ready to adapt to any occasion, dietary need, or flavor craving! Happy cooking, and remember, the best ingredient is always a dash of fun! 🎉👩‍🍳🥔🌭🥘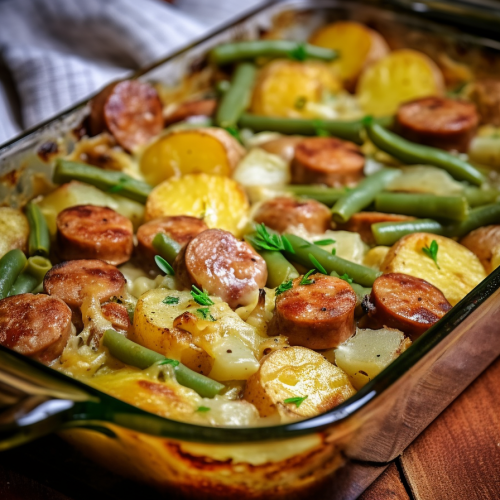 Sausage Green Bean Potato Casserole
Indulge in a comforting Sausage Green Bean Potato Casserole, featuring kielbasa sausage, baby creamer potatoes, and green beans, all baked to perfection with a blend of savory seasonings. A perfect recipe for a hearty family dinner!
Print
Pin
Rate
Ingredients
1½

pounds

Kielbasa or smoked sausage

sliced into ¼-inch pieces

2

pounds

baby creamer potatoes

thoroughly washed and halved

Two 15-ounce cans of green beans

drained

⅛

cup

of vegetable oil

¼

cup

of butter

1

cup

of onions

finely chopped

3

cloves

of garlic

minced

1

teaspoon

of Slap Ya Mama® seasoning

1

teaspoon

of garlic powder

1

teaspoon

of black pepper

½

teaspoon

of red pepper flakes

¼

cup

of water
Instructions
Begin by preheating the oven to 400°F (204°C). Prepare a 9×13 inch baking dish by coating it evenly with non-stick cooking spray.

Proceed to wash the baby creamer potatoes thoroughly. Once cleaned, slice each potato in half and place them into a sealable gallon-sized bag.

Add the vegetable oil, Slap Ya Mama® seasoning, black pepper, and red pepper flakes to the bag containing the potatoes. Seal the bag securely and shake vigorously to ensure an even coating of the seasoning on the potatoes.

In a large frying pan, place the sliced sausage and add ¼ cup of water. Cook over medium-high heat. Continue cooking until the sausages have achieved a browned exterior and most of the water has evaporated.

Once the sausage is cooked and has cooled down sufficiently, add it to the bag with the seasoned potatoes.

Using the same frying pan, melt the butter. Add the chopped onions and minced garlic to the pan. Sauté until the onions become translucent and fragrant.

Allow the onion and garlic mixture to cool for a few minutes. Once it has cooled to a manageable temperature, add it to the bag containing the potatoes and sausage. Seal the bag and shake well to combine all the ingredients.

The final step before baking involves adding the drained green beans to the bag. Once again, seal the bag and shake to ensure a thorough mix of all ingredients.

Transfer the contents of the bag into the prepared baking dish. Cover the dish with aluminum foil.

Place the covered dish in the preheated oven. Bake for 40 minutes, or until the potatoes are tender.

Once cooking is complete, carefully remove the baking dish from the oven. The Sausage Green Bean Potato Casserole is now ready to be served.