These creamy, cheesy yuca balls are stuffed with mozzarella, then fried until they reach a deep golden brown. They are perfect to serve as an appetizer or as a party snack.
You can dip them in store-bought sauces or make your own. Today, I decided to serve them with a homemade chipotle mayo. It's my favorite spicy sauce for fries and tacos. Best of all, it takes just a few minutes to throw together and adds a nice kick to these yuca balls.
Yuca, or cassava, is a woody shrub that is cultivated for its roots. The starchy roots can be used to replace potatoes in dishes or even be made into a flour for use in breads, cookies, or cakes. Yucca (with two "c's"), is an unrelated plant that is often confused with yuca.
I don't get the opportunity to cook with yuca often, so I was very excited when Goya Foods sent me a few packages of frozen yuca. The yuca is already peeled, making it super-easy to use. Just toss the frozen yuca into a pot of boiling water and cook until fork tender. Once tender, drain and rinse the yuca with cold water, then remove any fibrous strands in the center.
Frozen yuca makes this dish so easy that I'll never use fresh yuca again.
I have to be honest, I am not a confident person when it comes to deep-frying. I'm always afraid of burning down our kitchen. Elliott laughed at me while making these cheesy yuca balls because I had the fire extinguisher sitting on the counter behind me.
It's a little overkill, but it makes me feel better.
When deep-frying these cheesy yuca balls, I always fry a test ball before frying an entire batch. It allows you to taste the yuca ball and adjust the seasonings as necessary. Yuca can sometimes be a little bitter or sometimes a little sweet, so testing one beforehand can make a big difference.
Plus, I think the chef needs a little treat for working so hard in the kitchen.
I do the same when it comes to making steamed dumplings. I'll prepare the filling, form a single dumpling, then steam it by itself. This way, I can add more salt or fix any problems without ruining an entire batch. I made about 100 dumplings for an upcoming recipe, so it would have been a shame if they weren't perfect.
These yuca balls are best when eaten soon after they are fried. If you try to reheat them in the microwave, they tend to lose their crunchy exterior. However, I do have a solution if you want to make these ahead of time. After forming the yuca balls, pop them into the freezer. When you're ready to serve them, just fry them straight from the freezer. No need to thaw!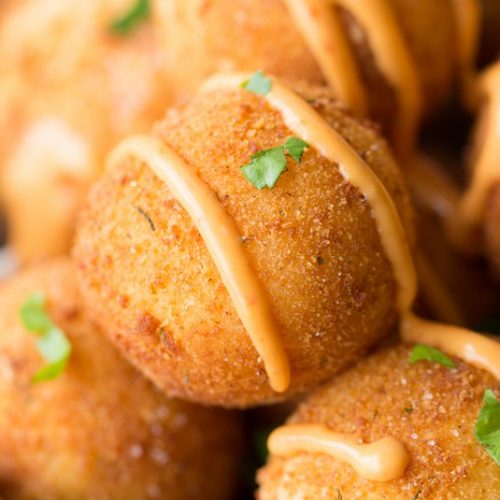 Cheesy Yuca Balls with a Chipotle Mayo
These creamy, cheesy yuca balls are stuffed with mozzarella, then fried until they reach a deep golden brown. They are perfect to serve as an appetizer or as a party snack.
Print
Pin
Rate
Ingredients
2

lbs

yuca (I used Goya's Frozen Yuca)

1½

tsp

salt, or more to taste

1

tsp

sugar

3

eggs

⅔

cup

Italian style breadcrumbs

½

lb

mozzarella cheese, cubed

vegetable or canola oil, for frying

chopped flat leaf parsley, for garnish
For the Chipotle Mayo:
1-2

whole chipotle peppers in adobo sauce

½

cup

light mayo

1

tsp

lime juice

salt and pepper, to taste
Instructions
Place a large pot of salted water over high heat and bring to a rolling boil. Add the frozen yuca and cook the yuca until fork tender, about 20 to 30 minutes.

While the yuca is cooking, prepare the chipotle mayo. Add the chipotle peppers, mayonnaise, and lime juice to a blender and pulse until smooth. Add additional chipotle peppers for a spicier sauce, if desired. Season with salt and pepper, to taste. Set aside.

Once tender, drain and rinse the yuca with cold water. Then, transfer the yuca to a large bowl and mash with a potato masher until smooth and no large pieces remain. Add the 1½ teaspoon of salt and teaspoon of sugar, then stir to combine. Add one of the eggs and stir until just incorporated. Set aside.

Add the remaining two eggs to a bowl and beat lightly with a fork. Set aside.

Using your hands, take between 1 and 2 tablespoons of the yuca mixture and flatten it into a disk. Place a cube of mozzarella into the center of the yuca and fold up the sides to form a ball. Place the yuca ball on a plate and repeat with remaining yuca and cheese.

Once all of the balls have been formed, dredge the yuca balls by first dipping them into the beaten eggs, then into the breadcrumbs.

Heat the oil to 350 degrees Fahrenheit. Once the oil is hot, fry the yuca balls in batches until they reach a deep golden brown, about 2 to 4 minutes. Place on a paper towel to drain and season immediately with salt. Repeat with remaining yuca balls.

Serve immediately with a drizzle of chipotle mayo and chopped flat leaf parsley for garnish.
Notes
Place the first batches of fried yuca balls on a wire rack in a 200 degree Fahrenheit oven to keep warm while preparing the remaining batches.