Delight in the irresistible blend of sweet and salty with this Christmas Crack recipe, featuring saltine crackers, butter, brown sugar, chocolate chips, and festive sprinkles. A perfect homemade treat for holiday gatherings!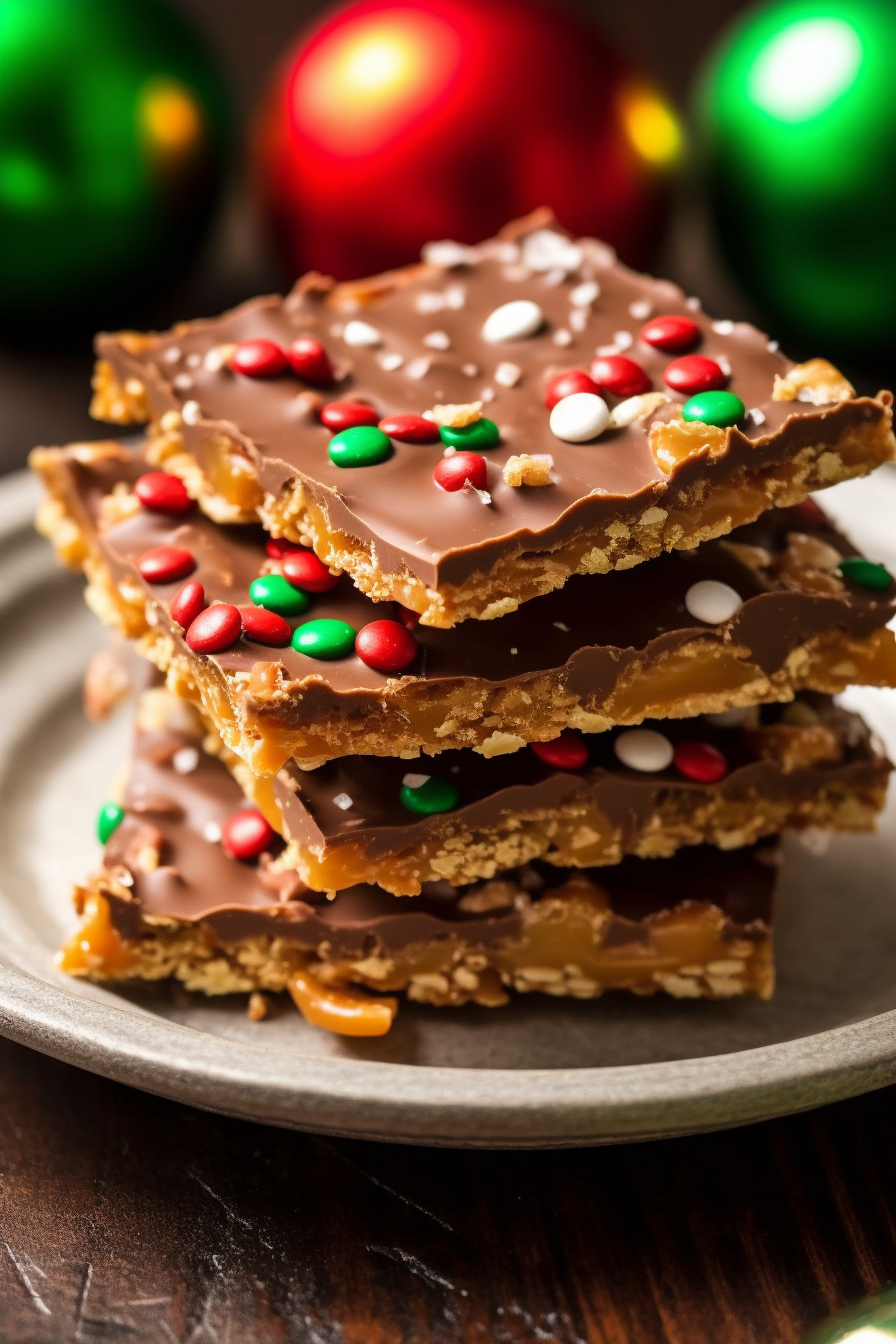 Ah, the Christmas Crack recipe! This isn't just a recipe; it's a trip down memory lane. Every December, my kitchen transforms into a mini candy factory, with this recipe as the star. It started years ago, when my grandmother, a wizard in the kitchen, decided to whip up something new for our annual holiday gathering. Her eyes twinkled as she mixed the simple ingredients, and the aroma of caramelizing sugar filled the air. We were all hooked after the first bite. Over the years, this recipe became our family's holiday tradition. It's more than just a treat; it's a symbol of warmth, laughter, and shared memories. Each bite is a reminder of cozy holidays past and the excitement of those yet to come. It's not just a recipe; it's a piece of my heart.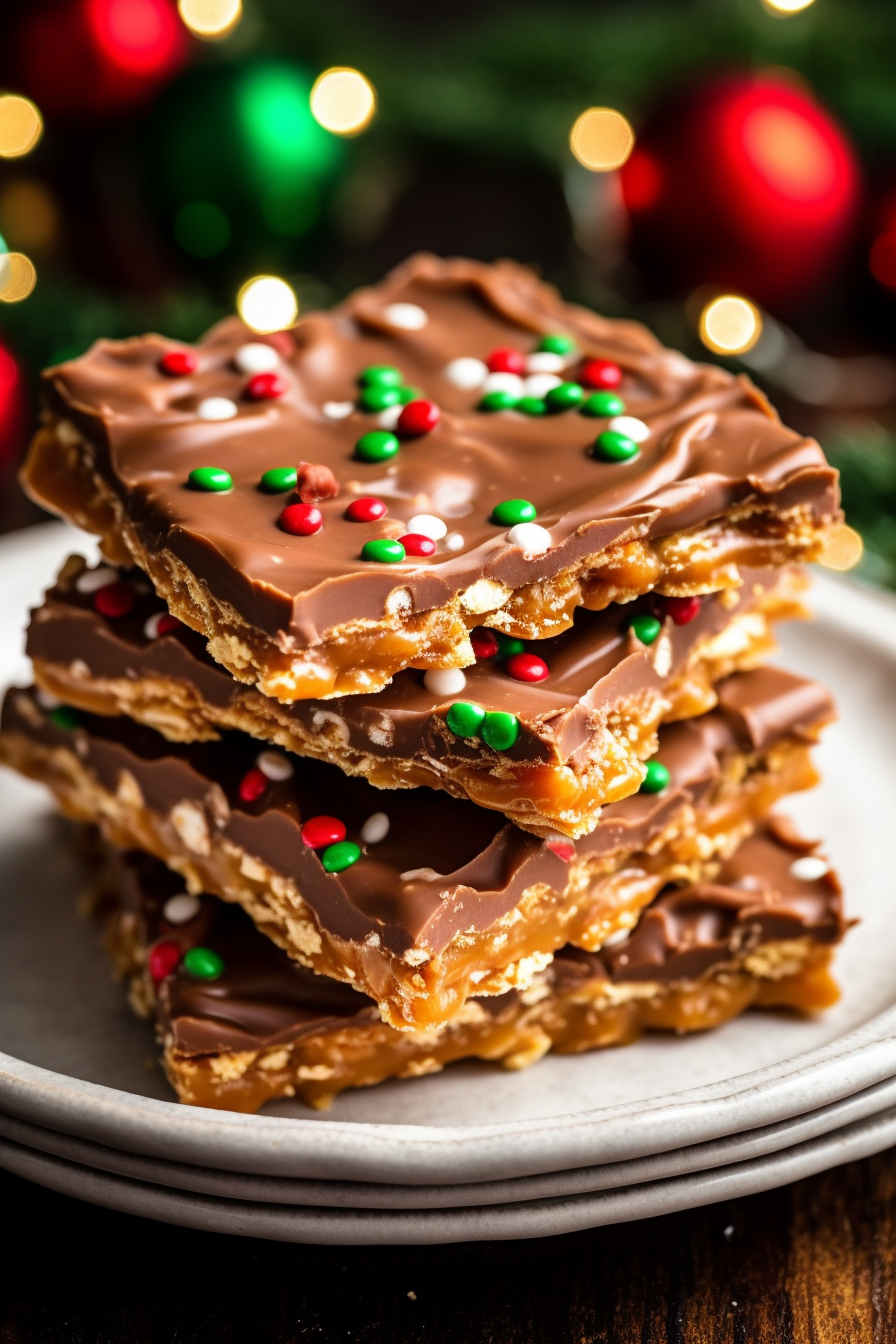 Why You'll Love Christmas Crack Recipe:
The Christmas Crack recipe has several unique selling points that make it a holiday favorite:
Simplicity: With just a few basic ingredients and minimal prep time, anyone can make this treat.
Flavor Fusion: The perfect marriage of salty and sweet hits all the right taste buds, making it universally appealing.
Texture Delight: The crunch of the saltines combined with the smoothness of chocolate and caramel creates a satisfying mouthfeel.
Versatility: It's a customizable recipe; you can tweak it with different toppings or chocolate types to suit your taste.
Festive Fun: Its crackly texture and the option to add colorful sprinkles make it visually appealing and perfect for holiday celebrations.
Make-Ahead Magic: It can be prepared in advance, saving precious time during the busy holiday season.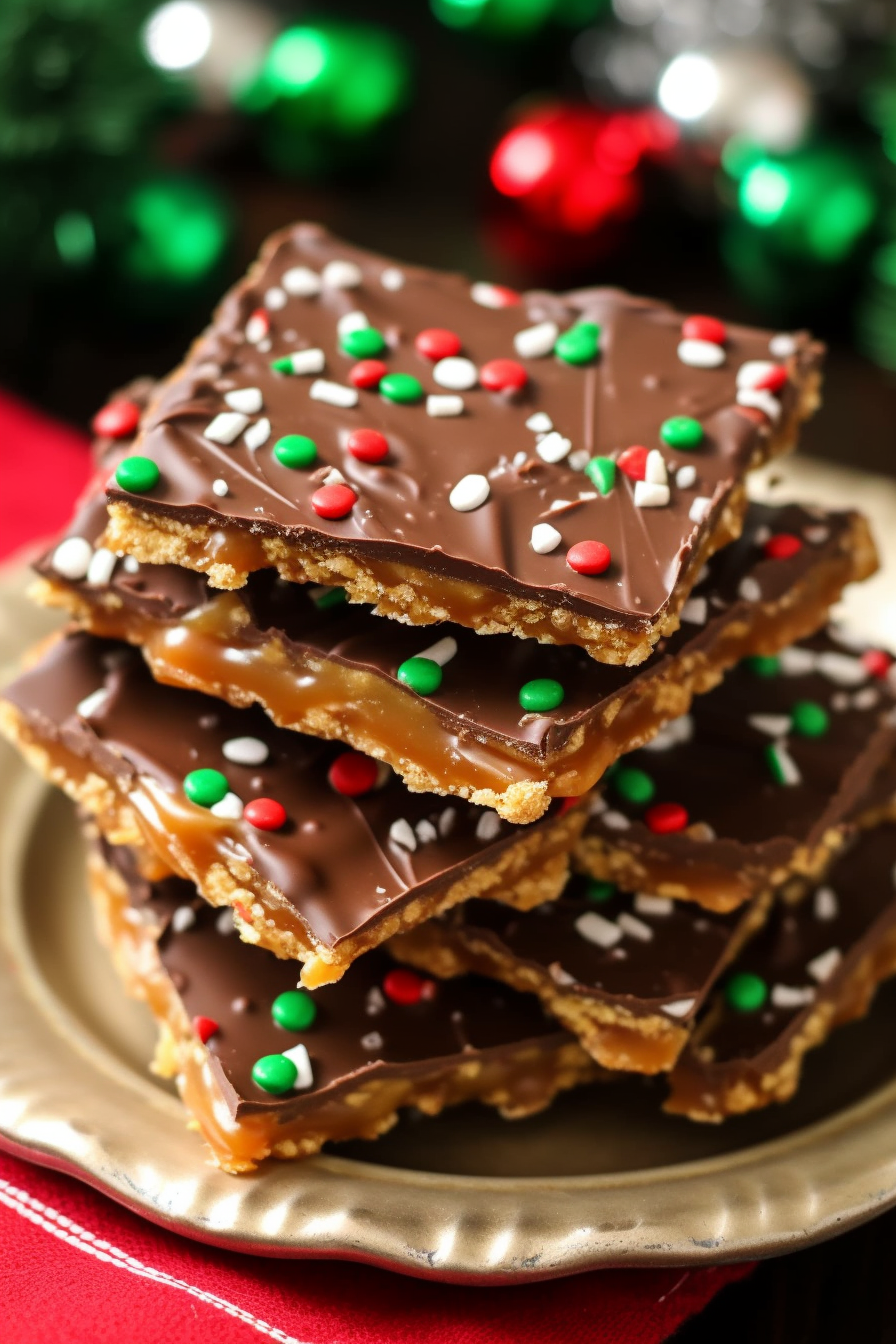 Ingredients Notes For Christmas Crack Recipe:
Introduction: Crafting the Christmas Crack is a delightful journey into the world of sweet and savory treats. Let's dive into the simple yet magical ingredients that make this recipe a holiday staple.
Saltine Crackers: The unsuspecting hero of this treat. Their saltiness and crunch form the perfect base.
Unsalted Butter & Brown Sugar: When these two are combined and caramelized, they create a rich, golden layer of homemade toffee.
Semi-Sweet Chocolate Chips: The chocolate layer adds a velvety texture and a balance to the sweetness of the caramel.
Sprinkles: These are not just for decoration; they add a bit of whimsy and can be customized to fit any holiday theme.
Recipe Steps:
Introduction: Ready to make some Christmas magic? Follow these steps to create a batch of delicious Christmas Crack, a process as fun as it is tasty!
Preheat and Prepare: Start by preheating your oven to a toasty 400°F. Line your 10×15 inch pan with aluminum foil for easy cleanup and give it a light greasing to prevent sticking.
Lay the Foundation: Arrange the saltine crackers snugly in a single layer on the pan. This step is like building a tasty little jigsaw puzzle.
Caramel Creation: Melt the butter and brown sugar together in a saucepan. Once melted, let it bubble away for 3 minutes, stirring constantly. This concoction is the heart of your Christmas Crack.
Layering the Love: Pour the bubbling mixture over the crackers. Gently spread it out, ensuring every cracker is coated. This layering is what creates that irresistible caramel crunch.
Baking Bliss: Pop the pan in the oven for 5 minutes. This crucial step melds everything into a harmonious blend.
Chocolate Time: Melt the chocolate chips in the microwave, stirring occasionally until smooth. The key here is to be patient and avoid overheating.
Finishing Touches: Spoon the melted chocolate over your caramel crackers, spreading it out evenly. Sprinkle on the sprinkles for that festive flair.
The Waiting Game: Let the toffee set until the chocolate is firm. This could be at room temperature or in the fridge, depending on your patience level!
The Big Reveal: Once set, lift the creation out of the pan, peel off the foil, and break it into pieces. This is the moment of triumph – enjoy it!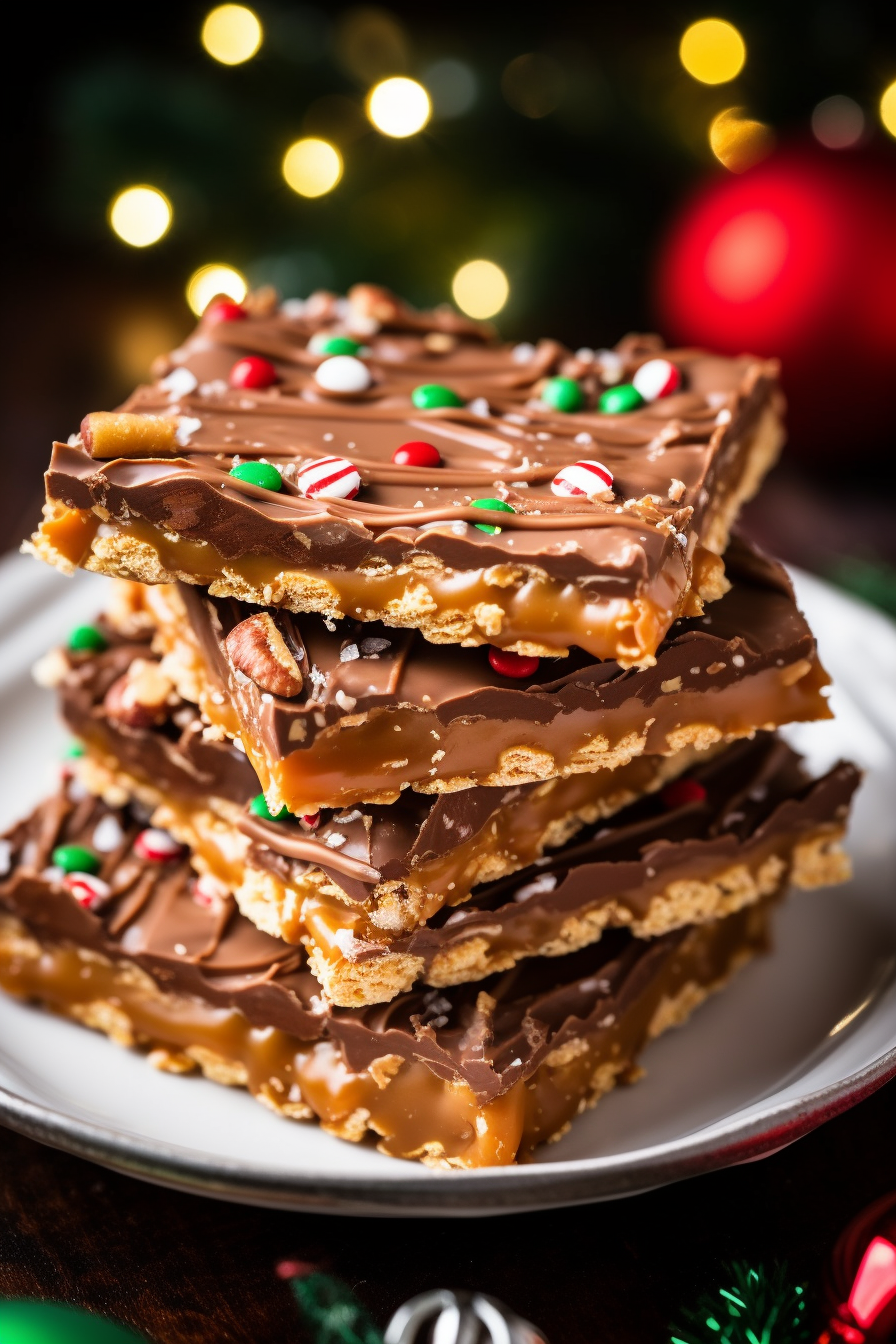 Storage Options:
Christmas Crack, with its delightful crunch and sweetness, can be kept fresh and delicious with the right storage methods. Here are your options:
Room Temperature: Store it in an airtight container at room temperature, and it will stay fresh for up to 5 days. This is ideal if you like your toffee slightly softer.
Refrigerator: For a firmer texture and slightly extended shelf life, store it in the fridge. In an airtight container, it can last for up to 10 days. Just make sure it's fully cooled before storing to prevent any condensation.
Variations and Substitutions:
Introduction: One of the joys of the Christmas Crack recipe is its versatility. Here are some fun twists and substitutions to keep the recipe exciting year after year:
Different Crackers: Swap saltines for graham crackers or Ritz for a different flavor profile.
Change Your Chocolate: Feel free to use milk, dark, or even white chocolate chips for a different twist.
Nutty Flair: Add chopped nuts like almonds, pecans, or walnuts for extra crunch and flavor.
Caramel or Toffee Bits: Sprinkle these on top of the chocolate layer for an extra caramel kick.
Festive Sprinkles or Candy: Customize with holiday-themed sprinkles or crushed candy canes for a festive look and taste.
Peanut Butter Twist: Add a layer of peanut butter under the chocolate for a peanut buttery delight.
Spice It Up: A pinch of sea salt or cayenne pepper can add an interesting flavor contrast.
Healthier Options: Use a sugar substitute or a butter alternative for a lighter version, though this may alter the taste and texture slightly.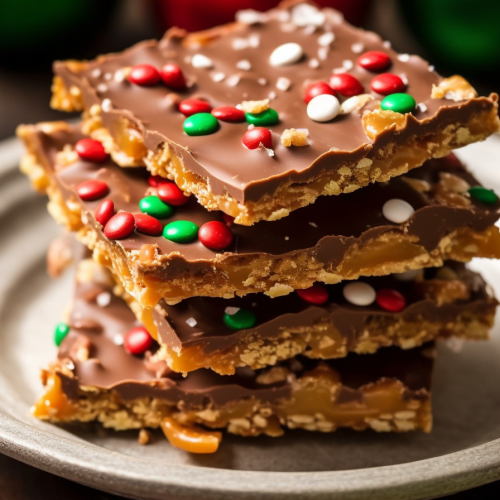 Christmas Crack Recipe
Delight in the irresistible blend of sweet and salty with this Christmas Crack recipe, featuring saltine crackers, butter, brown sugar, chocolate chips, and festive sprinkles. A perfect homemade treat for holiday gatherings!
Print
Pin
Rate
Ingredients
35-40

Saltine Crackers

one sleeve

1

cup

Unsalted Butter

equivalent to 2 sticks

1

cup

Brown Sugar

2

cups

Semi-Sweet Chocolate Chips

Sprinkles for decoration
Instructions
Preheating: Initiate the process by setting your oven to a temperature of 400°F (204°C).

Pan Preparation: Utilize a 10×15 inch baking pan, lining it meticulously with aluminum foil. Ensure a light coating of grease is applied to the foil to facilitate non-stick properties.

Arranging Crackers: Carefully place the saltine crackers in a single, even layer across the prepared pan, ensuring full coverage.

Caramelization Process: In a medium saucepan, combine the unsalted butter and brown sugar. Place over medium heat. Once the butter has fully melted, stir the mixture continuously and allow it to come to a boil. Maintain this state for a duration of 3 minutes.

Application of Caramel Layer: Proceed to pour the hot butter and sugar mixture over the arranged crackers. With diligence, spread the mixture to ensure all crackers are uniformly covered.

Baking: Transfer the pan to the preheated oven and bake for a period of 5 minutes.

Chocolate Melting: While the crackers are in the oven, place the chocolate chips in a heatproof bowl. Melt them in the microwave using medium power, employing 1-minute intervals. Stir the chocolate between each interval until it reaches a smooth consistency.

Chocolate Application: Once the crackers are removed from the oven and allowed to cool for 5 minutes, spoon the melted chocolate over them. Spread the chocolate carefully to cover the entire surface. Embellish with sprinkles as desired.

Setting the Toffee: Allow the toffee to harden by setting the pan aside until the chocolate layer solidifies. This can be achieved at room temperature or by refrigeration, depending on preference and time constraints.

Final Steps: After the toffee is set, remove the entire piece from the pan. Gently peel off the aluminum foil. Break or "crack" the toffee into individual pieces.

Storage: Store the finished product in an airtight container. It can be kept at room temperature for up to 5 days or refrigerated for up to 10 days for prolonged freshness.