Dive into the crispy world of Scotcheroos! Packed with Rice Krispies, creamy peanut butter, and a duo of chocolate and butterscotch chips. An irresistible treat in just 20 minutes!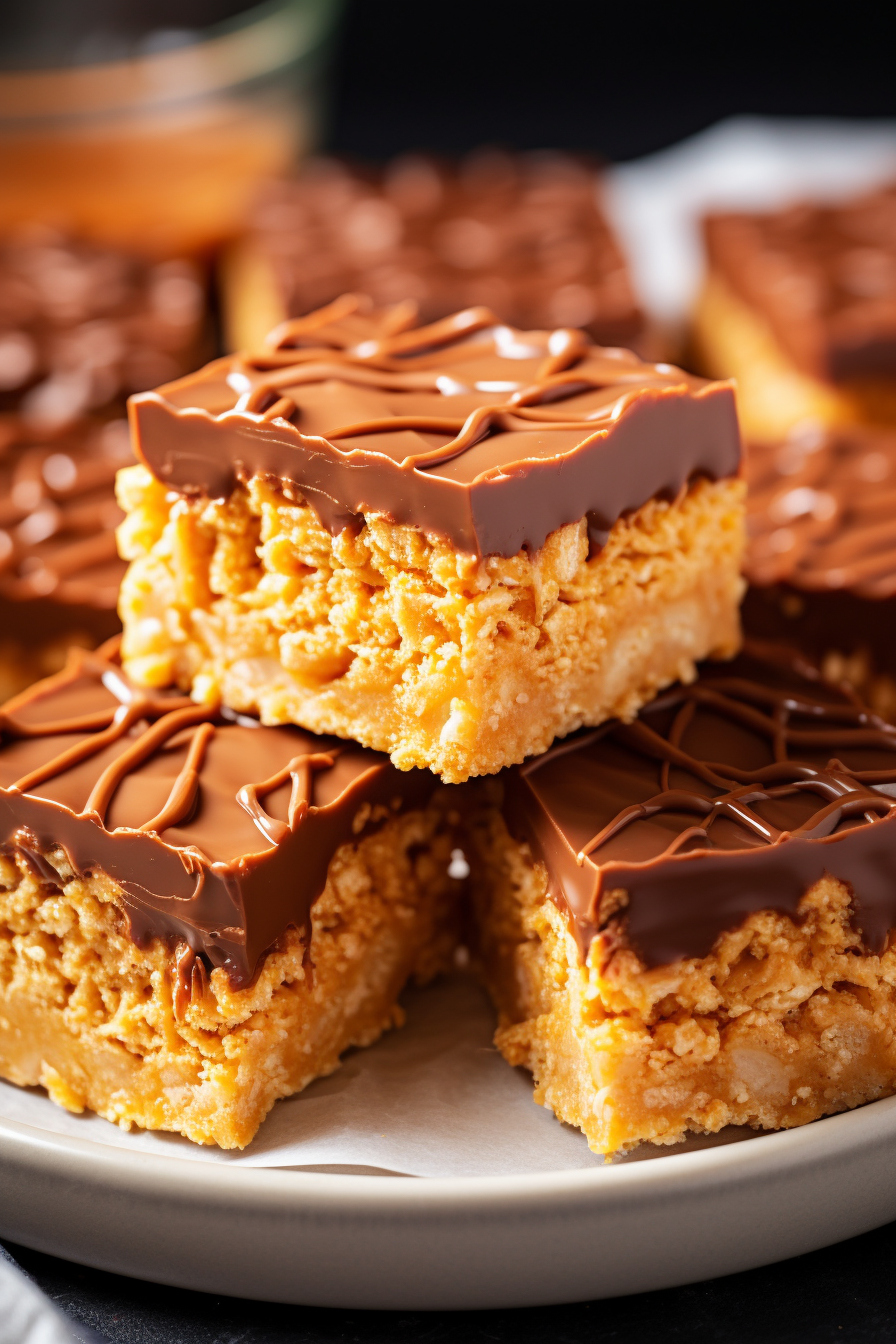 Oh, Scotcheroos. These bad boys take me right back to my childhood summers at Grandma's. Every visit, she'd greet us with a tray of these sweet, chewy delicacies. I remember once asking her why they were called Scotcheroos – expecting an age-old Scottish tale. With a chuckle, she said, "Because they're so good, you'll be scootin' back for more, dear!" To this day, every bite not only satisfies my sweet tooth but also floods my heart with nostalgic warmth. If there's any recipe that can evoke such potent memories, this one's right on the money.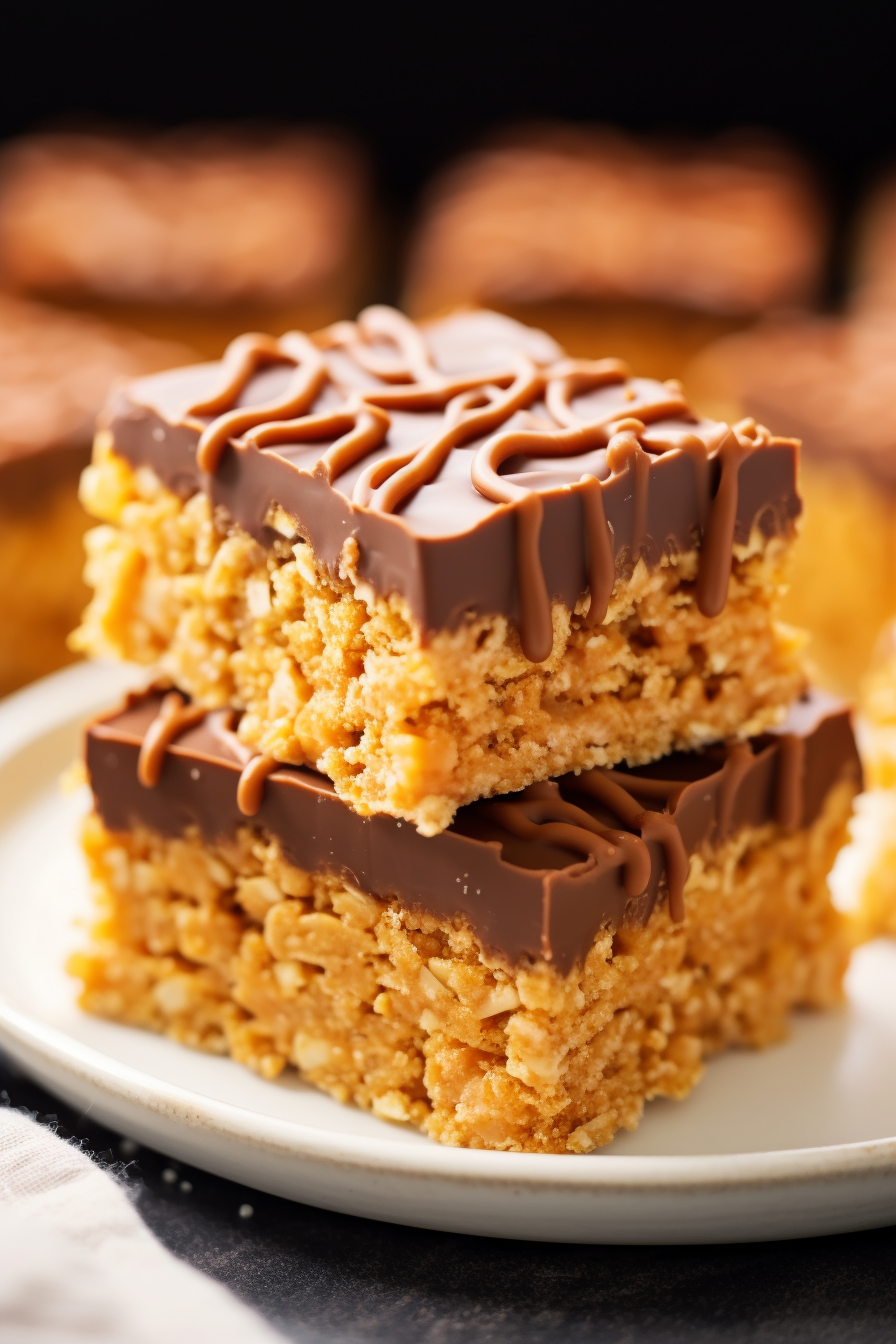 Thw Best Scotcheroos Recipe:
If you're wondering why Scotcheroos are all the rage in dessert town, here's the scoop. First off, they're the epitome of easy-to-make treats – no ovens, no fancy tools, just 20 minutes of your time. Secondly, they offer a taste like no other – the classic duo of chocolate and peanut butter, elevated by the contrasting textures of chewy sweetness and crispy crunch. Lastly, the butterscotch twist? That's the showstopper. It's what separates Scotcheroos from your average crispy treat, making them the star of every dessert spread.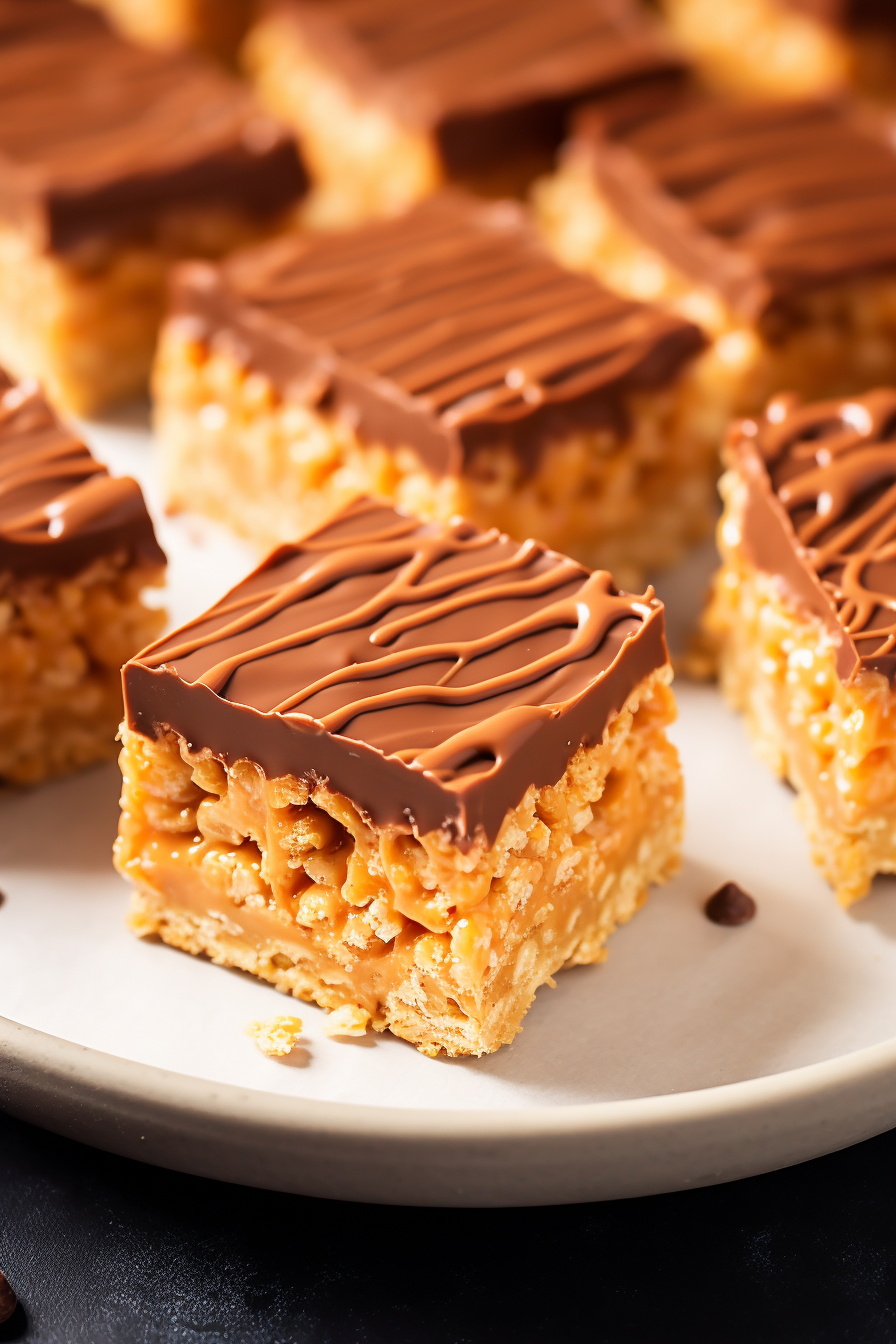 Ingredients For SCOTCHEROOS:
For the Rice Krispies, opt for the original version for best results. When it comes to peanut butter, creamy is key – chunky versions might alter the texture. As for the corn syrup, light is preferable to avoid an overly dense sweetness. And about the chips: don't be tempted to substitute with other varieties. The butterscotch-chocolate combo is what gives these beauties their signature flavor. If you're feeling fancy, high-quality brands for chocolate and butterscotch chips will elevate your Scotcheroos to gourmet levels!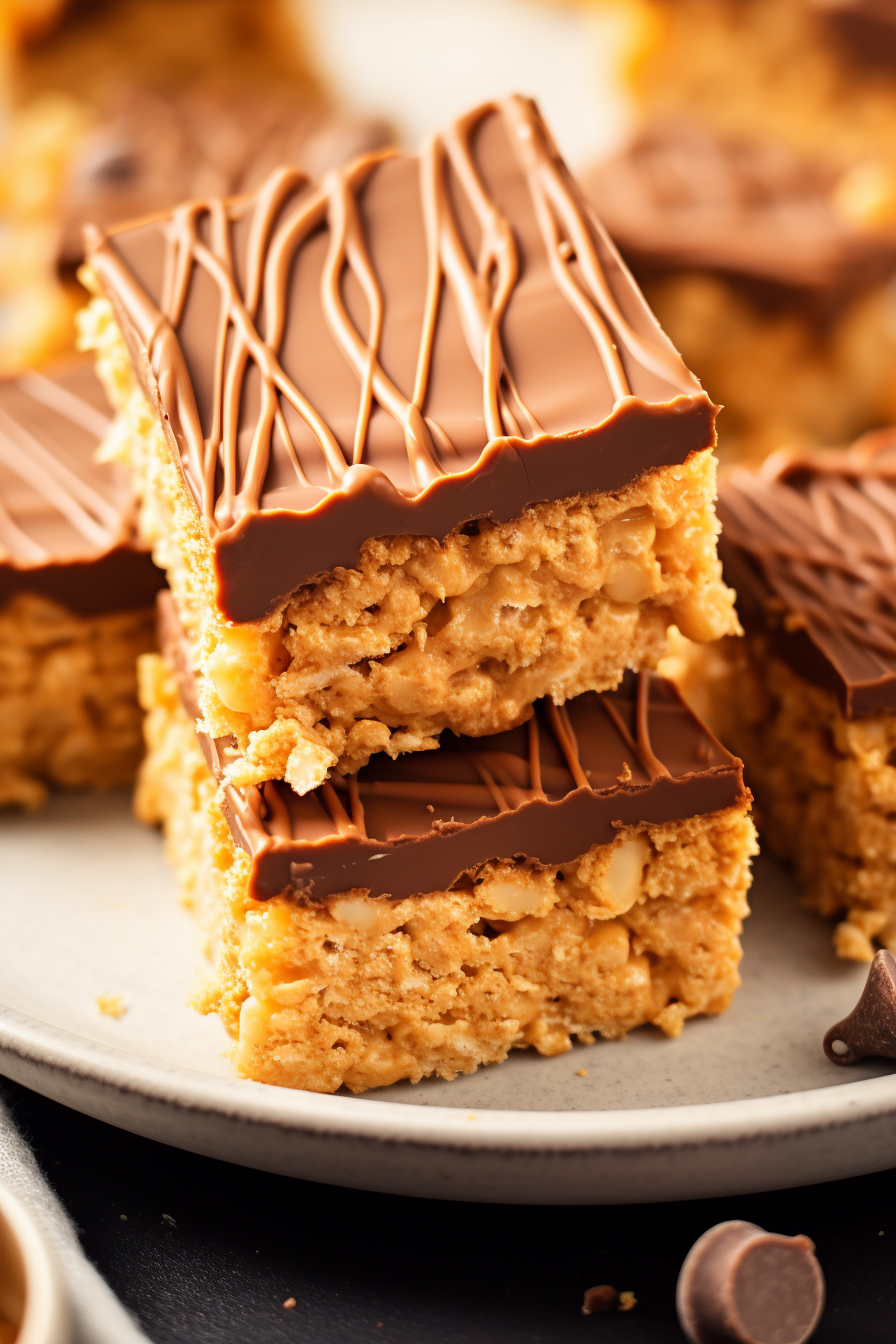 How To Make SCOTCHEROOS:
Step 1: Start by pouring your Rice Krispies into a spacious bowl, giving those crispy little guys room to breathe.
Step 2: Grab a medium pot and whisk together sugar, peanut butter, and corn syrup over medium-high heat. Remember, consistency is key – stir non-stop to avoid a burnt mess! Once you spot bubbles, it's go-time.
Step 3: Pour the boiling concoction over your Rice Krispies, mixing well to ensure every piece gets its share of gooey goodness. Transfer this mixture into a greased 9-x-13-inch pan, and here's a trick – use a spatula to gently press it down. We want it even, but not squashed.
Step 4: In another small pot, melt the chocolate and butterscotch chips over low heat. A golden rule? Stir constantly! Once smooth, pour this luscious mixture over your pressed Rice Krispies, spreading it out for that perfect topping. After that, patience is your best friend – let it set for a minimum of 30 minutes. Cutting into them too early is a rookie mistake!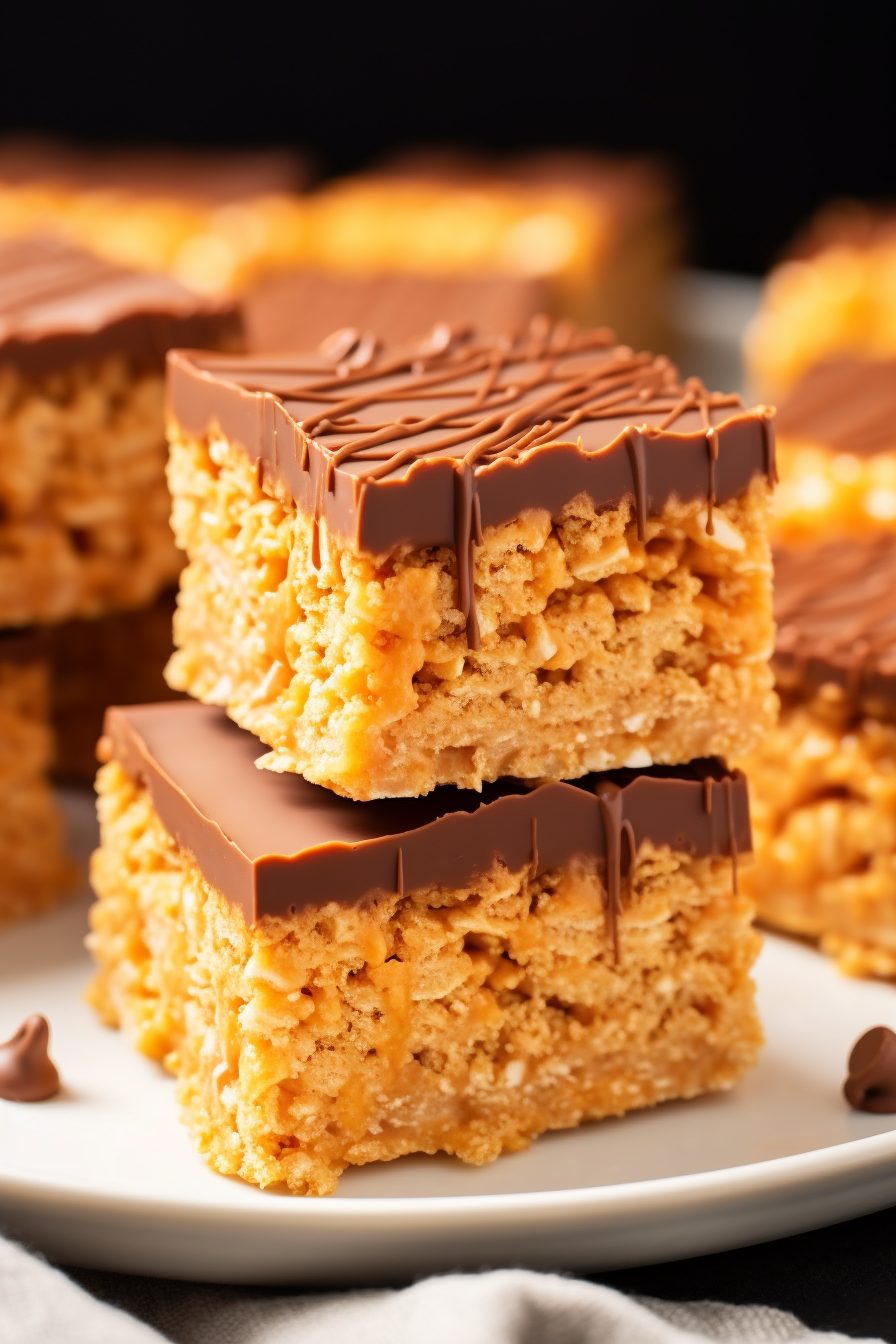 Storage Options:
To maintain their chewy perfection, store Scotcheroos in an airtight container at room temperature. They'll keep their charm for up to a week, though I bet they won't last that long (wink). If you want to freeze them for future indulgences, place them in single layers separated by parchment paper in a freezer-safe container. They can last up to three months. Just ensure they reach room temperature before devouring!
Variations and Substitutions:
The classic Scotcheroos recipe is a gem, but there's always room for a little fun! Looking for a nut-free version? Swap out the peanut butter for sunflower seed butter. If you're not a butterscotch fan, try white chocolate chips for a different twist. Vegan friends, there are vegan-friendly chocolate and butterscotch chips out there for you. And for those days when you're feeling adventurous? Sprinkle some sea salt or crushed nuts on the top layer for an extra flavor punch! Whatever twist you choose, just remember – the spirit of Scotcheroos is all about sweet, chewy fun. Happy experimenting!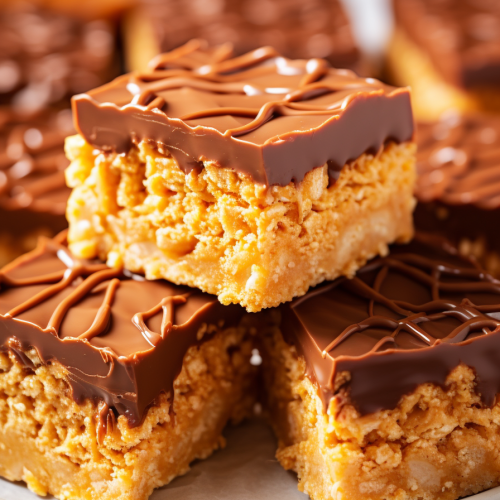 SCOTCHEROOS
Dive into the crispy world of Scotcheroos! Packed with Rice Krispies, creamy peanut butter, and a duo of chocolate and butterscotch chips. An irresistible treat in just 20 minutes!
Print
Pin
Rate
Ingredients
6

cups

of Rice Krispies cereal

1

cup

of granulated sugar

1

cup

of smooth peanut butter

1

cup

of light corn syrup

1½

cups

of semisweet chocolate chips

1½

cups

of butterscotch chips
Instructions
Prepare a spacious bowl and pour in the Rice Krispies cereal. Ensure the bowl is set aside in close proximity for the following steps.

Utilize a medium-sized saucepan and combine the granulated sugar, smooth peanut butter, and light corn syrup. Place the saucepan over a medium-high heat setting. Continuously stir the mixture to ensure even heat distribution and to prevent any potential caramelization of the sugar.

Once the aforementioned mixture achieves a boiling point, promptly transfer it onto the Rice Krispies cereal. Mix thoroughly, ensuring that the cereal is evenly coated with the mixture.

Distribute the coated Rice Krispies evenly into a lubricated 9-x-13-inch baking dish. Use a spatula or the back of a spoon to press the mixture gently into the dish, ensuring a uniform distribution.

In a separate, smaller saucepan, combine the semisweet chocolate chips and the butterscotch chips. Set the saucepan over low heat, stirring constantly to ensure a homogeneous melt and to prevent any scorching of the chocolate.

Once the chips are fully melted and the mixture is smooth, pour it over the pressed Rice Krispies in the baking dish, ensuring an even spread.

Allow the completed Scotcheroos to set for a minimum of 30 minutes prior to serving. Upon setting, utilize a sharp knife to portion and serve as desired.
Nutrition
Calories:
313
kcal
|
Carbohydrates:
54
g
|
Protein:
4
g
|
Fat:
10
g
|
Saturated Fat:
4
g
|
Polyunsaturated Fat:
2
g
|
Monounsaturated Fat:
3
g
|
Trans Fat:
0.03
g
|
Cholesterol:
3
mg
|
Sodium:
169
mg
|
Potassium:
84
mg
|
Fiber:
1
g
|
Sugar:
44
g
|
Vitamin A:
602
IU
|
Vitamin C:
5
mg
|
Calcium:
25
mg