Indulge in the heavenly fusion of Sloppy Joe and Philly Cheesesteak, marrying the savory goodness of ground beef, Worcestershire sauce, a sprinkle of garlic powder, sautéed onions and bell peppers, all crowned with melted provolone cheese, encased in a perfectly toasted bun. A symphony of flavor in every bite!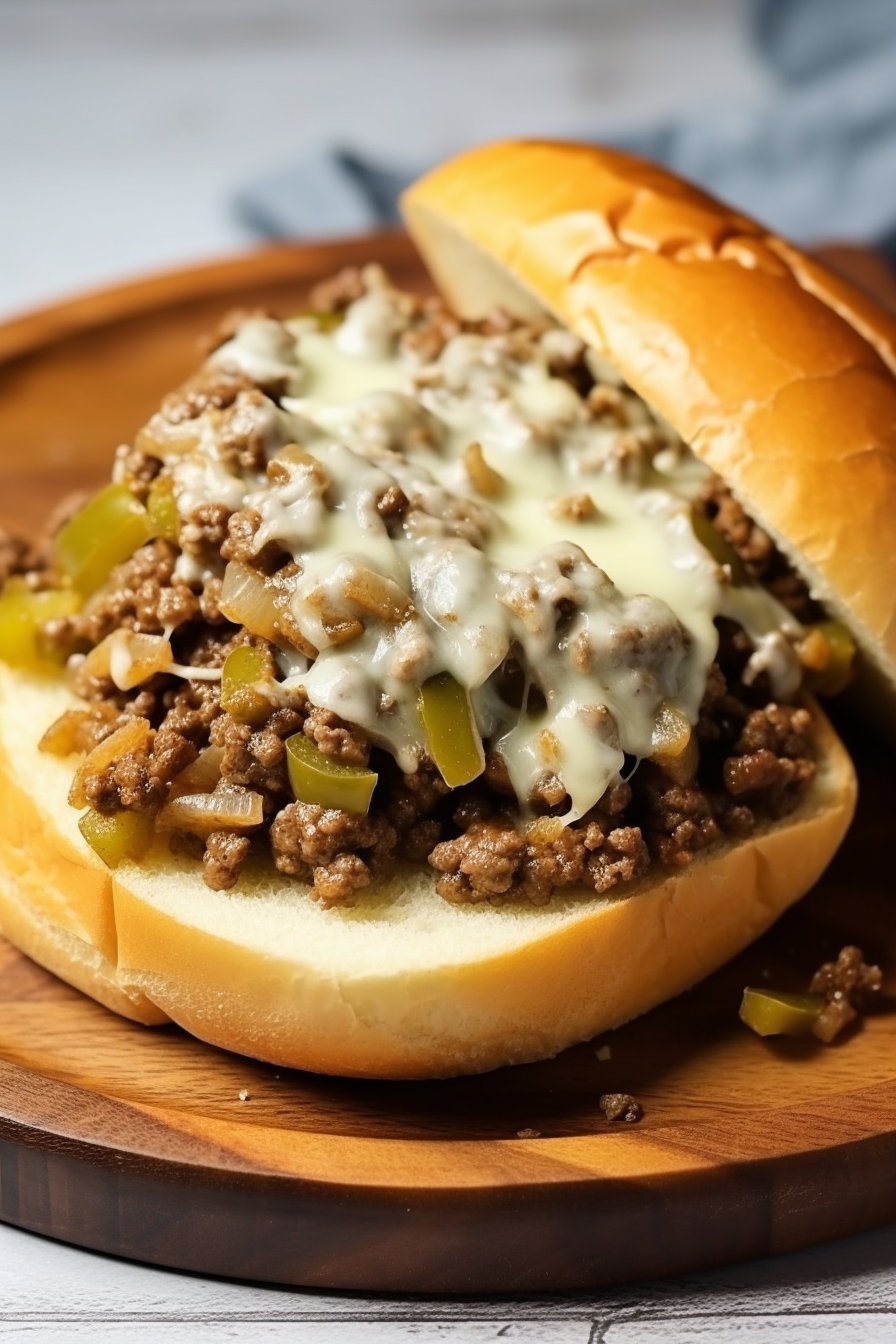 Oh, where do I begin with this majestic Sloppy Joe Philly Cheesesteak? Every bite is a harmonious blend of my childhood memories and adventurous culinary escapades as an adult. It's like a glorious dance of classic Sloppy Joe's reckless, saucy abandon and Philly Cheesesteak's sophisticated, savory allure. My mom, a wizard in the kitchen, used to make the meanest Sloppy Joes. Every bite was a chaotic yet beautiful mess, a burst of flavors that only a mother's touch could perfect. On the other hand, my first encounter with a Philly Cheesesteak was during a rebellious college road trip to the city of brotherly love. The velvety cheese, the tender beef – it was a serenade for the senses! This recipe? It's an ode to those magical moments. A melody of memories and flavors, each bite promising a journey through lanes of nostalgia and gustatory ecstasy.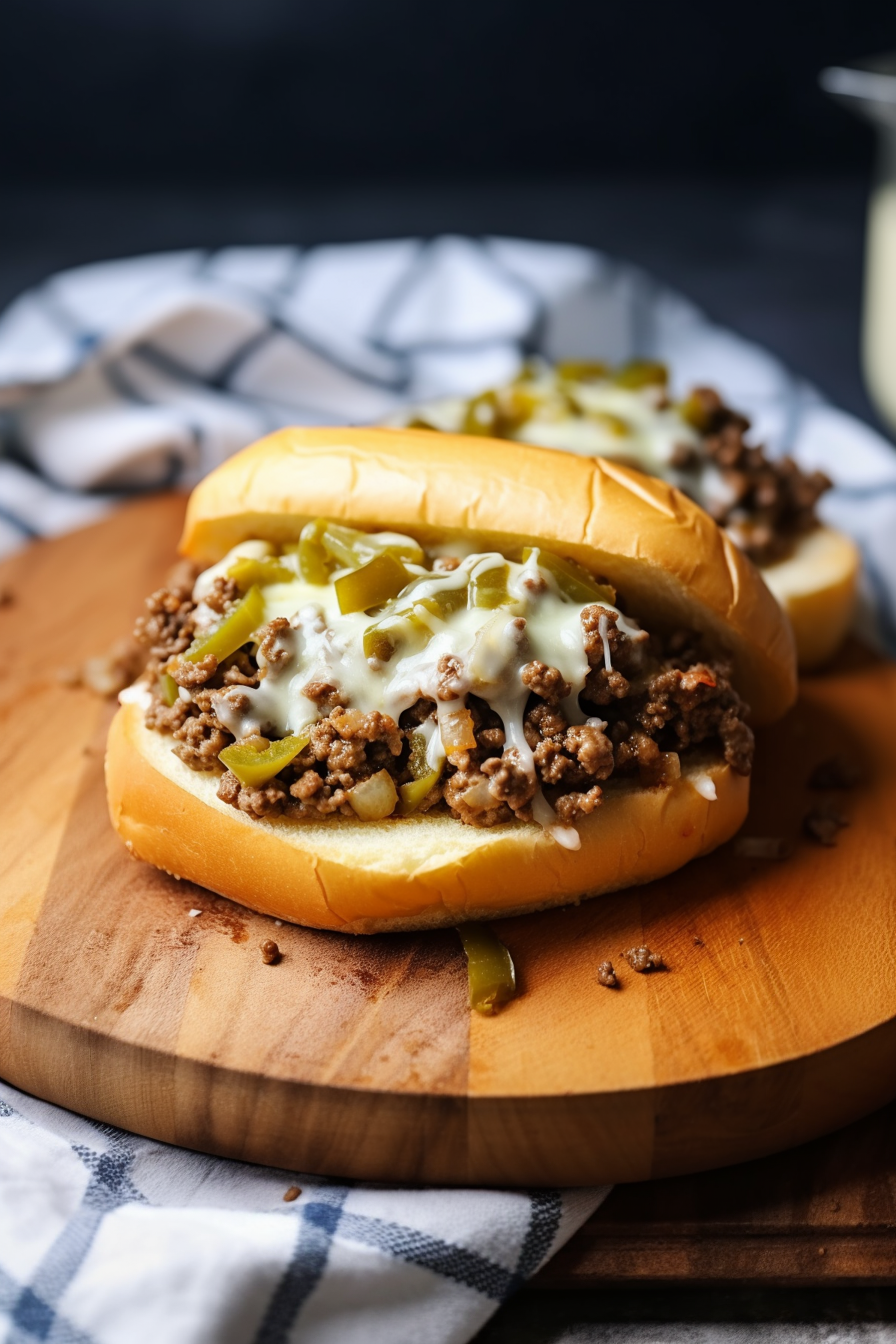 Why You'll Love This Sloppy Joe Philly Cheesesteak:
What makes this Sloppy Joe Philly Cheesesteak a star, you ask? Oh, honey, where do we start! It's a culinary lovechild born from a wild, passionate affair between the rebellious Sloppy Joe and the elegant Philly Cheesesteak. Ready in just 25 minutes, it's quicker to make than deciding what takeaway to order. It brings together the juicy, savory ground beef and the melodic harmony of Worcestershire sauce, garlic powder, onions, and bell peppers. It's a serenade of flavors that dances gracefully on the palate, swathed in the creamy, melted embrace of provolone cheese. Every bite? A standing ovation of taste, an encore of flavor, promising to make every dinner a showstopper. It's the culinary standing ovation you didn't know you needed.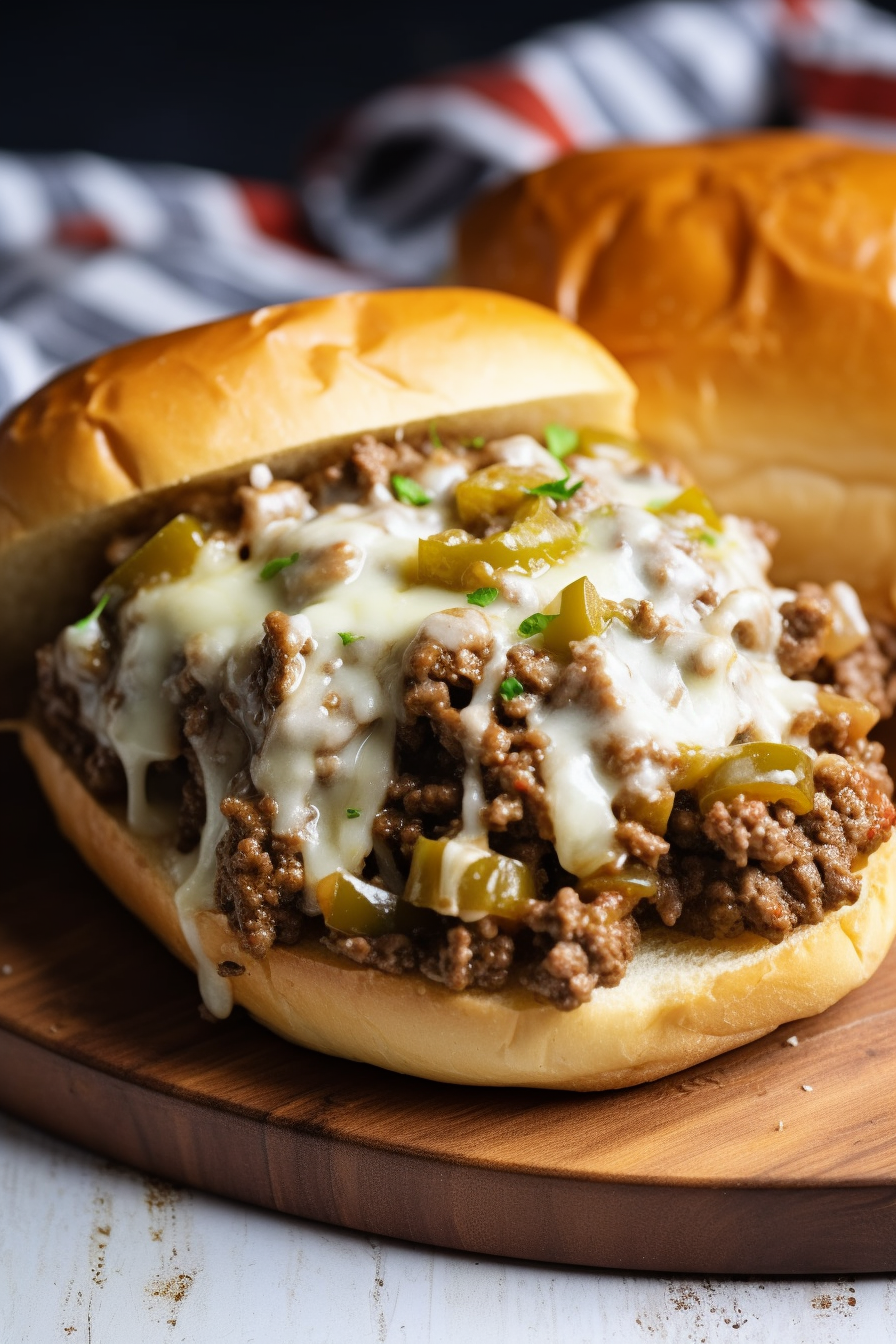 Ingredients For Sloppy Joe Philly Cheesesteak:
Ah, the ingredients, the sacred script that brings this epic tale of flavors to life. Use ground beef with just enough fat to make every bite a juicy serenade, or mix it up with half ground sausage to turn the flavor volume up to eleven. Worcestershire sauce is the silent hero, a dash of mystery, an enigmatic whisper that makes the melody of flavors into a soul-stirring symphony. Don't skimp on the garlic powder; consider it the golden touch, the magic wand wave that turns great to legendary. Choose onions and bell peppers that are as fresh as morning dew, and let's not even get started on the provolone – oh, the provolone! Let it be as tender and inviting as a lover's embrace, melting into the beef with a seductive allure that's impossible to resist.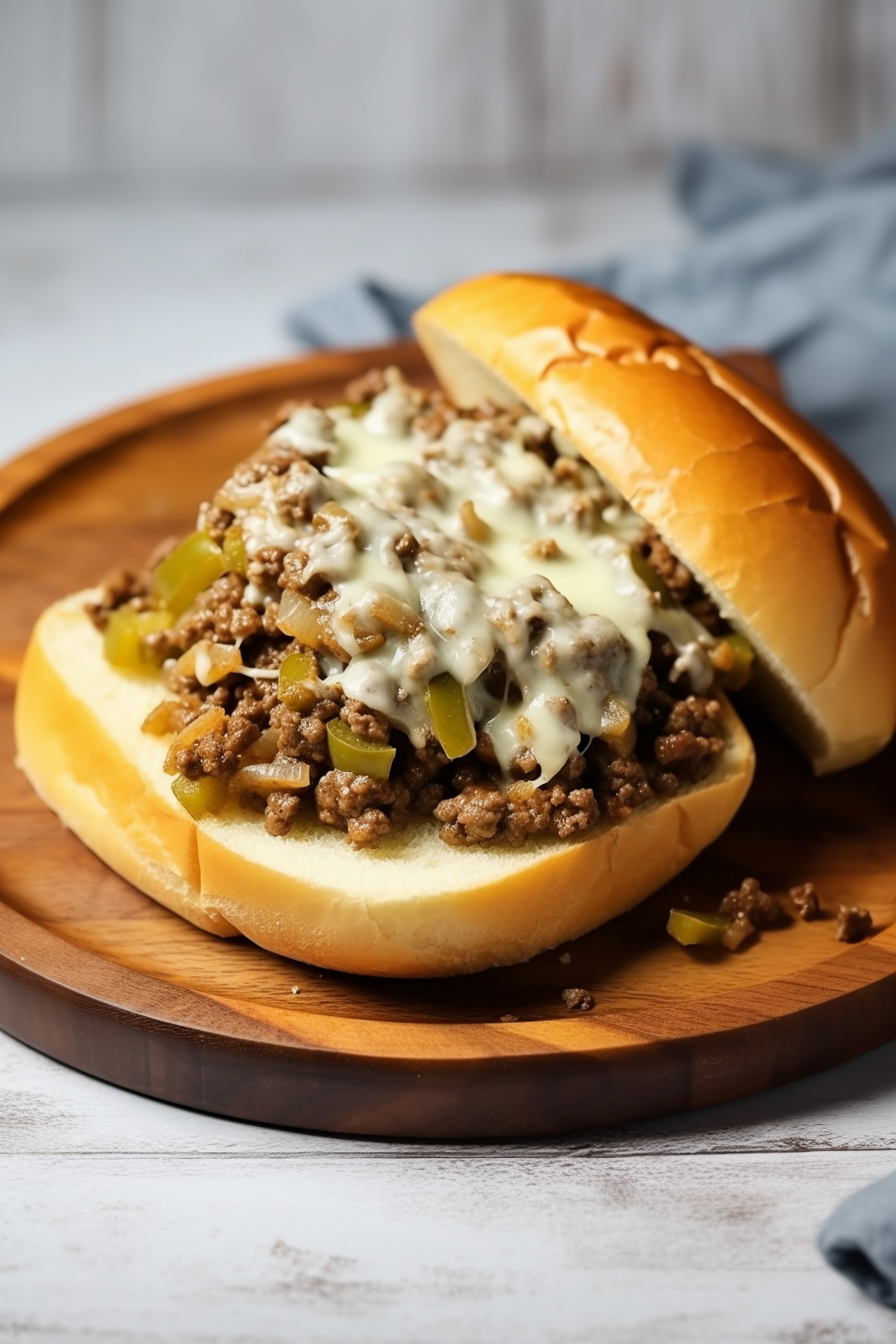 How To Make Sloppy Joe Philly Cheesesteak:
Step right up, darling, and immerse yourself in the whimsical world where Sloppy Joe waltzes with Philly Cheesesteak under the glittering chandeliers of flavor and aroma!
Begin the soirée with the ground beef sizzling in the skillet, browned to perfection like the golden autumn leaves. Drain that grease, we're not invited to this ball! With the Worcestershire sauce, garlic powder, and a sprinkle of salt and pepper, every bite becomes a melody, a sonnet of flavor sung by moonlit nights and starry skies.
As the onions and peppers join the dance, kissed by butter's golden touch, the room – or pot – swells with an aroma that's as enchanting as a midsummer night's dream. The beef broth is the crescendo, the dramatic lift before the final bow, reducing gracefully, elegantly, preparing the stage for the grand finale.
Provolone cheese, oh sweet, tender provolone, melts into the beef like the tender embrace of long-lost lovers reunited, a standing ovation of flavor in every bite.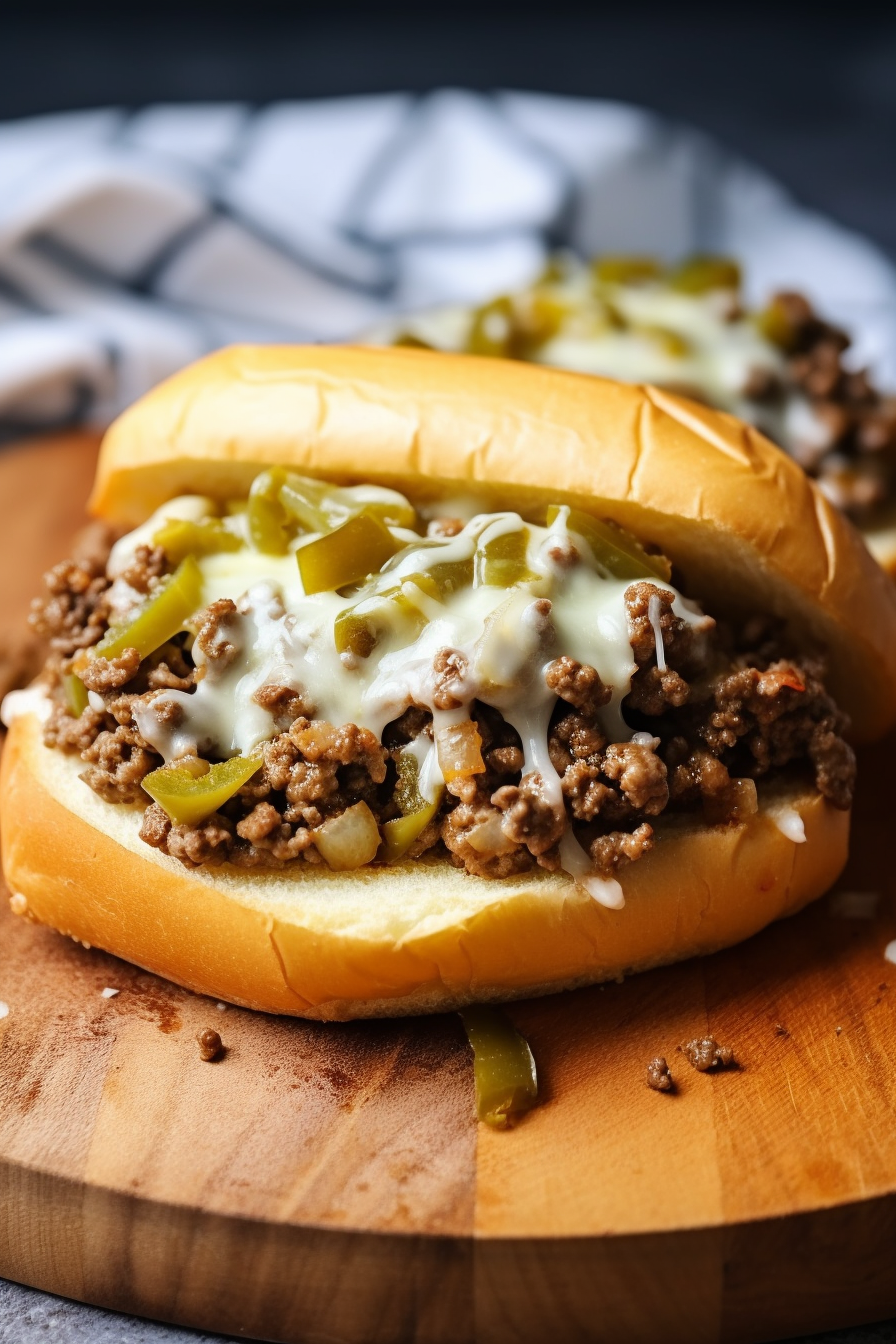 Storage Options:
Ah, the morning after the grand ball, when the dancers have retired and the chandeliers dimmed. Should you find yourself with leftovers – a testament to your formidable self-control – fret not, for this celestial concoction of flavors is as gracious in storage as it is on the plate. Airtight containers are the carriages that shall ferry them to the refrigerator, where they'll rest in the cool embrace for up to 4 days. Reheat gently, like awakening sleeping beauty with a tender kiss, and let the flavors dance once more, as enchanting as the first performance.
Variations and Substitutions:
Fear not, for those looking to remix this classic, to add their own notes to this melodious symphony, the possibilities are as boundless as the stars in the night sky.
Vegetarian, you say? Replace ground beef with a plant-based alternative, and let the masquerade of flavors bewitch the palate.
For those with an insatiable thirst for spice, a dash of hot sauce or sprinkle of chili flakes turns this ballroom dance into a fiery tango.
No provolone? Fear not! Mozzarella, with its tender, melting grace, or cheddar, with its bold, assertive stance, are more than equipped to step into the limelight and lead this dance of flavors to a standing ovation.
Every bite, a masterpiece; every variation, a new verse in this epic ballad of Sloppy Joe meets Philly Cheesesteak. Enjoy, my dears, for this is a performance destined to encore through the annals of time!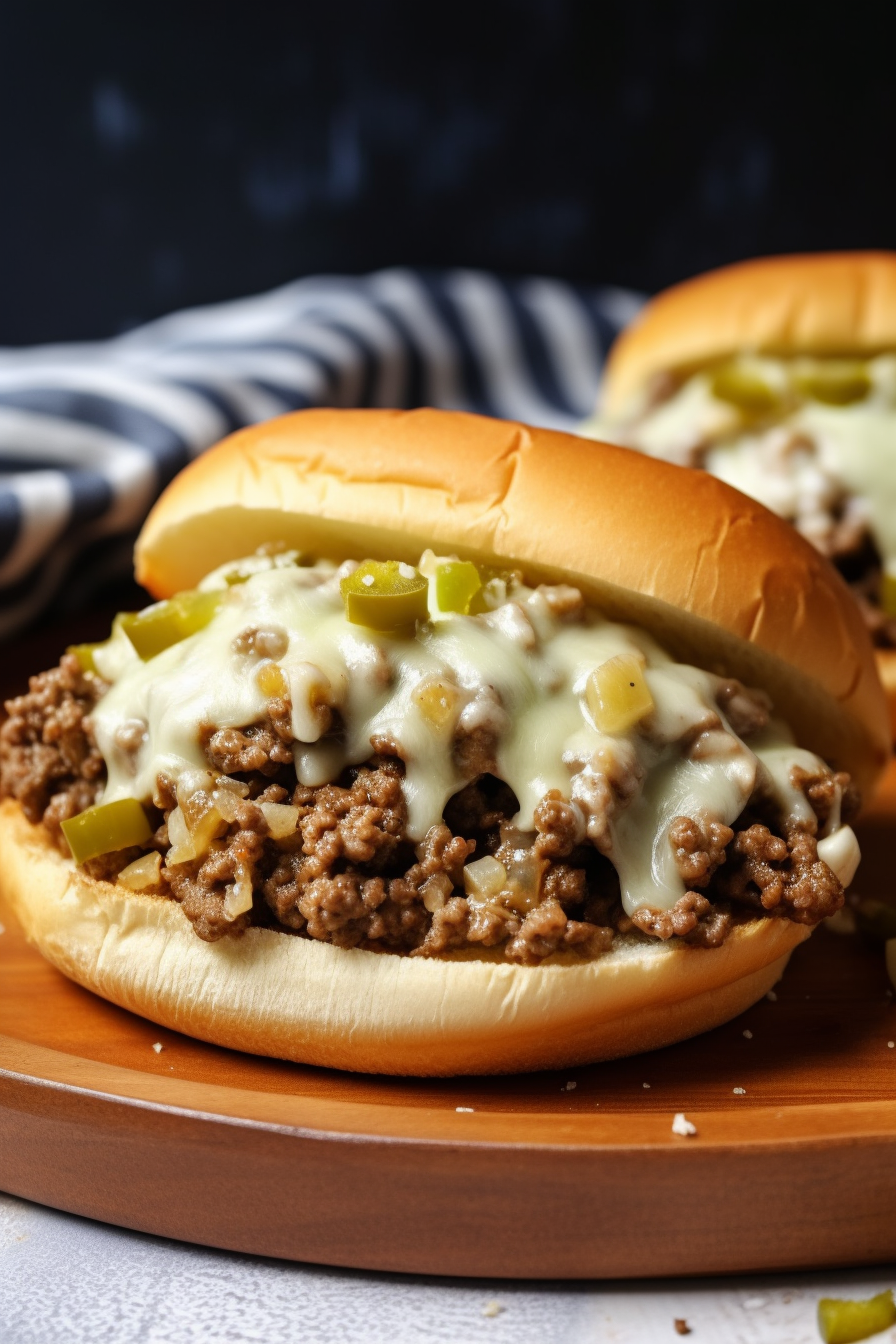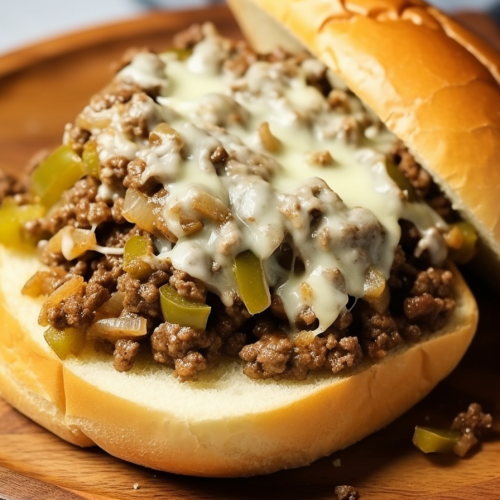 Sloppy Joe Philly Cheesesteak
Indulge in the heavenly fusion of Sloppy Joe and Philly Cheesesteak, marrying the savory goodness of ground beef, Worcestershire sauce, a sprinkle of garlic powder, sautéed onions and bell peppers, all crowned with melted provolone cheese, encased in a perfectly toasted bun. A symphony of flavor in every bite!
Print
Pin
Rate
Ingredients
1

pound

of ground beef

alternatively, a combination of ground beef and ground sausage can be used

2

tablespoons

of Worcestershire sauce

1

teaspoon

of garlic powder

1

medium-sized onion

finely diced

1

bell pepper

finely diced

2

tablespoons

of unsalted butter

1

cup

of beef broth

8

slices

of provolone cheese
Instructions
Place the ground beef in a skillet and set the heat to medium-high. Continuously stir the beef until it is thoroughly browned. Upon completion, drain any excess grease and return the beef to the skillet.

Introduce the Worcestershire sauce and garlic powder to the skillet. Season with salt and pepper according to preference. Incorporate the diced onion and bell pepper to the mixture and add butter. Maintain the mixture on medium heat, allowing it to cook for an additional 5 minutes.

Proceed by adding the beef broth to the skillet. Increase the heat to bring the mixture to a boil. Once achieved, reduce the heat to a simmering point. Allow the mixture to simmer for approximately 6-8 minutes or until the liquid volume is halved.

Remove the skillet from the heat source. Evenly distribute slices of provolone cheese atop the beef mixture. Cover the skillet and allow it to stand undisturbed for 2-3 minutes, ensuring the cheese is completely melted. Following this, gently integrate the melted cheese with the beef mixture.

Serve the Sloppy Joe Philly Cheesesteak mixture in appropriate bread rolls or buns.
Nutrition
Calories:
336
kcal
|
Carbohydrates:
5
g
|
Fat:
26
g
|
Saturated Fat:
13
g
|
Cholesterol:
81
mg
|
Sodium:
489
mg
|
Potassium:
382
mg
|
Fiber:
1
g
|
Sugar:
2
g
|
Vitamin A:
965
IU
|
Vitamin C:
27
mg
|
Calcium:
221
mg
|
Iron:
2
mg