Dive into a bowl of creamy chowder starring smoked ham, golden corn, hearty potatoes, and crispy bacon! All wrapped up with a hint of Italian seasoning and a touch of cayenne kick.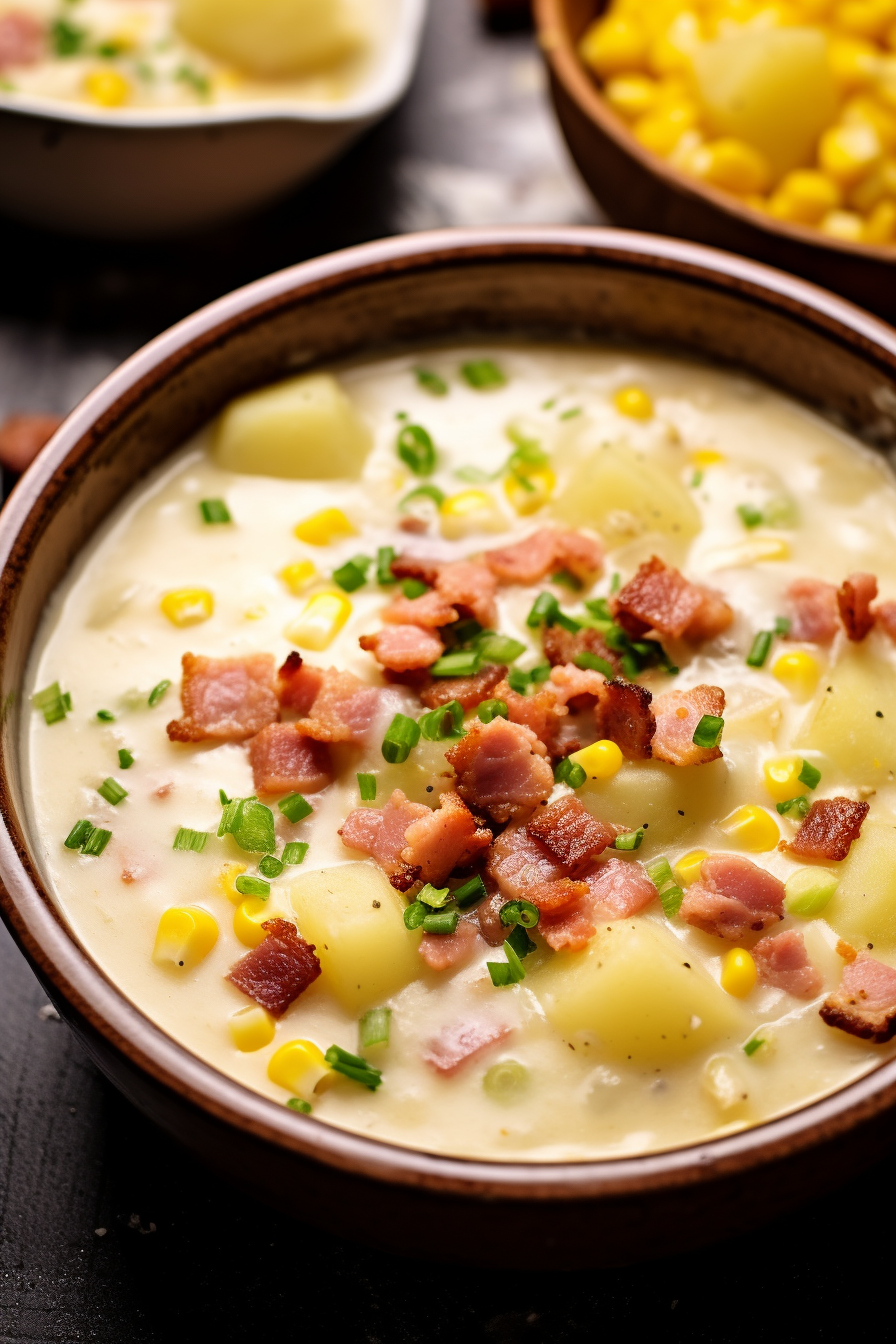 Whenever I think of this "Easy Ham and Corn Chowder," I'm transported back to chilly winter evenings in my grandmother's cozy kitchen. While the snow painted a white canvas outside, inside was the warmth of family, laughter, and the comforting aroma of this chowder simmering away on the stove. Grams used to say, "Nothing warms the belly and heart quite like a good chowder!" And oh boy, was she right! As time went on, I took her recipe, added my own little twists (hello, cayenne kick!), and have been delighting my own family and friends ever since. It's nostalgia, love, and deliciousness, all ladled into one bowl.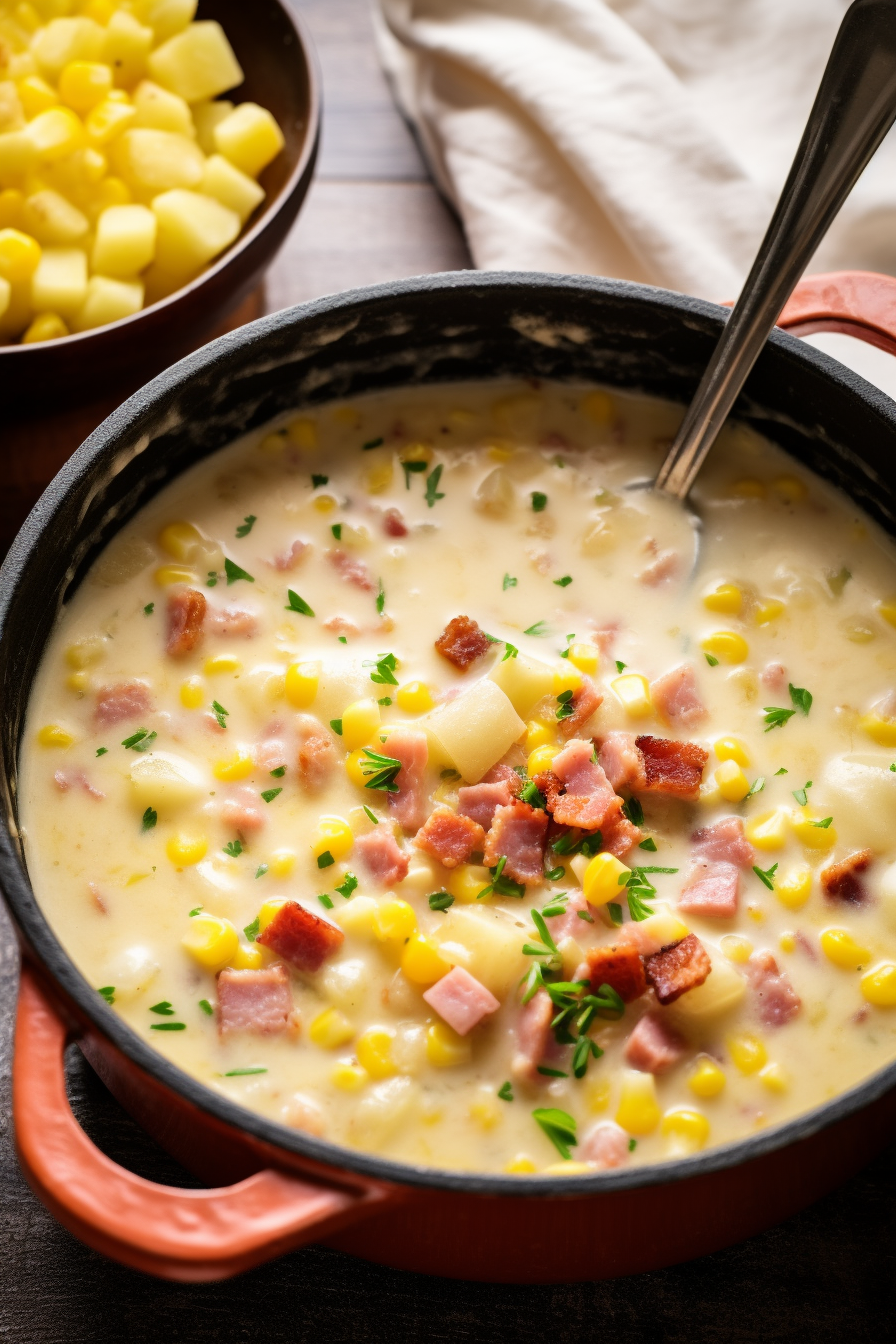 Why You'll Love Easy Ham and Corn Chowder:
What sets this "Easy Ham and Corn Chowder" apart? Firstly, it's easy-peasy (even your pet goldfish could probably whip it up… if it had opposable thumbs). Secondly, it's a culinary symphony of flavors – from the smokiness of the ham to the creamy texture balanced with crunchy bacon bits. And lastly, it's versatile. Have it as a main dish, an appetizer, or a cozy meal for a snowy day – this chowder doesn't judge. It just wants to be devoured.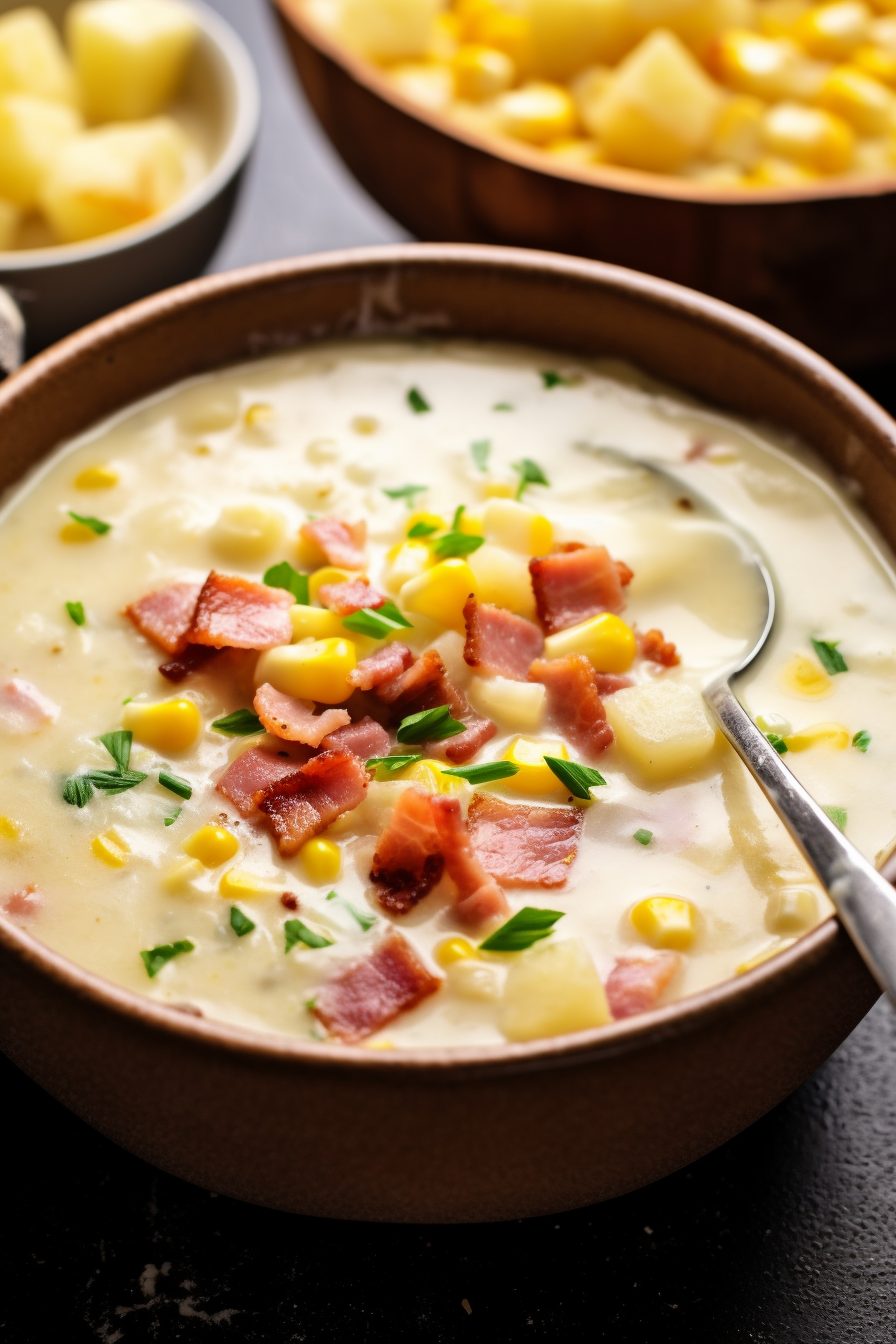 Ingredients For Easy Ham and Corn Chowder:
Bacon: Using strips gives you those lovely, crispy bits perfect for garnishing. Thick-cut? Even better.
Onion & Celery: They provide the classic base flavors, so don't skimp!
Flour: This magical component thickens the chowder to its signature creamy consistency.
Chicken Broth or Stock: Either works, but using homemade takes the flavor up a notch!
Heavy/Whipping Cream: This is where the 'creamy' in creamy chowder comes from. No compromises here!
Frozen Corn: Convenient and just as delicious. But if you've got fresh, by all means, go for it!
Russet Potatoes: They hold their shape well in soups, making each spoonful a delightful chunky bite.
Seasonings: The Italian seasoning adds depth, and the cayenne (if you dare) gives it a playful kick.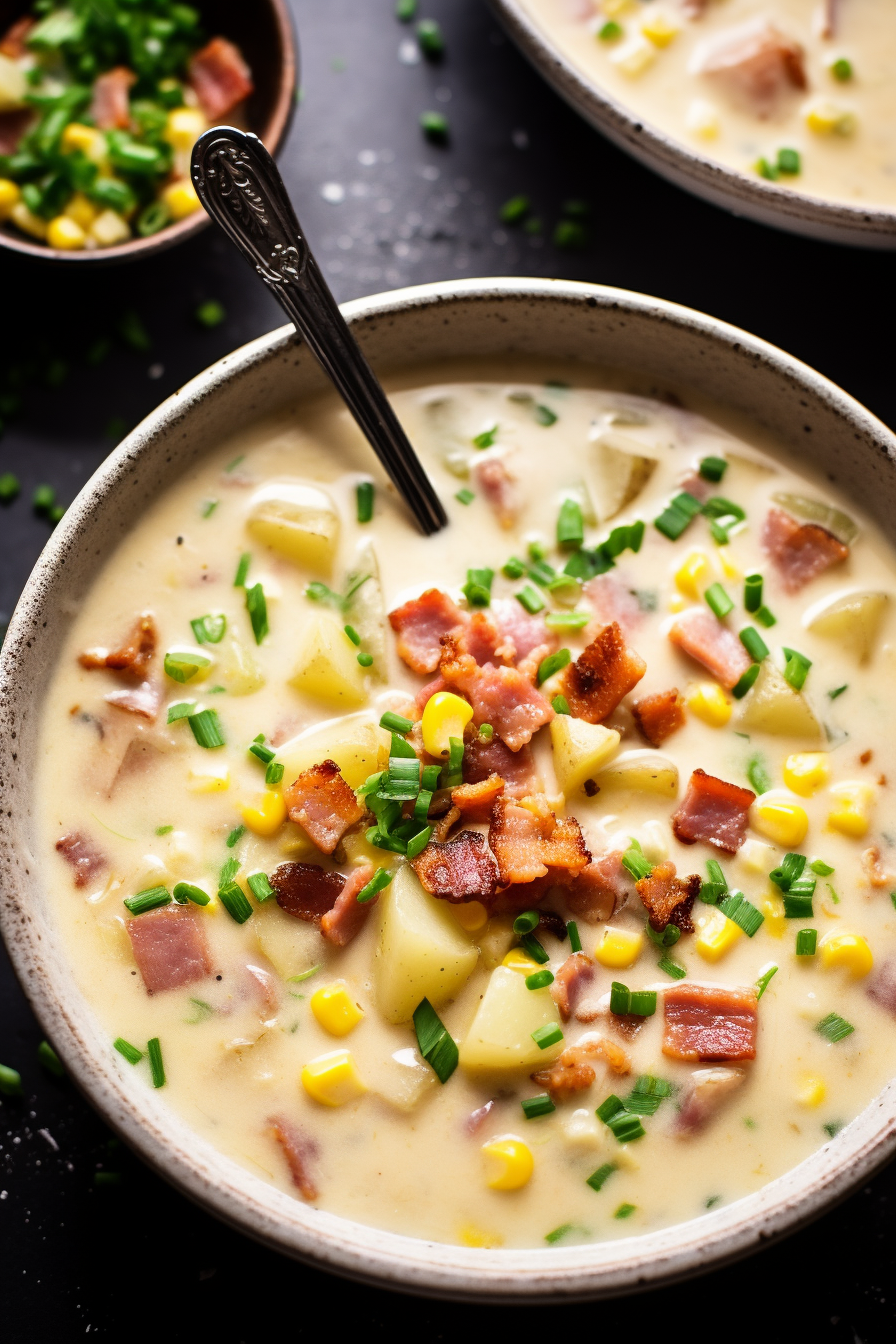 How To Make Easy Ham and Corn Chowder:
Start with your bacon. Cutting it with kitchen shears? Genius move! Get that bacon sizzling in a pot until it's irresistibly crispy.
While Mr. Bacon does its thing, channel your inner sous-chef. Chop up that onion, celery, ham, and the ever-so-important potatoes.
Once you've achieved bacon nirvana, let it rest on a paper-towel throne (keep that precious bacon fat, it's liquid gold!).
It's veggie time! Sauté the onion and celery in the bacon's liquid gold. As they become tender, sprinkle in the flour and stir, ensuring it doesn't burn. This floury friend will make your chowder thick and dreamy.
Garlic, chicken broth, and all those delectable ingredients follow suit. The goal? A beautiful, boiling pot of chowder magic. Reduce the heat and let those flavors meld together while the potatoes soften.
As the grand finale, sprinkle some salt, pepper, and adorn each bowl with the reserved bacon. Chowder-chef level: Expert.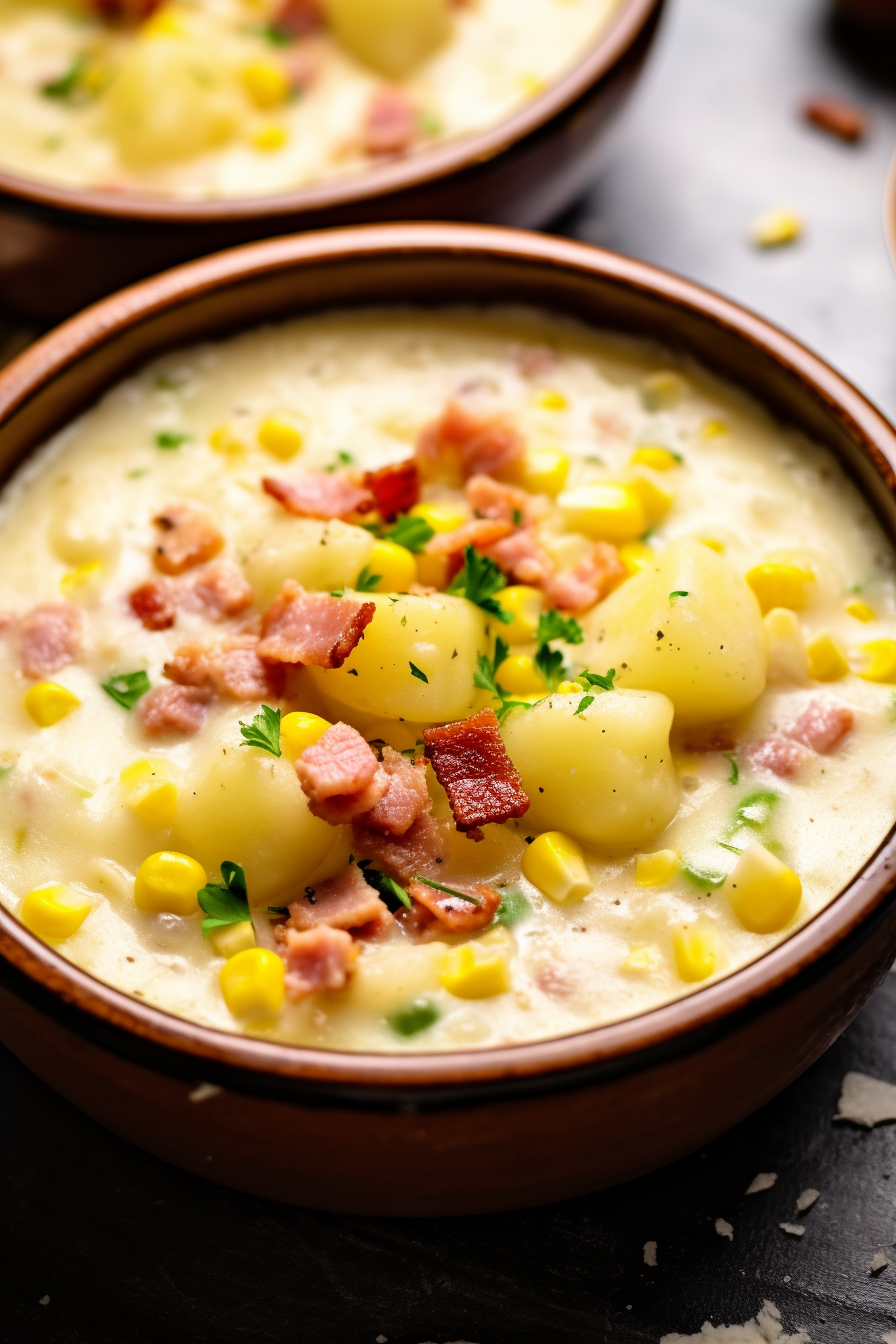 Storage Options:
Got leftovers? Lucky you! Pour the cooled chowder into an airtight container and it'll keep in the fridge for up to 3 days. For a longer love affair, you can freeze it for up to 2 months. Just remember to thaw overnight in the fridge and reheat on the stove, stirring occasionally.
Variations and Substitutions:
Fancy a twist?
Vegetarian Version: Swap the chicken broth with vegetable broth and omit the ham. Maybe add some sautéed mushrooms for an earthy flavor.
Spice it Up: Paprika or smoked chili can replace the cayenne for a different kind of heat.
Dairy-free: Use coconut milk or almond milk instead of heavy cream. It'll alter the taste a bit but hey, it's all about experimentation!
Fresh Herbs: Toss in some fresh thyme or rosemary for an aromatic lift.
There you have it! A recipe passed down with love, tweaks, and a touch of humor. Cheers to the bowlful of happiness that awaits you! 🥣😋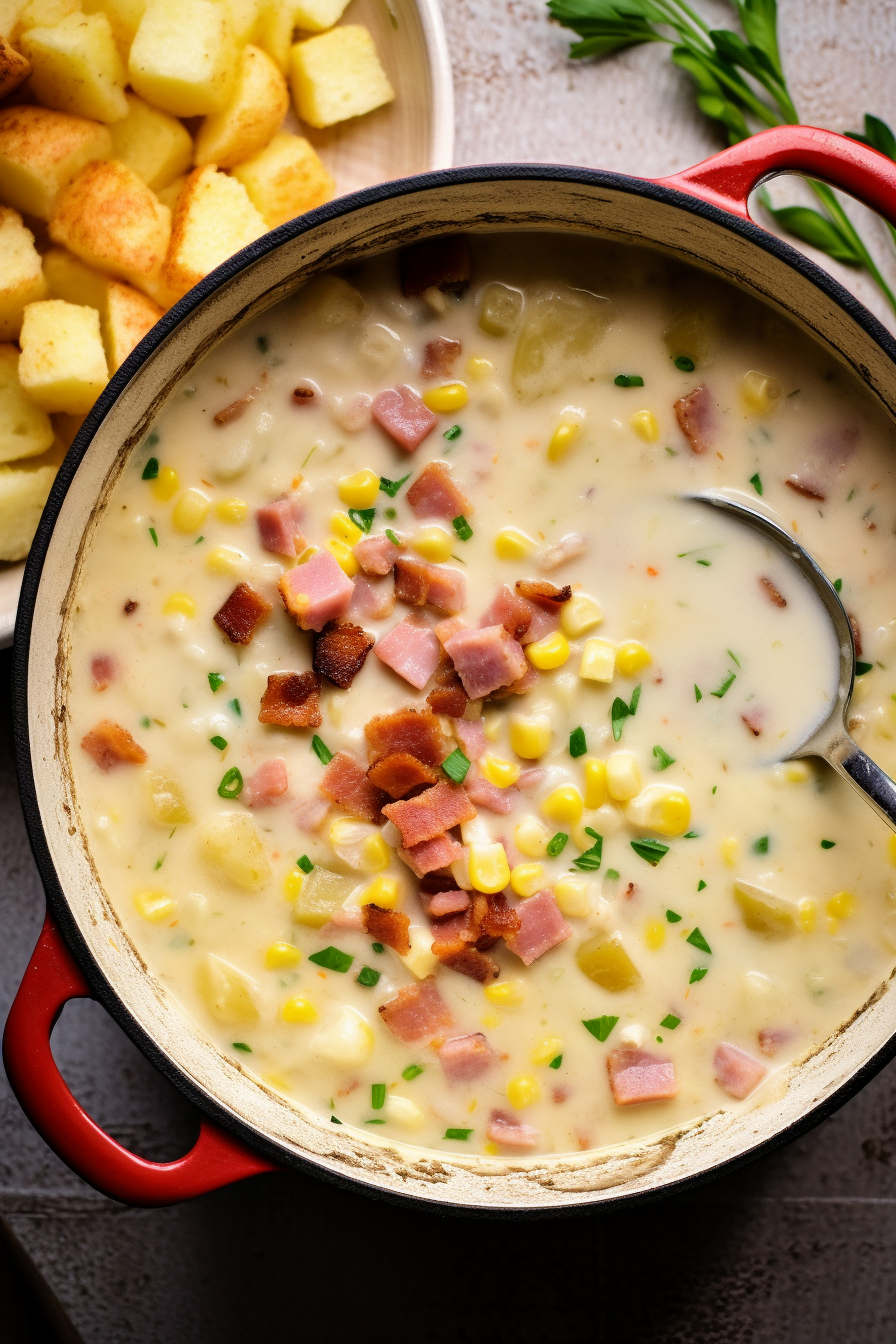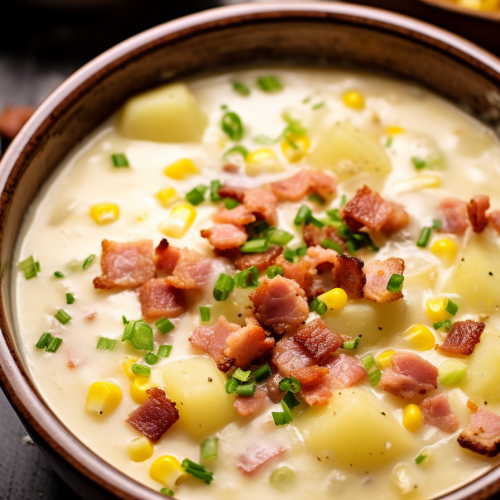 Easy Ham and Corn Chowder
Dive into a bowl of creamy chowder starring smoked ham, golden corn, hearty potatoes, and crispy bacon! All wrapped up with a hint of Italian seasoning and a touch of cayenne kick.
Print
Pin
Rate
Ingredients
4

strips of bacon

finely cut

1/2

medium-sized onion

finely chopped

2

celery sticks

finely chopped

1/4

cup

all-purpose flour

2

cloves

of garlic

minced

4

cups

of chicken broth or stock

1

cup

of heavy cream

2

cups

of frozen corn kernels

1

pound

of smoked ham

finely chopped

2

large Russet potatoes

peeled and diced

A dash of Italian seasoning

A pinch of cayenne pepper

optional

Salt and pepper

adjusted to preference
Instructions
Begin by preparing the bacon. Use appropriate kitchen tools to ensure the bacon is finely cut. Place the bacon in a large pot and set it over medium-high heat. Allow it to cook until it achieves a crisp texture, approximately 10 minutes.

Concurrently, prepare the onion, celery, ham, and potatoes by chopping them into fine pieces as specified.

Once the bacon has been adequately cooked, remove it from the pot and place it on a plate lined with paper towels. Ensure the residual fat from the bacon is retained within the pot.

Incorporate the chopped onion and celery into the pot. Allow them to sauté for approximately 5 minutes.

Proceed to mix in the flour, ensuring continuous stirring for about one minute.

Introduce the minced garlic into the pot, followed promptly by the chicken broth. Thoroughly stir the mixture to guarantee the complete dissolution of the flour. Additionally, ensure all residual particles from the base of the pot are integrated into the mixture.

Subsequently, pour in the heavy cream, frozen corn, smoked ham, diced potatoes, Italian seasoning, cayenne pepper, and the majority of the previously prepared bacon. Only a portion of the bacon should be reserved for later garnishing. Elevate the heat to its highest setting, bringing the mixture to a boil. Upon reaching boiling point, decrease the heat to maintain a steady simmer.

Continue to cook the mixture until the potatoes are suitably tender. This should require 15-20 minutes. Periodically stir the mixture. Note that the consistency of the soup will thicken as it continues to cook.

Prior to serving, season the soup with salt and pepper as required. The reserved bacon may be used as garnish.
Nutrition
Calories:
459
kcal
|
Carbohydrates:
43
g
|
Protein:
21
g
|
Fat:
24
g
|
Saturated Fat:
12
g
|
Cholesterol:
100
mg
|
Sodium:
1624
mg
|
Potassium:
1109
mg
|
Fiber:
4
g
|
Sugar:
2
g
|
Vitamin A:
643
IU
|
Vitamin C:
24
mg
|
Calcium:
73
mg
|
Iron:
3
mg